If you are not selling jewelry through Instagram yet, you are missing your millions. Luxury brands, hand-made, inexpensive jewelry, vintage – you can find anything on IG. Jewelry is super Instagrammable, and awesome visuals will help you to sell faster than via a website.

It's highly popular to sell real gold-plated jewelry, and the competition in this niche is getting harsh.
But this does not mean that new market players have no chances to get spotted. You can easily promote a jewelry shop on Instagram if you analyze essential points of a best-performing account (which is what we'll do in this article).
The benefit is that jewelry is one of the top products that users are willing to buy through niche Instagram stores – unlike the mass market, such shops produce unique goods that are appreciated by customers. But there are several secrets, or even necessary rules, that will definitely help you win a new audience.
You should understand that when you sell a product like jewelry, the main emphasis should be put on visuals. Poor visuals or an off-style feed will threaten your reputation and your products might look cheaper than they really are.
You will need 5 minutes to read this article, but you will understand what took us hours of analyzing and comparing.
What distinguishes a regular profile from a successful jewelry Insta shop?
How can you sell jewelry on Instagram effectively and what should you do to boost the selling potential of your products?
What visual trends are the main tendencies in the niche now?
Take note of everything you find applicable to your account. Don't blindly copy but transfer this vision into the prism of your brand identity.
Golden essentials on how to sell jewelry online on Instagram
#1 COUPONS, SALES, AND GIVEAWAYS ARE VITAL
Since there are already a lot of stores selling jewelry on Instagram, it may be challenging to stand out when you just create a new account. At the expense of coupons, discounts, special offers, and giveaways through your account or through bloggers, you can attract an interested audience and potential customers. Below you will see examples of such posts that are widely used by shops.
One of the highly popular techniques that are now used by new stores is reaching out to numerous micro-influencers. You don't need to contact top bloggers who never or seldom check their Direct. Connecting with simple users who have from 1K–5K audience can bring you more results. Most importantly, their account styles should match your brand identity.
Further, such new stores offer to give away several pieces of jewelry, and the blogger must only pay a shipping fee. In exchange, brands receive photos that they can use in their profile. And also numerous tags by personal profiles are advantageous in terms of Instagram SEO. Instagram algorithms like when your account is often tagged and mentioned; hence, your posts will be shown more often on Explore and to the followers of these micro-influencers.
#2 HIGHLIGHT YOUR COMPETITIVE ADVANTAGE IN THE BIO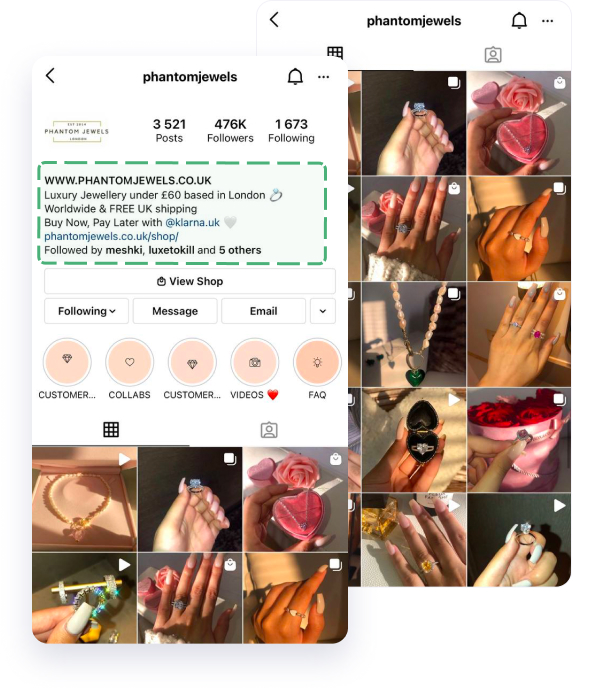 The bio is the first information that potential customers view at a glance. They cannot immediately see the text of your posts, so the bio is the primary caption that makes an impression. Therefore, it should be filled with sense, value, and competitive advantage, even within 150 characters. Try to immediately emphasize why your store brings more value than competitors' stores, what is so special about it. In the examples below you can see that this jewelry shop communicates clear positioning that it sells jewelry down to £60.
The clear and unique selling point will attract a certain group of customers looking for inexpensive jewelry.
#3 GRAB ATTENTION WITH INSTAGRAM FONTS
By using fancy fonts for Instagram, you can draw more attention to the meaning of your captions. Plus, fonts that convey the spirit of your brand will go hand in hand with your profile design.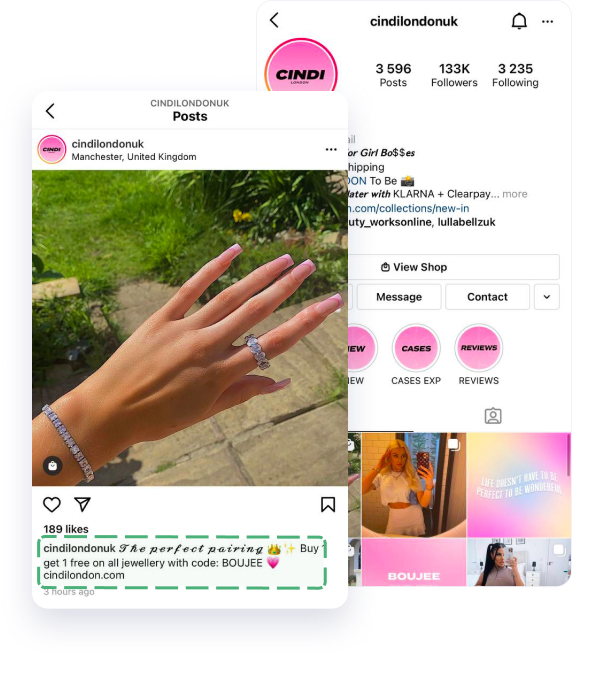 In fact, you can find dozens of different fonts that are easy to copy in the Inflact Font Generator. However, you must strike a balance when using Instagram fonts. Don't paste more than two different fonts. Try to stick to a certain style so that it doesn't look tasteless.
#4 BE RESPONSIVE AND ACTIVE IN PRIVATE MESSAGES
One problem that many stores have now, including perhaps your competitors, is that they take a long time to reply or don't reply at all to Direct messages on Instagram. Some may even mention in their bio that clients should not contact them via DM. In fact, private messages on Instagram can be the very place where you connect more deeply with your audience. You can use DM as a way to build loyalty, especially if your brand is new to the market.
With the help of modern services, you do not need to reply to every message by hand. Direct messages can be automated by the Inflact Direct Module. It's easy to automatically set answers to popular queries based on keywords.
You can analyze what questions are most often asked by users and set timely responses to those messages.
When users receive a response within 5 minutes of their request, they will no longer search for similar stores on Instagram. Therefore, your task is to answer any questions from prospects as well as maintaining constant contact with customers who have already bought from you.
Repeated sales through Instagram often happens if buyers are satisfied – they are the ones who form brand loyalty. You need to connect with them after the sale. In the Direct Module, you can group customers in custom groups via labels and visualize your chats using Boards. Also, you can input data in Notes about the history of purchases. Read our guide to find out how to organize CRM via Direct messages.
#5 FINE-TUNE YOUR GRID AND VISUALS
As I said above, jewelry is a delicate product that requires a brilliant presentation on Instagram. You cannot just put your products on a table to take unclear pictures – it won't spark anyone's admiration. No matter how beautiful and unique your products are, no one will even think about ordering if the visuals are poor.
Firstly, bad visuals reduce the level of trust in the shop, especially if you sell something precious and costly. Secondly, high-quality and creative visuals allow you to play with the prices and even if your product is of the same or even lower quality than that of competitors, the price can be substantially higher just because of an excellent IG account.
The fact is that through Instagram, people buy an entire image that includes a photo or a video as well. It's no longer just a physical product they want. Through visuals a person perceives the product.
Therefore, we will further consider the main trends that you should introduce into your content strategy.
Sell jewelry online via visuals: main trends based on examples
#1 DIVERSE GRID
It's essential to not simply take images of jewelry laying on a table.
Compare these two accounts. Which one is more catchy and engaging?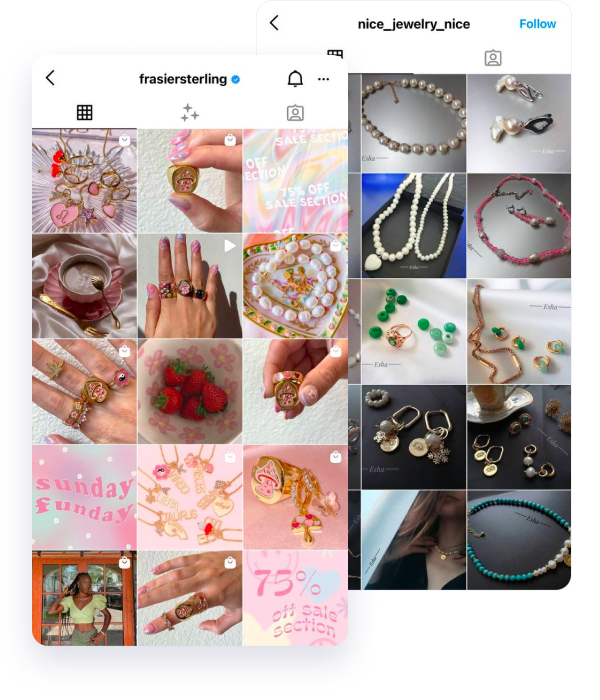 I presume you've picked the first option. This account posts not just products on the same background. It looks like a mood board with jewelry – a single-style book. That's our aim, so start selecting images for your business starting from now.
You can download images and visdeos from any IG account in original quality to post them on yours with the Inflact Downloader.
#2 - FLAT LAY ON VARIOUS BACKGROUNDS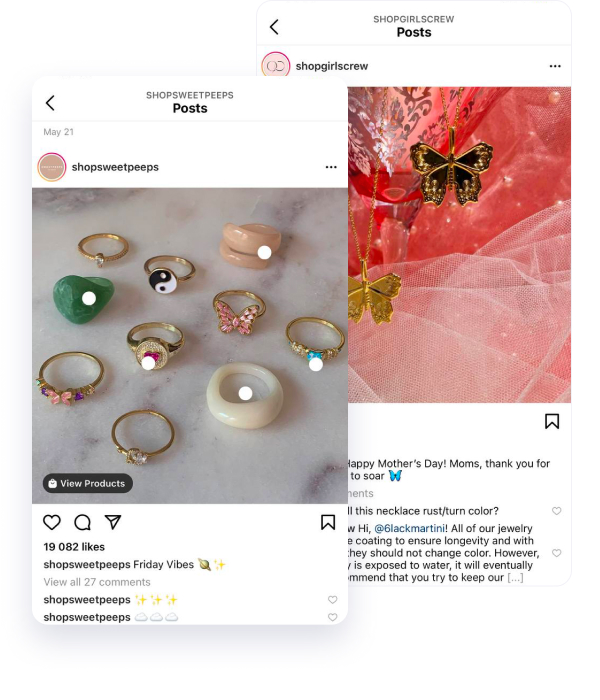 While inspecting numerous jewelry accounts, we've found flat lay product images in almost every profile. You should keep in mind that it's preferable to change the background. Here are some ideas:
Fabrics
Stone
Edited background
Glitter
Paper
#3 – PARTS OF THE BODY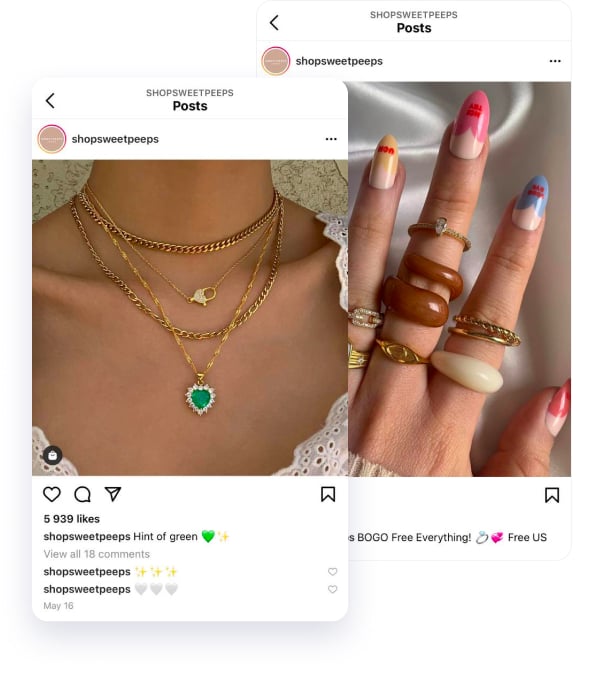 <
This is the simplest way to change the perspective without a professional model. Here are some hacks to present jewelry. Note that a catchy nail design will give you extra points
|#4 – REFERENCES TO THE '90S AND '00S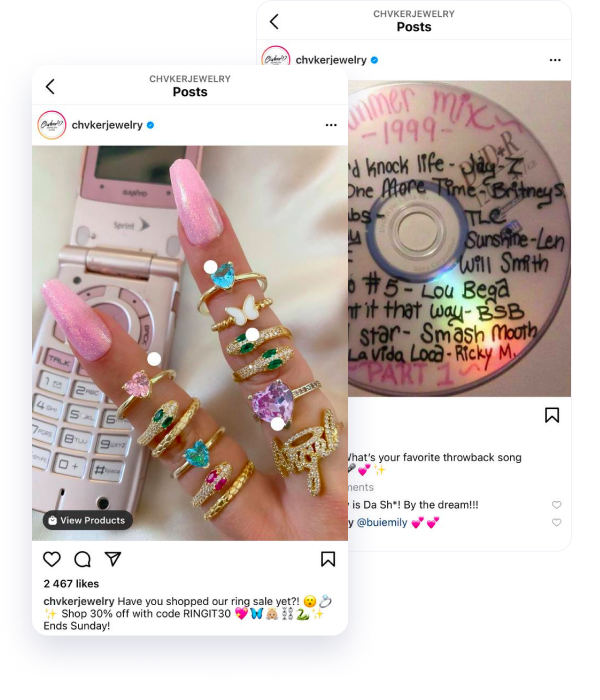 Instagrammers are kids of this time, so it's no wonder that visuals connected with the '90s grab their attention.
#4 ZODIAC SIGNS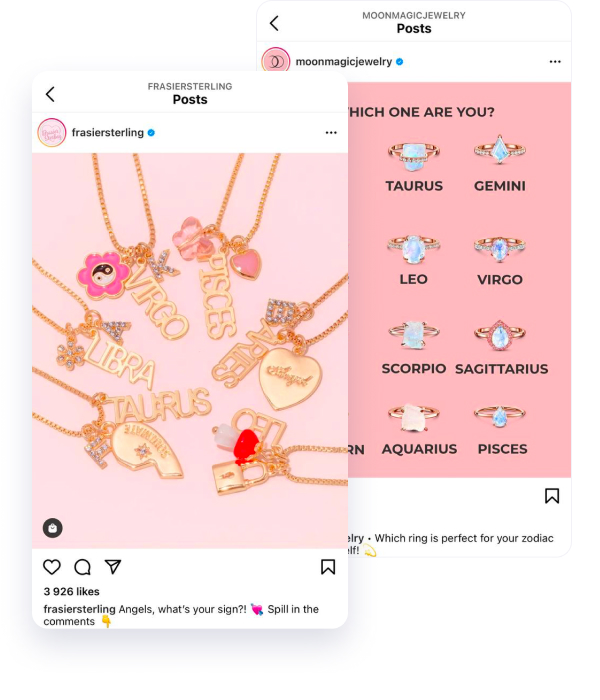 This is an Instagram trend that can be easily connected to jewels. Connect gemstones or styles to the zodiac circle and get more attention to posts and products. Spice it up with a question to get more comments.
#5 COLLAGE
It's a common Insta trend that's widely applied by jewelry shops.
#6 UGC OR INFLUENCERS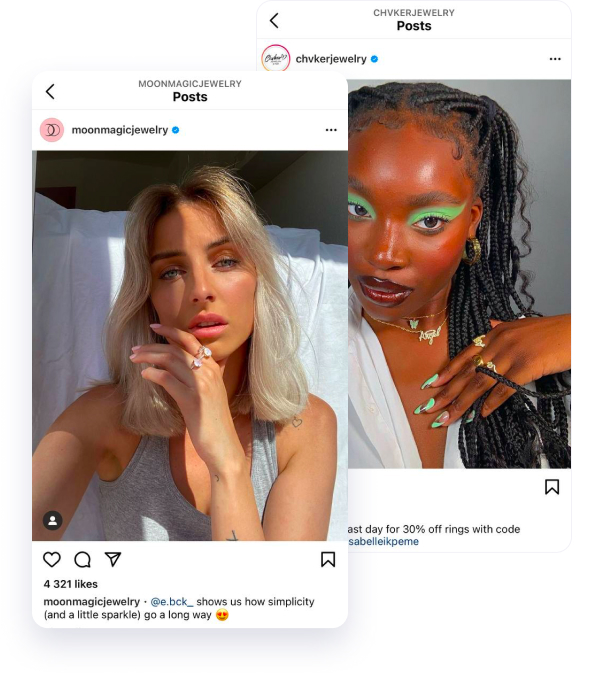 It's crucial to mix images and videos of products with photos of people. No matter what you sell, add clients, bloggers, or yourself to the feed. People are always interested in people.
Finally, close attention to the above-mentioned techniques will help you to sell jewelry successfully through Instagram.