Sales without communication are impossible on Instagram. People don't want to purchase from your website passively – they like to slide into your DMs and ask questions in the comments. Can you capitalize without being online 24/7?

Yes, you can. But you need to use more advanced tools than the built-in IG Direct chat (even the desktop version) for that. At the same time, when you apply the Direct module, you gain a real advantage over your competitors:
You can respond to customers' DMs and comments in 5-10 minutes with automated pre-planned messages. As a result, they are not looking for similar offers while they would have been waiting for your reply.
Many shops with high-selling Instagram accounts start a separate account for customer support issues – see the example below. If you save responses for typical questions, this account turns into a fully-fledged chatbot with personalized replies. It's a new level of social customer management.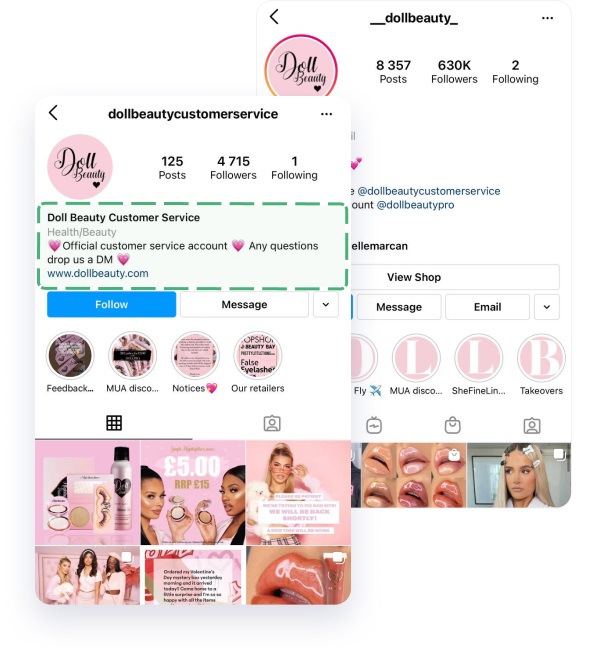 In this article, you will learn how to organize your Direct and generate more sales with it effectively.
How to reply to Instagram comments fast and make the most of this audience
When people ask you about your products in the comments, it means they are interested – they are your hot audience that's come out of hiding.
In this situation, your task is to react to their comment instantly and mark these people as "Interested" or "Hot clients." Even if they don't buy today, you can notify them about sales, and they may change their mind.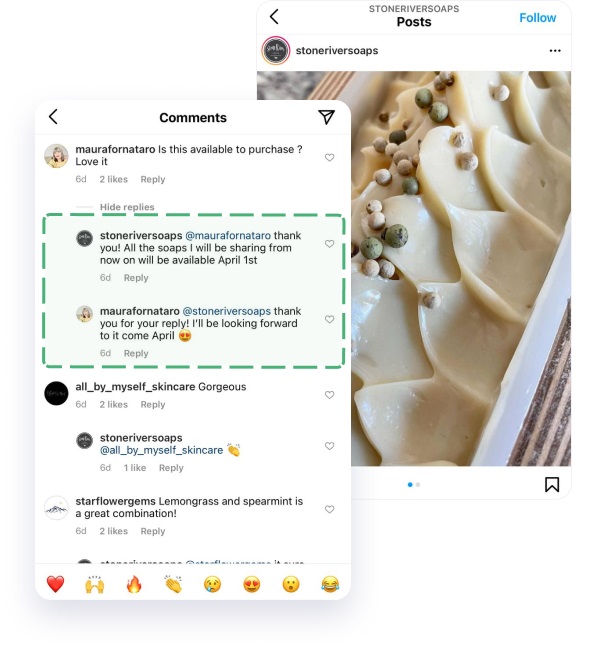 In the Direct module, you have two features for this situation – prefabricated fast replies and labels. If you don't want to leave a comment about price, you can comment back "Sent a DM" and reply privately. The scheme is the following:
Reply to the comment.
Send the pre-planned response you saved for this product.
Label this person in the chat to get back to them later.
Leave notes about your conversation. For example, if a person asked about the price of a product that is out of stock, mark in notes that they were interested. You can easily find them later via the chat search bar.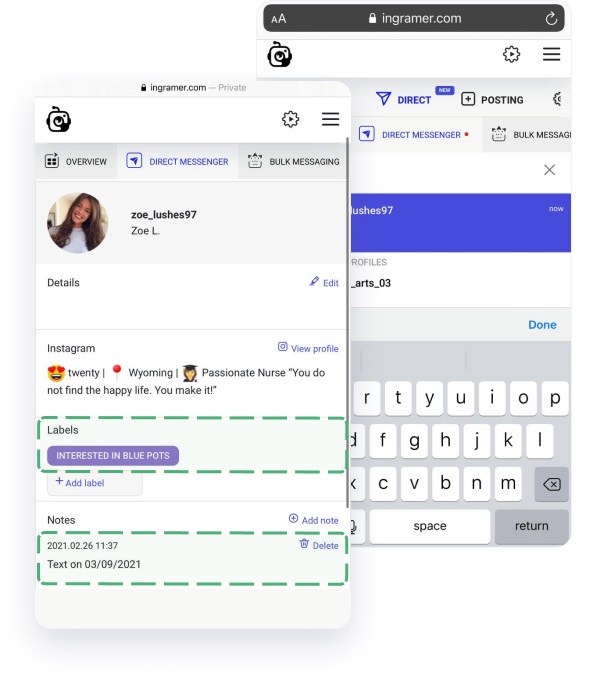 You can read the exact settings in the guide Instagram Client Management: From Leads to Loyalty with an Automated Tool.
How to manage requests about prices/delivery/conditions in Direct automatically
If you have an independent account for customer issues, saving a set of auto-replies in the Direct module is a must. Just imagine – you can save responses to all common questions by keywords. But at the same time, people will feel your caring attitude.
An excellent example of using auto-replies is the featured account below – they publish ceramics made by various masters that are available for sale on their account. @potteryforall invites viewers in the bio section to DM about collaboration and conditions. With auto-replies, they can respond fast to requests about partnerships and paid ads.
The scheme to operate requests in Direct is the following:
Guide your audience via the bio description to text you in DMs to get instructions/conditions/prices.
Save auto-responses for the keywords people usually use in such requests.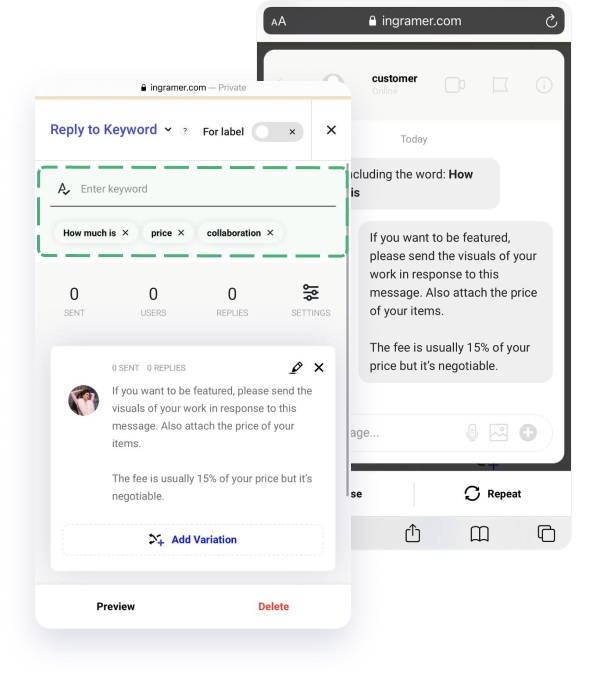 You can attach prices as an image or write them in a message. Also, you can instruct visitors to check the link in your bio.
You can view the auto-replies status and history in the Log section. It's now supplied with filters so you can track each campaign.
Remember to return to these hot clients after a while. Also, you can notify them if the price for the items/services they wanted is reduced. Use labels and notes to highlight these people.
Auto-replies on Inflact can be targeted by language. The system identifies the language of a message or an account and will pick the reply in a target language. So, we recommend saving versions of the response in languages your audience use.
How to nurture clients and stimulate repeat purchases on Instagram
It's essential not only to find new leads but to create a sustainable and long-lasting relationship with your existing clientele. Thus, they can become loyal fans of your brand and spread the word about it.
If a person ordered from you once, your relationship is not over – apply labels to mark past clients. Mark in the notes what they bought and what other goods they were interested in. Also, you can ask for personal information to fill the client's card that is integrated into the Direct module. You can find people by profile details in the search bar.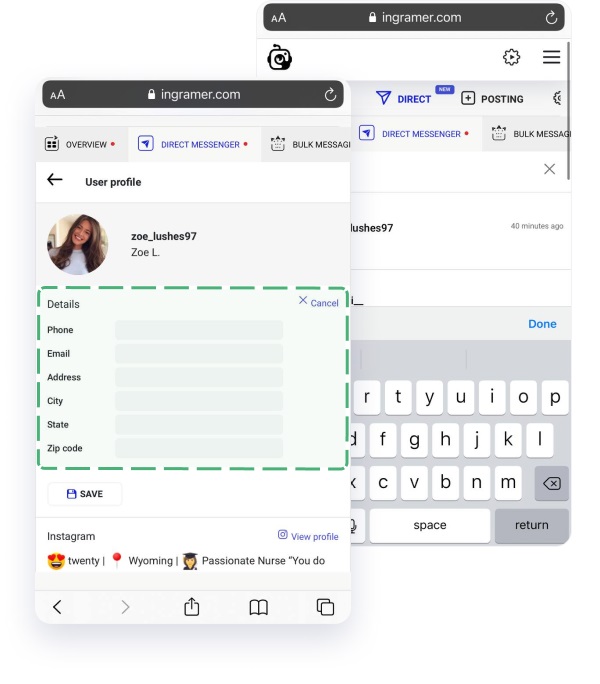 Here are 5 occasions you can use to get back in touch with your customers:
Thank them for the purchase and ask about a review.
Ask them to share reviews in stories or posts. You can provide discounts for such activities. Word of mouth and true reviews will bring you genuine followers and buyers.
Offer discounts for the next purchase. You can notify about such special offers via Direct messages in a personal way. Simply filter chats by the label Clients and provide them with an exclusive deal.
Announce new products, sales, and deals. You can set a bulk campaign if the campaign is dedicated to all your audience — alternatively, filter dialogs by labels you need and Paste a prefabricated message from shortcuts.
Drive attention to your content. If you posted a giveaway post, some of your audience might overlook this post in the feed. You can gain more reach and actions if you advertise it via Direct bulk messages.
Being engaging in DMs doesn't mean becoming annoying and intrusive. Don't try to sell goods directly, especially to new followers – they might feel pressured. At the same time, you need to always respond to their interactions.
In the Direct module, you can set up automatic replies to stories reactions and stories mentions. It's a perfect instrument if you use stories as a sales booster and announce special offers there.
You can provide more info in your pre-planned auto-reply to stories reactions. Also, you need to label these users as potential buyers that you need to warm up.
Lastly
Instagram Direct is far more than a private in-app chat. If you apply the Direct module, you get an advanced tool with automated communication and CMS functionality. Read the full guide about using the Direct module for your sales funnel , no matter whether you are selling goods, selling services, or monetizing as an influencer.