If you use Instagram stories for engagement and sales, you are familiar with Highlights. These circles add to your bio, stimulate trust among viewers of your business account, and hence help to grow your community. Do you use them to their maximum potential?

Imagine for a moment you are a random viewer of your account driven from ads or interactions made by the Promo module. The first impression you get is made by the bio section, profile image, and, indeed, the Highlights.
These circle sections help the audience decide if they should follow you and use your services/products. If people see carefully collected reviews from past clients, well-organized examples of your work, and answers to common questions – there is a better chance they will trust you and follow.
Don't know what to put into Highlights? Let's get inspired from the examples below.
Organize Instagram highlights – insights for various niches
Highlights ideas for various niches that are popular on Instagram.
#1 – Real estate @serhant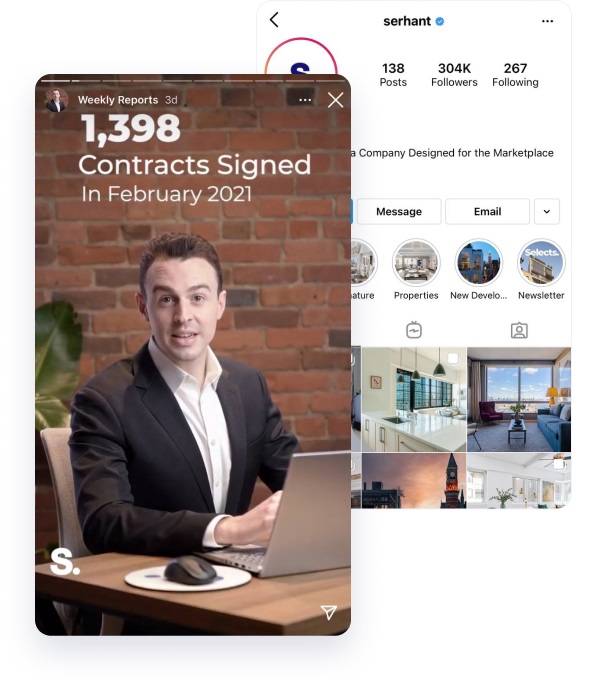 Serhant is a real estate agency that lists 304k followers on its Instagram account. If you deal with real estate as an individual realtor, you should apply Instagram for finding leads. And a well-organized Highlights section will help you to achieve better results. Here are some insights from @serhant:
Create a Highlight for weekly reports. Potential customers will likely order your services if they learn about your actual achievements. On @serhant, you will find reports collected in highlights that are updated every day.
List properties in the Highlights. Create a special selection of stories with properties for sale. Also, you can add a separate section for the properties that were sold. This will boost trust among new clients.
#2 – Accessories shop @frasiersterling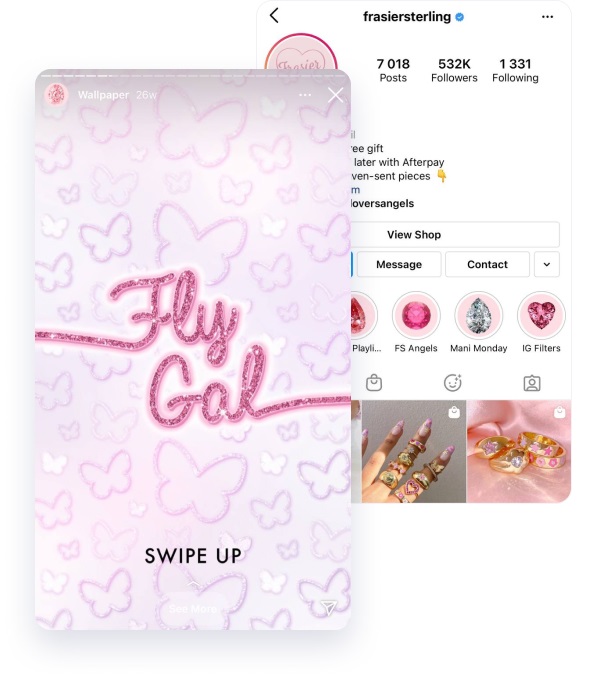 If you sell physical products via Instagram, Highlights will help you to depict them in the best possible way. For example, you can collect items on sales, reviews, and use cases, and supply viewers with delivery information. Here are some Highlights ideas from @frasiersterling:
Create branded wallpapers and collect them in a Highlight. By doing such a creative job for your community, you help to spread your brand's voice and a good word about your products. By designing wallpapers for brand advocates and people that admire your style, you are in their mind even when they are not using Instagram – it's a more intimate level of communication.
Share your playlist. Who says a brand can use only visuals to make an impact and transmit its message? You can collect melodies that are likely to correlate with your fans and establish interactions on music platforms.
Repost your clients' stories and group them in Highlights. @frasiersterling gathers customers posing with their pieces of jewelry and followers trying their IG masks in Highlights. How can this contribute to sales? By doing this, @frasiersterling is attentive to its community and building personal communication between a brand and customers.
#3 – Fitness coach @senada.greca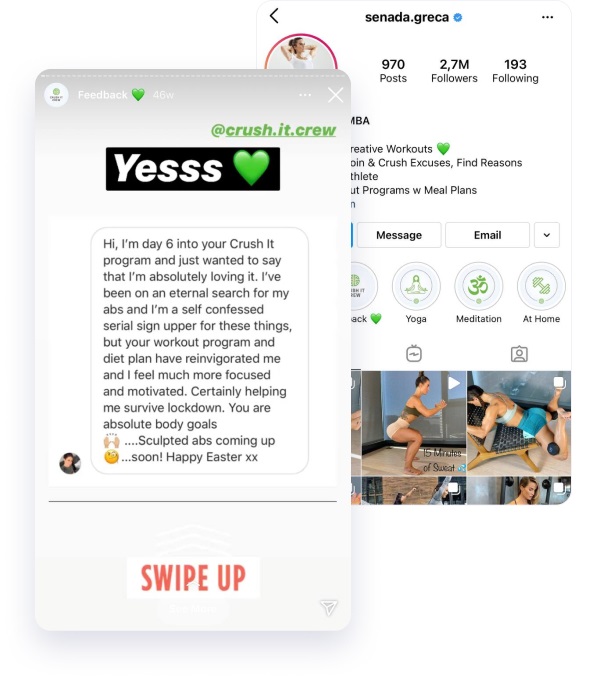 @senada.greca is one of the top coaches in fitness, yoga, and nutrition – the account is followed by 2.7 million people. If you are selling online educational products, like courses (which are really on the cusp), take a look at your Highlights.
Organize all your programs in one Highlight. People might be lazy to follow the link to your website and check the exact description of your courses. Gather all questions, answers, and programs linked to a website page in Highlights.
Screenshot feedback from your customers and put it in Highlights. Every time customers leave a positive review on a course, take a screenshot. Post on stories and arrange these images in one Highlight section. Reviews are everything if you are selling services online.
Create branded icons for your Highlights. As you see, minimalistic Instagram highlight covers help viewers quickly get what a Highlight is about. Moreover, the covers create a clear profile look. You can easily download icons or design them in services like Canva.
#4 – Photographer @c.salazarfoto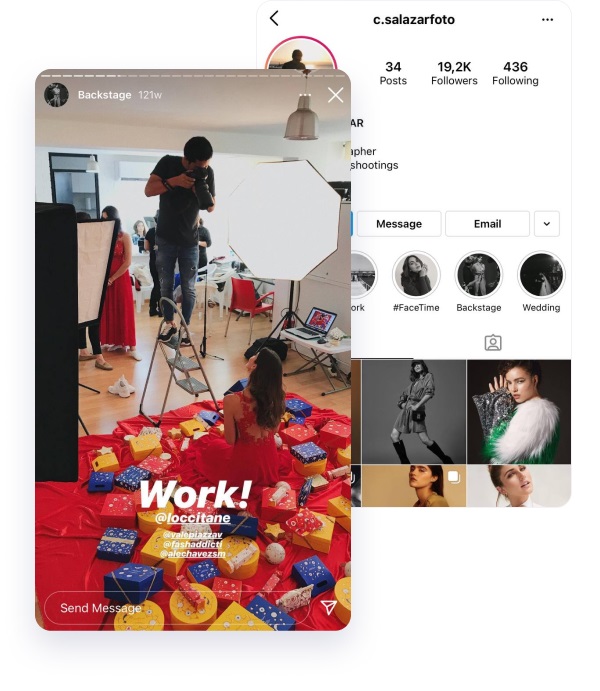 If you are a photographer, you never have problems with what you should post on Instagram. But arranged Highlights can assist you in classifying your works, and hence getting more clients. For example, @c.salazarfoto uses 5 Highlights sections that perfectly present his works and give a precise understanding of his work directions:
A Highlight for wedding photoshoots. If you publish works in the feed, viewers who are interested in wedding photography may overlook these images. But when you post a special Highlight named "Wedding," a random viewer gets that it is your specialization.
Post Backstage. To make the content more diverse and genuine, publish images and clips of work in progress. It will help people to understand your personality, behavior in real life and understand if they should cooperate with you or not.
#5 – Travel agency @bespoke_tuscany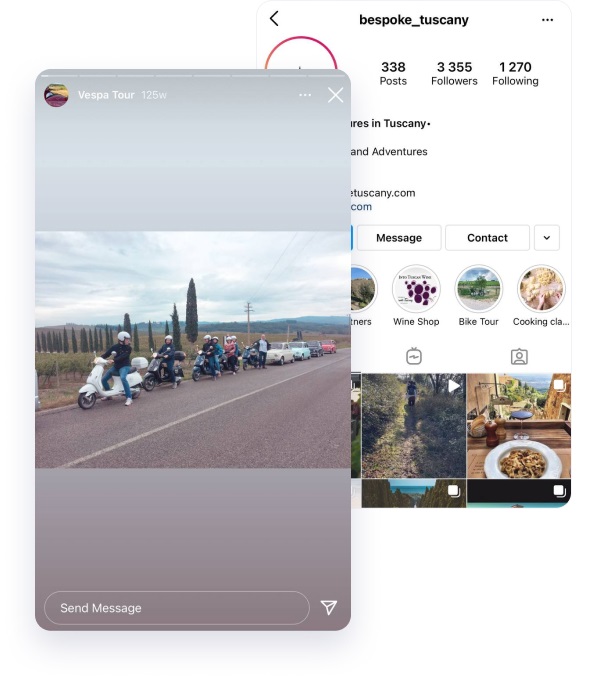 Content about travel is highly Instagrammable and is favored by Insta users. Do you run a travel agency, a travel feature account, or maybe you sell theme tours via IG? Make use of Highlights so that first-time visitors of your account can learn best-selling directions, read reviews, and view pictures from tours.
Collect pictures from tours by topics in Highlights. For example, @bespoke_tuscany offers wine tours, bike tours, cooking classes, and many more. And users don't need to check the website to learn this thanks to classified Highlights.
Depict accommodations and transport you offer in Highlights. Assist first lookers and show the main details first of all.
All in all, curating Highlights is a vital way to depict your services and products, provide added value, build trust and solve customers' issues. But you need to be wise when picking images and Highlights sections. We prepared a Sales-boosting Instagram Highlights Guide to share practical tips for creating them.
If you didn't find Highlights examples in this article, you can investigate and get inspiration from your competitors' accounts. It might be tricky to find profiles in your industry in the app. That's why I suggest you apply the User Search tool where you can filter IG accounts by categories to explore your direct and indirect rivals. By studying their content and Highlights, you can take away more ideas for your digital strategy.