In this article, we will take a closer look at the tutorials and proven tools for sellers. Top coaches as Vanessa Lau, Jenna Kutcher, and others will reveal the secret of how to earn on Instagram.

You may face a problematic situation where your followers are not your customers yet. For example, new entrepreneurs may buy followers or these followers might not be a relevant audience.
Do they scroll through your posts without asking you for anything or interacting with the content in any way? We know your pain, but it's fixable.
This is a problematic case because such irrelevant followers only worsen your reputation for the Instagram algorithm. You will be much more effective in growing on Instagram with few followers but many interactions with content from people who may not be in your tribe. Often appearing in the Explore section stimulates organic reach to your page.
Before reviewing training and webinars, you should learn about a tool that helps you attract those followers who are most likely to become your customers. There are many Instagram bots that won't help it in getting followers because they are technically imperfect and won't take many actions.
The proven and effective bot that attracts exclusively niche followers who may be interested in buying is the Inflact Promo Module. You can read about the results of our testing and compare the tools.
Why secure Instagram bots are useful and why they can quickly boost your Instagram account:
Interaction exclusively with target profiles, according to guidelines that you set, will not waste time by liking irrelevant accounts. After you indicate hashtags and usernames of your competitors, the bot will engage with these accounts. This means that you literally save 1,000 hours that you would have spent manually liking these people's profiles.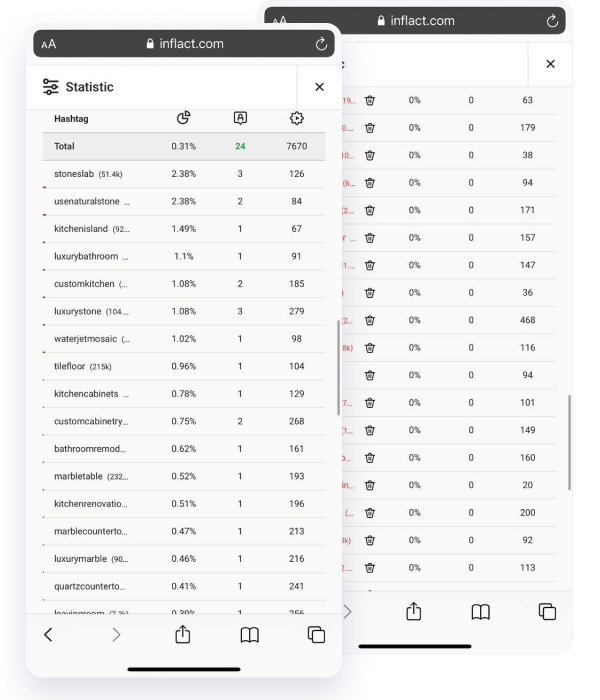 Attracting people to your account ONLY after warming them up. Since a bot is not a direct advertisement that appears in users' feeds, the users will not respond by thinking: "now they will try to sell me something."
In contrast to ads, a bot is like a person. That is, the potential client will have a feeling that a real human opened their profile, watched stories, and put likes. The effect of real interest in their personality is created – this means much more than an advertising banner.
Therefore, with the help of a bot, you can build more trusting personal relationships with potential customers.
Since targeting and personification are the keys to online sales in 2022, a bot will provide more genuine interest to people while interacting only with customer groups. This is what you need to turn potential followers into people who buy.
Also, take note of the tricks that will help you nourish customers from those who watch your profile and never purchase:
Free things/lead magnet will quickly attract new followers. To ensure the boost of real customers, you must comply with two conditions – offer a free service or product (this is a lead magnet), but at the same time, you should only focus on the niche target audience.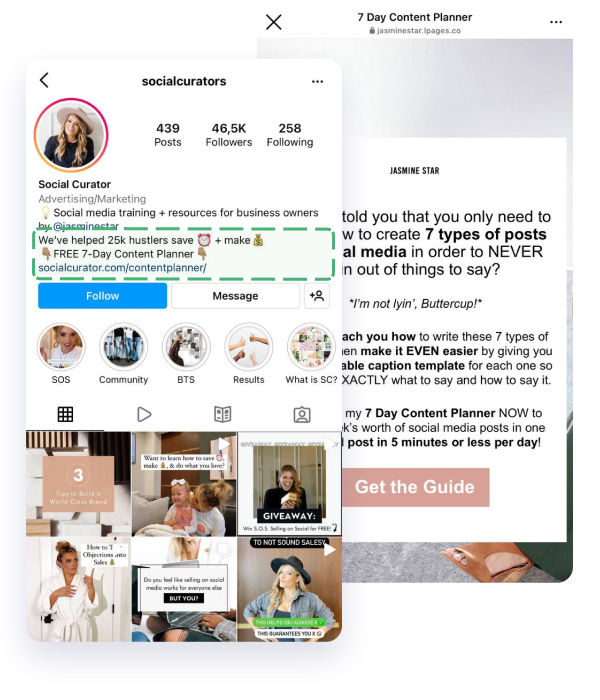 For instance, it makes no sense to offer a free iPhone because everyone will want it and people will start following just to get it – it won't help your sales. Link the lead magnet directly to your service. For example, if you are a photographer, offer people free editing if they repost and follow. In this case, you will receive organic traffic to your account.
High-quality post-sales service is what the IG client lacks. If you have made your first sales, you should not end your interactions with people at this point. Demonstrate that you successfully sell by using the faces of your customers, content created by them, and testimonials. You can attract new customers this way – the best advertising is reviews and reputation in a social network.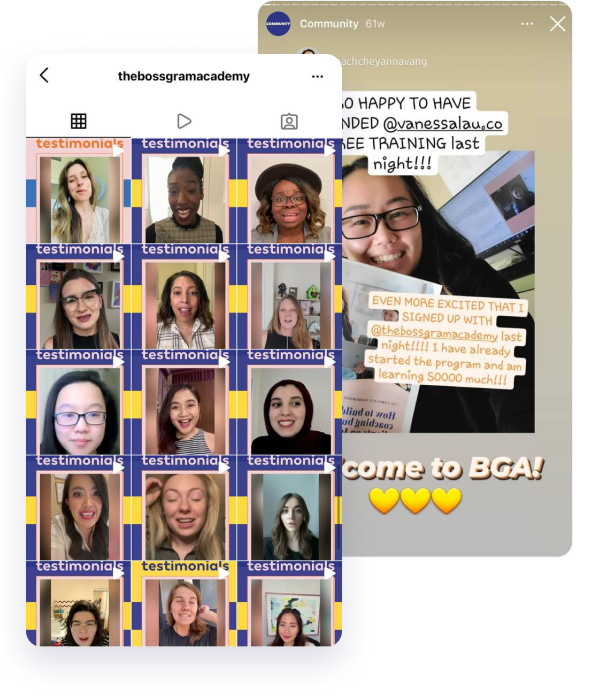 This is the difference between doing business on social networks from offline. You won't be able to become a successful seller without real testimonials. At the same time, word of mouth spreads very quickly, and within a month you can build a decent base of 1,000 potential customers and increase your earnings.
Vanessa Lau training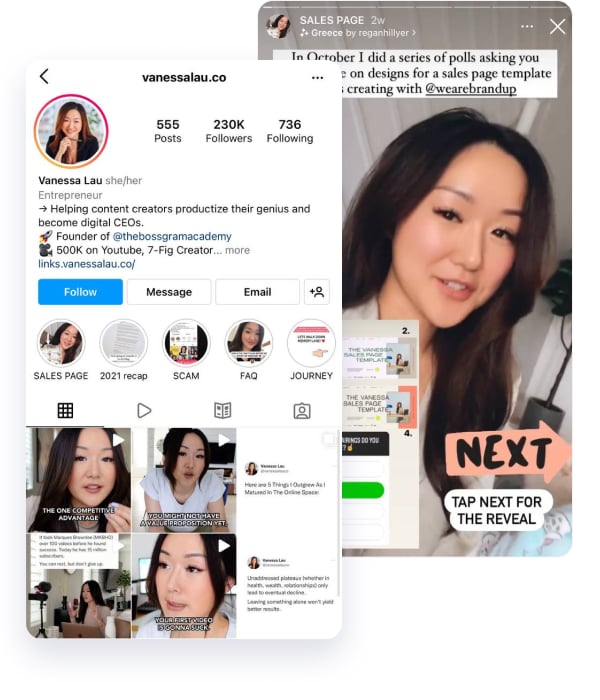 If you've ever searched for Instagram training, chances are you've seen this girl post it on YouTube, Google, and Instagram. She is a trending tutor and her success story is a great example of how to quickly skyrocket via social media promotion.
In 2018, Vanessa retired from a company and started building her own brand. At the moment, her income is stated as seven figures – you may become inspired by her personal example and real customer stories.
You can find practical life hacks to promote any product/service on Instagram.
This can be a great way to get out of employment to promote your own brand because you will gain a community and support from a tutor. So if you want to become an influencer or promote a personal brand, you can research these resources from her:
Podcast
Free webinar
Online course
Up-to-date tips on Instagram, YouTube, and her blog on the site
Watching the free webinar will take you 90 minutes, and during this time you can if you are ready to try the paid master class.
The advantage of buying and taking a course before studying everything yourself is that the information is systematized and selected in advance. That is, you will not need to spend extra time searching for it. At the same time, watching the online masterclasses doesn't mean you shouldn't constantly tread fresh articles, since news on social media promotion is constantly updated.
On the Inflact blog, we release weekly updates that always correspond to all Instagram updates.
The key takeaway from Vanessa Lau's training is the philosophy of any business on Instagram:
The number of followers is not the same as the number of sales, and the number of followers should not be your primary goal if you are running an Instagram business. Instagram takes the focus off the numbers, for example, you can hide the number of likes and then it doesn't matter how many people like you. Meanwhile, real benefits and exclusivity are of great value and attract people organically.
You can have high engagement rates but a low average check from Instagram. And this is exactly what the Vanessa Lau master class will help you deal with since she herself came this way in practice, by promoting her account and her services through Instagram.
Jenna Kutcher webinar
Jenna is also a trending tutor who has made her way on Instagram on her own and is now helping future digital entrepreneurs.
Here you will find training not only for Instagram but also attracting followers through other social networks such as Pinterest. Jenny's training is focused especially on those for whom visuals are of great importance. She is a fan of photography and you will find specialized workshops for those who want to make money with photography through Instagram.
This master class teaches you how to turn followers into customers, since there are so many ways to gain an audience, but few ways to continue the game and turn the growth plan into a sales plan.
Entrepreneurs will find these useful materials:
A podcast for those who do business that is constantly updated with new releases.
A blog where you can learn about Jeanne's personal experiences with a bunch of travel photos and other articles.
Paid courses
Business course for Instagram. She offers you a complete system that will help you attract 1,000 followers a day.
Course for Pinterest. If you have no idea that this social network can bring customers and generate profits, then view these materials. You will learn how to sell digital goods in this visual search engine.
Course for creating a photography business. If you want to make money with visuals, you can start with this course. It is based on personal experience. You will become a participant in a multi-stage program that reveals the secrets that helped Jenny build her business and earn money by using one camera.
To sum up, at the moment there are many bloggers and courses that reveal the secrets of earning on Instagram. However, it can take you a long time to find low-resistance suggestions and strategies for success that have been tried and tested in practice.
Before trying paid masterclasses, you can derive your personal formula for a successful promotion. Tools for running a business on Instagram will help you.
Tools to convert followers to clients
People who are looking for courses don't really expect to be presented with things that they already know. One of the most important things you can add to your arsenal is the tools that help these successful businesses manage and attract clients.
You may not be aware of the existence of these tools, which really make it easier to find a connection with clients and keep in touch with them. That's why we made a selection of services for business people.
Test some of all these tools and perhaps you will not need courses that reveal similar tips.
#1 HASHTAG GENERATOR
All top business accounts apply hashtags. At the same time, you may not understand where to get so many hashtags at once. A special smart tool developed on the basis of artificial intelligence will help you with this.
Most of the hashtags from the Instagram database are built into this product. You can enter search criteria – those keywords that relate to your business – and you will get a ready list of tags that you just have to copy and paste.
Here is an example of what it might look like.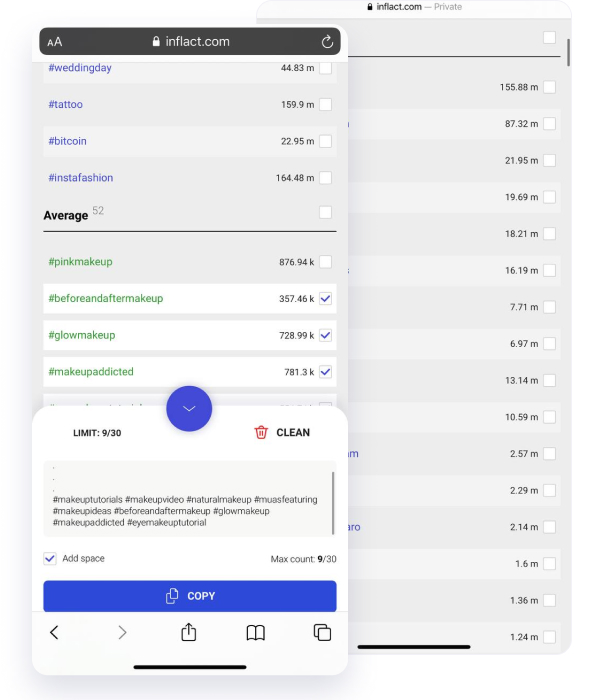 Explore detailed instructions for selecting hashtags in this article.
This tool will help you attract targeted followers who may be looking for your product or service. However, whether they become your customers or not will depend on how much they like your feed. The unique selling proposition indicated in the bio can do wonders. Learn how to adapt your account for business in the article.
#2 CRM & ONLINE CHAT FOR MANAGING CLIENTS ON INSTAGRAM
A must-have tool for all those who already communicate with customers and want to keep in touch with them automatically. It is also the right helper to get new followers interested.
Thanks to the following actions you won't need to keep track of who followed you and send messages manually:
Welcome messages. The main thing here is not to be intrusive, because no one likes being spammed in Direct. However, if a new follower receives a message from you with a unique offer (to try your service for free), this will be a great way to distribute a lead magnet.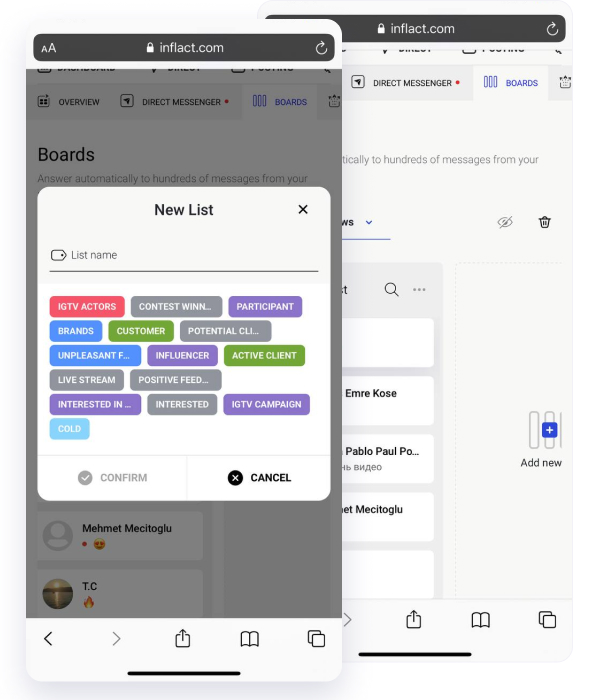 Automatic responses to reactions in Stories. Through sincere Stories, you can sell a lot. Stories are the perfect place for impulse buys, so if you have discounts coming up or you want to quickly sell trending goods, then be sure that you should launch all this in Stories.
The fact is that your post may never appear in users Feeds, but people browse Stories more often and it is natural for them to respond to this content.
When you set up automatic responses to reactions in stories, you can be sure that no follower who replied to a story (your potential hot client), went unnoticed. You can continue contacting them in CRM.
Automatic replies for keywords. This feature will help you turn messenger into a complete customer support service that will work 24/7. This is a real Instagram chatbot that works on the principle of answering based on trigger keywords.
That is, if clients bombard you with the same type of questions, you can indicate these words in the toolbar. Prescribe in advance all the answers that you already use to interact with clients.
#3 CONTENT DOWNLOADER
This is a tool that helps to diversify your Instagram feed with zero struggles. Reuse everything your customers post to attract even more new leads.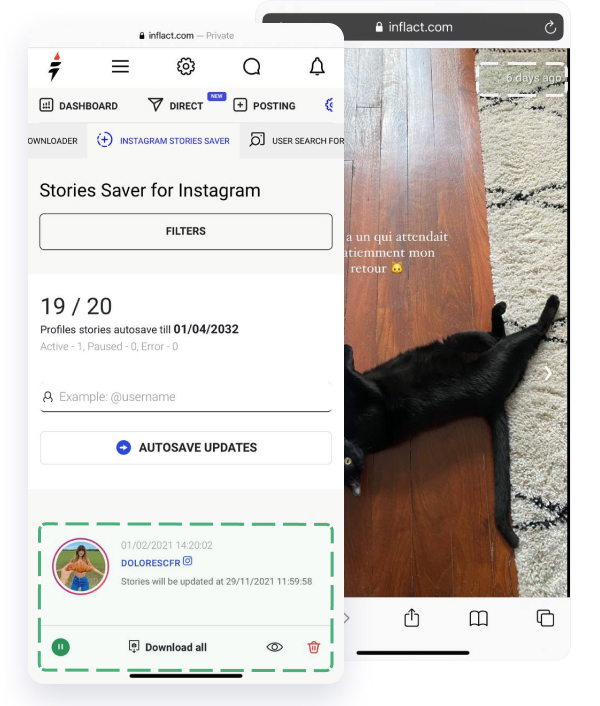 So when you see that a client has published Stories, or made a post in the feed, you definitely need to download this content in order to recycle it in various ways. This can be your Instagram account, your other social media, or your website.
Finally, social trust will be achieved. Real reviews from real customers will attract clients from among those who may already be your followers but still do not buy.