Instagram optimization – is it a myth or reality? Can you reach more potential clients without expenses on ads? Yes.

The mechanisms are not that intricate compared to search engines. But there are several tricks that can significantly improve genuine reach and consequently your profits. People are striving to discover your profile – will you help them? Many of those who want to answer "yes," may start panicking: SEO is so complicated... I promise it's a misconception. Keep on reading to discover simple yet effective techniques. You only need the IG app and the Inflact Hashtag Generator.
5 Proven SEO methods
Hack #1 – Account data is searchable
The search tool on IG is a younger sister of the engines like Google. A user enters a keyword, and the system shows matching accounts, hashtag or locations: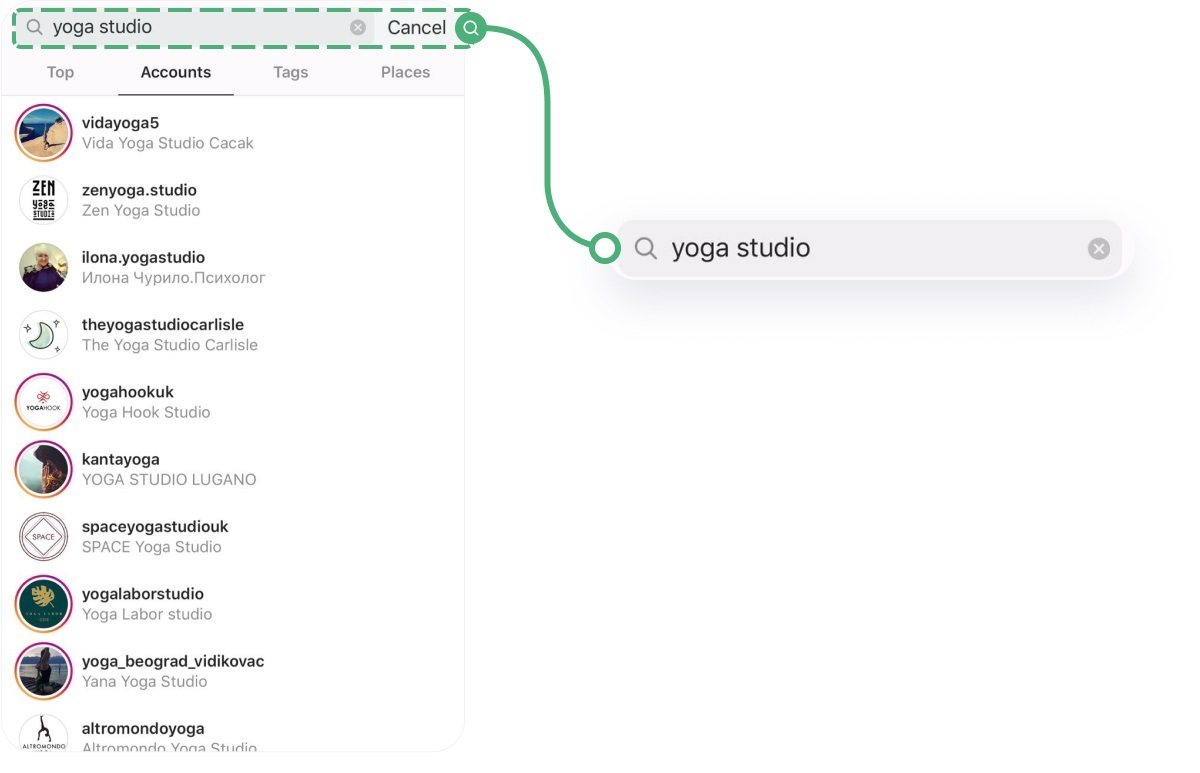 Insight: You need these keywords on your page in order to reach the top of the results.
Yes, the suggested accounts correlate with your followers, associated profiles, and their interests. Also, Instagram displays profiles popular in your area. But the IG niche, your name, and your bio description impact how many people apart from followers can find you. The issue is – how do you update Instagram with keywords to reach the highest discoverability? Begin with these essential sections:
Many Instagrammers duplicate their real name in the name section, but it's no longer useful. Look at these good examples of IG names: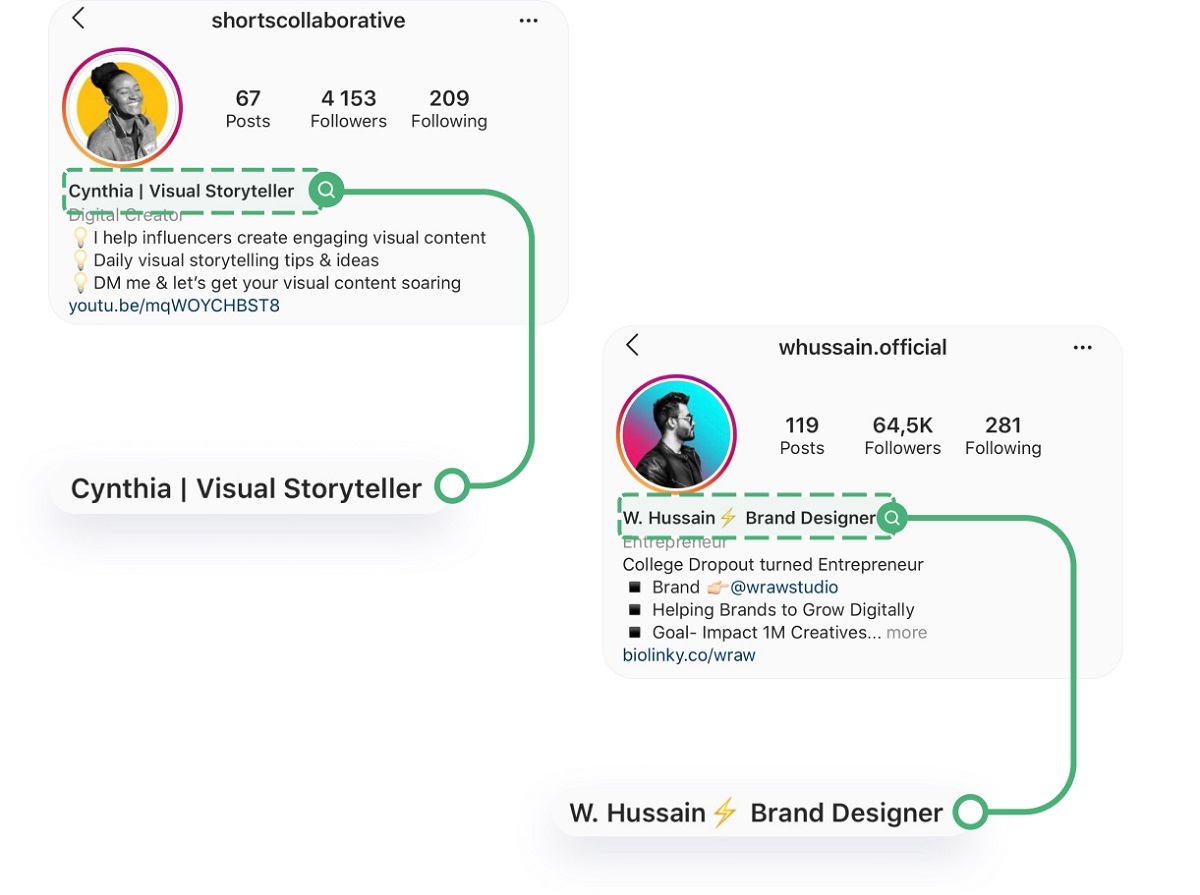 As you see, business-oriented Instagram users mention the area of work or their niche. The clearest approach is using this formula for the Name section:
Real name | Niche
The customizable name section will bring those people who need your services/ products/content straight to your IG. Do as follows to manage the Name section:
Open your IG Edit profile Name
The username (starts with@) affects the search positioning likewise. To show up among the top-of-search accounts, include keywords and synonyms in the nickname too. Here is proof that the algorithm recommends accounts with the "travel" keyword featured in the nickname.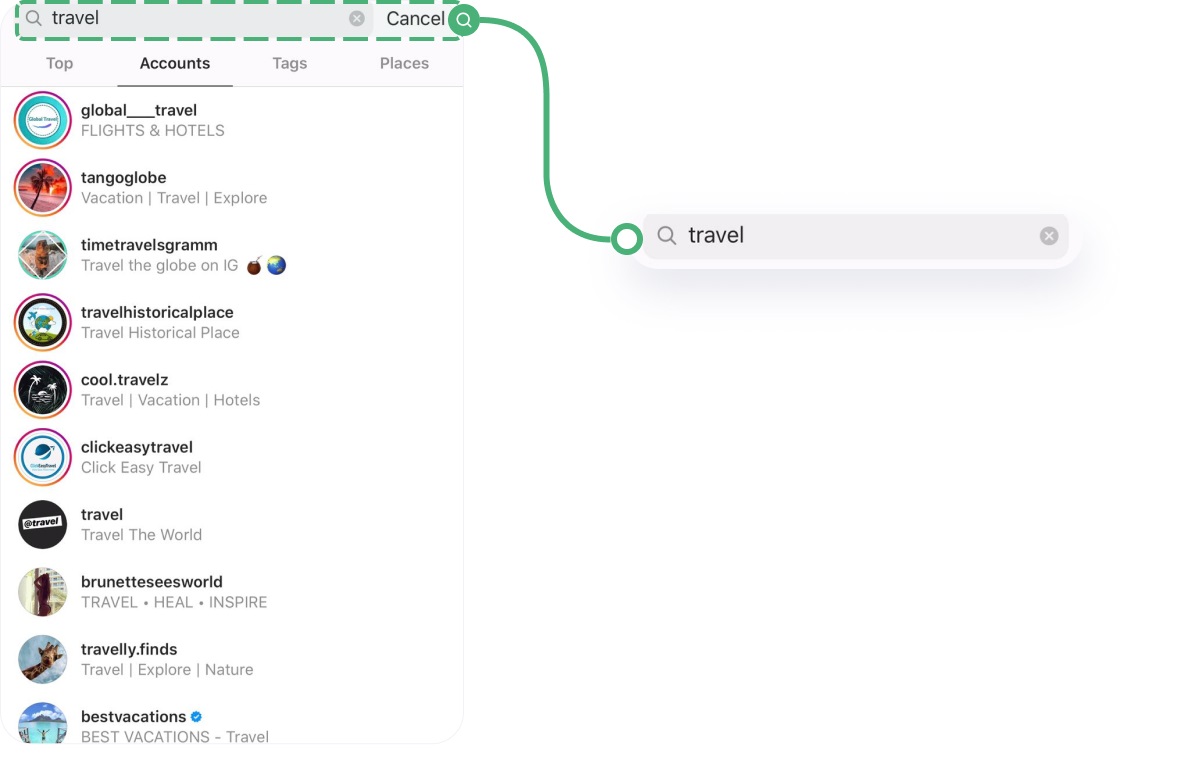 It might be shocking, but this field is searchable, too. A well-thought-out bio refines the chances you will be presented to the right audience.
Insight: Feel free to insert hashtags in your bio, they boost searchability as well. When a client inputs a hashtag in a search, your profile has a leading position among the top results.
Study the examples of brands that use keywords in bios: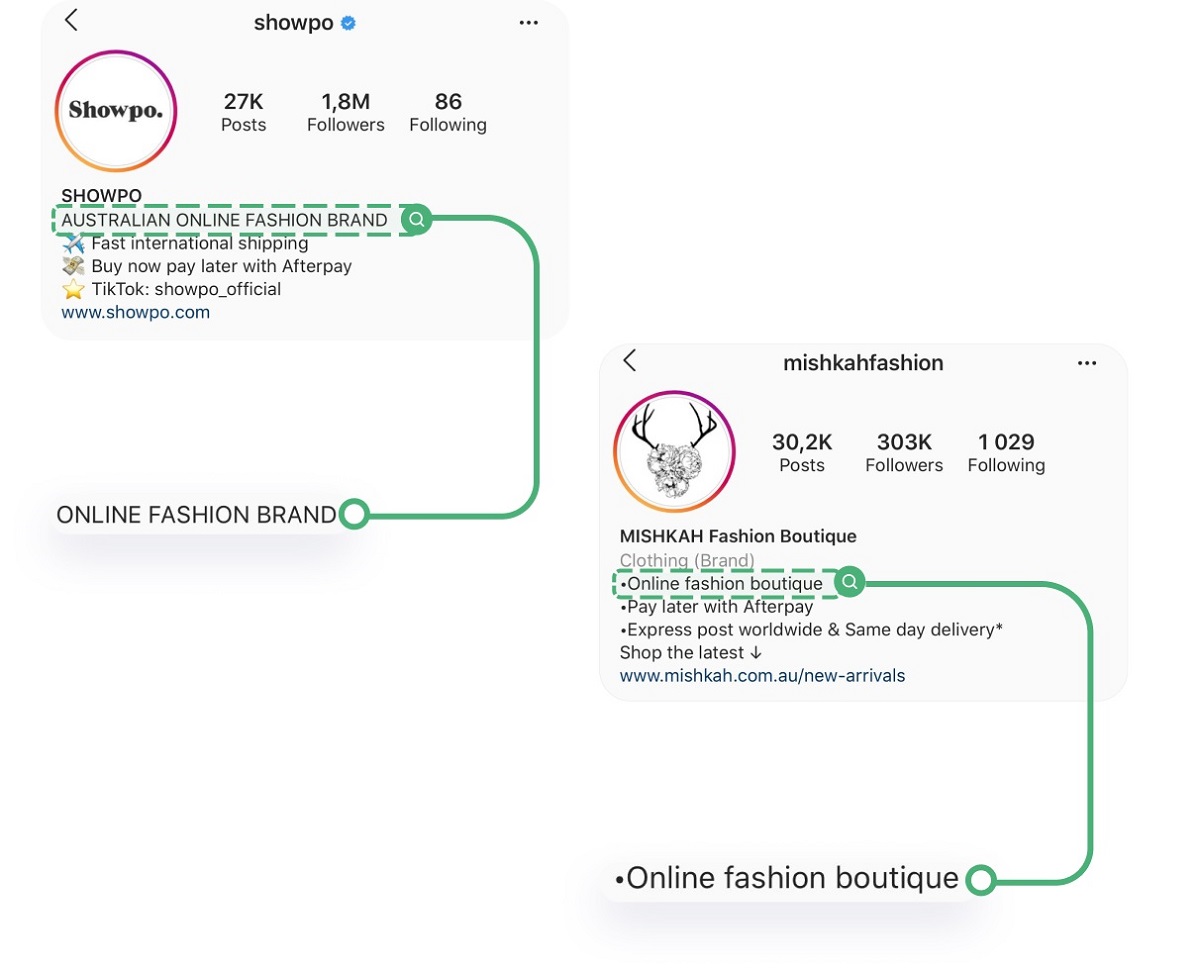 The accounts above use the keys "online fashion boutique" or "online fashion brand" – these words are really popular in terms of search: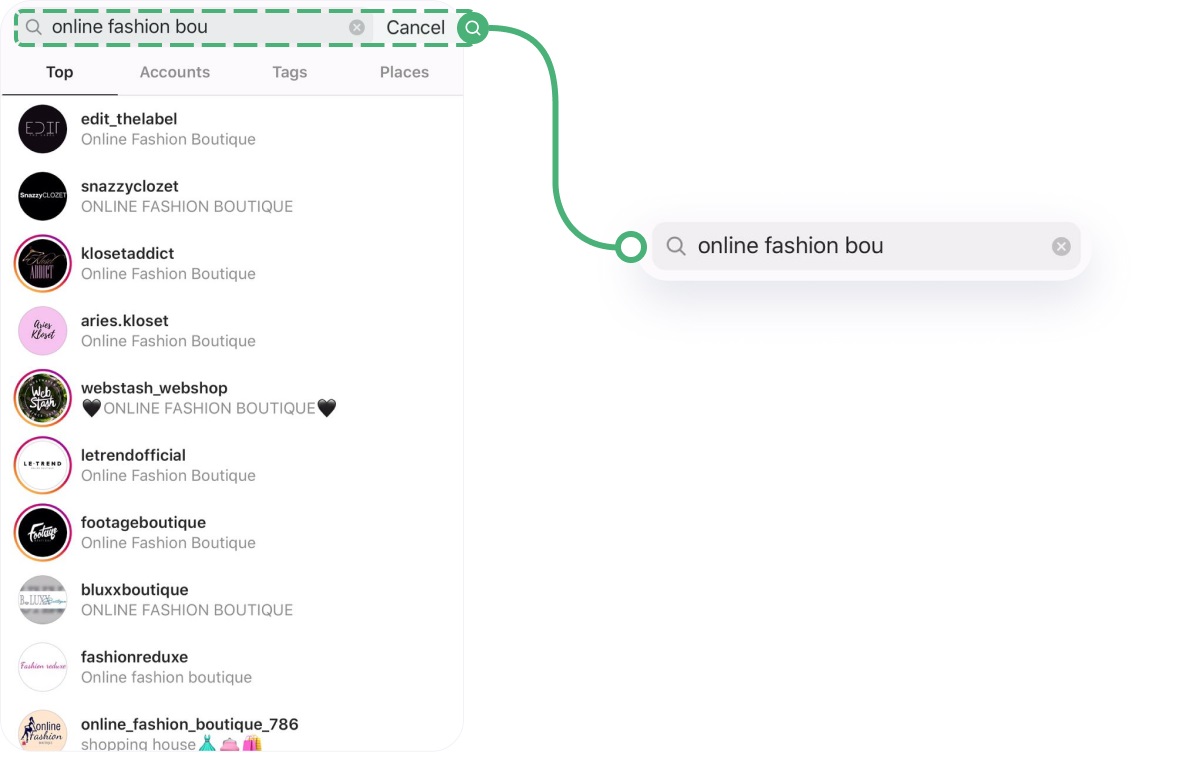 This issue is clear – IG algorithms examine the words in bios to learn what your profile is about. The next subject is: How do you define these helpful words? And I have the answer, my friend. Do this quick analysis:
Find 7-10 top profiles in your niche.
Copy the texts of the bios.
Paste these text pieces into an online word cloud service. I use this one.
Do you see the most popular words? Include them when planning your bio.
Hack #2 – Hashtags = Keywords
Hashtags for Insta = keywords for Google. Your post goes nowhere without these search helpers. Read more about our experiments with the Inflact Hashtag Generator in this article. The win-win strategy is exposed step-by-step. A decent hashtag approach will translate into more organic views and sales – the method is proven and tested. Let's get into practice. When you research keywords for a website, you focus on what people type into the search bar. Their interests, troubles, needs and desires come first. The same rule applies to the hashtags examination: You need to understand the profile and needs of your potential client before finding hashtags. The obsolete marketing approach, which refers to hashtag volume (the number of posts uploaded with a particular hashtag) is not relevant. Look at these tips that will help you to win followers just with hashtags in 2023:
Create a list of words related to your audience's needs. Think outside of the box and answer the question: What words would my target customer type to find my product?
Include synonyms to this list. For example, "nude makeup" = "neutral makeup".
Use this hashtag generator. When typing keywords using the in-app search, you can't copy the hashtags. Such a time-consuming job, right? Compare how conveniently these hashtags perform in the Inflact Hashtag Generator – you just need to tick the boxes and copy.
You can't copy related hashtags from the app, but in the Inflact Generator you can do it in seconds. Just comapare two interfaces on the screenshoots: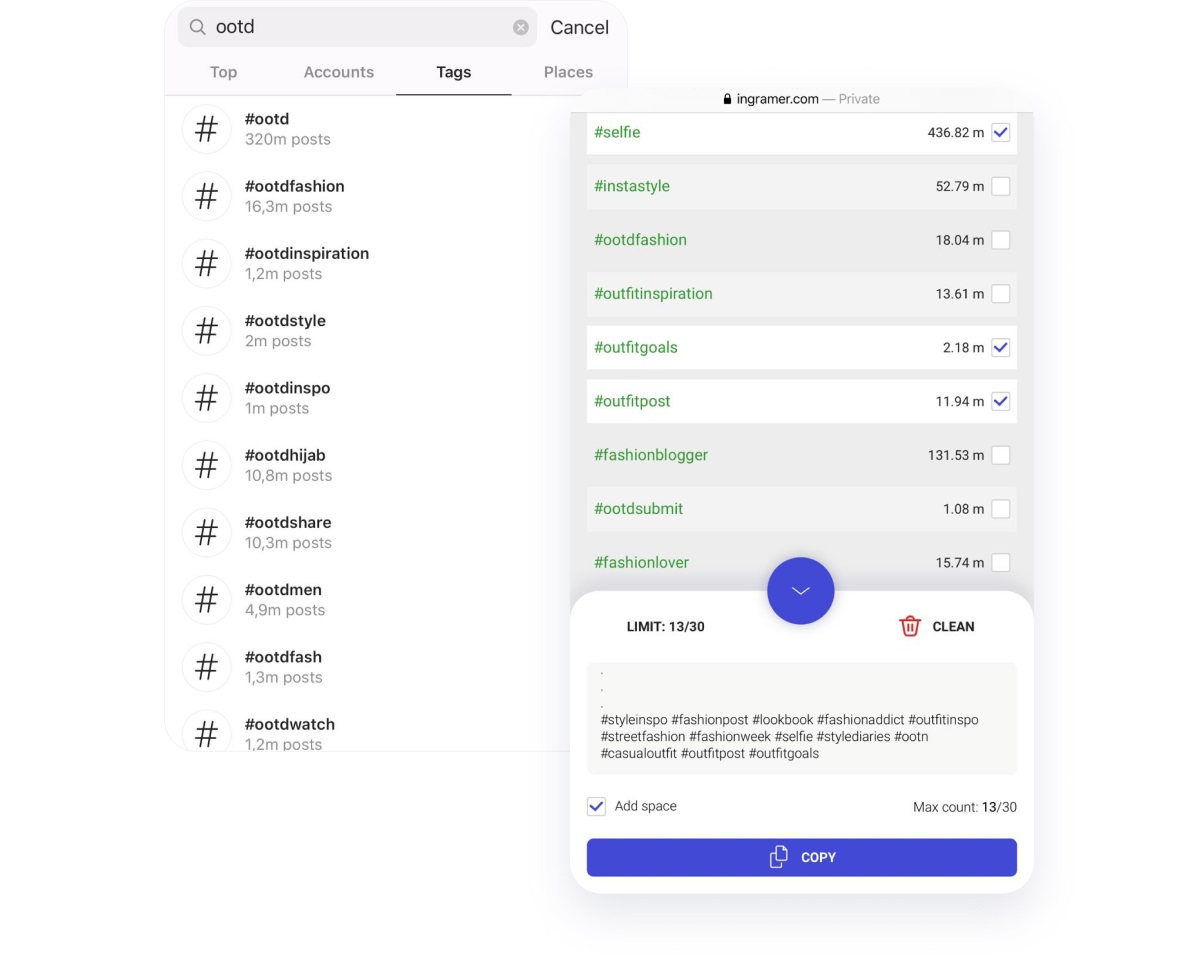 Inflact groups hashtags by categories – you just need to tick the boxes. Hashtags appear in the copiable clipboard.
Check the posts with a hashtag before using it. Many hashtags are spammy, irrelevant to your product even though they sound good. On Inflact, you make wise decisions by clicking on a hashtag. Do you want your post to appear among these search results? Are they related to your image?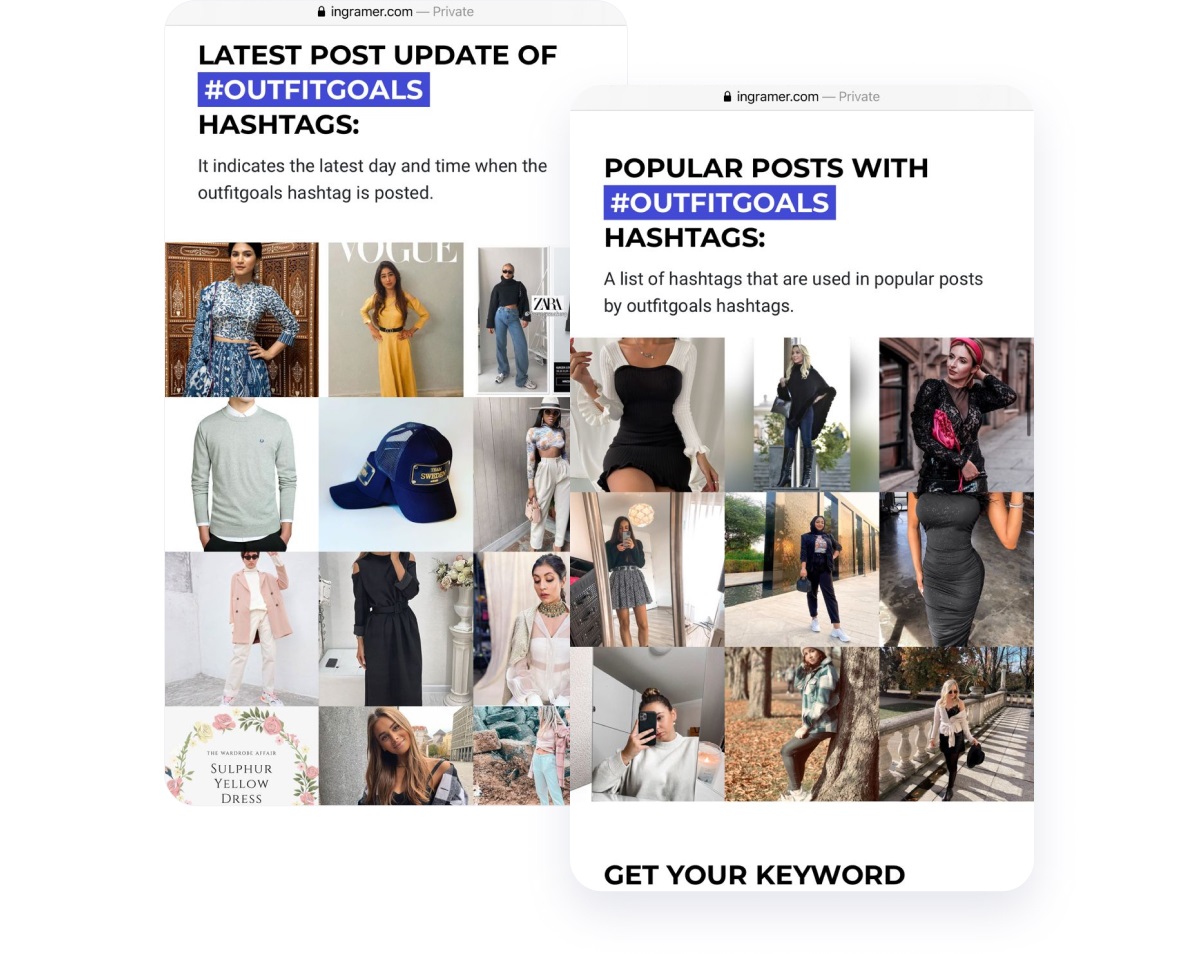 Hack: Check the hashtags that are followed by accounts in your niche and by interested customers. Every time you add this hashtag to your copy, your post will be in their feed.
Here is how I "spied" the followed hashtags by @thehouseoffineart – simply open the Following section: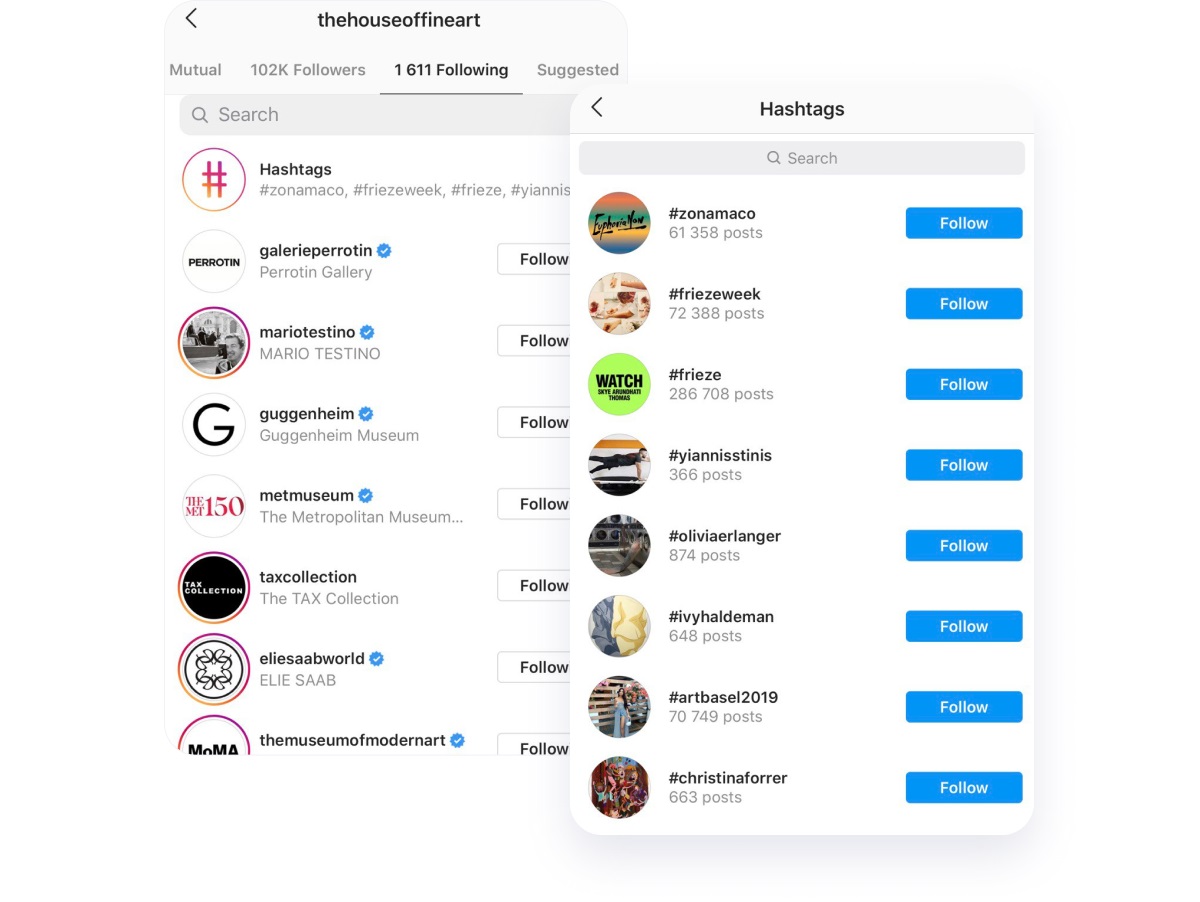 Monitor niche-specific contests/events. Follow top accounts trending in your area to track viral contests accompanied by a hashtag.
A well-crafted hashtag strategy is free Instagram advertising, and you really miss out if you don't use them.
Note: Hashtags are very changeable, so you need to adjust your hashtag lists once every 1-2 weeks. Some hashtags appear and go viral; some of them get spammy.
Hack #3 – Optimize your copy for SEO
You might think that only hashtags and location tags make your posts more discoverable. But this is not true – every word in your caption matters in terms of SEO.
Note: Captions with relevant and detailed texts improve your chances to get to the Explore section.
How does it work? IG teaches its algorithms to understand what each account is about by using the method called word embedding. Keywords in copy helps the AI mechanism to identify the relevance and suggest topically similar accounts in Explore. Instagram scans your name, bio, captions, and hashtags to show you to those users who indicate interest in the same areas. This method helps the platform to boost interest among users by showing posts they might like.
A lesson to learn: Keywords tied to your niche in copy lump you in with related accounts.
The scheme looks like this:
Target client follows accounts related to iPhone cases you include words like "funny iPhone cases" and "iPhone accessories" in your copy Instagram scans texts your profile in among those suggested.
Look at the examples of copy that helps IG better understand your profile. Accounts about coffee use the word "coffee" in captions and post images of coffee: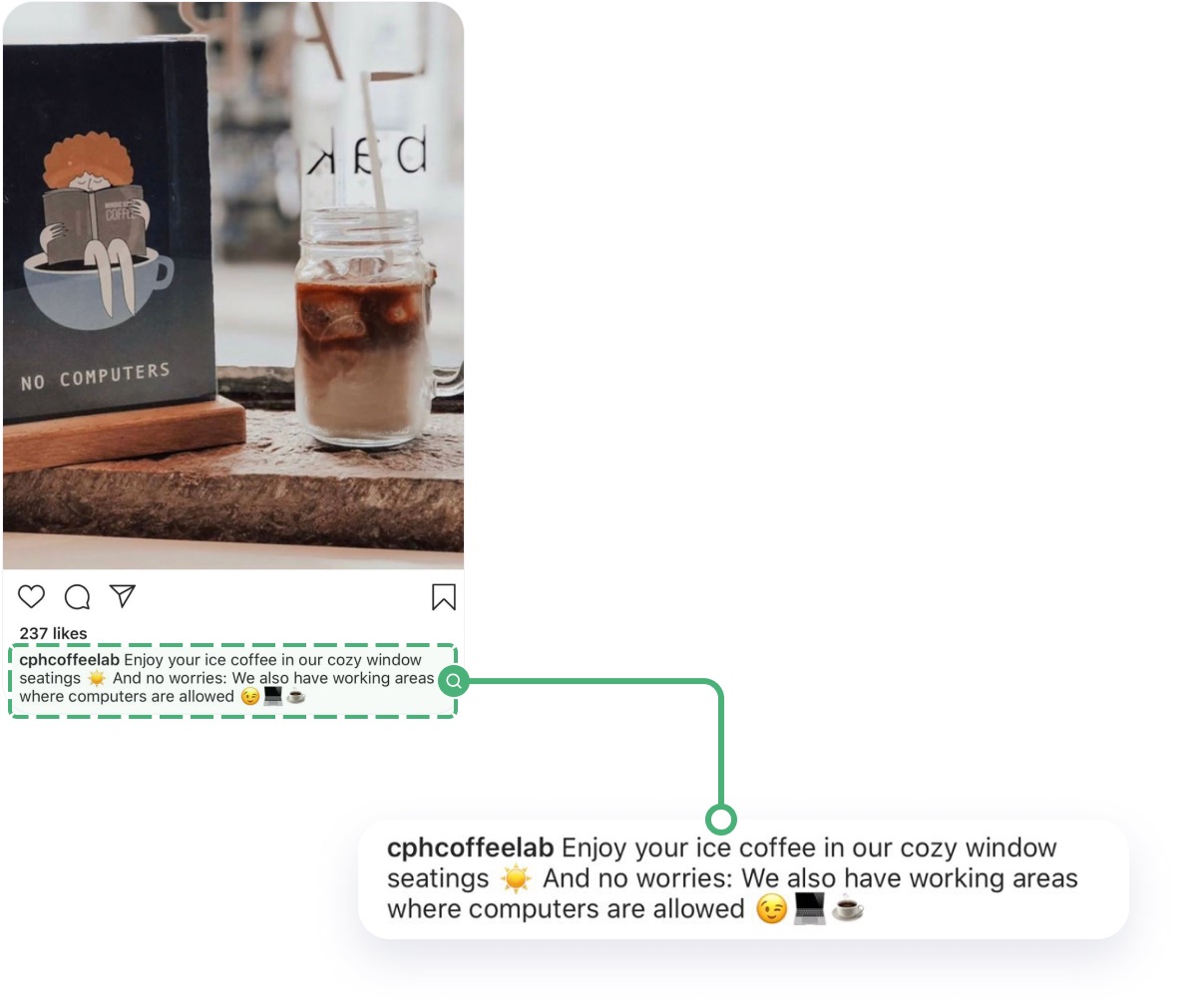 Let's move on to one more SEO hack.
Hack #4 – Alt-text in posts
Alternative text is one of the recent features that helps people with hearing impairments and the algorithm itself. It's super easy to use for better searchability – you just need to open the Advanced settings when posting. Alt-text on IG is comparable to the title and description on Google. If you don't type this text yourself, IG creates it automatically based on the object present in the photo. But I advise that you customize alt-text by using your keywords. Do as follows:
When posting, choose the Advanced Settings at the bottom of the screen.

Accessibility

Write Alt Text

Describe the image using keywords connected to your business, niche, and clients.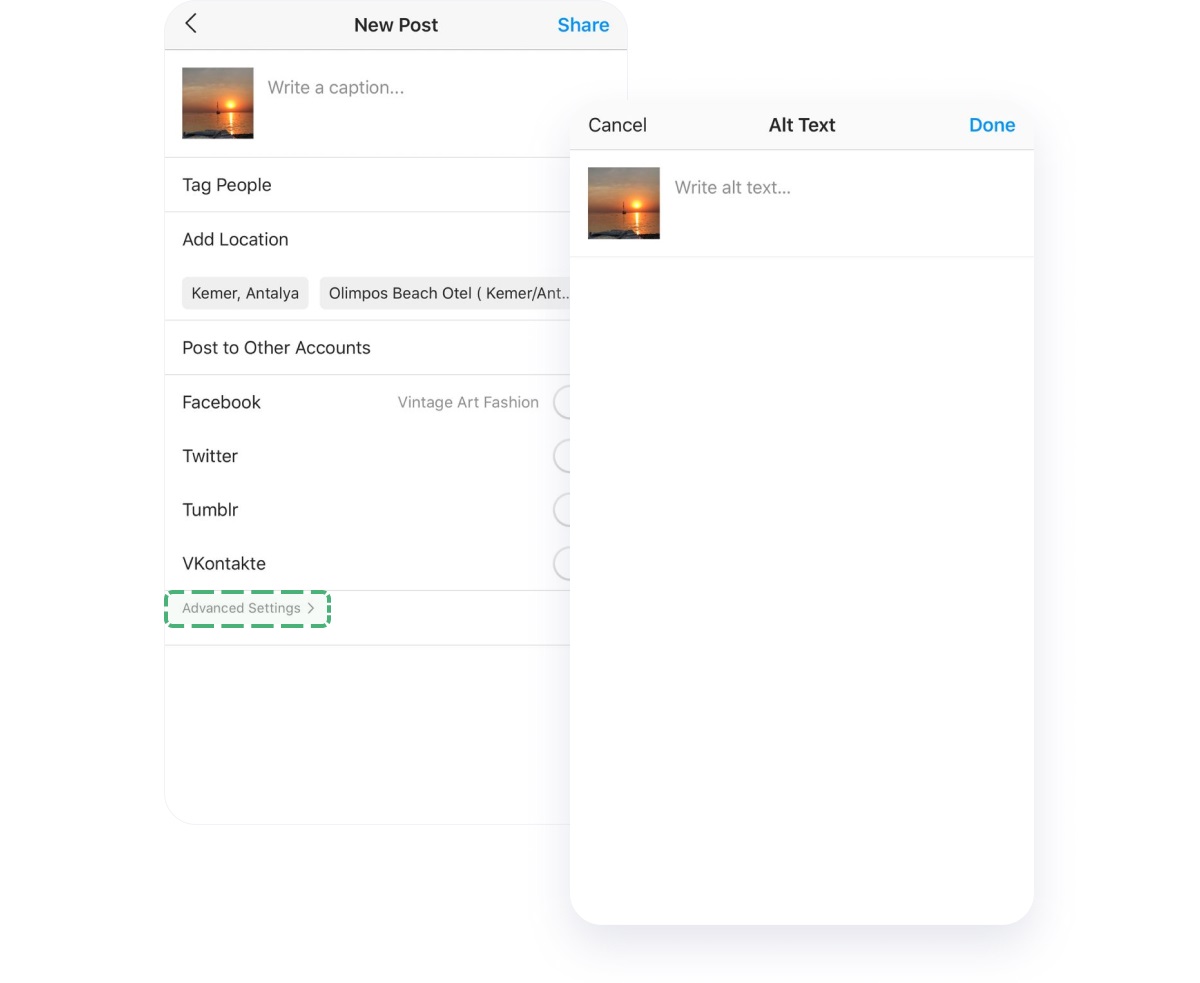 Note:
You can attach the alternative description to previously uploaded posts. Open the post, tap on
Edit
Edit Alt-text.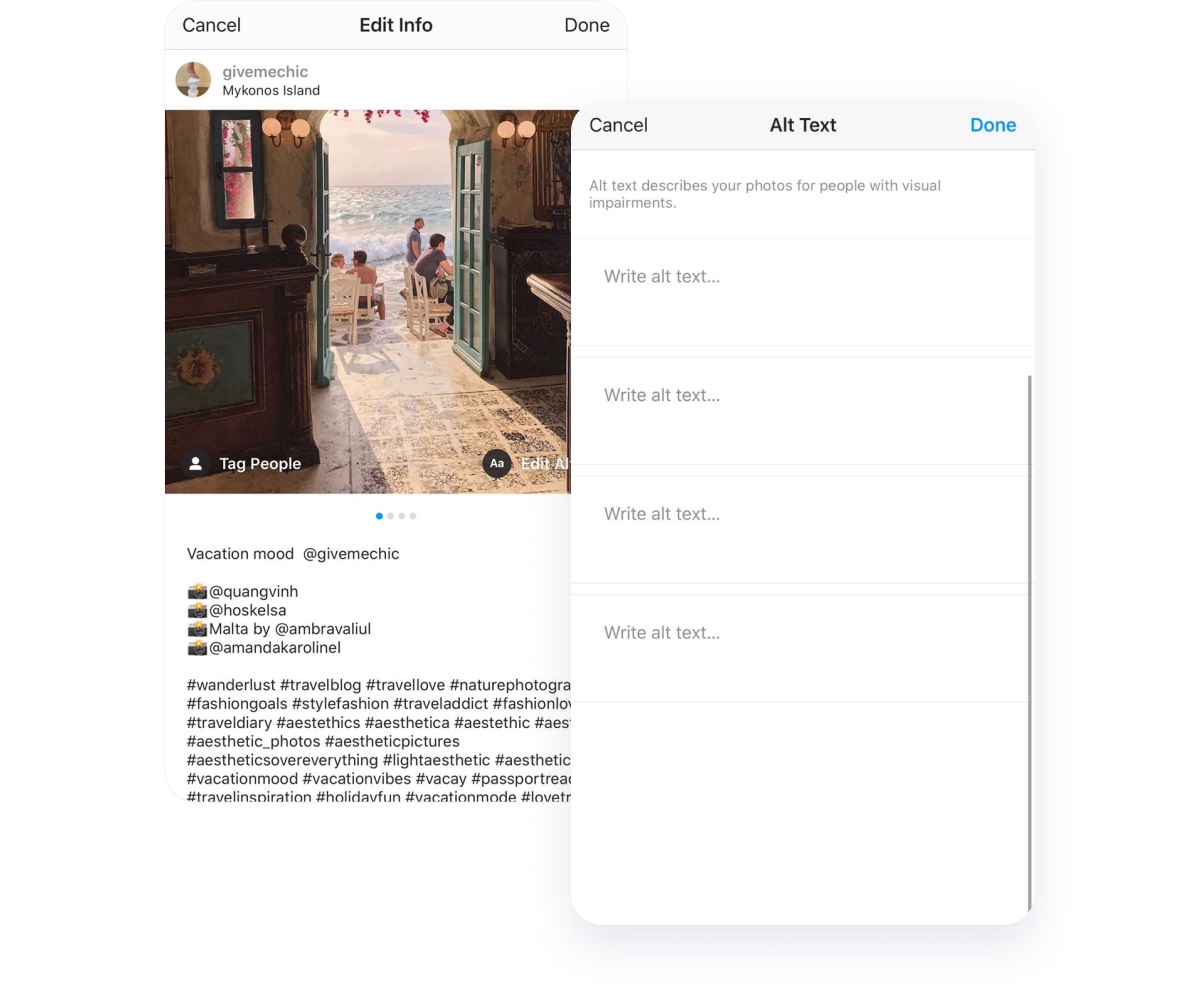 Hack #5 – Track the IG SEO results
When you optimize your website with keywords, relevant articles, and meta-descriptions, you monitor the statistics, right? The same principle is applicable to Instagram optimization. Here are several metrics I suggest you monitor:
Use the Inflact Profile Analyzer – it is free and will give you a better understanding of your account. The engagement rate is calculated for you.
Open the Post Insights. If your account is business, you can see how many people discovered you from Hashtags, Other, or Explore.
These numbers are crucial when you need to identify how easy it is for non-followers to discover you. Well-optimized content attracts many impressions from the sources different from Home (feed of your followers).
Conclusion
I revealed these 5 simple hacks that can remarkably boost your IG growth organically. As you see, many of them can be managed in-app. Regarding the hashtag usage, I recommend using an AI-based Hashtag Generator and tracking your hashtags in a Google spreadsheet. Alternatively, you can save hashtags as a shortcut on your phone. The main rule – you should be consistent and update hashtags, a.k.a. keywords, regularly since the community trends are rapidly changing.