Right now I will give you basic tips and 5 real examples! Plus I can give you FREE marketing tool for gaining new followers and likes!

Let's just say, that you own your small shop and you are eager to promote yourself via Instagram. I agree, fair and smart decision. Millions of people are selling their services or goods on the most popular visual social network. But how can you come to success, stand out and find your flow of customers? Read the article and fulfill your desire!

First of all, take a detailed look at your IG acc. Do you remember the basic criteria of solid and professional IG acc? If not, here are...
Instagram tips for small business!
Attractive gallery

Please, use high-quality photos, grammatically correct catchy captions, smartly-themed hashtags, and accurate locations. It's like a habit to brush your teeth in the morning! Keep your IG acc fresh, good-looking and professional!
Simplicity
Usually, on the Internet people don't spend much time on reading content or going into details. So make sure, that every accidental IG user will understand your offer at the first sight of your commercial account. But do not make your acc really flat, miz the main offer with unique details.
Usability
Care about your customer. If you have a shop, fill in the BIO with working hours and the address. If you have an online store, mark the details of "how to order" or delivery issues. Drag your customer from the picture to a completed sale. Make it unnoticeable, but with care!
Strategy
Do you have a content plan? Or you just post pictures when you have the time or you are in a good mood? Take a glass of wine, sit back and relax by a fireplace. Think about your offer to a client. Mark its unique features, that your business rivals do not have. Congratulations. Now you have your main offer and unique details that can be performed by quality photos and catchy captions and mixed in the composition of selling the content plan. Add different seasonal discounts, special offers, and real live entertainment content. Voila! Experiment with the content, check the statistics of IG acc and test your strategy for the best performance!
But note, your strategy should always include messaging in Direct to your followers. Read
DM Instagram: 30 Magnificent Templates For Your Promotion!
to learn for what and how!
How to gain more followers on Instagram for a small business account?
Are you ready to know the best way to get fans on Instagram for small business? Take a seat and read attentively. You need to determine your target audience on IG . What is it? If you are an Instagram model, your TA is people, who give you likes and admiring comments. If you have a small handmade business, your TA is your potential customers. The best way to experiment and find your TA is to use an Instagram bot. It attracts attention and real users to decide whether to follow you or not. Modern IG bots can perform 700 interactions per day, they can imitate real human behavior like watching IG Stories or put likes on the comments. Additionally, you can make an experiment every week and change your strategy according to the smart analytics, that is available at the dashboard.
And don't forget to turn on your
Instagram DM notification
not to miss a single like, follow and comment you will receive in abundance after the reading the article till the end!
No more theory!
Let's go down to the practice!
Get inspired by the success of a business, that flourish via IG!

Kenza is a 26-year-old Swedish/Moroccan girl, that was born and raised in Stockholm. She is a famous blogger, model, influencer, designer, tv host, entrepreneur. A few years ago she created the fashion label Ivyrevel together with her husband Aleksandar Subosic, his brother Dejan and our friend Gustav Springfeldt. A pure digital fashion house was launched in June 2013. Her IG feed is full of great looks in the clothes she makes. Cute and famous blogger can make every piece of cloth look gorgeous on her IG feed. Great, right?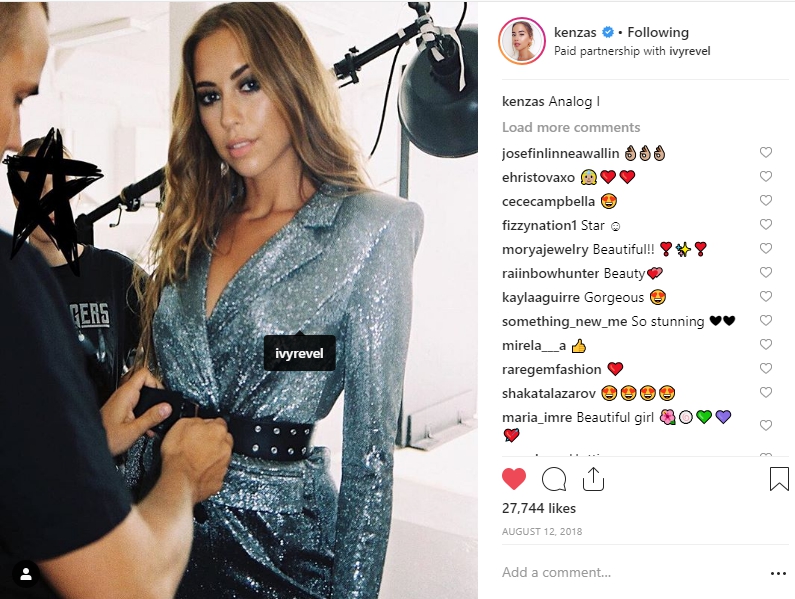 Another great example of a family business. Natalia Iashchuk is a famous Russian viner and blogger. She helps her mom with a fashion brand Vanilla History. They sell amazing knitwear for 14 years! The secret is also pretty simple: Nat takes the photo in the gown, posts in on social media and the orders instantly fill IG Direct!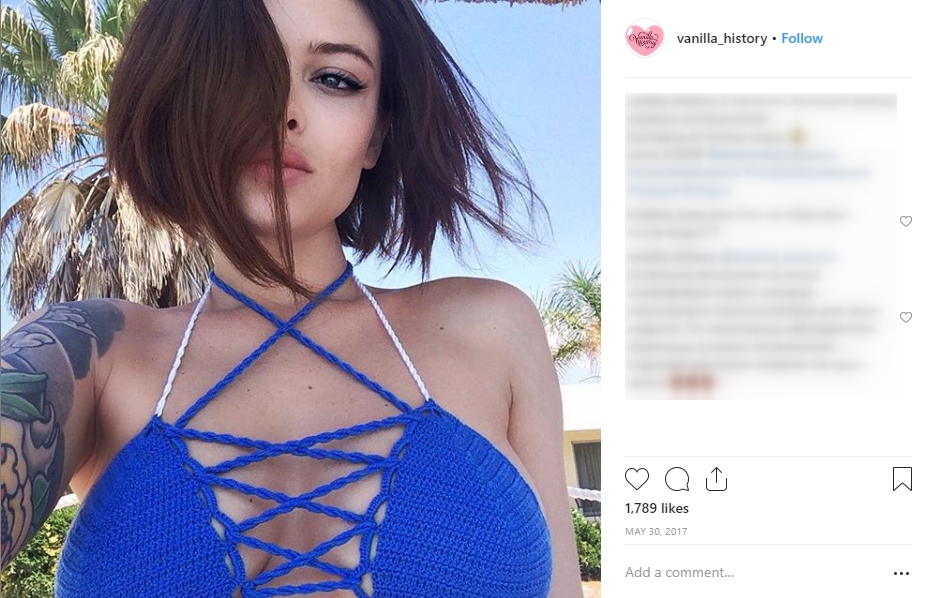 Jelly Devote
is a 29-year girl from England. She is a fitness babe, who is an inspiration to millions of fans. She could handle a significant weight gain and experienced all methods of weight loss. So she sells her personal program, that was tested by herself! Her gallery is full of astonishing pics of comparison and instant calls to action. She makes every person believe in him/herself and spreads all over the world active and healthy way of life.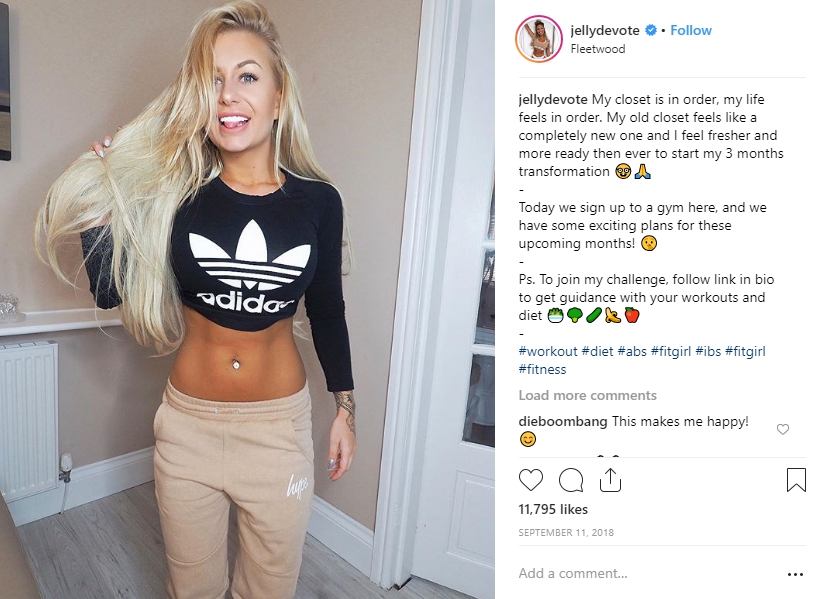 TIJN is now a world-famous brand of aesthetic eyewear. Based in China but inspired by Amsterdam, the brand is a great example of how your gallery should look like. Attractive pictures, collaborations with models and direct links to the shop. A smart collection of hashtags and well-planned locations choice. Get inspired!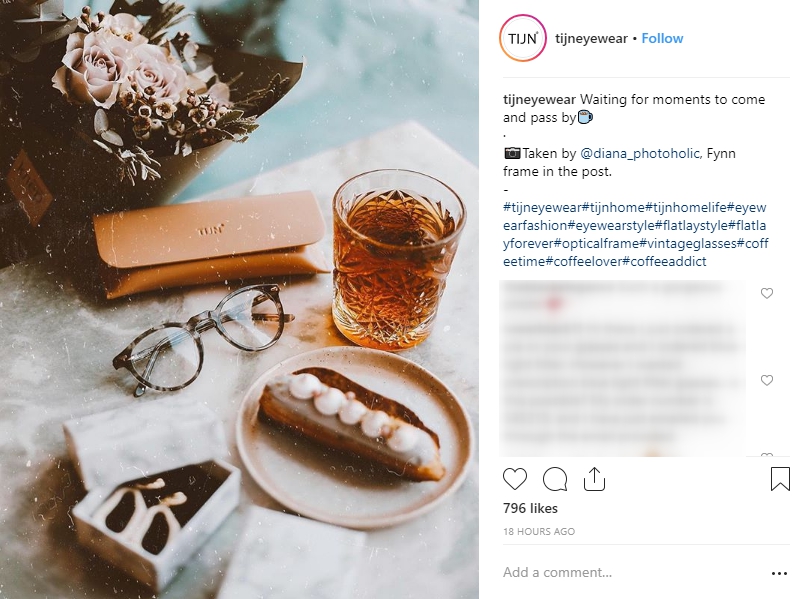 CLUSE is a young brand, that is based in Amsterdam. Two friends Rudyard and Ed started the business in 2013. They were just retailers who decided to create their own fashion brand. And thanks to hard work and social media outreach they have deserved results! Incredible feed and worldwide popularity of Cluse is a real success.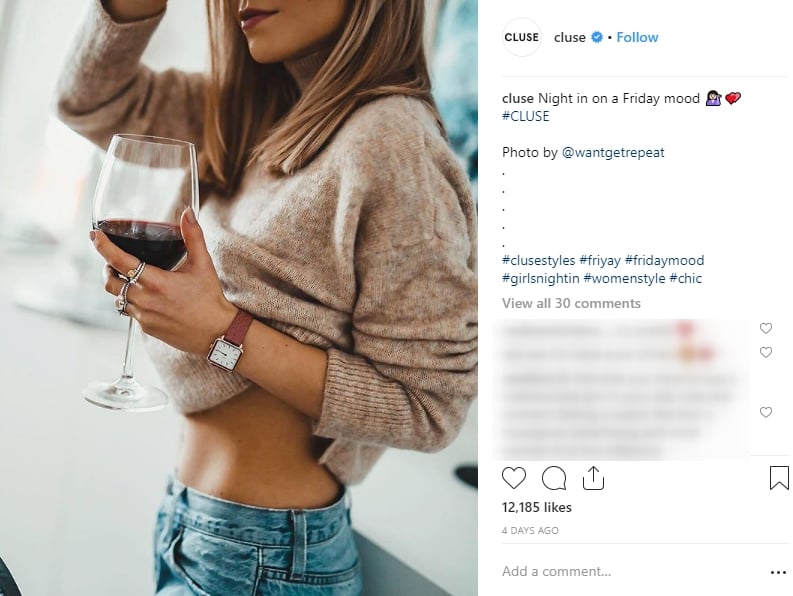 Well, it's hard to define the marketing strategy, when the acc gained its popularity and lives the deserved success. But all accs have the following common features:

- Amazing gallery
- Clear offer
- Simple order
- Long-time hard work on the finding TA and building of marketing strategy on IG.
Do you want a free Instagram marketing tool for instant Instagram growth?
Have you ever tried
Instagram hashtag generator
? It's the best free way to get new likes and fans. The smart tool can provide you hashes by photo, URL or your keyword!
The best method for using hashtags is to use very popular hashtags to widen the outreach, and more individual ones, that define your target audience.
It's also critical to use convertible tags. Inflact can provide you with smart statistics for the best choice of hashtags for your account!
I wish you great promotions! Need help? Feel free to contact us via hello@inflact.com. We will be there to help you with promotion on IG!