Instagram is a rapidly changing community – you need to stay in the loop of the newest trends. After the success of TikTok contests, Instagram competitions have become crazy viral. Celebrities, influencers, and brands take part in these fun competitions to speak the language of their audience.

The issue is that Instagram games can really help you attract new audiences because the content is easily getting viral. Due to COVID-19, challenges have turned into the most powerful content type since they stimulate real engagement. The only things necessary to understand are what contests are going on, and what hashtags and challenge stickers you need to apply. In this article, you will explore the funniest competitions on Instagram that are still running. Also, I will explain the way to apply stickers in Stories and use contests in your feed.
Hot IG challenges to participate in now
Let's inspect the ongoing games so that you can grasp the rules and remain relevant.
#1 The Handstand challenge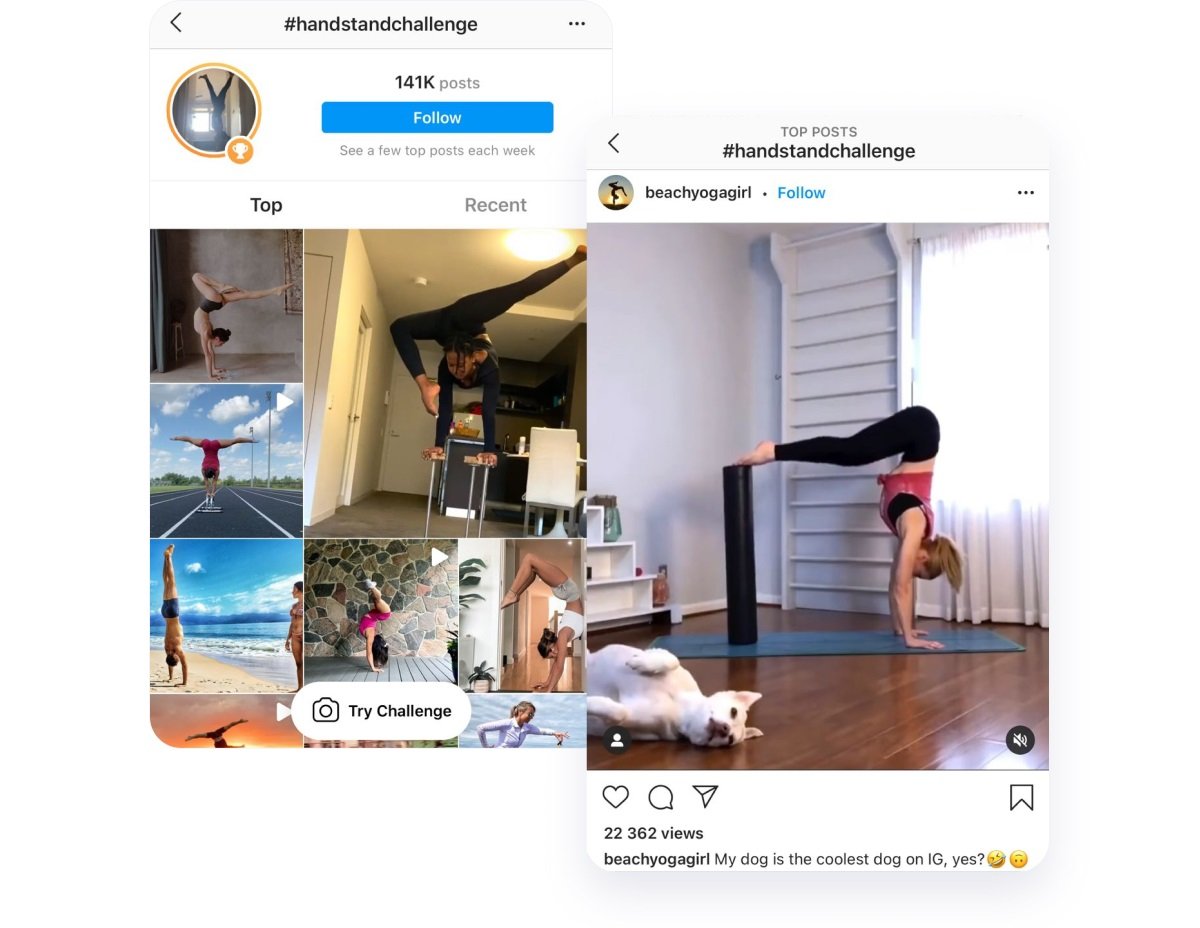 The contest launched when most of the Instagrammers suffered from the lockdown, but this is continuing until today. The original post was made by Tom Holland, who tried to put on a T-shirt while doing a handstand at the same time. Soon after, other community users wanted to try the same, challenging their friends – that's how this trick became widespread. Even though trying to put on a shirt while doing a handstand is not easy, many users still upload results of their practice. The hashtag #handstandchallenge on Instagram counts over 141K posts. Now Insta users don't use a T-shirt; they just demonstrate their ways of mastering the handstand.
#2 B&W challenge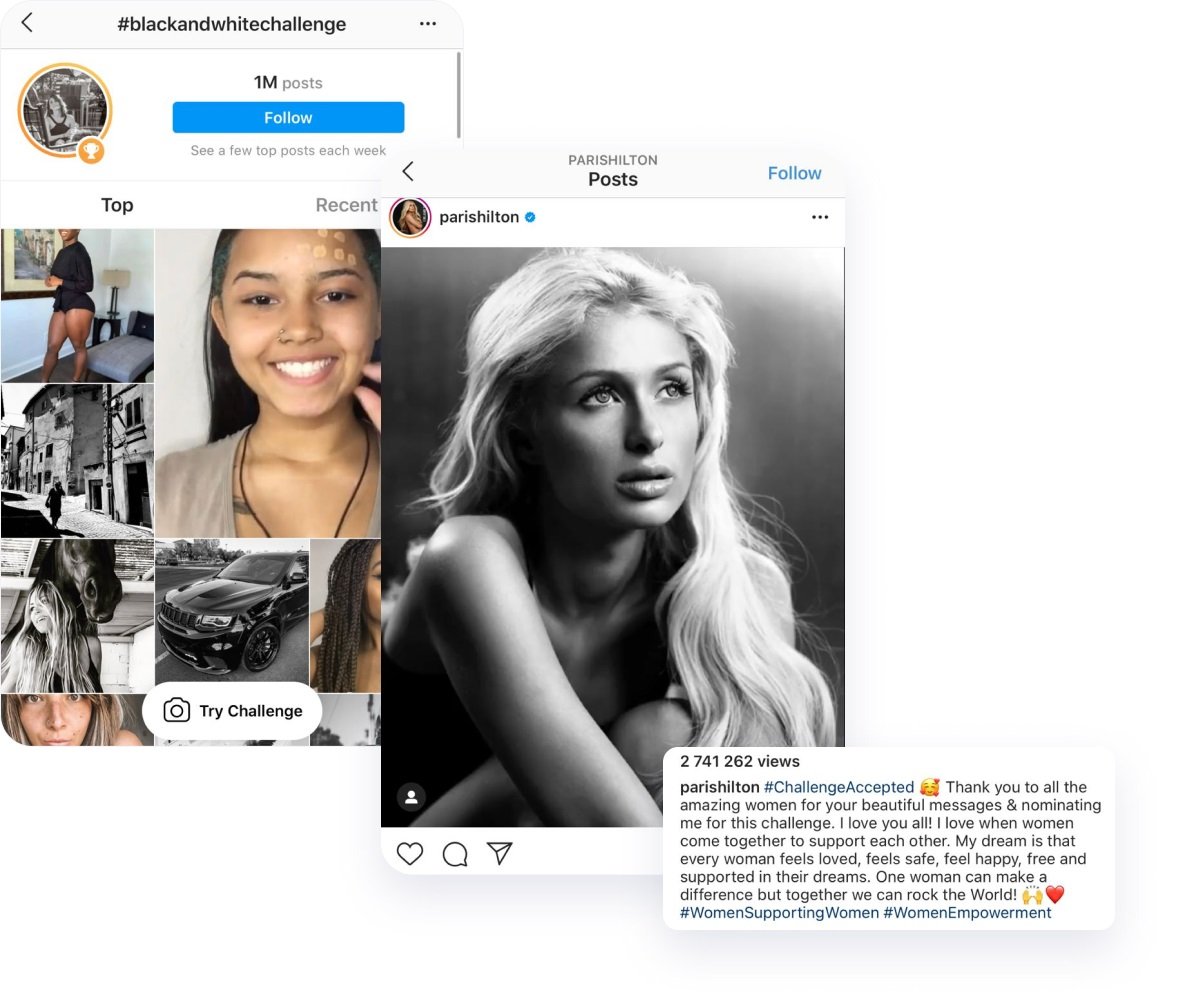 This challenge has become extremely widespread, not due to the associated sticker but feed posts by celebrities. It goes back to 2016, so it's hard to identify who posted the first one. Kim Kardashian, Nicole Scherzinger, Ciara, female influencers, and even petfluencers upload black & white images with the caption "challenge accepted." But what does this b&w female tribe mean? What is this flashmob about? The idea of this trend is showcasing female empowerment and fighting against sexism. The hashtag #womensupportingwomen often accompanies the black and white content dwelling upon female friendship and care. If this message is on-brand for your company, you should immediately join this trendy challenge to get discovered by millions of women worldwide. Also, if you specialize in a female-oriented niche, from jewelry to make up, taking part in this challenge will resonate with your audience.
#3 Savage challenge
"I'm a savage, classy, bougie, ratchet..."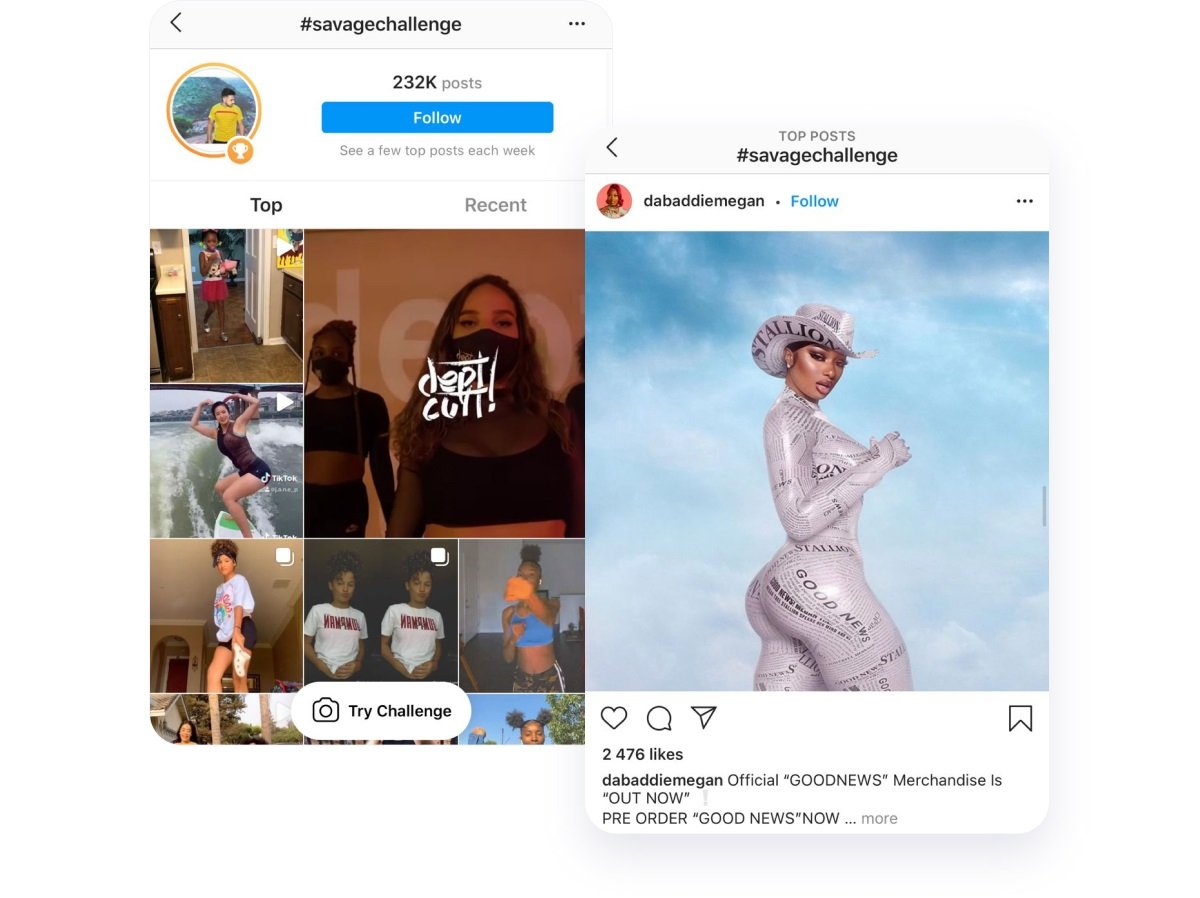 I bet you could sing the next line of this song even if someone just woke you at midnight. Probably you are already sick of this melody, but the savage contest migrated from TikTok to Instagram. And you can use it to engage with followers, especially if most of your audience is Gen Z. A 19-year-old teenager from the US encouraged millions of people to mimic her dancing. This track and movements have become remarkably viral — even pop stars like J-Lo and Justin Bieber uploaded their versions of this millennial dance. If you are not ready to film your own dance, you can use your pet, child, even your team staff. Explore the ideas on TikTok and try to replicate some for Instagram, using the #savagechallenge hashtag and sticker for Stories.
#4 Baby photo challenge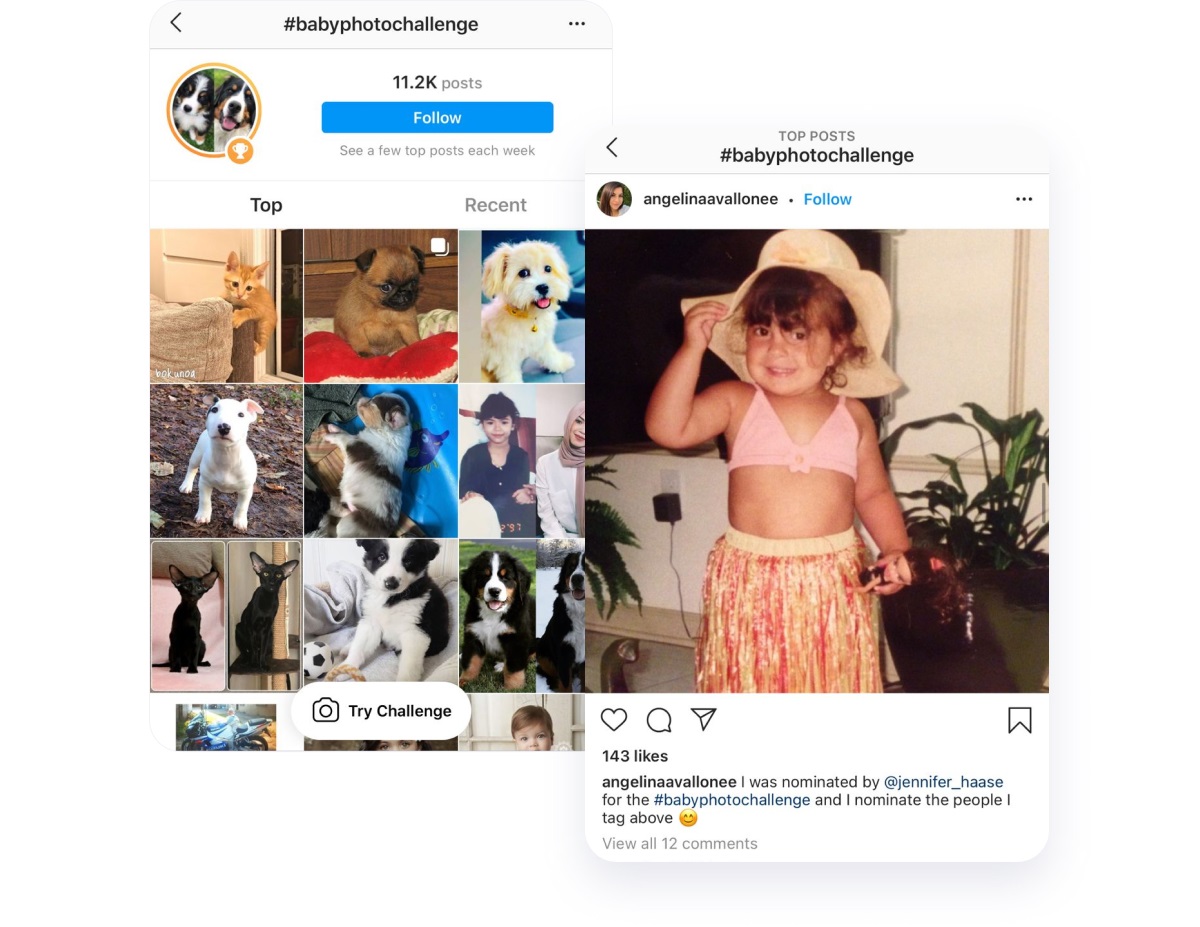 This challenge is not that tricky, as mentioned before – Instagrammers simply show their baby images with followers. There is a dedicated challenge sticker that will help your baby photo be viewed by people globally. Probably, days spent home on quarantine made people dust off their old albums. But this challenge may be beneficial for influencers – your fans always want to know more intimate and genuine details about you. So, add to your content and plan the #babyphotochallenge to make your feed and Stories cuter. Remember to nominate your friends in this challenge, so that it becomes even more viral. By the way, many users upload not the baby photos of themselves but ... their pets. Just imagine how many likes and engagement kittens and puppies get on Insta, and hop in!
Hack: Try to choose photos that will make people laugh. Funny hairstyles of the 90s and early 00s fashion choices are just the right type of content. Nevertheless, this Story will disappear in 24 hours.
# 5 "10 for 10" challenge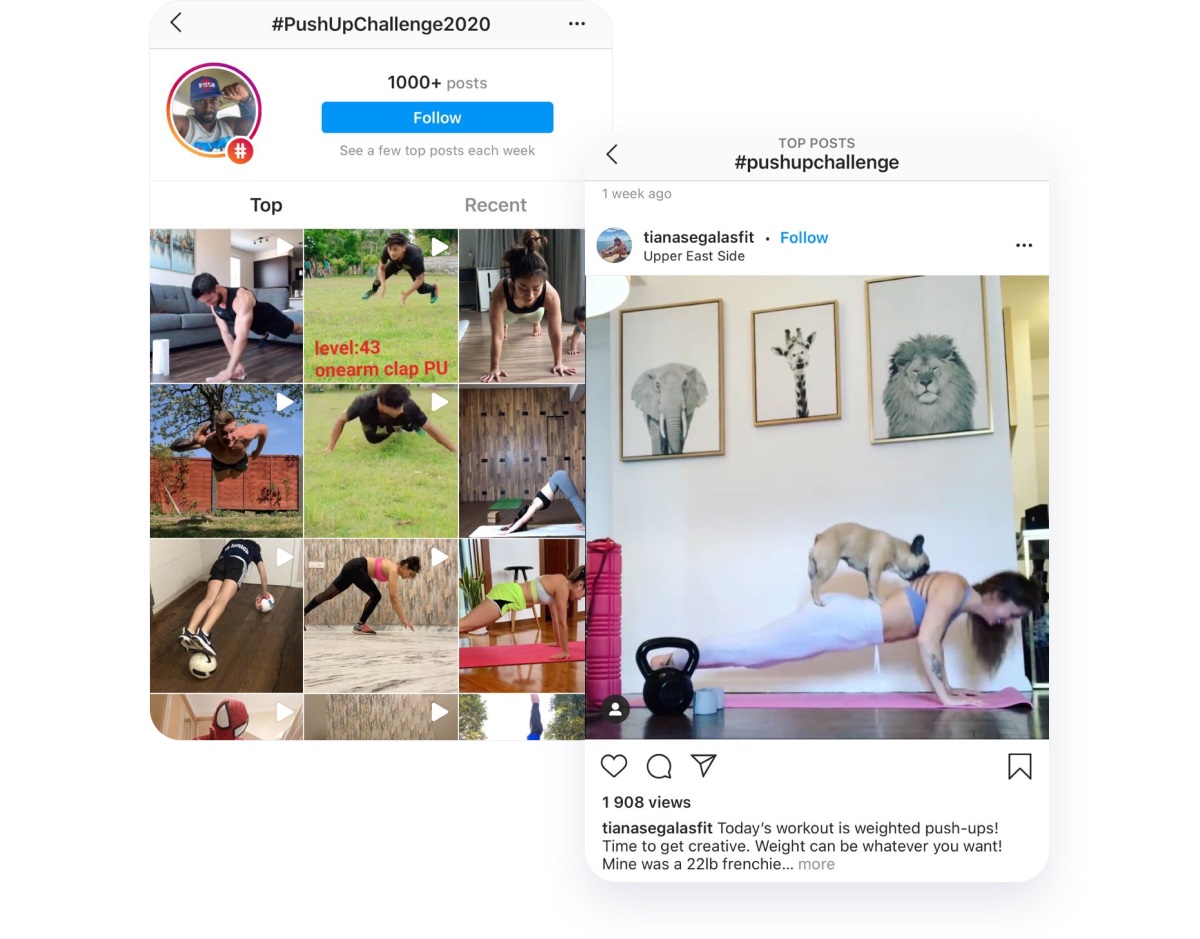 As it can be inferred, the Instagram community really helps members to cultivate healthy habits and do sports. For example, the 10 for 10 challenge, originating from the lockdown frustration, is still going. And it is super popular in the fitness niche, so if you are a healthy lifestyle influencer, or maybe you manage a wellness account, don't skip this game. But what are the rules? Initially, Instagram users had to perform the set of ten press-ups or push-ups. Next, they nominated 10 pals to continue the at-home workout. The videos of Instagrammers carefully doing the routine in front of the camera became a trend in the sports niche. Now the hashtag counts over 2.5K posts and various content. But more sports-related competition is going on with the hashtag #pushupchallenge2022, so add it to your post or Story. The advantage is obvious – you can generate hype content and also get exercise. And you can upload your progress if 10 is too much for now. Well, now you know worthy contests to join in. It's time to explore the technical part – the usage of the challenge sticker.
Challenge sticker – how do you use it?
Instagram has invented a convenient way of systemizing all the content users publish for contests. This special sticker allows you to post a Story and nominate users by tagging them – how smart. Also, stickers make it simple to research what contests are happening now. When you type the challenge name in the IG search bar, you can immediately try it with one button. By tapping on this button, you open the phone camera and start recording on-the-go.
How do you utilize the challenge Sticker?
Open the Stories record screen. Start filming or choose the clip from your gallery.
Tap on the challenge sticker on the menu.
Strat typing the name of the desired contest. You can investigate new competitions through this sticker.
Tag your pals you want to continue the challenge.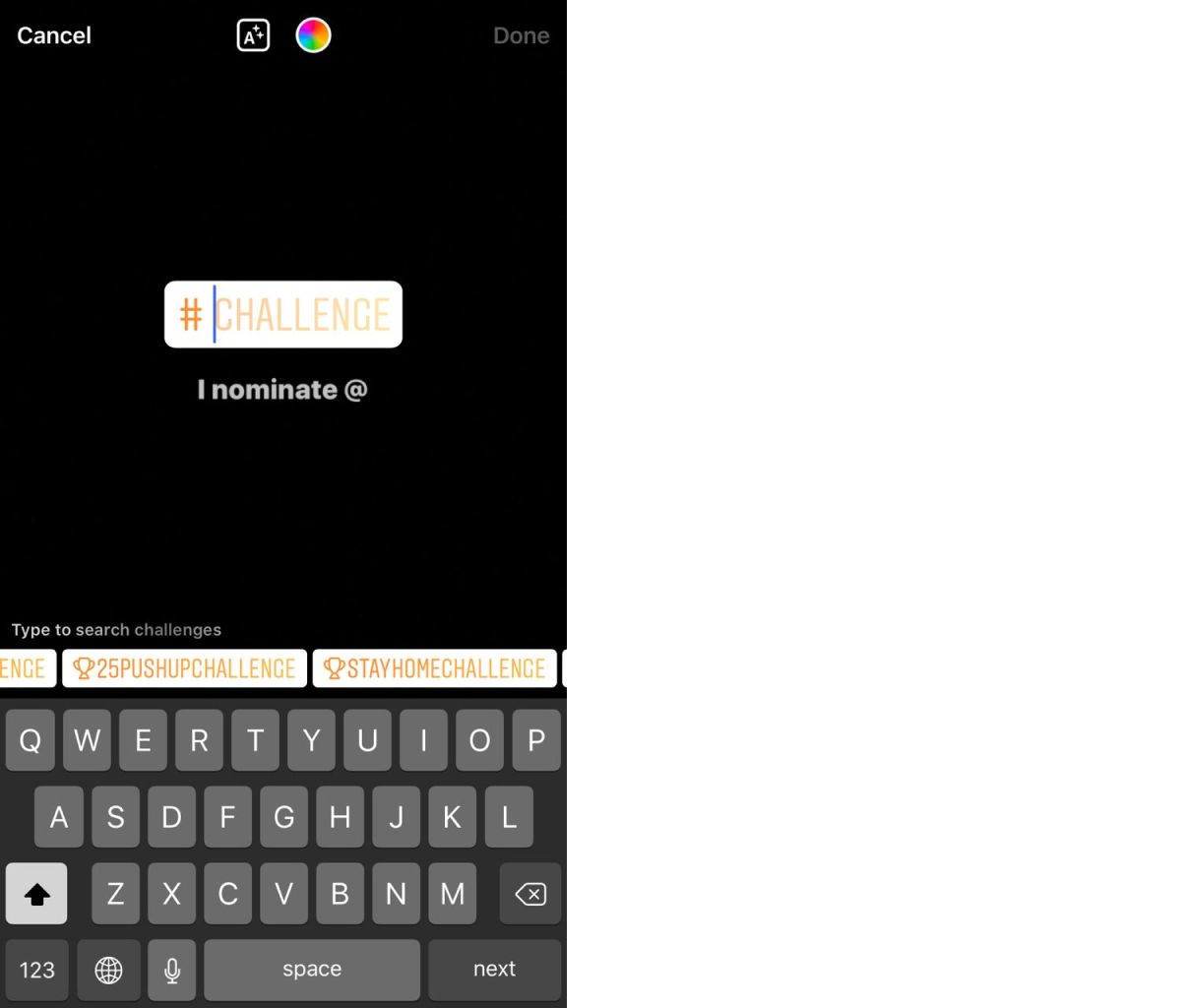 Those users you tag in a contest receive the notification in private messages. They can share your Story to their Stories with one click or tap the sticker if they accept the challenge. This type of communication is super engaging and powerful. Businesses and influencers can grab more attention to their content by just making it a challenge. But are you limited to this sticker and Stories only? No, users can also publish the contest post in feed, but a special hashtag is needed. Dedicated hashtags will help your feed post be discovered by non-followers who also track a challenge's performance. To research hashtags for challenges, type the challenge name in the search bar – Instagram will suggest relevant hashtags. Do you want to copy and paste Instagram hashtags fast? No, you can't do it in the app – you will need to type them all manually. But the Inflact Hashtag Generator is the tool where you can select hashtags by simply ticking them and then copy and paste them right from the copiable bar.
All in all
Instagram is a crazy content machine. Users produce billions of content pieces and tons of characters. Hashtags are your little helpers in many aspects – from browsing your desired content to getting noticed in this competitive environment. Your post without a hashtag goes nowhere. Remember to keep up with trends and take part in contests powered with stickers and hashtags.