Running business on Instagram involves staying connected 24/7 with your audience. Don't push your physical limits and check out DM templates that will trigger clients and followers to love your account!

The creation of the text for the Instagram DM template, as well as the preparation of any advertising text, should be carried out according to several rules. Some are fairly obvious, others are boring, and we will help you to avoid spending time on this. Just copy and paste these catchy DM templates tor Instagram.
The most important task of mailing is its uniqueness and power. The beginning of this complex process is interesting content (we wrote about it in one of the articles here). So, before you begin to compile templates for distribution, you must first come up with a draft. This work requires a creative approach.
In this article, I'll share with you cool tips on creating templates that will help you implement effective Direct mailing on Instagram.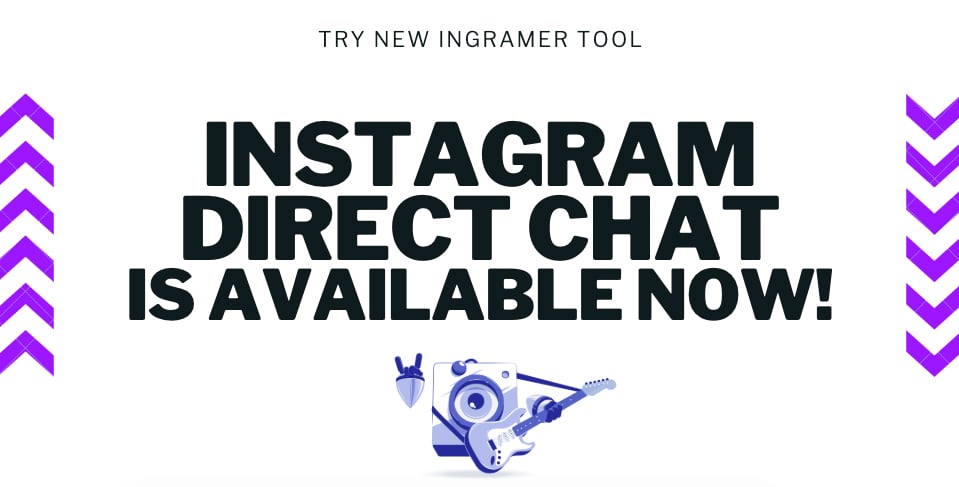 Instagram DM Template: The Golden Rules
The creation of the Instagram DM template must follow certain rules. Consider some of them:
Come up with an interesting title. The title should be simple, contain figures or facts if possible and attract user attention.
Write clearly. Try to use short sentences without an abundance of appendages and formulate your thoughts well.
Get right to the point. If you start the text with a long introduction, few people will come to really useful information.
Provide factual information. Five times faster, three times more accurate, ten kilograms of meat per hour — specific information inspires confidence and attracts the attention of the recipient of direct mailing. Read more about how to reply on Instagram to make your clients love you.
Add a link to the text. After reading the message, the user is likely to want to know more. Leave the links so that he or she could easily find the needed information.
Many companies earn much more than others only because they willingly respond to Instagram DMs from users. Social account managers can not always be in touch. 28% of users expect a reply from you in an hour. The manager cannot monitor an account around the clock. And the client is more likely to buy from you if your support is at a high level, and all his or her questions and objections are handled as quickly as possible. For such cases, Inflact Direct tool was developed — automatic mailing and responses to messages.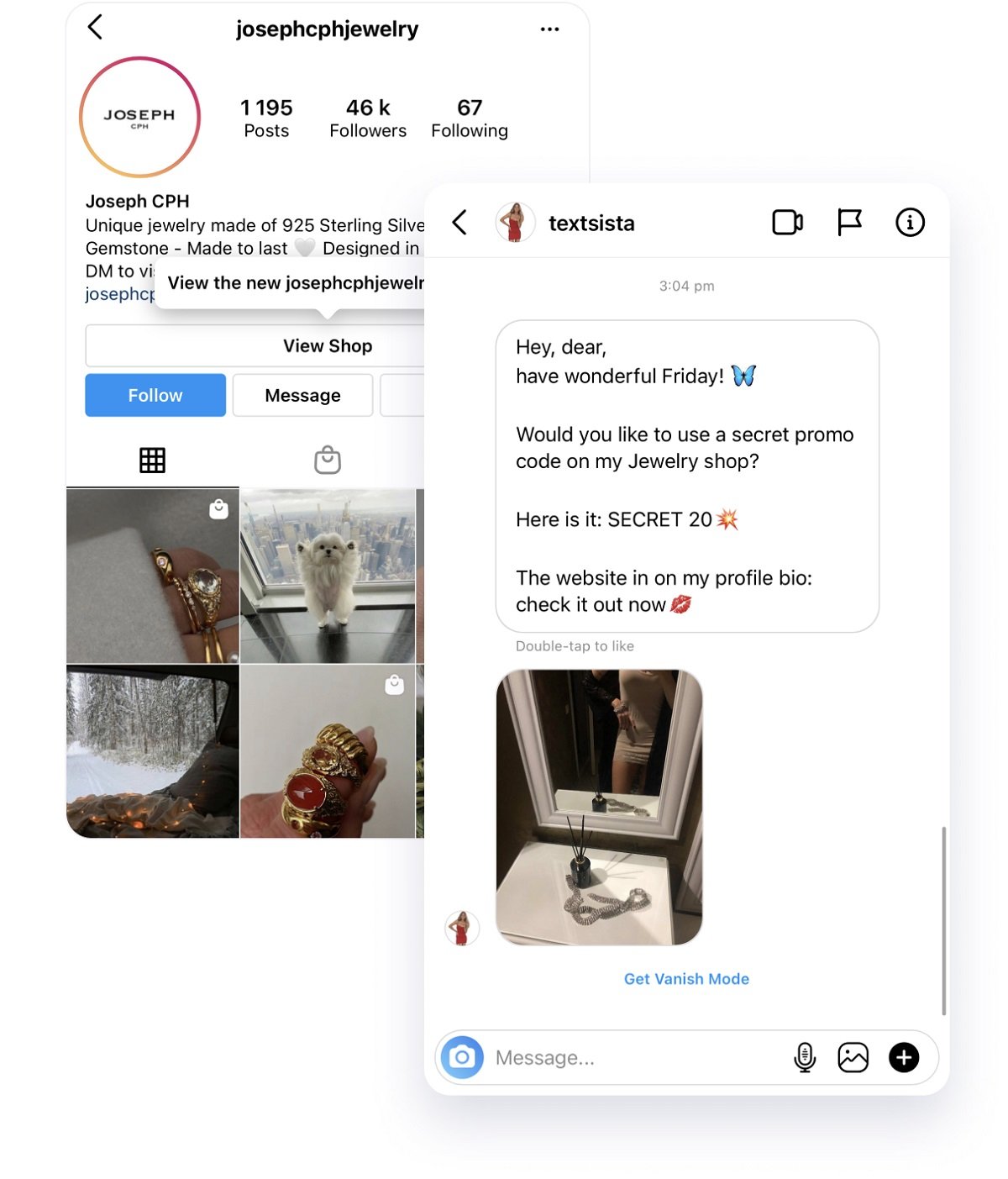 >
Why choose a tool vs the Instagram DM manager
Inflact ideally replaces the round-the-clock efficient account manager with a salary of at least $ 2000/month, performing many automated actions in the Direct of your business account:
It reacts to certain actions of followers and sends pre-created template letters.
Automatic follow-up welcoming responses from Inflact are sent to users in Direct as soon as they start following your page.
Note: Instagram has built-in fast reply tools. However, the policy of the social network prohibits DM mailing. This means that the bot can only respond to conversations initiated by followers. The first message in any thread will be from a real person. Therefore, Inflact is indispensable to interact with your followers in Direct and increase sales.
Inflact DM tool advantages
The main advantage of Inflact is that its algorithms completely simulate the activity of a living person. No one will suspect the tool of being a bot.
There are many items in the targeted settings that allow you to describe the desired audience as accurately as possible. Even an auto-reply to users who started following you will not be sent to everyone, but only to the most relevant.
You can set up a welcome message on Instagram DM
How to launch auto messages on Instagram with Inflact?
Before you start using the service, you need to register. It is simple and does not take much time.
At the next stage, an Instagram account should be linked to your account. To do this, enter your username and password in the appropriate field.
Open the intuitive mailing settings field. Among the parameters, you can choose:
region;
age range;
number of posts;
range of subscriptions/subscribers;
the maximum time of the last activity.
Enter the text of the welcome messages.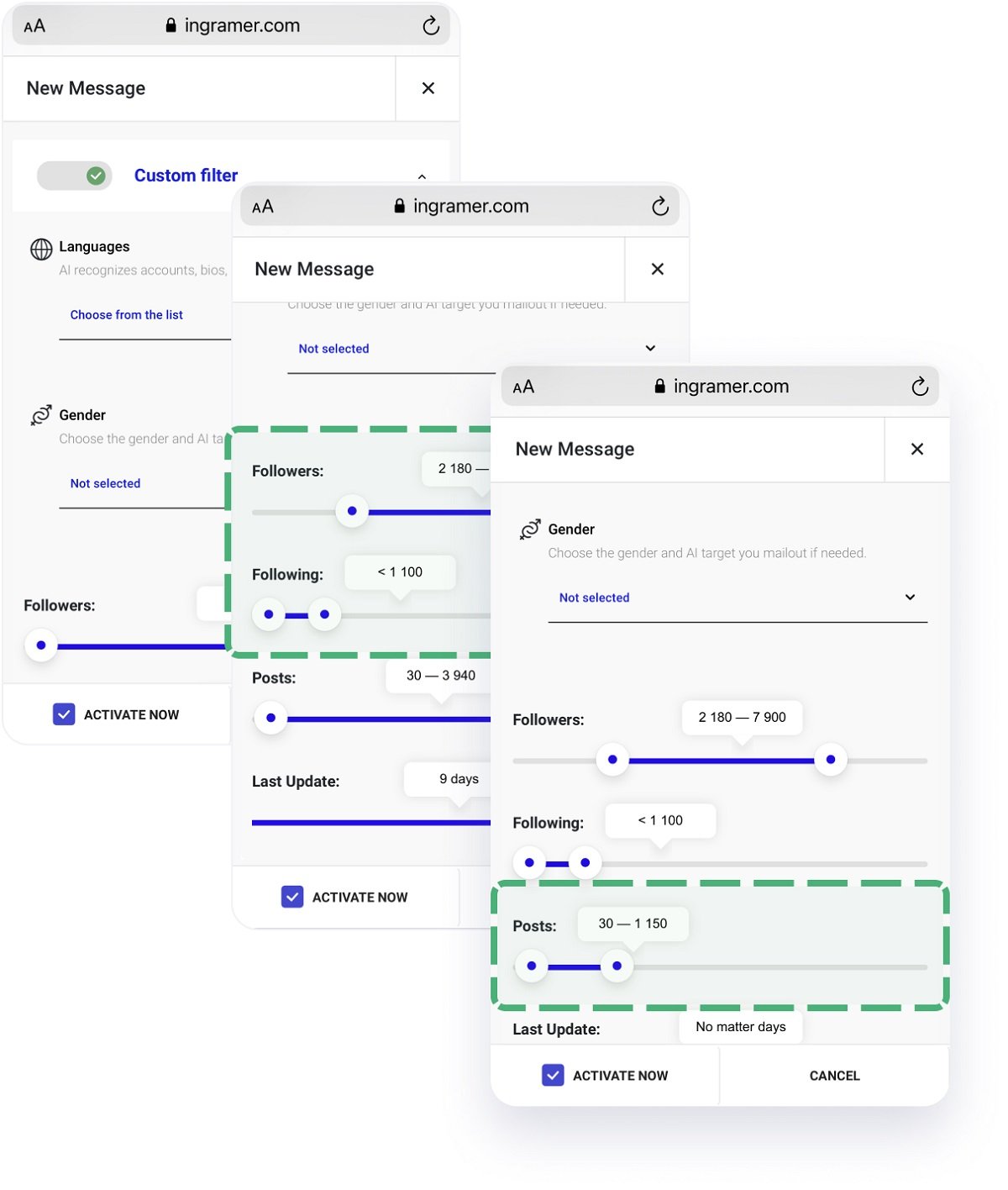 It is necessary to create several possible answers. The system will send them randomly to different people. This way it will be possible to deceive the Instagram spam block.
By the way: new accounts will use the principle of warming up: activity and the number of messages will increase incrementally, not immediately. In order not to arouse suspicion of spam, the maximum number per day will be no more than 50. At the same time, a significant part of them will be sent at certain time intervals, not uniformly within 24 hours.
Now messages to new followers cost under $60 per month. This is a ridiculous amount of money because every newcomer to your account is a warm client, whom you can get to perform a desired action with one message. You can even set up Instagram marketing funnel with Inflact.
Inflact messages randomizer
Also, the key point is the Randomization of messages. When sending messages, they should be as different from each other as possible. Ideally, each user should receive a unique message. To do this, our service has developed a system of unique messages of each mailing. It works this way:
Ex.: Hi! I've been reading your feed, and I like your photos. I'd like to ask you to cooperate. Let's repost each other's records at 6:00 pm and share our followers. Check out my account — I'm sure you'll like my content too!
We will add more greeting options, as well as make additional options in the body of the letter, for instance:
[Hello!|Good afternoon.|Hello!|Nihao!] I've been reading your feed for a long time, and I like your [photos|posts|photos]. I would like to suggest you to [cooperate|work together]. Let's repost [records|photos|posts] each other every [evening at 6 pm|day at 2 pm|Monday at 10 pm] and share our followers. Look at my [account|profile] — I'm sure you'll like the idea and [my content|my posts|my page] too!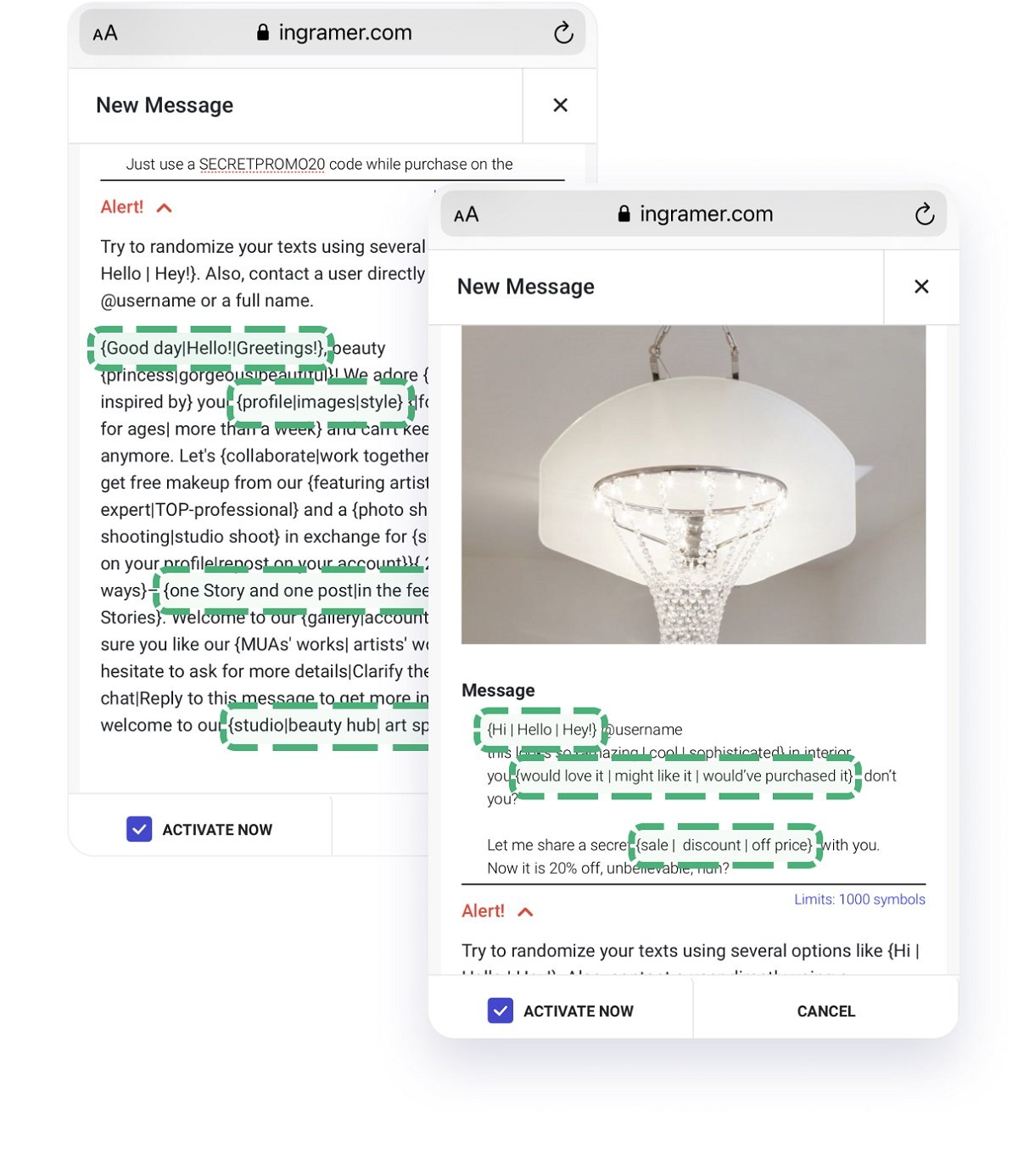 Now the message has a lot more options. We will add more sub-options to further enhance the diversity of the message.
You can set up Direct Instagram auto-replies or quick messages
Usually, customers ask the same questions about the price, location, delivery, work schedule, and availability of the desired product. Some of these questions can be closed in pinned Stories. But even if you create the necessary sections in Highlights, the template questions will not stop coming. Therefore, it would be logical to create templates for quick responses.
Quick (saved) answers are pre-prepared message templates that allow you to reduce the response time to frequently asked questions in Direct Instagram:
For instance, a question with trigger words:
How much does a bouquet of 21 roses cost?
The cost of a bouquet of roses
How much does the delivery cost? Is there free shipping?
Do you deliver at night?
A quick reply:
Bouquet of 15 roses - $30, bouquet of 21 roses - $41
Free round-the-clock delivery to any area of Miami.
We think you understand the general principle. To create one general response for different types of messages, analyze all incoming messages and determine what the client wanted to know in each case. Then make a universal quick response.
Get Inspired: 30 catchy Instagram DM examples!
Let's take a look at 50+ unique direct message templates that can be used by lifestyle Instagram bloggers, educational bloggers, culinary bloggers, Instagram fitness bloggers, music bloggers, photographers, Instagram shops, and even beauty salons.

DM templates for a service (yoga trainers, psychologists, massage therapists, etc.)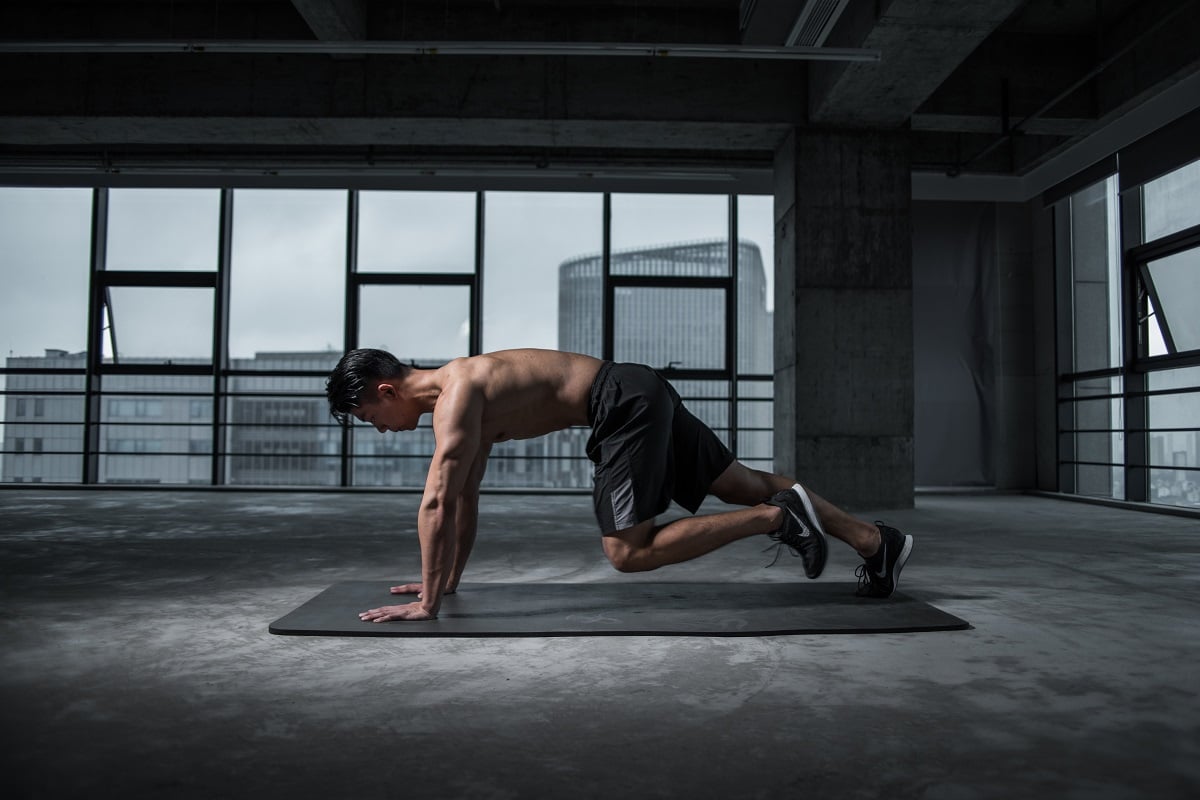 After the client's first session
How was your first session [Client name]?
Hello [Client name]
We just wanted to check and see how your first workout with [personal trainer/class name] went? Have you trained well or is your spirit broken?
Seriously, we hope you're feeling good and ready for more. We would also like to hear your feedback and find out how we can help you achieve your [health and fitness] goals.
Now [Hydrate, stretch, and rest]. See you soon and brightly!
Before the first client session
[Client name] ready for the party?
Hello [Client name] We are very excited about your first [personal training session] with [trainer's name] and hope you are too.
If you are not yet a member of [Gym name], we would like to take this opportunity to welcome you to our family. If you are a member, we would like to express how happy we are that you take your fitness seriously by signing up for one of our incredible trainers.
Regardless of your fitness level, here are some tips to help you prepare for [Personal training]:
[Advice]
[Advice]
[Advice]
If you need to change or cancel a session, you can do so by visiting [Website URL] or contacting us directly at [xxx-xxx-xxxx] or [Email address].
We hope you're as excited about your [First session] as we are!
With respect, [Name]
When a client skips a session
We miss you already, [Customer name]!
Hello [Customer name],
We missed you today [At the gym], especially [Coach's name].
Seriously, we hope everything is OK. We understand that [Fitness is not only physical, but also mental], so if you're just having a bad day, it's okay. We've been there too, and we're here if you need us. Remember that you can contact us at [Website URL], call us at [xxx-xxx-xxxx], or send us an email at [Email] if you need to cancel or reschedule a session.
We hope to see you at the next session. We are here for you.
Can you imagine how much your sales and the number of entries can rise if you communicate with customers in this spirit?
DM Template for Instagram shops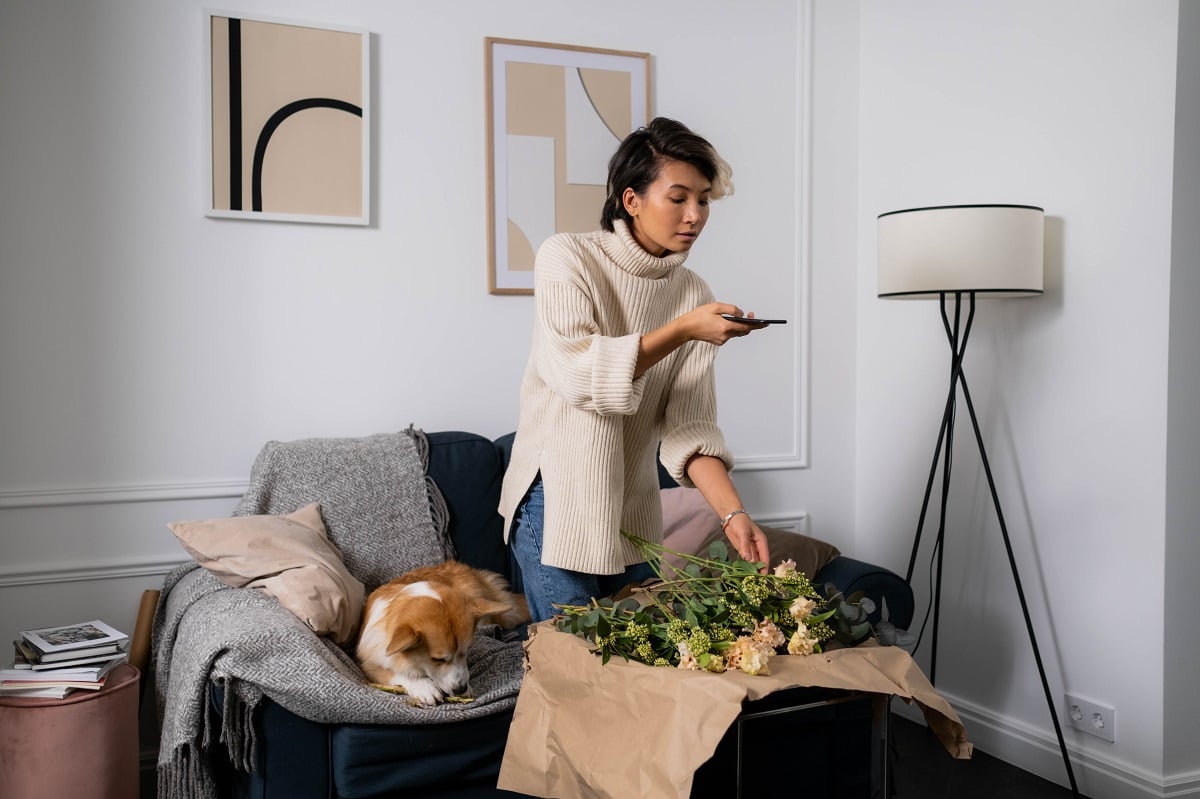 There are different types of messages that you can send to your customers, and you have to choose which ones to use.
Thank messages for Instagram DM types:
Thank-you letters can be of the following types:
Thank you letter for the first purchase
Letter of thanks for the payment made
A letter of thanks for your interest is for customers who have already bought something in your online store but are now looking for something new from you.
A letter of thanks for the fact that the customer is a regular - when the customer makes repeated purchases.
Congratulations on your birthday, with an expression of gratitude.
Thank messages for Instagram DM examples:
Thank you for buying in [Online store name]
We are very grateful to you!
Welcome to the family [Online store name]
Your first order made us happy
We are glad to see that you are with us!
Thank you for your purchase!
[Customer name], thank you for your support [Online store name]
[Customer Name], we want to thank you for your support
[Customer Name], thank you for buying in our store!
Thank you for being with us!
Thank you for [X] wonderful [Years/months]
Templates for DM messages about discounts
[Customer name], you have time to get 1500 bonuses for any purchase from [Amount] before [Date]. Spend bonuses from [Date* to *Date].
Hurry up! The last hours of discounts up to -80% in [Store name]!
Your bonuses will burn! Have time to use them before [Date]!
We give 100 bonuses to the card [Card number] to order from [Amount]. We are waiting for you at [Address]!
Beloved friend, you will receive a California roll as a gift with a promo code [Promo Code]! Have time to use up to [Number] here: [Address]
[Customer's name], [Number] of bonuses as a gift from the [Name]! Show this code [Code] to the waiter and get your gift. 1 bonus — [money amount]. Bonuses can be used to pay up to 50% of the bill. The code is valid [Date]
[Customer's name], don't worry if you don't know how to spend the weekend, we've already taken care of everything! [Date and time] we are waiting for you at [Address] for [Event]! And we give you a [Discount] there. See you!
DM templates for the beauty sphere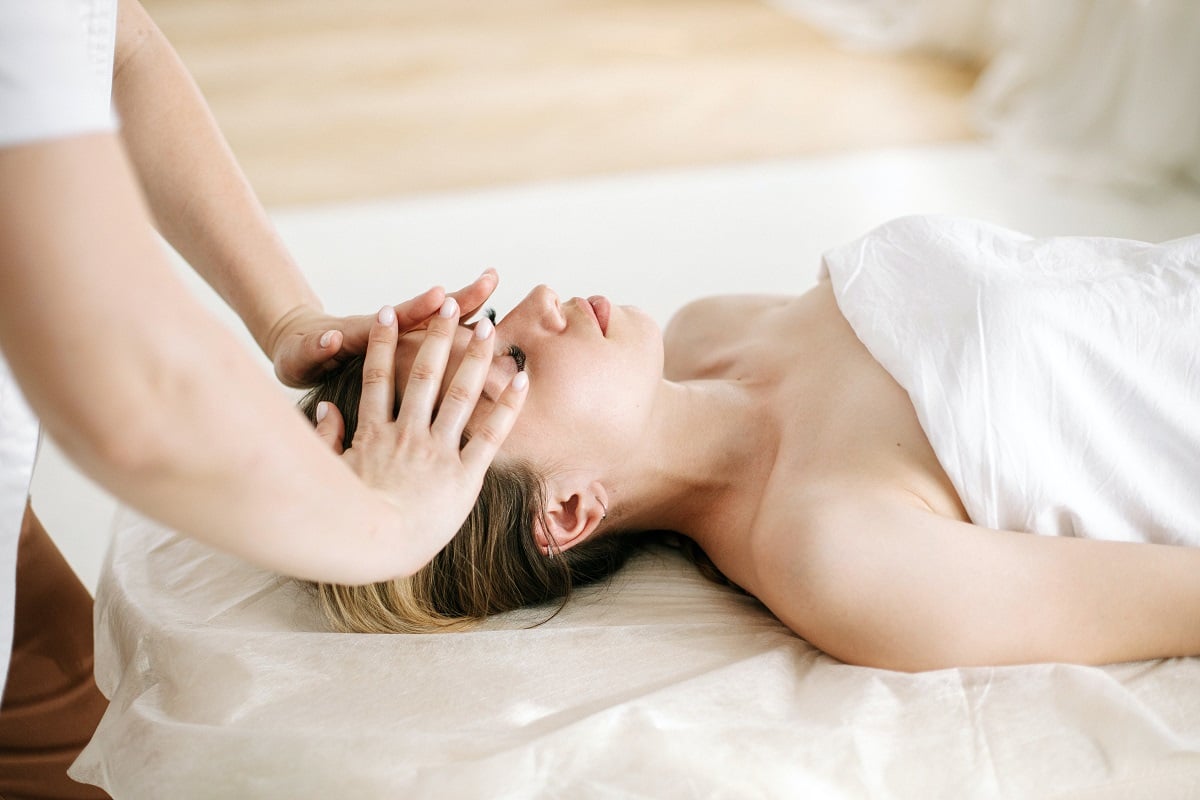 An appointment reminder is the most frequent thing that an Instagram DM is needed for.
A reminder message before the procedure
[Client name], you are registered for a manicure with a gel-varnish coating to the master [Name]. We are waiting for you at [Adress],
Invite to visit new services
[Client name] we are glad to inform you that an appointment for a new service in our salon - [procedure] is open for you. You can find out the prices and choose a convenient time here: [Link].
Remind the client to visit you
[Client name] we missed you, and you? Come to us for your favorite services - [Services]. You can find out the prices and choose a convenient time here: [Link].
Instagram DM templates for lifestyle bloggers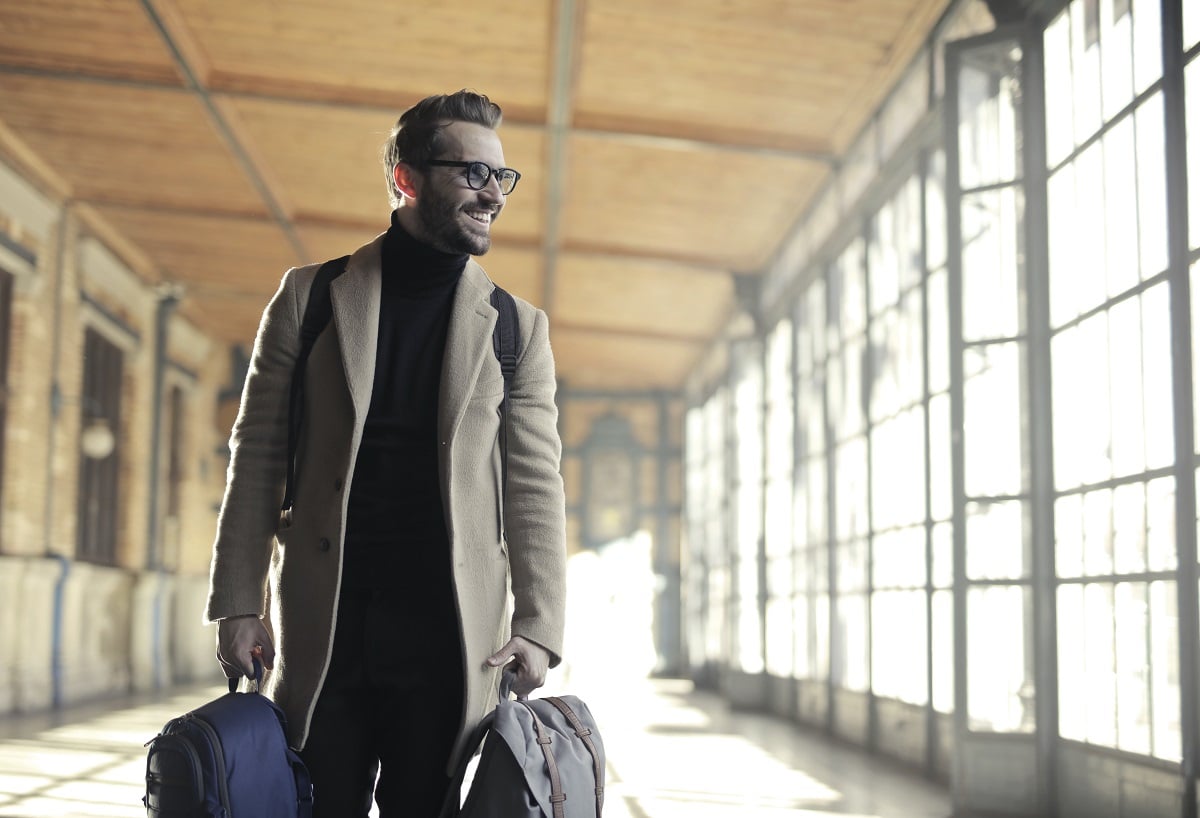 Hi! I'm Christine! I'm a lifestyle blogger. In my profile, I share stories from my life. Follow my posts! They will be fun and interesting! [Link]
Do you know how to simplify your life? I'll help you with that. My name is Rebecca and I'm a lifestyle blogger. I tell people lifehacks, which at times can simplify their lives. [Link]
Hi! As you know, I recently arrived from [XXX], where I rested for a month! All the most useful information about a vacation in [XXX] I wrote in this post [Link]). Come to read, there are a lot of interesting things.
Girls! I miss being with you in chat! Let's renew our tradition and spend the evening together in the chat, where we can share cool tips that can make our lives easier! [Link]
Hi! I hope that you have not forgotten that today I want to conduct a video broadcast. I will answer all the questions of my followers about my life. Join us, it'll be fun. [Link]
Instagram DM templates for educational bloggers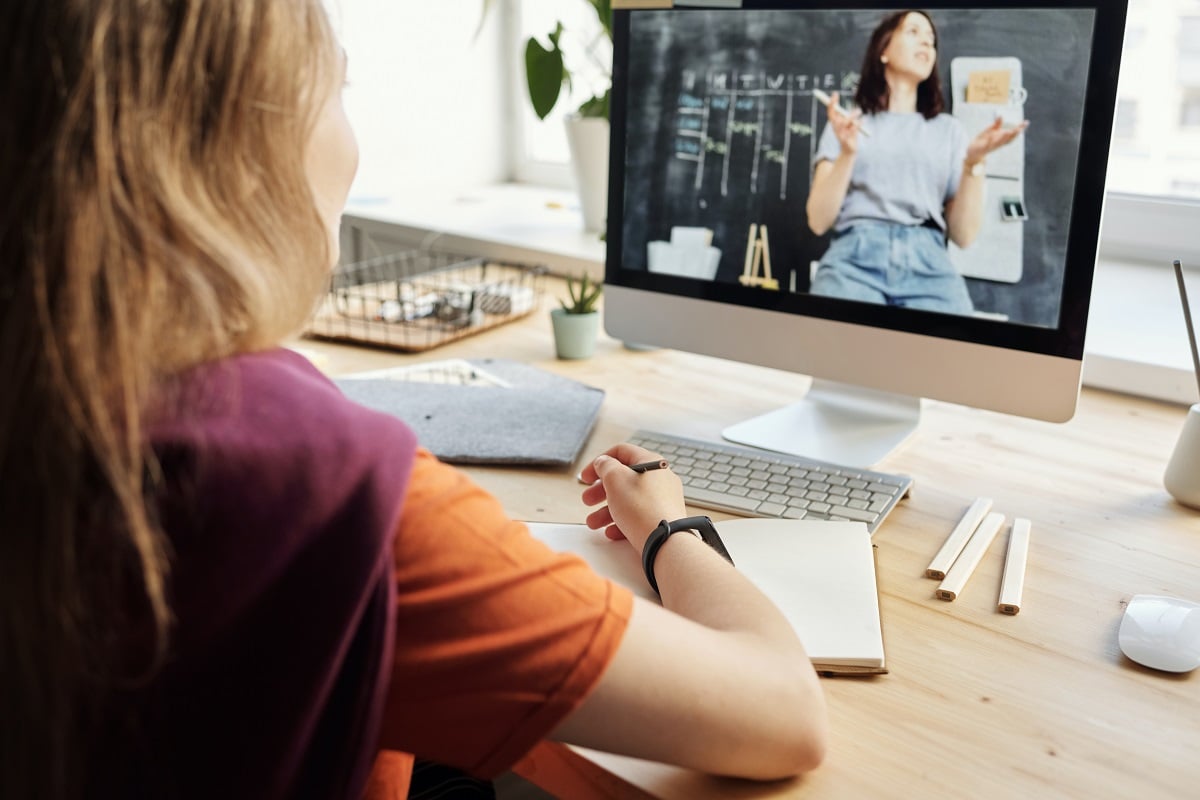 Hi! Thank you for following me! I hope my profile helps you learn [XXX]. In my blog, I share useful tips for studying. Go ahead and do it. Link
Good day! Finally, I'm launching the second stream of [XXX XXX XXX]! If you want to radically change your life, I suggest you start right now! Sign up and go for it! [Link]
Do you know that life is constant learning and self-improvement? Gaining new knowledge is so necessary for this life! Therefore, please, read my post on this topic and leave your thoughts on the comments. Link
Would you like to go to [XXX], where you could communicate with native speakers of the language you are learning? Now you have the opportunity to win a month of training in [XXX] for free! To do this, you need to read the conditions in this post, and pack your bags!
Hi! As you know, I am recruiting a team of people who will help me make educational courses for you. If you have the necessary skills and qualifications, please contact me! Let's start working together! [Link]
Instagram templates for culinary bloggers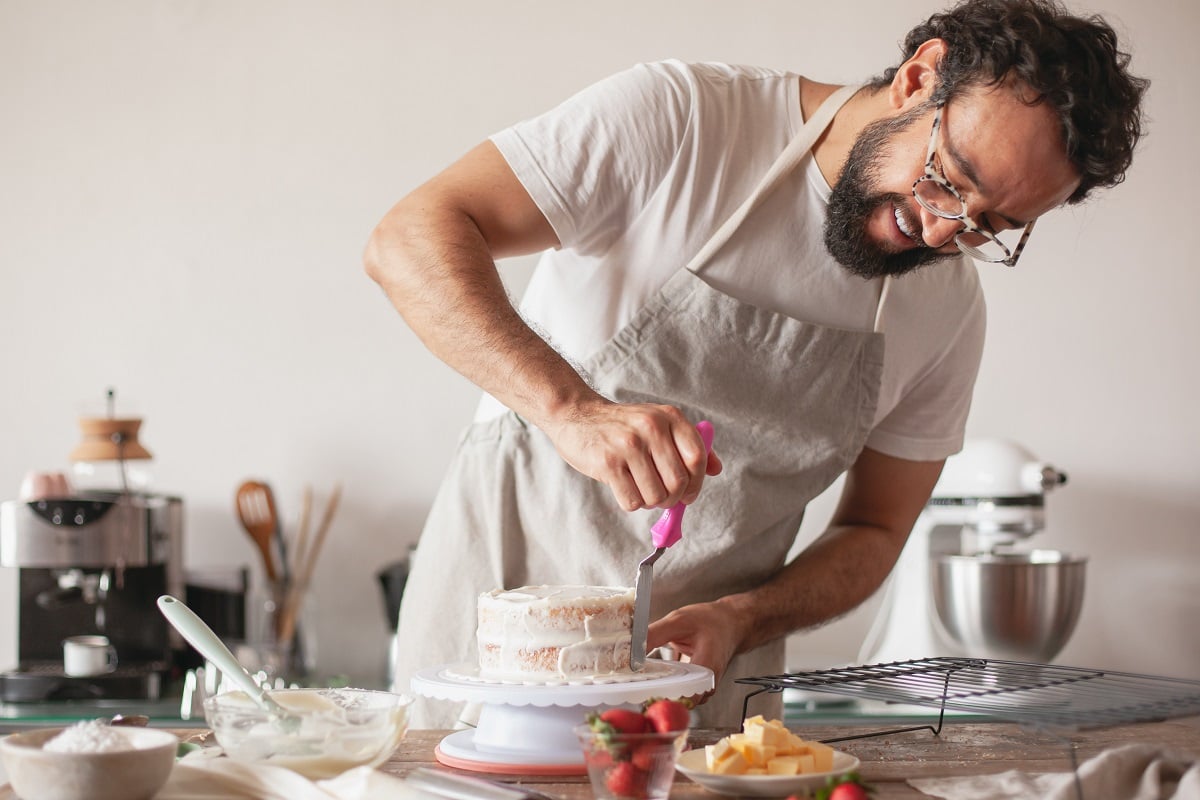 Hi! Have you seen my new recipe for the pancakes? Hurry up and do them! It's just a bomb recipe that you keep! I promise! [Link]
Hi! I finally finished my first cookbook! I have collected the juiciest recipes that will not leave anyone hungry. Pre-order at a special price right now! [Link]
Hi! Thanks for following! I am very glad that you share my love for cooking! In my profile, you will find a lot of tasty and healthy recipes! [Link]
My cooking blog is coming to the next level! This XXX I invite everyone to my first master class! We will prepare a stunning dinner that will appeal to every member of your family without exception! Register for it right now! [Link]
Hi! As always happens with creative people, I ran out of ideas that can be tasty and interesting to cook. That's why I need your help! Follow the link and leave the dishes that you would like to see in my performance!
DM Instagram templates for fitness bloggers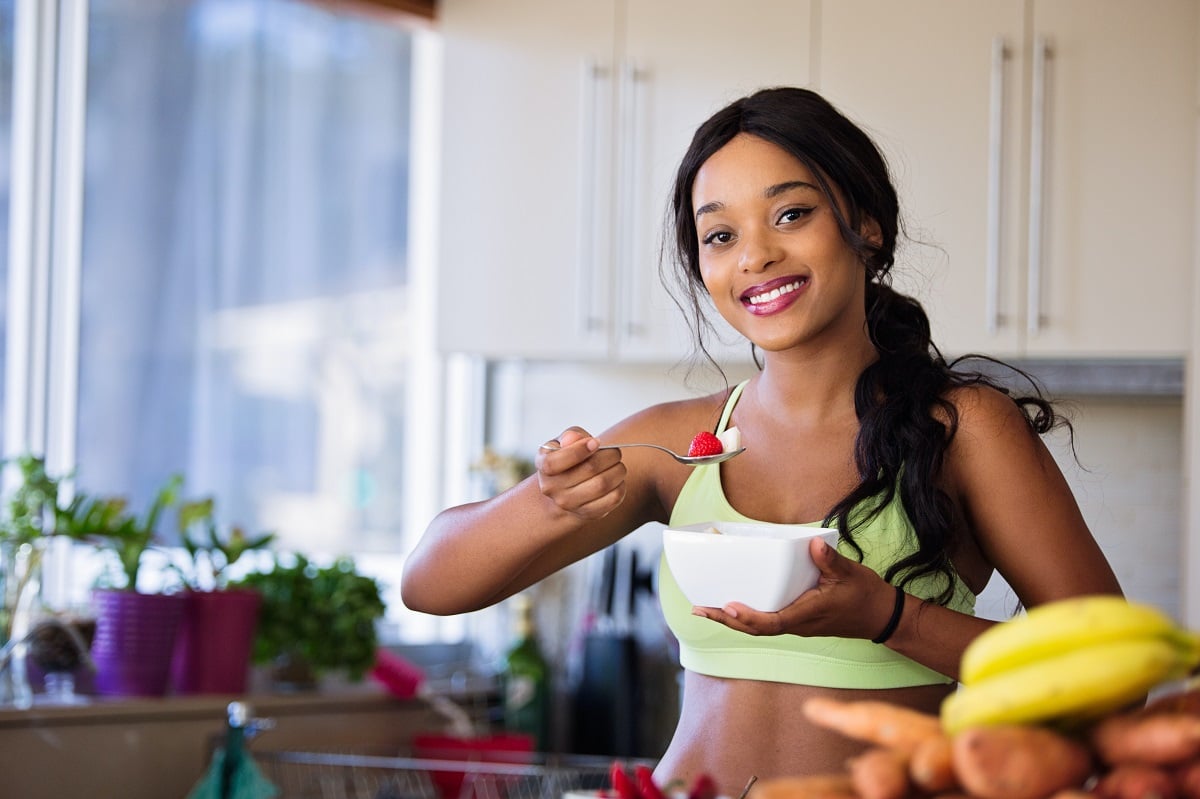 Do you know how to lose weight? I know the answer. Go to my profile, where I share cool and effective tips. [Link]
Training has not been so exciting! I have developed a very cool fitness program that suits everyone without exception. I wrote more in this post [Link].
Hi! Let's practice together! Now I'm broadcasting live videos from my training! Join up at this [Link].
Hi! Thanks for following! You're very lucky because you have found my profile. It will radically change your life! In the blog, I share delicious recipes for proper food, fitness training, as well as tips for weight loss. Stay in touch, there are many interesting things ahead! [Link]
Do you want a great figure like mine? Then run to the gym! I have developed a fitness program especially for you! All you have to do is follow the link and start training! [Link]
IG DM templates for music bloggers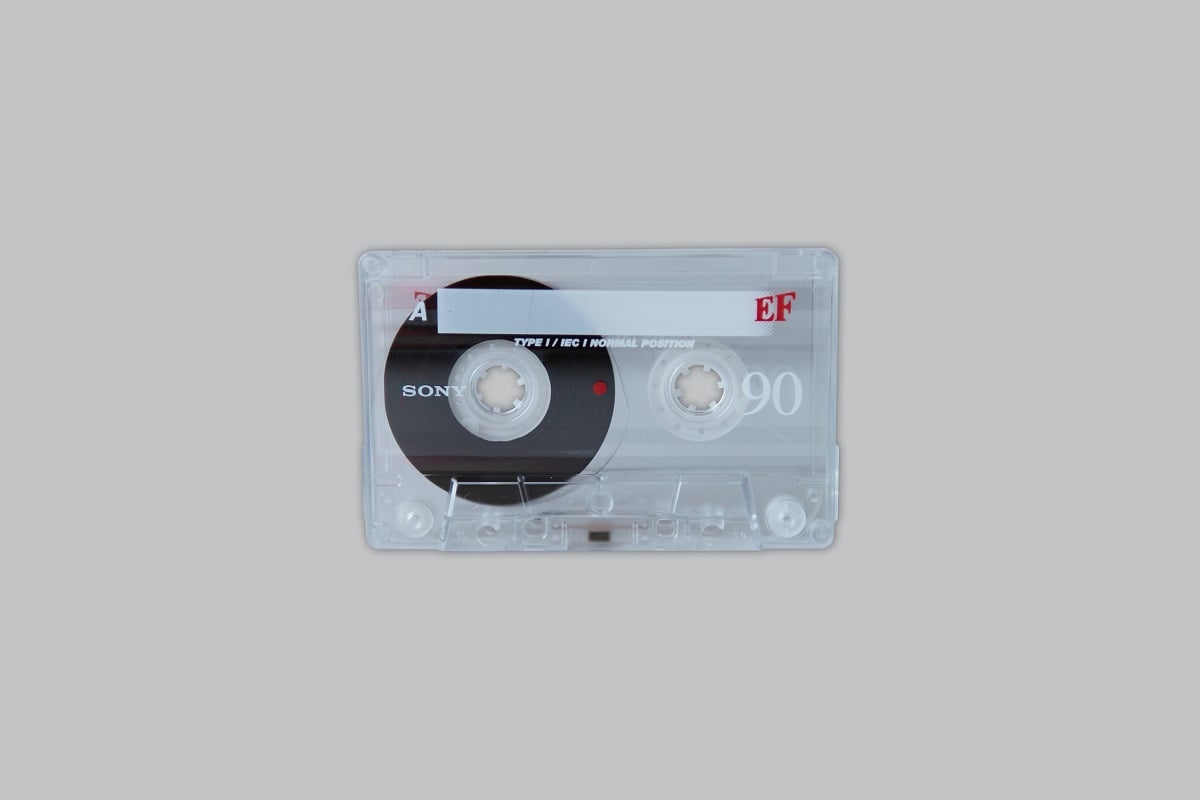 Have you already estimated a new track? It is now available on all platforms! Download now. [Link]
Hi! Thanks for following! I'm an aspiring musician. I write great music. If you want to stay up to date with my new masterpieces, then stay in touch! [Link]
Hi! I decided to present my guitar! We've come a long way, but it's time to take leave! If you want to take part in the draw, then follow the link!
Do you want to learn how to play guitar? In this case, you can help my video tutorials! [Link]
Thank you very much, dear follower, for supporting me in all my projects! I appreciate your opinion about my music products. Leave comments under my posts, please! [Link]
Instagram message templates for photography bloggers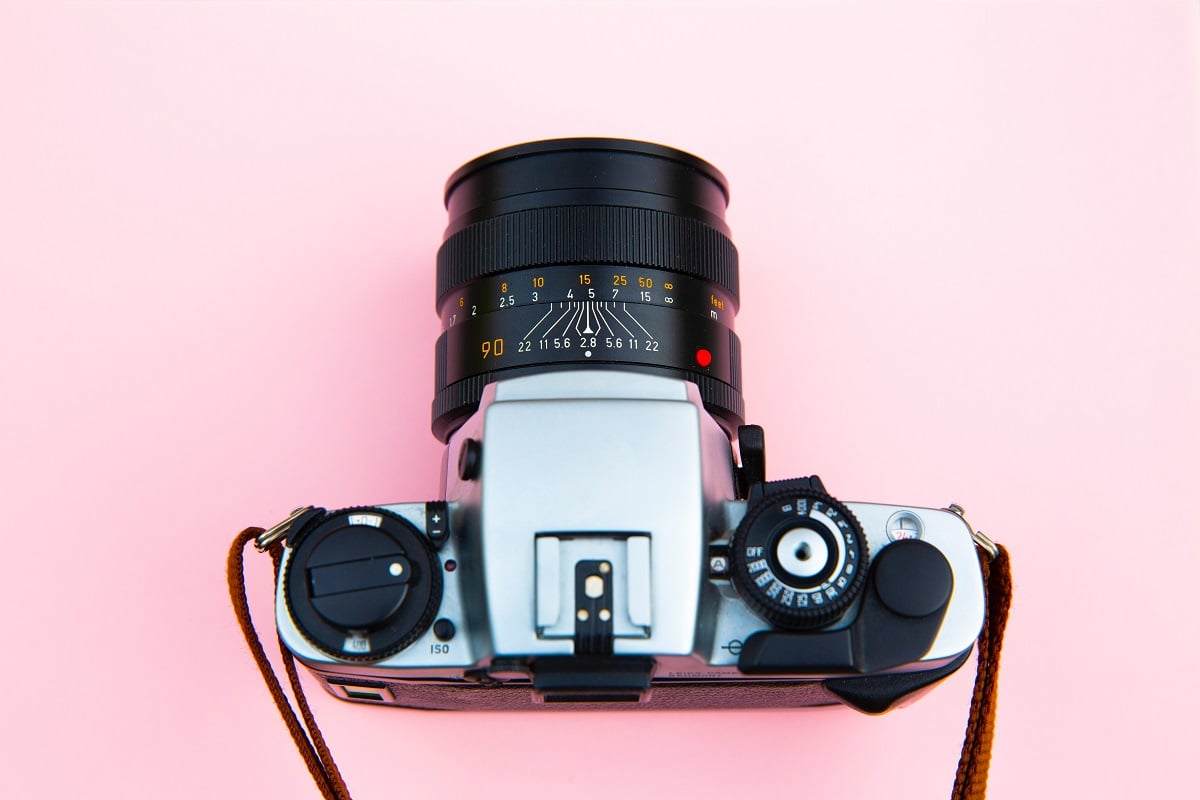 Hi! Have you seen my new post? I have collected the most vivid pictures [this summer]! Check it out! [Link]
Hi! I'm a photographer! I publish my works in my profile. I appreciate your opinion about them. Share your impressions and leave comments. [Link]
Do you want to get a free photoshoot from me? Make it much easier than you think! Follow the link, see the rules of participation and win a unique prize! [Link]
Hi! I am a photographer with an audience of over [250,000 followers]! Let's have a collaboration to increase your and my audience. If you have any ideas on how to do this, then be sure to write to me. I'll wait for your message. Have a nice day! [Link]
A lot of gifts from me! I know that you are always looking forward to my new works that inspire you to create your masterpieces. So I decided to have a great giveaway. Follow the [link] and find out all the details.
BONUS: Set up fast replies on Instagram
An example of quick messages on Instagram
For example, every day a large number of messages come to the Direct account of a fitness club with a question about the cost of a club card. And the answer can be like this:
Hello! A subscription for 1 month in our gym costs $190. The price includes access to the gym without the time and quantity restrictions, as well as a swimming pool and a steam room. But if you purchase a subscription for six months and subscribe to our account, the amount will be much nicer - only $ 300. We understand that it is difficult to make such a decision right away, so we are waiting for you at the free first visit. You will try everything yourself, take a look and decide :) Should I sign you up for a trial visit?
Typing such a message manually every time is tedious, reduces the speed of response to followers, and also does not exclude the human factor (typos, forgetting to specify some information, and so on). Response templates help simplify this process. In addition, pre-written response scripts can be saved in the templates, which will help guide users through the sales funnel. This will help not to lose potential customers in correspondence.
You need quick answers and welcome messages on Instagram if:
You are tired of answering frequently asked questions in Direct.
Since no one likes to type the same answer countless times, this tool is perfect for saving tired fingers and bored minds.
You will be able to respond in a tone that matches the brand, and that provides your existing or potential client with all the information necessary to make a decision.
By the way: We recommend adding the name of the brand, account, and person to the text before sending. Personalization will help increase loyalty to the company.
You want to attract and retain customers.
Everyone likes to be listened to and taken care of. And by giving you a quick way to respond to audience requests, this tool makes customers (or other brands) feel that you have paid attention to the message and have the decency to respond. It can even be something as simple as a "Thank you" response to a message about how great your profile feed looks.
You are running an advertising campaign.
If you decide to launch an ad on Instagram or are in the process of launching a promotion, then this feature will be a real salvation.
Just set the appropriate "quick answers" to the expected questions about the special offer before launching it, and Instagram DM will no longer seem so loaded!
This is a super-lightweight Instagram tool that you should make the most of.
Final word
I hope that now each of you will use Direct on Instagram not only for correspondence with friends and relatives but also as a cool tool for promotion on Instagram. Start sending bulk Instagram DMs with Inflact! It's faster and more efficient.
However, remember that sending messages to Direct will become an effective marketing tool only if you use high-quality information which is useful for users. The text in the newsletter should be so attractive to the reader so that they read the proposal.