Instagram already has 2 billion users. The photo and video content service is among the top social networks in the world and continues to grow. Instagram brings money to brands and bloggers alike — it is the most effective platform for influencer marketing in 2021-2022.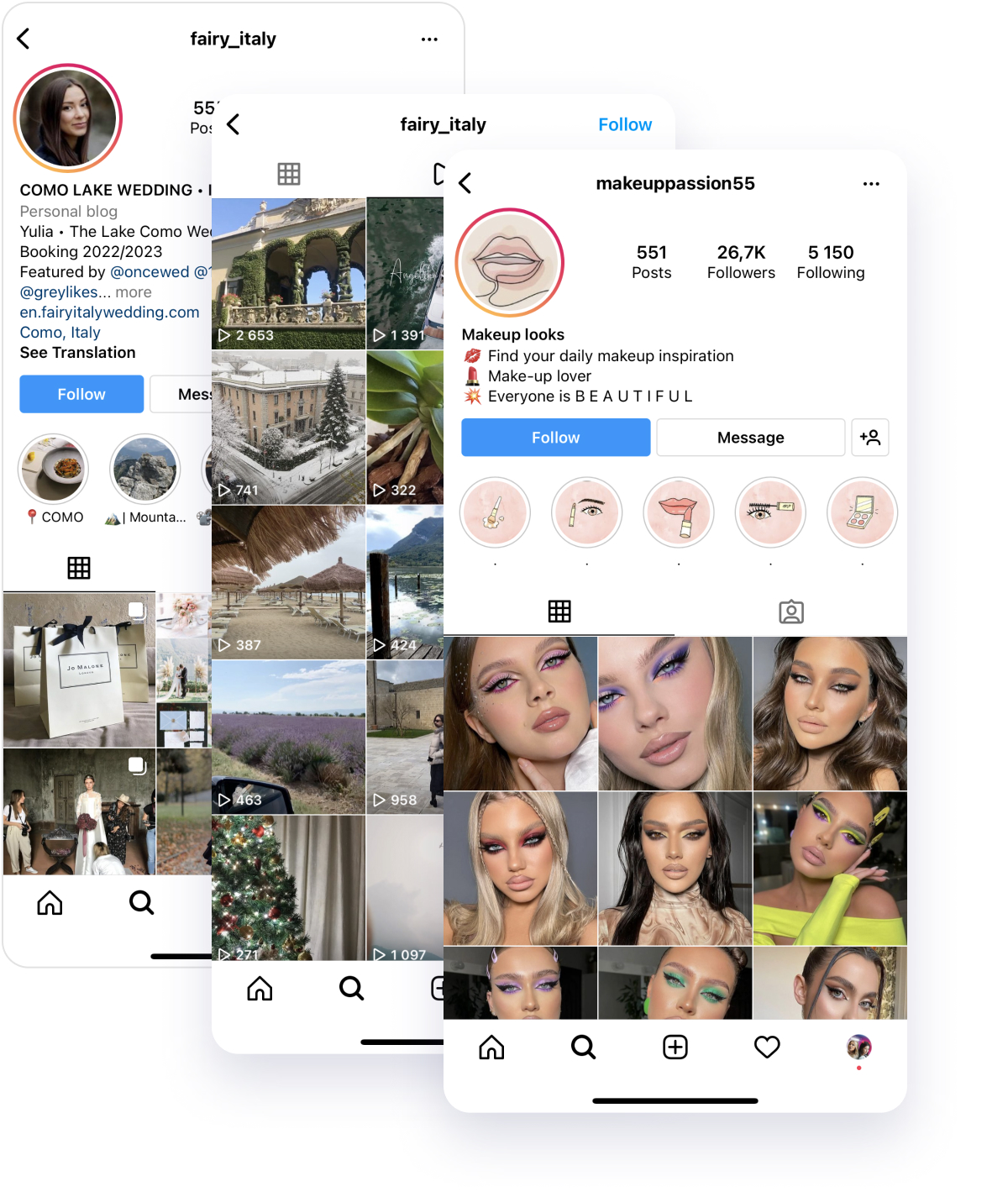 Instagram statistics and algorithms
Instagram is a rapidly changing social network with unpredictable algorithms. There is a huge competition here, but the question of how to promote on Instagram for brands and bloggers remains relevant.
Instagram bloggers earn up to $100,000 dollars per advertising post. Brands increase their audience, customer loyalty, and sales — 90% of Instagram users are subscribed to commercial accounts.
Note: You can build a business in three areas of sales - services, goods, or advertising. Decide for yourself what to choose.
The most popular products on Instagram are clothes, shoes, underwear, jewelry, accessories, and food.
The most popular services are the sale of tourist vouchers, delivery, make-up, manicure & other cosmetology services, and sports.
The sale of advertising means placing ads in your profile, but for this you need to gather an audience of several tens of thousands of subscriber
In this article, you will learn what will work and what will not in 2023: how to promote on Instagram using free and paid promotion methods in 5 steps.
Step 1: Competitor Analysis of Businesses on Instagram
In order for a business account on Instagram to make a profit, after determining a niche, a detailed analysis of competitors should be carried out.
You need to collect as much information about your Instagram competitors as possible:
how profiles are designed
how many subscribers
what hashtags are used
what is published in stories
how the feed is designed
and much more.
Instruments to analyse competitors on Instagram
Specialised tools and services are used for analysis. Using Instagram Search and Instagram Profile Analyzer is the easiest way.
Advanced Instagram Search is the most effective method to utilise Instagram for finding influencer advertising opportunities, conducting market research, and doing talent research.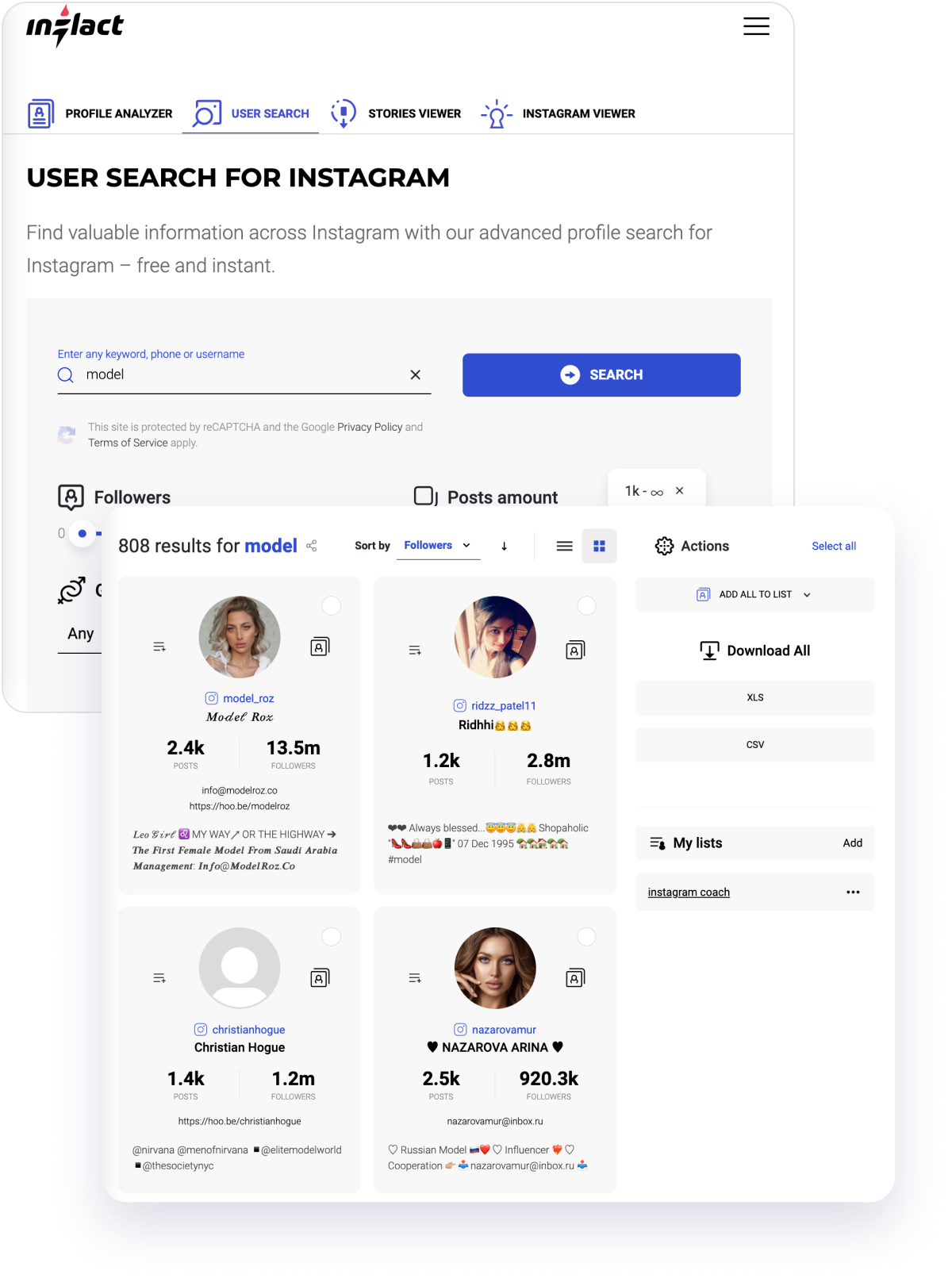 Indicate where you want to search for a keyword — in the bio, name, username, phone, or email.
Or you can leave the search field for keywords blank and just choose a category — there are dozens of them. We've added such niche areas as Car Dealership, Florist, Physical Therapist, etc.
All this info will be ready to download as a CSV or XLS file right from the service to your device. Isn't it a brilliant way to create a database for future marketing activities?
Identify the most successful profiles and posts on Instagram with the Profile Analyzer.
Type the @username of your competitor right into the Profile Analyzer tool.
Wait 30 seconds and the tool will show you the result of the analysis.
Here you'll find a grid of the most popular posts of any Instagram profile, with the engagement rate, popular post time, and more — just scroll lower.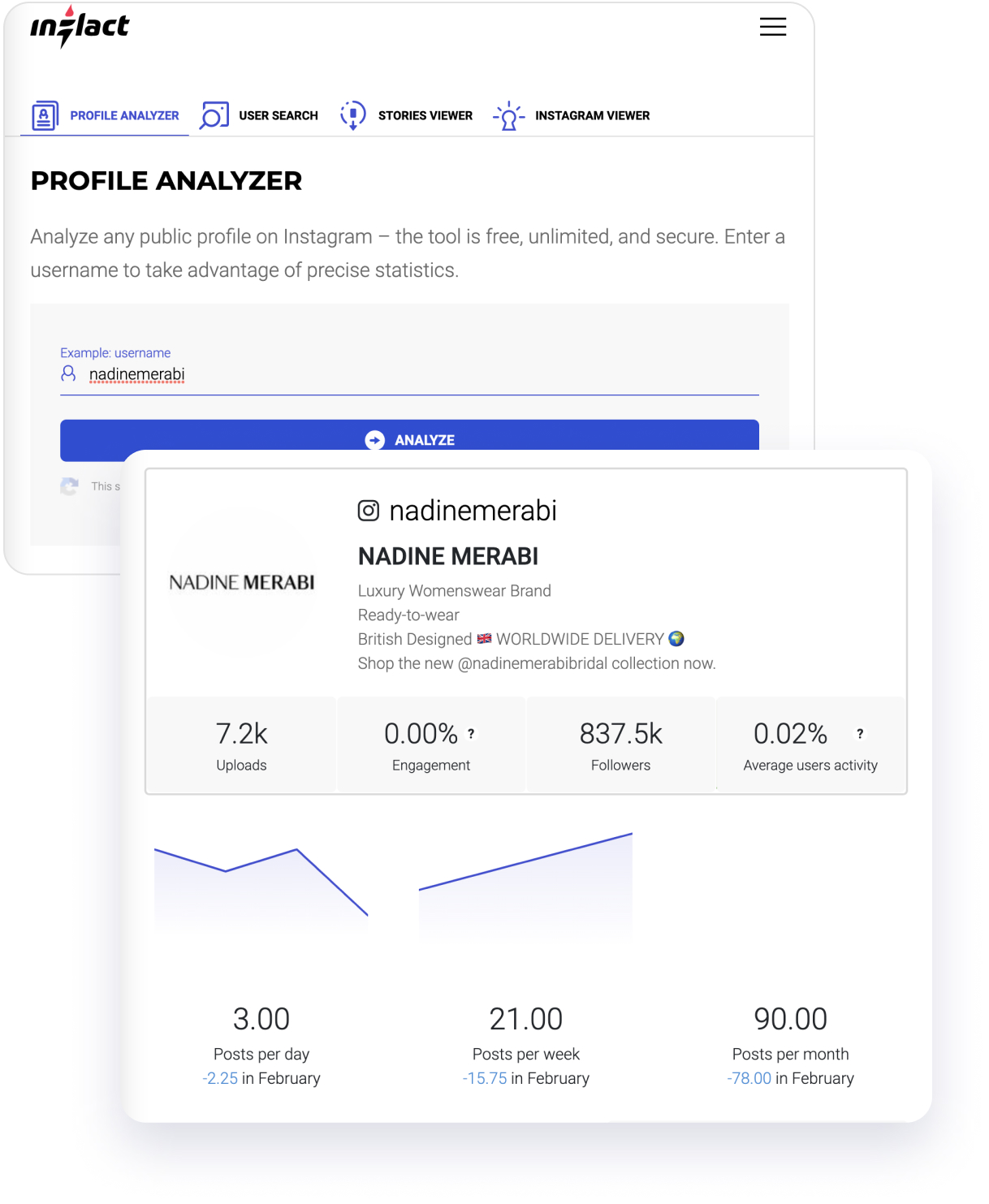 You can also collect data manually:
Find profiles that are your competitors.
Search for competitors by keywords.
Use hashtags to search.
Collect the most complete "base" of prospective competitors, and then analyse it and discard all those who do not compete directly. In particular, at the initial stages of activity, it is not necessary to focus on niche leaders and accounts with millions of subscribers. Find the competitors at the same beginner level and those who have already taken the first steps, but have not yet gone far ahead.
Step 2: Preparing your Instagram account
Prepare the ground before you start promoting your account on Instagram. It is useless to start your promotion without a strategy and account preparation. People are still more willing to follow accounts where there is already at least some activity. If your page looks "dead," it simply won't interest users.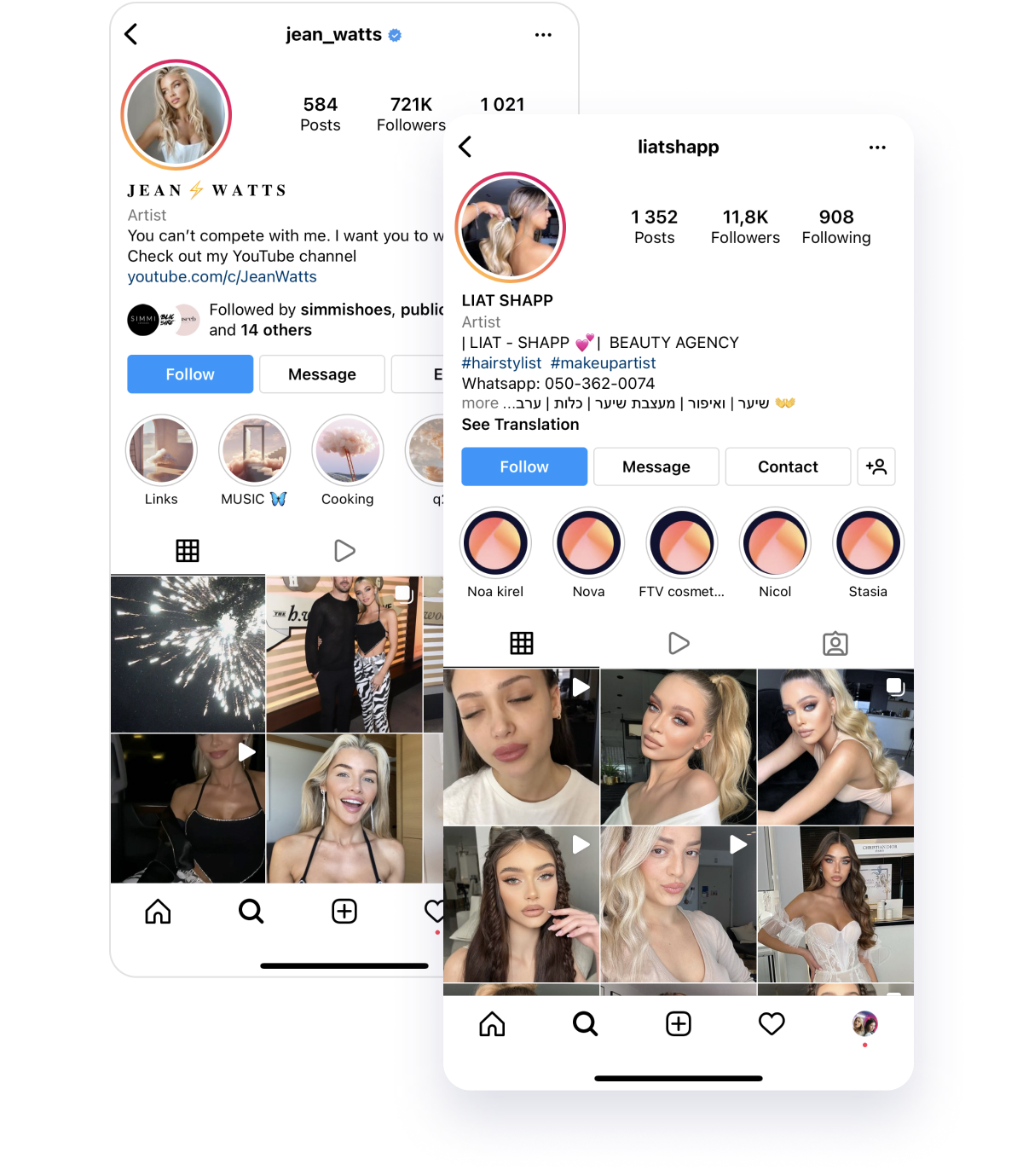 The audience follows interesting, useful, funny things, i.e. to what appeals to them and addresses some need. Before launching a promotion, you need to fill up your account so that the people who encounter you will understand who you are and what you will give them. It is also useful to continue actively releasing posts and stories during the advertising campaign. Then it will be easier for the audience to make a choice.
So first: Create an Instagram profile so that the user immediately understands what your account is about and what you offer.
By the way:
The profile should have a name (nickname) that would reflect the essence of the blog. And at the same time it should be short and memorable. A good name serves as an element of your promotion. When your subscriber wants to share a link with someone, but they don't have a phone at hand, they can recall your nickname. Well, that is if you haven't made it too complex.
After all, no one will specifically memorise your nickname. So, ease the way to your word of mouth. Come up with an easy nickname.
What to include in an Instagram account before the start of the promotion.
A name that corresponds to the subject of the account.
Description in the profile header: USP, benefits, name (if the account is personal).
Location, if you run an offline business or work in a certain area.
Link to the website or your other materials.
Navigating the page in Highlights: prices, location, frequently asked questions, and other information.
Clean the account from inactive subscribers if the profile has been maintained for a long time. Subscribers who do not respond to your content in any way are harmful to promotion.
Note: Switch to a business account to get statistics and analyse audience reaction to the content.
Instagram will show you how to create a business account in Instagram or transfer a personal Instagram page to a business account.
Open your page, click on the 3 lines at the top right > Settings > Account > at the bottom "Switch to a business account."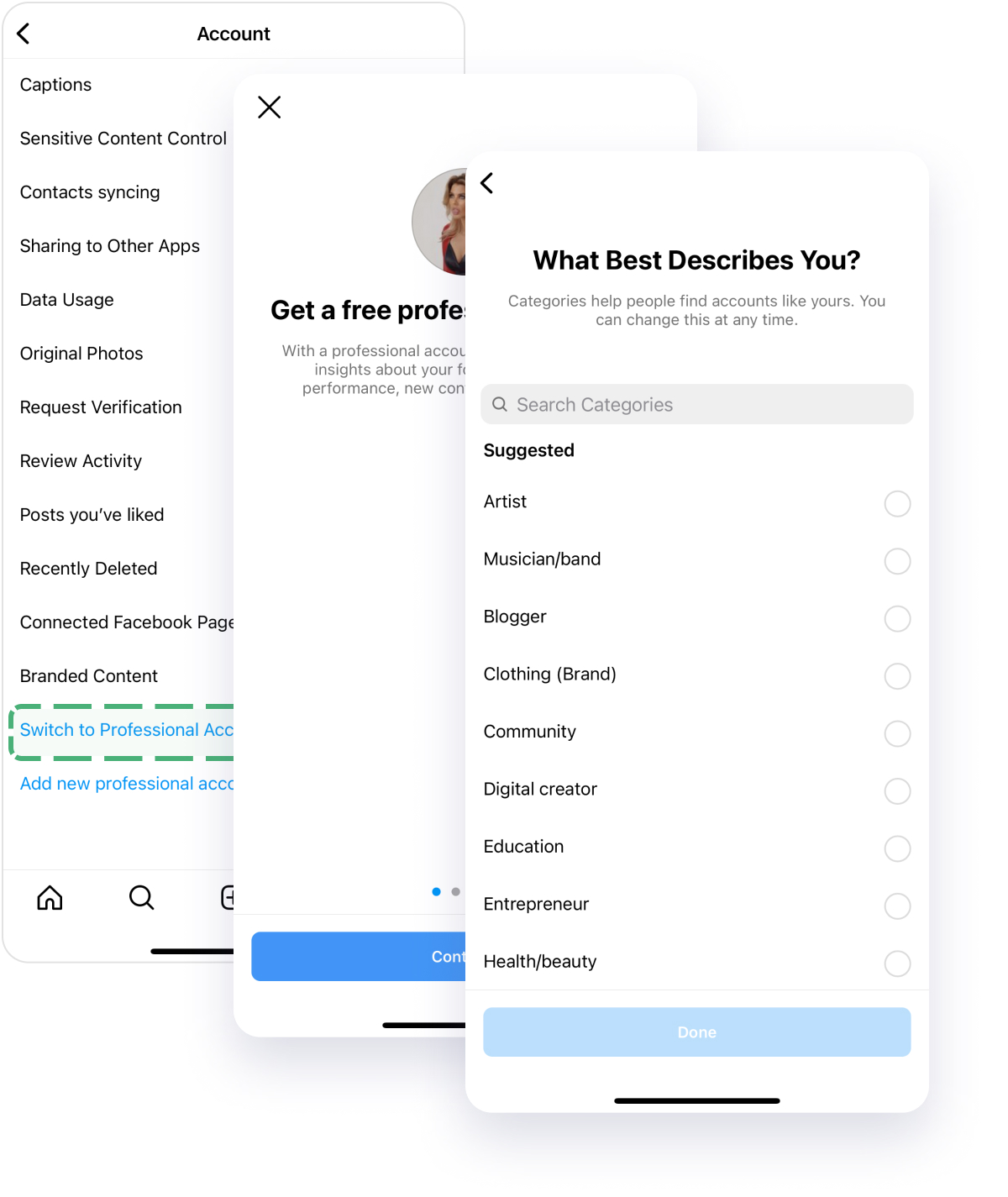 Step 3: Prepare an Instagram development strategy
Any promotion is about a plan and regularity. One-time actions will not bring results. Define the goals — why do you need Instagram promotion, what do you want to get: subscribers, sales, advertisers, or something else.
Prepare a content plan with regular publications, Stories, and Reels.
Planning the purpose of an Instagram account using the SMART system.
The system consists of 5 components:
specificity (an increase in subscribers, for example, up to 10,000)
measurability (for example, what income will be per month)
achievability (set only achievable goals)
relevance (how it will bring value for you)
time limitation (how long it will take to achieve the goal)
Example of a SMART goal: I want to receive at least 20 new clients weekly for massage courses in 3 months.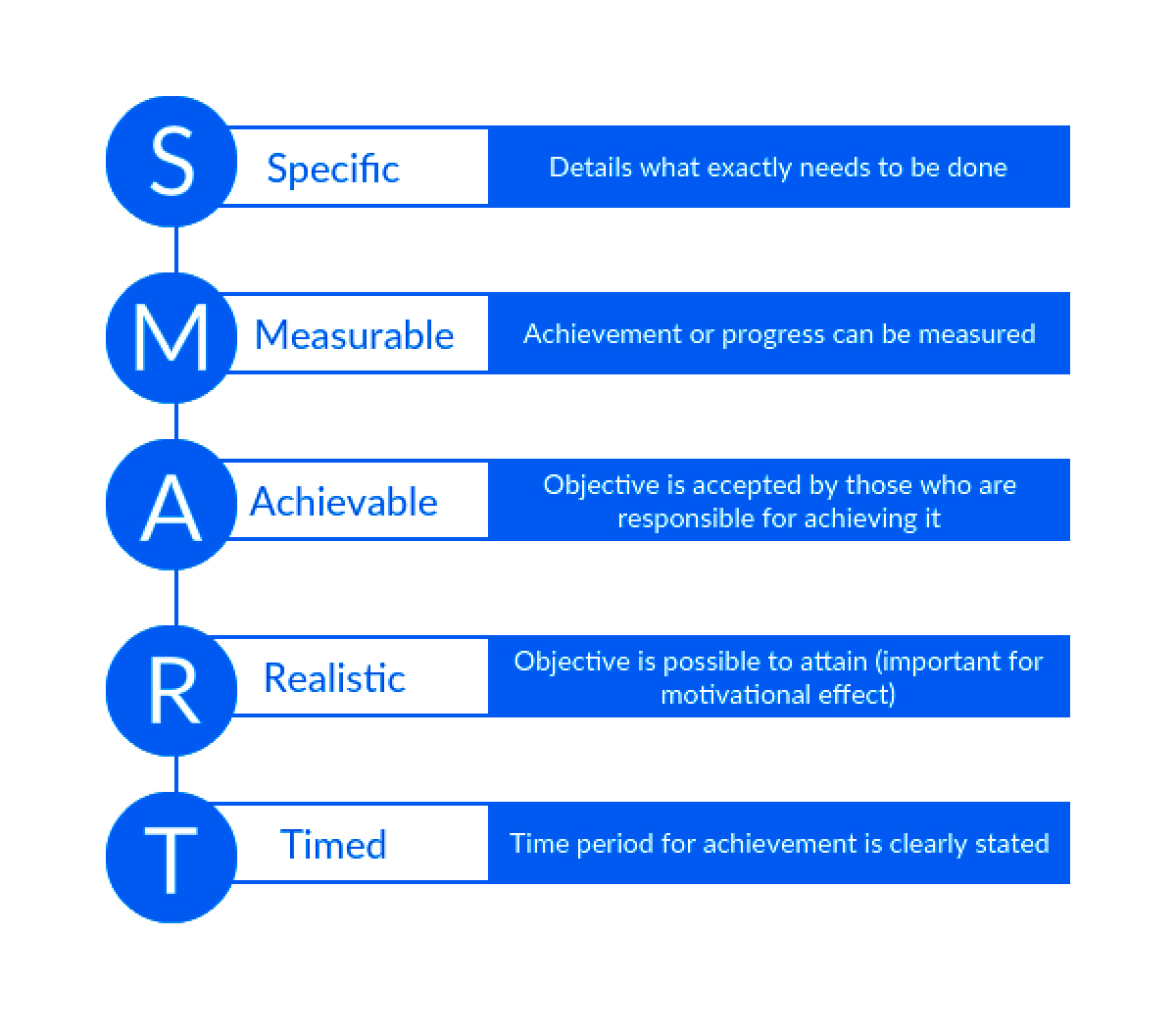 You can also break down your goal into several stages. So it will be much easier to achieve the final result. For example, the first stage might be: I want to receive 5 new clients weekly one month after creating an account on Instagram.
A content plan is a schedule of publications on a specific topic and at a specific time.
When drawing up a content plan, it is important to remember the main goal of the blog and not break away from it. Each of your actions should increase the subscriber's confidence in you and your product and bring you closer to the main goal.
Instagram content blocks:
advantages, USP of the product/service
company values (what you care about, how you position yourself)
character (bold, bright, calm, etc.)
mission (global, which helps people)
the essence of the product (briefly — what are you)
Step 4: Start with free promotion methods
For the initial account build-up, the Inflact Instagram promotion service is still the most relevant for its efficiency and low cost.
Lifehack:
To avoid getting your account blocked, you don't need to put likes and subscriptions manually through the app on your phone during the promotion.
Thousands of owners of commercial accounts still use the almost free Instagram promo method along with others. There are many services already; some of them are no longer working, while others keep developing more and more — for example, Inflact. The actions performed by the service are very similar to a real person and Instagram does not distinguish between them.
How to use the Instagram growth tool
Prepare hashtags for Instagram promotion
Now you need to find up to 50 hashtags that your target audience is interested in (i.e., they mention these hashtags in their posts, follow these hashtags, or have searched for them at least once). You need to make a list of top keywords which will point the promotion robot to the audience that is relevant for your profile.
For this step, we strongly advise using the Hashtag Generator — a tool that has a database of 12 million hashtags. And obviously, it will help you find the most suitable words for this goal. Create an audience portrait. When you get into your audience's hobbies, lifestyle, and pain points, it'l be simpler to find keywords for hashtag research. Try to think like potential clients and understand what words they might use to find your products.
Prepare competitor accounts to acquire followers from
You need to identify up to 50 usernames of competitors that own your target audience on Instagram. For this step, we advise you to use Advanced Instagram Search. You'll form a list of your target rivals in minutes — it's simple and free with Inflact.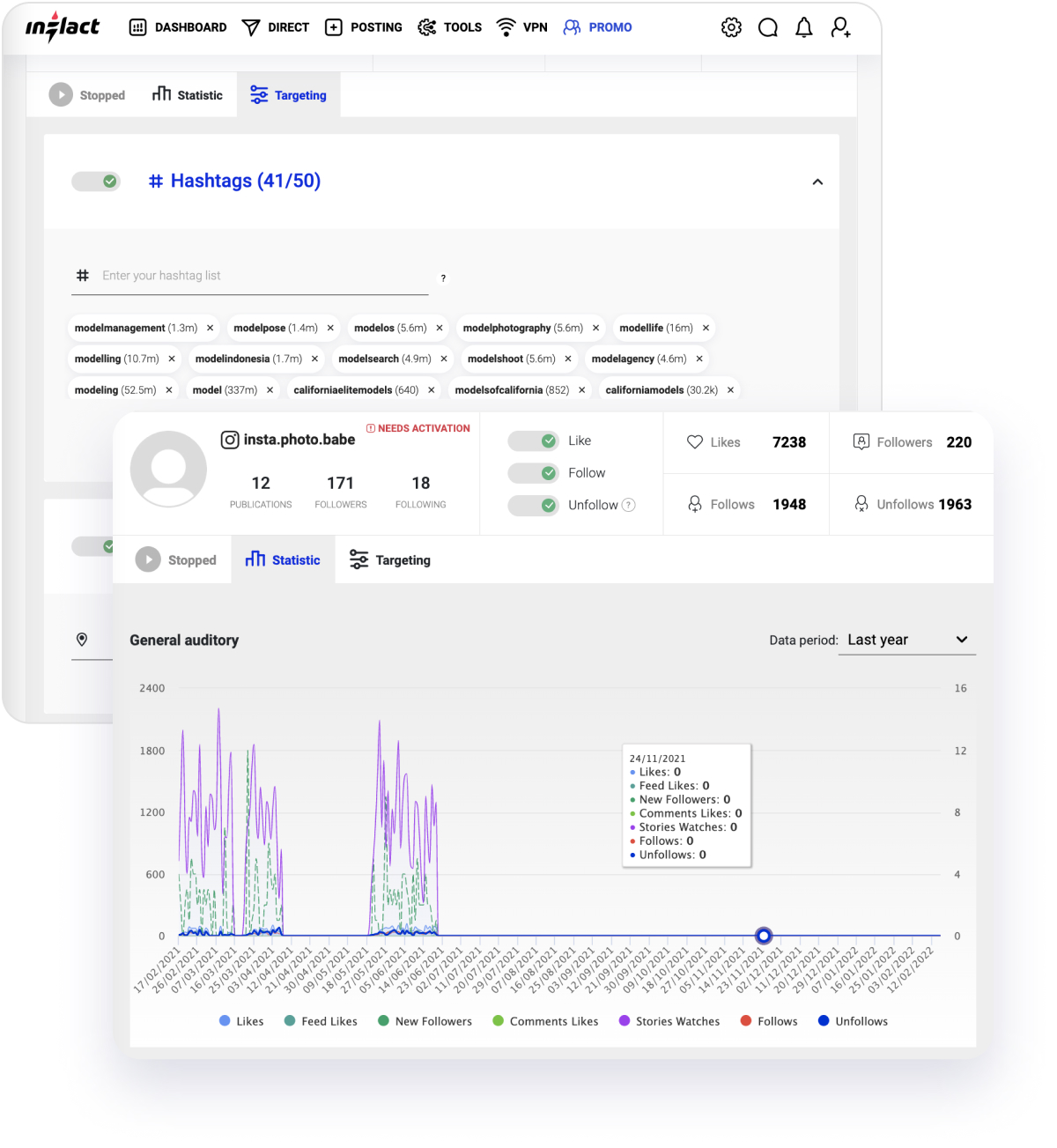 The Inflact Promo Tool will automatically follow accounts based on nicknames, hashtags, locations, and other filters you apply. Also, it will unfollow users based on the criteria you pick in the settings.
The best thing you can do is check the statistics every 2-3 weeks and adjust the targeting settings. For example, remove less effective hashtags and usernames — you can view how many followers you got from each. Also, research new hashtags and competitors regularly to renew promotion targets.
Step 5: Promoting Instagram through bloggers
The last important step for Instagram promotion in 2023 is blogger advertising. If you have successfully completed all the previous 4 steps - and you have already prepared an account, a strategy, a content plan and a sufficient number of subscribers — it's time to order advertising from a blogger.
Influencer marketing remains in the trends for 2023 because the blogging market is growing. Therefore, Instagram promotion through opinion leaders is still relevant. Advertising from bloggers, famous personalities, and experts creates more trust and is perceived as a recommendation from a familiar person.
Advertising options for influencers:
native (doesn't look like an ad)
direct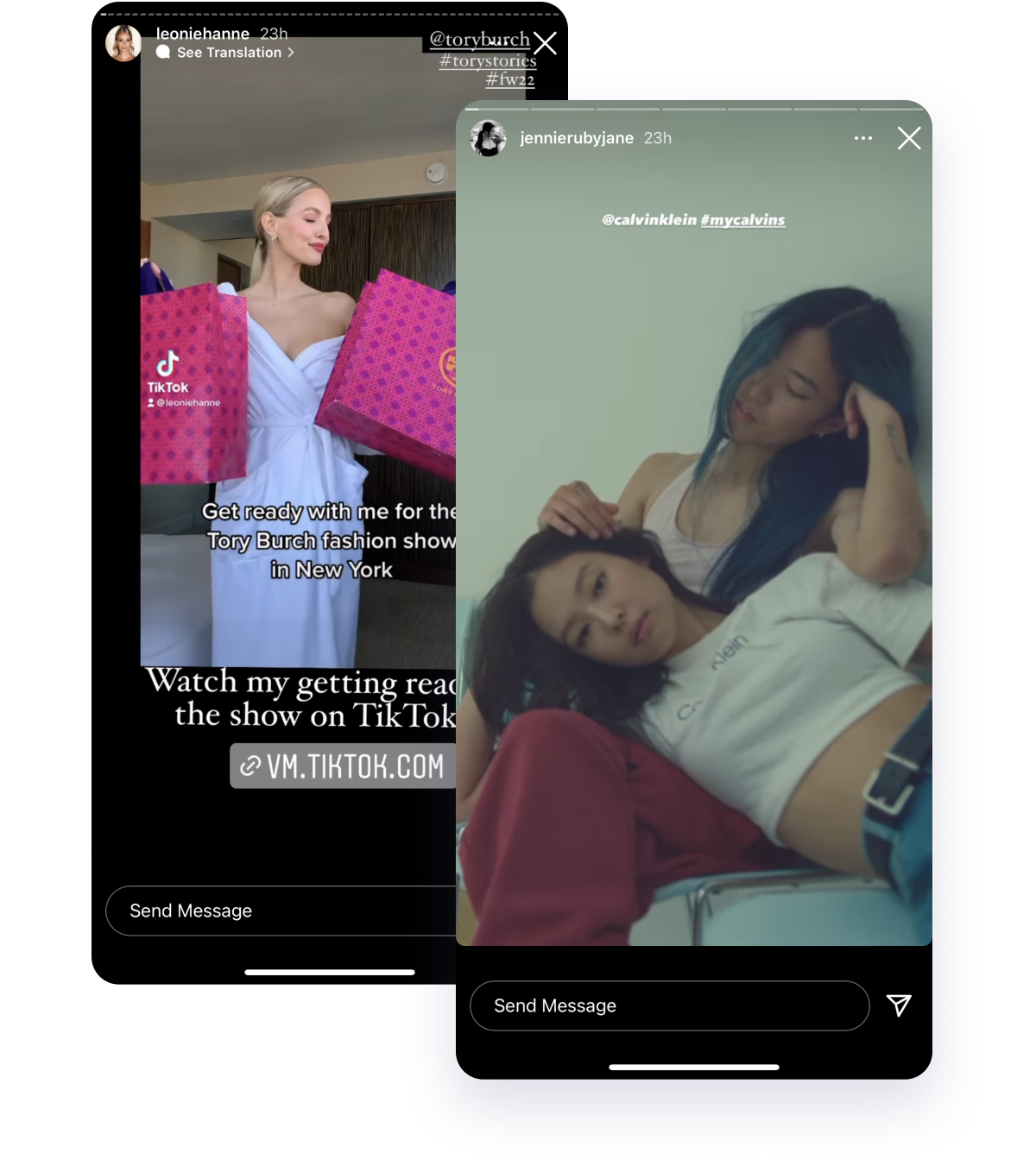 How to properly prepare for the release of advertising from a blogger.
1. Sign a contract and screen all messages you get from the blogger or his/her manager.
2. Specify in the contract the fee, the day of the ad release, the time in small periods (for example, 9.00 - 9.15), penalties for disrupting the ad release, how many calendar days the material will be in the top and in the feed, after how many hours/days the blogger's next post may appear, when and whether it is possible to delete the advertising post, the presence on the photo/video of the advertiser's mark (logo or account name), the presence or absence of hashtags in the post, their types, topics that should not be in the three blogger posts preceding the advertisement.
3. Write down the requirements for video and photo content separately: the quality of the shooting, the format of the video, and what should be in the frame.
4. Fix the requirements for the text: its volume, the prohibition on mentioning competitors, the need to mention the advertising account twice (at the end of the first or beginning of the second sentence and at the end of the post), the inadmissibility of specific words or comparisons.
5. Focus on Stories. If posts are increasingly gravitating towards "evergreen" content that remains relevant for a long time, then Stories are fleeting like life itself.
The short-term nature of the content, the lack of "paint" retouching, live emotions — all this leads to the fact that most of the audience prefers Stories to posts.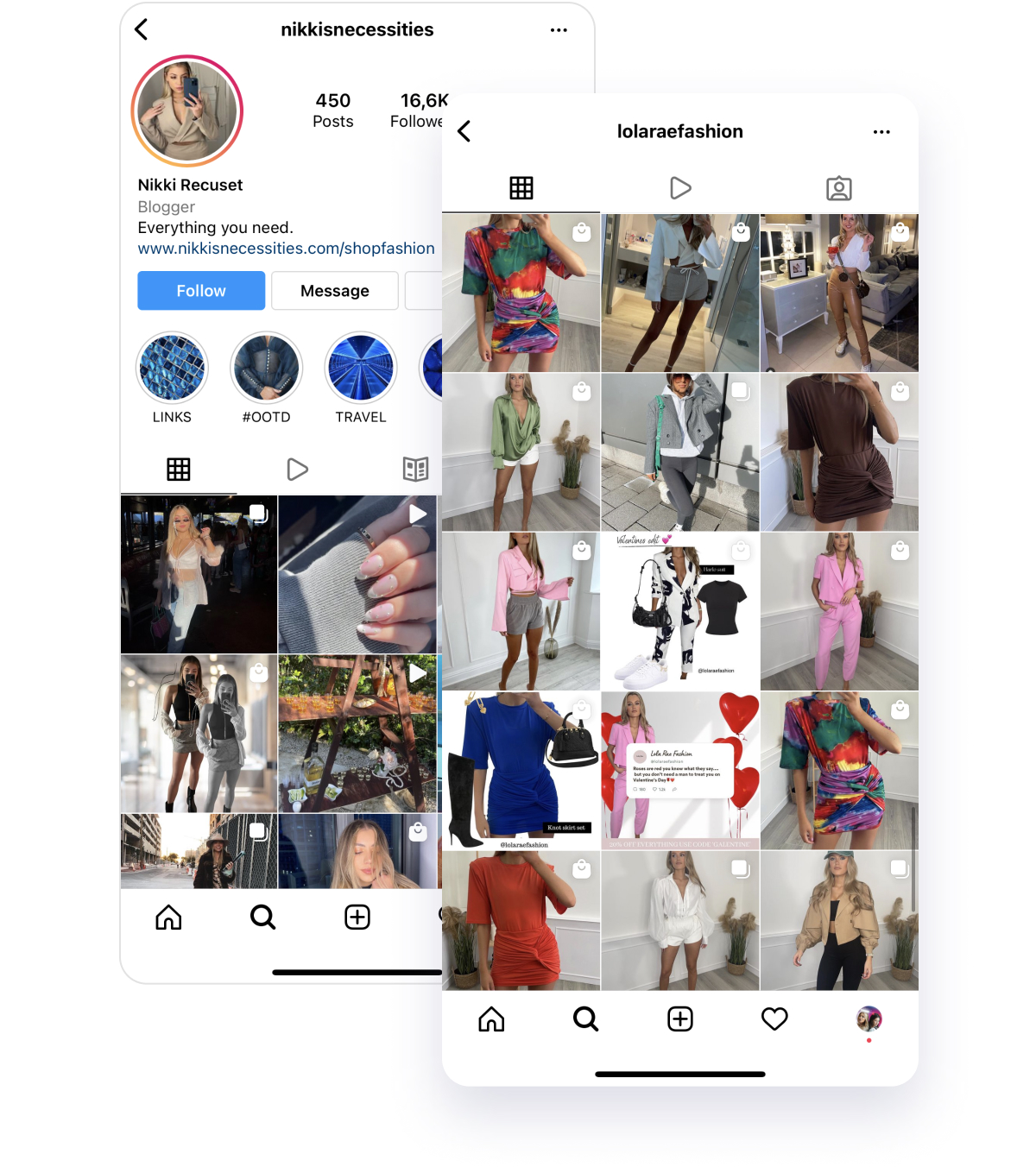 It is also advisable to discuss the visual design: at least sketching it by hand: here will be a photo or video of the blogger, here is a mention of your account, here is a text no more (or no less) than such a volume and in such a font.
What you need to do AFTER the blogger's advertisement is released:
Go to the blogger's post from the official account of the company and thank them in the comments.
Spend at least three days responding to comments about the product under the blogger's post. You can invite subscribers to your account and voice the offer that awaits them in your feed.
Request detailed statistics on an advertising post from the blogger in three days.
Analyse your account statistics, data on leads, and sales, and draw general conclusions on advertising integration.
Let's summarise the results
Knowing how to sell on Instagram 2023, it is easy to achieve success. Every year the competition is getting higher, which leads to high costs for promotion, improving the quality of publications. Aiming to get into the top, you need to be ready to work hard at the initial stage of project development.