The best hashtags for Instagram Reels on any topic

Every Instagrammer wants their smartphone to light up every second with like and comment notifications after posting a Reels video on their account. It's very satisfying, right? Wouldn't you love to get millions of views, like Instagram star Khaby Lame and likes on your Reels videos without any paid promotion? The good news is, there is a way to become very popular organically — by using hashtags for Instagram Reels.
In this guide, I'll cover all questions concerning hashtags on Instagram Reels videos. Where to get them, how to use them mindfully, and even ready-to-use sets of hashtags for the 2023 promotion.
How to use hashtags and post hyperlinks in Reels videos on Instagram
Reels is the format of viral but long-staying Instagram content that allows you to post searchable hashtags.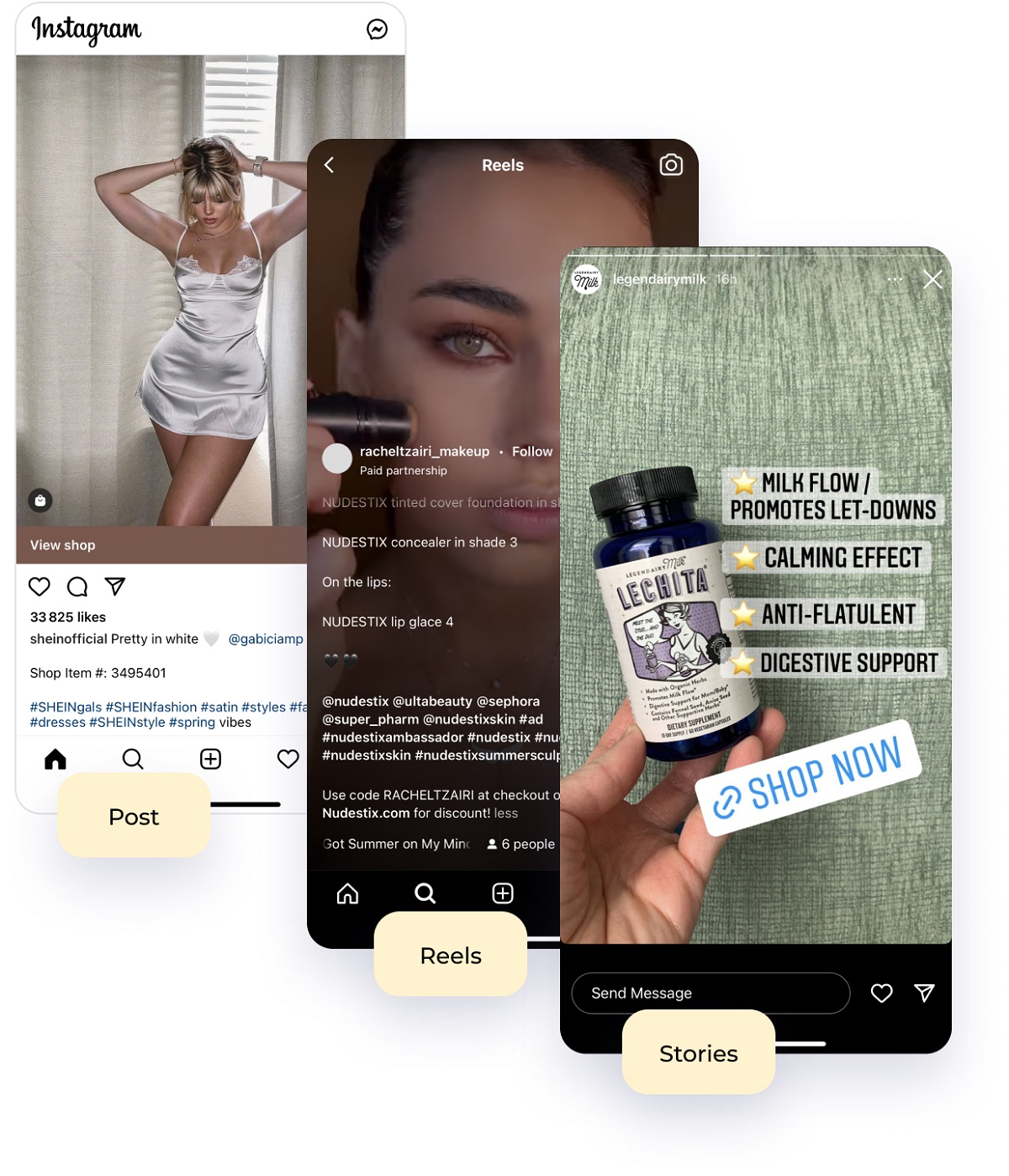 Instagram formats for posting links and hashtags:
On posts, you can use searchable hashtags, but can't post links.
On Stories, it is vice versa: you can post links, but no searchable hashtags.
On Reels, you can specify Reels Instagram hashtags to promote the video, but you can't post a link in the caption either.
And even more, Instagram shows your Reels in the search. If you have specified a hashtag For Reels video, it will be shown as a separate part of the Instagram search result.
Note: There is a new Instagram search feature now. Reels search is a new separate part of the Instagram search. So now, when you use hashtags in your Reels video, you can automatically make it searchable organically.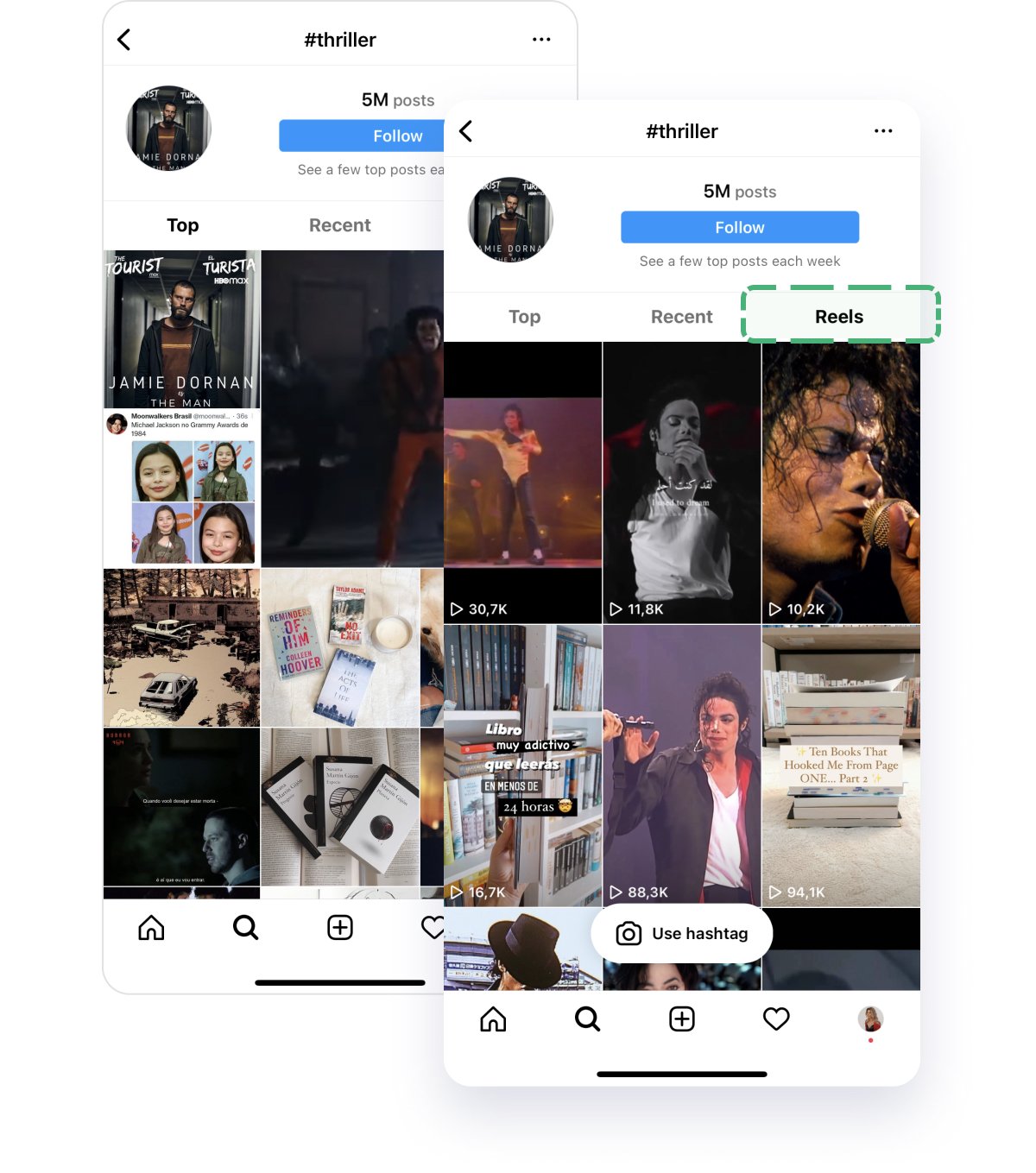 Why is it necessary to use hashtags on Instagram Reels?
With the help of hashtags, you can:
make any Reels video searchable and popular
separate the Reels into categories
make it easy to navigate on your page
There are not many businesses shooting Reels on Instagram right now. I mean that only 20% of Instagram business accounts use Reels for promotion, and not even half of them put hashtags under their Reels. You can capitalize on this fact because putting hashtags under your Reels is a great way to promote. That's how clients can find you. Don't forget to follow the latest Instagram 2023 trends to be on top.
Lifehack: Add hashtags that your potential target audience may be looking for. I used the hashtag #lollipopchicago and noticed that I was the only one to use it, even though we have a lot of confectioners in the city. It turns out that my Instagram content shows the very first under this hashtag. Since this is Reels, it is displayed on the top. It is followed by other publications in the search. Of which, by the way, there are 1,000+. A client searching by this hashtag is more likely to open the Reels first. After all, this is a dynamic video. The product can be seen from different angles. The other publications lose out in this regard.
You can also occupy your niche using hashtags and get customers through Reels.
How to add a clickable link to Reels
Links cannot be specified in the description of Reels. They will not be clickable. However, an auto-reply service for Instagram Direct can work around this problem. Encourage subscribers to write a specific word or key in Instagram Direct. Then the automated system will send the link — and additional text, if necessary — in 4 seconds.
I write something like "to get a link, write 'link' in DM" in the description of the Reel. And I configure the Instagram Direct service by Inflact to reply with a link to any message containing the keyword "link".
How many hashtags do professionals use on Instagram Reels?
The allowed number of hashtags in Reels is 30. Here, it is the same rule as in the posts: hashtags should have clear relevance to the theme of the video; otherwise, users may hide you from their feed by putting "not interested in this".
Note: It is ok to put around 8-15 hashtags, but strictly on the topic.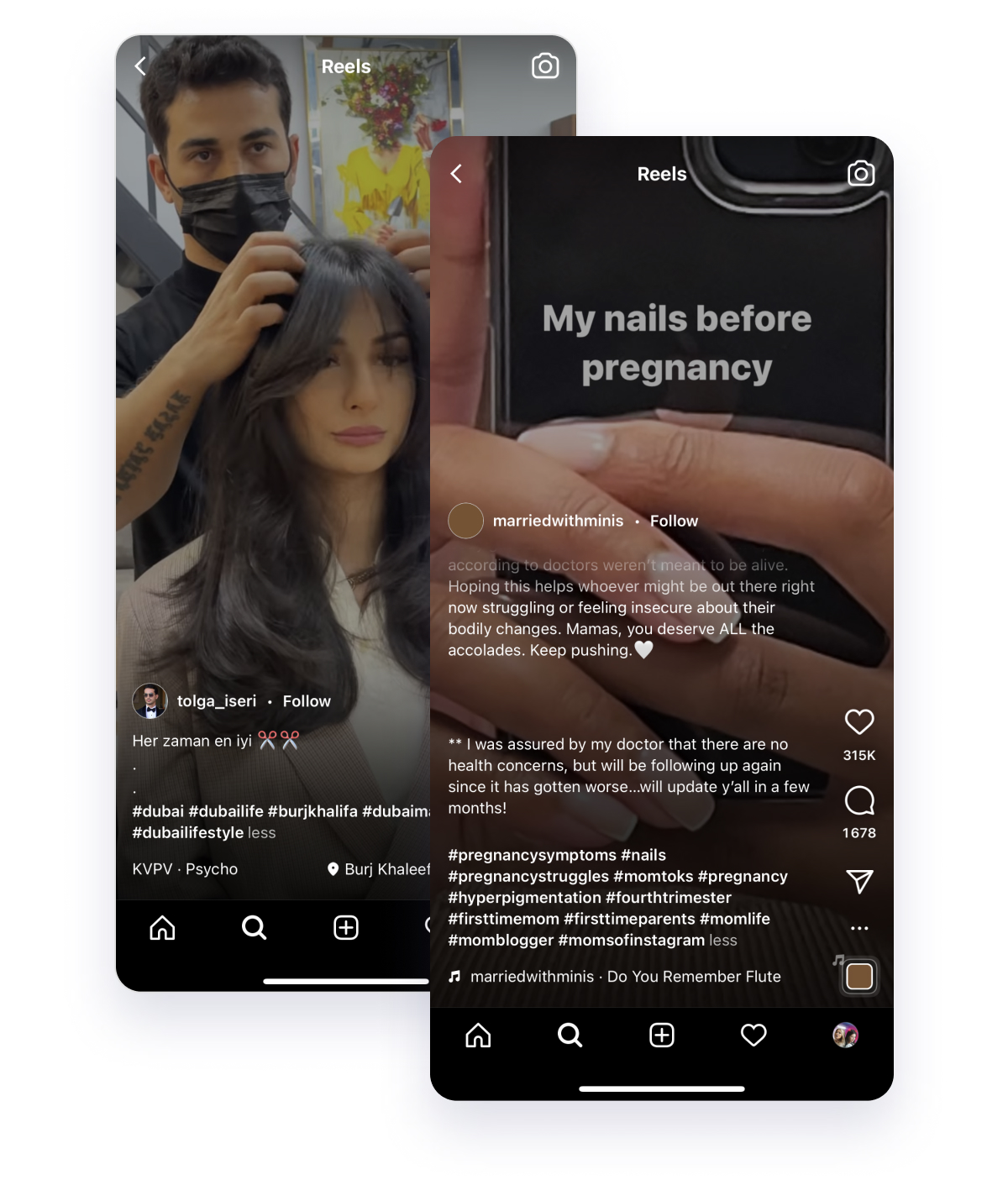 To make it easier to insert hashtags, look at Reels on a similar topic and take those hashtags into account. How many hashtags do Instagram Reels of your competitors contain? What are they? By doing a little research on your Instagram rivals, you can see the strategy more clearly.
"If people ask me how many hashtags to use on Instagram Reels, I always say — as many relevant hashtags as you can find, but no more than 30. Every tag under your video is a great opportunity to reach a potential client. Never disregard using viral hashtags for Instagram Reels."
How to add hashtags to Instagram Reels
Hashtags are an important part of the free organic promotion of Reels videos, and their importance has increased even more now, as Instagram has added a new section in the hashtag search.
In addition to the "top" and "recent" sections, Instagram users now have a "Video Reels" section.
There is a three-step instruction for how to put hashtags in Instagram Reels:
Go to the Reels creation mode (the "+" button) and choose or shoot the video. Don't forget to add trending music on Reels video.
You can specify hashtags directly on the video using the "add text" button.
But it is better to specify hashtags in the description of the Reels before its publication.
Click "Share" to release the video to the feed.
Note: I recommend adding two types of hashtags to your videos: very popular high-frequency hashtags and thematic ones related directly to your video.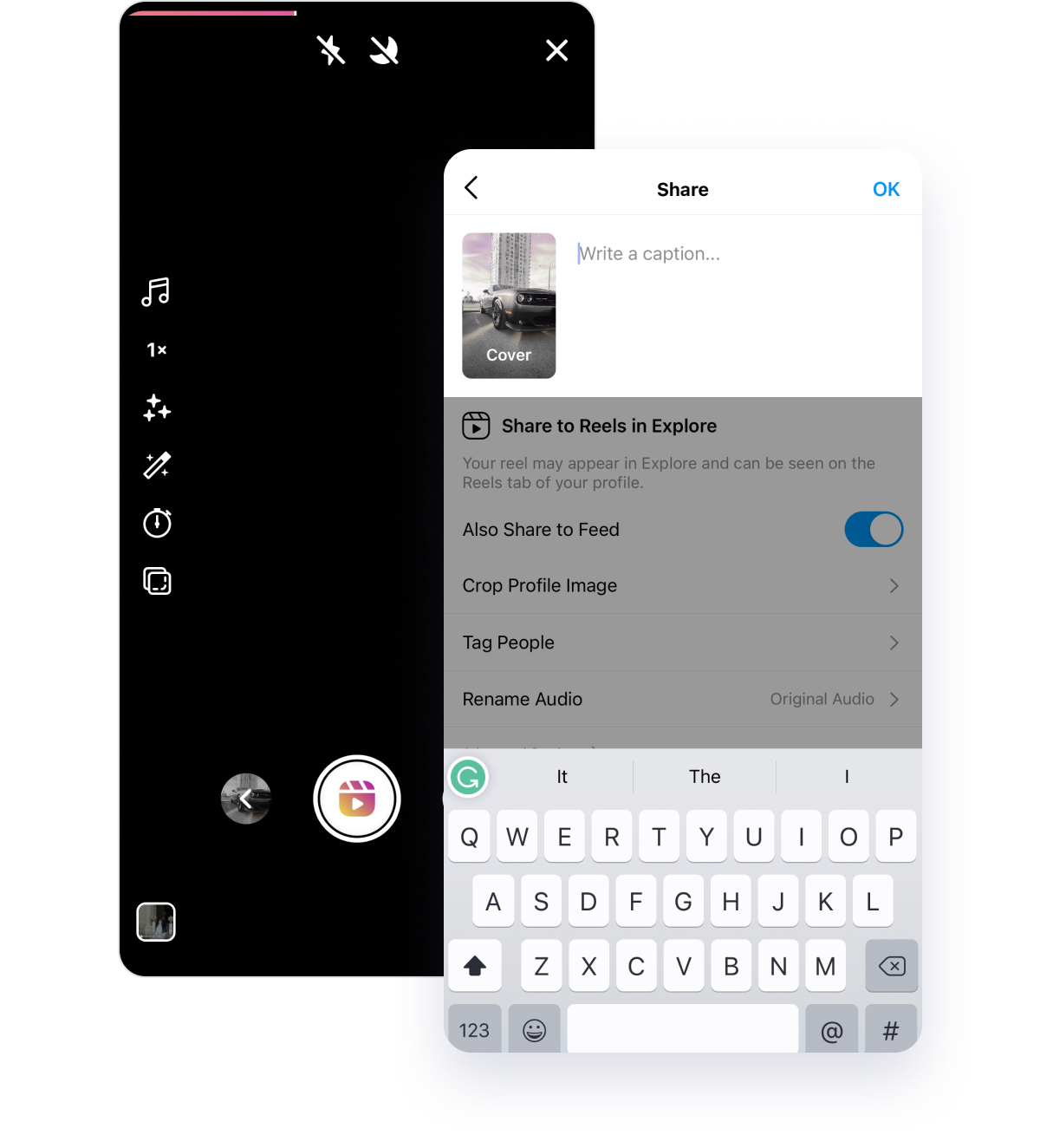 Further, in the article, you'll find a hashtag selection for different topics, so stay tuned.
Hashtags in Reels can be used for different purposes:
To get into the recommendations (it is better to use trending ones)
To separate Reels videos into categories
To build brand awareness (you need to come up with branded tags)
How to access Reels statistics on Instagram
As soon as the Reels function became available to Instagram account owners, everyone noted the effectiveness of this tool. At the same time, as with any kind of content, you need to pay attention to metrics.
Reels statistics in Instagram can be viewed exclusively in the mobile application.
"To get access to statistical data for Reels, you need to register a creator account or business account."
If you switch to a professional account (either creator or business), you will get access to Insights — just not stats from before you made the switch.
Where to view Reels statistics
Let's consider two ways to view Reels statistics on Instagram. You can do this using the video menu directly, or the account statistics tab.
To view the statistics of your video, you need to click on the three dots icon at the bottom right of the screen.
In the second option, using the account metrics to view statistical data on Reels, you need to go to the category "Content that you have published." First, you need to select a time interval (thanks to the new Instagram update, it is now possible to set user parameters). Then go to the Reels section. You can sort the videos from new to old or in reverse order. Specify the metric you want to study and again the period.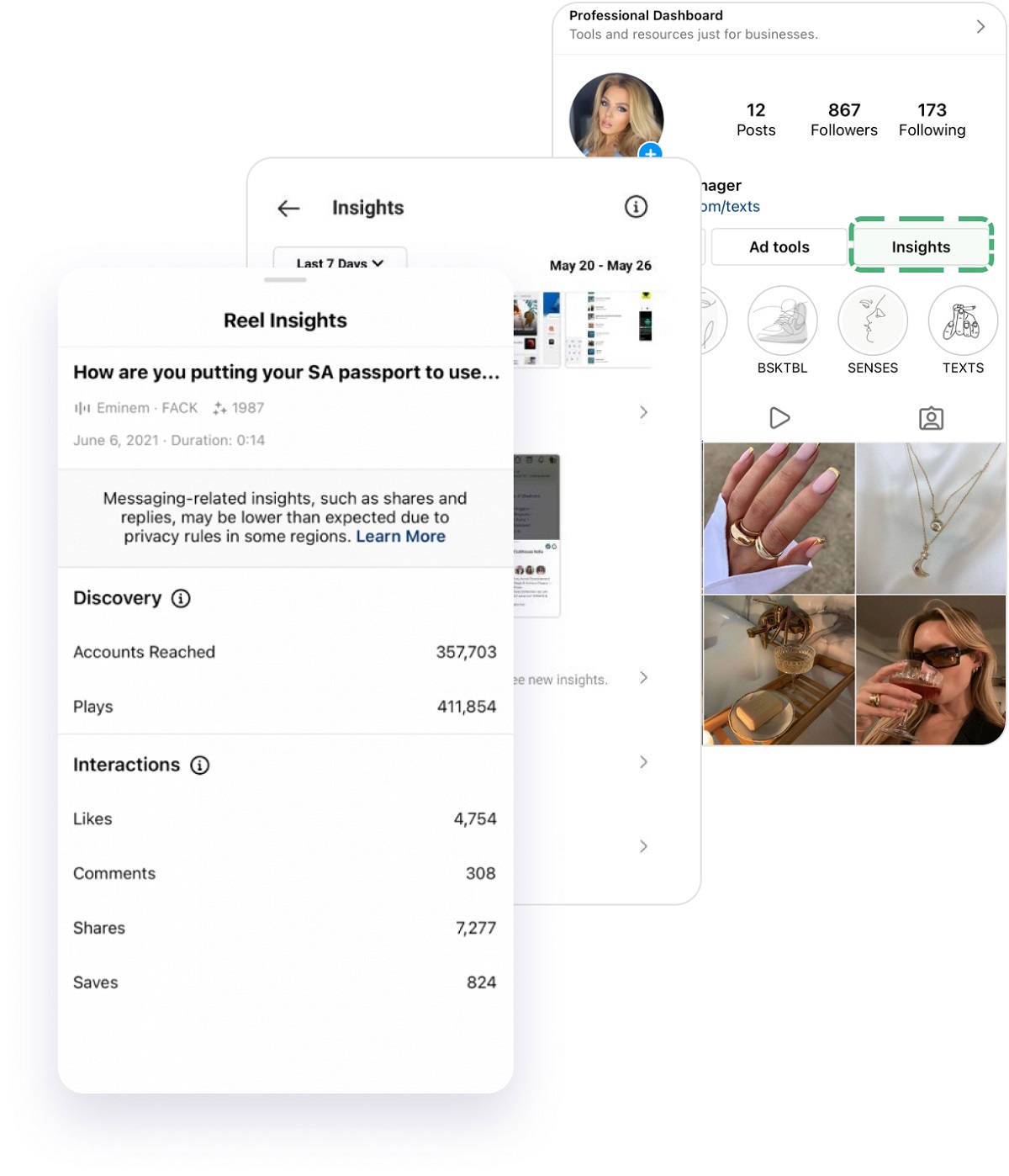 Just like in the Stories and IGTV categories, a separate place is allocated for the Reels format in the general account metrics. Next, we will look at all the calculations in more detail to find out how the Reels statistics differ in Instagram.
The main Reels metrics in Instagram
Statistical calculations on Reels are divided into two types: coverage and engagement.
The Reach metric shows the number of unique users who have viewed a particular video.
The Plays metric shows how many times the video has been viewed.
Interaction statistics show the number of Likes that Reels have received on Instagram.
Let's note one interesting point. If desired, you can hide the number of views and likes in the publication feed (this feature is available to every user of the social network). At the same time, if you go to the Reels tab in Instagram, the video statistics will still be available to all users:
Comments — their number under the video.
Shares are relatively new indicators if you compare Reels with Stories, IGTV sections, or posts in the feed. It can be noted that the algorithms used for Reels on Instagram are the same as in TikTok.
Save statistics. Just like for posts, data on the number of saves is available for Reels.
Where to look for trending Instagram reels hashtags?
Instagram does not yet have a separate tab with popular hashtags, as in TikTok. And it's not certain that one will appear. There are three ways to search for great hashtags:
Hashtags for Reels search method #1
Use common trending tags that include the words "reels": #reels, #reelsinstagram, #reelsviral, #reelsovers, #reelsofinstagram, #reelsvideos, #reelstrending.
Such tags can be found in the recommendations tab (magnifying glass icon), labels section.
More trending hashtags for Reels can be found here: Hashtag trends.
Use this tool to find more trending hashtags in a few clicks. You don't need to log in, but you can still tick any hashtag you like and gather a selection of cool hashtags for any topic
The disadvantage of the method is that Instagram users have not learned how to use hashtags for their intended purpose. As a result, a lot of content that is not related to Reels, for example, photos, comes across in the output for these tags. You will have to sort through all this "garbage" to find the gems you are looking for. Therefore, in addition to using trending tags, you need to promote your own branded tags.
Hashtags for Reels search method #2
In this method, we look at which videos are already in the Reels recommendations and take tags from there. This is a more realistic way to find popular hashtags for recommendations. But it is rather difficult to follow. By the way, you can download Reels from Instagram to reuse on your profile or just save forever on your device.
Note: Whatever hashtags you use, every word should be aimed at the target audience. You don't need to take the first popular tag that comes along. For example, if you have a cosmetics store, you don't need to put the #travel tag just because it got caught in the recommended videos.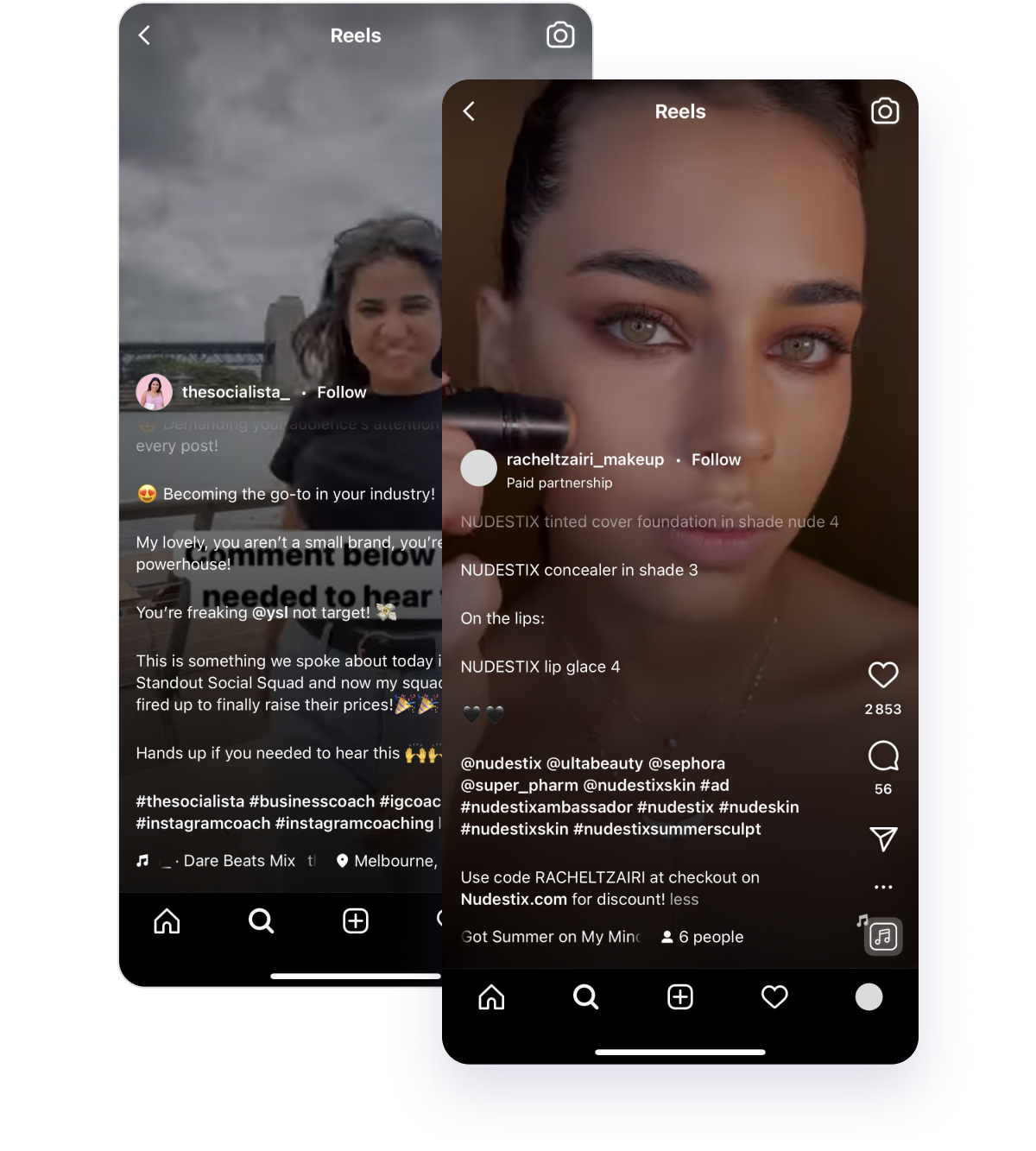 Hashtags for Reels search method #3
This is the best method to get lots of relevant hashtags for your Reels video. Just use the Hashtag Generator. This is the ultimate method to find suitable and mindful sets of hashtags for every piece of video you have.
How to generate great hashtags for Instagram Reels
Open the hashtag tool.
Type the main keyword about your Reels post.
Tap "generate."
Tick 30 hashtags that you think are suitable for your Reel.
Tap

Copy

in the window with all your selected hashtags in the right corner.

Paste

the copied hashtags in the Reels post.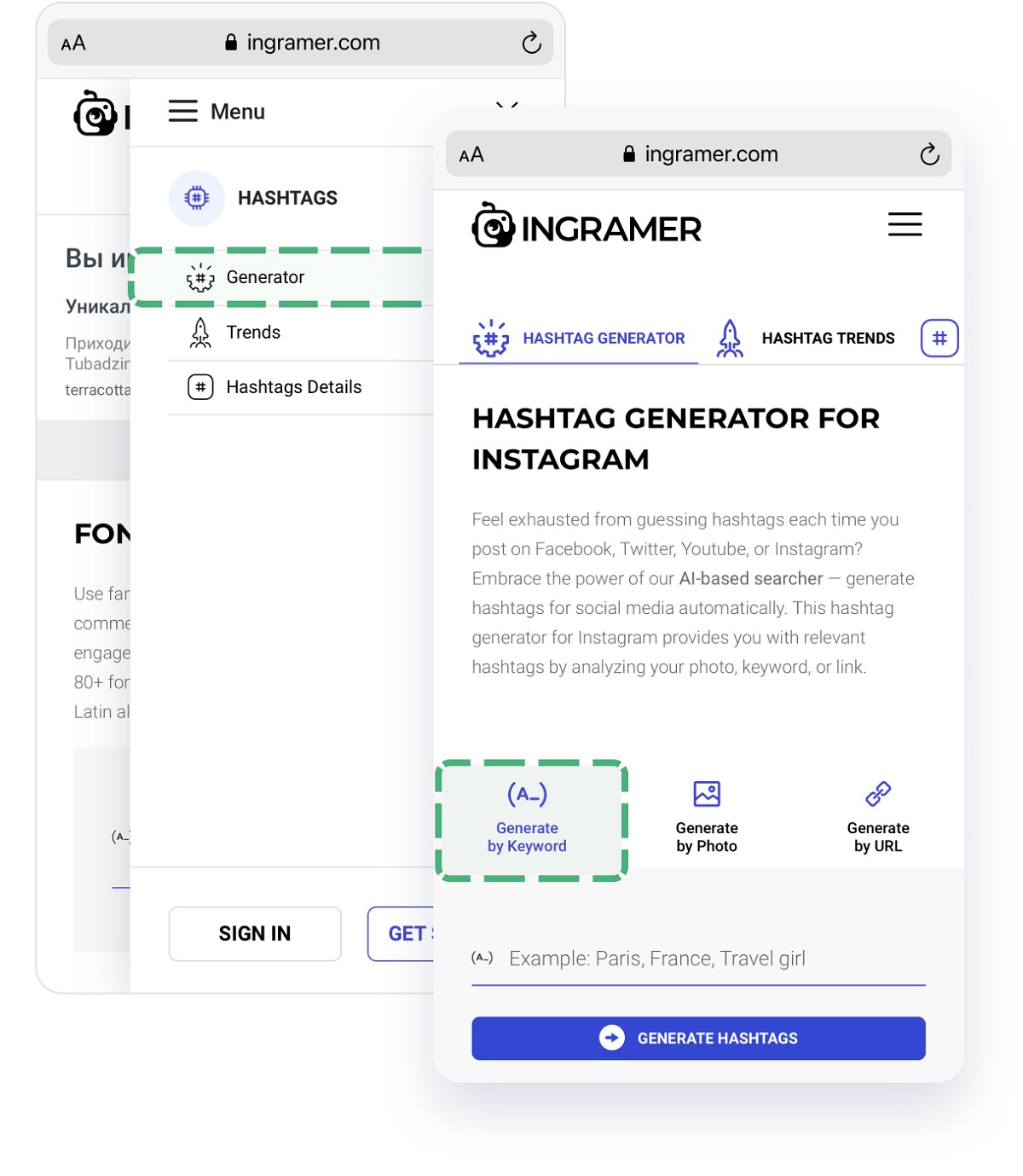 Lifehack: When placing a new Reel, you can post an announcement in the feed or share it in Stories. It's like an IGTV announcement. Users will be able to see it in the feed, story, or in user profile and go to the video. This method will help you gain views from subscribers and people who have logged into the account. Remember — the more interactions with the content, the higher the probability of getting into the recommendations.
Best Instagram hashtags for Reels by topic
Here are the most popular hashtags for Reels videos for 2023. We've divided hashtags into groups with 30 hashtags in each, so you can just copy and use them for your post.
Instagram Reels travel hashtags
#travel #travelphotography #travelgram #traveling #travelling #travelblogger #instatravel #traveler #traveller #traveltheworld #travelingram #travelblog #traveladdict #travels #travelphoto #traveldiaries #travellife #igtravel #travelawesome #travelpics #travelholic #mytravelgram #travelbug #instatraveling #travelstoke #traveldeeper #travelgirl #travelers #travelpic #travelmore
#traveleurope #travel_drops #lovetravel #lovetotravel #travel_captures #travelbag #travelagent #travellove #travelwriter #worldtravel #travelogue #travelporn #travelindia #travelaroundtheworld #travelrealindia #instatravelling #travellovers #indotravellers #travelstories #travelandleisure #wearetravelgirls #travelmemories #traveldestination #travelingtheworld #girlswhotravel #travelnoire #travelcommunity #travellifestyle #travelstyle #familytravel
#travelnow #travelalberta #iamatraveler #travel_greece #travelstroke #europetravel #traveljapan #travelog #japantravel #travelbook #traveladdicted #worldtravelpics #lifewelltravelled #travelinspo #traveltuesday #travelagency #traveloregon #travelvibes #adventuretravel #ig_travel #welltraveled #businesstravel #travelphotoblog #travellerlife #instatraveler #travelexperience #blacktravelfeed #travelpicture #traveladventure #travelessentials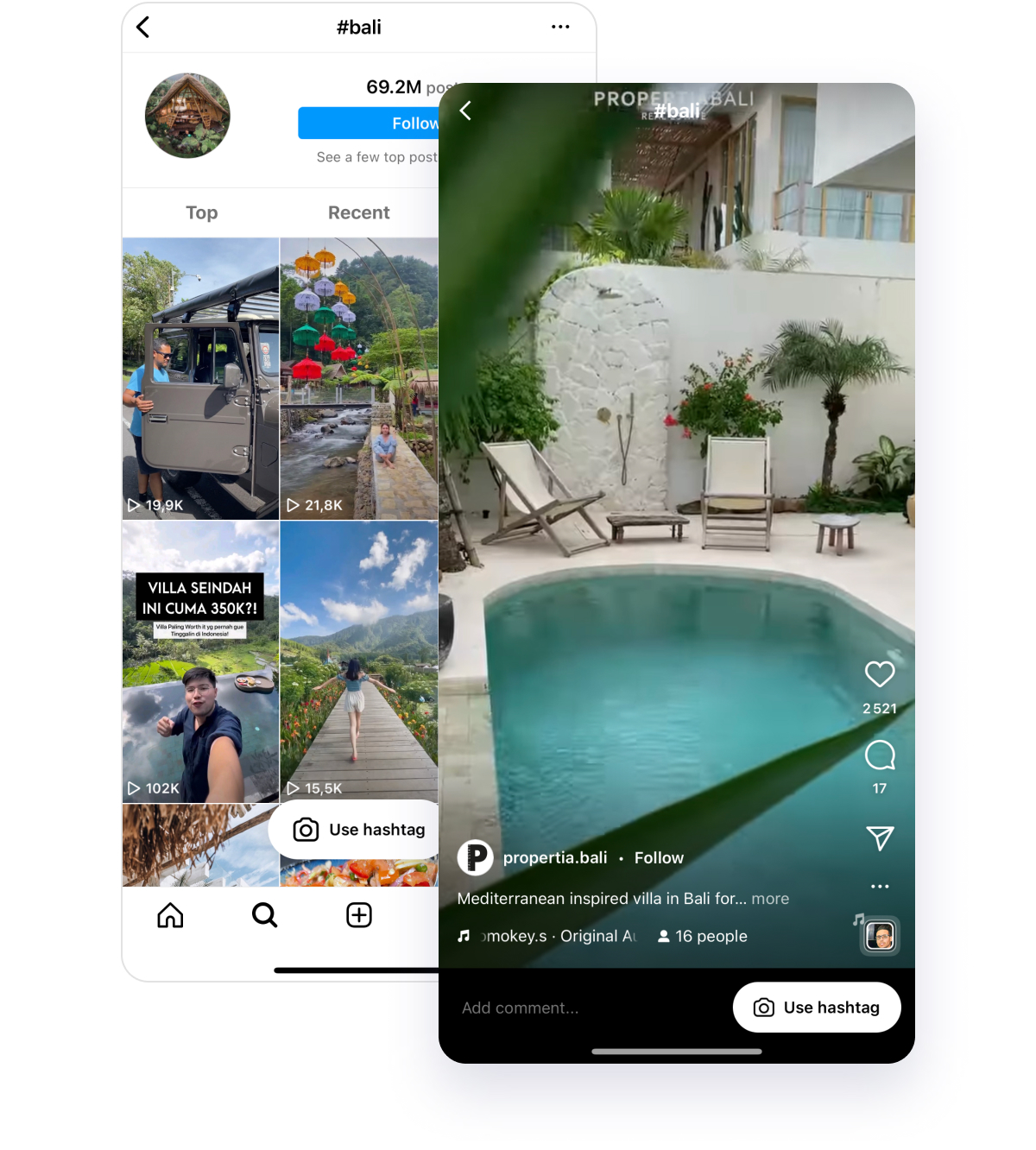 Instagram Reels beauty hashtags
#beauty #beautyblogger #hudabeauty #instabeauty #naturalbeauty #beautybloggers #beautyblog #beautycare #beautysalon #beautyful #beautyproducts #beautyofnature #beautyqueen #beautygirl #beautyinfluencer #beautybar #beautyofpakistan #beautyinnature #beautyday #beautycreations #beautyphotographer #beautystudio #beautytime #beautyshot #beautys #beautybeyondsize #beautyandbrains #beautytip #beautybay #beautyiseverywhere
#howtobeauty #msglowbeauty #beautyguru #beautymakeup #blackbeauty #sleepingbeauty #beautyjunkie #beautygram #fentybeauty #beautyphotography #effyourbeautystandards #beautylaunchpad #greenbeauty #beautyreview #beautyclinic #beautyface #beautygoals #beautyartist #beautyindecay #beautyeverywhere #beautytrends #beautymodel #beautytherapy #beautydoesnthavetobepain #ecobeauty #beautybusiness #beautylovers #melaninbeauty #beautygirls #beautyretouch
#beautybox #veganbeauty #beautyshoot #beautyhacks #organicbeauty #beautyhair #beautyobsessed #beautysecret #beautyfull #beautyvlogger #beautyproduct #hotonbeauty #katvondbeauty #beautyskincare #beautyroom #tv_hiddenbeauty #lashbeauty #beautyexpert #beautyessentials #mybeauty #beautyhaul #bwbeauty #beautysecrets #beautyworks #purebeauty #indobeautygram #tv_fadingbeauty #wetnwildbeauty #beautytools #beautyaddicts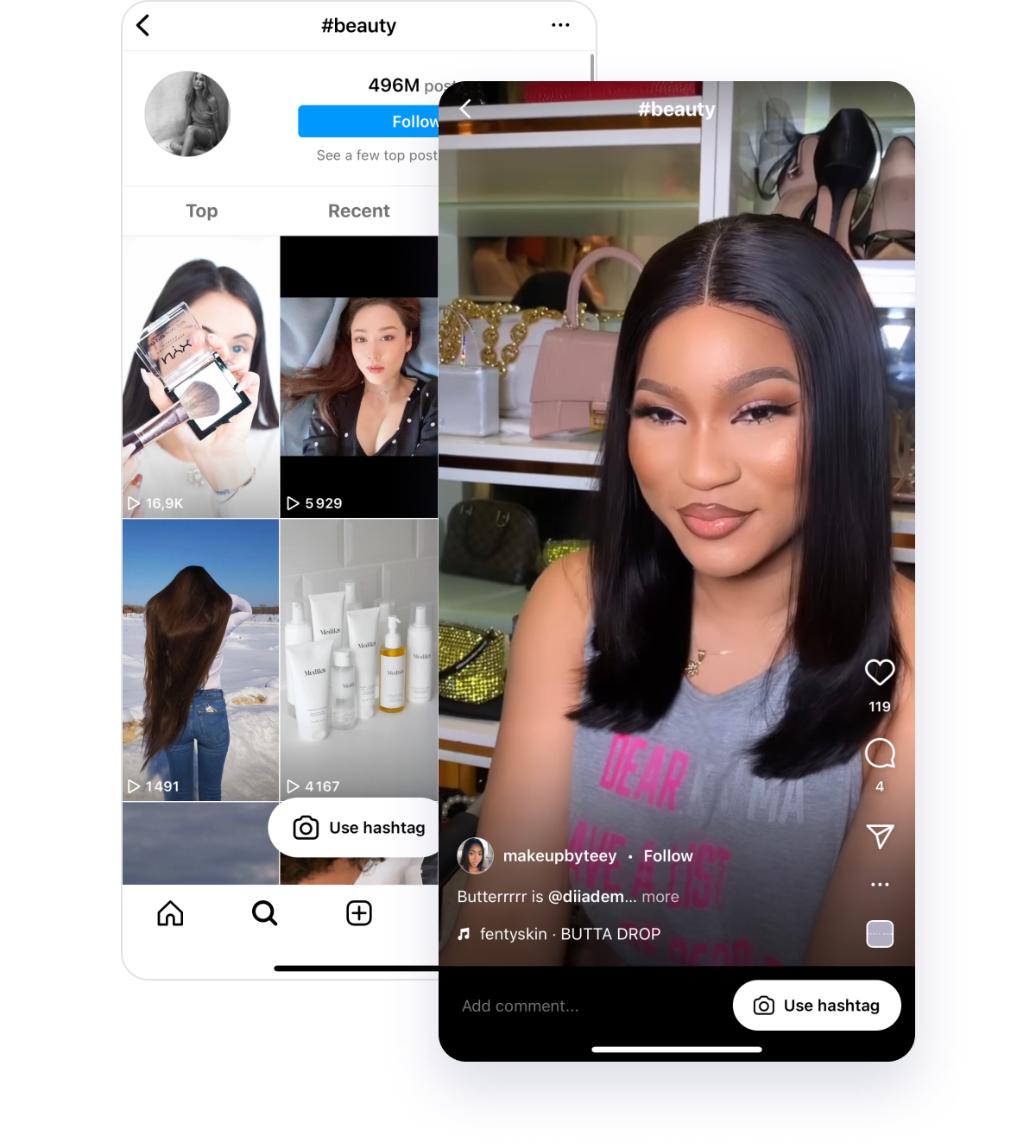 Instagram Reels funny hashtags
#meme #memes #memesdaily #dankmemes #funnymemes #memestagram #memepage #edgymemes #offensivememes #dankmeme #memer #dailymemes #memesespañol #memesbrasil #memelord #memeaccount #funnymeme #memeitaliani #memes4ever #mementomori #memessad #memesarelife #memeanime #memesargentinos #mememachine #memequeen #memeespañol #memelover #memengakak #memeo
#funny #funnymemes #funnyvideos #funnymeme #funnyshit #funnypictures #funnyposts #funnyvideo #funnyquotes #funnyaf #funnydog #funnydogs #funnypics #funnymemesdaily #instafunny #pubgfunny #funnyface #funnymoments #funnygirl #funnypicture #funnytime #funnyasf #funnymemes😂 #funnybaby #funnyisfunny #funnyvideosdaily #funnyvid #funnyfails #funnypets #funnytexts
#funnyvines #fortnitefunny #sofunny #tumblrfunny #freefirefunny #btsfunny #memesfunny #funnyguy #funnymike #funnyafricanpics #funnyjoke #funnymovie #funnykid #funnymoms #funnyanimememes #kpopfunny #notfunny #funnytimes #funnydogsofinstagram #funnybunny #funnynotfunny #funnycomic #funnytwitter #funnyaccount #funnybuttrue #funnycatvideo #funnyvine #funnypeople #funnyfriday #funnyart
Instagram Reels cat hashtags
#cat #catsofinstagram #cats #catstagram #vacation #catlover #catlovers #catoftheday #catlife #cats_of_instagram #instacat #catsagram #catlove #ilovemycat #catloversclub #cats_of_world #lovecats #blackcat #cutecat #catofinstagram #catlady #kittycat #catsofinsta #catvideos #catsitter #catdad #catloaf #catsitting #catsofinstagram
#catsvideo #catvideos #funnycatvideos #catvideooftheday #funnycatvideo #catvideosofinstagram #funnycatsvideo #cat_video #video_cats #cat_videos #video_cat #cat_video_universe #videocat #catfunnyvideo #catsfunnyvideo #catcutevideo #catreelsvideo #catplaytimevideo #cattvideo #videoofcat #catfightvideo #videoscat #catstagramvideo #catwalkvideo #catsittingmontevideo #catanddogvideo #catstockervideo #catmemevideo #catandkittenvideo #catfunvideo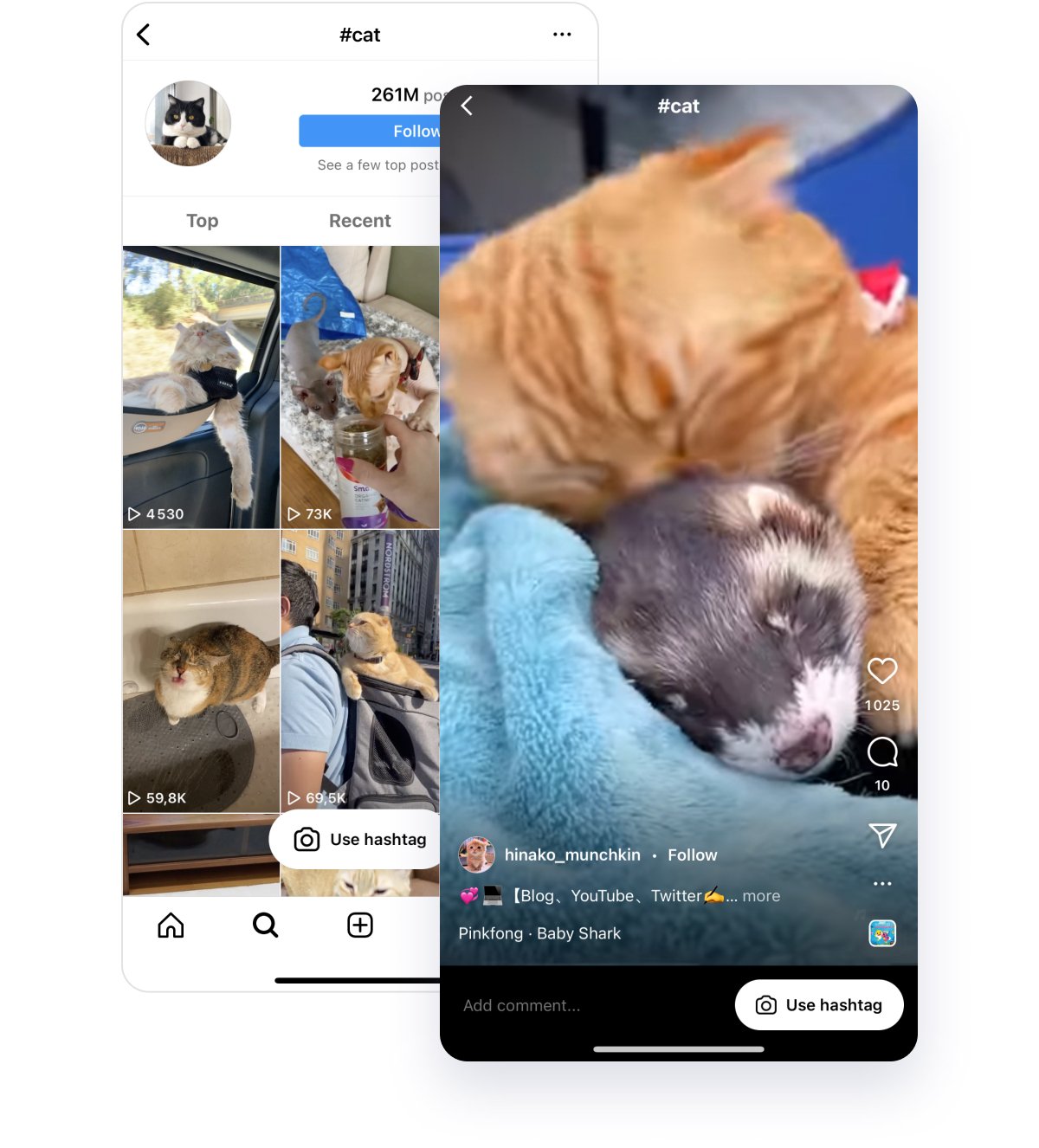 #funnycat #funnycats #catfunny #funnycatvideos #funnycatvideo #funnycatpics #funnycatsofinstagram #funnycatsvideo #catsfunny #catsarefunny #catvideosfunny #funnyvideocat #funnykittycat #funnyfacecat #funnyblackcat #catsmemesaretoofunny #catsleepingfunny #funnycat_cat #catscutefunny #catcutefunny #funnymemecat #catsittingfunny #catshirtsfunny #funnybabycat #funnypersiancat #catssleepfunny #catscutenfunny #funnyfamilycat #catvideofunny
Instagram Reels dog hashtags
#dog #doglovers #dogsofinstagram #doge #doglover #dogs #doglife #dogoftheday #dogphotography #doglove #dogmom #dogstagram #dogsitting #dogmodel #dogtraining #doggrooming #doggystyles #dogdaily #dogpics #dogfamily #dogdailyfeaturesss #dogal #dogsofficialdog #dogsoftoronto #dogloversclub #dogdaysofsummer #doguedebordeaux #dogsofbark #dogmum #doglifestyle
#dogsofig #dogsofinstaworld #dogofinstagram #dogsofinsta #doggy #dogs_of_instagram #doga #dogfeatures #doğa #doggo #dogscorner #doginstagram #dogstyle #dogloversofinstagram #dogsdaily #doggielove #dogslove #doggosofinstagram #dogtoy #dogbeach #dogbirthday #dogumhediyesi #dogofinsta #dogblog #dogvideos #dogbed #doguinho #dogsofsydney #dogs🐶 #dogloversfeed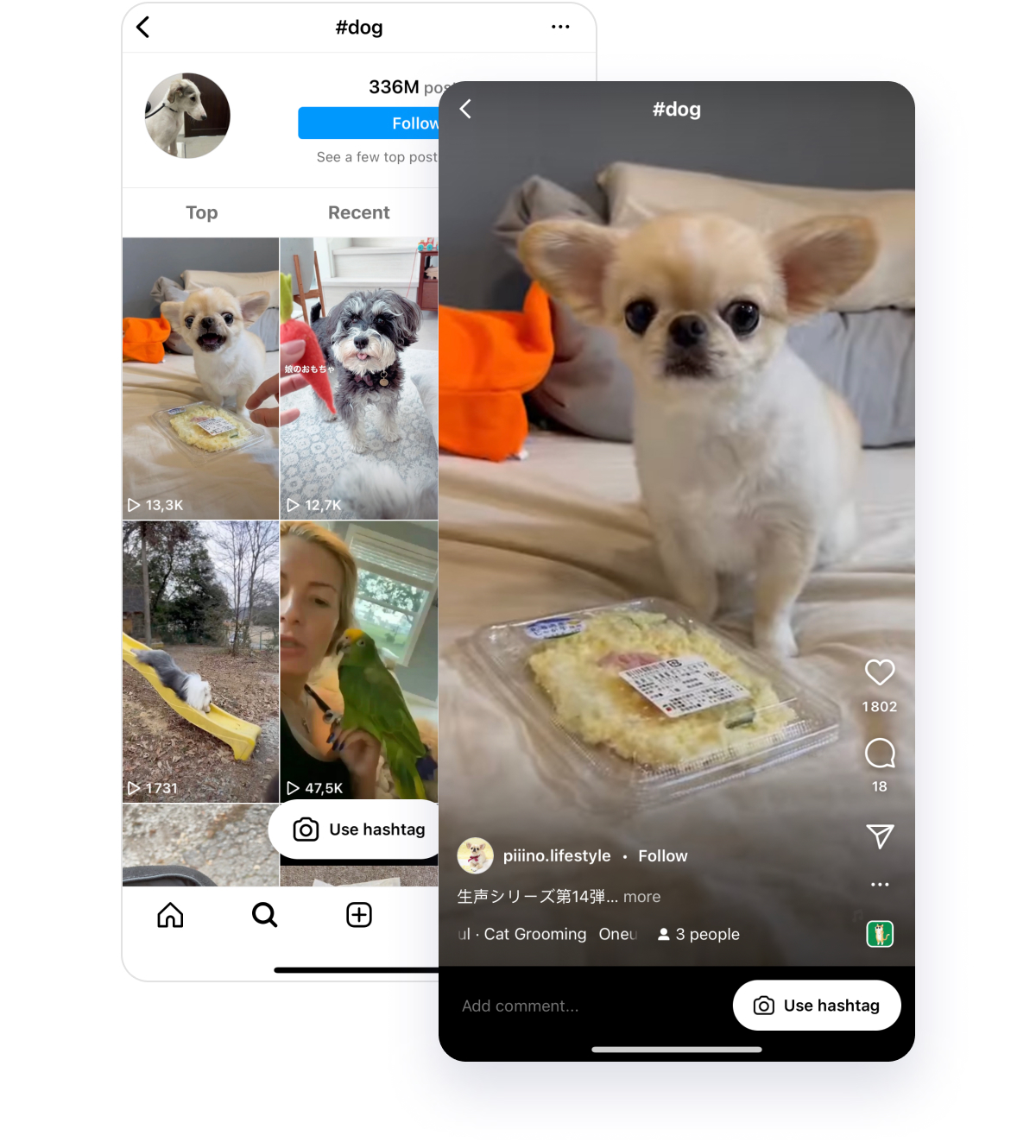 #dogsofinstagram #dogmomlife #dogwalking #dogsofinstagram #bulldogsofinstagram #englishbulldogsofinstagram #cutedogsofinstagram #rescuedogsofinstagram #frenchbulldogsofinstagram #hikingdogsofinstagram #sausagedogsofinstagram #bigdogsofinstagram #seniordogsofinstagram #cattledogsofinstagram #dogsofinstagramsg #smalldogsofinstagram #dogsofinstagramworld #workingdogsofinstagram #servicedogsofinstagram #blackdogsofinstagram #weinerdogsofinstagram #dogsofinstagramuk #dogsofinstagram🐕 #oldenglishbulldogsofinstagram #hounddogsofinstagram #catsanddogsofinstagram #waterdogsofinstagram #sheepdogsofinstagram #tinydogsofinstagram #beautifuldogsofinstagram
Instagram Reels style hashtags
#style #lifestyle #streetstyle #healthylifestyle #styleblogger #hairstyle #fashionstyle #styles #instastyle #hairstyles #harrystyles #styleinspo #luxurylifestyle #styleinspiration #menstyle #styleoftheday #hijabstyle #stylehijab #styledujour #stylekids #stylehunter #styleseat #styleideas #styleithappy #stylecollective #styleman #stylewatch #stylenandathailand #styleover40 #stylekorea
#retrostyle #styleformen #bohemianstyle #lifestyleblog #forexlifestyle #girlstyle #gymlifestyle #farmhousestyle #fitlifestyle #lifestylechange #bjjlifestyle #luxurystyle #stylegoals #jiujitsulifestyle #millionairelifestyle #edmlifestyle #instyle #bollywoodstyle #skystyles_gf #styleph #affordablestyle #comfystyle #modernstyle #jattlifestyle #scandistyle #stylewriting #officestyle #mensstyleguide #kawaiistyle #stylechic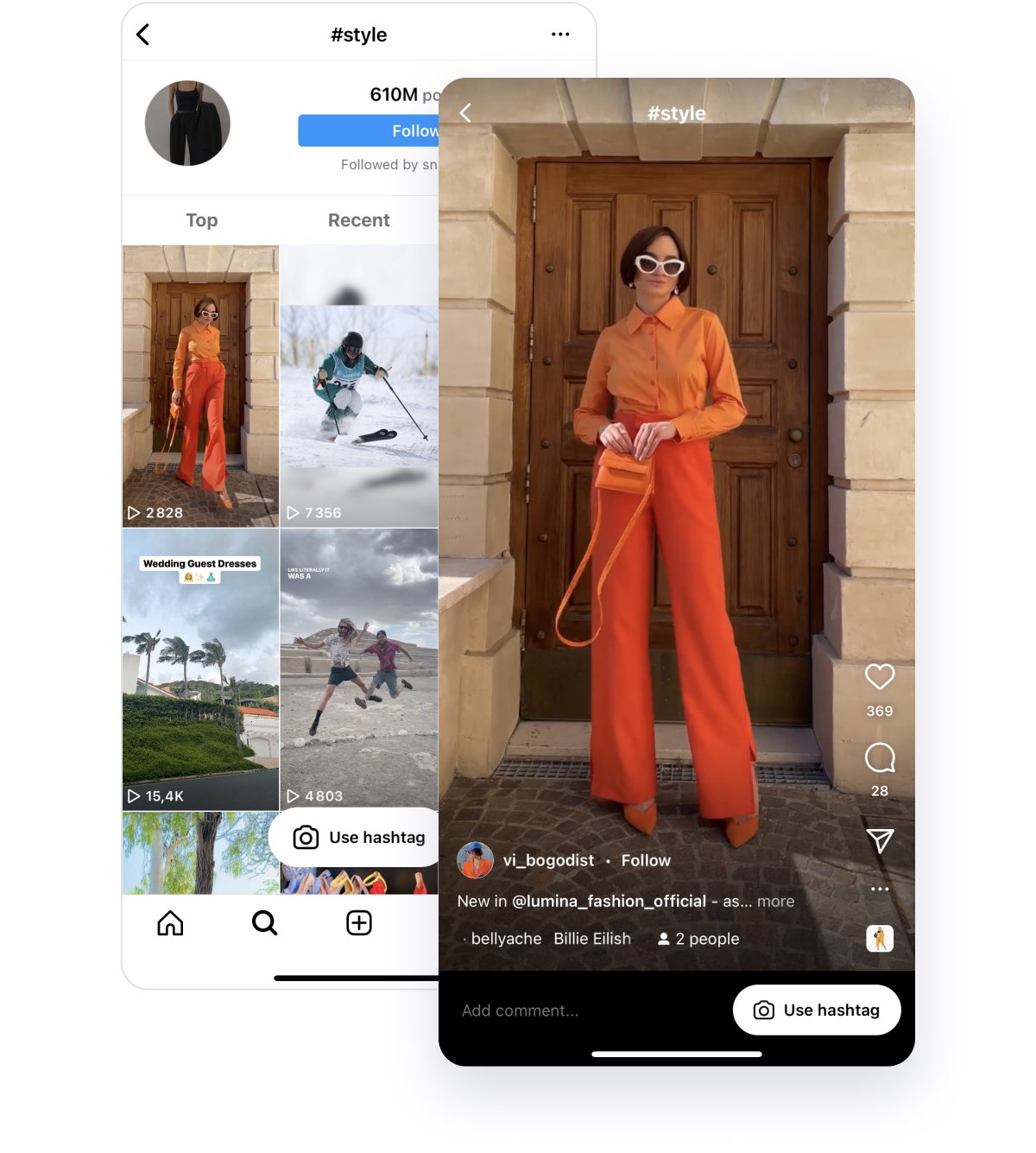 #styleiswhat #curlyhairstyles #stylepost #koreastyle #bwstyles_gf #foodstyle #minimalstyle #celebritystyle #styletips #bodybuildinglifestyle #dogstyle #personalstyle #styleaddict #bwstyleoftheday #kidstyle #ankarastyles #momstyle #hippiestyle #boutiquestyle #vscostyle #neutralstyle #outfitstyle #winterstyle #scrunchiestyle #kimonostyle #stelladotstyle #algerianstyle #ankarastylesafrica #beardlifestyle #upstyle
Bonus: 7 tips for Increasing Reels' reach on Instagram
Make your profile public
Prepare your profile for getting views and likes. It should be open to all users of the social network. You can get into Reels recommendations and top views for your content only if your profile is open up to publicity:
Go to the "Privacy" section.
Choose a "Public account."
It is necessary to turn off this function.
Reels algorithms will start to work within your account.
2. Create a cool Reels cover
Both the visual component of your page and the number of interested users depend on this element. It is very important that your cover attracts attention. With a well-designed and bright cover, you will have a better chance of getting into the Reels recommendations. Beautiful and high-quality images arouse greater interest from the audience.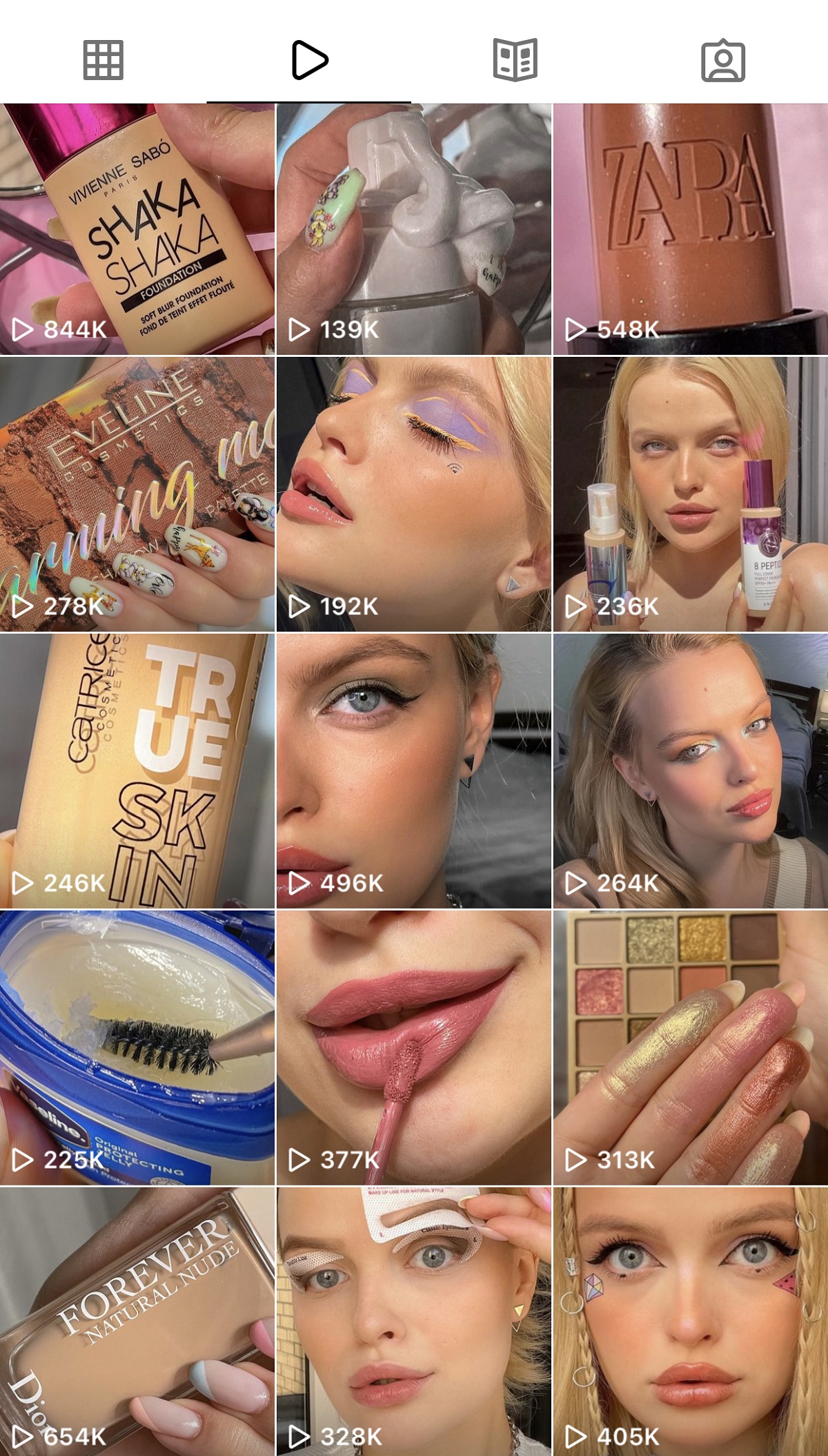 Use hashtags
As I said earlier in the guide, hashtags are very important for Reels promotion. And every keyword in the caption for your video is an opportunity to reach a potential client, follower, or viewer. Don't lose a chance to get more views on your video and make it popular or even viral with the right set of hashtags under it.
Announce the publication of new videos
The reach will increase if you notify the audience about a new video. What needs to be done for this? Here are a couple of simple actions:
First, you need to add a video from your Reels to the Story with a specific caption. Just tap a paper airplane and post your video to a Story.
Second, ask your friends to do the same on their page.
After that, the interaction will also increase, as users will click on the link. The possibility of getting to the top and recommendations is higher.
Apply video effects
This item works the same way as using trending music for Reels. It is necessary to create videos with popular effects and novelties to improve Reels statistics on Instagram. Unfortunately, there are not so many features and effects in the application yet. But such videos definitely beat others.
Choose the publication time
There are certain days in which it is better to share new material. Such days are Wednesday and Thursday. In the middle of the week, activity usually increases. In contrast, on weekends when people are resting, interaction subsides. There may also be certain times of day that are better to catch your audience. Use the Profile Analyzer tool to find out when your competitors are posting their Reels.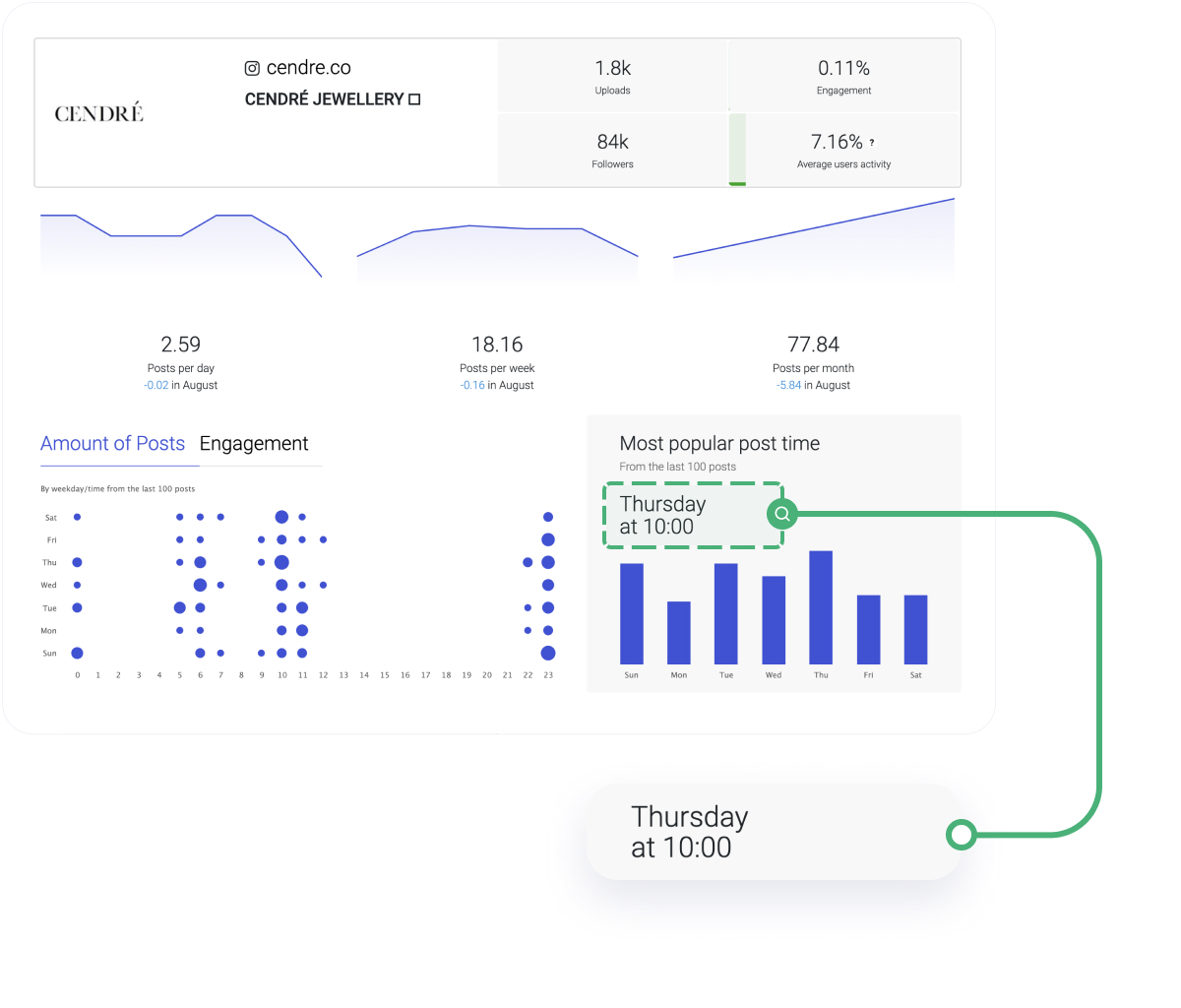 Trend compliance and virality
We found out that in order to increase statistics, it is necessary to follow trends. In addition, you can also set your own—come up with viral videos that will start gaining followers. This is something unique, something that no one has posted yet. This is a little trick that will help increase coverage. Typically, such videos quickly spread across the network.
Final word
It doesn't matter how long the video is, what the main topic of the Reel is, or how many followers you have at the moment of posting the video. The main thing is that the video is interesting to a potential viewer and is watched to the end. Keep the intrigue, story, or information message throughout the video. The viewer should not have the desire to flip through your video. Every Reel can become viral with the right idea and promotion strategy.