Do you think you need tons of money to launch your shop? Maybe you think you can't sell without a website? That's not true in 2022. Say thanks to Instagram.

Instagram is a platform that serves as an online market. Even without the check out feature and without a website, you can make 6-figure sales. In this article, you will learn how to build a clothing brand on Instagram based on the best IG shops. You'll find out how do they shoot photos of their products, what do they post, and how do they engage with clients. Also, I will uncover several Inflact tools that work like a CRM system for your business.
The analysis of 3 winning IG shops
I've inspected 3 profiles in different niches that are in demand on IG. This will help you to estimate the market and get a versatile vision of the Instagram business. Let's start.
#1 – @anthropologie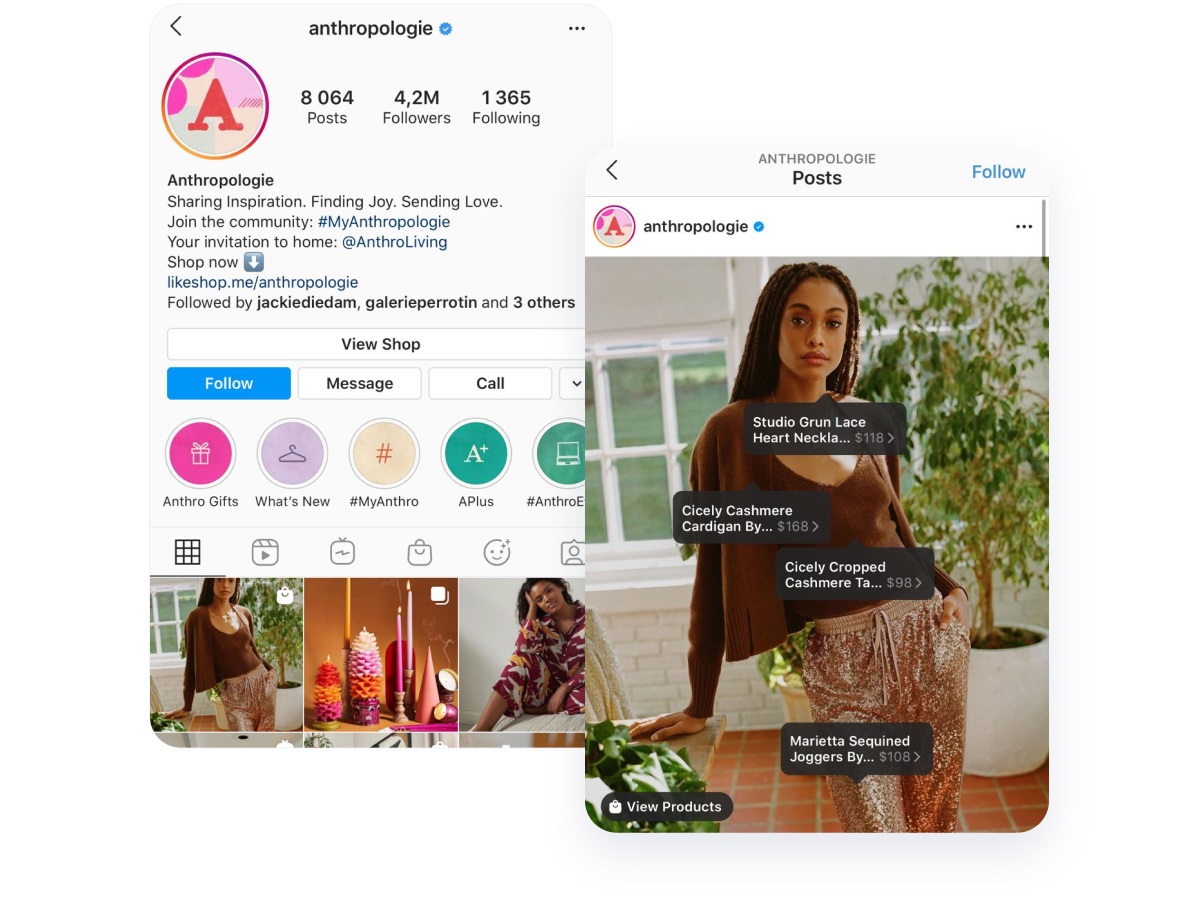 This shop counts 4.1 million followers. They are engaged and actively like and comment on every new post. Many pieces are sold out. The latest photoshoots are made in front of a white wall or white sheet. Simple genius. How is it possible?
Key takeaways:
Content. Do you feel a lack of ideas for posts when it comes to your shop? No, you don't need to shoot your products all the time from different angles. You can make your feed more diverse by posting images from your partners and other shops. The key is – these goods should be interesting for your target followers and fit your niche.
For example, @anthropologie promoted art by young designers in their feed. Hence, the profile looks aesthetic and more versatile.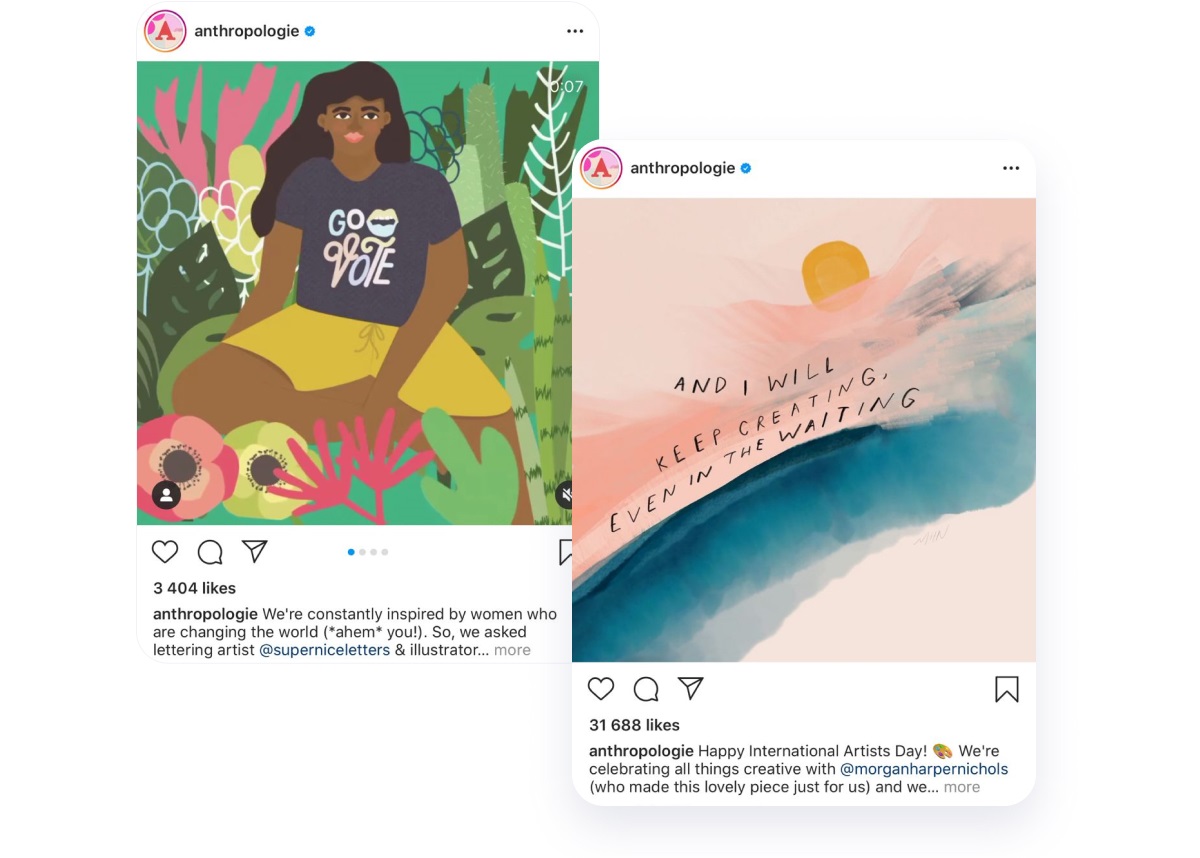 Also, they use the images of interior designs with the products of their collection of home furnishings. If you produce just one good, you can include in your feed objects, landscapes, and accessories that fit the mood and style. There is nothing wrong with posting something different. Ideas on how to shoot your goods:
Show a "use case" for your product.
Use a simple background.
Make it a video.
Shoot a "flat lay" (product laid out on a flat surface).
Connect to Likeshop. Likeshop is a service that helps people shop right from the post. It's a good alternative to the Instagram checkout. Just imagine how convenient it is to tap on the post, view the items, and get the link to the website where you can order. Likeshop is a service that will help your customers to make buying decisions faster.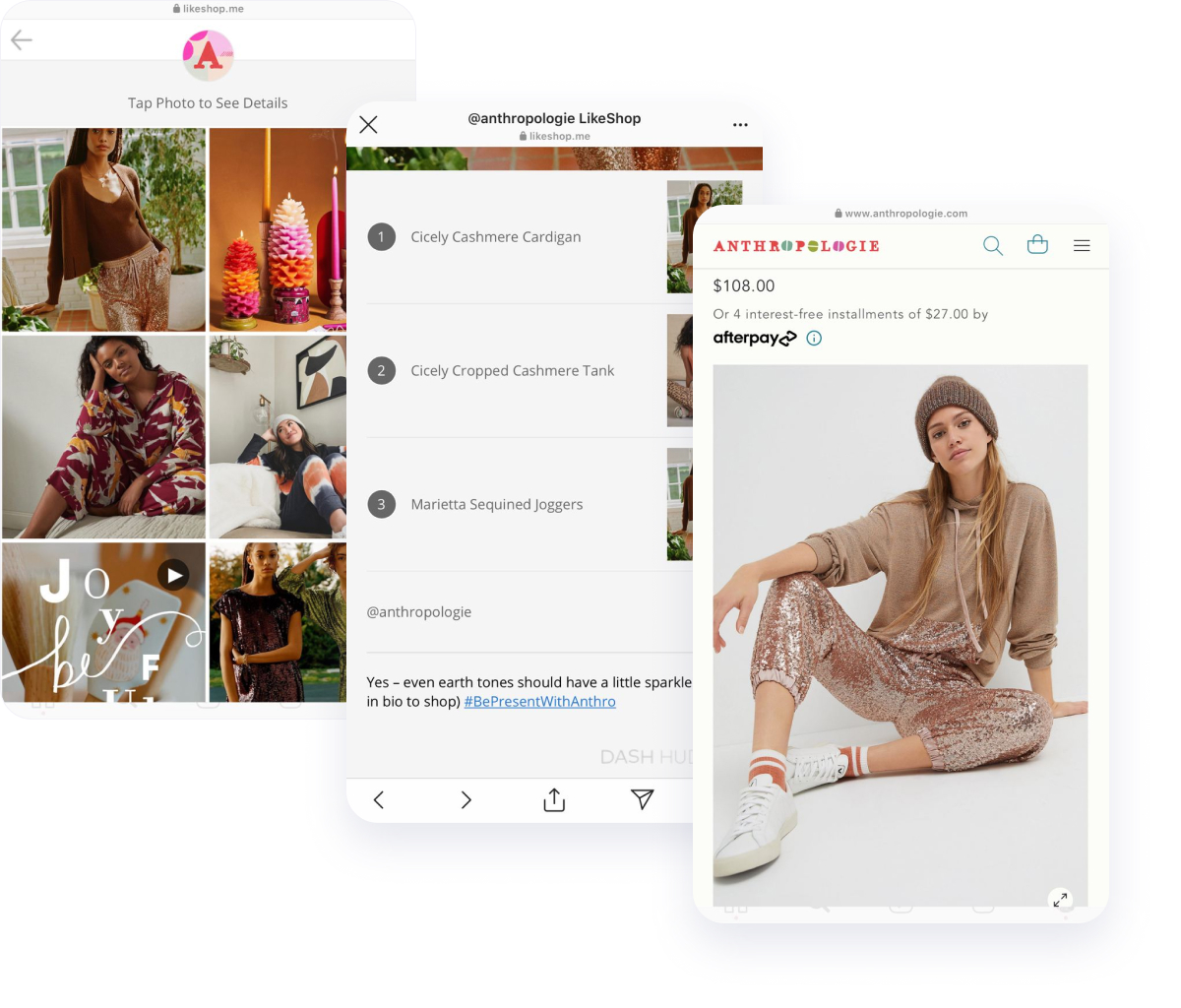 Copy. The captions in this shop are not lengthy but they are highly emotional. As I mentioned, most of the products are shown in use. The situation and product are perfectly combined which is supported by the copy.
For example, long weekends by sea and sweaters are described as a perfect couple. And when you read it, you think: " Yes, you're right. I need it. I'll follow the link in the bio."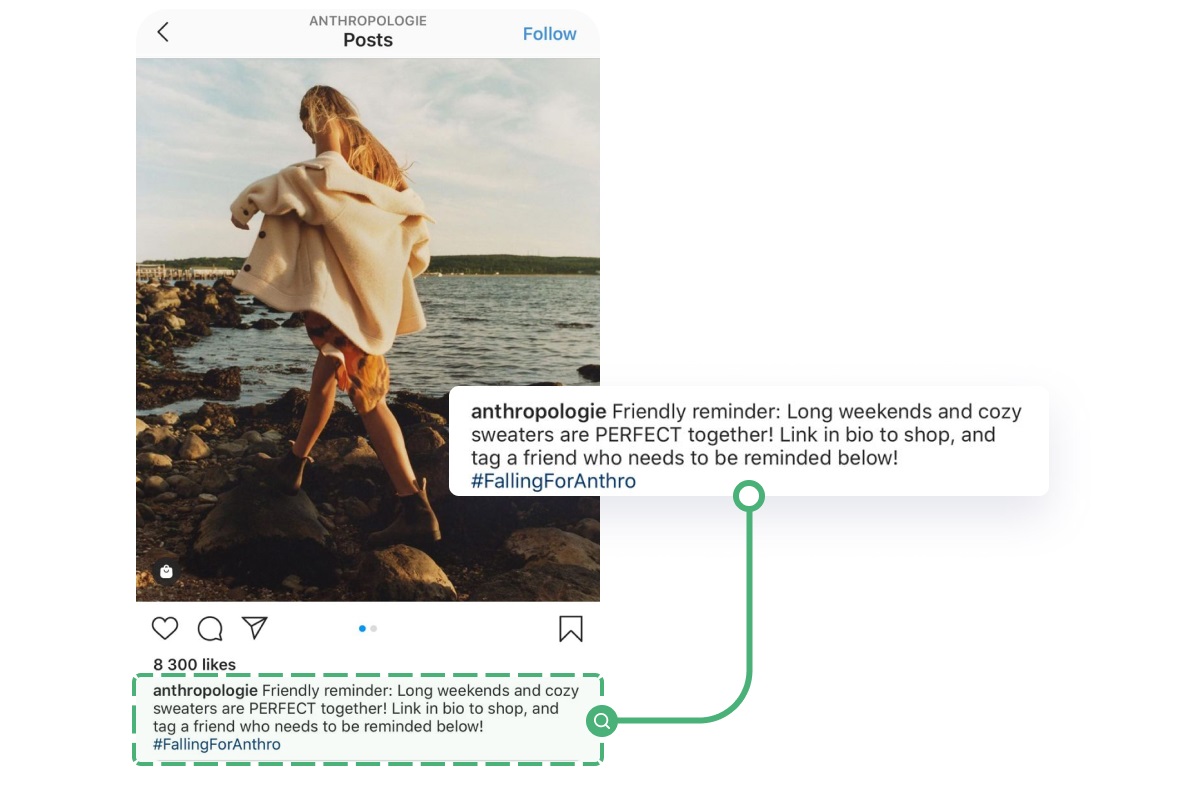 Note: remember to include a simple CTA, like "follow the link to shop." This helps people to pass to action, and it works like a trigger. Moreover, if someone sees your post from the Explore, they will understand that it is an account of a shop and the items are for sale.
#2 – @lisasaysga
This Instagram shop is also focused on fashionable clothes but it works a bit differently. And you can use this scheme in your business too. If you don't want to manufacture items and maintain the tailoring, you can simply resell the clothes by other designers. LISA SAYS GAH represents independent brands and this strategy makes the shop and the content focused on a narrow niche. All the customers and followers are interested in designer clothes. We find the @lisasaysga feed and Instagram strategy worth your attention. Let me point out the core principles of their Instagram:
Content. The rule of this clothing shop is using tons of UGC. You can barely find professional photoshoots or typical catalog shots. Every item is presented naturally in its "habitat" – that is, on its owner. Laid-back and genuine content is exactly what you need if your dream client is Gen Z.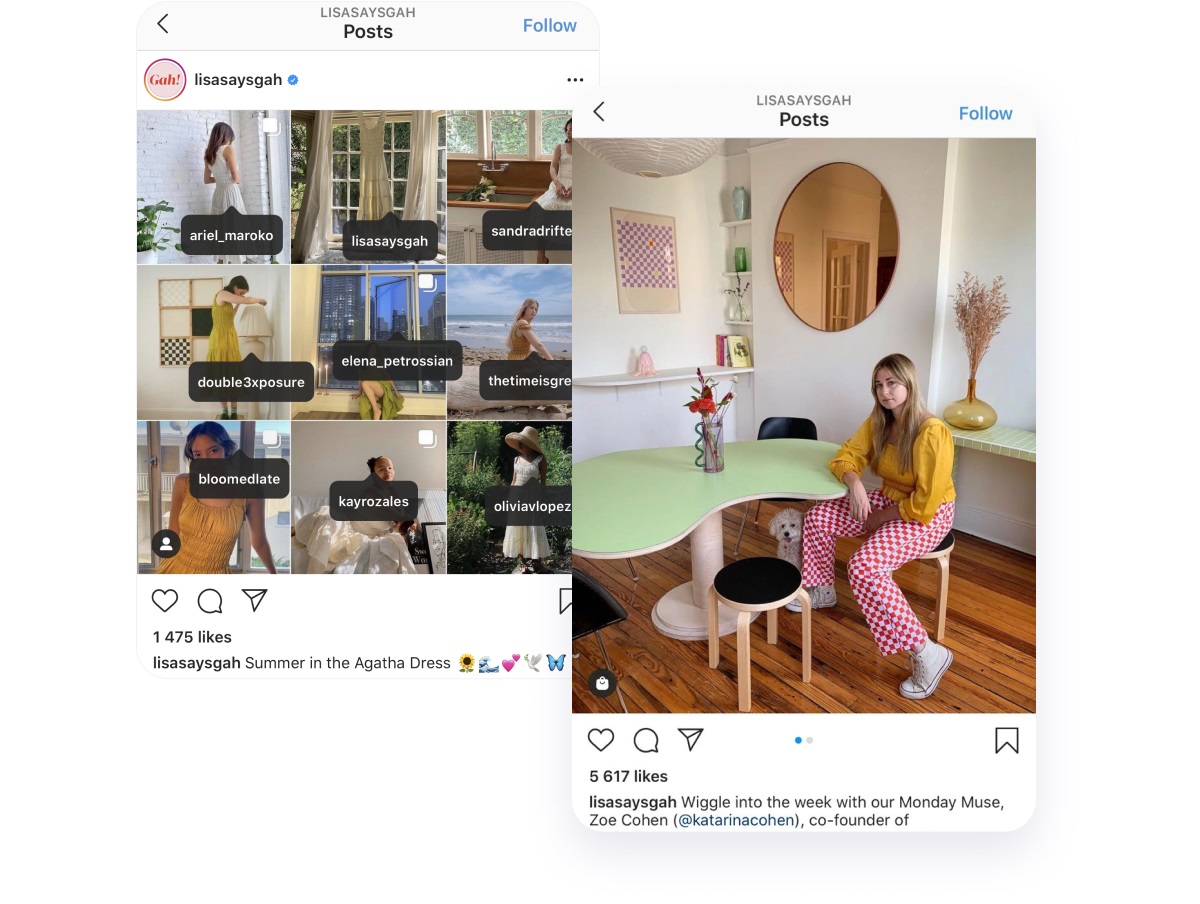 Note: when you use UGC for your feed, you grow the engagement organically. This type of content is the best testimonial and it results in more people wanting the same items.
How can you present the UGC in your Insta-based shop?
Post in the feed. Ask your customers to tag you when they take selfies in your clothes. This trick was used even by fashion giants like Vetements and Jacquemus during the lockdown when they were not able to organize photoshoots. And yes, you can use the screenshots from Facetime and Zoom photoshoots.
Save in Highlights. LSG dedicated a special Highlight to the posts made by customers. It seems they never miss any single post because this highlight lists so many Stories. Use the Inramer Downloader to keep the content posted by your customers in 100% quality.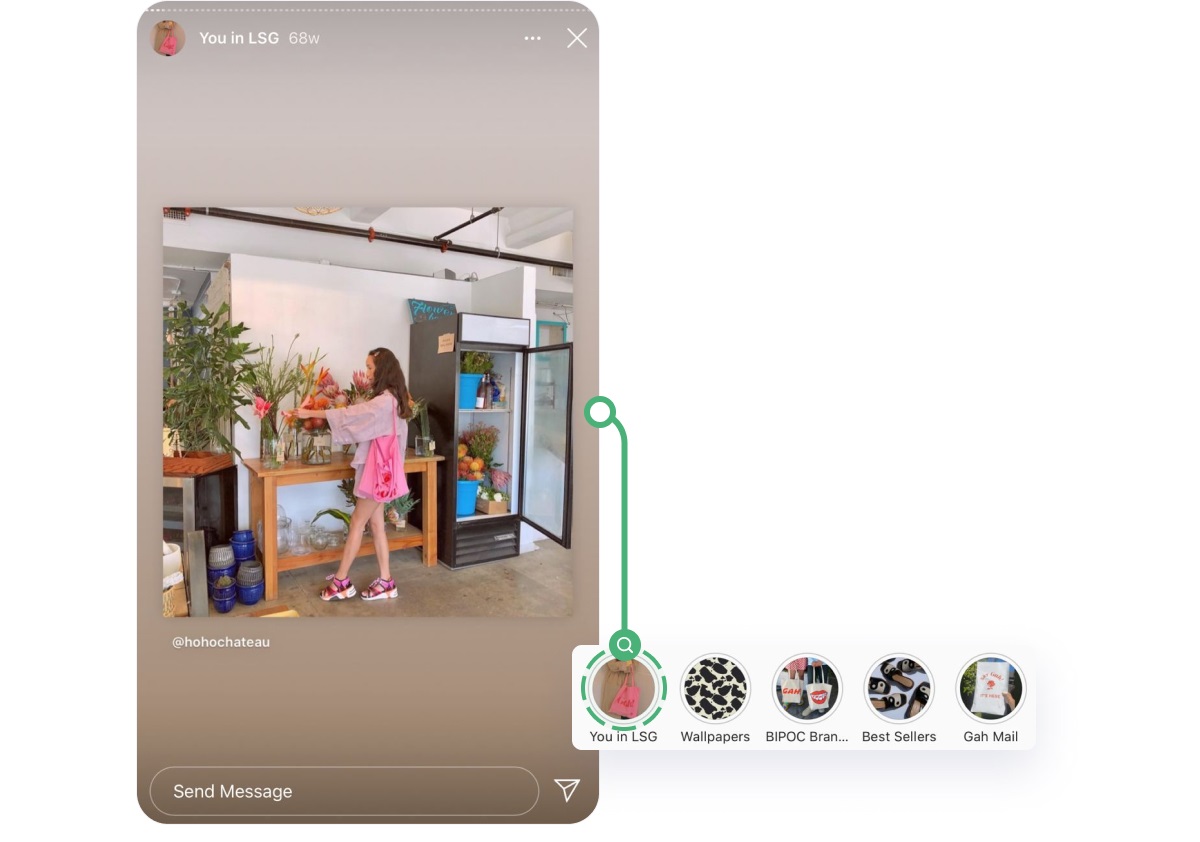 Here are perfect examples of product shots made by @lisasaysga. You can replicate the ideas in your shop:
Look without a model head. This type of product presentation seems extremely popular among many shops.
Classy flat lay on a neutral background. No words needed, just use it too.
Use a chair. A little hack from @lisasaysga – put your items on a basic chair. Set your model on a chair the next time. So simple, so dashing. Look for a white wall and concrete floor – they really add charm to a product photoshoot.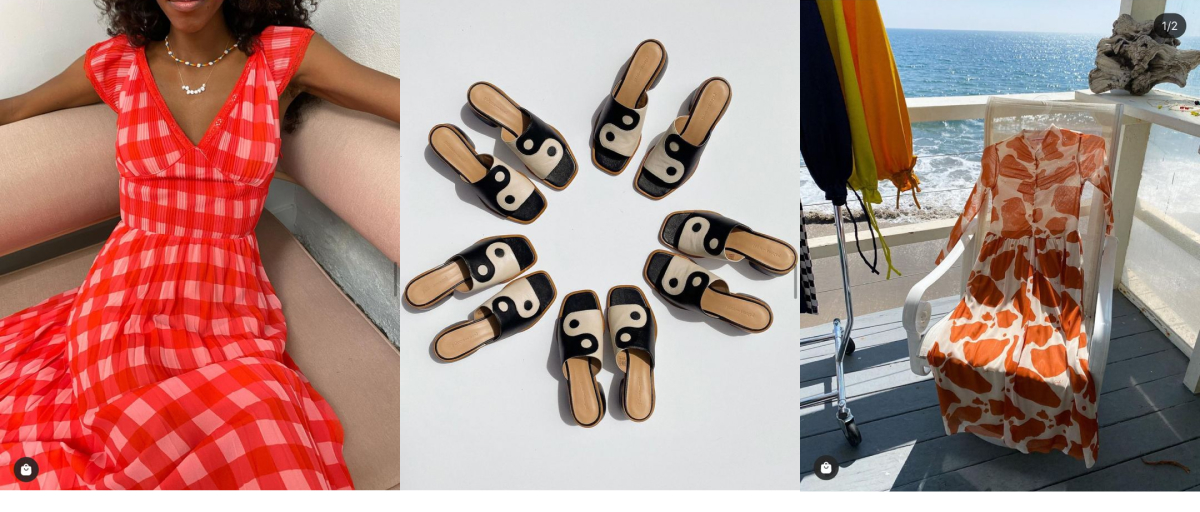 Captions. We inspected the copy on this account, and we must admit – they don't overthink the content. Usually, the text is nothing more than a description of the items used in the look. Probably their target customer doesn't need more than a catchy photo.
Note: According to the Instagram trends, captions are getting lengthy and in-depth in 2022. Nevertheless, you need to determine what information is really appealing for your target audience – don't overload your copy with unnecessary facts.
Here are the key ideas you can adapt for your texts:
Tell a story behind your clients. LISA SAYS GAH features couples who wear their clothes and uncover facts about them. Also, they have a Muse Monday – on this day they post a descriptive story of a female client dressed up in their items. This strategy for copy will help you to build a strong community and strengthen your tribe.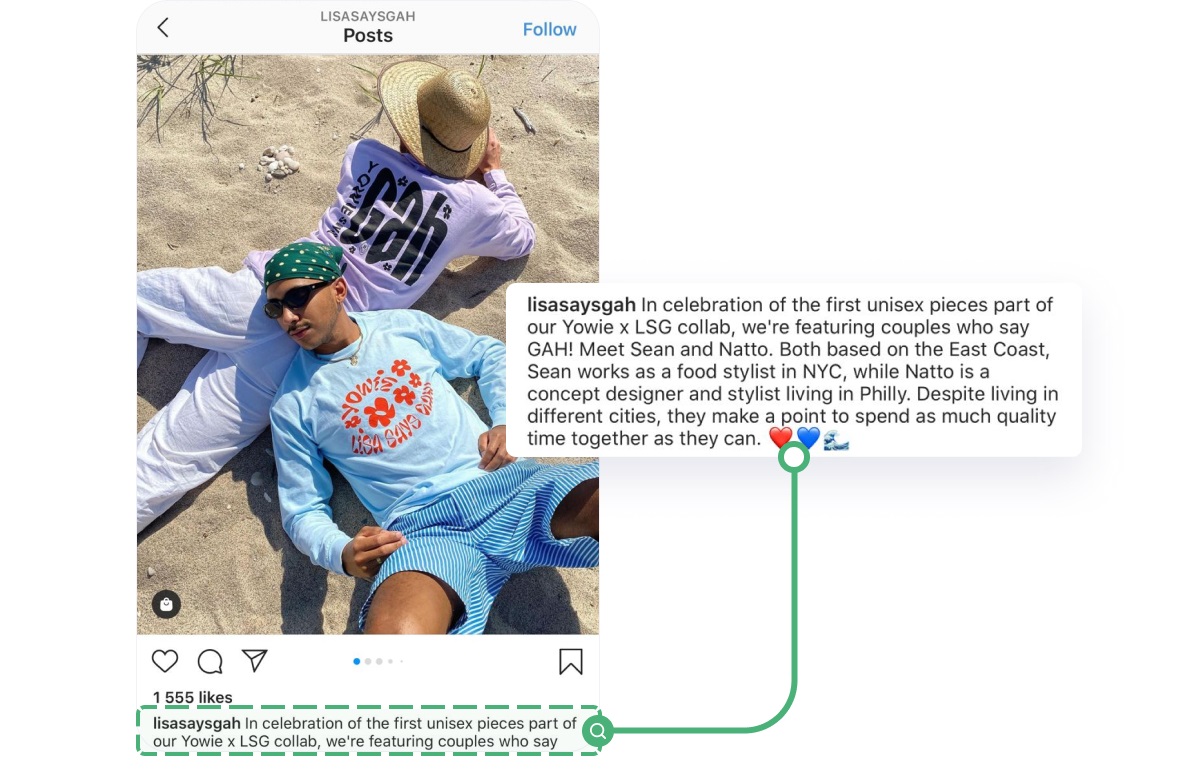 Use emojis. Yes, there is nothing revolutionary about this trick. You can use the hack of this account and tie the color of your emojis to the palettes of the post or of the clothes.
Note: When starting an account for your brand, set up rules about using emojis in captions – they influence the overall profile aesthetics. For example, you might list only 5 emojis you will use for all captions.
Matching captions in Stories. When posting a Story, try to make the copy on-brand. Use the color picker to improve the aesthetics of Stories.
Invent stylish wallpapers for your community. Probably your clients have a favorite pattern, and they like it so much that they want to dress up their smartphones. You can style the design, post it on Stories, and encourage your followers to download it. BTW, Inflact Story Downloader is an online tool helping you to save Stories in original quality.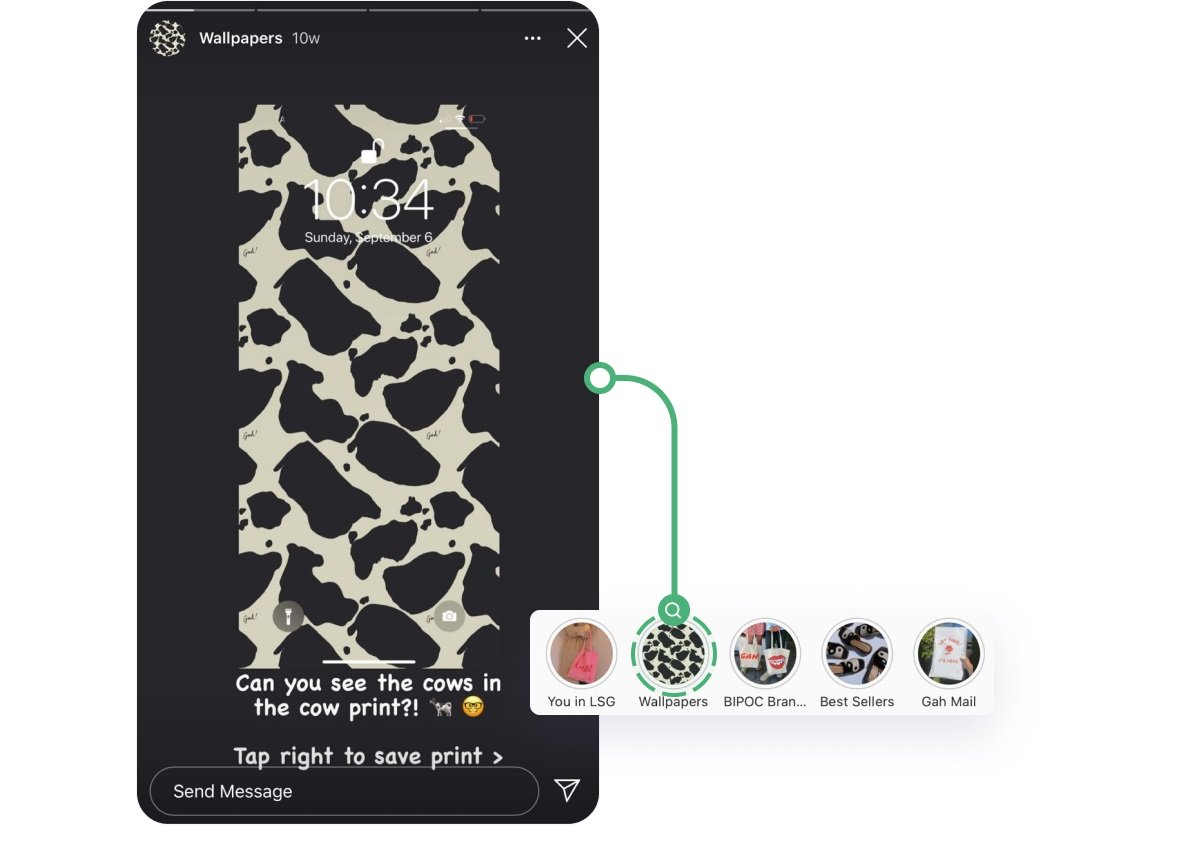 Hopefully, you can improve the content you shop and win more clients with these insights from the winning brands. Let's continue our examination.
#3 – @shrimps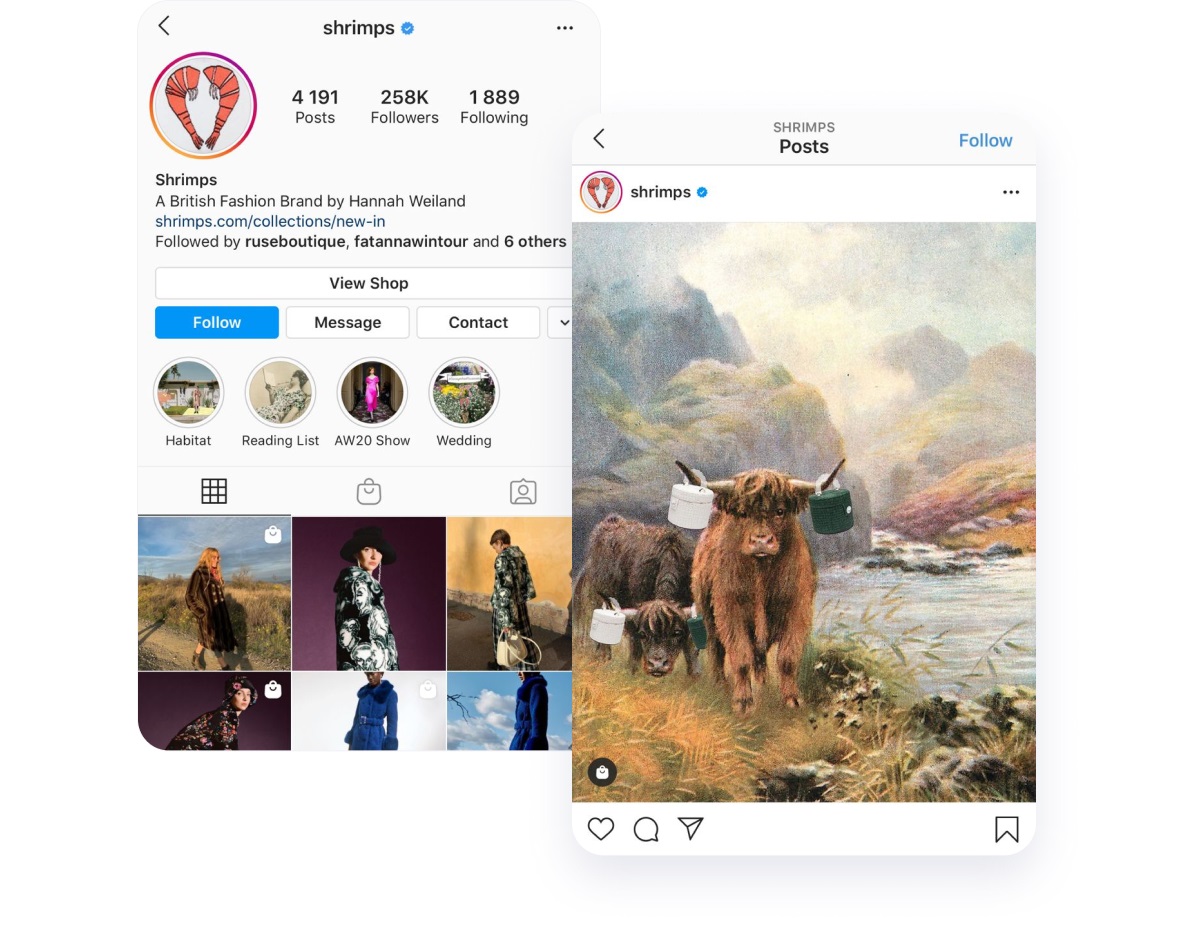 This account is a perfect example of a clothing brand Instagram. The visuals are just so carefully selected and depict the whole philosophy of the designs. You can feel the connection to English fashion and vintage fashion in every single post. Let's see what we can grab for your shop:
Content. It feels like the content is well-planned. We can notice the fine-tuned grids of 3 images from one session in a row which enhances the general impression.

Here are the ideas you can use:
Diversify your content. @shrimps often posts not only images of the clothes but also famous artworks they refer to when designing new collections. You can also use this trick and post art pieces, nature, or any other things that inspire you and that improve your feed look. Explain the choice for your audience, like @shrimps: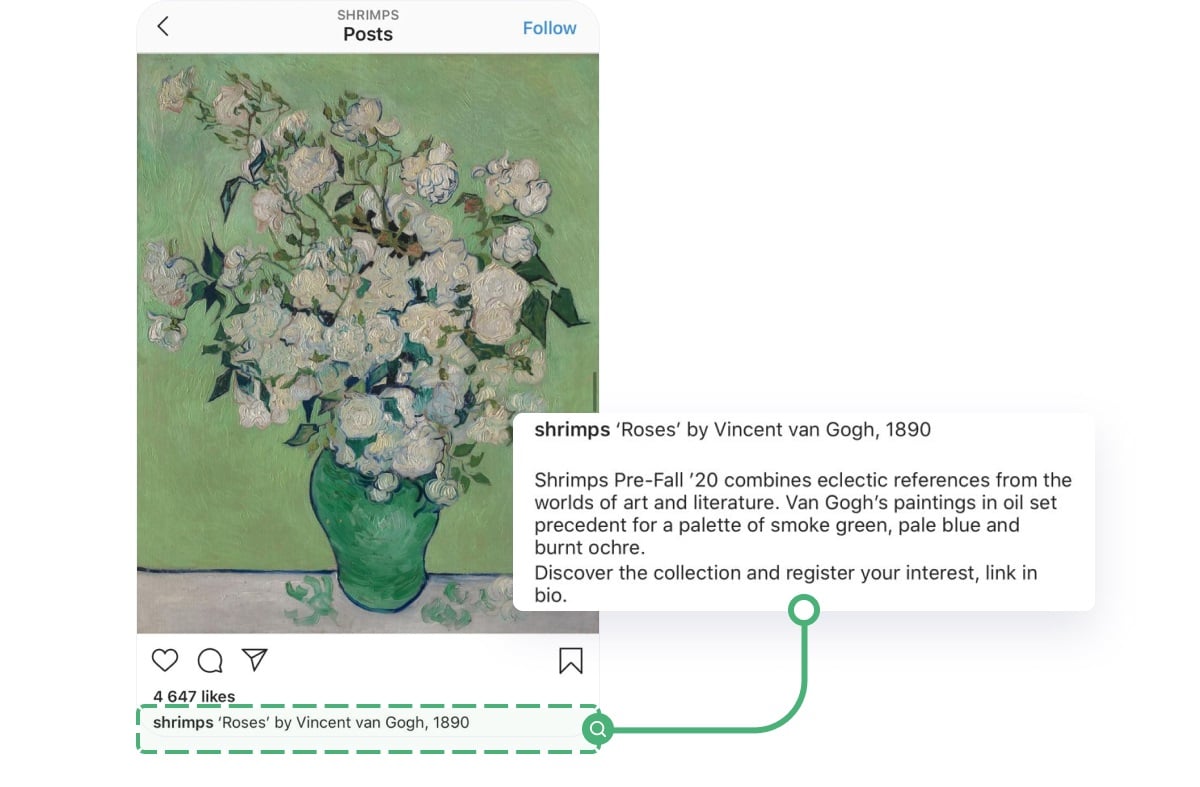 Make use of illustrations. The way @shrimps present their clothes is outstanding and unique – they illustrate it on vintage posters of the 19th century. Yes, this content will require time, skills, and creativity, but why not? Just enjoy this breathtaking idea:
Combined with a shopping tag, illustrations are more eye-grabbing than a typical catalog photoshoot. Certainly, the graphics should correlate with your audience's tastes and the production shouldn't be more than your average cheque. Otherwise, it may not be worth it.
Be creative. @shrimps proves once again that a top clothing brand doesn't even need models or a photo studio. The main thing is creativity – don't worry, the source is right here.

As you see, you can style your items with pets, a photo, or even ... the air. Does it happen to you that you don't know what to post in your Instagram shop? Find inspiration from other shops or designer accounts. For example, @jillburro_w shares effective ideas that any brand can replicate and re-use.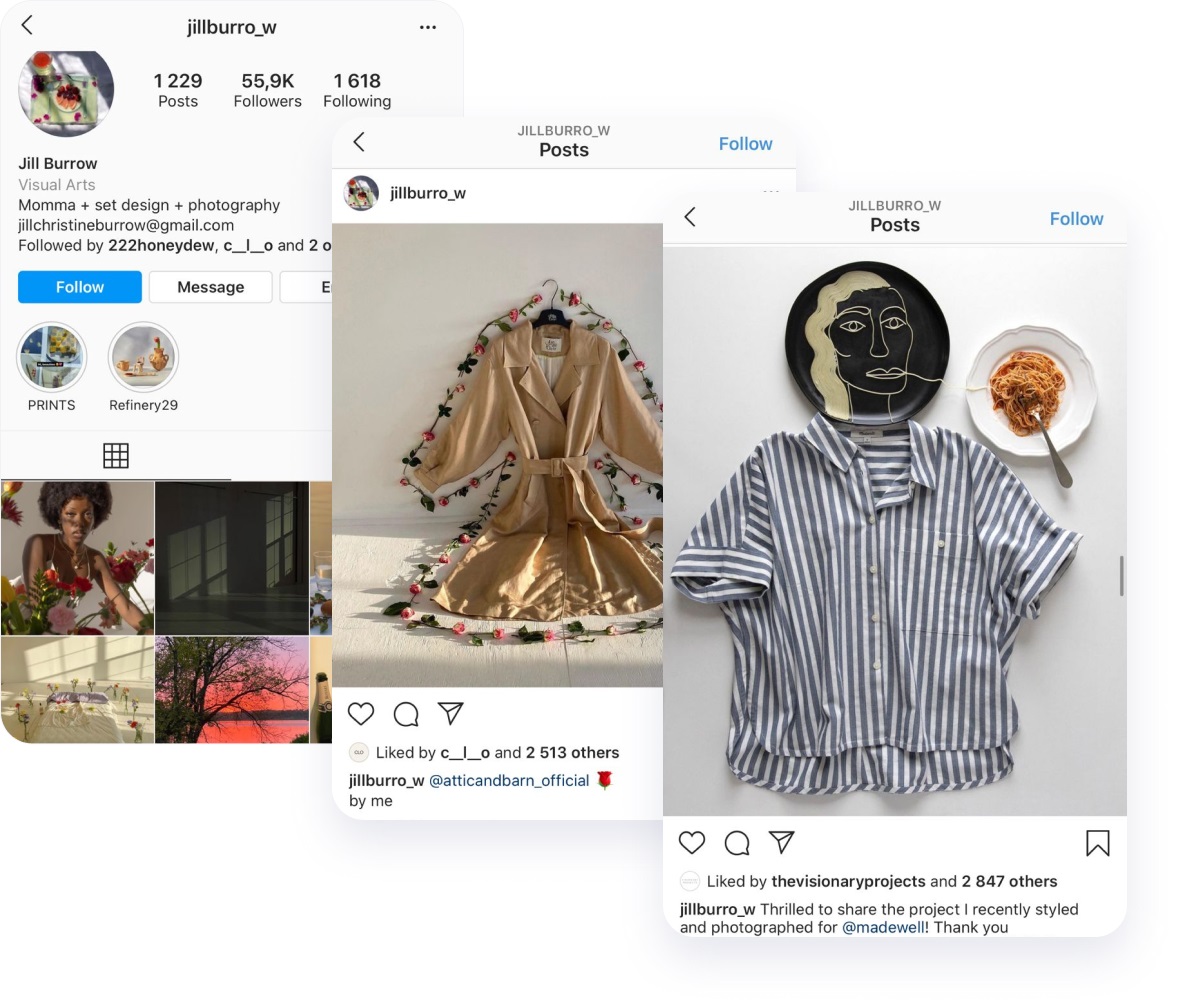 Hack:
If you don't know how to promote a clothing brand on instagram, you need to follow photographers or designers that work in your style. Thus, you will get unlimited ideas for your clothing shop Instagram. Take advantage of the
Instagram search
to discover profiles by categories – check our tremendous database right now.
Copy. Captions in @shrimps are more often detailed than a simple description of a product. They try to connect their photoshoots with movies, books, and events corresponding with their audience. Here are some examples: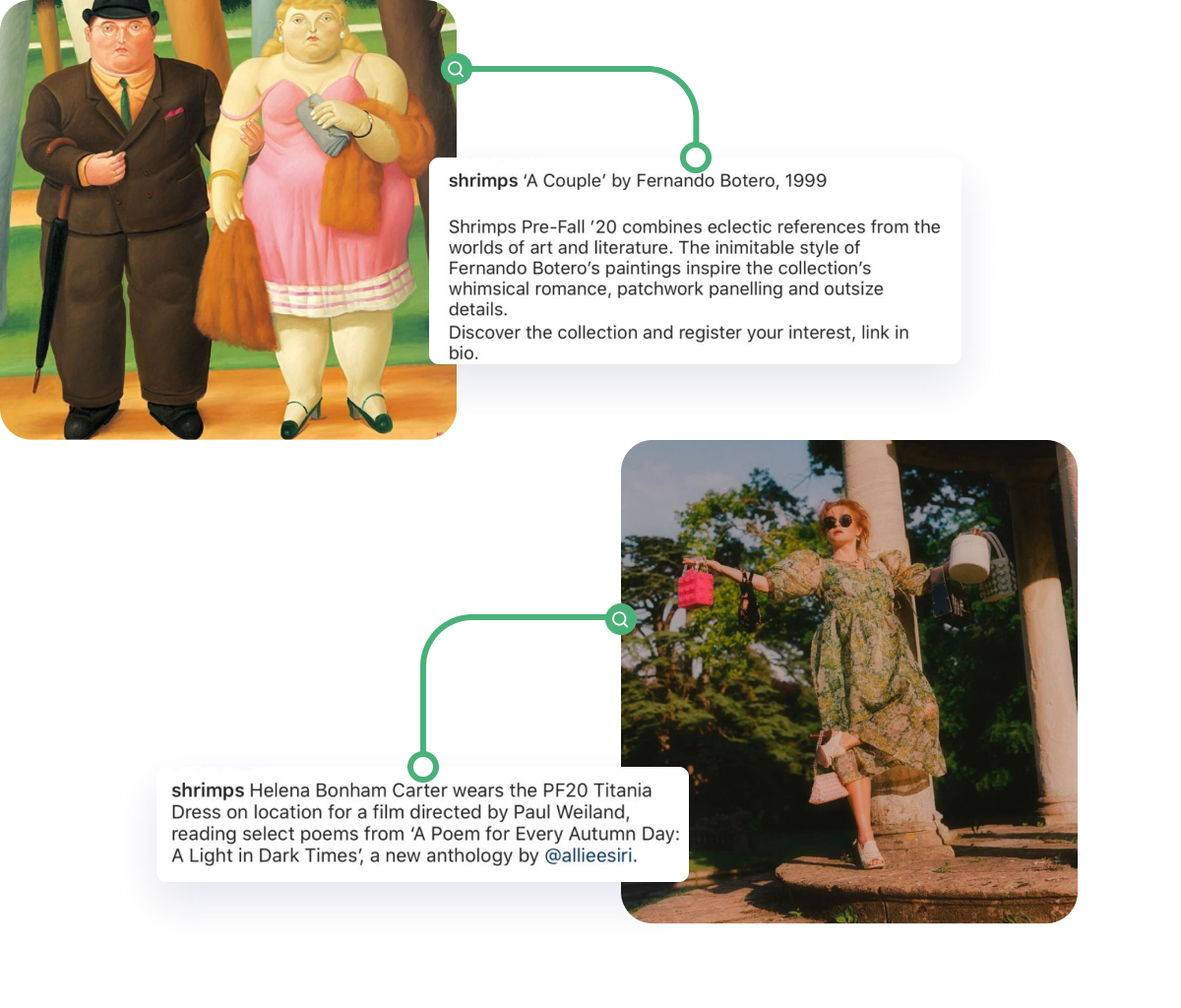 As you see, a CTA at the end is a must if you aim to spur sales.
My final word
Finally, our journey to the outstanding Instagram shops is over – I hope you sparkle with new ideas and can't wait to apply them for your shop. Remember to plan your content in advance to preview the feed and be sure that everything is on time. The Inflact Scheduled Posting is an online tool that will help you with that. Also, I recommend using the Inflact Direct Module to manage your communication – when clients order clothes through Instagram or often ask you similar questions, this tool can really simplify your responses. What is your experience in curating an IG account of a clothing brand? Leave your thoughts in the comments!