Have you hit a sales plateau in your Instagram shop and don't know what to do to generate more income? Remind your audience that you have something especially for them.

Your past customers need to be reminded of you regularly, and not only with new content. Believe it or not, 50% of people who buy from an Instagram shop continue following it. The "posts you've liked" and "Saved posts" are not enough to remember where the customer bought a thing. So sometimes, a reactivation via discounts offered in your feed posts or in Stories doesn't have an effect.
You need to actively make new offers to them. Don't wait for customers to come back to you on their own.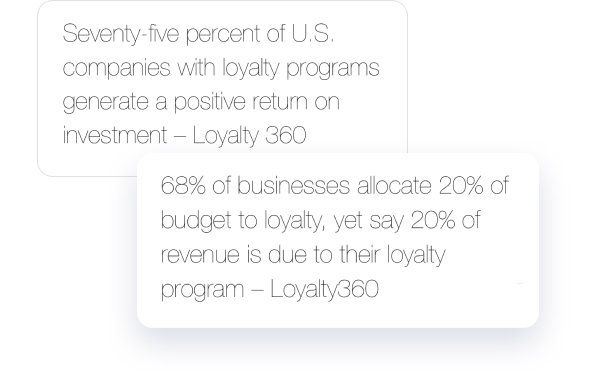 Remind them to buy from you
Remember that those clients who have been your customers once are more likely (up to 50% more!) to buy from you again if they had a positive experience, compared to random interested users who have never bought from you. So, it is 2x easier to generate sales from your existing clientele than from newcomers.
The only thing you need to do is to remind them to buy from you.
Don't do your reminder activity more than once every three month as people may get bored with this, and far from warming to your company, they may start to reject messages from you. To prevent this from happening, you must provide them with human-like personalized messaging that is useful and interesting to them, and that is based on their purchase history.
How to set up reminder to your past customers
You can set up advertising with the goal of reaching users who have interacted with your profile, but the ad cost to generate some sales from this rather wide and impersonal offer would probably be more than $50 to generate maybe 10 sales. And to achieve that, the ad should be really brilliant. Otherwise, it might not generate sales at all. It is much cheaper to send a message across the database than to attract the same amount of interest through advertising.
It is so cheap that you won't believe how cost-effective the sales boosting could be. As we suggest that you use the Inflact Direct module for this goal (this would be described further), it would cost $19 for two weeks. And you can generate even more than 50 sales during 14 days. A lot more!
Now that you understand the coolness and effectiveness of reactivating your past customers, we need to move to the next point: why did they stop buying from you?
They no longer need to be convinced that your company can be trusted, and its products and services are of high quality – they already know this from their own experience.
Before reminding any of your past clients about your company, ask yourself why he or she didn't buy again?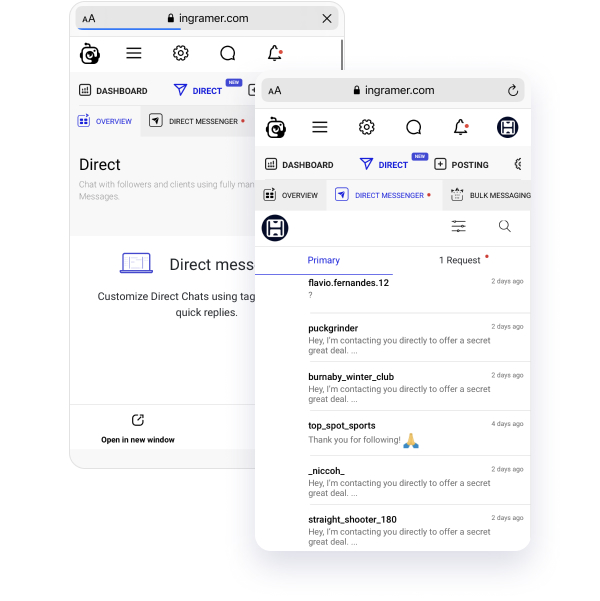 Why customers stop buying
There are three main reasons why people don't buy again (not taking into account businesses in which purchases are mostly one-offs, like wedding salons, or window installation).
The client's situation has changed, and they no longer need the goods and services of the company. But this does not mean that you can forget about such clients. First, they can be a good source of recommendations for the company. Everyone knows the power of recommendations, so don't miss the opportunity to use them.
Secondly, the need may arise again. It is impossible to predict when this will happen and whether it will happen. So just in case, you need to keep such customers in your periodic newsletter email database in order to always remain in their sight.
Dissatisfaction with something.
There can be hundreds of different reasons for dissatisfaction. According to statistics, about 80% of "lost" customers stop buying for quite correctable reasons. If these reasons are eliminated, then a significant part of the "missing" clients can be returned.
Forgot about the company.
For whatever reason, they stop buying for a while and then just forget about the company. This is especially true for goods and services which a person can easily do without in everyday life, and they only think about buying them if they are actively reminded of them. A customer and lead reactivation strategy works well for returning these customers.
How to return "lost" clients
There are many strategies and methods for this. I would like to share one of them – the most versatile and suitable for most businesses (except for those with rather large transaction amounts and usually a long period for the client to make a decision). It's called customer and lead reactivation.
The advantages of the strategy are that you can generate a fairly significant amount of revenue in a short time (the more contacts there are in the database, the more potential revenue). Reactivated customers may stop buying from competitors or change their mind about buying from them for the first time.
Moreover, the more differentiated the approach you apply to different types of potential and actual customers, the more effective the reactivation will be. Ideally, potential customers who were once interested in your products but didn't buy will need one offer, and those who bought only once, another. Those who bought a lot and for large sums need still another type of offer.
If it is possible to make personalized offers based on purchase history – i.e. highlighting the main categories or segments of customers with roughly similar problems, needs, and products consumed – that will work even better.
The general reactivation procedure
Label EVERY client by their purchase type and date of purchase in the Inflact Direct module.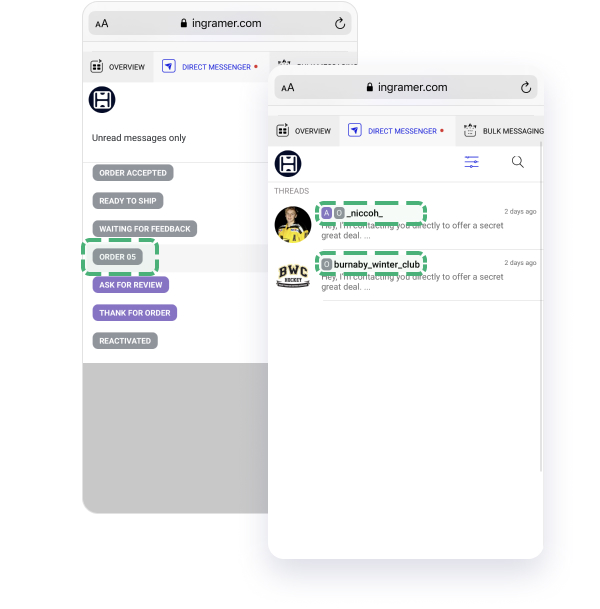 Set up scripts with an excellent offer to every group of clients in the Fast reply in Inflact.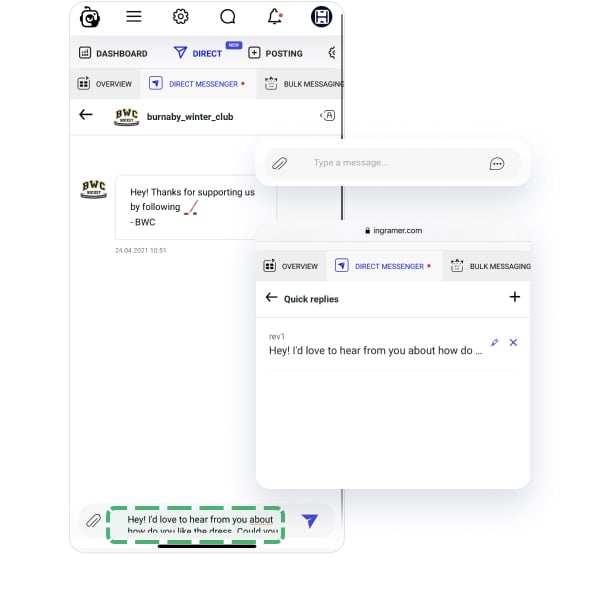 Manually filter your threads by labels you've set up and send special messages through Fast replies to every client.
It is better to label every new client after their purchase and even set a reminder on your phone – and reactivate every group of clients with one magical offer.
Don't forget to talk to them (using pre-made scripts) to ask how they liked your previous product or service, and to help them to choose the next one. Ask for a review, of course.
When a customer receives an attractive offer of a product that logically complements the one they bought earlier, and it is presented as a desire to help them solve their problem even more effectively, they have much less reason to think that you just want to cash in. Modern automation tools like Inflact make it possible to make such personalized offers without much time and effort. Yet they can bring you sales in just a few moments.
Prepare a very attractive offer.
The longer the period during which customers did not buy, the more interesting the offer should be. Make it so that people, figuratively speaking, would almost tear their hair out if they let it go. It can be a substantial discount, or a set of products at a bargain price, or a bonus – in each case you need to decide individually.
Determine the period for action.
Without a clearly defined deadline (the end date of the promotion), all efforts can be wasted. If there is an opportunity to postpone the decision "for later," most people will do so.
When selling online, 2-3 days works for ordinary goods, but for expensive goods and services allow 5-15 days.
Try this method of generating sales in your Instagram shop and you will be surprised how cool the effect is. You will find out that there are many dedicated customers out there who love your products an09000d are ready to buy from you again, but they just need to be reminded.
Templates for reactivation messages:
Your payment is coming up in a few days. Did you know you could save $80 by upgrading to an annual plan?
Hi Ronnie! Just a reminder that your reservation with us is coming up next week. Would you like to upgrade your accommodations for $100?
How did you like your purchase? Please reply with a rating from 1-5!
We hope you're enjoying your Dyson vacuum. Most people also purchase these vacuum bags along with it if you're interested! [Link]
Your cart is lonely! We held your items for you, click here to complete your purchase. [Link]
Do you like our beyond burger? If so, you have to try our new beyond nuggets!
Hello Silas, just a friendly reminder to renew your subscription with us next month. We're here if you have any questions!
Elsa, we hope you're loving your new air fryer. If you have a moment to leave us a review we would be so appreciative! [Link]
Hey girl! How much are you loving your new skincare products? Be sure to tag us on Instagram @Fullain for a chance to be featured as our beauty guru of the week!
Ruby, we want to make sure we're sending you the best offers. Update your product preferences on your profile so we can be sure!