If you don't like the photos you get with your mobile phone, you may not know some tricks. Most of the photos you see on Instagram are taken with a phone camera. To get Instagrammable images via a mobile phone, you just need to understand a few settings and concentrate on the composition.

The quality and aesthetics of the frame will impact sales of your products from the Instagram account if you are running a business profile
Visuals are capable of both raising and damaging the reputation of what you are selling through Instagram. The best part is that you can achieve beautiful visuals with only the help of a phone, some basic skills and, of course, practice.
Mobile photography: get more expensive-looking visuals in one second
Enable grid layout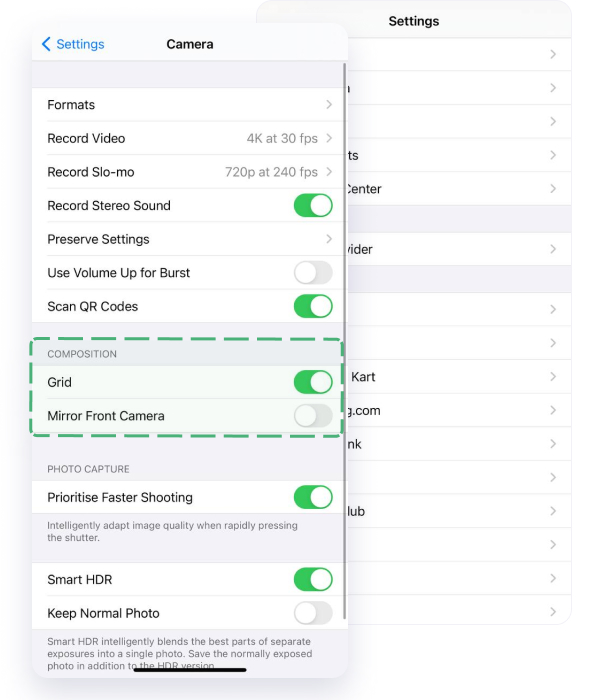 In the camera settings you can activate guidelines that will improve the result. The point is that composition is often based on lines. For example, you may need to find one third of the frame, the center of the frame and identify the level of the horizon.
When you cannot see these lines in the camera screen, it may be difficult to catch the golden ratio in the frame. Therefore, turn on this helpful grid in the settings.
If you are using an iPhone, then you can turn on grid lines in the camera settings. Just adjust the toggler, and when you open the camera the next time, you will see the guides.
You can activate 4K quality for videos
Eye-popping videos are the key to a successful profile. You don't need to buy or rent a camera to shoot quality videos. Perhaps if you do not love the quality of the clips you're getting now, it's because a lower video resolution is set by default. In this case, the videos are not so heavy, but much lower in quality. You can fix the video quality on your phone. Therefore, enable 4K mode when you need to shoot content for Instagram. Despite the fact that Instagram compresses the quality of videos, 4K clips will be uploaded in much better resolution.
Keep the camera lenses clean
The most obvious advice, but many people don't even think about it. During the day, you accidentally touch the camera lens with your fingers many times, or God forbid, your phone can dip into something greasy or dirty in your bag or car. Accordingly, the camera will be much worse at rendering colors and image clarity.
Therefore, the most important thing to do before you film products is first wipe the lens of the camera. For this you can apply just a piece of cloth. After you do this, you will be amazed at how much sharper and brighter your pictures have become. You also need to wipe the front camera and protective glass if you are using it before taking selfies.
Control the autofocus and light as you shoot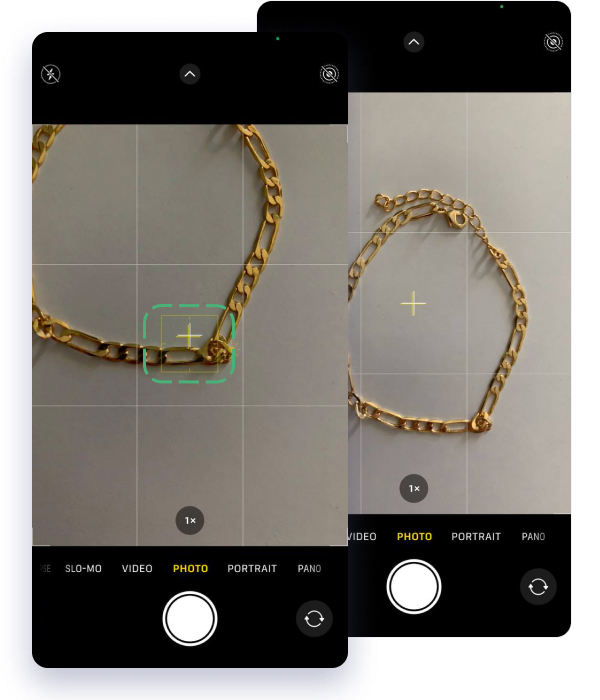 Often when people take pictures with a phone, they may quickly press the button and then spend hours editing the light or the clarity. For less editing, control the focus and light while the camera is open and pointed at the subject.
You've probably seen a lot of the darkish and dim images that are popular on Instagram right now. In order to achieve such subdued lighting, you just need to swipe down next to the yellow square when you are shooting with a iPhone. When you play with the lighting in this way, the colors become more realistic.
Manage self shooting with a timer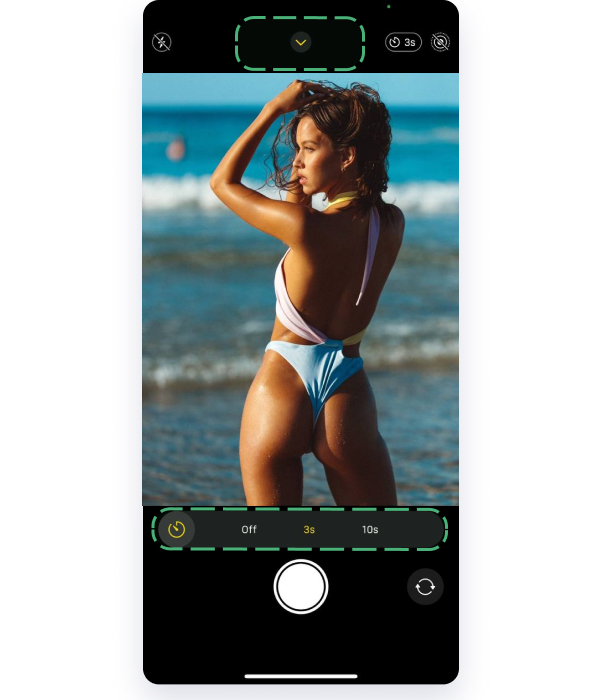 Perhaps you think that next to every Instagram model there is always a photographer with golden hands who perfectly captures her because many images were taken from a distance.
In fact, many have long understood that phone cameras can be operated by timers that allow you to shoot a video or take a photo as if someone was taking pictures of you. But in fact it's just your phone. To do this, you need to mount the phone on a tripod or on some other surface, for example, it can be a shelf or even a windowsill. Set a timer to 3 or 10 seconds and take your time to find the best angle.
Mobile photography for Instagram: trends of composition
#1 GOLDEN RATIO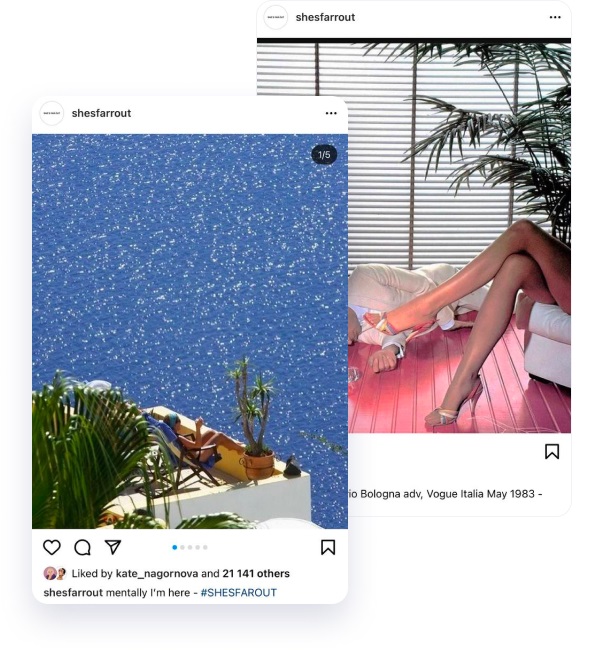 This basic composition technique known even by the Renaissance masters is widely used by Instagrammers as well. Every time you want to naturally focus on the subject and place it in the middle – break your stereotype. After you activate the grid lines in your camera settings, you can detect one third of the frame as easy as ABC. Stick to this golden ratio instead of the center. Surely, it will depend on the object, but try to experiment to find out if the image looks more attractive this way. In most cases, it looks more natural to our eyes.
#2 CENTERED COMPOSITION IS NOT A CRIME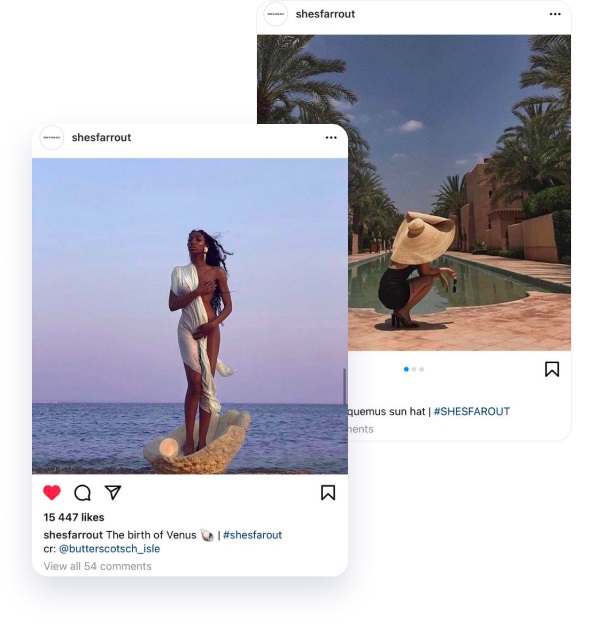 Despite the fact we asked you to forget about the center of the frame, sometimes this composition technique works well for Instagram. Symmetry also attracts our eyes as it often can be seen in nature. In this case, guides in the camera will help you to figure out the center of the frame. Later, you can adjust imperfections in any simple editor. By the way, if you post square images to IG, this composition may look effective.
#3 FRAME
Like you see in the examples, the main subject placed into a natural frame helps to achieve an amazing visual effect. Images look deep and interesting, so you need to keep an eye on constructions that can turn into frames – arches, trees, columns, walls, etc. Remember that the frame can be applied from one side, and symmetry is not necessary here.
#4 LEADING LINES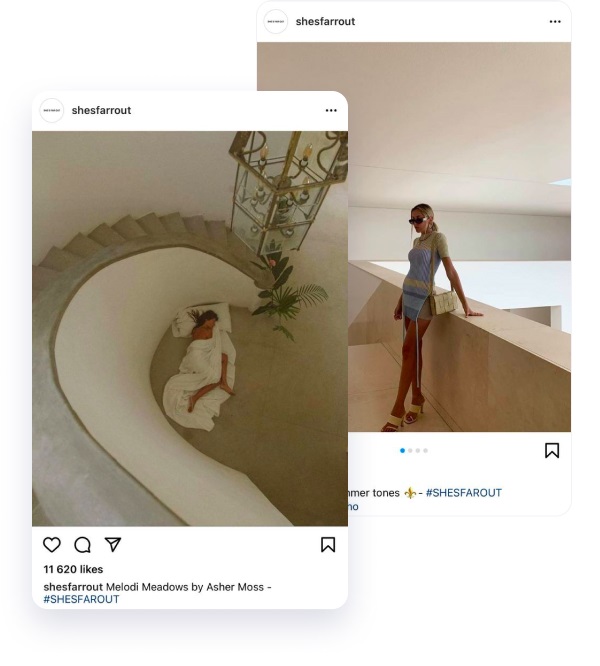 Before taking pictures, train your eyes to notice numerous lines that surround us. This way, you will be able to use these lines for creating effective compositions. The elements that create a sense of guideline will make images more dynamic so that it is pleasant for the eyes. Observe lines you see in architecture, nature, and textures and play with them when taking photos. They will create a greater visual impact. Use straight, curvy, bold, tiny, and any other lines that grab your attention.
#5 NEGATIVE SPACE
Negative space or empty space dominant on images is not a new composition tool. And you can find this trend in numerous artsy Instagrammable visuals. The trend for minimalist compositions helps the viewer to focus on the main subject.
#6 USE ZOOM TO EMPHASIZE DETAILS
You will find lots of Instagrammable images showing a single tiny detail, not the whole scene. It's especially an applicable composition for shops and commercial accounts. With the help of zoomed-in images, your grid will look diverse and creative, so try to mix such visuals and scenes containing several objects.