Billions of people open Instagram every day and spend hours there. Are you still not selling your products and services on this platform? Discover how you can make the most by just engaging with Insta users who want your products.

If you manage online sales through Instagram, you might be more concentrated on attracting new audiences to your account. It's a common thing for businesses to continue growing their ad budgets. Nevertheless, practice shows that the real secret to constant sales is continuous and regular communication with your existing audience.
Remember that Instagram is a network where people communicate, and brands should do the same. In this article, you will find the best ways to start a conversation with potential clients. Thanks to these methods you will identify hot leads and can easily drive them to buy.
3 reasons to focus on warm communication through content and Direct:
Easier purchase decisions. Based on statistics, it's simpler to convert a past client than a new one. On Instagram, it's vital to be more concentrated on retention rather than lead generation.
Brand trust. Thanks to regular communication, the audience will consider you as their friend, not a shop that is focused only on sales. This will help you to attract brand advocates.
Higher average check. As a result of proper communication at every stage of the marketing funnel, clients will be more willing to try new products and buy more.
The reasons are crystal clear. But how do you start interaction? Below, you will find a solution that will be embedded into your content.
What content is the most engaging in 2021?
#1 STORIES DRIVING TO DIRECT
There are many ways to boost interactions in stories and reach the active people in DM later. Thanks to this strategy, you can detect users that are your primary and potential clients and move them to more intimate communication in messages. It will be very personal, extremely sales-boosting, and not intrusive.
For example, it's a trend to post a collage of items and add Poll stickers. Later, you can view people who took part in the poll and start reaching out to them with warm messages offering good conditions. These users will become closer friends of your brand and will be touched by a personal approach.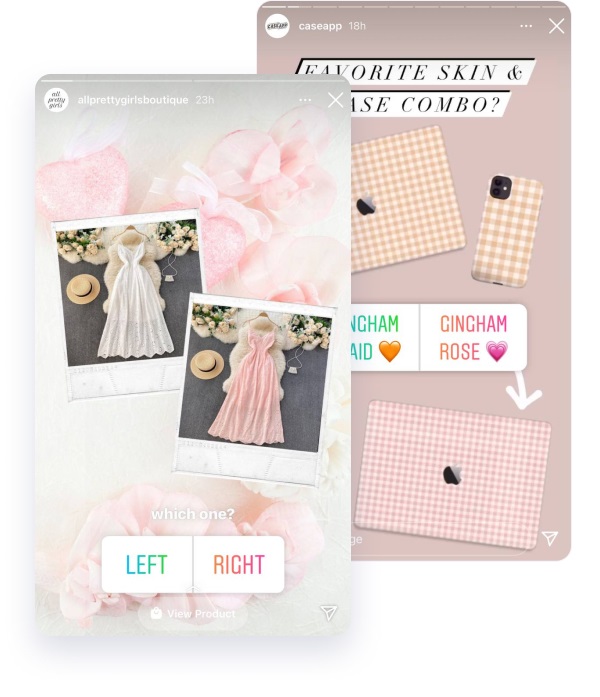 Example of what to text after a poll in Stories:
Good day, teddy girl😊
Thank you for taking part in our survey. 😍 Remember what we promised at the end of the poll? The secret offer will only be available for 3 days and only for poll participants (and their friends)!
Here it is:
When ordering [name your product] before [set the date range], you get a discount of [your conditions].💋
If you order together with your friend, she will also get [ a discount]. 😍
Brilliant, huh? 💕😊
I think a dress with feathers will be just a diamond in your wardrobe💎 [remind and present the product once again]
I see your preferences in the poll results :)
Pink midi? Correct me if I'm wrong!💕 [Ask a question to clarify at the end]
Also, you may experiment with Timer stickers. When people click on it to enable notifications, you will see the list of these users. It's a perfect strategy to start collecting leads before an event or a new product launch.
#2 FEED POSTS WITH OPEN QUESTIONS
Create a carousel post with many options to choose from and ask a question. Firstly, carousel posts stimulate people to spend more time viewing images. Thanks to this, the Instagram algorithm will identify it as interesting and show it to more users. Also, a question will encourage your audience to share their opinion in the comments. When a feed post collects many comments, it's also seen by the algorithm as engaging.
You can post a carousel of your products and ask people to choose the one they like most. For example, @__dollbeauty_ asks their followers to pick a salon treatment they will step into after the lockdown. They did this before opening a salon, so when it's finally open, they will have their first potential clients.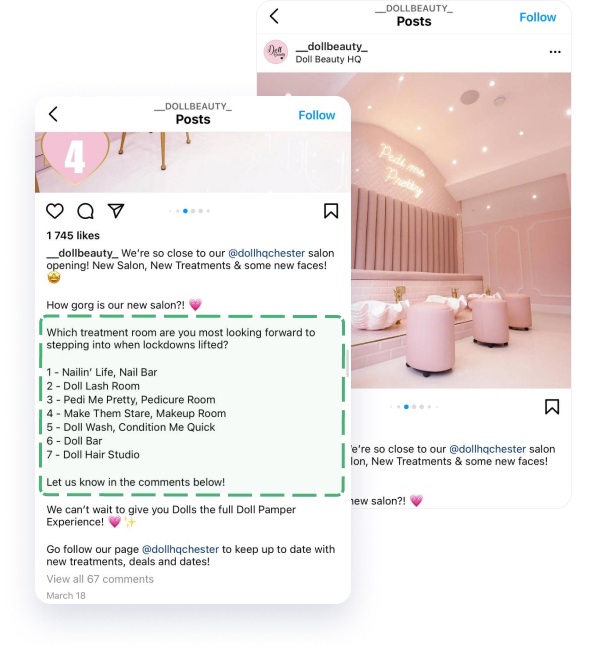 In 1-2 days after posting a poll in the feed, you can start contacting the users who left comments under it. Offer them exclusive conditions to encourage first purchases.
#3 LIVE SESSIONS COMBINED WITH STORIES
Lives are not easy to hold but they do create crazy engagement growth and lead to brand loyalty. When you, members of your team, or an invited influencer is online Live, you can get tons of orders right after it.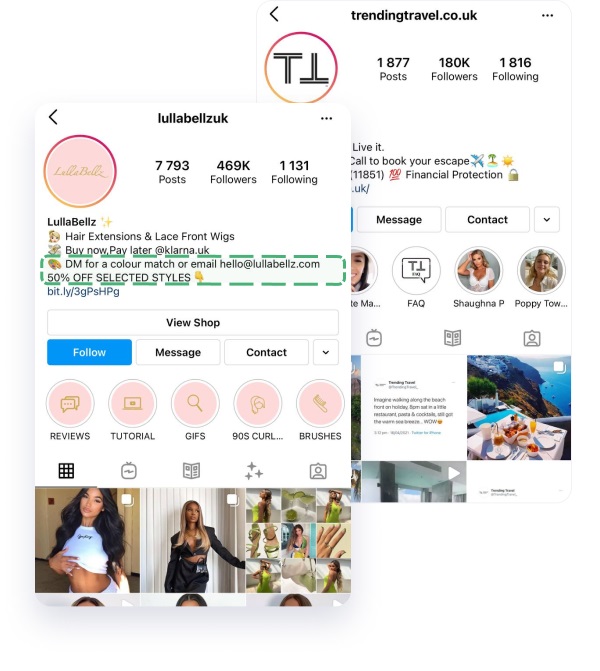 It's a good idea to post a Story right after a Live event. In this story, you may additionally stimulate people to pay attention to your offer.
#4 BIO DRIVING TO DIRECT
Many big accounts mention in their bio that they do not check the DM. If you have a massive number of orders, this might be okay. But if the business is starting to grow, you need to be super responsive any time people text you.
When the conversation takes place in the DM, potential clients feel a personalized approach and will be more inclined to purchase.
Your goal is to lead your community members to Direct to establish a personal relationship.
How to manage sales on Instagram like a Pro
Label potential clients. Special categories of users need to be marked so you can easily find them later. In the Inflact Direct module, you can find customized labels that allow you to categorize people. You need to mark those who are interested but for some reason are not ready to purchase. If you label chats, you can quickly filter dialogs and find these Instagrammers to continue the conversation or offer better and exclusive conditions. Discover all the benefits in comparison with the default IG messenger in the article The Inflact Direct module vs. Instagram default messenger: what should you choose for a business account?
Use communication scripts for every customer group. Mirroring is a basic NLP technique, and you need to apply it in the Direct scripts. This will help you to have a more significant impact on your audience. Mirroring means that you need to speak to each client group in their language. For example, you may need a separate script for Gen Z and male entrepreneurs if you sell iPhones on Instagram.
Plan follow-up messages and surprise them with presents. It's essential to pre-plan messages that you will send in DM after the purchase. If you sell cyclic services, like manicures, for example, clients need your attention regularly – try to predict the time when they'll need your service again and contact them kindly. Moreover, follow-up scripts can help you establish loyalty ( they won't think of messaging anyone else if they need a manicure). Read more details in the article Make 10 sales in 10 minutes in your Instagram shop: reactivate past customers to make them buy again (+ follow-up templates).