In this short guide to the Instagram notifications world, you will find answers to the most popular questions about how to make your pushes perfectly tailored to your life schedule. If you're angry about "Why am I not getting notifications from Instagram?!" with this 101 you will be able to fix all possible problems with Instagram notifications.

One of the common difficulties of users is the lack of notifications about various events in the Android or iPhone Instagram app. The solution to the concern, in most cases, is not difficult at all. So, let's see how to turn it on or off.
How to turn off Instagram notifications and why?
How to turn on Instagram notifications in order not to miss anything that happens in their and other accounts. Typically, it is for the posts and stories of our favorite bloggers that we want to receive notifications on Instagram. People often look for a solution about how to turn on post notifications on Instagram, as the feed is quite unpredictable and can hide lots of publications from the feed as their authors broke Instagram rules.
Instagram's notifications basic instructions
Due to the latest updates of the app, there have been some changes in the notification settings, which most users of this social network do not understand or know how to set up correctly.
Note: Account owners will not see your action if you enable/remove their publications/stories from your account's news feed. They will not receive an alert on their smartphone.
To enable or disable notifications on Instagram
Navigate to the desired profile by searching by username or by clicking on the username in the feed.
Click Follow and select Notifications. (If you don't follow an account, you can't turn notifications on) Click on the bell button next to Posts, Stories, or IGTV to turn notifications on or off.
Or click the icon next to Live Broadcasts and select the desired notification option.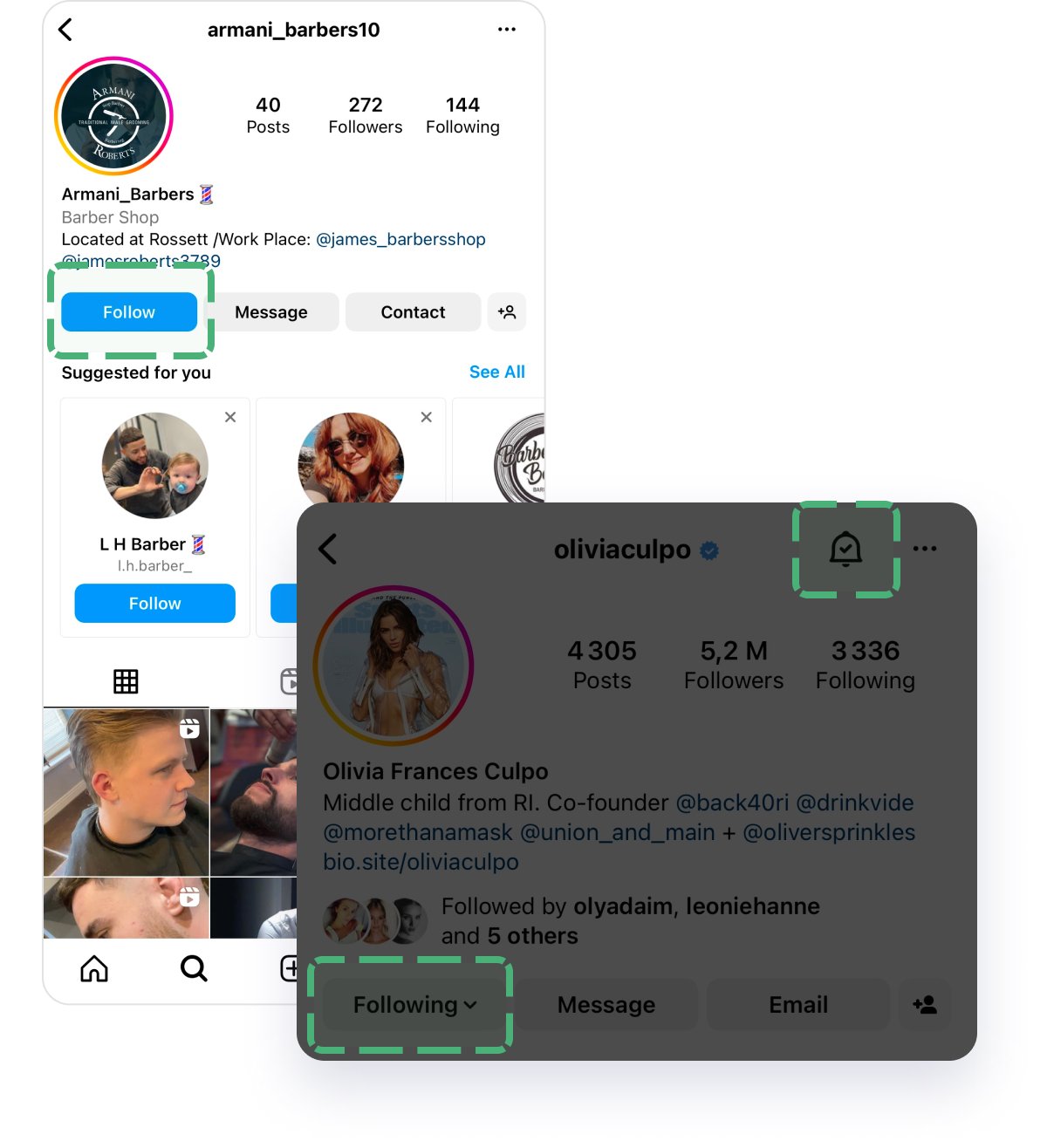 Note: Even if you disable notifications about a certain person's posts, you can get a push notification when they share something for the first time in a long time. Other people are not alerted that you have enabled or disabled notifications about their publications.
Attention: Before changing the parameters described below, make sure that battery-saving mode is not enabled on your phone: this may be the reason that notifications are not coming.
Stories + Posts notifications on Instagram
Do you have a favorite blogger or a far-away friend who runs an exciting blog on Instagram? Do you want not to miss important events in someone's life? Turn on the story alert in the settings! Plus here you'll finally get how to turn off post notifications on Instagram.
Tap on your profile photo in the lower right corner of the screen to go to your profile.
Tap the icon in the upper-right corner of the screen and select Settings.
Select Notifications to change the desired settings.
Select the "Stories" item and click on the check mark next to it. Or select "Posts".
By selecting this option, you will always be aware of all the fascinating events that a blogger shares with their audience every day.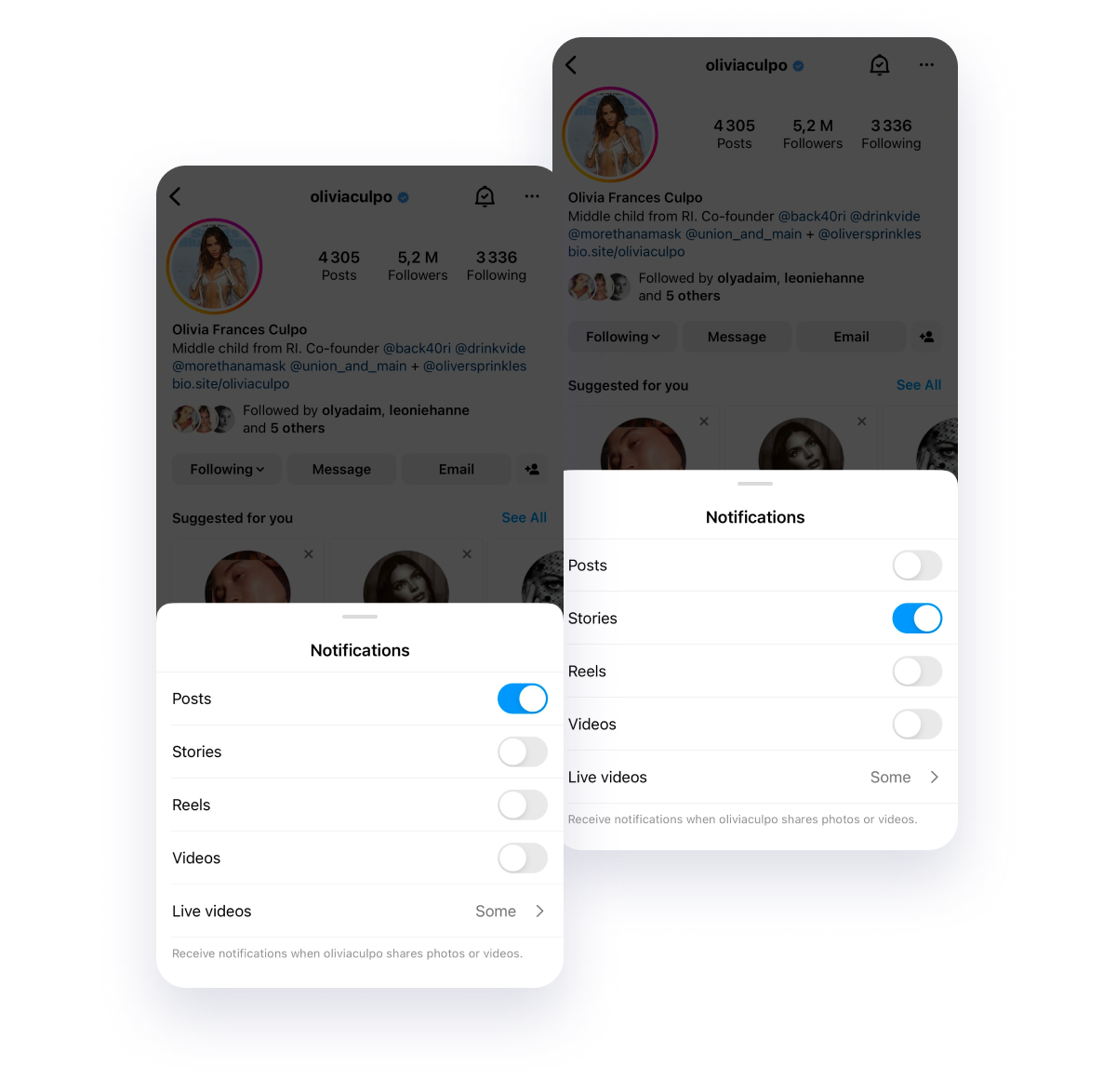 Lifehack: Mark as Favorite the blogger whose posts you'd like to see higher in the Feed. To do this, tap three dots in the upper right corner of the blogger posts in the feed. Choose "Add to favorite".
By enabling notifications about the posts of the person you are following, you will receive notifications about all the photos and videos they share.
You can watch Stories without logging in. If you'd like to watch Stories this way, so to say, anonymously, don't forget to use Stories viewer. It's totally encrypted. Try free viewer for Instagram Stories.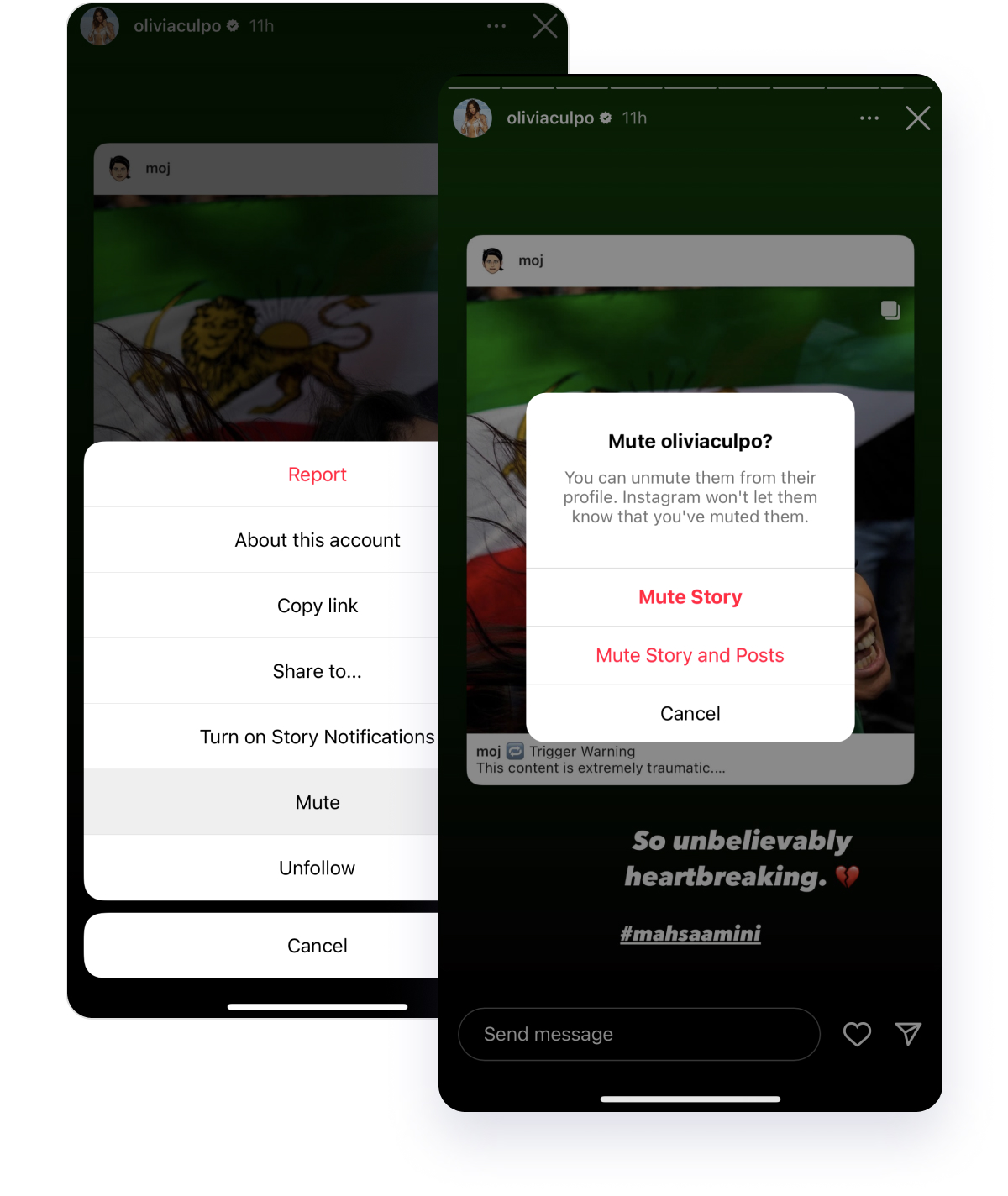 An alternative way to mute Stories — right in the Story of any account.
Likes: Instagram notifications about likes/comments
Log in to your account by entering your password and log in. Then go to the main profile page. To do this, click on the icon with the image of a person in the upper right corner.
Then click on the three dots. They are located at the top of the screen on the right. Find the "Settings" item and select it.
Click on "Push Notifications." You will see a list of all available functions.
In the presented list, find notifications about comments and likes. Put or remove a checkmark in front of them.
If you remove the check mark, notifications will not be sent to the phone notifications center.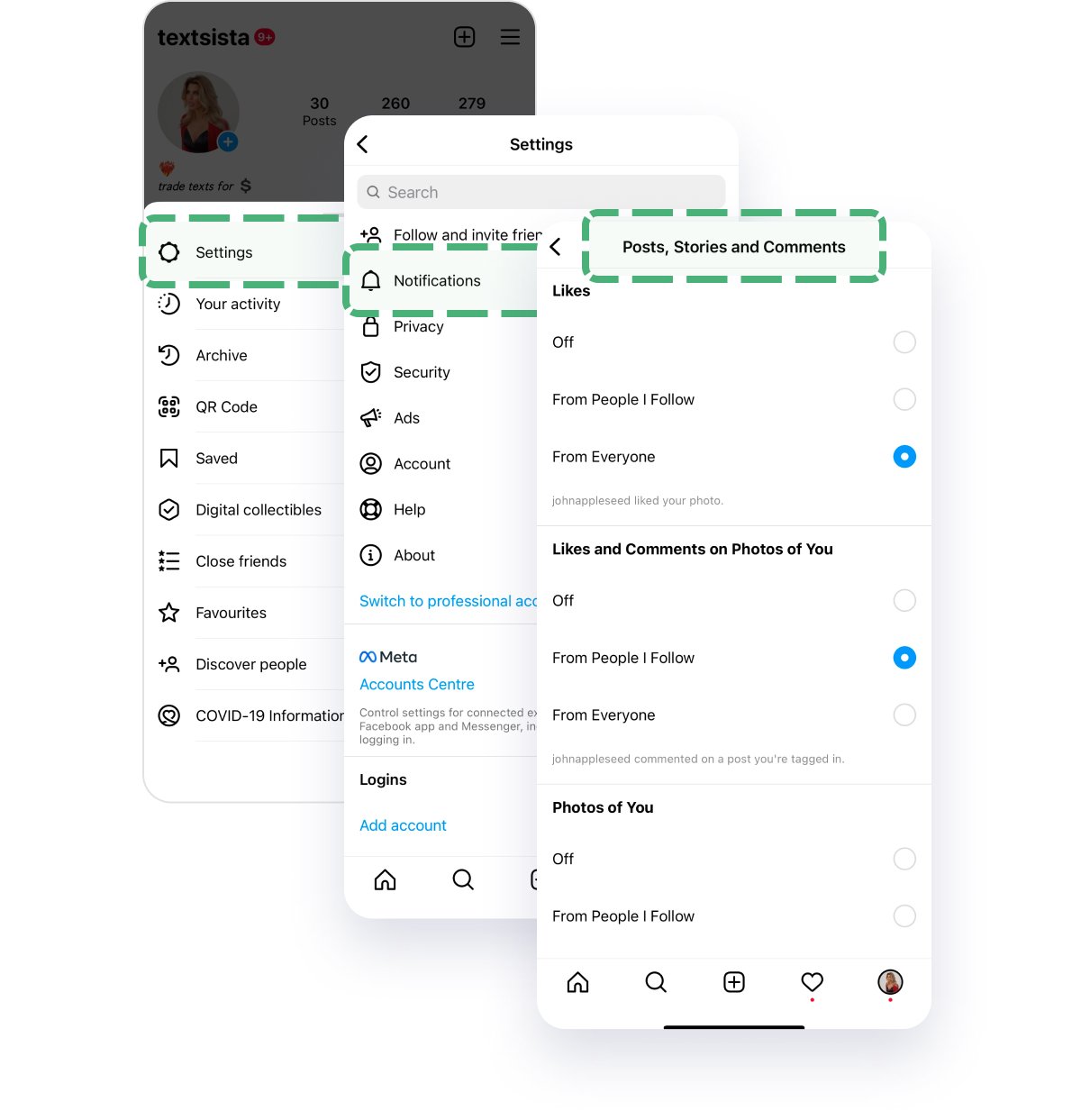 New messages: Instagram Direct messages notifications
Direct is an option that allows you to conduct private correspondence and send various files. To receive notifications about messages in Direct, you need to activate push notifications. To do this, enter the settings and then select the "Notifications" item. Check or uncheck the desired options:
"Turn off"
"From the people, you follow"
"From everyone"
If you want to activate notifications of messages from people you are following, then you need to tick the box "Messages in Direct." In the "Messages in Direct" section, check or uncheck the buttons: allow message requests, live broadcasts, etc.
What if you have tried all basic notification settings, but nothing seems to help?
Why don't I get Instagram notifications? General recommendations:
1. Restart your phone
Before you start exploring other solutions, restart your phone. This charming spell is available at the touch of a button. You don't even have to say gibberish. Try it and see if the trick works.
2. Log out of your account
Another simple solution is to log out of your Instagram account. To do this, open the Instagram app and go to your profile screen. Here, click on the icon with three stripes at the top and select "Settings."
On the next screen, click "Log Out." Then restart your phone and log in again.
3. Update the Instagram app
Often the problem is related to an error in the Instagram app itself. Go to the App Store (iPhone) or Google Play Store (Android), find Instagram, and update the app.
4. Disable the "Do not disturb" mode
Both iPhone and Android phones are equipped with Do Not Disturb mode (DND). When this mode is abled, you will not be disturbed by notification sounds. Notifications are turned off when this mode is turned on. Therefore, check if DND mode is enabled.
Note: Notifications are not hidden in this mode. They just come to your phone soundlessly, without sound.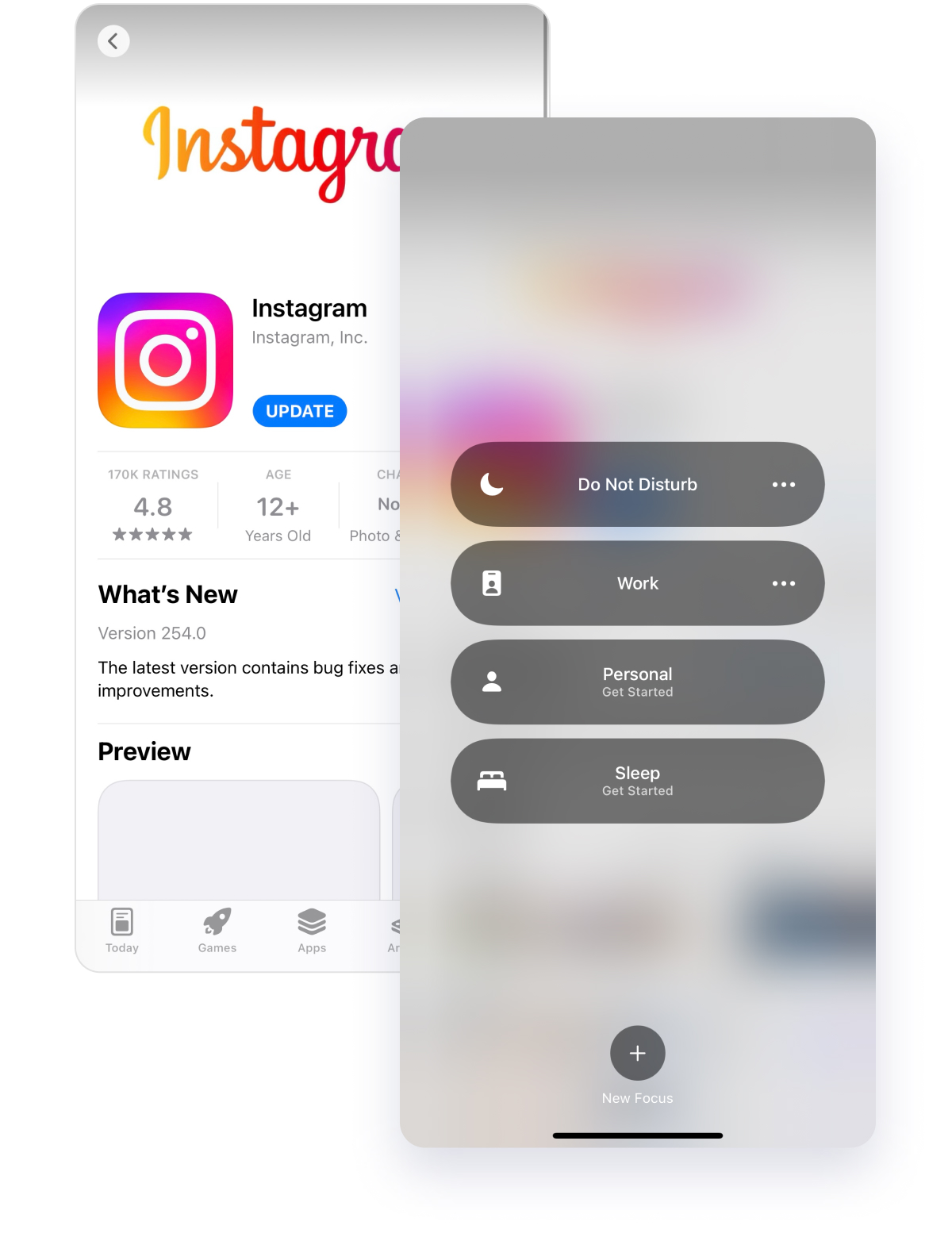 Disable DND mode on iPhone
Go to Settings and click Do Not Disturb.
Turn off the switch next to "Do not disturb" and "Scheduled."
Tip: If Do Not Disturb mode is enabled, you will see a tiny moon icon at the top of the screen.
If Do Not Disturb mode is enabled, you will see a tiny moon icon at the top of the screen.
Also, scroll down and find "Do not disturb while driving."
Click on Activate and select Manually.
Enabling or disabling notifications is one of Instagram's handy features. It was introduced to facilitate the use of the app. Setting up this option does not take much time, but it can make Instagram usage much more convenient.