What are the most common social media marketing mistakes that cost hundreds and thousands of dollars to your company? All digital marketers do them from time to time. But not every professional will pay attention to it – and they'll probably lose tons of customers.

When it comes to selling on Instagram, there is a list of the most popular mistakes that are made by account managers, customer service managers, and anyone who has access to direct communication with potential customers.
In this article, we will look through the top 5 biggest mistakes in Instagram marketing and offer solutions to each.
#1 Mistake: Head your customer somewhere out of Instagram
Do not lead your client to a website or in a showroom. Or call. Or write to WhatsApp.
Instagram users are terribly lazy and withdrawn on this social network. They don't want to be bothered to go offline to your website, to dial your number, or oh, horror – hammer you into their WhatsApp contacts.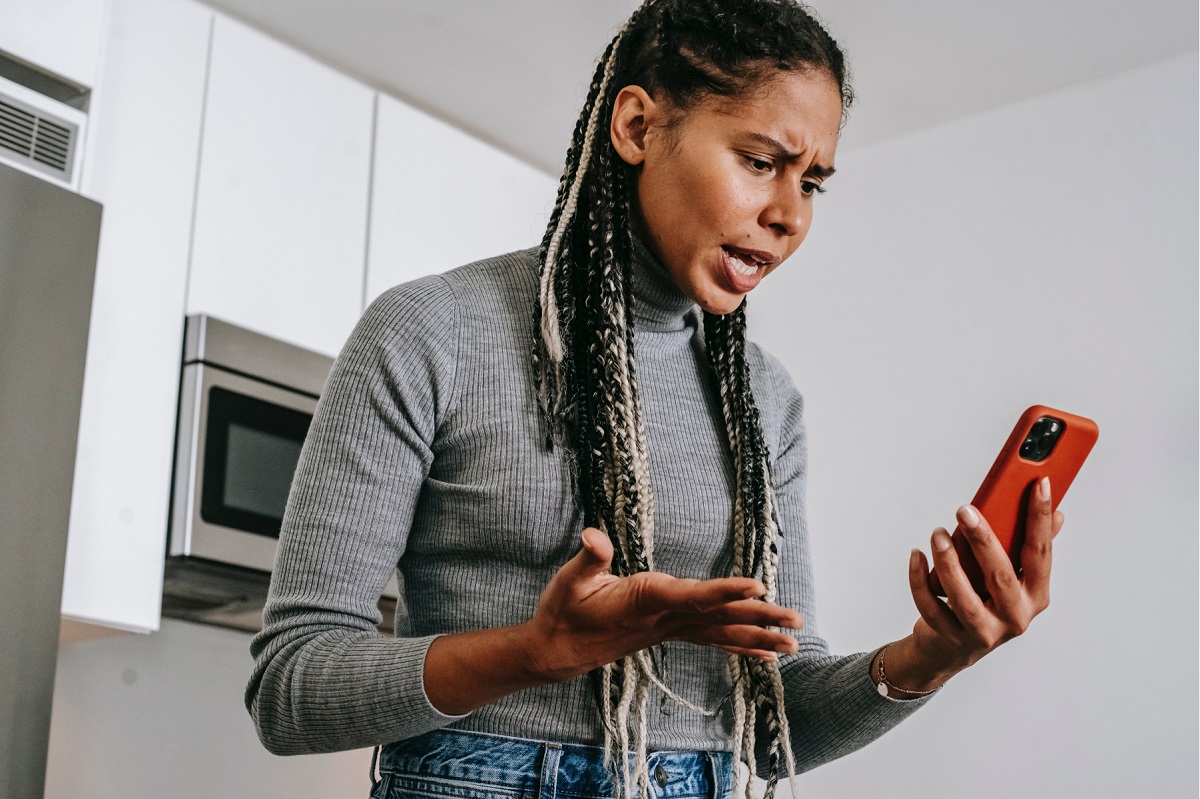 The way to overcome this is to sell directly on Instagram. Because users of this social network like to leave comments and write in Direct or maybe WhatsApp (if there is an active link)... just be there. Be wherever your user wants you to be. And they will answer you in return and open their wallets.
If you really need a to your site, make links in Stories to specifically target this goal. But do not direct people to the site if they wrote to you in the comments. It will not go over well, and the client will be lost immediately.
Solution
Try to communicate with your customers on Instagram, and head them to the website, showroom, or messenger in the very last message, as a final step after your potential customer has already passed through your sales funnel and become a hot client.
If in doubt, give even clearer instructions: "On the website, click the big red button, then in the order form that appears, enter your name, phone number, mail, and delivery address, and click on "Order." Then just wait for a call from our specialist."
Convince the buyer that the system has been worked out to streamline the process and deliver the desired result in the shortest possible time – all they have to do is follow the step-by-step instructions.
Diligent adherence to all the above rules will allow you to convey interested visitors to your account directly to the site for ordering.
#2 Mistake: Late reply
For example, replying to comments the next day. Or not replying at all to Direct messages. Oк not reacting to a Story mention. Often I see right in the header it says: we don't answer in Direct.
Well, in vain. But I just write here and don't want to do it in another way (for example I'm not ready to order from a website yet).
Solution
Be sure to set up message and comment notifications so you can be on top of it.
Answer within half an hour to an hour.
Don't leave the client with just a short reply. Always end the dialogue with a question.
Ask for contact details and call the client.
If you don't have time for all this, hire a sales manager specifically for Instagram. Seriously, many businesses already do this.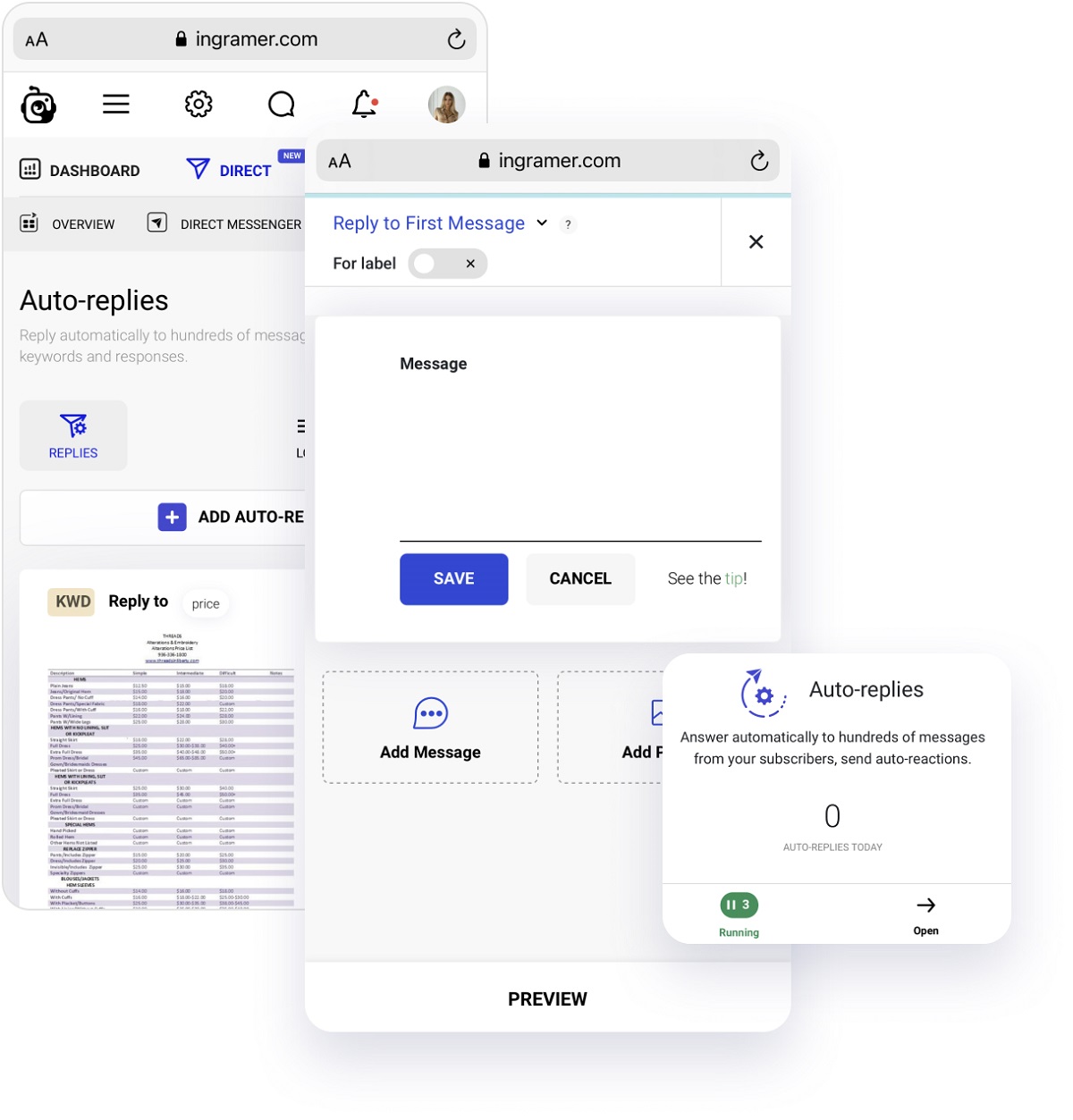 Plus, the obvious decision is to set auto-replies on Inflact.
Go to the Direct module.
Choose Auto-replies.
Choose Reply to a first message.
Add a message with a great offer and full of answers to their possible questions
Then open the settings of this message.
Choose Pro settings.
Choose if you'd like to reply to Story reactions, message Likes, or Story mentions with this message.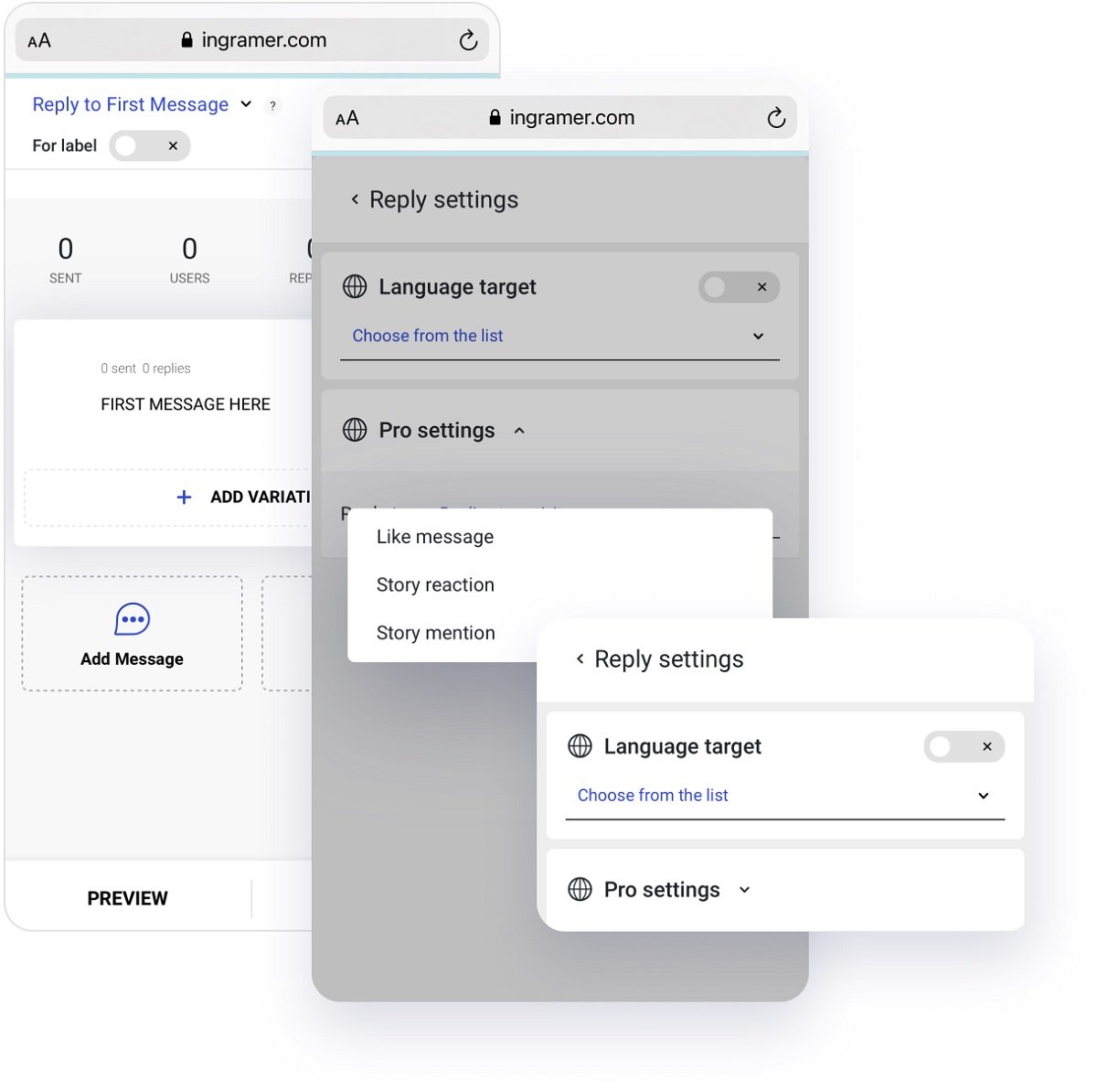 When dedicated users (they don't have to be your followers, but can be anyone who's interested in your content) ask you about your products in the comments or react to your Stories, or like your message it means that they are halfway to becoming your hot prospects.
So don't lose an opportunity to build communication with them.
As a businessperson, you need to reply to them instantly and mark these people as "Interested."
#3 Stop working with clients after the sale
Further, everything about post-sales communication. What happens after the sale is also important.
Firstly, if the relationship with new customers continues (service, updates, support, information about new products, etc.), then they will ultimately be convinced of the correctness of their choice in buying from you.
Accordingly, there is a greater chance that they will give positive reviews and recommendations.
Believe it or not, 70% of respondents said that they would more likely buy from a shop they've already bought from than from a new one. So don't miss out on an opportunity to get every past customer to return and buy from your Instagram shop or order your service through Instagram again.
Solution
Set a reminder on your phone with a message for a customer reactivation. Remind yourself to contact them a month from the day of the latest sale. Message 10-100 of your latest clients (you'll simply find them with a search by a label in the Inflact Direct module) – and enjoy your sales after reminding them to buy from you next time.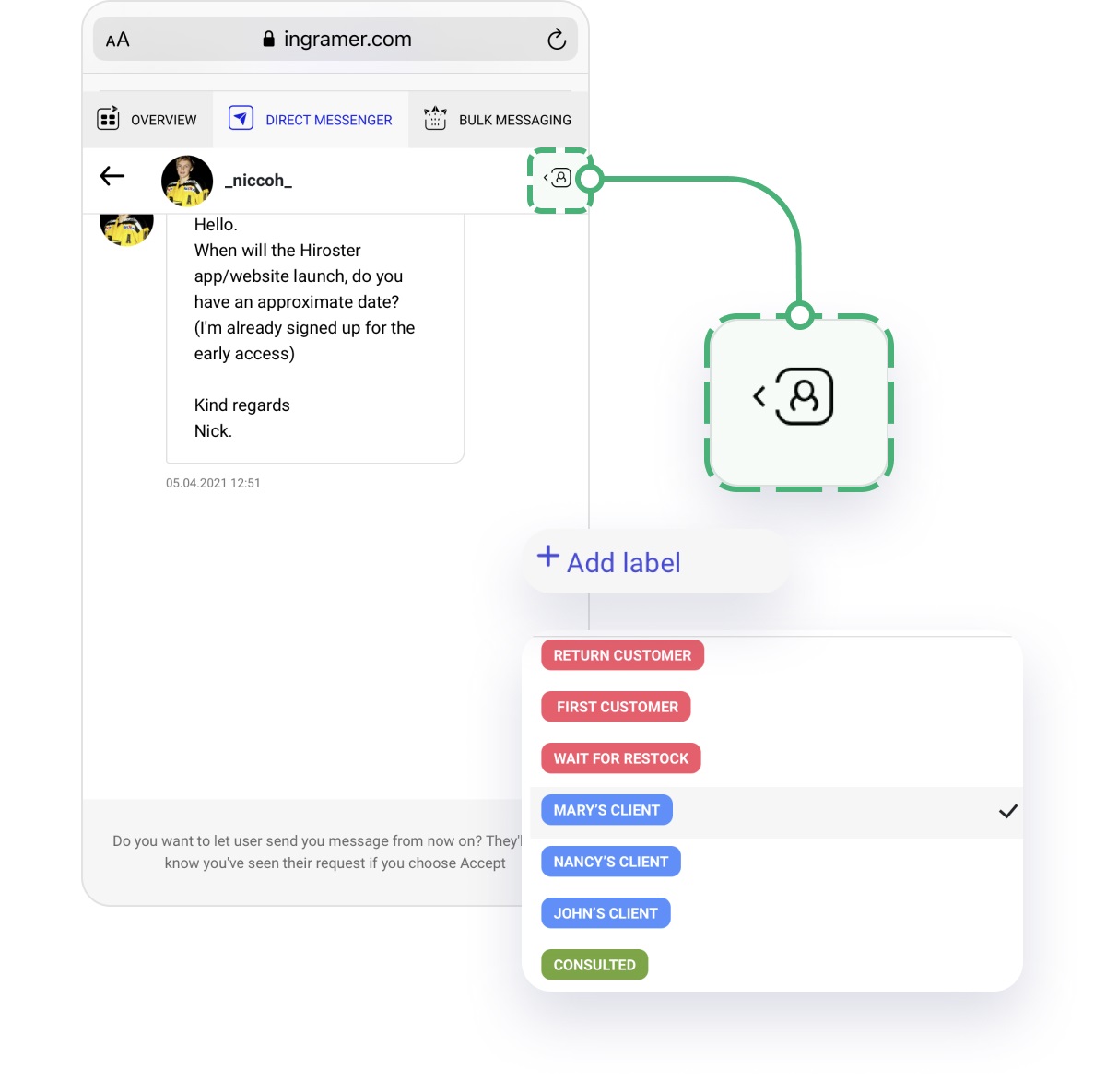 Label every single client after they've bought from you. For this, use the Direct module's labeling feature in Inflact.
Go to the Direct module and choose Direct messenger.
Open all of your threads.
Tap on a thread that ended up in a sale.
Tap on the client's profile.
Choose Add label.
Create a label for those who bought from you (for instance "Order MAY21."
Label everybody who bought from you.
Lastly
If you implement these techniques to avoid mistakes in your everyday social media routine, you will see how the number of orders will grow in a month or even a shorter time.
Each of these mistakes can ruin your business in the eyes of potential customers, and fixing them can bring you amazing growth.
Better to try it out starting from today.