We regularly update Inflact so you can enjoy improved functionality. Kanban boards will help you sort threads in the Direct Module to reach out to various client groups. Learn how it works below.

Instagram's default messenger is convenient for personal communication within the IG app. But if you aim to run a business on IG, sell your expertise, or engage with your audience through Direct, you need a more advanced tool like the Direct Module. You won't find a more trusted tool for smart DM automation. Read why it's better than the Instagram default chat in the blog post The Inflact Direct module vs. Instagram default messenger: what should you choose for a business account?
Boards for Direct messages are based on the Kanban method. As Kanban is a management system that helps visualize processes, the Direct Board will help you visualize and classify threads. For example, you can define chats with hot and cold clients, influencers, or any other customized group.
Let me explain how.
How to use Boards for threads grouping
Keeping threads in order is vital if you manage Instagram for business.
Direct can be your all-in-one tool for engaging with clients, reaching out to influencers, and running give-aways. Boards will help you find any chat from each category in seconds.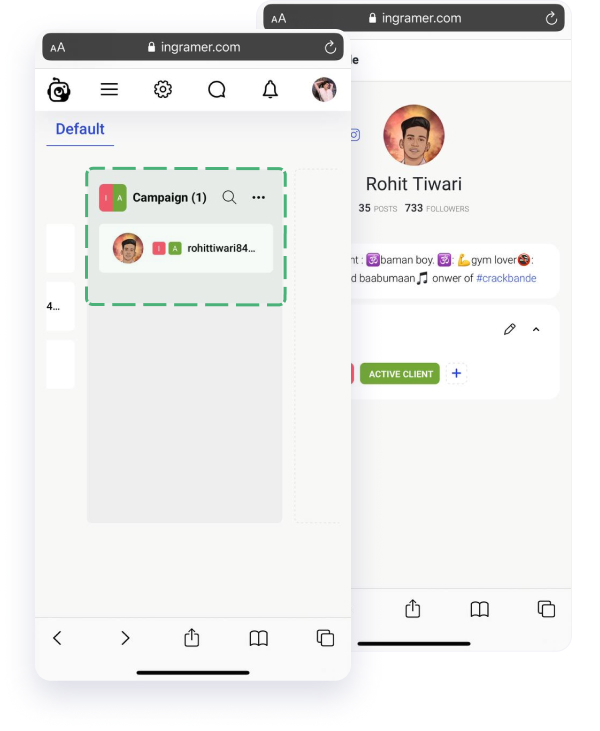 How to systemize DMs by boards in 6 steps:
Open the Direct Module and find the Boards section .
You will see the list of all your chats on the left and the section for creating boards.
Label your interlocutors. Tap on a user and create a specific label. You can add several labels to one person. For example, if a loyal client will take part in creating IGTV clips, you can add two labels to their profile, like in my example: "Active client" and "IGTV actor."
Create boards for labels. On the right side of the screen choose the button + Add New List. Create the name of the board, for example, "Campaign." Add labels that a user should be marked with in order to be added to this board. For example, for the board "Campaign," I add the labels "Active client" and "IGTV actor."
View selected users on the board. If you want a certain user to appear on a board, it must include these specific labels. In my example, the user identified with the labels "Active client" and "IGTV actor" is on the board "Campaign" because I understand that he will take part in the future сampaign.
Of course, you can add boards based on one label. For example, I want to visualize all my most loyal clients on one board. I will create a board named "Top clients" and add the label "Active client" to it. All of them will then appear on the board.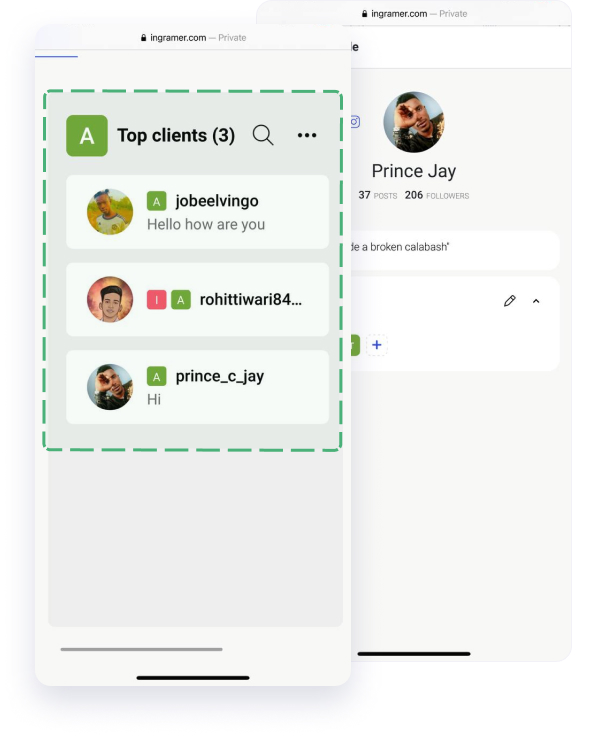 Keep up with boards and start using them right now because we'll make them more functional soon.
Launch successful bulk campaigns from the "Completed" section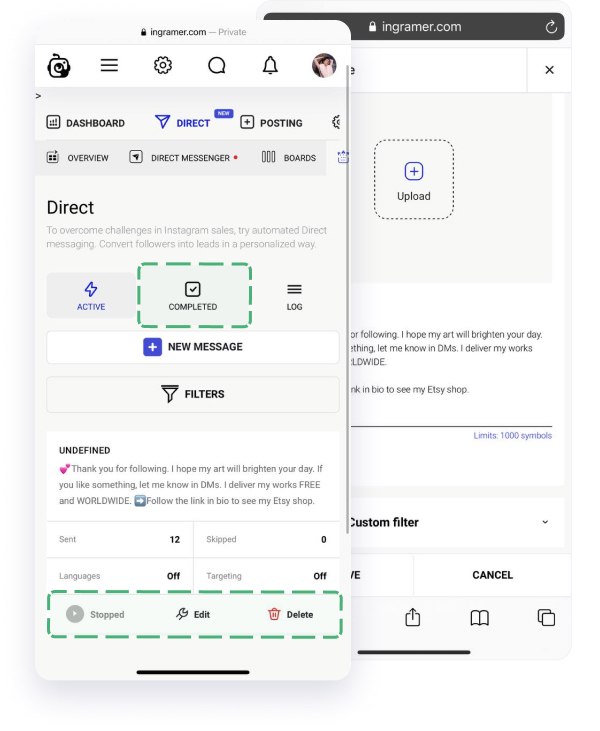 Now you can restart best-performing bulk messaging right from the Completed section.
You don't need to start a new bulk DM campaign. Open the Completed tab and click on the Start icon. All new interlocutors will get this message.
Stories Saver updates content 2X more often
Stories Saver allows you to track and save Stories of one or more users on the Inflact dashboard. Previously, it renewed content every 6-12 hours.
After the latest updates, you will see Stories that a user posts in 3-6 hours – it means the tool is now 2X more effective. So if you postponed trying it, it's a perfect time to start.
You don't need to monitor the updates manually for Instagram users; it distracts too much attention from your business. Instead, watch all of them in bulk in Inflact later, even after 24 hours when they've disappeared from Instagram. It's possible to save the whole archive or just certain Stories on your device.
Notifications will be right on the Dashboard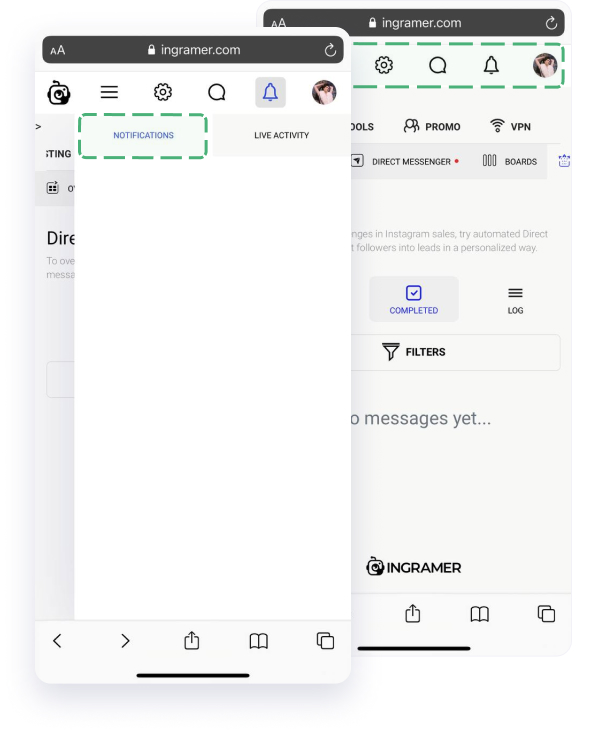 We're always coming up with something new on Inflact. Tools updates, vital news, discounts, and special offers will now appear in the Notification section on the Inflact profile.
Notifications will help you to stay in the loop of the most advanced service for Instagram and be the first to get exclusive deals. Keep an eye on the ring icon – we are here to help you!