Instagram Direct is a powerful tool to uplift your sales, support clients, and manage orders. The Direct module offers you even more – set up automated responses and use the chat as your helper in sales. Learn what's new and make the most of it.

If you are still getting in touch with clients via the built-in Instagram messenger, you're probably missing opportunities and losing time. For those people who use Instagram as part of a business, the Direct module can serve as a sales-booster and customer support system that is active 24/7 – all thanks to automated replies.
Via the Direct module, you can welcome every new follower with a personalized essage, save replies to frequent requests that include specific keywords, reply to reactions like story mentions and responses to stories. Previously, the number of auto-replies was limited to 100. Now you can manage this limitation in your dashboard. Moreover, it's become handier to find particular sent replies in the Log section using filters. Let me introduce these two functions in more detail.
Note:
You can learn all the possibilities of the Direct module for Instagram in this comprehensive
guide for business
.
Instagram Direct module updates
#1 – MANAGE THE NUMBER OF AUTO-REPLIES PER DAY MANUALLY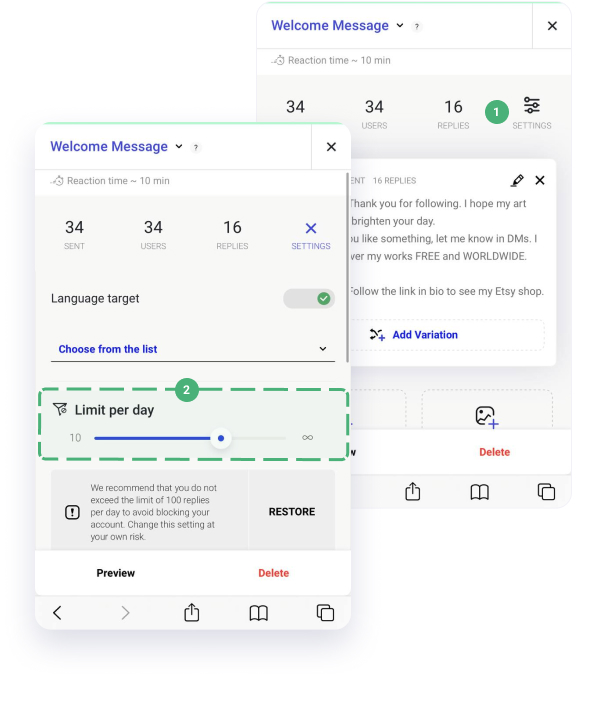 Now you can greet new followers via welcome messages without limitations. To regulate this number, you need to open the Auto-repliesWelcome messageAdjust the slider.
If more than 100 people follow you per day, all of them will receive a welcome message. Nevertheless, we don't recommend exceeding this number of 100 direct messages, and always randomize your messages' content so Instagram won't recognize your behavior as spammy.
In the case you choose to send an unlimited number of welcome messages, some users might receive this message a bit later if 100 messages have already been used.
Note: We used to count a message with an image as two messages. As a result, you could send fewer DMs with media files attached (to ensure your safety). Now we count a message with an image as one message and calculate the final number as the number of recipients, not messages.
This means that you can expand the boundaries and reach out to more new followers at a time. Don't know how to use a welcome message to the fullest? Read our dedicated blog post Make a sale on Instagram with one message (automated welcome messages are magical in 2020).
#2 – USE FILTERED SEARCH AMONG THE SENT MESSAGES IN THE LOG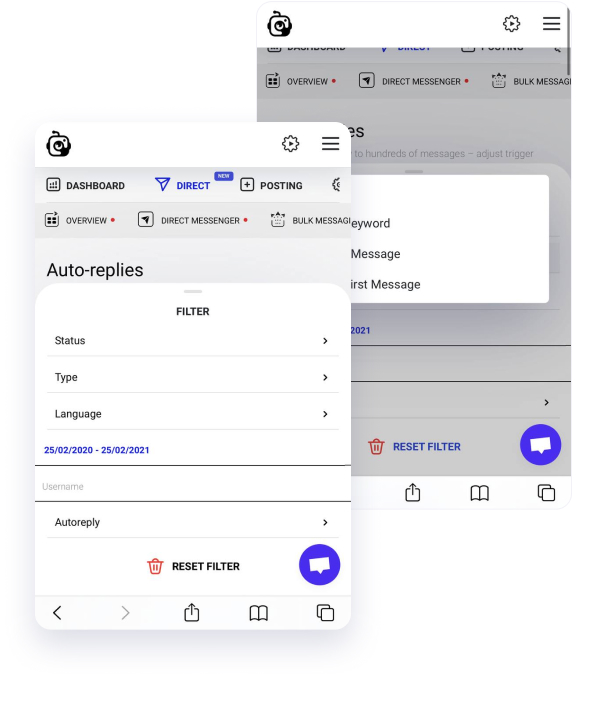 If you manage multiple automated messaging campaigns on Instagram, it's essential to discover the status of each. That's why we integrated detailed filters to help you find a message by specific criteria. What are they?
Filter by status – use it if you want to sort sent messages by Sent, Skipped, and Failed. You can easily find the failed DMs and deliver them again.
Filter by type – browse Welcome Messages, Replies to Keyword, Replies to First Message. It's a handy filter if you run various campaigns simultaneously.
Filter by language – you can view sent messages based on a language. It's convenient that you can adjust target replies based on the language your clients use – they won't need to copy the message and use a translator.
Filter by date – you can find certain messages that the Direct module sent on a specific day. It's convenient to track the activities performed while you were on holiday.
Filter by usernames – view messages distributed to specific users. Just enter their IG nickname into the text bar.
Filter by autoreply – you can choose a certain prefabricated response and view all the users who received it in this section.
Moreover, there's a search bar where you can type anything and find messages and users by text.
Finally
The Direct module is a comprehensive solution that will help you communicate with Instagram clients and followers even if you are away from the keyboard. This service gives you a strong upper hand over your competitors because Instagrammers like their issues to be solved instantly. With the Direct module, you receive a virtual assistant that unfolds tons of messages and interacts with every new lead or follower. Don't miss a chance to enhance your sales.