Are there any food porn admirers here? Gosh, you will die of ecstasy reading this article!

The time of mom's thick foodie books has passed. Food Instagram blogs have come to replace them. Thanks to them we can think about breakfast and dinner at the wheel of the car, on the subway, at work and even on a fitness machine. I, inspired by such blogs, have prepared for you a list of most delicious, yum-yum Instagram accounts. Enjoy them with me!
I can't but start with James Trevor 'Jamie' Oliver! Great dad, marvelous chef and restauranteur and a popularizer of home cuisine, healthy food and life. If you haven't followed him before, it's high time to do that. All his dishes are prepared with ingredients that everyone can find in average store, no black watermelons Densuke and unicorn's tears. He always shares his best thoughts and cooking tips.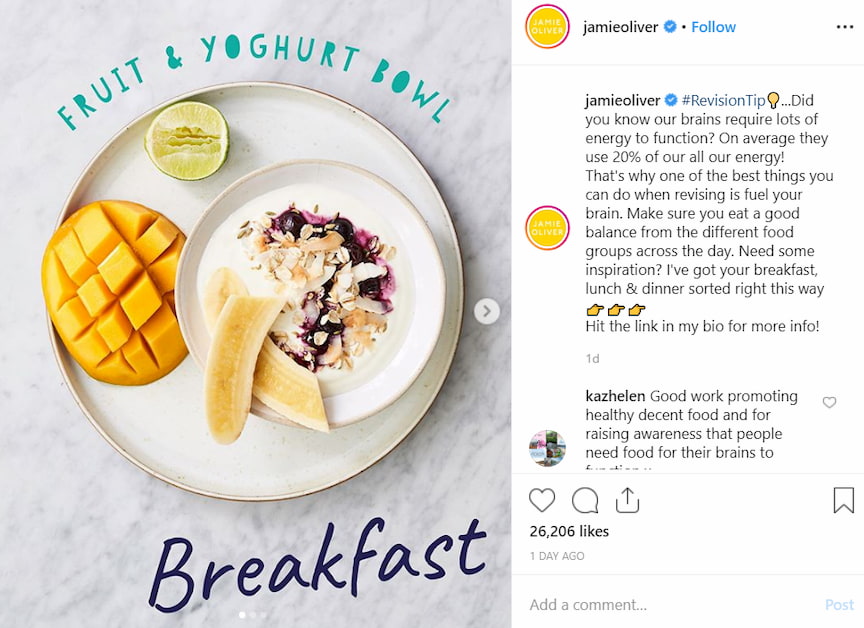 The appetite-stimulating account of the popular American network of healthy food stores Whole Food Market is just a store of useful links to cool food bloggers. Delicious quinoa pasta with pesto, cheesecake with zucchini, salad with roasted cherry tomatoes and green beans ... Mmm ... I personally want to try everything!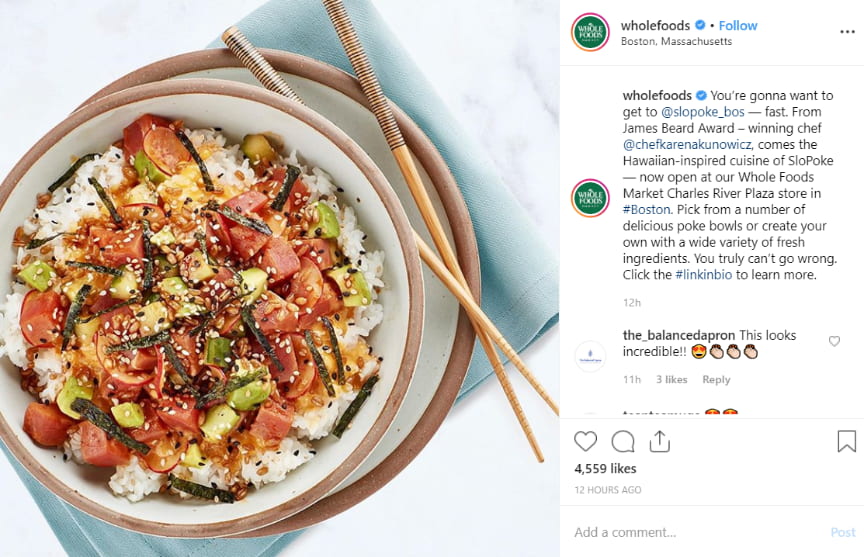 A little digression:
pay attention both of accs owners use a Call-to-Action, asking to click the link in Bio. That's because that's the only opportunity to invite people to your website. Learn how to arrange your Bio to rocket your promotion.


Be ready, that's my favorite one! "Best food in NY with the cutest babies in NY" Do not want to add anything. Just click the link and follow.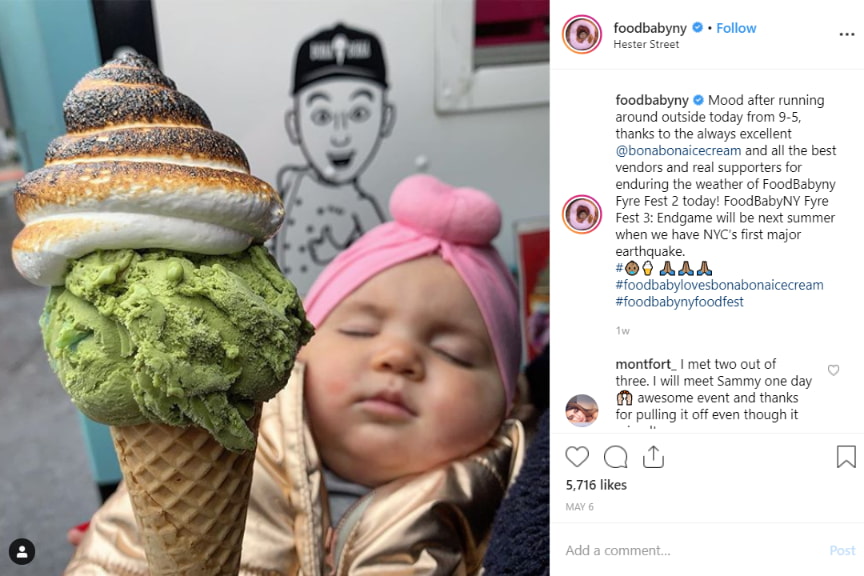 LayBee has run her Instagram since 2011. She specializes in bento (Japanese art of packing lunches in lunch boxes) and baking. Of course, she takes photos of all of her little masterpieces in order to share her ideas and works with friends and us, followers. I must admit this acc brings nothing but aesthetic enjoyment!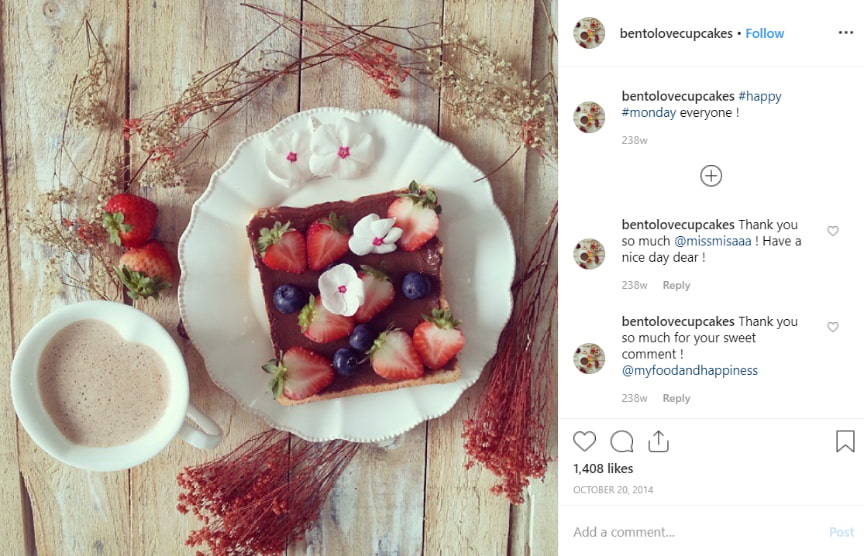 Go Vegan! Vegan recipes for every day straight from New York kitchen. This account is perfect inside and out. Here are rice rolls with avocado and pepper as a snack, and vegan tortilla with beans, and carrot cake with vanilla for dessert, and many other dishes. Almost all recipes are fairly simple to prepare and take no more than 45 minutes.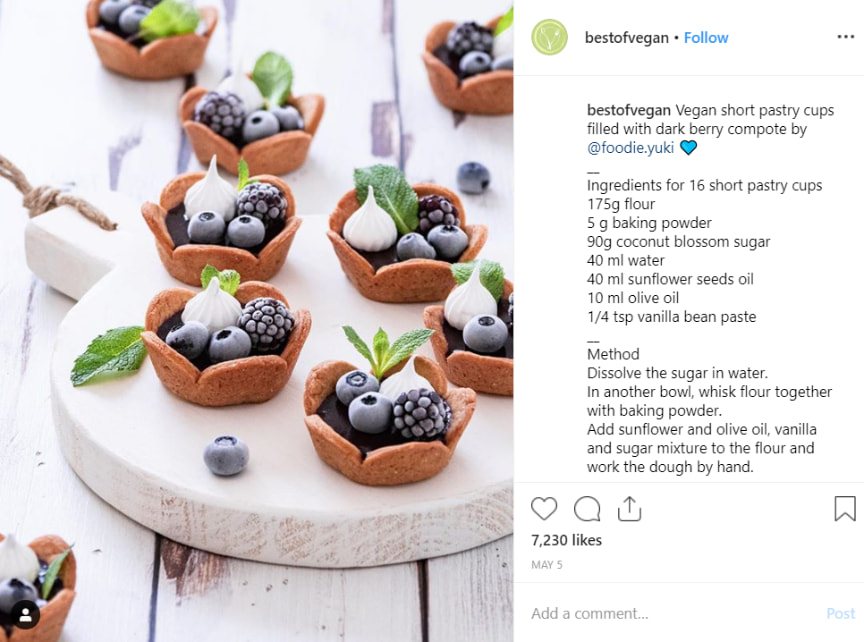 Not related but not less interesting article - Instagram Direct Messages Not Working On Your PC? There Is A Solution For You!

Did you know that there is a profession like Instagram food stylist? I had not before I came across this acc. Two girls who run Spoon Fork Bacon blog - a food stylist and a photographer - have made an ideal partnership and have conquered the culinary Olympus of homemade food. Together, girls manage to create different dishes from fairly simple cookies to complex salads. Thanks to their artistic talent, the dishes are not only simple and tasty but also incredibly beautiful. All recipes can be found in their blog so that you can cook them by yourself.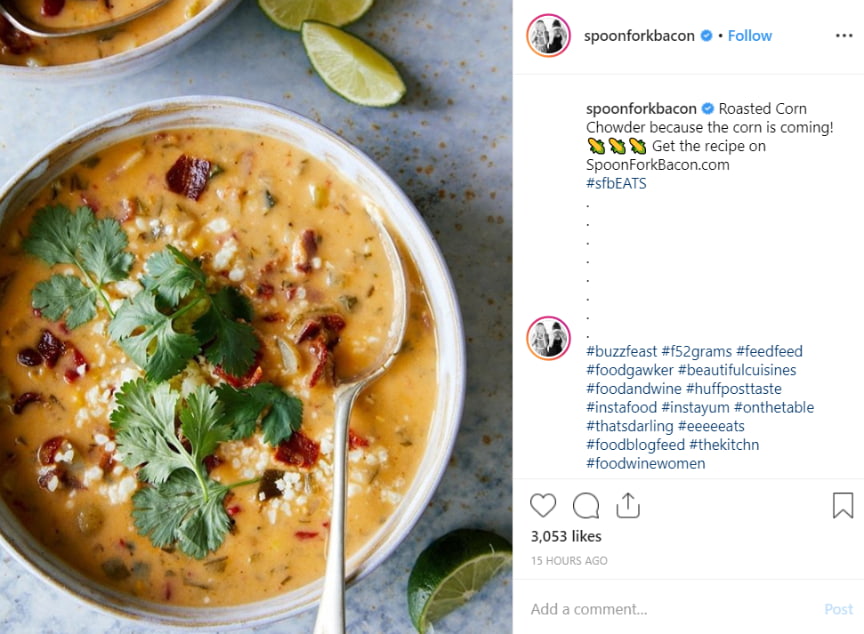 By the way, have you noticed - these girls
use hashtags very professionally
. First, they created their own branded hashtag. Second, they use different tags for each post. Third, they use popular tags wisely, there are more thematic tags. Thanks to that they managed to gather 3, 053 like for just 15 hours. To do that in an equally professional way use Inflact's
hashtag generator
. It is capable of creating lists of tags by your photo, URL and a keyword. Moreover, you will see the frequency of use of each tag to choose the optimal one. Make a note of it!
All dishes are prepared with a maximum of 10 ingredients and a maximum within 30 minutes. The best solution for those who are always in a state of "always on the run. In addition, this account incredibly delivers the flavors of each dish. Bravo, cooks - a creative couple from Portland, Dana and John, who know for sure how to take photos their culinary masterpieces properly!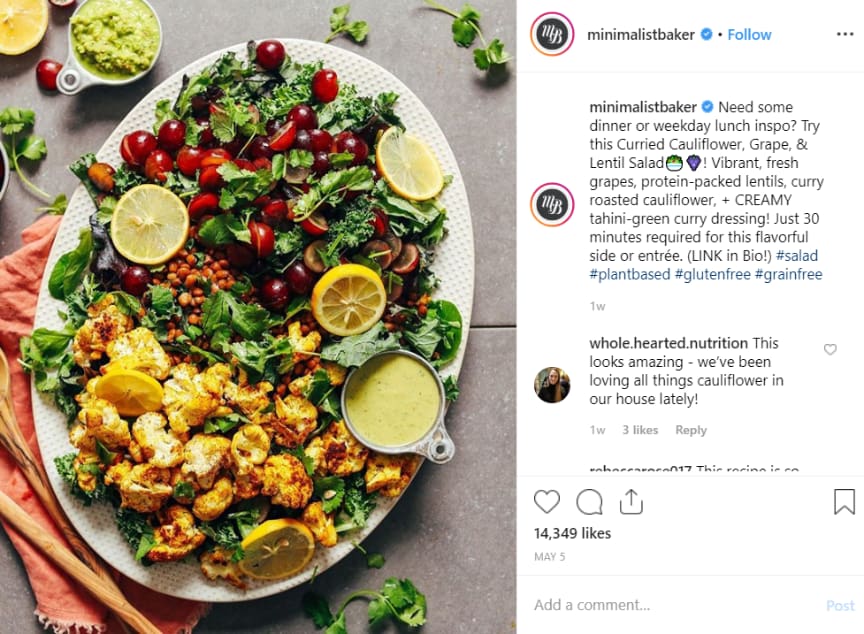 Eat thoughtfully, live joyfully - teaches us Food52. By the way, wanna some tacos?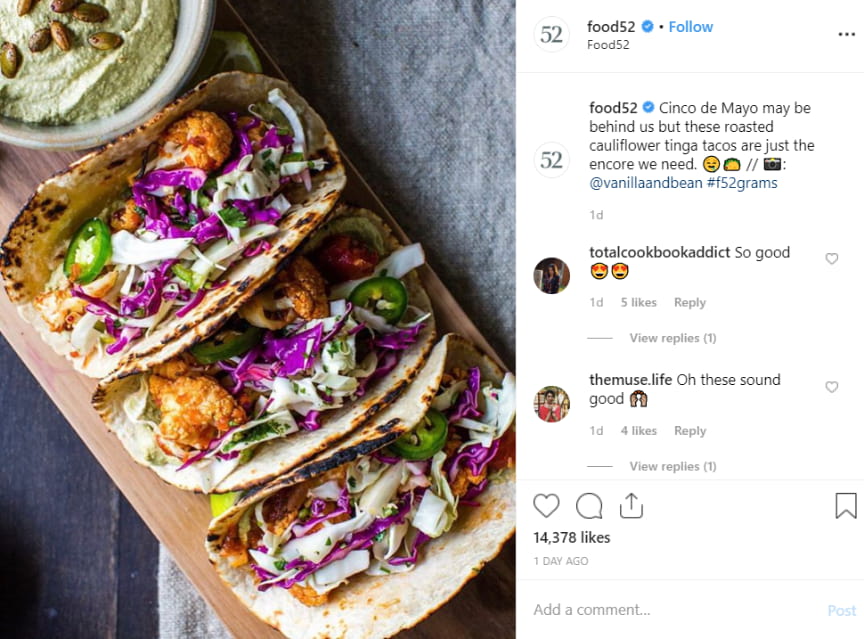 The unusual "symmetrical" Instagram of the English photographer Michael is dedicated to the breakfasts that the author of the blog Summetry Breakfast prepares every day for his husband, Mark. When the men met, Mark worked at Burberry. Due to the busy schedule, the couple could spend time together only in the morning. So, Michael decided to wake up half an hour earlier to start the day by making the perfect breakfast for two.
Now the project includes already thousands of recipes for the start of the day, collected from around the world.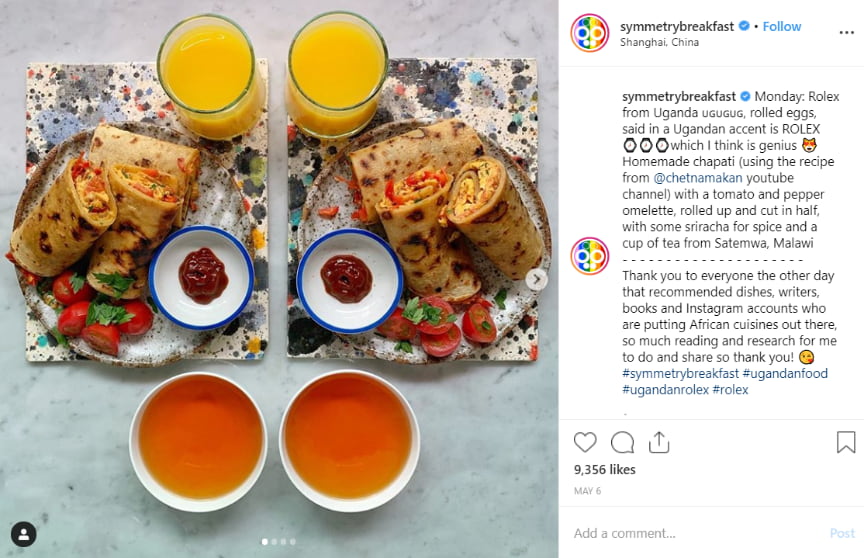 The authors of this blog are fashion designer Nora Aizerman and talented photographer Laura Matesius. They live and work in Berlin, but more than half of the time they are outside the city, as can be seen from their Instagram photos.
If you are going to pamper yourself with homemade cakes or hot cinnamon rolls, then you should definitely cook them according to the recipes of Nora and Laura.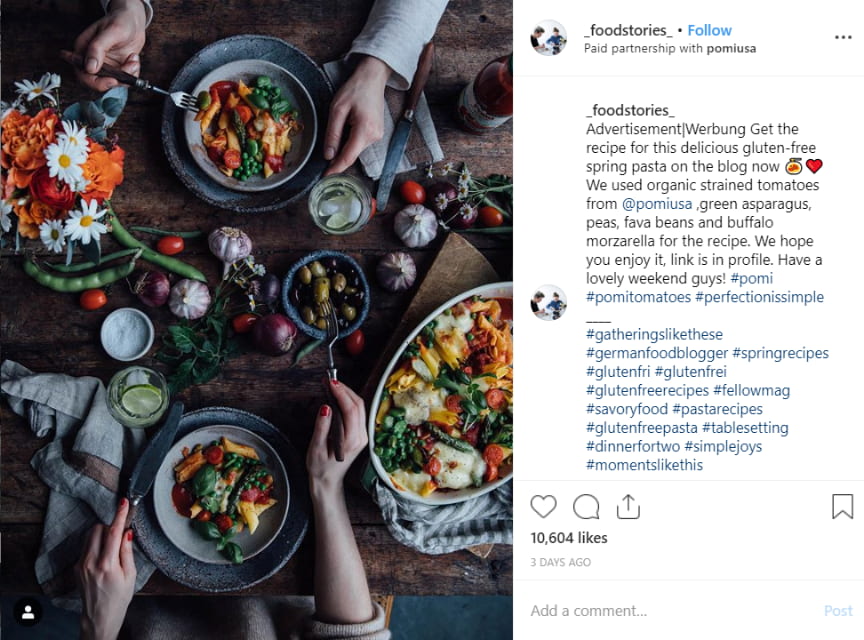 As you see both baking blogs and healthy food blogs are incredibly popular. Check
top Singaporean influencers
. Instagram Feed is able to present not only cute cats, dogs and endless photo reports from your colleagues' vocations. It really can feed you with inspiration. And look at
the number of likes these accs have got
! You also can do that, believe me. Use
Inflact
and finally start your promotion on Instagram. Make tasty pics, attract the target audience, communicate with your supporters, enjoy the growing number of likes and comments under your choice. It's simple!
Wow, we made it. I bet you are eating something right now! Cause I do 🍕🍟🍩🥤.