How to stand out from the crowd of Instagrammers? Read the article, make your Bio hard-hitting!

If you've downplayed your Instagram Bio, I must admit you are entirely wrong-headed. Bio is the first thing that jumps out at you when you visit an Instagram account. And that's why Bio is your chance to kill your audience, I mean to impress them favorably. Even such a small thing as Bio can increase your account "appeal" and attract more followers and potential fans and customers.

As long as you read this article, you'll uncover:
what details to add to your bio;
ready to copy-paste bio ideas;
bio ideas from celebrities;
funny bio quotes for girls and guys.
INSTAGRAM BIO TRICKS
Unfortunately, IG bio is limited in the number of characters - 150. That's why you need to make maximum use out of these 150 characters. I will help you to do so!

Describe yourself. Mention your job, name of your company, marital status, everything you consider essential. Do not lie, give your followers a strong reason to follow you.

Add a list of your interests. You have 150 characters to say something to the whole world, so tell about your interests! Doing so, you will attract like-minded fellows and make friends!

Point out your contacts. Give a chance for your people to be in touch with you. You can add an email for collaborative inquiries or motivate your followers to send you DMs. Thus, people will know that you are open to dialogue.
Add Bio link and Call-to-Action. If you run a business if you are an opinion leader and you have something to show to your fans. Give them a link to your website or to YouTube channel. Do not forget to invite them. Look!

Think of Bio font. I've already told you how to use a custom Instagram font, remember? Be creative, beautify your Bio just like celebs adorn themselves for Met Gala - passionately!
Leave more space. Every professional writer and copywriter will advise you to give some "air" to your text. Adding some line breaks, you can highlight key points and increase the readability of your Bio.
Use creative license. Do not be too formal. Include emoji characters in your Bio, write with humor, ask a question, entertain the audience. Get people involved and they will follow you. Instagram is your showcase, so make it a good one. You can add some stars, arrows, and snowflakes to draw additional attention of IG users.
Hey you, use your Bio to be a flamingo in a flock of pigeons! Especially for you, I've made up a list of the most sarcastic and funny Instagram Bios, maybe you'll find your inspiration in it!

By the way, if you are looking for some extra ideas for making your Instagram explosive as a volcano, read my selection of best Instagram Quotes and Captions! I promise you will be filled with Inspiration! And now let's continue!

There are a ton of examples that are ideal for your BIO. What are signs of that your IG bio is excellent? In the next chapter, I want to highlight some important aspects.

FUNNY BIO QUOTES: PLAN IT FIRST
So, go back to the original question - funny things to put in the Instagram bio. First of all, I want to say that IG BIO is a storefront showcase - it should seduce first-timers look inside.

There are two kinds of Instagram account - for individual use and for business promotion. Irrespective of the acc you run, the Bio section contains a depiction, a username, a brief portrait field, a URL-link, an address, or brand hashtags.

IG USERNAME
By logging, searching, and tagging, you use the username. The simpler and shorter the nickname of the profile is, the easier it will be to remember and find it in the search.

Try to choose short nicknames that match the name of the business or reveal its essence — for example, flowers.NY is suitable for a company delivering flowers in New York, and coffee is associated with a coffee shop. If the most suitable nickname is used, dot or underline will come to the rescue. For example, flowers.nyc or cakes_az will indicate profile geography.

The examples of account with good usernames:

@thebodyshop - the brand name and the username are the same.

@designsbyahnnyc - the mix of profession and location

The set of technical nuances:

IG prohibits the use of www//
IG limits the number of characters - to 30 characters.
IG BIO DESCRIPTION
As you know, the IG profile description is limited. What do you add in a BIO block?
Your profession
Your hobbies
Something about your product
Special offer
Contact details
Website link
Branded hashtags
A well-designed profile header gives an idea about your profession, product, or service.
Before a cruise to the IG cosmos, I want to highlight that your Bio should represent your inner world, your habits, interests, philosophy position, life concepts.
I bet by this part of the article you might still have several questions unsolved. Let's clear them up! If you get the issue scroll down to the most intriguing chapters – funny bio quotes for Instagram!
WITTY BIOS: ALL YOUR QUESTIONS ANSWERED
Question #1– What is the BIO section on Instagram?
It is a part of your profile where you can write about yourself in different manners - witty, silly, or sincerely - and express your attitude to the world order.
Question #2 – How can I edit the BIO section?
It's clear as your nose on your face! Click on the Edit Profile button and write what you want. You can use my funny bios examples.
Question #3 – How can I change the font in BIO?
Beautiful design and visual style help to stand out from the crowd. Let's see how to "decorate" a profile on Instagram so that no one could pass by. The most comfortable way is to ask help from a different site that turns a standard font into non-typical. I recommend lingojam.com or sprezzkeyboard.com.
So, the minimum program is done. The rest is your own choice. But remember that a Bio is your profile business card that can help you to attract new followers and make your Instagram a more awesome place!
Question #4 – What are funny things to put in your bio?
Having funny bio quotes is basic to liven up your IG account and attract first-timers. The equation is simple: if they are really interested in your bio status, they will scroll through your feed and probably click on the Follow button. If users got no interest in you, they would keep surfing all over the visual platform, searching for gorgeous profiles.
Have you ever paid attention to the Bio block? Probably, you follow those individuals or brands whose thoughts that align with yours. And a witty bio quotation is an excellent manner to express yourself and identify your positions clearly about certain world things.
Look at alternative shop stores. Their social media specialists had perfectly mastered the art of building the BIO section.
The bio section of the alternative shop store #1.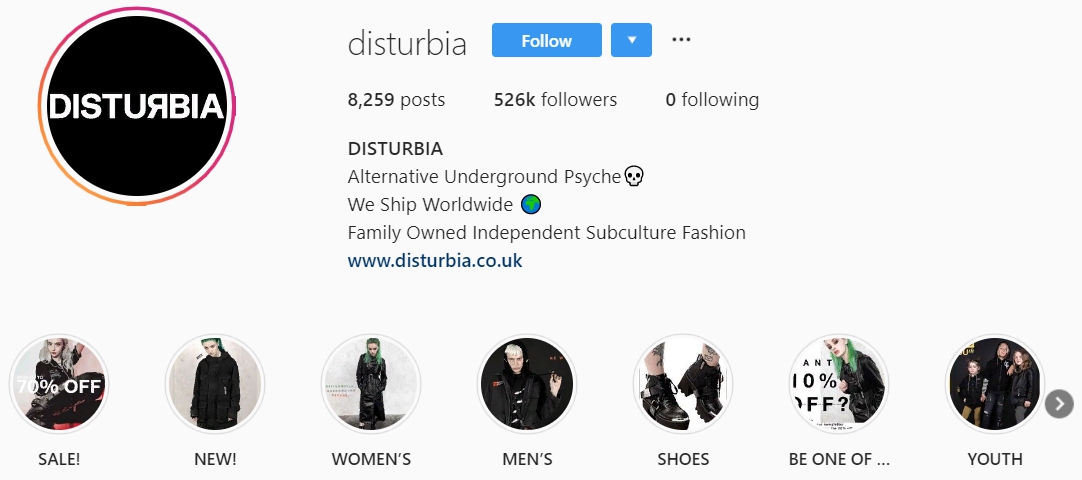 When we visit these pages, we understand where we are - a gothic font, a grim aesthetic of the logo, and weird emojis - all these details create an atmosphere of Underworld where all your secret desires come true.
The bio section of alternative shop store #2.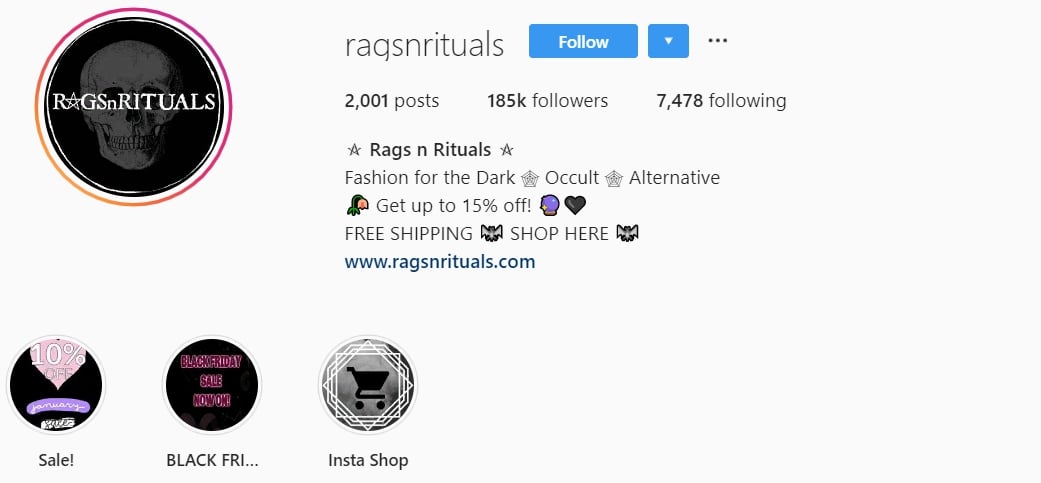 We understand that we visit the strange and weird place right from the jump - a scull, a black heart, a bat, a crystal ball - forever dark youth!
The bio block of alternative shop store #3.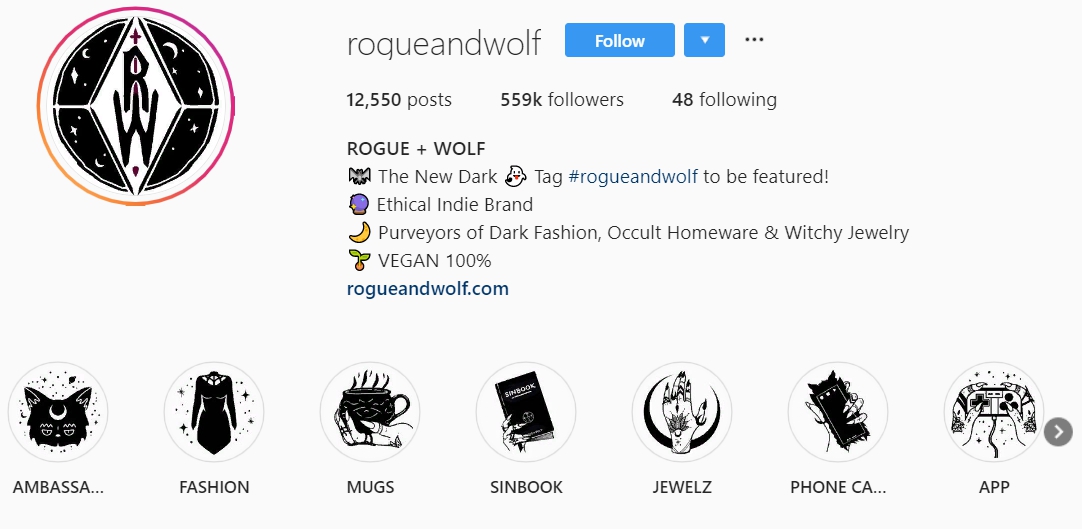 Booo! An ideal composition of the BIO section delves into the atmosphere of dreadful fairy-tales with @rougueandwolf. Medieval symbols, the selection of emojis, highlights, grim colors - it's great! Bravo!
If you are tired of account with identical captions, filters, depictions, and simpering Bios ("All I need is Vitamin-Sea" or "You will be my king, I will be your queen") and you are searching for extremely funny bio quotes for Instagram, I'll rescue you! In the beginning, I want to explain to you the principles of the Bio section building.
Question #5 – Why is IG bio essential?
IG bio status is an extremely important part of your profile. First of all, a bio caption helps your fans determine whether they follow you or not. Secondly, an IG acc with an interesting IG bio stimulates more interaction than an Instagram profile without one, which helps you get into the TOP. Don't ignore the BIO section and interact with your audience on a high level.
Question #6 – How To Run Your IG Account To be A Freaking Popular?
Before turning to the IG Bio quotes topic, I want to tell you about the right running Instagram account. So, one of the most well-spread questions I get is, "How to make my account extremely popular?"
Well, let's clear that up, guys. What is an IG acc for an average user? It opens up the possibility of self-expression and self-development. You post your life captured in one shot or carousel of shots, share your thoughts, communicate with your fans or friends. But what is an IG acc for an ordinary entrepreneur? Such an application is a convenient and intelligent tool for a stable income. The success of a business on social networks dramatically depends on the degree of account popularity, which is characterized by the number of followers and likes. Self-promotion of IG is a pretty time-consuming task, so many users decide to automate their work on Instagram. They upload posts through a Posts Planner; they say their first hello to newcomers through a Direct Messenger, they select hashtags through a Hashtag Generator.
And what's fun – they will achieve a positive result and start earning on their accounts for a month. If you want to know more about how to build your business on the visual platform through automation of Instagram processes, take a peek at the article called "Case-story: How To Build A Fashion Community Via Trending Hashtags?". There is a selection of awesome tips and tricks that help you to activate hashtags power, build love communication with followers, and find the best posting time. Read the case-study and create your promotion strategy with the Inflact team of super-cool experts 😎.
Your business + Hashtag Generator = Boosting sales by 67%
Head over to
Let's review more quotes and bio examples you can copy and paste in your profile description. Keep on reading this full-fledged bio guide!
QUOTES PART #1: FUNNY INSTAGRAM BIOS
Welcome to the Funny bio quotes for Instagram section. I divided ready to copy ideas into parts according to several topics. And I'm going to update these lists to keep you informed of the latest trends!
Let's begin with the quotations that I consider fit any Instagram user. They are one-size-fits-all bios yet bright:
Nothing wrecks my nerves like everything;
That's my story. I hope you won't get depressed;
You couldn't cope with me even if I came with a step-by-step manual;
I'm cooler than any cooler;
Even Pennywise is jealous of my smile;
When I speak your ability to speak becomes useless;
I do bad things, but I do them well;
Stop, wait a minute! I need to fix my crown;
Emotional eater (stolen from Anna Kendrick);
No, this isn't a dream world, guys, this is my reality;
No filters, no makeup, no pretense on my Instagram;
Come on! Who else are you going to follow?
IDK, what should I put here?
I'm not a complete fool; some parts are missing;
Join me! And together we'll rule the Galaxy as father and son;
Eat, pray, eat;
Hey, are you rereading my Bio?
I was born to flex, but still no diamonds on my neck, why?
LoSer, not LoVer;
If 'You are what you eat.' Guess I ate a sexy beast this morning;
I'm sorry for everything I post when I'm hungry;
Follow me, and you'll see the world-beating stargazing blog;
I'd rather steal your cheesecake than your boyfriend;
I adore my followers! Guys, you are crazy;
Too glam to give a damn;
Screw perfect;
My superpower: making a powder of money;
Successfully take my life in both hands and eat it;
Living my life like a long lost weekend. Join me!
Ready to blow your mind like Dua Lipa;
❤️&✌️;
Greedy eater, aquarian;
Thrillseeker and mamma's darling;
Imaginative cursed child part 1;
I never make mistakes, I simply date them.

Well, if copying is not appropriate for you, get some inspiration from the catchy celebs' bios. Grab an idea and adjust to your persona!
QUOTES PART #2: FUNNY INSTA BIOS FROM CELEBRITIES
What makes Instagram bios funny and eye-catching? We guess it's your authenticity and creativity. Leave the copy and paste for bad times! Reflect on your personality. What do you like? And what do people like about you? Maybe you have a good joke in your arsenal or unique quotation? Look at the celebrities' bio examples – they seem no-brainer but easy to remember.
3 funny Instagram bios ideas you should pin:

Tyra being a TOP model, and a public person doesn't hesitate to show off her passion for ribs. Bios contrasting to your image is an excellent way to reveal your sense of humor and self-mockery.

Salma Hayek is strong enough to admit Instagram win over her. Try to recognize your mistakes on the public to gain followers – people love sincerity!

Who the hell is Diplo? Instagram model? No, and people found this bio one of the TOP funny bios for Instagram. The truth is that Diplo is an award-winning producer making electronic music and a DJ. Be sarcastic to make people smile at you.

Guys, the designed in the right way Bio is an essential part of your successful promotion on IG. To double the effect of your efforts use Inflact. It's a point-and-shoot tool which will uplevel your promo strategy. With it, you will attract more followers to your profile and will boost the loyalty of your old faithful followers!

Thanks to its AI technology, it can provide secure and performative promotion without risks of IG blocks. Do not hesitate, click the link, explore the possibility!
There we have it! Flex your creative muscles with me, make your Bio supercool, stay lucky!
I want to highlight how important to draw attention to detail - from creating witty bios to using 2022 trending tools.
There is the formula of your success on Instagram:
Hilarious Instagram bios + smart Instagram tool = instant Instagram promotion.
Why is Inflact so useful and super-cool? Let's delve into Inflact's essence!
Direct Messaging feature. Reboot your grooming routine with the Inflact Direct Messenger. The spectrum of its possibilities spans every niche, from mass welcome mailout, will be created for your first-timers, to auto-replies, will be composed for visitors.
Scheduled Posting Feature. Scheduling Instagram posts is really an effective way to keep your engagement, visibility high on your brand, and get rid of chaos on your Instagram!
Hashtag Generator. What's your daily Instagram promotion routine? Inflact Hashtag Generator is enriched with AL-algorithm, which helps you awaken your Instagram and gain first-timers.
As a pleasant bonus, the Inflact downloader. What is your perfect manner to save Instagram Stories? Our is Instagram photo/video/profile/Stories/IGTV Downloader. Try it! A huge dose of inspiration is guaranteed.
I hope, you no longer enter in the search bar "What makes me unique in 150 characters examples" or "How to promote your account on Instagram." I try providing you a full-fledged answer on the subject of creating funny Instagram and becoming freaking popular. Let's review some more quotes that are on the cusp in this year!
QUOTES PART #3: FUNNY BIOS IN 2022 TO COPY
Stop looking for quotations for a BIO section! I help you to highlight among Insta users. No, I won't give you advice on a perfect IG bio topic. It must be concise. It must have a call-to-action. It must be inspiring. Blah, Blah, Blah... Nope. No affected gravity. Yep. Silly and funny quotes, if you desire.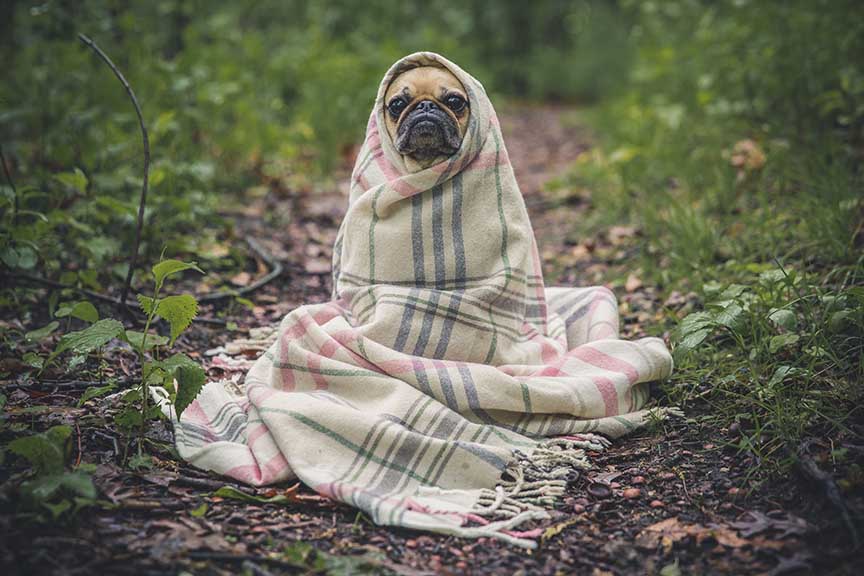 IG is a place where the fun comes true. Visit the account of such serious cosmetics brands like Lush or The Body Shop. Their missions are awe-inspiring. They are actively fighting against animal testing and for women's rights. It is more than a serious topic, but how do they run their accounts? Bright and funny photos, sealed with love captions (and products), and warm communication with their followers. Take a lesson from these two gigantic companies and make your Insta-future brighter.
So, I've prepared a selection of funny Instagram bios and best Instagram bios for guys.

On your marks, get, set, go!Psst, check out our amazing article with a set of Instagram Bio ideas in which you can find interesting quotations for the visual platform or another social network. But if you aim to find FUNNY Instagram bios, keep scrolling.
FUNNY INSTAGRAM BIOS IDEAS
Do you want to find high-quality examples of inspiring Instagram bios? Advice number #1. Head over to accounts that inspire you and understand what captures your attention - an interesting combination of words, general message, or visual perception (for instance, when the user decides to use emojis or non-standard font). Until you deduce a formula of perfect Instagram bio, I give you some funny Instagram bios you can put on the image-sharing application.

Don't let your friends drink alone.
I don't want feelings. I want new clothes.
Born to f*ck.
If you don't drink, how will your friends know you love them at 2 AM?
We drink to drink; we f*ck to f*ck, we drink to f*ck, so let's f*cking drink.
I love doing nothing.
I like pizza. You like pizza. I am bad at poems. Kiss me.
Go f"ck yourself. (Hmmm, is it too rude, it isn't? It's up to you to decide).
I spend more time on Insta than with my family.
Save the Earth. It's the only planet with chocolate.
I hate worrying about the future cause' all my problems are based around the past.
How to be a bad bitch.
Give a coffee to change the things I can and wine to accept those that I cannot.
Best friends don't judge each other; they judge other people together.
I am not the same person I was 18 minutes ago.
Yeah, boys are okay, but a million dollars is a way better.
I seek for the individuals who never go crazy.
I like the 3 AM versions of human beings. Vulnerable. Honest. Real.
Men don't deserve me.
Beauty secret? Thanks to mom and dad for the amazing DNA.
I'm too sober for this shit.
Fuck your bad vibes, Bro.
No feelings. Don't try: falling, In love, Ever Again.
I'm the best waste of time.
Which Friday mood are you: I want to sleep, I want to drunk, I want to cry.Don't forget to use emojis! They highlight your attitude to yourself.
QUOTES PART #4: BEST INSTAGRAM BIO FOR GUYS

Needless to say that IG plays a vital role in growing your traffic to the next level. If you want to know more about how to ramp up your promotion on this visual platform, head over to the article - "How To Become A Public Figure On Instagram!". With the help of a full-fledged Instagram promotion guide, you could reach your first-timers, take the first step with your potential partners, and reboot your grooming routine in general.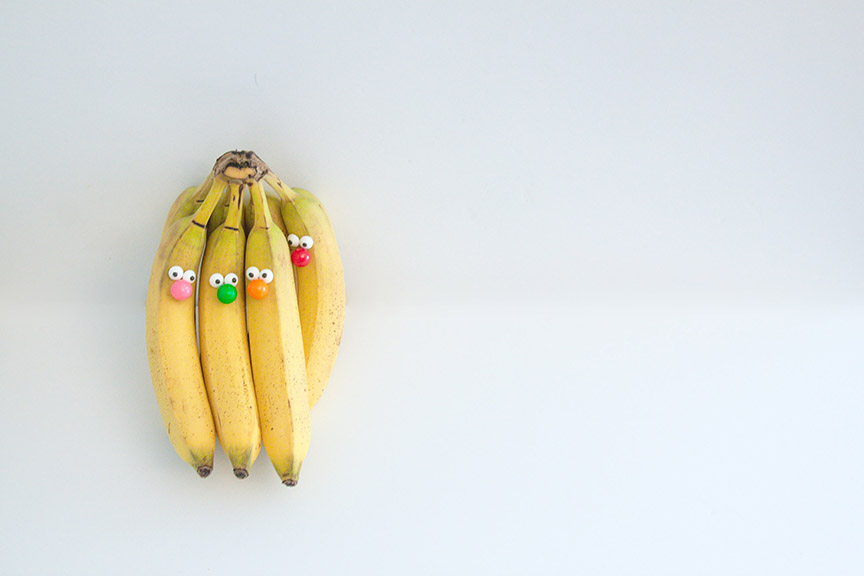 Boys, this selection is dedicated to you! Attention! Humor may turn into rudeness and extreme sarcasm. Use our funny bios for IG and capture your first-timers' attention!
Now without wasting any time, let's get started - best Instagram bios for guys.
Travel farther. Fail smarter. Never give up.
Do you know how hard it is to be ugly? I take ten selfies and delete 12.
I once edited a Wikipedia page to win an argument I was wrong about.
I f*cked up already, 2022 is my year for sure.
The divorce rate among my socks is astonishing.
Bigger her forehead, bigger her heart.
People who use ":) ;) :( :/" are people you can trust. Legend behavior.
Jan 2019 me and Dec 2019 me are two VERY different people.
I've met so many people who are academically smart but not life smart.
You never realize how drunk you are until you use the bathroom.
I don't get when people say, "I forget my glasses" how do you forget you can't see.
Due to financial reasons, I will be passing away.
Just grateful, my parents taught me to eat with my mouth closed.
I've met so many people who are academically smart but not life smart.
I love it when someone's laugh is funnier than the joke.
What my parents expected of me: 👮🏼‍♀️👨🏻‍💻🤵🏻 What I am today: 🤡
No normal person sits down in their room and starts watching horror movies alone. Are you satan?
Have you ever said yes to a last-minute plan, and it turned out to be the best time of your life?
'What do your tattoos mean?' They mean I'm fucking cool ok 💀
My favorite line when I'm drunk is, "I'm not even that drunk" whole time I can't even see.
Instagram should let you see who saves your pictures because wtf.
Have you ever met the human version of a headache?
The year is 1997. I don't exist yet. Life is good.
You know you had a good ass time when you got not one picture
I'm 100% that person who laughs for a solid 5 minutes before I can even get the joke out.
IG QUOTATIONS FOR GUYS UPD IN 2022
New Year – new bio. Explore some of the freshest quotations!
2022 is a good year if for no other reason than just because I'm tired of complaining.
Please, please handle that ass with care.
I was part of someone else's happiness.
And I can only offer you to share the rain with me.
Love is color; man is color, woman is color, child is color, love is pain, life is color, death is...
I think there's too much burden placed on the orgasm. You know, to make up for empty areas in life.
For me, color is ecstasy.
You know how you're always trying to get things to come out perfect in art because it's difficult in life.
Same old shit, different day.
I've met so many people who are academically smart but not life smart.
I see it's easier to become friends with a complete stranger.
So much of philosophy is just verbal masturbation.
The best films are like dreams you're never sure you've really had.
I'm the greatest star of them all.
All I have in life is my imagination.
Is it better to speak or to die?
I'm a really person of the coffee-and-cigarettes generation.
Poetry in translation is like... taking a shower with a raincoat on.
I drink a lot of coffee before I go to sleep. So I can dream faster.
- Do you love me? - Love is too weak a word for the way I feel.
Cigarettes and coffee, man. That's a combination. I can have one. Because I've quite.
I don't know how much longer I can keep this smile frozen on my face.
The dead don't die.
Only lovers left alive.
You have to have a little faith in people.
QUOTES PART #5: FUNNY BIO QUOTES FOR GIRLS
According to statistics, women is sixty-eight percent of all IG auditory. Thereby I decide to begin from a cool and witty quotations for girls. There is a really super-cool selection without too sentimental Bio statuses.
Remember your dreams. Follow the Path of Birds.
Wake up, woman! You are not a princess; you are a dragon!
Cinema Friday's big night out while pictures of life keep running, running...
Someone is riding the old bike along the sea edge through at twilight.
Keep palm and carry on.
Beach hair, don't care!
You're still searching for me in every woman.
I taste like honey.
I was born to make history.
There is a battle between what we know and what we feel.
I'm too lazy for relationships.
A violent poison, that's what love is.
I'm not a concept. I'm an enigma.
Everything is fine; nobody is happy...
And some how I found myself right back where I had started.
I like things that look like mistakes.
Life is for doing things you remember on your deathbed.
I have nothing to wear. Great!
My heart says one thing. My head says another. Very hard to get your heart and heard together in life.
Save me from my mind.
And she never heard from him again.
I want a relationship/ *Masturbates* I don't want a relationship.
- Do you pray before bedtime? - No, I masturbate. - I'm sorry for bio statuses a la W. Allen's cinema.
Don't forget that what you see isn't all there is.
I'm in the middle of nowhere.

SARCASTIC INSTAGRAM BIOS: REASONS TO USE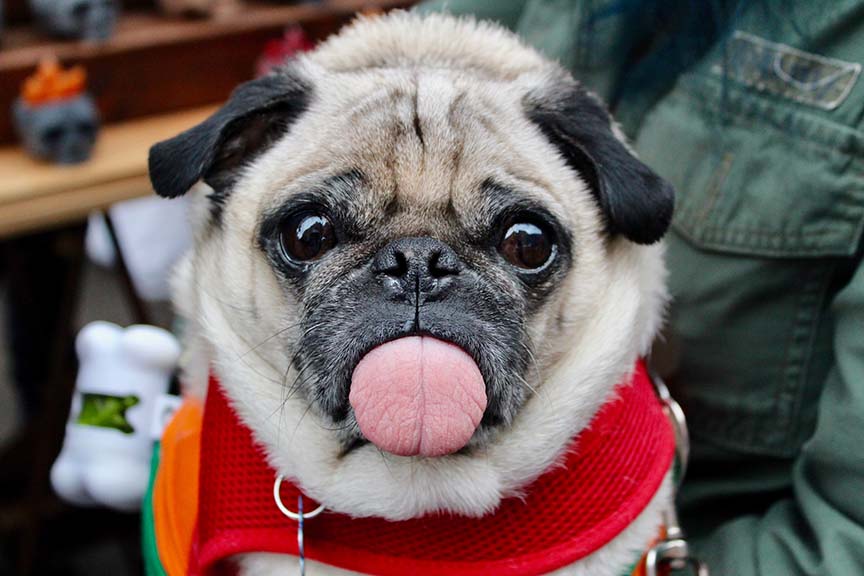 Some Instagrammers decide to act sarcastically for several simple reasons. In today's social media community, funny and sarcastic personalities always win. In essence, they gain the attention of the broad audience because good humor is something you are never getting bored in your feed. Some choose to be sarcastic to protect their gentle souls by a weapon of sarcasm. This emotional mechanism covers your deepest sentiments. Let's explore 3 reasons you should consider sarcastic Instagram bios for your account. Further, we provide a full list of inspiring Instagram bios powered with humor and sarcasm.
1. Sarcastic Instagrammers see through people
According to the recent study of Jewish professors and psychologists, those people who are sarcastic see through others. Individuals who use a lot of sarcasm are great mind-readers and empaths, which makes them exceptional friends and life coaches.
If you aim to influence people to trough social media and help them with difficult tasks on IG, apply one of the sarcastic quotes. I'm pretty sure you have stocked up with a bunch of self-made quotes and citations. Use this psychological insight in the profile description.
2. Sarcastic bio = best illustration of your intellect
Recent scientific research proved that the human brain needs to work harder to grasp a sarcastic saying. This statement actually demonstrates that sarcastic Instagrammers use their minds a bit more intensively than dull personalities. So a one-line quip in someone's bio is not an indicator that a person is a jerk. He or she is a smart and witty creator! Let your description breathe with fresh crack and make Instagram bio funny.
3. Sarcastic Instagrammers are better in solving problems
The logic is super clear – in order to be sarcastic, you need to be creative. Creativity is a well-rewarded skill in 2022; it's even a survival skill for SMM-managers, marketers, and digital specialists. So that adding sarcastic bio is not only for influencers and public personas, businesses are free to use this tool also! By the way, a good joke in the bio is an excellent way to streamline the audience to your website link and make this life a little bit brighter.
Let's cut the edge and pass to the most exciting part of the topic – real examples of sarcastic bios. Pin this list! Even if copy-paste is not your cup of tea, looking through the quotes will help you to cheer up!
QUOTES PART #6 – SARCASTIC INSTAGRAM BIOS
The spade is a groundbreaking device.
BTW, I can pay you only with the smile you gave me.
They told me I'd never succeed because I procrastinate. I replied, "Just wait!"
What is a hipster's exact weight? One Instagram page.
What is LOL for one is WTF for another.
I'm not a flop. My victory is delayed until the other day.
Finally, I'm here. You have the other two wishes left.
Affection is blind, but wedlock is an eye-opener.
Living happens — wine aids.
Placing the "hot" in "psychotic."
The suitcases under my eyelids are Vuitton.
A caffeine-addict species.
Staying ghastly is the bottom of genius.
Hey all! This IG account is using me.
I was at a burial, and the dowager wondered if I would speak a word. I replied, "plethora." She answered, "Dear, that means a lot."
Why is this blonde gazing at the juice box? It says concentrate!
If having midnight meals is taboo, why is a light in the fridge embedded?
The wheel is spinning the hamster is, however, lifeless.
Why not all couples attend the gym? Not all relationships work out.
Sarcasm is a method to abuse idiots, bypassing them recognizing it.
If every human our planet linked hands across the Equator, some would sink.
What does the sea say to the beach? It waved.
I said I'd broken my leg in many places. The doctor said to avoid those places in the future.
I'd put a chemistry gag here. But I wouldn't make a reaction.
This list is endless. But probably you are missing some real examples of funny things for Instagram and their work in action? Let's explore several brilliant accounts updated bio section in 2022 and nailed it!
#1 – Sebastian Gorka

Sebastian is opening the TOP-sarcasm Instagrammers list. Look how this guy doesn't miss an opportunity to promote himself spiced up with a couple of sarcastic words.
#2 – Courteney Cox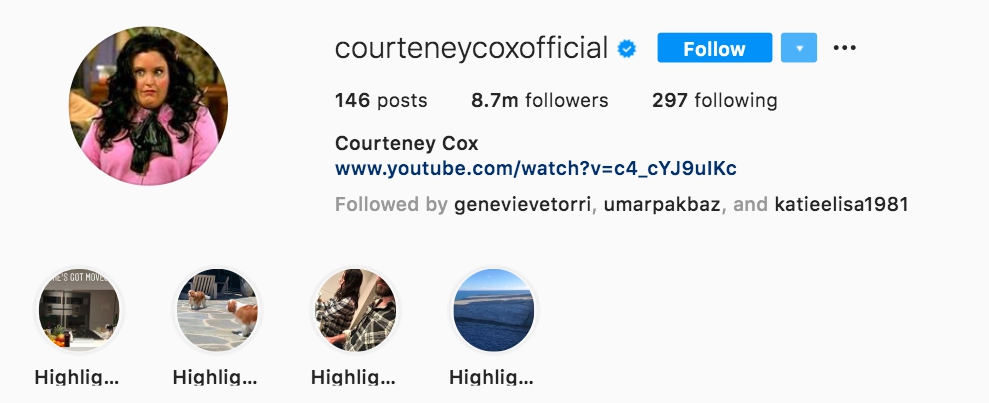 By the way, you don't need to be wordy to highlight a sarcastic mood. Look how brilliant the Friends TV show's headliner is! Courteney made her millions-worth followers base laugh by uploading the chubbier version of herself. Don't hesitate to make your fears public and laugh at them on IG – a way funnier than a perfectly arranged grid.
#3 – Matthew Perry

Matthew is keeping up with Courteney Cox, his colleague in the humor department. Is it really his Instagram account? Yes, pal! It's 2022, and even my step granny and Yorkshire terrier have one.

#4 – Emilia Clarke

The one and only Mom of Dragons is also a Mom of Sarcasm. This bombshell's motto is to laugh until you succeed. Well, if the clue to world fame is humor so that Instagram's popularity is obviously achievable with a sarcastic bio!
But, Emily, please, remove this unclickable link from your bio description if it is not a part of your sarcasm, of course.
#5 – Camila Cabello

Being sarcastic to yourself is a widely-used tip for writing a good bio. Camilla is stating she is professional emo, which is funny and reveals her character at the same time. Adopt this idea to your sarcastic bio creation. What can you do? Think over your brightest drawbacks, week spots, and things you just find weird about yourself. Make them funny by stating you are a professional in it! Simple as ABC yet very strong for a bio for Instagram.
The final thought

Well, if you are reading this passage, you are likely to manage this War-and-peace-like guidance on creating a bio. Now let's sum up the crucial bullet points you need to bear in mind:
bio details are – a catchy profile image, short description, link to your resources;
plan your bio with emojis and spaces to let it breathe;
monitor and analyze great IG profiles – use some quotes, celebrities thoughts and bio ideas;
you can copy-paste any cite that correlates to you – don't feel bad;
funny things for Instagram highlight your brilliant intellect and make them follow.
Check this article for the future updates to stay informed on the main bio trends in the Instagram community!
Bio trick 2022: how to make your funny bio searchable for a reach boost
Having a funny bio is cool and Instagrammers definitely value a good sense of humor. Nevertheless, just being witty won't help you in attracting new viewers for a business account. It's better and more effective to combine a funny bio with SEO principles for running Instagram.
Believe it or not, many people start searching on Instagram when they want to find services they need – just like on Google. For example, if I need a fitness coach, I'd type the inquiry "fitness coach" on IG – the first accounts the system will show to me will contain these specific keywords. So, it's your task to help potential clients discover you via these magical phrases.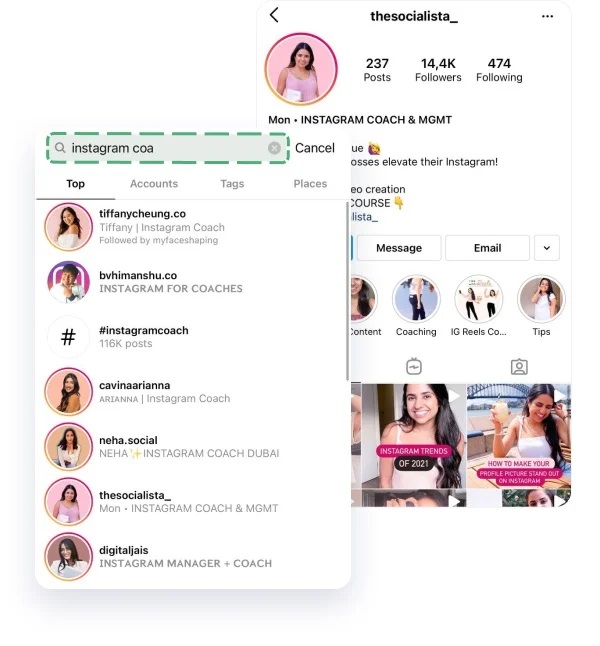 In this section, I'll show a special SEO trick that will help you get discovered from the built-in Instagram search. The secret tool for your bio is keywords.
Collect bios from competitors' accounts
If you sell services or goods on IG, you are likely to know many similar accounts. Instagram analyzes words in bios to show recommendations for users interested in certain topics.
Use the User Search tool to find competitors in your niche. Right in this tool, you will be able to see the bio. Now you just have to copy 10–15 descriptions you think are close to your topic.
Paste their descriptions into any word cloud service
In this step, you need to create a well-balanced mix from many words you've copied. Instead of analyzing them on your own, you can apply special tools that will show the frequency of every word.
What words are more frequently used in the bios and names of your competitors? Copy several of them for the next stage.
Use the keywords in the name section and bio description
Now we'll update your name and bio for SEO. Paste words and phrases you researched from the rivals into your name section. Many users put their real name there, but this can be less practical. You can combine a real name + keywords from your research.
Change and update bio after you measure the performance
Never stop experimenting with your bio. The issue is that Instagram tendencies change often, so do the words users may enter to find your account on Insta. For this reason, I suggest analyzing competitors and updating bio and name keywords at least twice a month.
Monitor how the number of accounts reached changes after you update your bio with different keywords.
You can dive into more ideas for your bio in this article Can an Instagram bio stimulate sales? Little-known hacks to attract clients via 150 symbols.