Let's clarify the whole truth. Never get into an awkward situation when you take screenshots on Instagram.

Instagram sends notifications whenever you take screenshots of other accounts in the app.
Such rumor exists! However, due to the fact that the application is constantly updated, you may not fully understand how screenshot notifications work. Therefore, we have prepared for you a kind of real explorer guide.
Now you will understand exactly in which cases you can fearlessly take screenshots and in which it is better to use viewers, stories viewers, and downloaders that let you access Instagram content without logging in or, so to say, anonymously.
The answer is — Instagram in some cases really does notify users about taking a screen photo. Users now produce billions of content pieces in this application, and everyone wants to reuse them in their accounts and across other networks, and on websites. We will also reveal the tools that will help you anonymously view and download content from all social networks. It means that you will not need to have an account or login in if you prefer to stay outside the platform when viewing or downloading. An important thing to know is that all these services only work with public accounts.
Do people get notified when you screenshot on Instagram?
Post & Stories
We'll start with the good news. Despite the fact that Instagram respects privacy laws and protects content creators, it does not notify users when others take screenshots of posts, including feed posts, Reels, and also stories. That is, users can take screenshots of the content and no one will ever know about it.
However, this way of saving content is not always suitable, because when you take a screenshot, the quality of the picture is noticeably reduced. That is, a social network, even if you choose the maximum settings for quality, will degrade the quality of the visual when you reupload the screenshot. Therefore, professional content managers use downloaders if they need to re-post this content on other platforms.
DM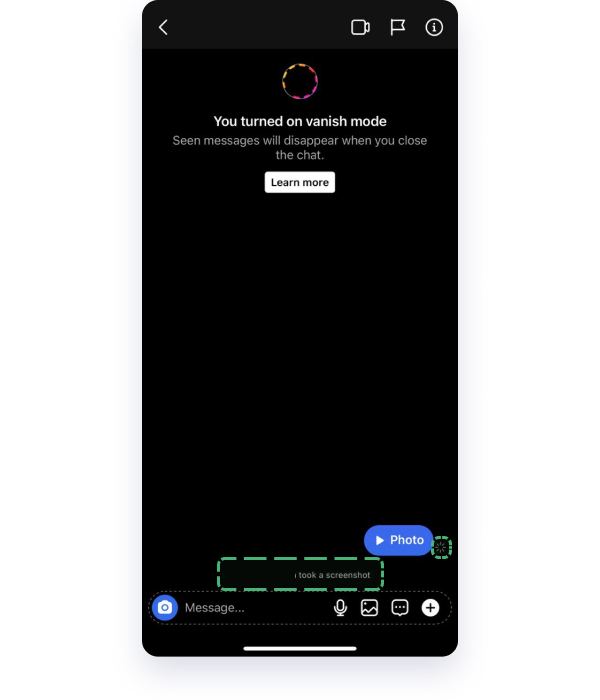 In certain cases, chatrooms on Instagram notify about screenshots. That's the only place in 2023 where Instagram uses notifications to let users know you've taken a screenshot. And further, in the section below, we will look at specific examples of when Instagram sends notifications when you take screenshots of Direct chat.
Let's start with a life hack! If you want to take a screenshot of a Direct message and definitely never be seen in notifications, then you'd better use the online Direct Messenger. It can be either the default desktop Messenger for Instagram or the advanced Inflact Direct module — an advanced online message automation tool with a CRM feature for business. If you use Instagram to attract clients and your business depends on constant orders in personal messages, we advise you to try this service. You can also read our pro guide on how to grow conversions through CRM in Direct. We have also developed templates for all occasions.
3 alternative tools instead of screenshotting Insta posts
You might want to take a screenshot or make a record in the app if you need to reuse a visual. Either you want to save the visual offline so that it is in your phone's gallery or to share it with your friends.
However, as we mentioned in the screenshot, the quality of the image will depend on the resolution of your screen. And even the highest resolution will not retain the original image quality, much less video. Therefore, to effectively save content, I advise you to use a professional downloader.
#1 Try Inflact downloader
For example, you can try the Inflact photo and video downloader. This downloader is designed for a one-time download of content that is posted on public profiles. You can download any image or video that is posted by any person that has not protected it with privacy settings. At the same time, the downloader will save the content for you in its original quality. That is, you can get an image that you can then publish on your account or on other social networks.
#2 Download whole profile content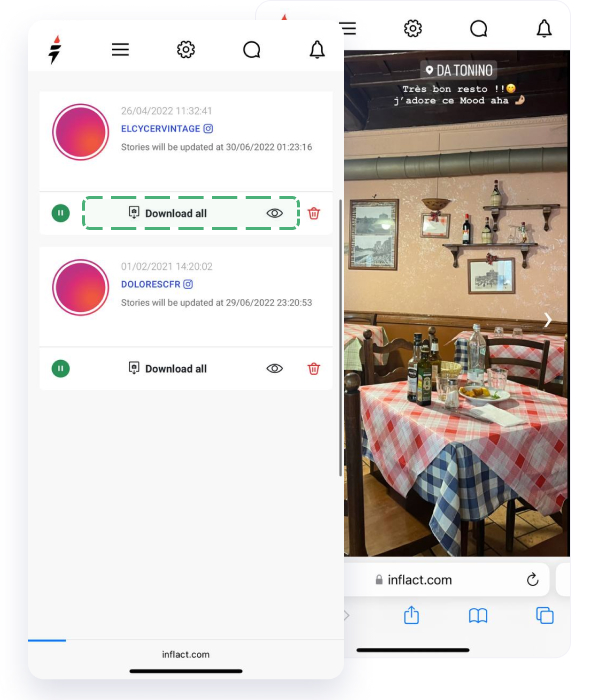 If you don't want to download pictures one by one and you like absolutely all the images, highlights, stories, and videos in an account, you can download them all at once. To do this, you need to subscribe to our Premium profile downloader which will save absolutely all the visuals that were published on a profile.
This convenient toolkit will allow you to get the archive on your device, it can be either a mobile device or a computer. After unzipping, you can use these publications in your content.
However, if you share posts created by users, you must link to their accounts or tag them.
#3 Anonymous story viewers & downloaders
— for those who prefer to view and download without registering or logging in
A story viewer allows you to download and view stories without creating an account or logging in. Therefore, if previously you took screenshots of stories that you like, now you can download these media files.
At the same time, advanced Inflact Stories Saver allows you to bypass time limits on viewing stories. According to the rules of Instagram, you can only see stories in the user's profile that were published within 24 hours. However, if you subscribe to Stories Saver, it will show you stories that were uploaded for several days.
It will collect and parse all media files that users share in stories. And you can view everything at once! There is also a function to download stories in one archive. This universal assistant collects content for those who simply don't want to go into the application every day to watch user updates.
Does Instagram notify users when you screenshot DMs?
We conducted a special investigation. In 2023 Instagram notifies users about screenshots in Direct messages.
If you text message via the standard DMs mode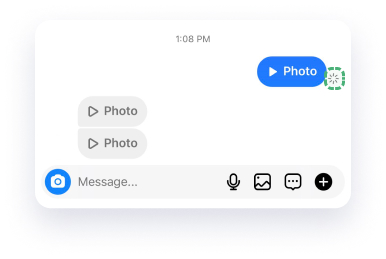 In this case, there are two options. Users can text you or send photo messages, as well as disappearing photos. Disappearing photos are like Snapchat content. And in this case, if you open a disappearing photo and take a screenshot, people see notifications.
The Sun icon will appear in your chat that will signal the user that a screenshot of a disappearing image has been taken. Therefore, be careful taking screenshots with this application if you do not want another user to know about it.
If you use Vanish Mode in your DM chat
In Vanish Mode, almost all screenshot actions are detected. In this situation, you need to be as careful as possible with screenshots. Because even if you screenshot a chat window in this mode, it'll display notifications in the chat. You won't be able to take a screenshot of the correspondence without a trace!
These actions will be accompanied by icons and notifications right in the chat.
How does Instagram notify users of DM screenshots?
At the moment, the most striking example of how Instagram notifies DM screenshots is a special icon. This is an icon designed in the form of the Sun.
And it appears next to the visual where another user took a screenshot. Of course, your interlocutor may not be aware of what this icon means, but if you arouse their curiosity, then most likely your screenshot will not go unnoticed.
Does Instagram send notifications for user profile screenshots?
When you open a profile and want to take a screenshot of the main screen, there will be no notification. You can take screenshots freely to use these visuals as you want.
Save your posts from being screenshotted on Instagram
The most reliable way to make your contact available only to a narrow circle of followers is to carefully monitor who follows you. Accept requests only from those whom you know personally or who you would allow taking a screenshot of your visuals. Otherwise, any stranger can open your profile and take screenshots or download your content.
Tip to bypass notifications — screenshot like a gangsta
If you urgently want to take a screenshot of private disappearing messages or disappearing photos, I have a solution.
Turn on the Airplane Mode
This mode completely disables Internet access, including Wi-Fi and 3G. In this case, all your actions will be unseen and will not be displayed on the application server.
Many users even activate this mode to browse stories. For example, you can open the application and stories will immediately be loaded into the application's memory. However, if you then turn on airplane mode and open the story, your view will not be visible in the list of viewers.
You can achieve the same effect if you view stories through an anonymous story viewer — a viewer that lets a user see content even if he or she doesn't want to enter the account or create one.
Use web chat for screenshots
If you open the DM chat via Desktop or browser, then the screenshot detection policy will not work. Also, you can take screenshots from your computer without fear for your reputation if you use the Inflact Direct module. Here you can take screenshots of correspondence invisiblyanytime!