Instagram is a huge database of content in which you can mine photos and make them unique for SEO or just to reuse across other socials. In this article, you will learn how to download Instagram photos and Instagram videos from any public account, even if they contain a watermark, which you can easily remove.

What's more, you will understand how to download videos published as Live sessions, Reels, and other types of video content and how they can be reworked for other social networks and converted into text. This way you will get a huge amount of unique content available for use on a website, for design, for some creatives, or simply to repost this content on your Instagram account.
The benefits of integrating content reuse into your strategy:
You get access to more diverse, unique, and lively content than you can download from stocks.
You can get unique photos that will boost your website SEO (you'll learn the tool for it below).
You will be able to convert one content form into another, for example, transform a Q&A session into a blog post for a website.
You will not need to shoot or organize photoshoots from scratch.
How to download a photo with a watermark and remove it
1. Research the right content on Instagram
To download photos that you can later use for a webpage, designs, presentations, social media, or sales materials for clients, you need to follow certain accounts or conduct the right kind of content search.
This way, you will find a suitable photo or video for download much faster. For example, if you manage online media about design, you need to research and follow several designers and influencers in this field on IG.
User Search for Instagram can help you to do this since it's a database of accounts sorted by categories and the number of followers, and there you can also search accounts by keywords and even phone numbers.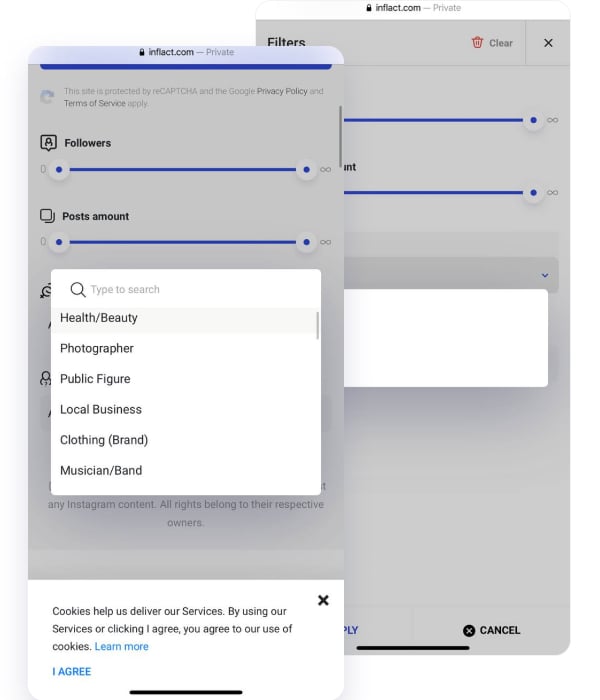 This tool will help you discover suitable accounts from which you can scrape content, and you will not need to spend a lot of time researching on Instagram. With all accounts at your fingertips, you can create a thematic list by selecting, for example, 10-20 profiles in your niche. Afterwards, you need to regularly monitor these accounts on the desktop every time you need a fresh batch of media files.
As a result, you will have a huge amount of photos and videos that are relevant to your audience and can be saved with the help of special web tools called downloaders.
2. Open the Downloader for Instagram photos
The next stage is actually downloading.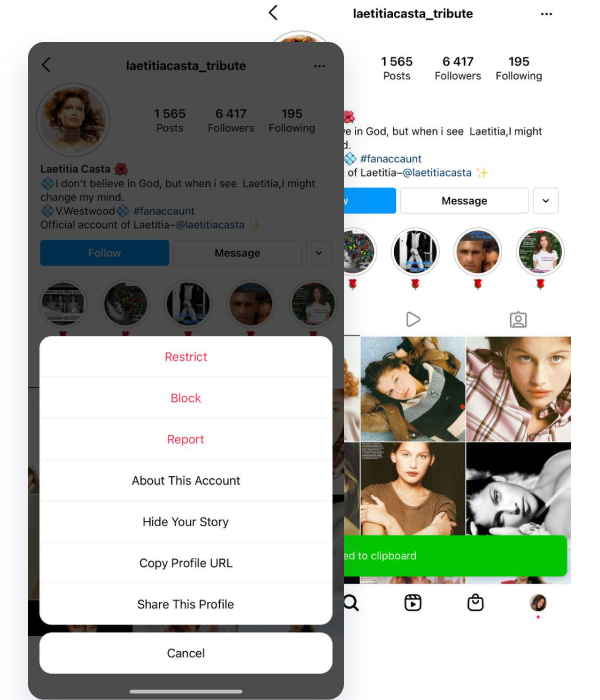 The service will help you to extract any Instagram photo in its original quality. If you take a screenshot from your phone or computer, the image quality deteriorates noticeably, but if you download it using the Instagram Photo Downloader, you get a picture in the format that it was originally uploaded to the Instagram server.
Download Instagram photos this way:
Copy a URL to the profile or post that interests you.
Go to the Downloader service to paste the link you copied before. This tool is located on the web; that is, you don't need to download and install any additional apps. Also, you will not need to register or insert your data from your Instagram account, so the whole download process happens absolutely anonymously in a matter of seconds.
Click on the magic Download button. After that, the service will find the necessary content and show it to you with the Download button. After you download it, you can see this visual Instagram content on your device – it can be either a computer or a phone.
3. Remove any watermarks via special services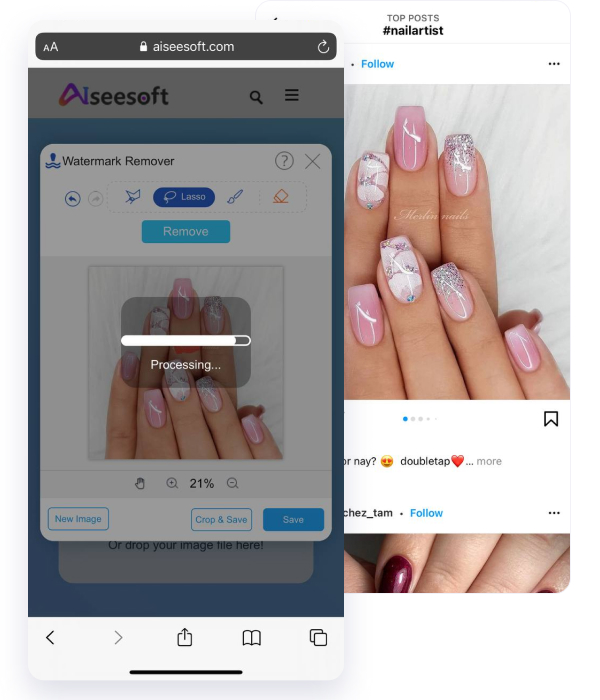 Sometimes Instagrammers try to protect their images via watermarks (which, by the way, ruin the profile's aesthetics). Nevertheless, there's an insider method that lets you get rid of these watermarks without complicated photo-editing tools.
Actually, it's possible to remove them even online. You will need to use a service like Watermark Remover. So after you download a photo, you just upload it to this or a similar service and it will delete the unwanted symbols. This means that you will be able to get a clean picture or a photo for further reuse.
4. Invert the photos with a special service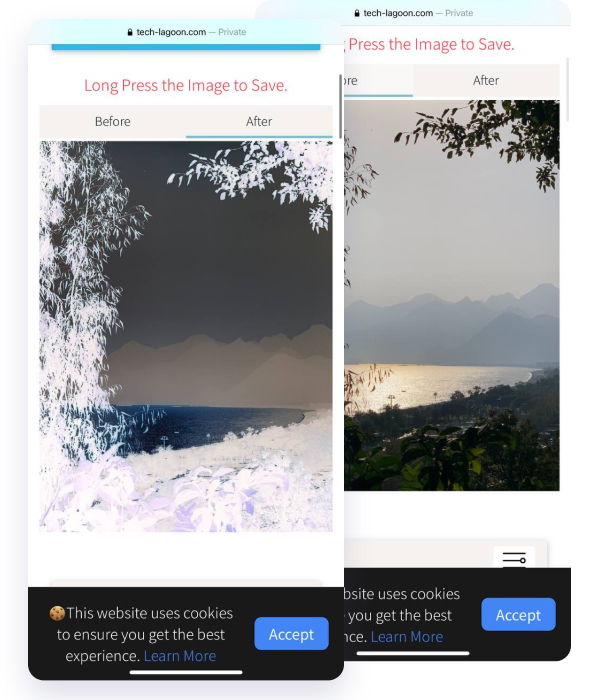 If further, you want to use content from Instagram for a website, then it is important that the picture is unique. To accomplish this, processing can help you. It will change the picture so that the search engine does not recognize it and will perceive it as unique.
You can use services like this to invert the photo.
You can use a trendy glitter effect that will also change the photo and make it unique.
You can cut out separate parts of the photo and get a new unique composition.
In the next section, I will tell you more about life hacks that will help make the downloaded photo unique for SEO.
Download Instagram photos and make them unique for search engines
You can choose a popular image from the internet that has no chance of passing as unique. Then, after several edits, this image won't be recognized by Google anymore. Let's review what techniques are popular for this task, which of them are really helpful, and which you shouldn't waste your time on.
1. Mirroring
Based on experiments, mirroring doesn't help, and search engines will still offer a lot of results with the original of this picture in different sizes.
2. Changing the name, file format, weight, and cropping of the photo
Search engines long ago learned to recognize such edits of the original image. None of the above has had the desired effect – Google is adamant that the search results will not change based on these kinds of manipulation.
3. Changing the metadata of the image
You can check the metadata of the image with this service. Manipulations of metadata also don't prevent the search engine from recognizing the image.
4. Copyright imposition
The image becomes partially unique since Google doesn't find one hundred percent matches. But this trick is unlikely to help you in ranking since all such images still appear in the search results.
5. Rotate + mirroring and cropping
This method works successfully with less popular pictures like those that you can download from Instagram. Simply rotating a photo won't be enough. Although Google doesn't offer the same image in other sizes, the number of search results doesn't change.
6. Rotate + mirroring and cropping + applying color filters
This is the most effective combination that will lead to Google considering the picture unique. We follow the links and find nothing in common with the analyzed image. In addition, in similar images, we see only two results with pictures that are completely different from ours. It can be concluded that the robot could not recognize the objects in the image. Otherwise, we would have received images with the same objects in the "similar images" section.
This picture will be added to the database as unique, and most likely will get into the right cluster thanks to an alternative description, title, and metadata. Such an image will get a chance to rank better than millions of similar ones and the page on which it will be found by the robot will receive a plus in karma for posting unique content.
But don't forget about the reverse side of the coin – using this method for photos of online store products can reduce the relevance of the page to the promoted queries. Nevertheless, if you run a blog, you can download Instagram photos and get a benefit from it.
How to download Instagram videos
In order to download Instagram videos, you can apply a myriad of downloaders that will allow you to save not only feed videos but content posted as Reels, IGTV, and Live sessions.
Download Instagram Reels. This content is trending and millions of new clips are uploaded to the social network every day, and perhaps some of them can improve or diversify your strategy on other social networks.
You can download unique Instagram Stories. It is very convenient that the video material that users publish in the Stories is more niche and more engaging.
Most often this material is seen only by the audience that is subscribed to a certain user. Therefore, if you download any story, you can reuse it on sites or on your accounts on social networks, and you can be sure that most likely only followers of this particular blogger have seen it. Therefore, you will be able to get a lot of reactions and engagement and this content will be useful to your audience.
Therefore, it is important to keep track of and select several accounts to follow to download Stories. These accounts can be reputable experts in your niche. In any case, they should be relevant to your target audience.
There is also a special service that will allow you to view and download Stories that have disappeared from the application. You will not need to track each one separately and spend a lot of time on this in the Instagram app. The bulk stories downloader will store them on the server, and the archive will be available for download.
Thus, you can aggregate unique content that you can share. Amass accounts of those users whose content you think is unique and interesting for a subsequent repost.
Downloader for Instagram Live streams. If users broadcast Lives and then save them to the content on their account, you can download this material.
More often than not, a Live stream is an incredibly useful piece of content for which account owners invite special guests or experts so that this content carries a lot of useful information that is difficult to find in open sources online.
Usually, this is the experience of certain specialists or some kind of life hacks that users cannot easily find on their own. Therefore, you can also track Live events and cut parts of them to reuse them for your account or a website page.
You can also download not only content from Instagram but also from such social platforms as Facebook, Twitter, and Twitch. These online media most likely contain a huge amount of content that will be useful to your audience.
Life-hack: how to download Instagram videos & convert them into text for free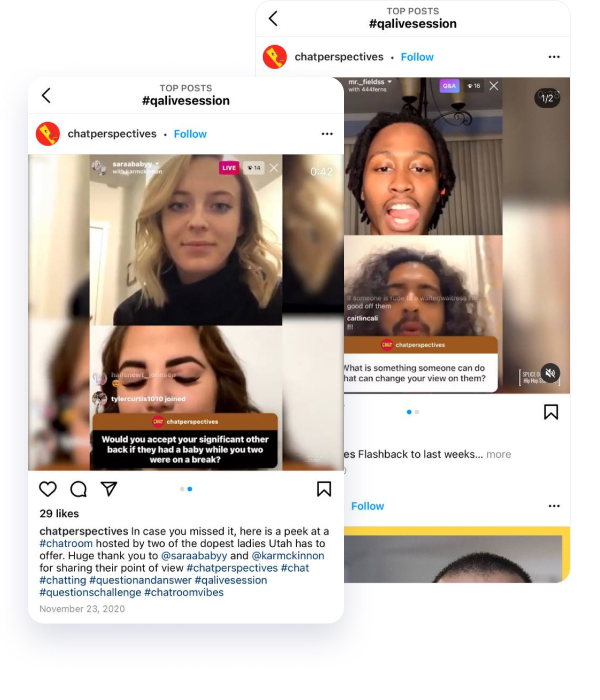 If, for example, you download interviews from Instagram, or a series of Lives, then on the basis of this series you can create an article. This copy can be applicable for social networks posts or a blog. For this, you need to get everything that users say in the text format.
There is a very simple, effective way to do this using a free tool that will allow you to instantly and automatically convert videos into text.
Download the video from Instagram, Facebook, Twitter, or any other online media.
Next, you need to open Google Docs in one tab. And in another tab, you need to open and play the video that you want to convert to text.
And after that, you must select the function Voice Input in the Google Docs section Tools. Simultaneously, click on a video and while a speaker is talking, the text will be typed automatically. You will not need to enter it manually.
Proceed to edit. Divide this text into paragraphs and highlight some important parts. Thus, from one Live or IGTV, you will get content that you can publish on social networks as text posts. You can also write a whole article based on this content and post it in a blog on your site.
All in all, just a toolkit of downloaders will help to diversify your strategy in social networks and will allow you to get unique, top-quality material with no effort, but only by using ingenuity.