According to eMarketer, Stories are the source of one-fourth of all ad revenue that Instagram generates. It's planned that in 2022 such advertising will get boosted to more than $15 million. Since Stories on IG are strategically important in your digital plan, carefully study these trends and Story ideas.

Do you plan to promote your products and services through Stories? Judging by the statistics, it is worth doing. In that case, you need to know the tendencies of Story creation. For example, the optimal number of Stories for business accounts and the best working format for Stories.
In order to clarify these issues, we share a report on Stories performance in 2021. For this study more than 960K Stories posted from business accounts during 2021 were analyzed. Therefore, this data is a fresh summary essential for 2022 strategy that will help your business produce the most engaging content ( if you have not yet figured out your personal ideal plan). Later in this article, we'll look at specific examples and Story ideas that you can post right now.
By the way:
If you have not tried to reuse content in Stories yet, you may still be spending a lot of time shooting and planning Stories.
Inflact Downloader
is here to help you.
This is a tool that allows you to extract videos, Stories, feed posts, and content from Facebook and Twitter to reuse across other social networks. You can adapt these materials to the Stories resolution. This is the easiest and fastest lifehack for publishing content. In order to implement it and enjoy the reuse of content on a regular basis, you need to conduct research on the interests of your target audience.
Even if you sell clothes or household appliances, you don't have to use an image of your products in every post. In fact, for past clients it might be boring – remember, people usually open a social network in order to have fun.
For engaging Stories you need to understand who your followers are – their age, gender, favorite TV shows, music, and other hobbies. Knowing this, you can easily manage Instagram for business creatively. Downloaders are must-have tools that allow you to get content from any public Instagram account in such a quality that you can re-share it in a Story. Thus, creating a Story will take you no more than a couple of minutes.
But for now, let's rather dive into the detailed statistics and trends in Stories.
Stories IG trends for business in 2022
#1 BUSINESS ACCOUNTS INCREASE THE NUMBER OF PUBLISHED STORIES
This trend especially applies to large business accounts with an audience of more than 100K. Over the past year, such accounts have doubled the number of published Stories based on the study.
Now large accounts publish an average of 15-16 Stories daily, while last year this figure was about half of that. This means that the performance trend is clearly visible – Stories are helping large brands interact with the audience at a close level, facilitating direct communication and getting feedback from followers.
Therefore, if you run an Instagram business, keep in mind that in the coming year you will have to increase the number of Stories if you want real engagement on your profile.
By the way, it is vital to respond to subscribers when they comment and send reactions to a Story. Especially if you have a business account with a small number of buyers, such a reaction and encouragement of activity will allow you to establish more friendly relationships.
In the Inflict Direct Module, you can set up automatic responses when people react to your Stories. This incredibly handy tool will help you avoid checking and replying to all the reactions manually, by preparing saved templates instead that will be delivered in 5-10 minutes after each reaction.
What is the optimal number of Stories? Is there a correlation between the number of followers and the optimal Stories number? Yes, as it turns out after the study, there is a correlation. Explore these monthly insights.
5-6 Stories are usually posted on smaller business accounts where the number of followers does not exceed 5K.
7-8 Stories are posted by accounts with an average audience of 5-10K followers. The shift for this group didn't increase critically over the reporting period.
Twice as many – 15-16 Stories – published by accounts with 10-50K subscribers.
About 30 Stories published by brands with a subscriber base of up to 100K.
Over 50 Stories are shared by business accounts with over 100K subscribers every month.
Thus, you see that the larger the account, the more Stories the account owners seek to spread and the more they engage the audience. The outcome of this? A large number of Stories contribute to the followers organic growth.
Hack:
With the help of the
Inflact Profile Analyzer
, you can independently find out how many posts are shared by successful accounts in your particular niche. That is, you can do mini research on your own. To do this, you just need to enter the nickname of some account and the service will show you the necessary statistics for free.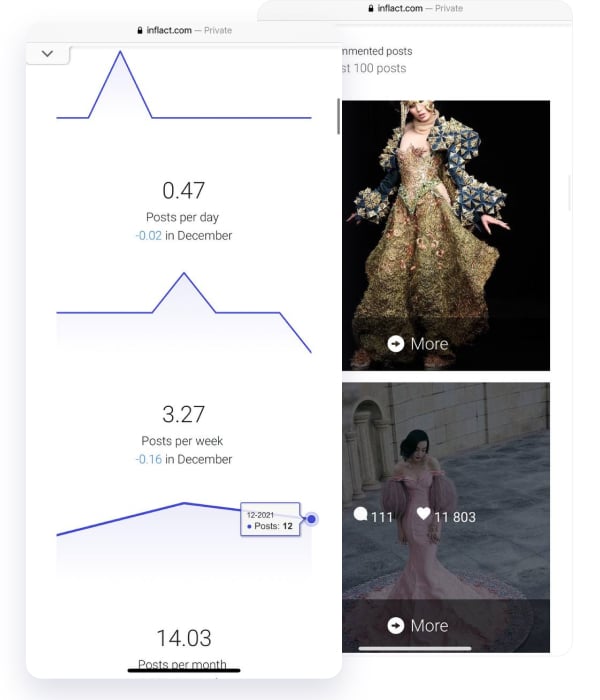 #2 THE ENGAGEMENT DROPS WITH EVERY ADDITIONAL POST PER DAY
Two stories per day retain 80% engagement. While five daily Stories are able to retain engagement by 70% or more of the audience.
It's okay that users may not get through all of the Stories that you published today. If there are too many Stories, then it becomes more and more difficult to keep attention and the retention rate will drop.
Therefore, if you post multiple Stories per day, you should introduce several Stories as a narrative series – in such a way that the user is interested to scroll to the end and find out what will happen in the very last Story.
This user behavior is a good signal for Instagram. As a rule, it will more often show your Stories to these users because of the good behavioral metrics. Remember that for brands, Stories are an opportunity to show behind the scenes, answer questions in real-time, and showcase reporting from the field. It's also important to duplicate what you say in captions, because not everyone is comfortable watching Stories with sound.
The bottom line is that when you increase the number of Stories, you need to think about how to keep the attention and make subscribers scroll to the end.
#3 THE AUDIENCE IS LESS LIKELY TO TAP FORWARD A VIDEO STORY
According to this trend, you should probably devote more attention to video content in Stories. The fact is that when watching a video, users are less likely to click forward or exit. And despite the fact that in 2021 the consumption of video content has become massive, users tap forward on videos almost 1% less than on Stories with images. The difference is not critical, but nevertheless, you should understand that dynamic videos allow you to hold attention longer.
#4 THE DROP-OFF RATE IS HIGHEST FOR THE FIRST THREE STORIES
The drop-off rate is highest for the first clip; then it drops for the second and third. The drop-off rate for the third vid was estimated at around 10.5%, meaning 10.5% of viewers who start watching it will not finish it.
By the fourth video, anyone who is not interested is not going to even open it. So the people who do open a story series are more likely to watch all of it - because they are interested - so the drop-off rate is lower.
#5 DON'T EXCLUDE PUBLICATIONS IN THE FEED FROM YOUR CONTENT PLAN, SINCE POSTS HAVE A HIGHER REACH
According to a study, only about half of your total followers will discover your Stories.
What is more, Stories do not appear in the Explore tab. Now Reels and feed posts dominate this section. Therefore, when cool, attractive Stories are planned, don't forget about the classy posts as well.
Because this is the way you can reach a larger audience, who are even not your followers yet. Also, publications from the feed can be re-posted to Stories, so you will kill two birds at once. Next, we will look at other ideas that will help you post creative and high-quality Stories throughout 2022.
All these ideas are extremely simple to reproduce and you won't always need to create images or clips!
Top 5 Instagram Story Ideas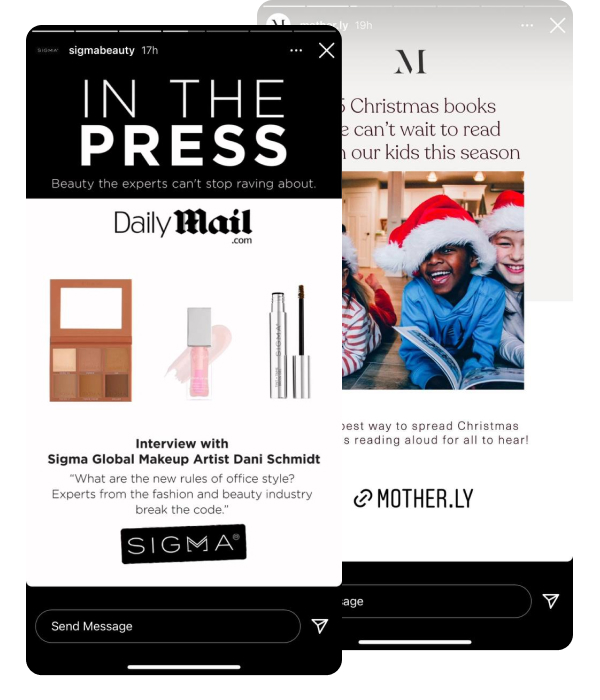 1. POLLS ARE PSYCHOLOGICAL TRIGGERS TO REACT FOR INSTAGRAM FOLLOWERS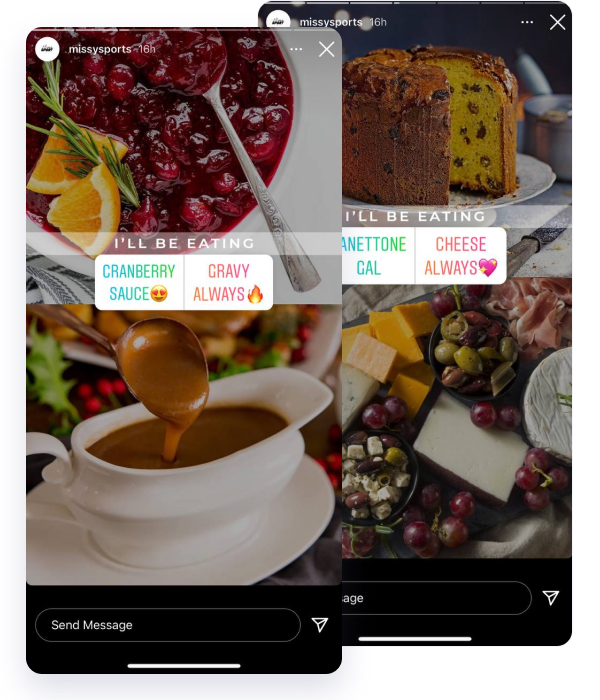 It is still the simplest and most engaging type of content to help the business get as many reactions as possible, thanks to the fact that this method of quizzing does not require heavy mental processing. When people need to choose from two pictures, they psychologically want to simply press one button – so give them the opportunity. As you can see, to create such Stories you won't need to shoot content from scratch – use downloaded photos or videos and make collages for a survey.
2. REPOSTING EVEN IF YOU WEREN'T TAGGED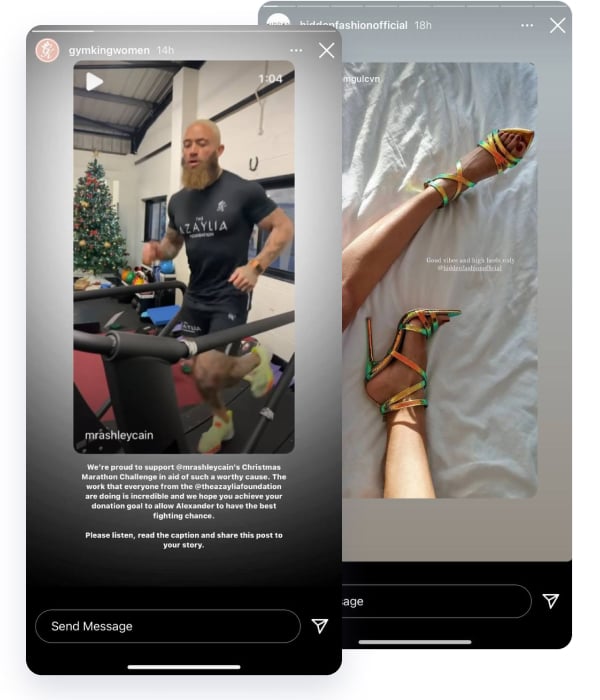 Posting images and clips with your subscribers and customers is incredibly simple and very effective. When a new user visits your Stories and sees that other users tagged you, this incredibly increases the social proof level. So, it's advisable to monitor the accounts of bloggers and your subscribers to make reposts from their feed, Reels, and Stories reactively. Keep in mind, If users haven't tagged you in the Story, you can download it using the Story Downloader and publish it on your account.
3. LINK SALES STORIES TO YOUR WEBSITE PAGES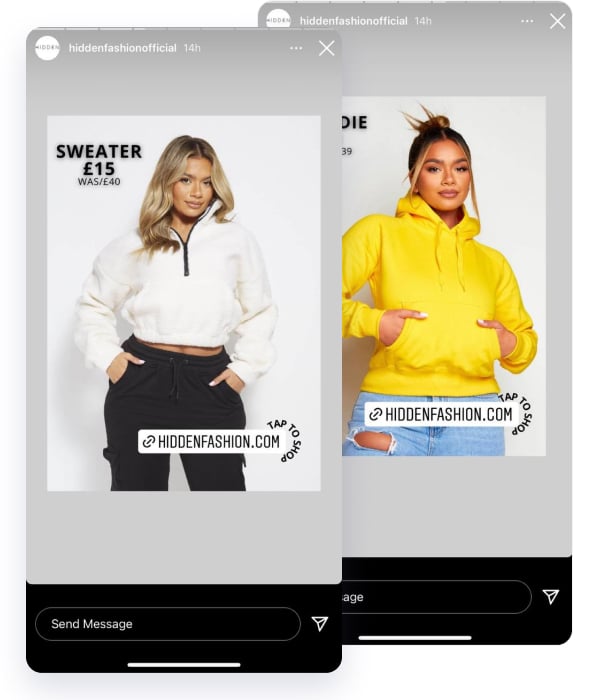 Most shops create sales Stories with links. You will greatly simplify the task of shopping in the application if you publish a Story as in this example. Now attaching a link to Instagram Stories is possible without any limits on the number of followers. Therefore, you can create promo Stories for items that are currently on sale or are bestsellers.
Stories are an important source of sales inside the app – users love to buy directly from there. Such purchases are most often impulsive, so promotional Stories publish items at discounts, limited offers, or goods from a low price segment.
Assign fast replies to common questions for salesy Stories in the Direct Module – the purchase will happen almost automatically without your involvement. You will just need to pack and deliver the product.
4. REPOST FROM REELS AND TIKTOK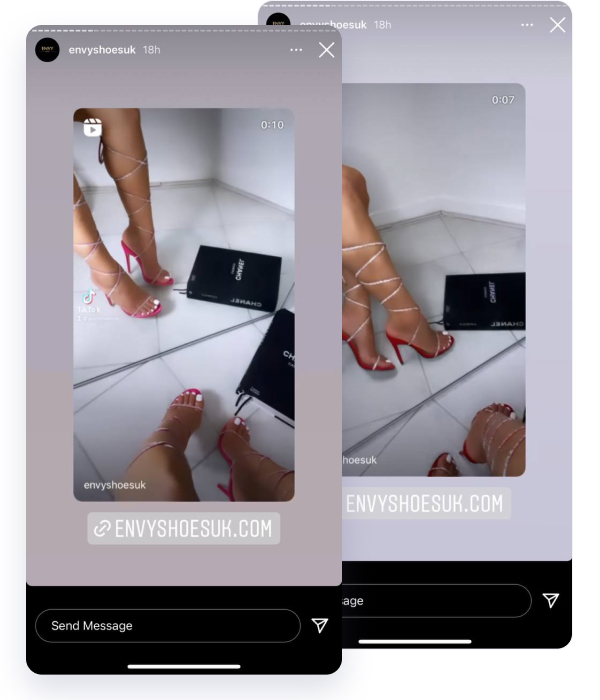 With music Stories, you can grab the attention of followers much faster. To do this, you can be helped by a video downloaded from TikTok. To download TikTok videos in perfect quality and without watermark, use the TikTok Downloader. After that, publish the found videos to Stories. You can also repost from other accounts. To do this, conduct research on potentially interesting feature accounts that post content relevant to your target audience. By the way, you can explore the guide on how to add music to Stories in our blog.
5. USE THE QUESTION STICKER – ASK QUESTIONS YOURSELF IN A BUSINESS PROFILE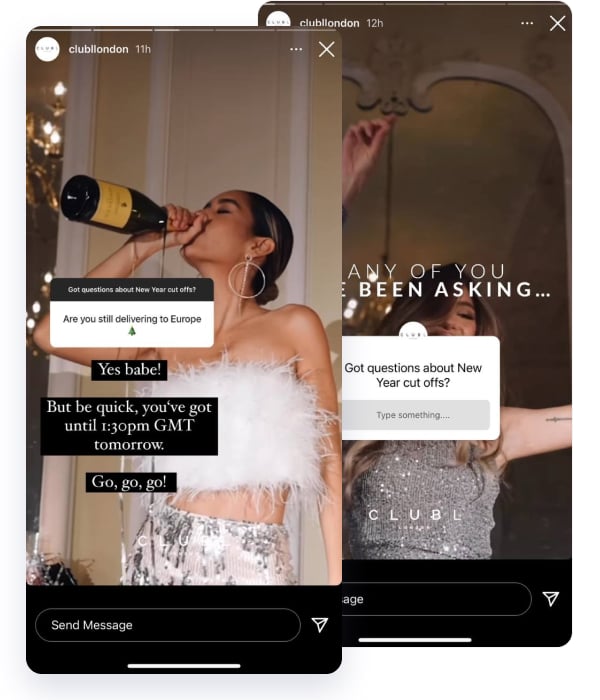 If you publish a poll sticker, then it's not always the case that users will immediately bombard you with questions (especially if your account is new). Therefore, you can ask typical questions that you are asked on other sources – such as support chat services or IG Direct. Send these questions to yourself from another account.
After that, publish a Story with answers where you will supply the audience with detailed explanations and beautiful visuals. This will help overcome objections and answer questions that other users have in their minds (but may for whatever reason hesitate to ask you). In addition, this way you demonstrate your enthusiasm to users. Even if the true engagement is not high right now, you can try to boost it artificially. Here the snowball effect will work – after several of your attempts, users will start asking questions themselves.
To sum up: Using the knowledge of the latest trends and these tips, you can produce unique content for Stories. It is not necessary to conduct photo shoots every day. For instance – collages from downloaded photos are a great example of content reuse. Just add a twist that will be relevant to your audience. Try your hand with downloaded material and you will see that the interaction with the audience in the Stories will grow.