Do you want to get more leads on Instagram? Get the most out of your audience? Create Your Instagram Stories with us!

Turning back to 2016 when IG Stories only appeared, many people doubted that this feature could catch on, others, on the contrary, claimed showing some signs of relief: "finally, my Feed will be cleaner!" Today, we can't imagine IG (and let's be honest, our lives) without watching and shooting Stories. We communicate there, we do our business there, we just have fun. Now let's go deeper at Instagram Stories and uncover all the truth about it!
What is Instagram Stories?
Really? Ok, Stories is an IG function which allows you to take photos and 10-second videos with text, emoji, and some notes overlay. The critical feature of such posts is that, unlike the usual publications in your feed, they do not live forever and are deleted after precisely 24 hours. But they can be saved in Highlights, do not worry!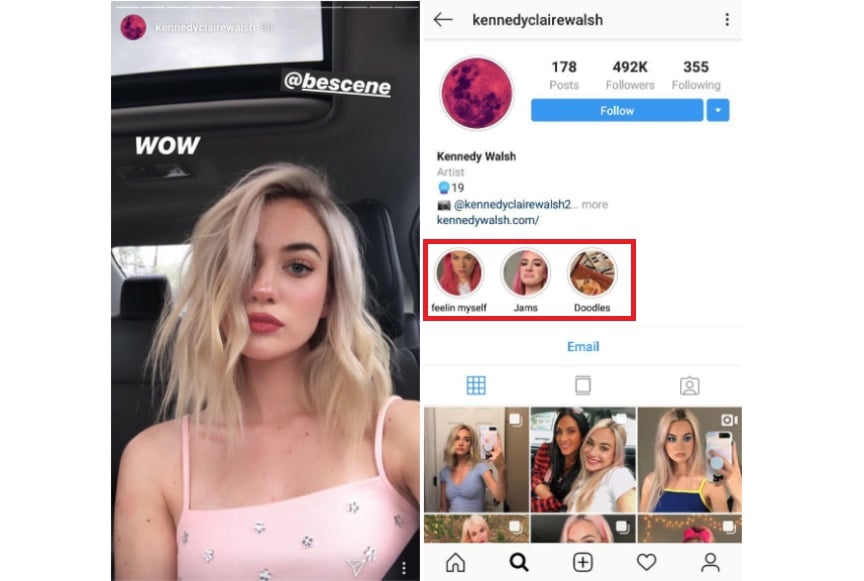 Why do you need it?
Do I really need to tell you why you need IG Stories? Well, since their launch in August 2016, the Stories has become wildly popular. Users began to spend more time in the app, scrolling up the Stories. Besides, the focus shifted from the Feed, people stopped scrolling down. Only thanks to the Stories, the number of active users who enter this social network has increased to 500,000,000 per day.
To make sure that you feel a delicacy of the situation, I'll clarify: more than 500 million people are figuratively bound to return to the app every single day. About 300 million of them do it solely for the sake of the Stories: they are afraid to miss the news from friends and their favorite brands because, after 24 hours, the content will be a no-show.
In other words, if you want to reach the most active IG users, use this kind of content!
Instagram Stories is one of the core means for business promotion
since every third of the most viewed stories is created by an enterprise. But what is more crucial:
1 of the 5 Stories of a commercial profile entails a lead in the form of a DM.
So, when you create content for followers, you get the affordance to start a chat with potential buyers in 20% of cases. For a business owner or marketer, this is a good promise. Moreover, the Stories allows you to convey to your users your ideas in a more perficient way and do not require much pretentiousness.
What are Instagram Stories formats?
There are 8 formats you can publish on Stories:
Type. You can write any text there with a chosen background. Add some stickers not to look dull.
Live. With it, you can live stream from any smartphone. At the end of the broadcast, the record can be saved on Instagram.
Normal mode. A quick press creates a photo, a long one takes a video.
Boomerang. Boomerangs are short, looped videos. This mode is suitable for shooting dynamic video.
Superzoom. All range of different gizmos — Hearts, Bummer, TV Show, Dramatic, Bounce, Nope, Surprise, Paparazzi, Beats, Fire. Great function for dramatic video lovers.
Focus. That's the mode that blurs the background.
Rewind. With this mode, you can shoot a video in reverse. E.g., to show how spilled water is returned back to the mug.
Free hands. In this mode, a quick press of the button will launch a 15-second shooting, and you will not need to hold the button.
You can make your Stories more amusing and colorful using
Instagram Filters
. They draw more attention to your acc and are able to bring an air of the unexpected to it. Exactly what you need!
Even if you professionally operate all these types of Stories, your infamiliarity with some rules for successful Stories-making process will do the dirty on you. Thus, I've prepared for you "the greatest life hack ever."
The greatest lifehack
Like every story, IG Stories tells also should possess a plot. Stories Instagram "tells" follow the same composition rules as other genres:
there should also be a particular sequence of photos and videos — opening, culmination, and resolution. Each photo/video in the Stories should have its own purpose.
1.
Opening.
Since the first image sets the tone and fashion for the whole Stories, try to choose a format that could hint at the content of the Stories in general. Use a video for the first slide, a photo with a text or a "boomerang" with a text caption.
Such a "cover" will help cut off the non-targeted audience, giving them a chance to snap and switch to other stories at the very beginning. This is primary concern because it affects one of the main indicators for IG Stories -
viewer retention
. For instance, the Stories in the style of "day of life" will be relevant among those who are promoting a personal brand or a brand that dictates a certain lifestyle. In this case, it is better to start the Stories with a photo with a cup of coffee and the inscription "day of life."
It's great if you can display the context on the first slide: why you are doing it and what is the benefit of it to your audience. When a Stories starts in the middle of someone's day or doesn't demonstrate the process from the beginning, your audience can instinctively swipe and go to another Stories. If you chronically mislead people, they merely stop watching your Stories.
2.
Culmination.
In the slides that are responsible for the development of the theme, your intentions come to the fore. Because even when you are promoting products or services, your content should be in contact with your users in a meaningful way. When you try to sell something, you do it by educating, inspiring or entertaining your audience.
To keep the content exciting for your audience, try to make the internal slides as diverse as possible. Do not post only videos or only photos. Instead,
combine different content formats
. IG has almost all the tools needed to create boomerangs, videos, photos, stickers, GIF-ok, marks with location or hashtag, polls, etc. By the way, hashtags increase the number of views, as you can follow to a specific hashtag or geotag. In other words, everyone who follows to #love will see parts of the Stories where this hashtag is marked. Just for the reference, Inflact offers smart
Hashtag Generator
for all its users for free. Thus, you are able to come up with perfectly matching hashtags in a couple of clicks. No need in wrestling with it.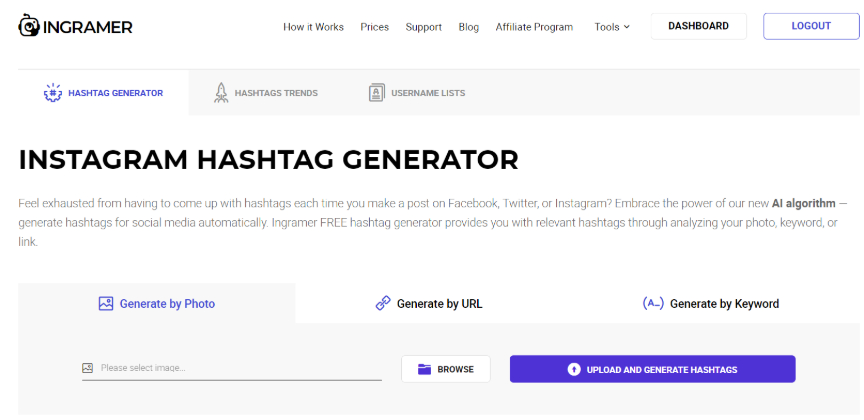 Polls on IG Stories are also useful because they encourage people to monitor your content and interact with your brand. In IG Stories you can use 2 types of polls: A / B polling and slider. Those who tap on the answer they like or choose the option by sliding, are more likely to like your post later, leave a comment, send Instagram DM online or follow your profile. From this point of view, polls increase engagement. As soon as you see that people are actively involved in the process, start publishing calls to action in a Stories: for instance, ask to send you a DM (this way you can initiate communication with people).
3.
Resolution.
Always place a call to action on the last slide. In the call, clearly write what you expect from fans after viewing the Stories: ask to write you DM if they want to learn more about the topic you raised in the post, or tell what happened next.
Always try to write what will happen next. This is significant, especially if you plan to create Stories every day because our brain is aimed at ensuring that all culminations have a logical conclusion. Users will gradually get used to your preview for the next Stories and will wait for them, which will increase the engagement factor. The ending is also vital because in it you can explain to your fans how and when you plan to finish a Stories, a lesson or a description of life experience — everything that you started earlier. If you do not know what you are going to do the next day, on the last slide summarize everything shown in Stories and thank the supporters.
How to measure the effectiveness of Instagram Stories?
To puzzle out whether your Stories works as you planned, track and analyze several metrics. The depth of viewing is a crucial indicator showing the ratio between the number of people who watched the Stories to the en
d and the number of people who viewed it first. This metric is an indication of whether the content works for the audience.
If on the last slide you called for fans to write in direct, keep track of how many personal messages you receive regularly. Use them to keep pushing people towards your product and encourage them to join the community. In fact, this is almost the most profitable strategy - to
concentrate all efforts on DM
. Thanks to DM you can reach the greater audience and increase its ER. But as your acc is becoming popular, your audience will grow as well, with time it'll become impossible to write DMs to everybody by your own forces. That's why Inflact will come in handy here. It can send out the DMs to your TA. That can be a greeting, a special offer or anything that you are able to come up with. You just need to write some samples in advance, it rests with Inflact to send them.
On IG, you can see statistics
, regardless of whether you have a business profile or a regular one. But if we talk specifically about Stories, the business acc displays more detailed statistics. In particular, you can see the number of clicks, failures, returns, and level of engagement. For your convenience, Inflact introduces the function of monitoring statistics. Thus, you'll see the dynamics of your acc: its growth or its downfall. Tracking it regularly, you will be able to see what you do write and what you do wrong, learn from your mistakes and flourish.
If you have a low level of engagement, archive the post, repost it later or change the photo or inscription in it. Do not delete for the reason that the content remains at your fingertips, and you can look at the statistics at any time to analyze the causes of inefficiency. This will help to get the point of your supporters better and tell you which content is more appealing for them.
Well, Instagrammers, Stories is a kind of content that is due to its short-term existence attract our attention most. If you do not use it for the sake of your popularity or brand awareness, you miss out on the chance to come close to success, recognition, and high sales!