In the spring of 2019 in Canada, and then in 6 more countries, a new version of Instagram was launched in which likes are not displayed anymore. You can still click on the heart button, but information about the number of people who liked the photo or video is now available only to the content author. What changes should be expected after such an experiment?

Why did Instagram switch off likes?
Instagram has been named the most harmful social network for mental health, especially amongst teens, causing depression, anxiety and complexes. And the constant desire to improve your appearance in a photo or video is easy to explain, because unprocessed photos, even from celebrities, collect much fewer likes, which are an indicator of popularity.
There was even a proposal from social organizations to create special tags on photos that would indicate in which program the image was edited, for example, FaceTune or Photoshop – the #FilterDrop campaign is an example of this. True, the Instagram management did not support this initiative, but it was decided to conduct an experiment and remove the "Like" counter to create a more relaxed "atmosphere" on the social network.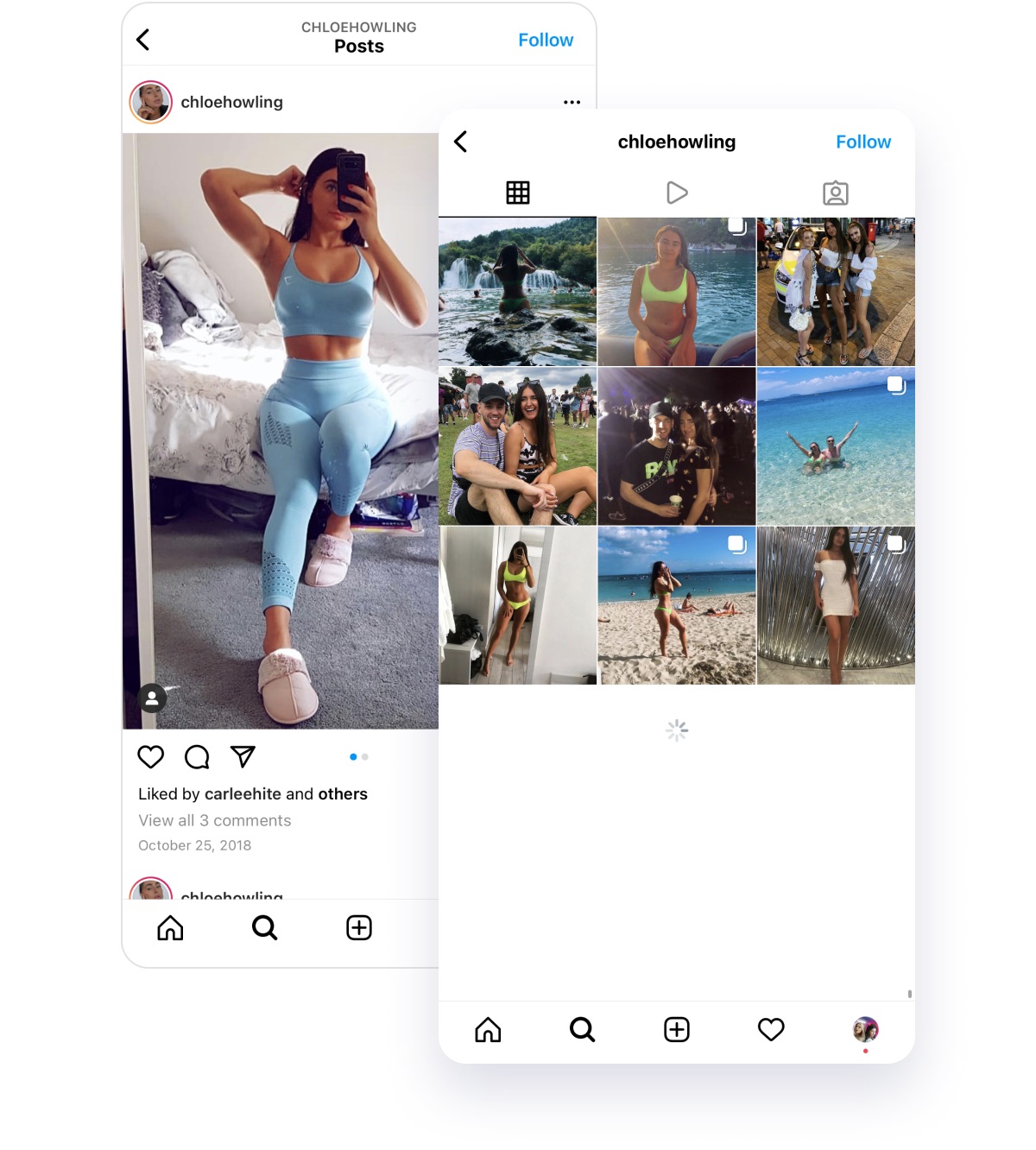 As the administration of the service declares, likes are hidden for the sake of equality between users: so those whose posts get few likes will not be upset and chase "hearts" after seeing the thousands or millions of likes of others. It was expected that Instagram would forcefully disable likes, since the service had previously removed the exact "Likes" counter from some users, replacing it with the phrase "and others." As the managers of the platform had done with the Instagram search algorithm. But users were still given a choice, and now you can turn off likes and views both for your posts and for everyone else in your feed. You can hide likes on all your photos and videos. And other users can too.
How to hide your likes on Instagram (so that nobody will see the number of hearts under your own posts)
Can you hide likes (and view counts) on Instagram for both new posts and existing posts on your profile? Sure, just decide which post's likes you are ready to remove.
Hide Instagram likes on a new post
To remove likes and views from a new post, follow these steps:
Start creating a new post;
At the stage of adding a caption, select 'Advanced settings' at the very bottom of the page;
Turn on the 'Hide likes and views for this post' toggle switch.
You can hide likes every time when publish a post. Add a caption, tag people if necessary – everything is as usual. After you click 'Share', the post will be published, but without any likes (if it's a photo) or a view counter (if it's a video).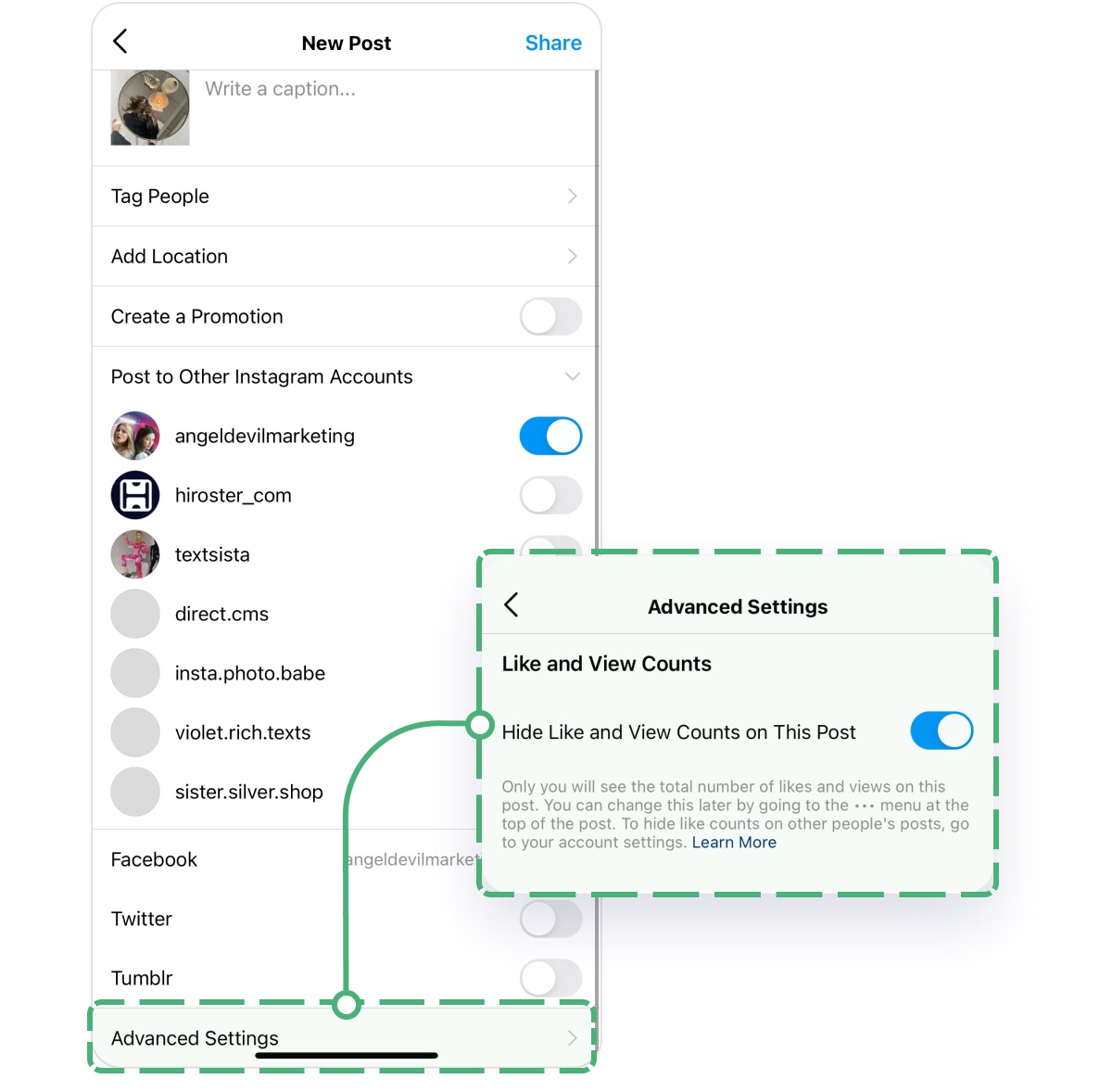 Hide Instagram likes on an old post
You can hide likes in an already published photo in a couple of seconds. To remove the number of likes or views from an existing post, follow these steps:
Open the post;
Tap on the three dots on the right upper corner;
Select 'Hide the number of likes'.
The total number of likes will disappear immediately. Therefore, no user will be able to find out this information. This does not mean that the like button has been removed from all of your posts. How do you hide likes everywhere on Instagram? You need to do the same steps manually with each post!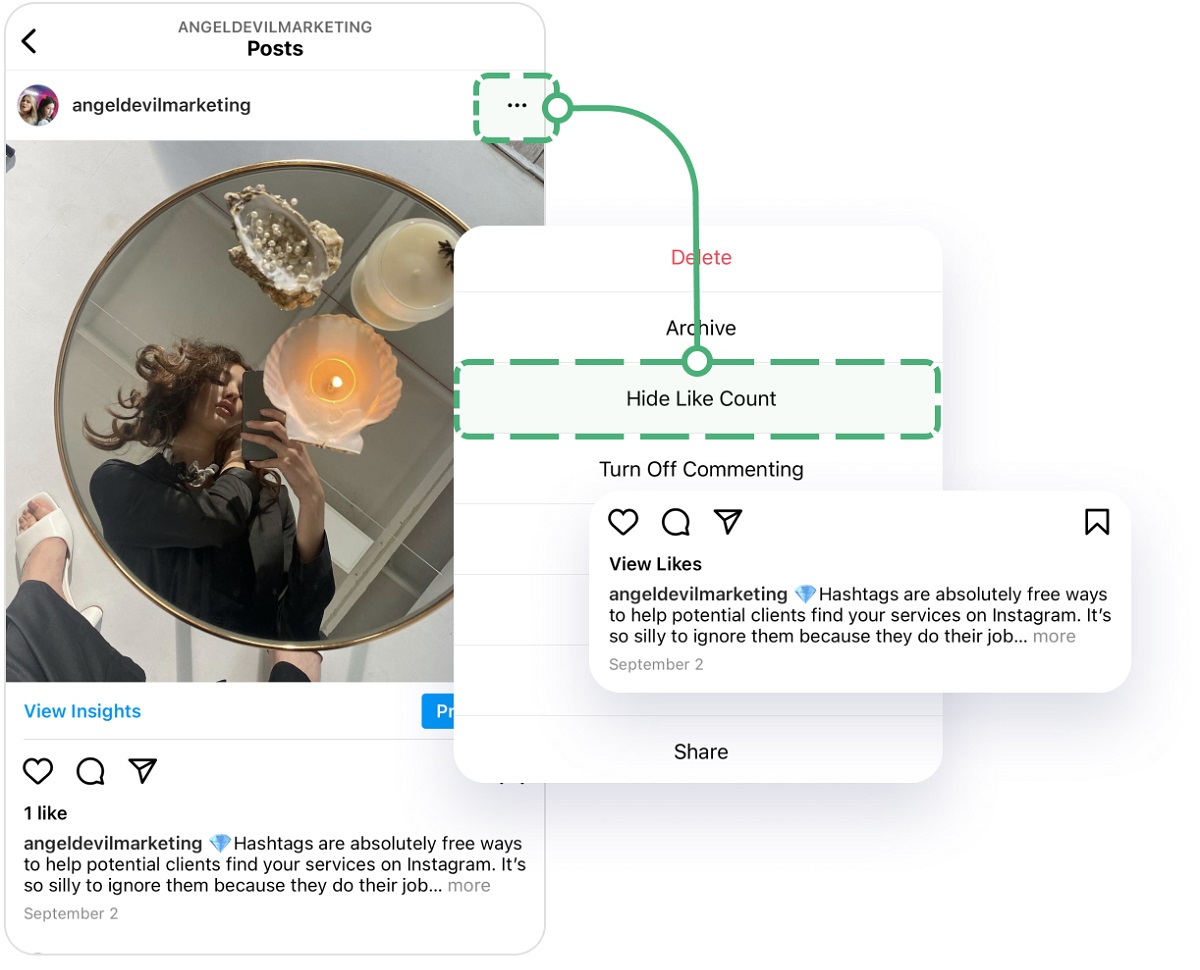 The owner of the Instagram account can view the number of likes
In fact, this feature is still enabled for any of your posts, and you can find out the data by clicking on 'View likes' under each of your own posts. Obviously, this button is only available to you.
How to hide Instagram likes for your profile in general
Recently, Instagram also has the ability to hide likes not only for your posts, but also for other people's posts. More precisely, they will see their likes, but you won't see unnecessary hearts and information about the number of views from your own profile.
To perform this:
Open Instagram and go to your profile;
In the upper right corner, select the context menu;

Open Settings

Privacy

Posts

;
Select 'Hide Likes and View Counts'.
After that, you will not see likes on other people's posts.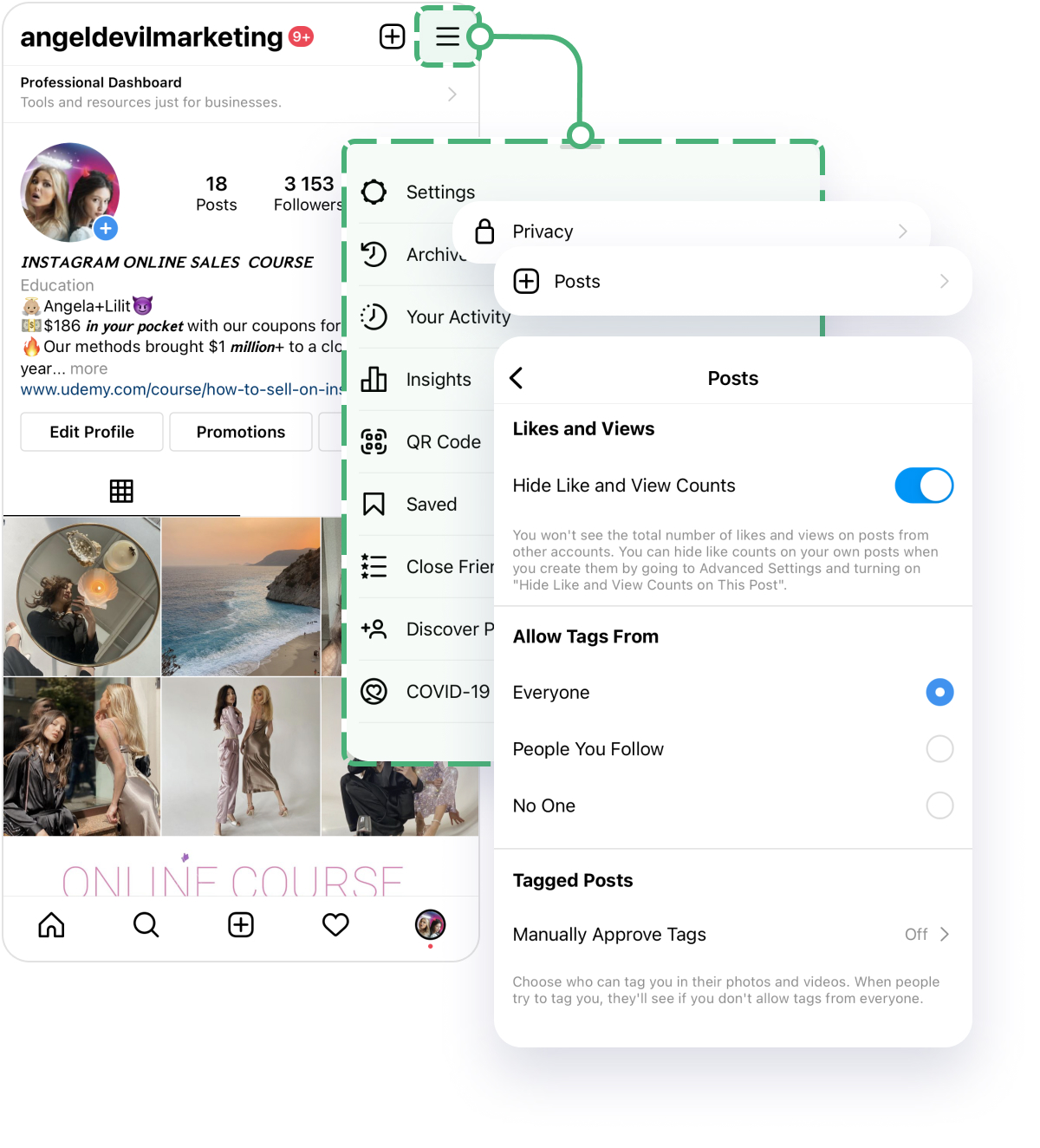 It should be noted that this feature is not yet available to all users. For example, on my personal page, there is no such parameter. So, if you don't have the feature to turn off likes yet, you're not alone. It looks like Instagram first rolled it out to users with a lot of followers, which is really strange because the disabling of likes was done specifically for those who have few subscribers.
In this regard, those who managed to buy fake subscribers and "wind up" likes under their posts will have the hardest time. With a high probability, comments will now become the main measure of popularity. Of course, they can also be bought, but on the black market, they are the most expensive commodity that not everyone can afford.
The reaction of advertisers to the cancellation of likes is still unknown, but this may lead to a large number of bloggers losing their business.
How can you now, without such an important indicator as likes, choose a blogger on Instagram to promote your product, business, or service? To identify a cool blogger with a high level of audience engagement, we suggest using two tools: Statistics and Profile Analysis.
Both methods are free and simple. But the second one is more safe and professional. Here are even more professional methods to try.
Instagram account blogger statistics
To get the statistics of the blogger's profile, you will have to try to contact them or their managers directly. Large Instagram influencers rarely reply or may take a long time. You should place a request for the statistics of the blogger's latest posts—and just wait for a response.
Be careful when working with statistics – look and zoom in on screenshots, or rather ask for a screen-video of statistics. Many bloggers tend to exaggerate their numbers and use Photoshop to inflate the numbers in statistics.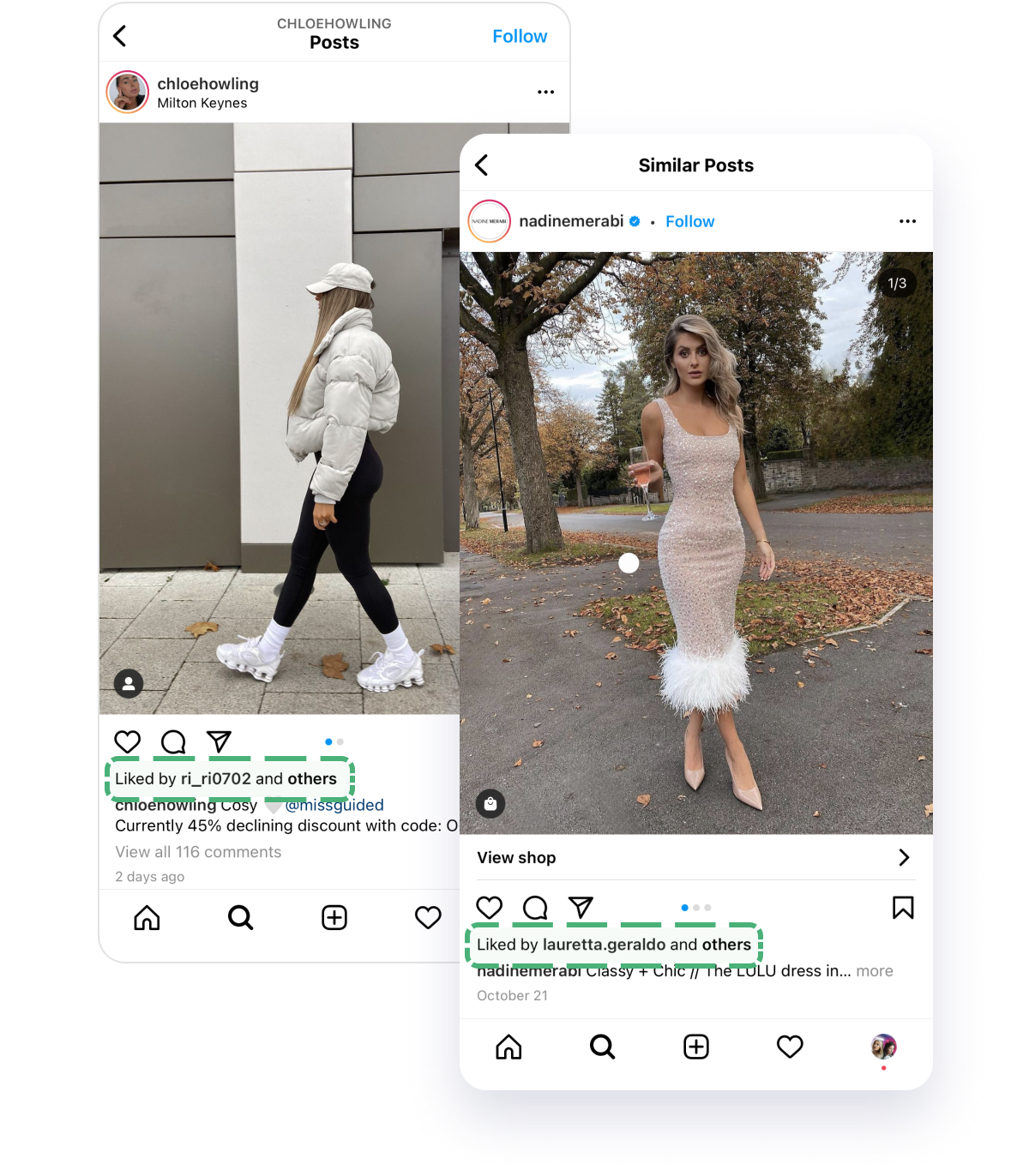 With the help of statistics on views, likes and reposts, you can determine the level of engagement in posts and stories of this influencer.
We recommend analyzing the blogger's statistics in comparison with the statistics of another influencer with a similar number of subscribers. This will make it clearer which one works best.
Ask the blogger for statistics on the last ad post. It is advisable that the blogger advertises a product or service in one way or another similar to what you are going to advertise.
Blogger profile analysis
The easiest and most effective way to check the level of engagement of a blogger's audience on Instagram is to analyze their page using a special professional tool like Instagram Profile Analyzer.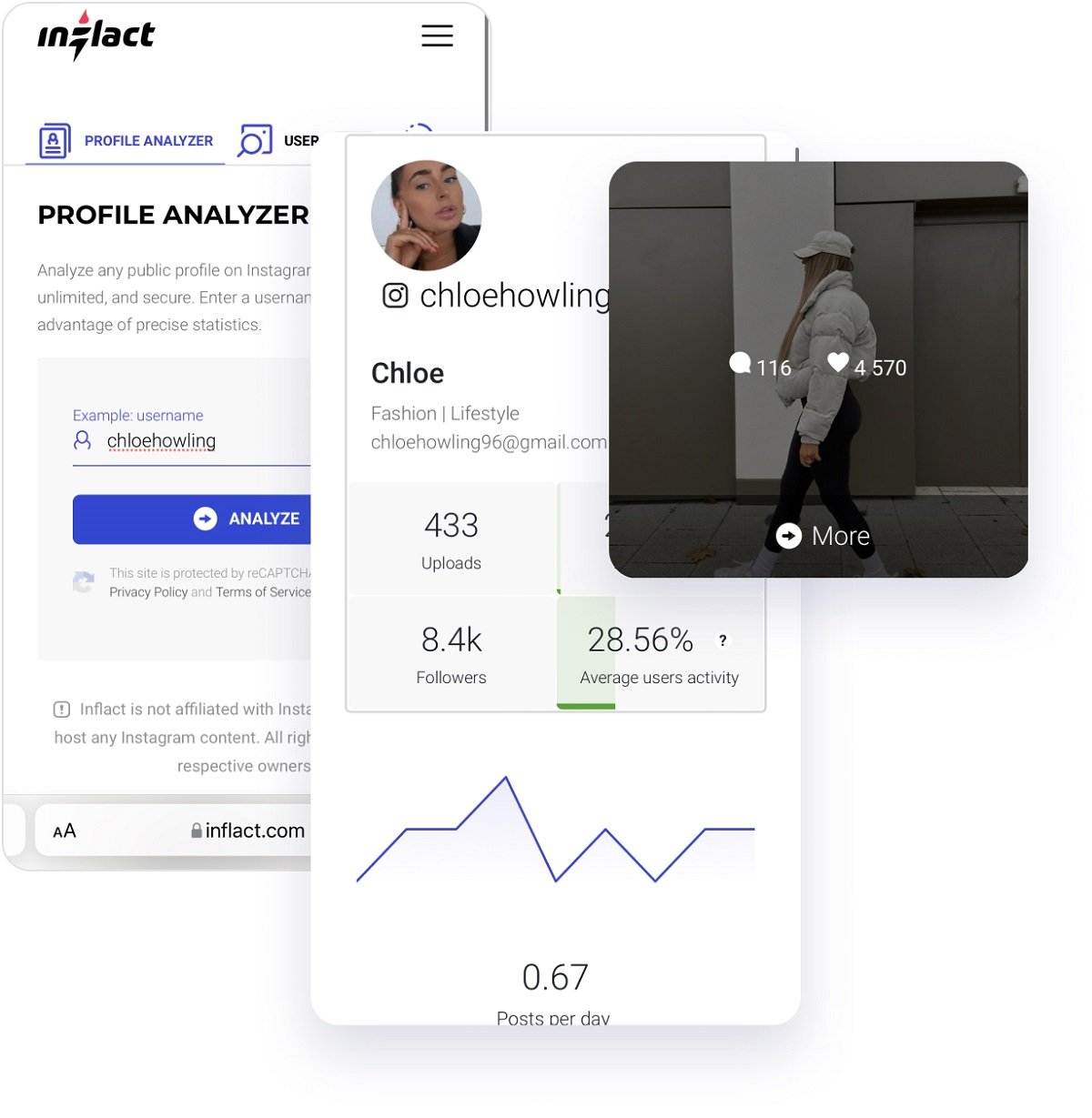 It's fast: literally type in the blogger's name and get all available metrics on their page in 30 seconds
This is honest: here no one can deceive or exaggerate to you—everything is crystal clear and clear for any page of any influencer
It's free:— this Instagram tool, for now completely free of charge, allows you to analyze any page on Instagram—you don't need to ask anyone, wait, or, even more importantly, pay some third-party services for information
How to use the Profile Analyzer
Remember the name of the blogger you chose
Write it in the search bar of the tool
Analyze any metrics of the influencer's page
We recommend paying attention to such indicators as
Top liked post
Top commented post
Average user engagement
Average user activity
Compare the indicators from the Profile analyzer of 5–10 bloggers who are suitable for the advertising of your product or service on Instagram and choose the best one even though their indicators are hidden from everyone. Just not from you!