How to repost Instagram story? The working method inside!

Do you want to interact even more with your audience? Then try to repost interesting and fun entries of other users directly to your Instagram stories!
Today, one of the easiest ways to tell about your interests and hobbies is to maintain an Instagram account where you can share all the exciting moments from your life. Your beautiful, high-quality and memorable photos and publications will not leave anyone indifferent and you will be able to gather around you an army of real followers who will follow your life and be inspired by your success!
To always stay in touch with them, it is not still enough to respond in the comments or create any quizzes in Instagram stories. It is also important to tell your followers about your interests, what bloggers you follow, what events you attend, and much more. The best way to do this is to use the repost function in Instagram stories.
Don't know
how to repost Instagram story?
I've prepared for you a convenient and straightforward guide that help you to orient in the updates to Instagram.
Before, read the previous article
How to Use Instagram Stories at Full Speed
and drive traffic to your account!
How to repost publications to Instagram Stories?
One of the easiest and most proper method is the built-in repost function, which you can use following the following instructions:


Find the record you want to repost;
Click on the paper airplane icon;
Click on the "Add post to your story" button;
Add any filter, Emoji, GIF file, and also add music.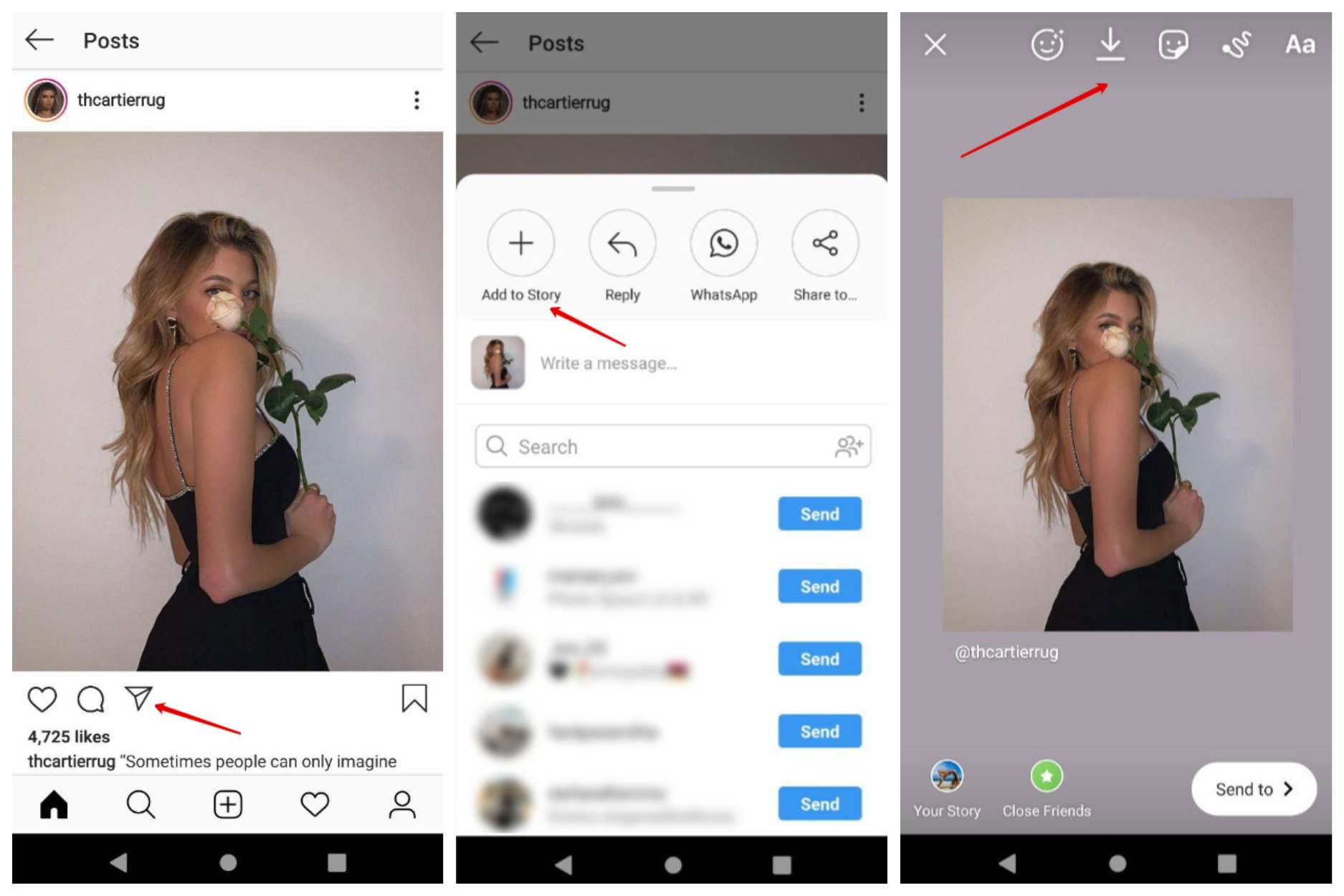 Voilà! The publication appears in your Instagram story!


Remember that cannot share someone else's post on your page if you want to repost from a private account. For a successful repost, the account must be public, that is, not closed.



How to repost an Instagram story?
How to repost an Instagram story? If you want to share someone's story on your account, then, in this case, you need to comply with several requirements:



The account must be public;
The account must activate the Instagram Story sharing feature;
Your account should be noted in this story.
Once you receive a notification that someone has tagged you, you can easily repost the story on your page. If this post was published on a public account, you could add it to your new Instagram story.


If you are not tagged in the desired story, then you need to use one of the following methods, which I've found specifically for this case!



How to save Instagram story?
So, we have known how to repost Instagram story. Now, let's consider the second option. To repost a publication or someone else's Instagram story in your profile, you do not need to use the standard function. For example, you can save a post and then publish it in your profile or history.


For this, try to implement Inflact Instagram Downloader. Thanks to this features you can save any content for free directly to your electronic device, whether it is a phone or a personal computer.


Just a few steps and any photos, videos, stories, profiles, and IGTVs will be saved on your device in seconds:



Open the official website of Inflact;
Select the Tools icon and click on the "Instagram Downloader" option;
Select the "Download" option;
Add a link in the search bar;
Click the "Download" button;
Select the desired photo, video, story etc., and click "Download" button.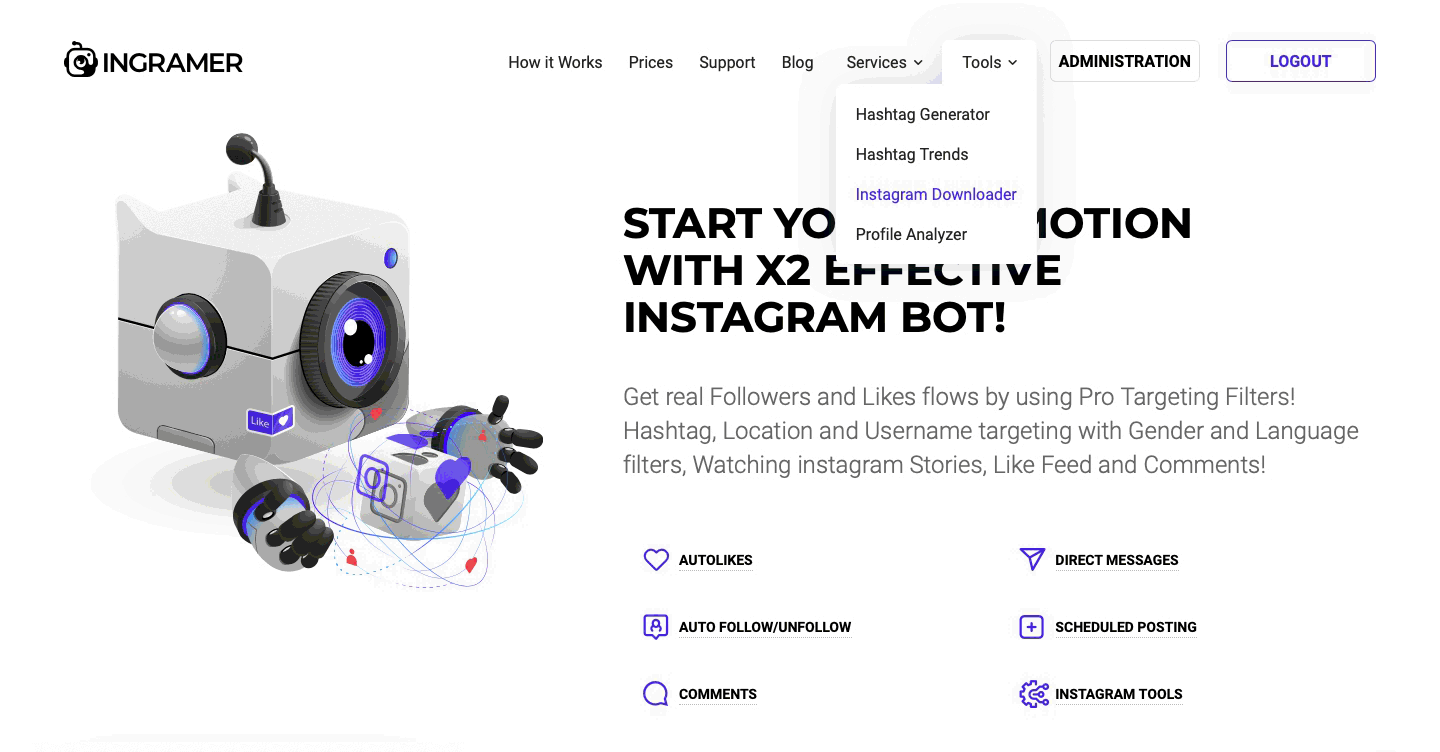 Everything is done! Now the publication is saved directly on your phone or computer and you can upload it to your profile.


This method will save you from unnecessary actions and will allow you to permanently save the content that not only inspires you but also can reflect the range of your interests.


Instagram Downloader For Free!

Keep Your Instagram Content In Seconds Flats!

SAVE IT!





Bonus Lifehack!

If you have read up to this point, I will congratulate you! Today you are lucky! After all, I will tell you about a cool life hack that will not only save a lot of time but will also adjust the work of publications in your Instagram profile by the hour!
To do this, try to implement a convenient post planner in your life, which will allow you to prepare your publications in advance and publish them precisely at the right time!
After you save the content you need, you can upload it to the post planer, edit it and set the required publication time, which most accurately fits your target audience for which your promotion campaign is designed.
Know more and read
Get Your Affairs In Order: How to Schedule Posts on Instagram!
Make everything possible for simplifying your working process with Instagram!