In the era of content repurposing, it's crucial to have tools for saving someone's stories. It's also important to be able to view and save stories you may have missed. Learn how to do both of these things below.

In 2021 many Instagrammers have started filming clips not via the camera app on their phones, but instead they open the Instagram app and shoot videos right from the stories camera with its eye-popping filters and masks. Do you want to download these media files to re-use across other socials?
You can find just one solution from the official Instagram Help Center on how to download Instagram stories. It covers only a way to keep stories you recorded from your own device. But what if you need to download other people's stories?
Don't waste a minute – learn the solution in the first section of this article.
How to download someone's Instagram stories
It's impossible to download stories of other users right in the app. But that doesn't mean you can't do it with Inflact. For example, you can try the Story Saver – an online service designed to download stories posted by any public account on Instagram.
Let's look at the two possibilities for keeping content offline.
OPTION #1 – VIEW AND SAVE STORIES OF OTHER USERS ANONYMOUSLY
The Story Saver lets Instagrammers keep the media content of other users in original quality without payment. What are the possibilities:
You can watch stories anonymously – meaning that you don't need to log in to your IG account. If you don't want your name to appear among the viewers of a story, you need to check out this web tool. When you indicate the name of a user, their stories appear on the screen on your phone or computer.
You can download recent stories and highlights. When you use this service, you will find the Download button under each story or highlight. When you click on it, the download starts, and you'll find the media in your gallery or in the Downloads folder.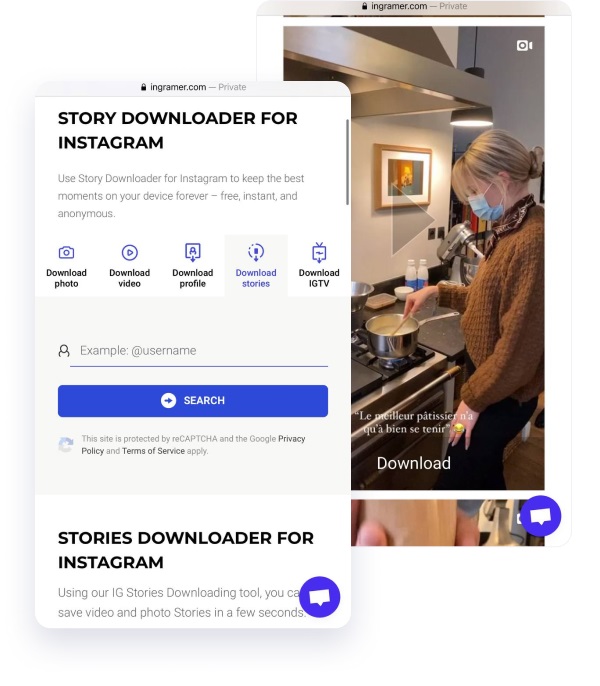 Perks of using this method of keeping stories:
High quality of content that is not comparable to a screen recorded video.
The process is fast and free.
Your name remains private.
This service is easy to use.
Here are the simple steps for keeping stories and highlights from any public Instagram account:
Copy the desired nickname on IG.
Insert it in the tool's webpage.
Find recent stories or highlighted stories, and click the Download button.
Enjoy files offline, anytime, free of charge.
Option two is a paid method for those users who might need some Instagrammers' stories in bulk, without manually selecting them. With this premium feature, you can download stories you might overlook in the app. Inflact collects all of them on your dashboard.
OPTION #2 – PRO SOLUTION: DOWNLOAD STORIES IN BULK AUTOMATICALLY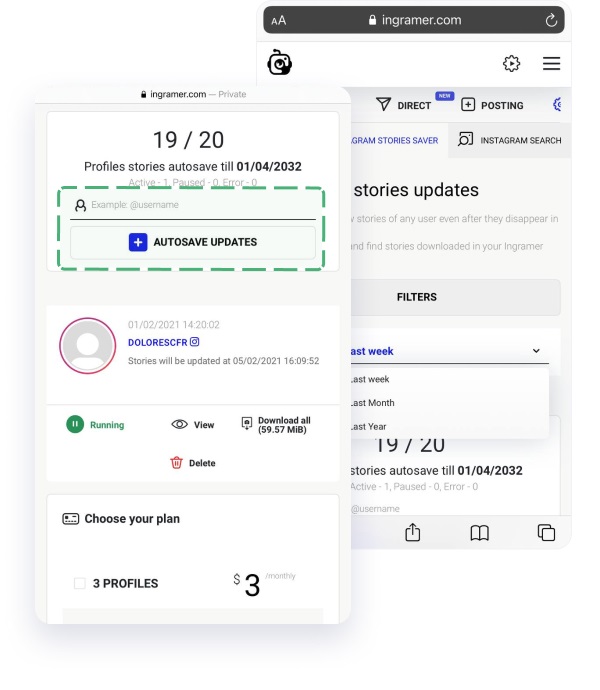 All Instagrammers know the golden rule of stories – they are viewable for only one day for the public. It's impossible to download them after that. But the insider method exists if you need all the updates of specific accounts without tracking them manually.
There's a paid option – Autosave updates. The 3-day trial starts at $1 and includes tracking stories of 10 profiles for three days. Afterward, you can download them from your account.
This service can track up to 100 profiles. Plus, in addition to stories, you can automatically download Lives. This option is handy for those users who need to track their competitors' content in a certain niche.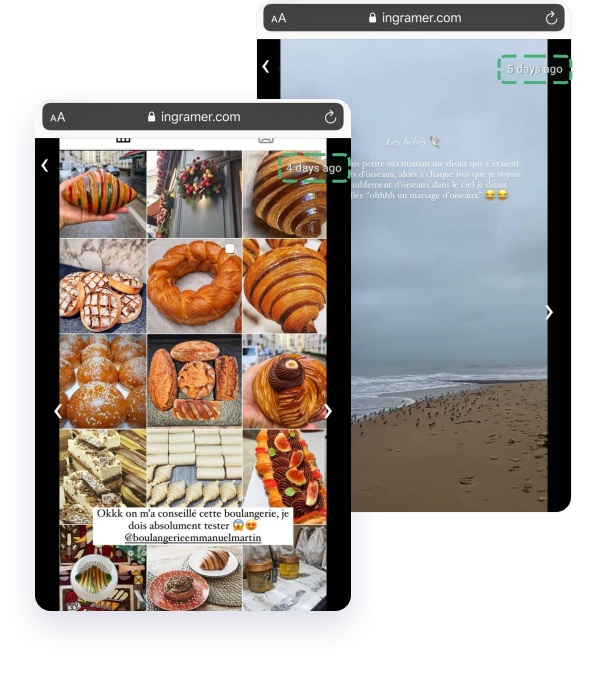 Pro tip: You can research the best-performing accounts in any market with the User Search tool for Instagram. It allows you to discover rivals and influencers globally in just a few minutes.
Want to download other users' stories automatically?
Register via Inflact.
List profiles you want to track.
Check the media files in your Inflact account. You can view older stories that have disappeared from Instagram and download them in bulk or individually.
Now you've got a better understanding of how to keep stories from Instagram public accounts. If you want to learn ways to save videos and whole profiles, read this dedicated blog post.
Story Saver for Instagram FAQ
Many users already apply the Story Saver for their content strategy. Find the answers to typical questions in this section.
Q1: From what moment can I view and download older stories of other users?
A1: As soon as you order your subscription and specify an account for monitoring, we collect stories updates. You will find content users posted from this day.
Q2: For how long stories are kept for viewing/download?
A2: You have 7 days to view and download the archive. After this period, files are no longer available on our server.
Q3: Is it possible to view and download IG Lives automatically?
A3: Yes. When you order the Story Saver premium package, Lives will be kept in your dashboard.
Q4: How many profiles can I track at the same time?
A4: You can monitor stories and Lives of up to 100 accounts and save them.
Q5: In what format will the media files be saved?
A5: Mp4 clips and jpeg images will be converted into a .zip archive.
Q6: Can I select particular stories without downloading them all in an archive?
A6: If you want to save recent stories granularly, check our web-based tool for downloading stories.