Are you looking for courses about Instagram promotion? Or maybe you are watching tons of videos on YouTube to learn IG marketing? We explored all these materials for you and systemized them in Inflact guides.

Instagram is a rapidly changing platform, and it's essential to update your knowledge if you make your money from it. You can find a multitude of courses, videos, and influencers teaching Instagram marketing. But it's inconvenient to browse all the information from various sources.
That's why we combined all the valuable information that will help you build a loyal audience, create content, promote it, sell, and manage customers on IG. If you are just thinking about starting your business on Instagram or earning as an influencer, these guides will give you all the necessary knowledge — even if you are a newbie.
Stop hesitating. Start learning and practicing. Guides are supplied with downloadables that will stimulate you to take action along with reading. Let me provide a quick review so you can understand what tutorials you should begin with.
What Instagram tutorials will you find?
All guides are divided into four sections:
Content creation — in this section, you will find guides about all content pieces that exist on Instagram — feed aesthetics, videos (IGTV, Lives, feed clips), stories, captions, and the Highlights section. After reading these guides, it will be much simpler to produce valuable and eye-popping content.
Promotion – this section will help you get your content discoverable so that many people join your community and become your clients.
Sales on Instagram – with these guides, you will learn working techniques for launching your shop, using DM as a sales-booster, and managing orders.
Instagram by niche – these guides contain systemized knowledge for those who want to become influencers or start a business.
When you see such a large amount of data, you might be confused: what guides should you begin with?
If you aim to start a business or a blog, I advise you to begin with niche guides – How to Become an Instagram Influencer 2021 or Instagram for Business guide. These guides are beneficial even if you are not 100% confident about your idea. They firstly will help you to identify the industry and specify the niche. Secondly, you will learn to build content around this idea and bring it to more people. When the community is gathered, you can easily monetize your Instagram account.
Afterward, you can get more granular knowledge about content, promotion, and sales in other guides. At the same time, if you intend to enhance sales and your business niche is clarified, I suggest you study sections Promotion and Sales.
Notice: Don't be afraid that some guides are lengthy. You may read them as a book for several days. It's important to practice in parallel to see the maximum result.
To help you better understand the guides' content, I provide a quick overview in the section below.
Brief guides review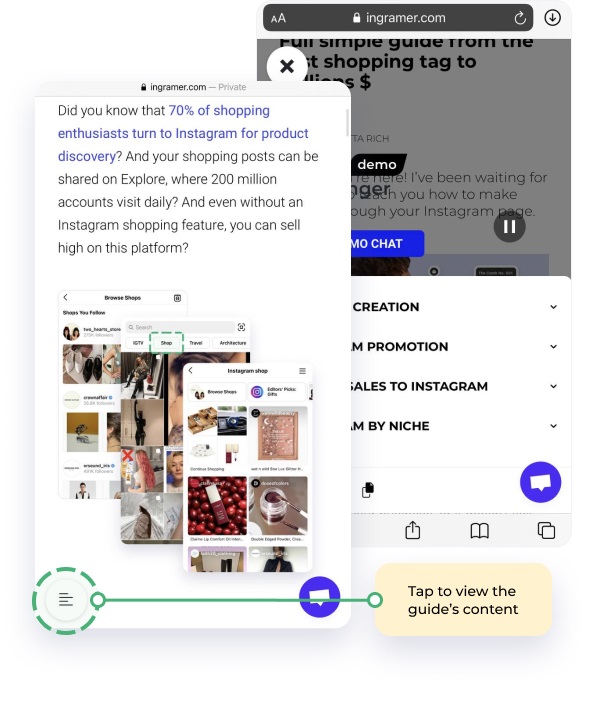 Full Simple Guide from the First Shopping Tag to $Millions. Instagram with shopping tags has turned into a promising marketplace. If you want to check the full potential of e-commerce, read this tutorial.
How to Sell on Instagram with DM for Brands and Influencers. Even one message in Direct to your customer base can boost your revenue in seconds. Explore specific techniques to manage sales in the IG messenger.
Instagram Client Management: From Leads to Loyalty with an Automated Tool. To have a successful business, you need to respond to clients' requests and questions proactively. Here you will find step-by-step instructions for social client management.
How to Become an Instagram Influencer 2021 (a complete guide from finding your niche to monetizing, divided into three parts). It's never too late to show your expertise and passion in a specific field as an influencer, even if this market is saturated. Practice by doing exercises in these guides to finally become a self-employed blogger.
Instagram for Business Guide (the one and only updated manual for 2021). Many businesses in 2021 are exclusively based online or only on Instagram. Read this tutorial if you want to earn from this social network.
All in all, every bit of the material provided will boost your knowledge as if you completed a costly marketing course or spent years finding YouTube tutorials. Begin learning right now and ask your questions in the comments so we can provide more exclusive content.