Instagram GIF is extra entertainment. Discover how to post GIFs on Instagram and what GIFs to post to win the audience's attention.

GIFs equal entertainment and entertainment works on social media better than any other concept. Learn how to post gifs on Instagram and where to look for the best gifs for your audience to get your message!
Gif is funny, it is easily perceived by people just like any other visual information and, let's be honest, they can express our thought and mood even more eloquently than text. So, we decided to have a finger in this very pie as well and sketched out a quick sheet for posting Instagram GIF for you. + at the end you will find the selection of best GIFs maximum response!


via GIPHY





How to post GIF on Instagram?
As you have noticed, IG allows in-app GIF search only for Stories and Direct. If you want to post a GIF, you need to use off-site service. The most popular is GIPHY, so let's take it as an example of cool service to use.


1. From your phone using GIPHY



Download an app to your phone;
Open it, find a GIF you want to share;
Tap on it and then on the Share icon (Paper Airplane);
Then tap the IG icon (the purple one);
In the popup, tap Feed;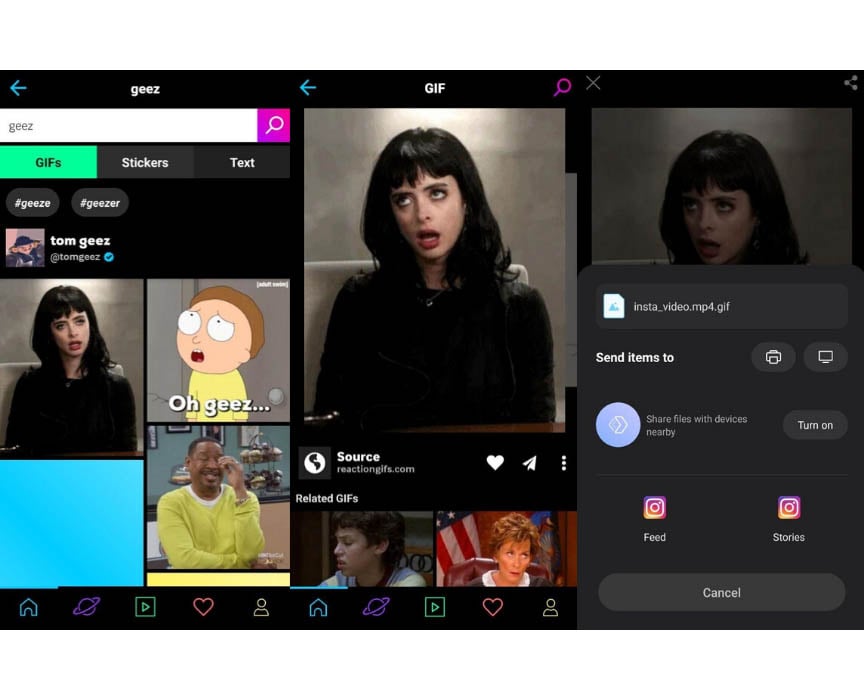 6.Continue posting, you know how! Add filters, captions and don't forget about hashtags! Good hashtags are capable of bringing a lot of likes and new followers!
Use Smart Hashtags Generator Now And…
Read how photography hashtags help you grow on IG (Real case story)


So, you have it. Now let's see what is about Stories and Direct. As I have already said, IG offers a built-in GIF search, which is awesome and saves time for millions of Instagrammers.





How to upload GIF to Instagram Stories?
Open the IG app;
Open Stories section (swipe right or tap Camera icon);
Switch to Create line at the very bottom of the window;
Choose GIF;
Enter the search keywords and see the whole scope of relevant GIFs, choose the one;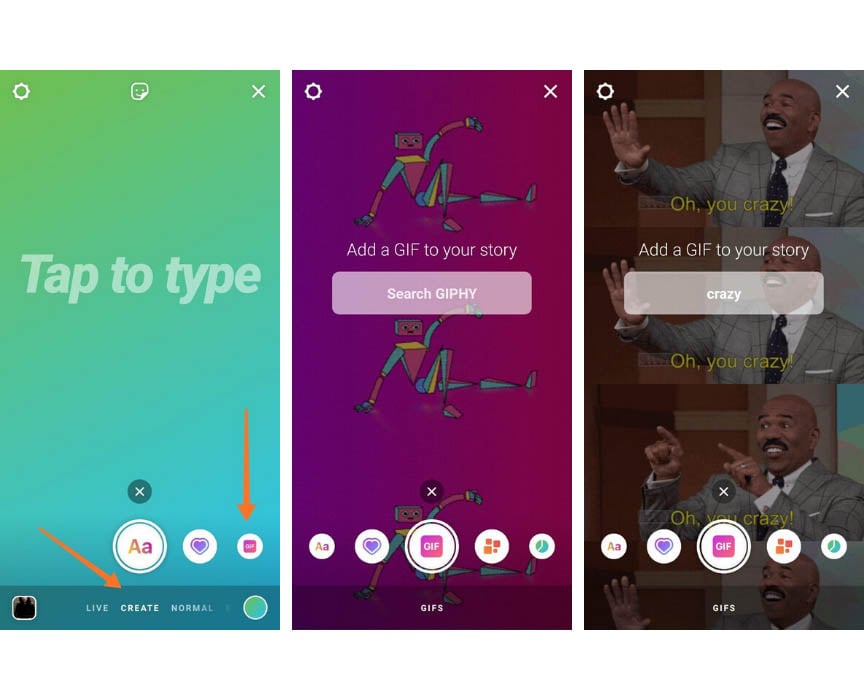 6. Add text, stickers, any perk you like and publish it!
As you see, there can be nothing easier than that. You are welcome:) But...


There is an alternative way!


You can add GIFs on Instagram from Giphy. It is more convenient to search for cool GIFs. I personally can spend there hours searching for really killing stuff.



Download an app to your phone;
Open it, find a GIF you want to share;
Tap on it and then on the Share icon (Paper Airplane);
Then tap the IG icon (the purple one);
In the popup, tap Stories;
Continue playing with your Stories till you make it stunning.
How to send Instagram GIF to Direct?
It's a piece of cake!



Go to the Direct section;
Open any chat;
Right to the Message line, tap + icon;
Then tap GIF icon;
Choose from the suggested ones or enter a keyword to find the one you want;
Tap on it to send.
Go and practice!




Best GIF banks and GIF creators
GIPHY
is the best online database and search engine that allows users to search and share animated GIFs. This service is integrated into most of the messengers and Social Media and that's why it's the most widely-used one.

Tenor
is also a popular website for GIF-search. Its nicest peculiarity is that it not only select fine relevant GIFs but provides the popularity analytics of each of them. Such a nice tool in you want to stay on track.



Imgur
is another amazing service with tons of GIFS and memes. Check it out, too.


But what is really cool is that you can create your own GIFs easily. You can do it right from your PC with these services above or you can consider other cool apps, which will help you to create GIFs on your phone.


ImgPlay. It's an app with which you can create a GIF from video and images.


Momento. It's a marvelous stop motion and GIFs Movie Maker.


GIF Maker. With this app, you can create GIFs from video, image, screen and share to FB, Instagram, and GIPHY, too.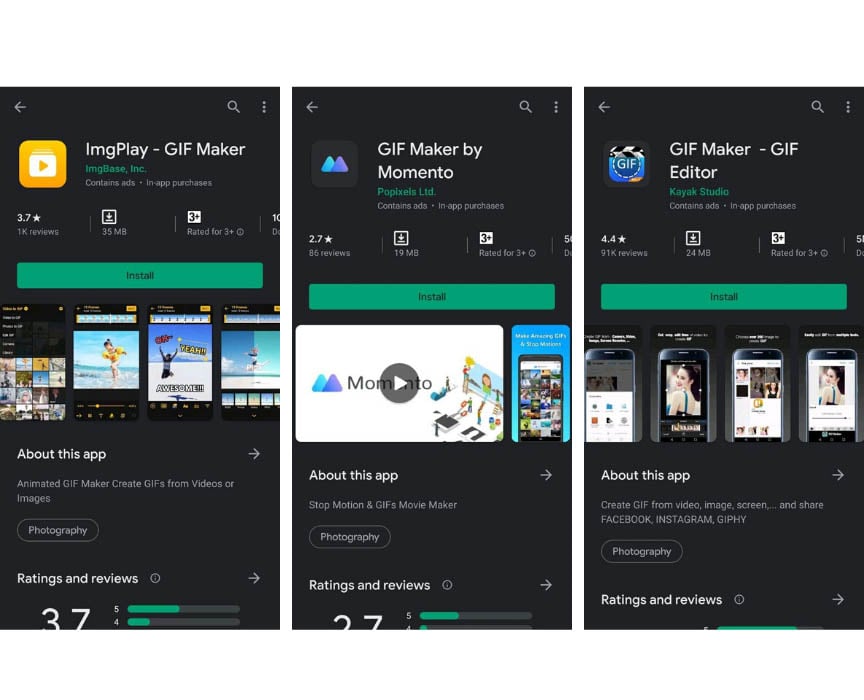 How to use cool gifs to get a maximum response? (Top Best)
To express your emotions
GIFs are literally created for you to be able to express yourself the best way possible. So search for cool GIFS...


When you are angry… just a little bit


When you are happy


When you are surprised….

via GIPHY



and ready to chill out like Snoop does it.

via GIPHY




To show who is the queen here


Sometimes it happens and you start feeling fabulous, forgetting about all complexes and imperfections.
That's right! Show it!


like Channing ...or Beyonce:





To catch attention


Are you going to write a huge caption and speak up? GIFs will help you to draw attention to the post.


Nothing works better than
via GIPHY
Comment if you know the better way!
To 'UWU'
People love cute gifs, cute pics and vids. Use it to engage users!
It's always about dogs
via GIPHY
via GIPHY
Cats

via GIPHY

via GIPHY



And babies


GREAT NEWS!

You can save GIFs from Stories and Posts in 2 clicks!


Just copy the link to Stories or Post and paste it to IG Downloader to save it forever!

Read more about all the possibilities of our Downloader and learn how to save Instagram content fast and easy.