Are you constantly saying to yourself, "I need to be on social media if I want to grow my business"? But after you think this, a general panic comes to your mind as you barely know what that means... Does the thought of posting on Instagram make you feel anxious because, honestly, you don't know how to do it well enough?

If you've tried to master the art of Instagram marketing a hundred times before, and you've looked through all the YouTube videos on this topic already, and you've read all the marketing guides you found on Google… And you still don't have any results... It sounds like you need a social media marketing mentor asap! And before you put your researcher hat on and scour the web for an online Instagram course - I'll show the one that I've got:
Ustin Kompaniets Instagram marketing course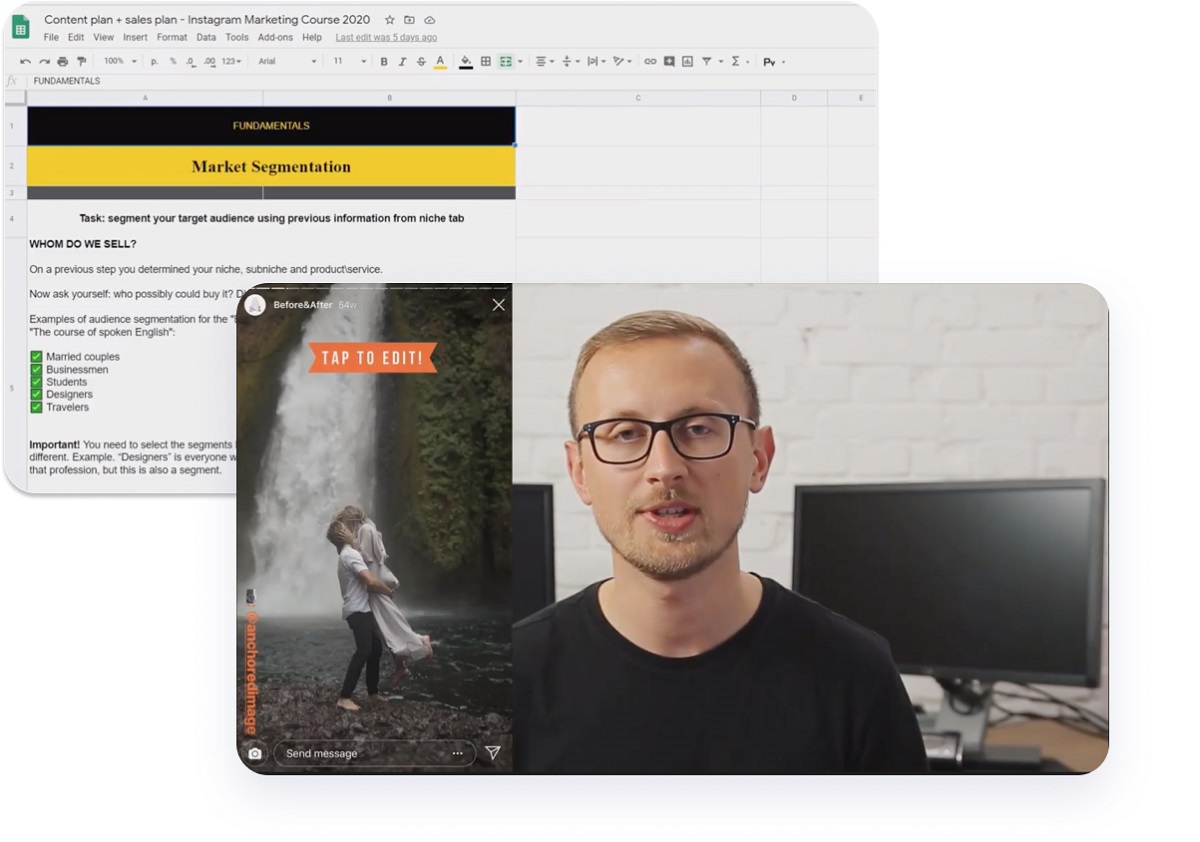 It wasn't the first Instagram online course that I've taken. It took me a long time before I pushed the "Download" button. That was not because I'd heard bad feedback on this one, but more because I felt I couldn't spend time on material that won't make me feel expert enough to start making money through social media. The course itself is 3 hours long in 14 chapters and it is made to be watched as a chapter a day. But I binged it in a few hours. If you listen attentively to Ustin's every word, you have a chance to get a great introduction into the world of Instagram marketing.
The takeaway message
The key thing I've come to understand from the Instagram marketing video course is that all instruments matter, and no effective strategy can be implemented without the help of a special toolkit. He stressed the importance of having good marketing instruments on hand. In fact, you need to consider your Instagram strategy as a step-by-step activation of a bunch of instruments.
This course is super applicable and practical. There's almost no abstract theory - every chapter is a "grab and do." After a few chapters, you'll already have an understanding of how to use your Instagram at full power. Let's dive into the Instagram marketing course by Ustin. Chapter by chapter, you'll see what you can get from this course.
Introduction to IG business, chapters 1-3
From the very beginning, the course guides us to find a niche and sub-niche. In a few steps, Ustin even explains how to determine your niche potential - and this goes slightly beyond the Instagram marketing topic:
"Being a blogger or Influencer is very easy - you can start working in any niche and create quality content. You can earn money only by doing what you love."
In the first few videos, you'll get knowledge about how to set your goals and what to do with your account from the very beginning. Here you will understand how to find relevant similar accounts to never lack ideas for developing and growing your account.
Ustin presents the Advanced Instagram Search tool and the exact way to use it to find the accounts of 10 excellent direct and indirect competitors. Moreover, he shows not only how to find but also and make in-depth research of these 10 accounts. All this he mixes with your niche capacity determination.
With that, the Profile Analyzer tool by Inflact also gets attention in this chapter. Ustin's advice:
"Look at profiles with 300+ uploads. What about the engagement rate? Everything higher than 10% is wonderful."
Type into ANY Instagram account name and get all information about in a moment.
He also highlights in this chapter Inflact's "best time to post" feature:
"If you upload early in the morning the chance that you will get more engagement is higher."
Content is king: a big chapter 4
Here I was offered a downloadable spreadsheet: the Instagram content plan.
It allows you to have a mind map for types of content, genres, ideas, and even a schedule of the posting.
The spreadsheet looks and works like a content plan crossed with a sales plan. It gives you an opportunity to research your competitors' offers and build your own on it.
In this part, Ustin also helps you to conduct a deep competitor analysis:
What do they do?
What can you offer to their followers to cut through your competitor's offer?
How to archive it?
"Use YouTube, Facebook and Inflact to find keyword ideas for your offers."
Understanding basics, chapters 5-6
This course gives you a full list of basic things for content creation - from the very first camera to the last filter in the editing process. Ustin explains that every piece of content you want to use in income-generating goals should be "acceptable quality."
He also gives you a template as an idea spreadsheet. He gives advice for equipment and location choice. In this course, you can even find a review of some cool photo and video making products. You can create a checklist of your equipment and shopping list for the future in parallel with Ustin.
"I'll recommend using midrange professional cameras for content and always remember that sound is the most important thing."
Also, you'll have a list of the necessary software for your computer and phone to get familiar with editing and retouching techniques.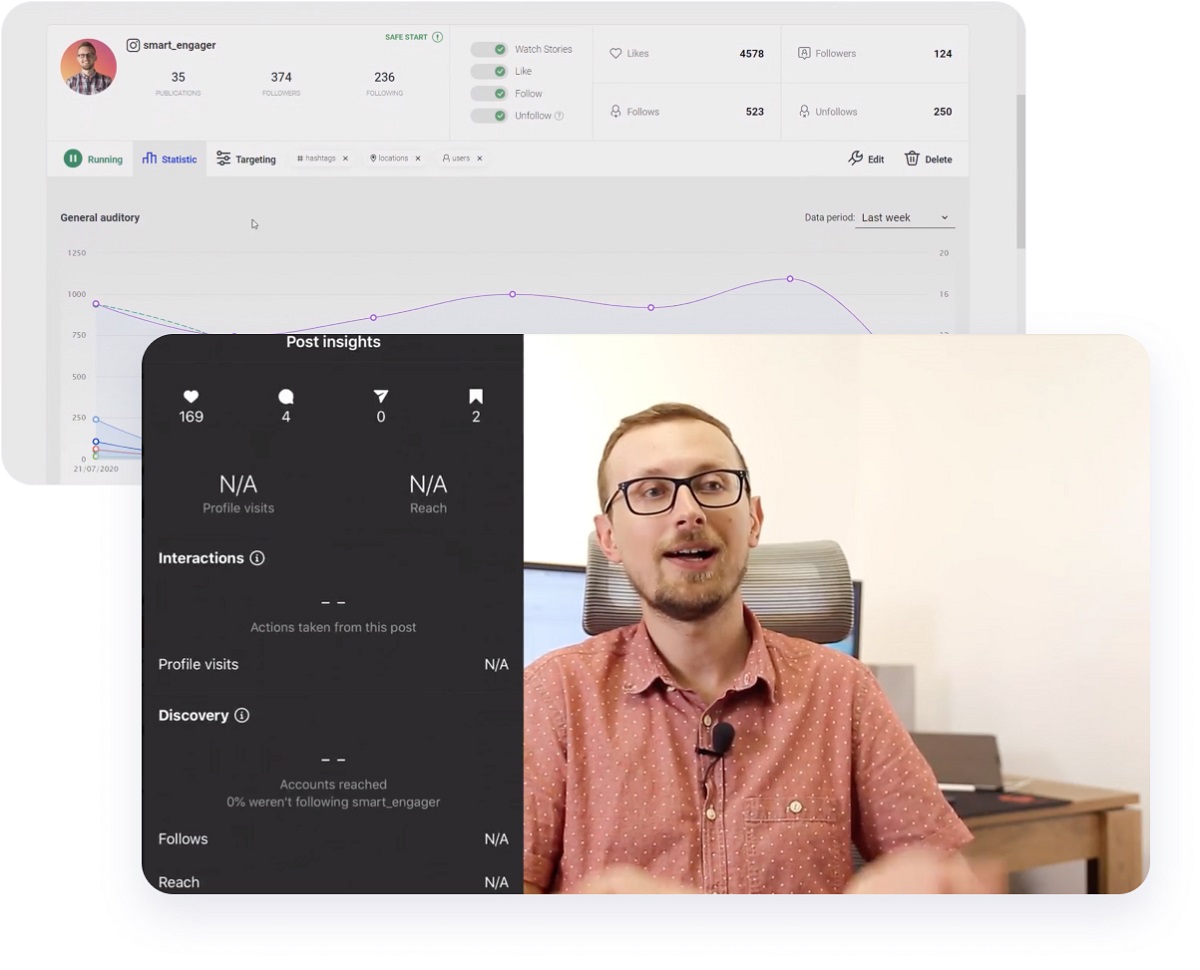 Targeting, hashtags and tracking in chapters 7-8
Ustin teaches us to use an Inflact bot to analyze customer pain points for mastering the art of targeting:
By hashtags.
In this part you'll learn about effective and ineffective hashtags. Some of them do not bring any engagement to your account. Ustin teaches you how to look at the numbers and decide: Are these hashtags worth using on your account?
By locations.
"Locations are very handy as they can narrow your audience and resize it."
By competitors.
"Grab some followers from the list of your competitor accounts and target for their following."
Also, you'll learn how to compare Inflact data to native Instagram analytics. And how to use all these stats to get the best results from the Inflact bot.
Chapter 9 is for Instagram Stories
The Instagram Stories Downloader is the star in this chapter of the Instagram marketing course.
"Every time you post a Story your account is going to the beginning of the line. The more Stories you publish - the more chance that someone will see your content." - Ustin.
He even speaks about iPhone or Android possibilities for Instagram Stories:
"Most of the features available in Stories on the iPhone are not active for Android."
He also explains the best techniques for using the Instagram Scheduler - adding Stories for a whole week beforehand with an auto-updating description feature.
The content promotion in chapter 10
In this part you'll learn how to promote the content you've already created with the help of the hashtag strategy.
"Prepare a list of hashtags for the next 14 days."
Use the knowledge of the hashtags' difficulty that is given in the Hashtag Generator tool. And always try to find and use all related hashtags. Ustin gives you a technique on how to find hot hashtags ideas to update your content plan constantly.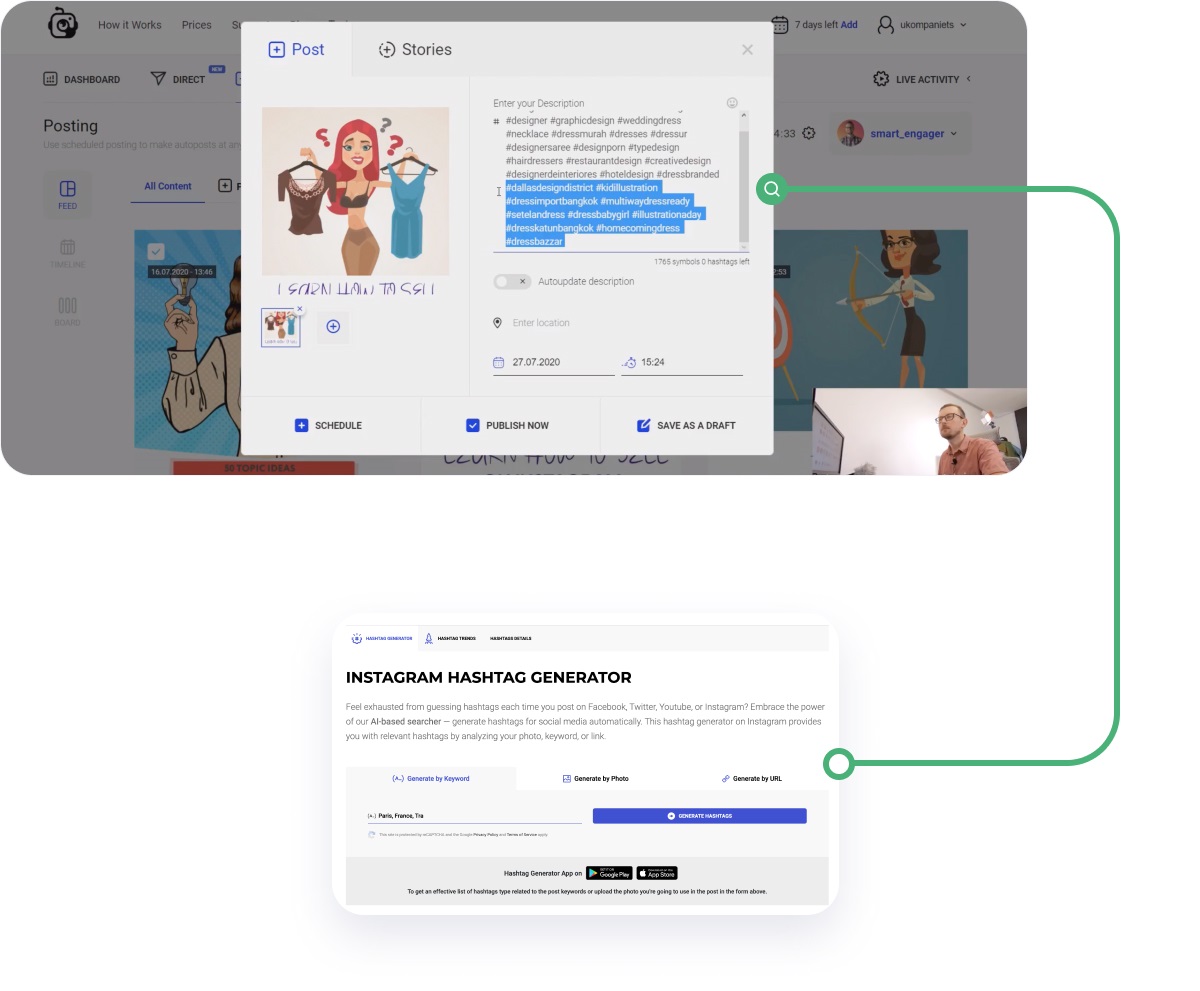 Automate promotion and extra tools in chapter 11-12
Here you'll understand why activating the private VPN function is important. Also, the use of automated promotion by targeting particular hashtags. Extra tools of Inflact like the Instagram Photo Downloader are also explained here.