Many users of Instagram all over the world are in a panic: serious troubles are being observed across the platform. But keep calm! With our best Instagram Bot in 2022, you are safe.

Though it is quite logical to expect that updates should bring changes for the better, things happen. A lot of Instagrammers have already faced some problems with their accounts and are afraid that such a situation may result in serious consequences for them.

What has happened?
After a new portion of updates on Instagram was introduced, users from all over the world started to report a view range of problems, including the troubles with:
logging out. It is impossible to log out from some accounts;
hashtags. Not all of them are working;
following. It's impossible to follow some accounts;
followers and posts number. On some accounts these numbers are not being displayed;
password. When you try to change it, you may be asked to change it once again;
feed. Sometimes it's not impossible to view the publications made by other users (as there are problems with scrolling the feed);
stories. Many users, especially with a large audience, have difficulties with sharing stories.
But it's not the end of the troubles, many Instagram users have received notifications about some suspicious activities on their accounts (including mass following and mass liking). Though the text of these notifications may vary, the idea is always the same: in such a way Instagram tries to stop those who use these methods for their promotion.
Moreover, under this Instagram policy, clients of many popular Instagram bots including
SocialCaptain, Instazood, Gramista, KENJI, Instavast, Instato, Bot4Gram, Gramboard, Instamber
, also faced with serious difficulties and received warnings about a risk of
being blocked
.
Why users of many Instagram bots are at risk?
This situation is explained by the fact that Instagram is seriously preoccupied with the idea of stopping too high activities of accounts. In the opinion of the platform's management, such activities can be considered as spamming and can be dangerous for other users.

The problem is that many IG bots abuse their power. As a result, their clients are at risk to lose their money and chance to build a large audience. It was the main reason why such services as Social Drift and SocialSteeze are closed and why so many users were obliged to look for a more reliable Instagress alternative, for example. The same situation happened to users of Social Upgrade. (Want to know more? Just read Why is Social Upgrade not working anymore? Any Alternatives?)

If you look through Instazood reviews (one of the most well-known IG bots ever!), you will see that many people have faced a lot of inconveniences caused by the service, lost their money and now are trying to get the refund. Even though this service used to be an advanced one some years ago, it is obvious that all systems are required to be updated, otherwise, the problems will be inevitable.

But are there any Instagram bots that you can rely on today?

Best Instagram growth tool is at your disposal
If you are not ready to take risks, you definitely need to learn more about Inflact that really deserves the status of the
best bot for Instagram today
.
It's a very effective tool that will never make you worry about the safety of your account. It is able to perform up to 3750 actions per day but at the same time, your account won't get blocked. Don't believe us? Just try it out and you'll see!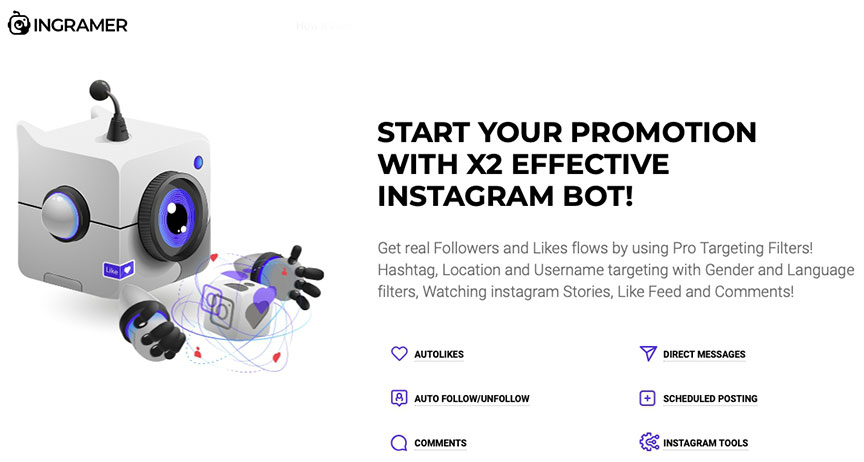 5 reasons to use Inflact:
In the current situation, it's necessary to put this advantage in the first place. Our best Instagram like bot strictly follows all the permitted limits, the same is true about all our other services. The rates of your account growth will be high. But they won't be dangerous for your account.
You don't need to worry about the safety of your sensitive data. The data and passwords that you share with us are to be encrypted and nobody will have even a chance to access them.
Liking, following/unfollowing, commenting services, a DM tool, scheduled posting...the range of the opportunities provided is really wide. And all these things are extremely easy in use. Just look through the blog post
How to use Instagram automation tools
.
Moreover, it's convenient! With it, you can
send Instagram DM on MAC
!
Up to 3750 actions! It sounds like a dream but it is absolutely possible when the latest technologies are applied, in the case with Inflact, they are.
Pleasant prices and bonuses
The prices for our services start from $22 only (and don't forget how many actions are to be performed!). Moreover, we often prepare various discounts and bonuses for our clients. We want you to be happy!
Are you still doubting what is the best Instagram Bot? Oh, please!
Promote your account with the most effective Instagram Bot!
If you have any question about Inflact services, just contact us via
hello@inflact.com