If you still have not started making money on Instagram, there may be two reasons – you still think that this platform is designed only for meaningless pictures or you don't know how to monetize Instagram. Learn simple ways to get passive income from your skills and content.

In fact, Instagram more than any other social media has turned into an online marketplace and a marketing tool. Don't think of it as a photo album anymore.
There is good news for amateur influencers – hundreds of thousands of followers are no longer needed to maintain a stable revenue. Even an audience of a few hundred or thousand followers can guarantee a passive or even main income. If you don't have Instagram right now, or your audience includes dozens of close friends, it is possible to attract at least 1,000 potential customers in just a month.
Here are 3 reasons that should encourage you to monetize Instagram:
The largest active community of buyers ever. The audience lists 1.074 billion active monthly users – these people check the app and refresh the feed every day. A large part of these people might be your clientele – and you know where their attention is now. Not on the billboards, radio, or TV.
Boosted number of purchases from this social network. Thanks to the shopping function, the Instagram audience is focused on buying now more than ever. This doesn't mean that the check-out feature is a must, though – they can still order by writing to you in Direct.
It is easy to build customer loyalty through personal relationships. When people order through your website, even if it is in the top positions in Google, they don't see your face, your real customer comments, or any other images apart from the catalog. On Instagram, you can become not just one more shop, but a friend to your tribe, sharing their character, vibe, and community. Interaction with bloggers, customer reviews, and user-generated content really encourages sales and personal communication.
Are you excited to learn how to sell on Instagram, even with a $0 venture? Let's dive right in!
Best ways to monetize Instagram in 2021
Choose one or combine these methods for better effect.
#1 KNOWLEDGE & EXPERIENCE EXCHANGE
It may seem to you that you have nothing to sell through the content. Well, think again. From years of work and studying, you have accumulated various cases, personal experiences, insights – and the Instagram audience is eager to know it.
It's not necessary that you should have an MA degree or have a million-dollar company. Even a well-researched and reworked content can bring value to people. Authentic opinions and life experience will help you to build community.
Based on your research, experience, and audience needs, you may create and present informational online and offline products. These can include courses, Instagram marathons, online masterclasses, e-books, guides, streams, etc. The format should be adjusted to your audience preferences and products. All these products will be available for purchase via links on Instagram.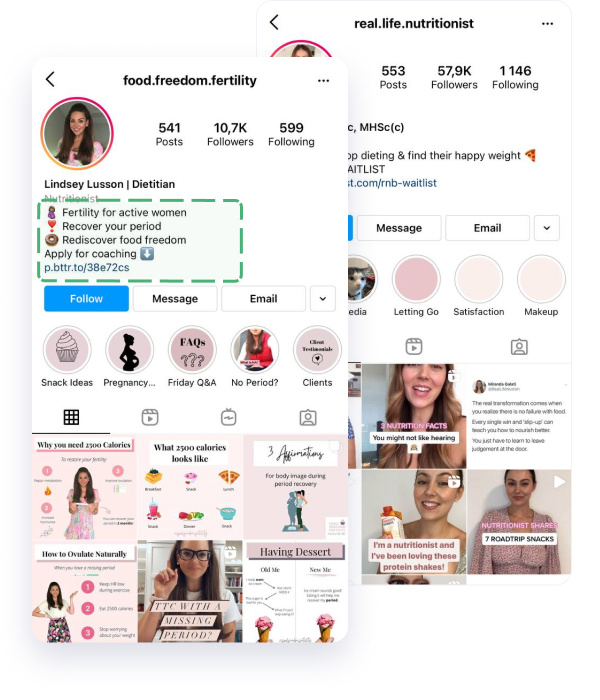 Note: Read how influencers utilize the Instagram marketing funnel and lead magnets to promote their expertise.
When people begin to trust your experience, they will most likely want to consult you personally or buy your services. Any knowledge that can be transferred through texts and visuals can be sold on IG. Here are some examples of blooming Instagram niches:
Fitness and nutrition
Makeup
Business consulting
Spiritual growth, awareness & yoga
Psychology and self-healing
Astrology and Astro-psychology
Real estate
Languages
Fashion and styling
Online learning
Note: You might think that there are already too many experts in these niches – and such thoughts can prevent you from starting out. You might feel that a newcomer will be lost in the tons of content. But there is a paradox that can help you succeed in a saturated niche – the more content and bloggers that are present, the lower its quality. So, you need to focus on quality growth. Real expertise is still a rarity that Instagrammers are waiting for.
So, start with analyzing the competitors in your niche to comprehend what they are missing. Explore what people ask and want from them in the comments. Give this missing element to the audience and you will win.
#2 MONEY FROM THE AIR – CREATE A FEATURE ACCOUNT
More and more brands are starting to invest in sponsored content on Instagram. What is most interesting is that you don't always have to use your own photos to monetize Instagram.
If you carefully explore Instagram's trendy accounts, you will notice the communities that repost visuals gathered around a specific topic. For example, it can be an account dedicated to travel, fashion trends, real estate properties, or a particular country.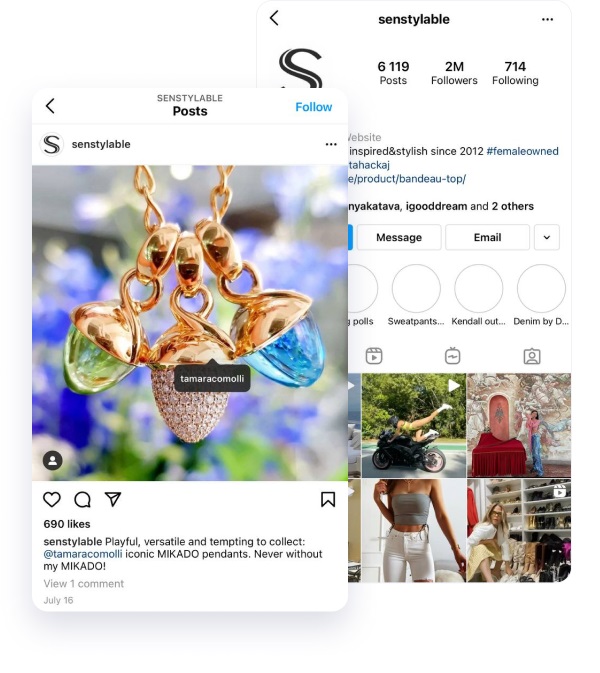 These accounts, after they attract a sizable audience, charge commissions for sponsored content or features – that's why they are called "feature" accounts.
Such accounts are highly popular and easily gather an audience, because for users it's more convenient to follow one such curated gallery than hundreds of separate bloggers and brands.
So, it's a huge potential for monetizing Instagram with no money and no content at the start.
In this article, you'll find three accounts in the fashion niche that exclusively post third-party visuals and successfully attract audiences and advertisers. Each of them provides value for their tribe. What can be considered a value:
Meaningful and lengthy captions with information people can't find via the first link on Google.
No caption at all, but a highly inspiring mood board with visuals collected in carousel posts.
Selections of products that require research and knowledge in the topic (e.g., top 5 cheap villas in Montenegro).
Discounts and coupons are provided for your audience.
It's easy to associate some products you include on a feature account with an affiliate link or a personal discount coupon. That's one more way to monetize a feature account apart from commissions from advertisers.
#3 AFFILIATE PROGRAMS
Now almost every brand selling its services or products online has developed an affiliate program. This is the simplest and most lucrative way to cooperate with bloggers for a commission. When you join an affiliate program, a company gives you a personal link or a code for tracking the audience that originated from your channels. Your community also will get a benefit – a discount – and you receive a percentage from sales. Thus, all parties gain an advantage from it: the company gets the influx of new customers, you get commissions, and your audience gets their desired goods at a reduced price.
In order to use this monetization method, nothing is required. Study the brands with which you want to cooperate and that would be of interest to your potential audience. Explore their affiliate programs on websites and get your personal links.
Affiliate programs work great through Instagram content because the audience is already warmed up there. People who trust the blogger will be glad to try recommended goods. Although Instagram allows you to use only one link in the profile description, there are third-party services with which you can link each individual post to a specific URL.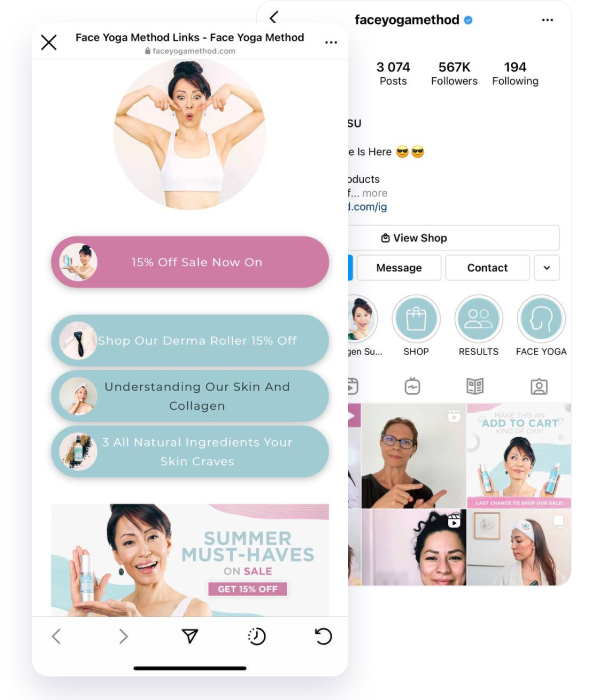 Users will be able to click on a specific post and proceed to purchase with a discount.
On Inflact we practice affiliate programs as well. If you want to educate your audience about Instagram marketing tools, read the conditions in the link.
#4 OPEN AN IG-BASED SHOP
Sometimes it seems that Instagram will eventually turn into an online e-commerce platform. When you flip through the feed, almost every second or third post is published by a store. And it's not just that – Instagram users love to order from the app and learn about new and small young brands (often consisting of a one-person shop). These can be found exclusively on Instagram.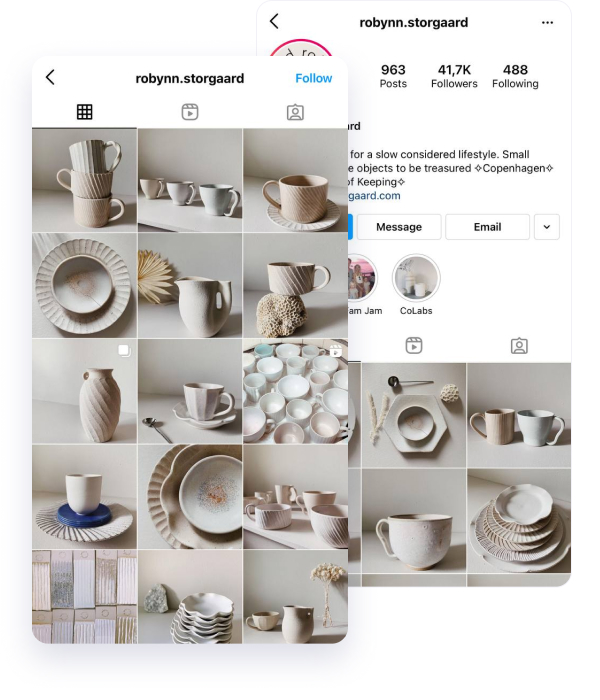 This means that launching a shop in 2021 can be really low-cost – no website, SEO efforts, designers, and developers are needed for the first time. By using only one sales channel – Instagram – you can attract your first clients and test products risk-free.
In order to promote your store and take orders on DMs, you need a desktop online chat powered with some CRM functions. The Inflact Direct Module is a solution that offers auto-replies, bulk messages, and Kanban-like boards for chats on IG.
These IG-shops are currently on-trend.
Cloths
Footwear
Lingerie
Phone cases
Hand-made
Art
Jewelry
Digital products
#5 DROPSHIPPING: USE A MANUFACTURER & ONLINE STORE
If you don't produce hand-made goods or are not ready to start manufacturing goods on your own, consider drop shipping for your Instagram business.
Instagram is a perfect place for online sales regardless of whether or not your shop is present on eBay, Amazon, or Shopify. You may organize delivery via your Instagram page only if you manage orders in Direct professionally. I will uncover what tools can assist you in this.
It's vital that a product you choose for reselling should be popular and needed by the Instagram community. To choose the right niche, analyze what's currently on-trend and identify hyped products. Try to browse accounts and find out things that Instagrammers and influencers use actively. They can be beauty suppliers, phone cases, accessories for sports, printed products, etc. You can also analyze queries on online e-commerce platforms to identify products in demand right now.
Tools and tricks for growing Instagram business
Surely, you can't monetize Instagram with 0 audience. But even if you begin from a low budget, on Instagram you can grow super quickly if you know certain strategies and tricks. These Instagram tools will be helpful for both amateur entrepreneurs and shops that are already making sales.
Promo Mode. This feature by Inflact will be helpful for attracting the first audience to your account – some of them might become your followers and loyal clients. Many new shops start by liking, following, and commenting on their competitors' audience. That's what the Promo Mode will perform on your behalf. Thanks to the precise targeting settings, you will get not just random followers, but a potentially interested audience that may turn into clients.
Profile Analyzer. With this free tool for Instagram, you will obtain many precious insights about competing accounts. If you have no idea what to post, who your audience is, how often you should post, or what content performs better, stats from this service will help you out.
Direct Module. The pearl for any Instagram business – not just an online desktop Direct, but a whole CRM for managing Instagram clients. On the dashboard, you will be able to categorize all contacts as leads, loyal clients, or just interested people. With the help of Kanban boards, you can visually classify various clients' groups for more effortless outreach.
Hashtag Generator. Hashtags are powerful marketing and Instagram SEO instruments that can drive potential clients to your business account naturally. People who are looking for your products are likely to type specific search terms to discover dedicated accounts. Why not help them find you? With the Hashtag generator, you can research trendy hashtags that can't be copied from Instagram when you type queries. The tool will suggest multiple relevant ideas you can

Copy

with one click and

Paste

into a caption.
Influencer marketing. Influencers can boost a new Instagram shop to thousands of followers in a short time. What is more, when you cooperate with influencers, you are able to attract traffic from their profiles for the long term if you ask to highlight a story or create a feed post.
Discover more practical hacks for growing the audience for your business account starting from 0 in the blog post Selling on Instagram in 2021: a practical solution to find clients from 0 to thousands (free and paid tested methods).