If you're puzzled when it comes to producing an Instagram caption, read our advice. These steps will aid you in making meaningful, readable, and engaging texts.

No one can deny the trend for detailed and genuine Instagram captions. Not only do influencers write more descriptive texts nowadays, but businesses also try to create more relatable captions. Those who sell goods via Instagram and desire to win customer loyalty in 2023 need persuasive and warm-hearted copy.
Is it easy? Not always. Dive deeper into our effective strategy to help you fine-tune your texts and win more clients.
How do you make a good Instagram caption?
STEP #1 – RESEARCH QUESTIONS FOR CAPTIONS.
Producing a good caption is simple if a writer is an expert on a topic. It helps if you are sure that your content addresses your audiences' pain points. The more time they engage with your content, the more people will see your post, thanks to the IG smart algorithm.
There are many ways to produce in-depth and authoritative posts. You can discover ways to read your clients' minds in the article What to post on Instagram to increase the value of your content.
STEP #2 – BREAK THROUGH WRITER'S BLOCK.
Has it happened to you that you have many ideas, but you can't string two words together when you start writing? Say hello to writer's block. But don't panic – you only need to practice.
Before making an Instagram caption, begin with a simple exercise that many writers use to warm up. All you need to do is remember what you've done today and write everything that comes up to your mind for 5 minutes. Don't overthink the words or the meaning.
After this exercise, you will feel ready to write your winning captions for Instagram posts.
Hack: If working with texts is not your favourite part of social media strategy, try to devote yourself to this task at a specified time. For example, you can create captions for future posts on Friday from 10 am to noon. This way, you will be focused and won't need to think about this task every day.
STEP #3 – TRY TO VOICE RECORD A CAPTION.
Have you noticed that captions on Instagram are not just informal but unfiltered and sometimes unpredictable? This should be your course for 2023 – don't hesitate to uncover your secrets, showcase behind-the-scenes, reveal corporate profits. People love shocking facts they can't google but only discover through IG copy.
There's a hack you can use to help your true stories sound more natural – record a voice note, as if you are telling this story to your friend. Your caption is ready! You only need to transform it into a text.
By using this method, you will get text with vocabulary people use in everyday life, so the information will be easy to consume.
STEP #4 – BEGIN WITH A SPICY AND/OR ESSENTIAL FACT.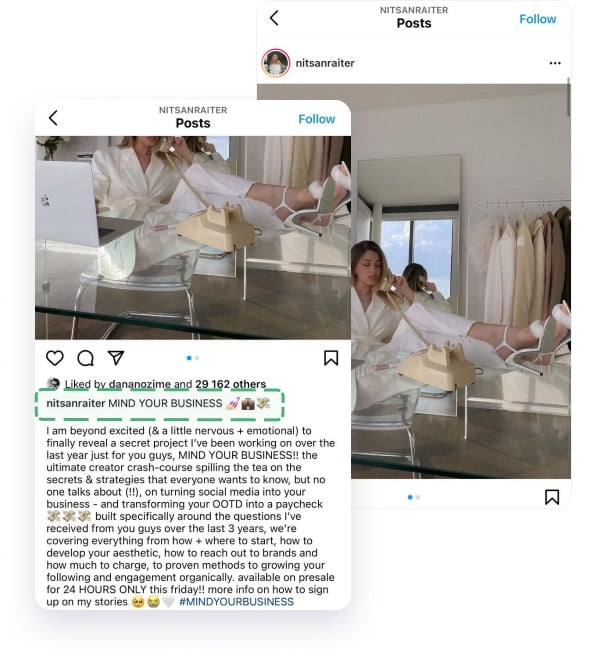 When scrolling posts in a feed, users only view the first lines of your breathtaking story. Your task is to capture their attention, and it's okay to use headlines.
I've seen a lot of posts on Instagram starting with headlines. For example, you may start with the value users will get by reading your post. If you are selling things, you may announce a sale, a giveaway, or a lead magnet (free products).
To grab more views with your headline, you can use emojis, capital letters, or stylish fonts. I'll show how to get special fonts for Instagram captions.
#5 – RESEARCH CAPTIONS OF YOUR COMPETITORS.
Listening to your rivals and influencers in your niche is crucial. That way you can understand what content results in more engagement. You will also know the major events and trends in your industry – you can then try to improve your product and offers according to these trends.
Captions of other users in your niche are a great source of inspiration. Combine what you like the most about them in your texts.
Looking for rivals is simple and fast with the User Search tool.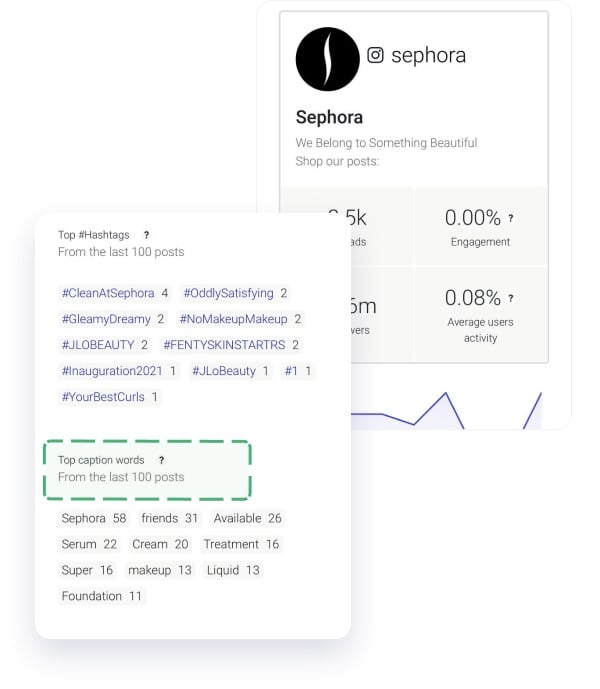 Just imagine how long it would take to find all those carefully selected accounts on your own from the app. If you want to reduce your screen time, run an advanced desktop search combined with the Profile Analyzer. By the way, the analyzer will show you the most-used words your competitors are putting in captions.
#6 – A CALL-TO-ACTION IS EVERYTHING.
You are taking pictures and thinking over the captions to stimulate your audience to take certain actions, right? Why not tell them what that action is – regardless of whether it's a purchase, a repost, or tagging a friend?
Finish your caption with a clear call-to-action (CTA) so that your audience can understand what to do. In social media with extensive content, you need to be exact and clear with your intentions.
For example, Sephora invites users to watch their stories for further instructions: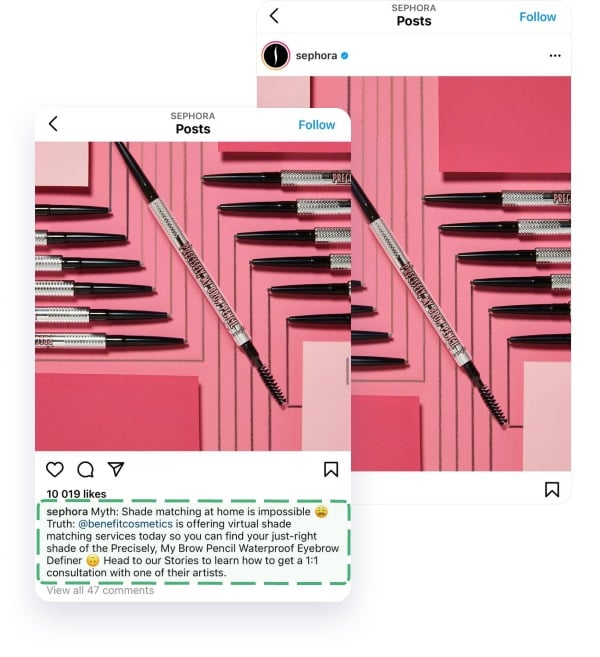 #7 – MASTER YOUR HASHTAGS.
Without hashtags, your caption will be read by fewer people. Do you need them? Yes, you do.
I know you don't want to ruin the aesthetics of your text with lengthy hashtags. But you just need to divide them from the main text with spacing. By the way, our Hashtag Generator has the built-in option to add space before hashtags.
You can learn more about hashtags in our blog The only hashtag strategy that boosts your Instagram reach in 2020 + myth buster.
These seven steps will help you discover ideas for captions, master your style for Instagram, and make your captions SEO optimized with hashtags.
How do you get a custom font on Instagram captions?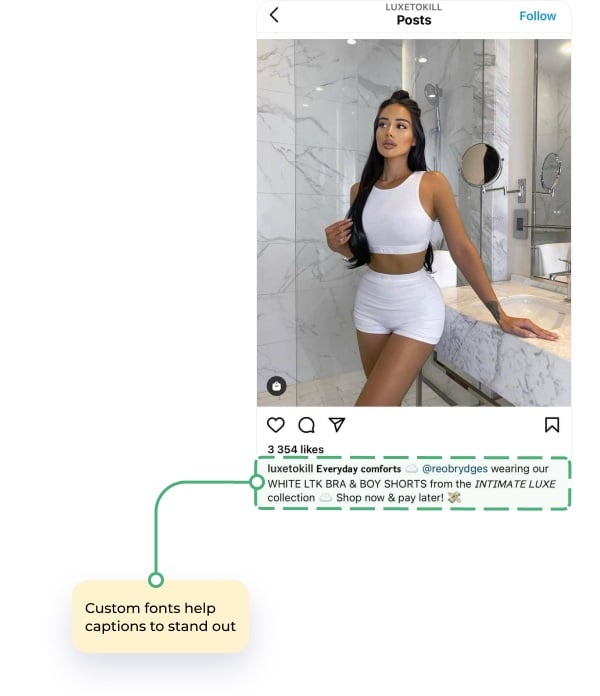 If you need to change the Instagram default font, use the web-based Fonts Generator. The service is designed to create custom symbols and characters that are copyable. What's more, on the Inflact webpage you can preview how a certain style will appear on a mobile device.
Try to align the style of characters with your general mood on Instagram. Pick certain styles for use in headlines and for emphasising certain words in a text.
How do you make line breaks on Instagram?
Making your text readable is vital. And readability depends on visual factors, like division of paragraphs. It's obvious that reading lengthy captions from a screen of a phone is a disaster if the text is continuous.
At the same time, you can not make line breaks in the app. I advise you to apply line break generators and format texts there. Next, you need to paste your caption into the Posting Scheduler if you prefer to pre-plan content in advance. Otherwise, you can paste it right in the app's text field.
All in all
All the ingredients of an impactful Instagram captions are right in front of you. It's time to start practicing because only training can shape your writing skills. Remember – you can sell more with IG captions, so invest your time in creating valuable ones.