I bet you didn't know you could do that with your Direct Messages!

Oh yeah, you can do a lot with your Direct that you don't even know about! There is a huge potential hidden in it, and now you are going to unleash this potential. Check out the top 14 Instagram Direct Messages (DM) tricks and tips. Don't you dare ignore them - you'd better try them all right after finishing this article. You were warned!
LET'S START WITH A BONUS TIP
But let's break all the rules and start right with the Bonus Tip! The secret is that you can chat in Direct, not only from your cell phone. No more chaotic movements and distraction. Inflact has recently introduced its service for online chatting - Chat and Auto messenger in one.
With this tool, you can reach out to your target audience to the fullest, keep your followers engaged and loyal, and start selling effectively. If you want to learn more about it, read
Instagram Direct Chat on Your PC: Make It Simple!
or just click the button!


TOP 14 INSTAGRAM DIRECT MESSAGES (DM) TRICKS AND TIPS
1. Send messages
Just joking:) Or maybe not. Did you know that you can send more than just text messages? IG allows you to send much more.
You can send voice messages (all the respectable messengers allow it, so IG can't do without it). Just find the mic icon near the text line, tap and hold, speak, and release.
2. Add Media
Dull messages? Nah, send a pic from your phone gallery. Choose the icon near the mic, then choose a photo and tap the up arrow to send it. You can choose up to 10 pics at once.
Third, take a pic/boomerang/superzoom, and other 'Stories' features right there on IG and send it to one person right from the chat. For this feature, tap the blue camera near the text line.

3. Create group chat and group video chat
You can create group chats with up to 32 participants. Isn't that amazing? Direct ➜ New Message (pen and paper icon at the top)➜point out participants ➜Chat.
Video chat: Direct ➜ New Video Chat ➜ choose the participants ➜ Start.
Now, communication via Direct becomes even more amusing and convenient, don't you agree?
4. Like messages
Somebody's message seemed funny to you? Like it so that this person can find out about it. Or be like me - like messages when you do not want to respond anymore.
Tap the message twice to like it. If you did it by mistake, just tap the red heart that appears once again.
5. Send posts and Stories
You can send posts of other Instagrammers in 2 clicks! Once you realize that you want to share a certain post, tap the paper airplane right below it, choose the addressee and tap Send.
The same is true for Stories: while viewing one, tap the paper airplane icon at the top of it, choose the addressee and Send.
6. Save photos and videos
Yes, you can save them, it's a piece of cake! To save a photo from DM, just tap the photo and hold, then tap Save in the pop-up. That's all.
To learn how to save video, read my article -
How to Save Videos From Instagram DM - 2 Methods + Bonus Tip.
.

7. Send profile in a message

I almost forgot about it! Suppose you've found some cool profile and want to share it with your mates. You can do that. Go to any Profile ➜ three dots (lines) at the top of the window ➜ Send Profile as Message ➜ choose the addresses and Send.
8. Delete messages
Everybody makes mistakes, the IG team realized that and gifted us a means to delete already sent messages for both the sender and receiver. Tap the message and hold, then tap Unsend.
9. Mute chat

If you are tired of some annoying fan sending you their hundredth message about how gorgeous you are, just mute him/her.
Right from the Direct section, choose an unwanted chat, tap and hold. When the pop-up appears, tap Mute Messages. Now you won't be bothered anymore.
Or you can do it when the chat is open by clicking the (i) icon at the top of the window and then tapping Mute Messages.
10. See the sending time
You can see it by swiping left in the open chat window. But once you lift your finger off, everything will go back to normal.

11. Turn off DM notifications

You can turn off all the notifications and let your mind be calm and peaceful. But I don't like repeating, so read about it in my previous article -
Turn It Off: How To Manage Instagram DM Notification
12. Hide activity status
If you don't want people to see that you are stuck on IG for the nth time today watching vids, you can turn off your Activity status. For that, go to profile Settings ➜ Privacy ➜ Activity Status ➜ turn it off.
13. Search for a conversation thread
I'm sure for Inflact clients it's an important tip, as they receive hundreds of DMs every day. To find the one chat among hundreds is complicated. That's why you can use the search bar to find the one you need: go to Direct and find the search bar at the top you probably haven't noticed before, enter the username, and you will find the chat easily.
14. Send self-destructing messages
Safety first. If you want to send confidential stuff (like your hot nude selfie) but don't want anybody else to see that, you can specify the number of views.
Right from the chat window, open your camera, take a picture and tap View Once under the receiver icon and tap Send. You will see the bomb sign - that means you are doing everything right.
AND WHAT IS THE MOST PLEASANT PART OF IT?
You can enjoy all of it on your PC, Mac, tablet, whatever you use! Start communicating on IG without restrictions and discomfort. Use your Direct whenever you want from any device, send automated messages to followers, and set auto-replies to save your time - with Inflact!
Instagram DM for business in 2022: how can you automate communication with clients to grow sales?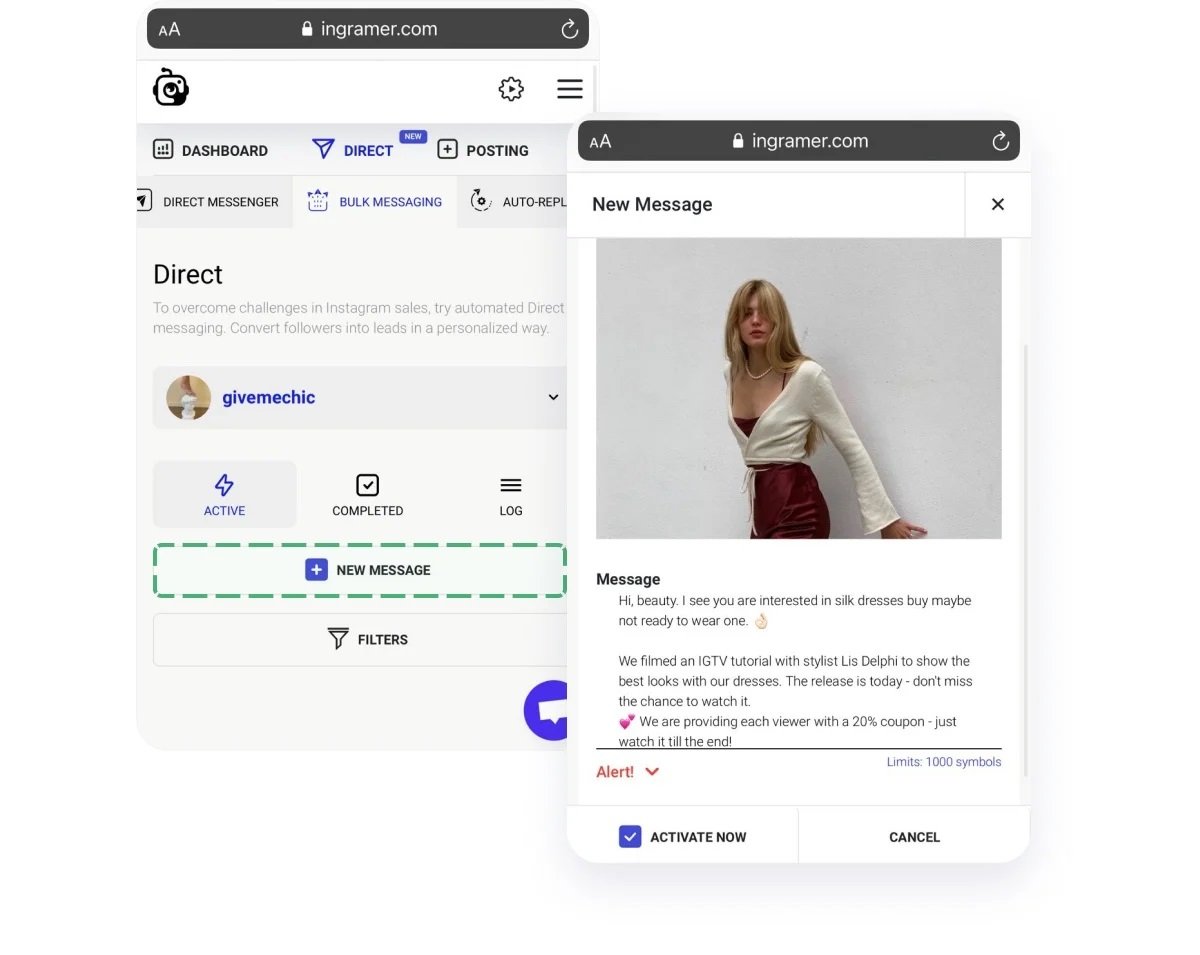 Tips and tricks you've studied in this article above are super useful if the direct inbox is used only for personal purposes. But if you aim to find clients on Instagram, you need to be responsive when they reach out to you in DMs. That's why
Direct automation
and using the messenger from the desktop can significantly improve your business.
The main task of Direct for business is to convert leads into clients and solve incoming issues. For many companies, it takes hours to respond to clients in Direct. When it takes so long to hear from you, they start texting your competitors.
The following tips will help you never miss leads and solve incoming questions any time of the day – you won't need to be present online.
4 Direct tricks for a business Instagram
Think of a welcome message. Welcome messages can be intrusive and irritating unless you make them really useful. Don't just write "Hi, thank you for following." If the first message to new followers is bringing value, they will appreciate it. For example, you can provide them with exclusive short-term offers, like discounts or even free things. In the Inflact Direct Module, you can set up automated messages for every new follower – add images, links to your DMs.
Set up auto-reactions for stories. Stories are an amazing way of interacting with the audience and gaining their attention naturally. When people reply to stories or mention your account in their stories, they expect you will notice and reply to them. But it might take time to do it manually. That's why you need to try automated responses to stories reactions by Inflact. It's possible to save the message that will be sent to all users who replied to a story or tagged you. It's super convenient when you use stories to hold contests and polls.
Provide instant client support with auto-messages. The Direct Module allows you to solve any problem and answer typical questions even if you are away from the keyboard. For example, you can set up responses based on keywords. If clients often ask you about prices in Direct, determine the keywords they use in their messages and save answers you will automatically send to them. In this case, the saved replies will be sent in 5-10 minutes after you receive such DMs. Convenient and responsive!
Pre-plan templates for DM based on your marketing funnel. When your online business is based on a funnel or a certain strategy, you need scripts for every stage. Cold clients and loyal customers need different communication scenarios. In the Direct Module, you can label each client group and view visualized boards for every group to help you plan appropriate messaging. Also, you can track the communication history in the notes.
Discover the fully-fledged tutorial in the guide
How to sell on Instagram with DM for brands and influencers (strategies for 6-figure sales and 300% engagement growth).