Top hashtags that help you effectively promote your business and personal accounts on Instagram.

Hashtags have long been well-known tools for promotion on Instagram. Read this article and find out new features that will help you get into the TOP in 2022.
How to search hashtags on Instagram
Let's go over the Hashtag search. This case looks like this if you are out of touch on a matter.
People who search by hashtags do not enter long and intricate requests. It is one to two words long. For instance, #bike # buy_bike. It is unlikely that someone introduces # buy_bike_in_New_York.
Based on this, three types of hashtags are divided:
hyped-popular hashtags (more than 100,000 publications with such a hashtag)
niche hashtags (near 50,000 publications with such a hashtag)
non-niche hashtags (up to 50,000 requests)
I want to say that you need to use all types of hashtags.
Because if a person is working and entering # buy_bike_in_New_York, try that your picture is shown to him. If a person enters #bike, you can't stand out from the crowd, but it's stupid to deprive yourself of this opportunity.
Niche hashtags are must-have - that is, they must always be present under your post.
Let's go over one more times, hashtags are good tools for organic traffic to your page or a specific post.
How to find the most popular tags on IG?
If you want to find trending hashtag right now, you need to:
Enter a tag in the Search field. Note! When you enter a hashtag, you can notice similar hashtags.
Use Inflact Hashtag Generator for free! There are displayed three types of tags - related, niche, and non-niche. You can look for the most relevant hashtags by image, link, or keyword.
But take your time using the most popular hashtags. Yes, you will get more likes (even get more followers), if you write these hashtags under the post. But it will be disinterested people in you! You will not be able to sell them anything or talk to them about common topics.
Moreover, the hyped-popular hashtags were banned by Instagram, and posts with them disappear.
If you think that no one is looking for hashtags, you are mistaken. The proper placement of hashtags will be able to help your page increase targeted followers

The story of life. A couple of days ago it was necessary to find a good tattoo artist in Philadelphia who works in a realism style. Google did not give results, except for tattoo salons. Do you guess how I had to look for a talented tattoo master? The moral of the story is, the master received the client because he had correctly put the hashtag on the photo. Think about it.

How to use hashtags in posts?
How to boost your audience for free? Right! You need not be lazy and use hashtags.
You used to write tons of hashtags and stay with a working profile. Now there is a chance to get a shadowban and no one will see your posts except you. Therefore, you need to put 5-10 hashtags under the post.
Note hashtags are a working tool and use it correctly! Collect maximum hashtags in the ways I wrote about above.
Set related hashtags that are meaningful to both the text and the photo.
Put hashtags at the end of the text (or in comment block).
Don't use the same hashtags, so as not to get a shadowban.
Collect at least 300 hashtags (100 of each frequency) and draw up a content usage plan.
How to use your tags to promote your IG profile?
1. Combine hashtags
You can simplify the navigation of your profile for users with the help of hashtags. Make headings. And combine it with the actual.
For example, you sell men's shoes and women's shoes. You can create a selection of "Men's shoes" in the Actual and indicate the hashtag # men's_shoes_mlv (the name of your brand). Use this hashtag under all men's shoes. Do the same thing with women's shoes, the only difference is # women's_shoes_mlv.
This way you will have easy navigation. A user can easily filter masculine from a female. This is a crude example, but I think you get the gist.
2. Follow hashtags
Instagram made this opportunity in 2018. Not everyone is actively using it. But not being among the first is stupid.
At a minimum, you can encourage people to follow your unique brand hashtag. This mechanic is simple and effortless. But she will bear fruit. How to increase the popularity of your hashtag? There are various ways - contests, challenges, comments on the pages. But do not try to spam. Get a shadowban, and this is far from a pleasant thing.
3. Use hashtags in Stories
You can also attach a hashtag to it by creating hashtags. Remember that hashtags can be reduced in size. Make a bunch of small hashtags invisible to the eye and put them in one photo in the story. Coverage is growing, competitors are at a loss!
The Inflact Hashtag Generator
The Instagram hashtag generator is needed in many cases. Profile owners can increase their audience, improve interaction with fans, and also find new followers among their target audience. It is difficult to manually analyze tags and select the right ones.

Hashtag generators are useful for:
Inflact hashtag generator is a simple and free service that selects hashtags relevant to the keyword, URL, and picture. It's easy to work with it:
Go to Hashtag Generator service
Select the most comfortable method of hashtags search.
Press Enter and scroll down. There will be suitable tags.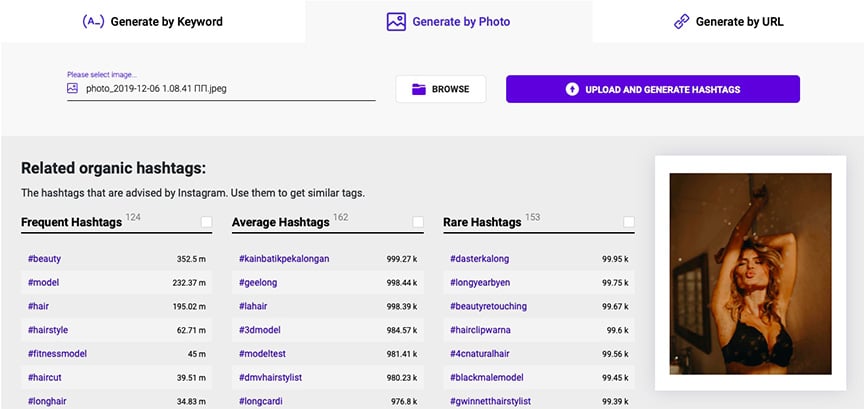 Now you know how to find and use the Inflact hashtag generator created by Inflact!
Trending hashtags on Instagram right now
There are too many different trends in our world, so hashtags are divided into thematic categories. Even a novice knows that popular bloggers devote their pages to certain activities or trends in art. It is these people who are convenient to use this breakdown of tags. Topic tags are easier to copy and use in the text of a publication because they are put together.
Do you want to know trending hashtags on Instagram right now? Let's roll!
Food
The popular culinary theme "enslaved" not only restaurateurs and chefs but also ordinary lovers of photographing their breakfasts, lunches, and dinners in pretty cafes. It is really fashionable and beautiful if the information is presented correctly.
Suitable hashtags to reach your audience:
#healthyfood
#foodtruck
#foodblogger
#foodheaven
#foodstyling
#instafood
#foodpassion
#foodoftheday
#foodpic
#foodlove
#foodspotting
#foodtrip
#foodiesofinstagram
#breakfast
#brealfastclub
#breakfastbowl
#breakfastporn
#lunch
#lunchbox
#lunchboxideas
#lunchtime
#lunchdate
#healthylunchideas
The subject of food is quite extensive. It includes a lot of subcategories. It can be drinks, and desserts, and unusual goodies.
What tags to use in this case:
#winetasting
#winelover
#winery
#winwdownwdnesday
#winewinewine
#winehouse
#winestagram
#coffee
#coffeeshop
#coffeqoutes
#coffetable
#coffeemaker
#coffeholic
#coffeecup
#coffeaddict
#coffeart
#cake
#cakedecorating
#cakepops
#cakemash
#cakelover
#cakedecorator
#cakevideo
Society
Social networks emphasize the importance of society and the importance of communication between people. On Instagram, you can find a variety of topics for discussion: marriage, family, romance, separation, friendship and more.
Other "social" tags from a number of popular:
#marriage
#romance
#friendshipqoutes
#friendship
#friendshipmagic
#frienshipforever
#loveme#loveu
#loveislove
#loveyou
#loveher
#lovehim
#witchesssociety
#grungesociety
#loveyourself
#loveislove
#loveit
#lovehir
#lovehim
#lovedog
#lovelife
#lovelovelove
#catlovers
#naturelovers
#puppylove
Holidays
Many Insta inhabitants present a view of their leisure time because this is the most interesting thing that you can imagine. Especially if the owner of the page knows a lot about diverse entertainments.
#christmasparty
#christmaslights
#christmasnail
#christmascookiers
#christmasiscoming
#сhristmastree
#newyearsday
#newyearnewme
#newyearseve
#newyears
#winter
#cold
#thanks
#thanksyou
#salute
#wecelebrate
#valentineday
#love
#happyvalentinesday
#happyvalentines
#valentinedaygift
Animals
Pets conquered the expanses of the social network not much later than people did. Of course, we are talking about photographs of animals. Instagram is full of pictures of cats, dogs, and other animals.

The following tags will help:
#animalkingdom
#animali#animales
#animalplanet
#catsofinstagram
#catoftheday
#catlover
#cats_of_world
#catloversclub
#catfish
#catlife
#catslife
#catphoto
#puppylove
#puppytraining
#puppy_tales
#puppys
#puppyfun
#doggo
#dogoftheday
#doglovers
#dogphotography
#doglife
#instadog
Nature
This is one of the most powerful sources of inspiration and energy. Outdoor recreation is accompanied by the creation of memorable pictures that I want to share with friends, acquaintances and casual guests of the page.
To attract users to the picturesque beauties in the creative account, special tags were invented:
#naturephotography
#naturelovers
#nature_perfection
#nature_brilliance
#nature_captures
#nature_shooters
#nature_wizards
#rainbowbay
#rainbow
#rainyday
#mountain
#mountain_world
#mountainstories
#mountaingerls
#mountainvibes
#mountainlovers
#mountainview
#mountainlife
Fashion
Fashion is another popular topic on social networks, which will never be less relevance. We all love a demonstration of new things, detailed reviews of purchases and simply aesthetic photos. And what can we say about the many online stores offering a wide range of clothes, shoes, and accessories? Smart tags help owners of online businesses to promote their accounts on Instagram.
Fashion and style hashtags:
#fashionnova
#fashionable
#fashionweek
#fashionaddict
#fashiontrends
#fashionformen
#fashiondiaries
#aestheticclothes
#trendyclothers
#dress
#dresscode
#dressage
#dressy
#dressmaker
#accessories
#accessoriesfortheday
#accessoriesaddict
#miniskirt
#skirts
#costumeparty
Quotes
Publications of "thinking" Insta inhabitants often include well-known sayings by writers, poets, and successful people. Blank photos have long gone out of fashion. Content on the social network improves and progresses in quality every year. # Quotes allow you to make the page unique, emphasize the author's style of maintaining it. This is an effective tool for promoting your own person and personal content.
Therefore, you need to stay abreast of the latest "tricks".
#quotes
#quotestoliveby
#quotesaboutlife
#quotess
#qutestag
#quotestoremembe
r#qouteslover
#quotescinta
#quotestagram
#qoutesinspire
#qoutesoftheday
#inspirationalqoutes
#quotesandsayings
#loveqoutes
#qoutesforlife
#qoutesforyou
#lifeqoutes
#qotestags
#qoutesaboutlove
#brokenheartqoutes
Top 20 most popular Instagram hashtags for December 2021
The most popular Instagram hashtags tendency slightly changes in December. Why? That's too obvious — people have a certain topic to discuss and particular stuff to show. That's holidays, Christmas and gifts. Together with your mood, most popular hashtags on Instagram change, too.
#love
#photography
#instadaily
#holidaystyle
#friends
#food
#holidays
#smile
#life
#picoftheday
#holidayfashion
#christmas
#happyholidays
#underthetree
#homefortheholidays
#christmastime
#meme
#christmasparty
#presents
#jolly
Secret trick nobody told you about!
Popular hashtags on Instagram are capable of bringing you a lot of new admirers, no doubt. However, only in case, you know how to put them wisely.
The trick essence is that you should edit the set of hashtags you put down in an hour or two after publishing, just after they gather all the likes and capture all the attention of Instagrammers. Then repeat it once or twice again. You already know where to search for popular Instagram hashtags. So go ahead!
Final thought: Each individual is free to trust their own imagination and intuition. You have read the rating of the trending hashtags on Instagram today, but no one forbids looking for your own way to success. In that case, if the use of the correct tags does not bring the desired result, and the activity in the profile remains practically unchanged, it is worth paying attention to the number of followers and working to increase them. Yes, a social network has its own unspoken rules. If the user scored less than 1000 followers, his publications are shown to only a small number of people. In this case, the hashtags won't change anything. To attract live followers, use a quality promotion service.