What is a promotion on Instagram? The real truth about this and effective method of promotion on Instagram inside!

Today, many businessmen and popular bloggers successfully use Instagram for work. For that, they need to attract as many people as possible, encourage them to follow, wait for the news, participate in promotions. So, what is it and how to implement it independently and with the help of special services and programs? Let's reach up the acc to the sky!
Do you remember this a golden time when Instagram was used as a social network for posting funny photos once a week? Often, these posts were accompanied by funny tags and stickers. Yeah, it was a cool time when everybody did photos for themselves, not to attract an audience!
But now, the situation has changed! Today, Instagram is the most powerful platform that can bring you customers, money, world popularity! Or maybe not. It depends on how you interact with this platform. If you want to get something good from Instagram, get ready for the fact that you will have to work seriously on its promotion.
What is a promotion on Instagram?
IG promotions mean attracting active followers who are the part of the profile's target audience, maintaining their interest, popularity, and recognition of the brand or name. Firstly, any bloggers or businessmen gain the trust and sympathy of their followers, and then publish advertising posts for money or services, or promote their products themselves.
To gain this desired popularity is possible in different ways and these ways may differ from each other depending on what account you have personal or business. I've prepared a useful guide on how to work on a personal account to increase its popularity. Let's start with the personal one.
If you have a personal blog, you need to fill it with beautiful photos + interesting descriptions. The main rules are:
Find the appropriate time for publications. They should not be random, the page is obliged to capture at a glance.
Choose the frequency of publishing the posts, preferably from 1 to 3-4 per day, so that followers do not lose sight of and do not get tired of the abundance of information.
Find a topic in which you a professional and which causes a response from the audience, and develop this theme.
Respond to all comments as soon as possible so that they do not lose their relevance.
Tell about yourself and what you think about some things.
Ask your followers to tell you about themselves.

For business pages, the recommendations are almost the same, but have some differences:
Show your brand, your logo and the face of your business.
Choose only the high quality photos of products.
Do everything possible for quick recognition of your brand.
Shoot backstage of the creating process of your product.
Publish reviews of satisfied customers.
Publish ads once a week.
Thank your followers for orders and support.
Thus, an interesting, promoted page on Instagram brings not only popularity to its owner, but also a good cash income.
I've already prepared for you an interesting article about How to promote Instagram page? (Real Ready-Made Solution Inside). Read it and fill the gaps in your knowledge!
The benefits of promotion on Instagram?
As I said, Instagram promotion is a purposeful action that helps to increase the number of followers, comments, likes. Instagram gives you a lot of opportunities! Some interesting about this social network:
A large number of users! Now, this number has exceeded over 800 million people;
High dynamics of development! Every day and month new people and companies join the network;
High activity! Every day 500 000 people go online, which is more than 60% of all users;
Great engagement! 1 000 comments, 8 500 likes to posts every second.
My dears, do you like these numbers?
This suggests that here you can find your customers, fans and like-minded people. Even if you are not an entrepreneur now, you can start making money on your hobby or sharing life hacks, helping people solve problems or just pleasing them with quality content.
Thanks to the promotion of your account on Instagram you will get your audience. If your actions are not aimed at earning and will bring just the joy of communication and new acquaintances – this is also an excellent result!

How to promote your IG account?
Before your account starts to work in the plus, you need to configure it correctly. There are many ways to promote Instagram page. Also, users are constantly creating original methods of promotion. So everything is in your hands – I will just point out the general methods, based on our experience of promotion on Instagram.
P.S.: Remember that Instagram is a young resource: almost every day something new appears in it. So, you can think of your author's techniques!
Method #1 Advertising
Advertise your page on Insta through other services, like Facebook on the website of your online store or blog, in communities, in comments – wherever there is an opportunity for this.
Paid advertising on Instagram opens wider prospects. The cheapest way is targeted advertising through various services. A good option is to write your proposals in the accounts of promoted users or Instagram stars.
Method #2 Competitions and giveaways
A simple and quite effective way to get followers is to offer them a prize for certain actions – to repost, write a comment, mark friends and place on the photo.
Here is a typical example of a prize giveaway (the most active give the phone):
Put like on a specific photo.
Follow the account.
Register on the page of the online store via the external link.
Take a screenshot, then post it on your profile, and note the photo of the user to add the required hashtag.
Get 20 or more likes.
Let me remind you – the audience here is more active and easy-going than in other social networks.
Method #3 Mutual promotion
SFS or simply "shout out for shout out" — mention for mention. The method is simple and clear. You promote other IG pages on your account, they make response posts. There is a kind of exchange of customer and followers databases.
This is a free, effective and fairly fast way to promote, however, it is more suitable for personal pages – designers, copywriters, artists.
Method #4 Using the planner posts
An important point in promoting Instagram pages is the content that the user publishes. Over its creation, a person needs to work, because his profile is his business card, this is the first thing that users pay attention to. To fill the profile on time and use any opportunities to improve publications, you can use a convenient
Inflact Post Planner.
Create a post, write a beautiful and interesting text.
Add the desired photo, video or story to your post.
Add cool stickers and emojis to color your post and attract even more attention.
Add the desired location and hashtags. This can allow all interested people to find you much faster.
Select a publishing time. You can set the scheduled posting depending on the required timezone.
Save the publication and it will be published at the right time!
Thanks to this feature you can create all your posts on your PC or MAC, cause it is not always convenient to edit publications on the small screen of the phone. All these actions are automated, and there is no possibility of failure. In addition, you can connect multiple accounts, if you are set up to multitasking and develop several Instagram pages. To simplify the work, the program can create your publication plan, and the program will post them at any time convenient for you, while you do anything else!
Method #5 The use of direct messenger
The secret of success of any blogger or Instagram business owner is respectful and friendly communication with followers and clients. People love when they are taken care of, when somebody shows initiative, advises something, etc. So, don't forget about it when you try to promote your IG account or business profile effectively.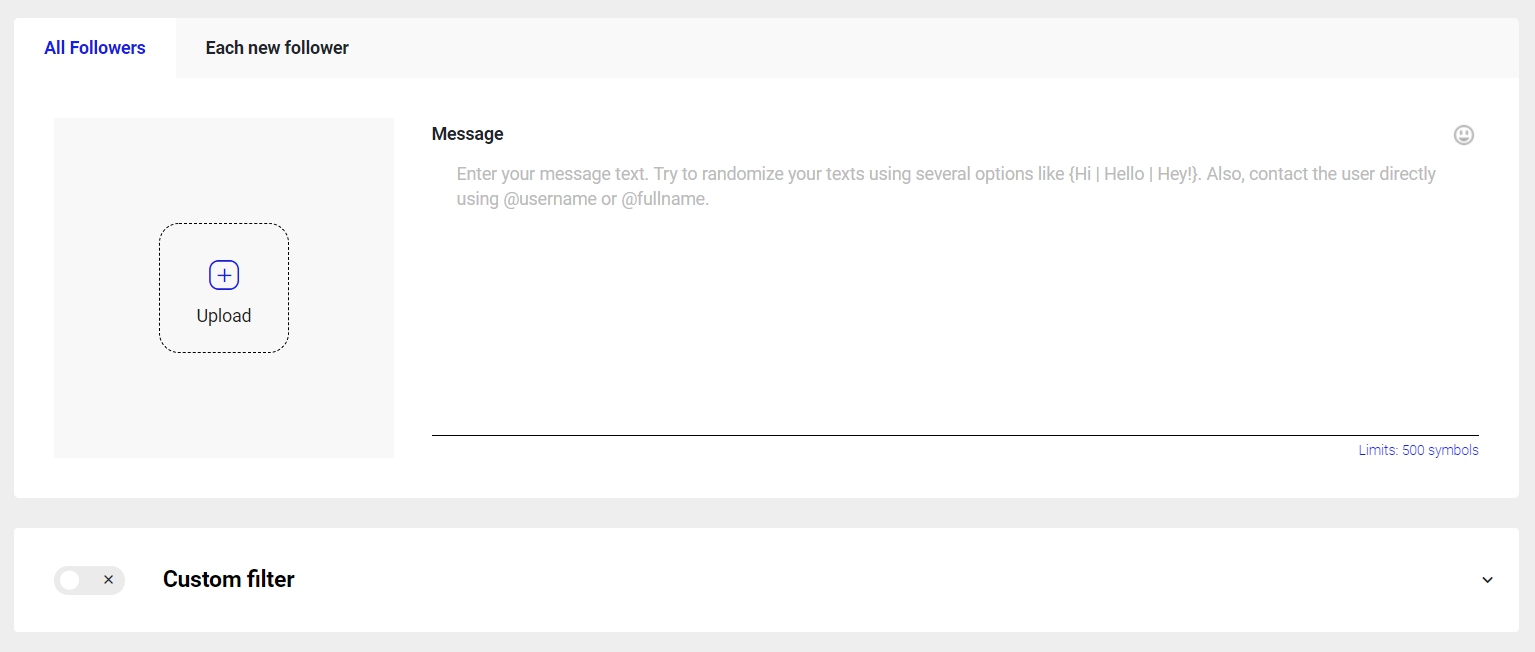 Using
Inflact Direct Messeges
you can stay in touch with your customers around the clock. All you need is to create a message and configure the sending parameters. The process is simple and does not require special skills. In addition, it is possible to configure automatic distribution by three criteria: new followers, all followers, a list of selected followers. Each of these criteria has its advantages and features.
Promotion on Instagram is a complex set of measures that must be constantly tested and analyzed. What exactly can help you with this aim - you will know after a couple of actions and tests.
So, try different methods of promotion and be as cool as possible!
Do you know about our news? Now, you can conveniently, efficiently and quickly communicate with your customers using
Direct Chat!
All the most necessary information on this topic has already prepared for you.
Start your promotion using Inflact's tools today and get the first results tomorrow!
Try and Register