Even the most creative social manager sometimes suffers the lack of ideas for posts. Moreover, content in 2021 should be more meaningful than ever before. Learn our strategy for producing engaging and up-to-date posts.

In 2021 it is not enough to post just aesthetic images – your captions, stories, and visuals should bring value to your community. It doesn't matter if you are selling handmade clothes or teaching French on Instagram – followers will spend more time viewing your posts if the posts address their pain points.
But how do you investigate what troubles your target clients, especially if you're new to business? There are many options to showcase your expertise on a topic, but you should first discover the questions that are on your audience's mind.
Let's investigate how you can always be inspired to produce Instagram content that is never overlooked.
What to post on Instagram in 2021? 5 steps for professional research
Finding content ideas is easy if you know how to research. Below you will find essential steps to fine-tune your posts according to your target audience's needs.
#1 – Monitor competitors on Instagram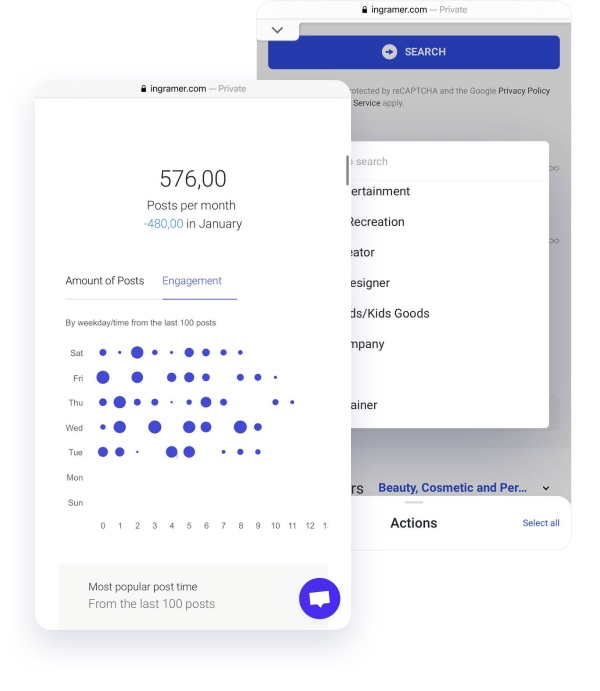 The easiest yet very effective solution is to stay tuned in to your competitors' updates. Remember to discover the content not only from your direct rivals but also replacement and related ones. Try to investigate companies and influencers in your niche globally and take away what you like about them.
User Search is an online tool helping you find thousands of Instagram accounts according to keywords or categories. When you get the list of accounts, tap on Analyze and keep an eye on this data:
Top posts. Look at the publications with the maximum number of likes and comments. There's a high chance that your followers would like this type of content as well. Be attentive to every single detail and read captions carefully. Highlight win-win ideas in your content plan.
Stories. Click on profiles and analyze what type of stories they upload. Is it videos, images, questions? Do they use captions in stories? Make your conclusions and write striking ideas for stories.
Hashtags. No matter what you post, your content goes nowhere unless you make it searchable with hashtags. On the Profile Analyzer page, you'll find the list of hashtags your competitors apply based on 100 posts. Use some of them and find related ideas in the Hashtag Generator.
Posting time. What is the best time to post on Instagram? The best time is when your followers are usually active. On the Analyzer page, you'll find the timetable with engagement by hours – publish your content at the peak times.
Investigation of content ideas should go beyond Instagram. Below you'll find side services for analyzing your audience's problems and solving them via Instagram content.
#2 – Use answerthepublic.com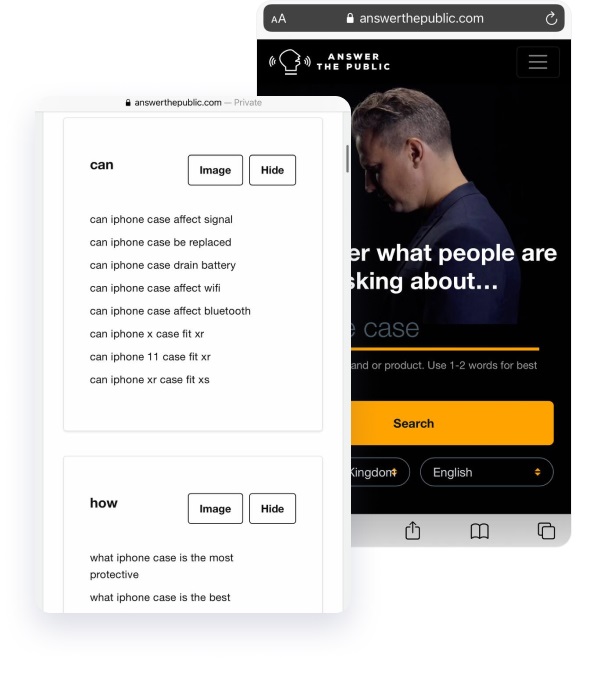 Answerthepublic is an online service helping you read your target clients' minds. It will show you various questions people ask Google about any topic. Moreover, the inquiries are handily grouped and visualized.
For example, if I sell iPhone cases and want to bring value to my followers, I'm going to answer these questions in the next posts:
Can an iPhone case affect the signal?
Can an iPhone case be replaced?
Can an iPhone case drain the battery?
Can an iPhone case affect wifi?
Can an iPhone case affect Bluetooth?
As you see, this web service can provide you with tons of content ideas relevant to your audience.
#3 – Use niche-specific forums
I bet you know that Quora is one of the most popular resources where people go to find answers on any topic.
I suggest you monitor questions and answers tied to your business. Firstly, you will grow your expertise. Secondly, you'll find inspiration for Instagram content.
Furthermore, it would help if you researched niche forums where your audience discusses news, products, etc. Try to reach beyond Reddit and find more corner communities.
For example, for the beauty niche, I'd monitor Beauty Brains Forum, Beauty-Forums.com, etc. Ongoing topics and conversations will help you keep up with news in your industry and create buzz topics on Instagram.
#4 – Research across other social networks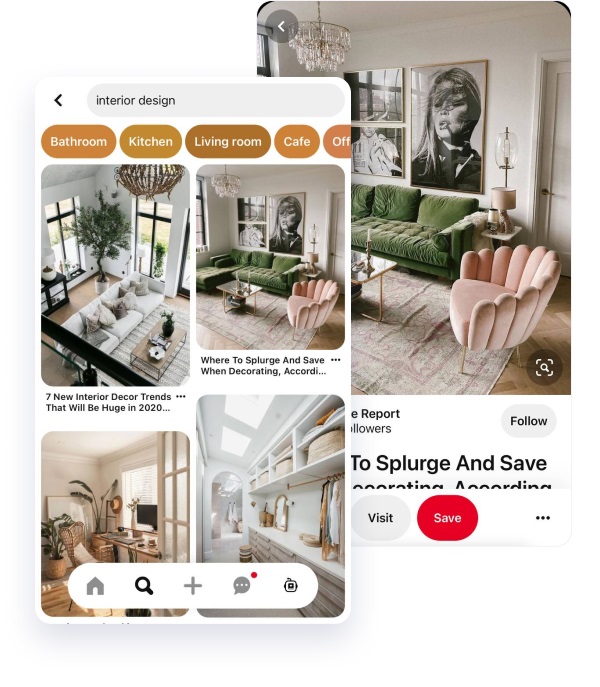 Analyzing platforms like YouTube, Pinterest, Twitter, and TikTok is essential, even if you do not use them for promotion. These social networks will give you hundreds of ideas you can adapt for the Instagram format.
Analyze search volumes on YouTube. What videos are people looking for in your industry? Maybe these searches will be good ideas for your IGTV series and feed videos.
Get inspired by Pinterest visuals. On this platform, you may find millions of images, infographics, and videos. See what types of Pins gain more views and reactions and embed these ideas for Instagram.
Find buzzing topics on Twitter. Twitter hashtags can tell you a lot about what's going on in the world. There are special services that help to follow specific hashtags and conversations using them. Also, it's a common practice to repost Twitter memes on Instagram (read our article Instagram Memes: 6 Hot Content Ideas for 2020 to learn how to research funny content).
Keep a tab on TikTok trends. This social network is a must, especially if you sell goods for generation Z. You can replicate some ideas from witty clips in stories or feed videos. Also, you can use the built-in editor to experiment with various effects.
#5 – Ask your customer support
Haven't you already done this? They get hundreds of questions that might bother your Instagram audience. Cover some of them in a Q&A session or in posts, and keep the answers in Highlights.
Lastly
Don't panic every time you don't know what to post on Instagram. Simply research. Investigating within Instagram, across other social media networks, and search inquiries will help you create posts that solve your target audience's problems. As you know, solving problem issues is the first step for building brand trust and loyalty.