'Ignorance of the law excuses not' is the old truth that everyone knows, but not all follow. Let's see what rules you should observe not to fall out of the platform's favor.

This is a good question to ask yourself every time you're going to post something you're not 100 percent sure is in line with Instagram's policies. Indeed, 'What should I do not to get my account blocked?' is way better than 'Why did my Instagram account get banned?' In this article we're delving into the most common reasons for getting kicked out from Instagram.
Reasons why an Instagram account can be banned or disabled

Overstepping the boundaries of Instagram's Community Guidelines and Terms of Use may result in removed content or disabled accounts. If you find yourself looking at the error message on what used to be your Instagram page and wondering 'Did my Instagram account get banned?', you probably need to review your recent activities on the platform to discover what you've done wrong. Here are the main reasons why your account can get blocked:
Repetitive comments or artificial collecting likes and followers, contacting users for commercial purposes without their consent, exceeding Instagram's limits imposed on the number of subscriptions or comments. Don't spam DM inboxes, don't write identical comments and make sure you follow or comment at reasonable intervals, not giving the platform's algorithms grounds to 'think' that you're using a bot. Instagram can suspend your account even for continuous posting.
Adult content. According to Instagram's Community Guidelines, images that show nudity shall be removed. Beware: even photos of naked kids fall into the 'adult' category.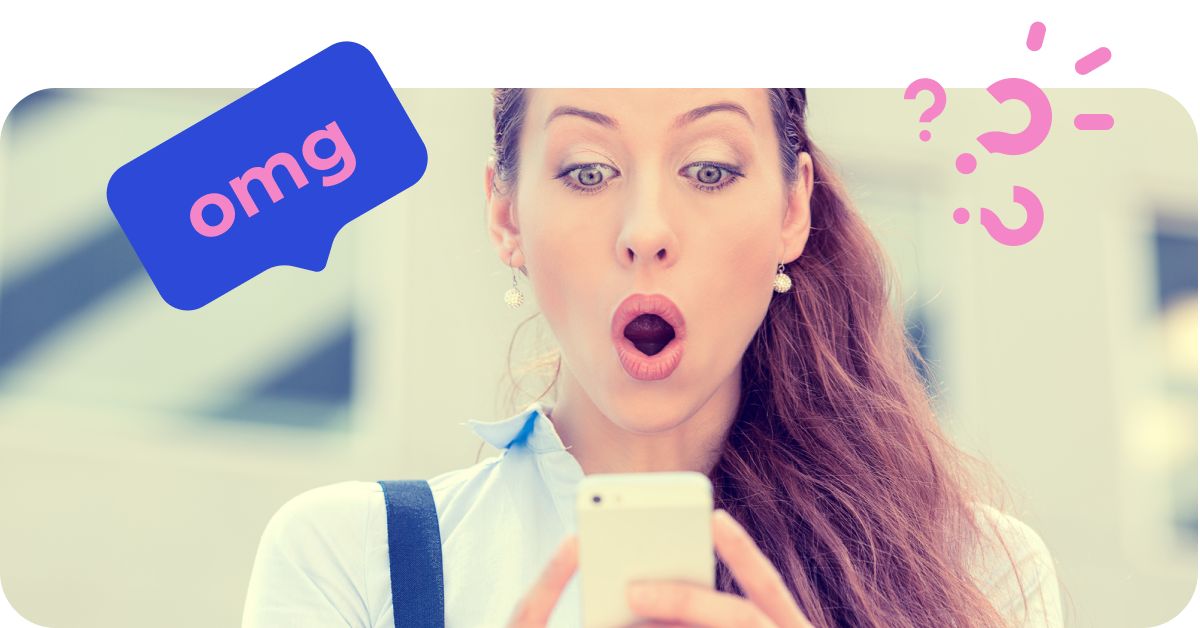 Infringement of intellectual property rights. Posting someone else's words or images without obtaining a permission is not allowed. To be on the safe side, share authentic content and avoid posting anything that hasn't been created by you unless you have the necessary rights.
Account duplicating. Fake accounts are not welcomed on Instagram even if you created a duplicate of your own page.
Accessing your account from several different IPs simultaneously. Instagram's algorithms will consider these actions suspicious and send you a warning immediately. It's ok when multiple users access the same account, but they should not log in at the same time.
Posting someone else's private or confidential information without permission (e.g., e-mail addresses, insurance policy details etc.).

Other reasons for getting your account banned include promoting self-injury, anorexia, suicide, etc.; posting violent content; bullying people because of their race, gender, sexual orientation, health conditions, etc.; impersonating others or providing inaccurate information about yourself; and advertising or selling prohibited goods or services, among others.
Also, according to the Instagram policies, you can't use a domain name or URL in your username without the platform's prior written consent.
The bottom line is: if you violate Community Guidelines, your content may be removed. In cases of severe violations, your account may be deleted. Extreme vigilance is exercised as regards accounts with a certain percentage of violating content and with a certain number of violations within a period of time.
How to Discover if Your Instagram Account is Banned?

This is easy. If your Instagram account has been disabled, you won't be able to access your page on the platform. You'll see an error message when you try to log in.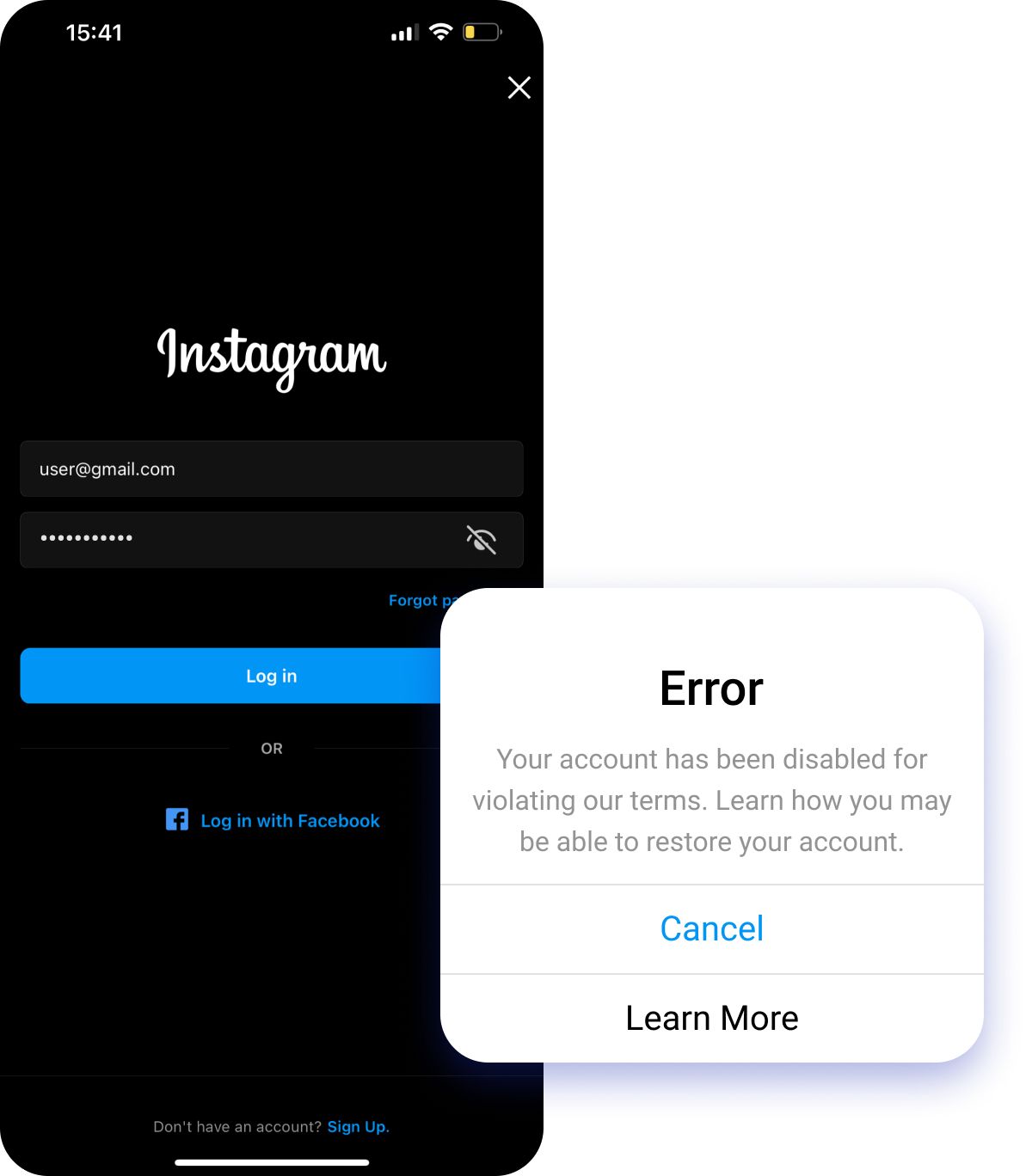 If you don't see that kind of message, you may be experiencing a login issue.
Another way to tell if your Instagram account is active is to ask a friend to check its status. It can be done by tapping the magnifying glass in the bottom of the screen and entering your username in the search bar. How do you know if Instagram banned your account? It's simple and straightforward. If it doesn't show up in search results, it's probably banned.
What Happens When Your Instagram Account Gets Banned
You've never experienced losing access to your account and would like to know what happens when your Instagram account is banned? In most cases, you'll get a warning before your account gets blocked. Deactivation occurs when you keep infringing the platform's policies. When your account is banned, you will not be able to neither access it, nor create a new one with the same username. An account's unusual activity can be a signal for the Instagram algorithms to block it.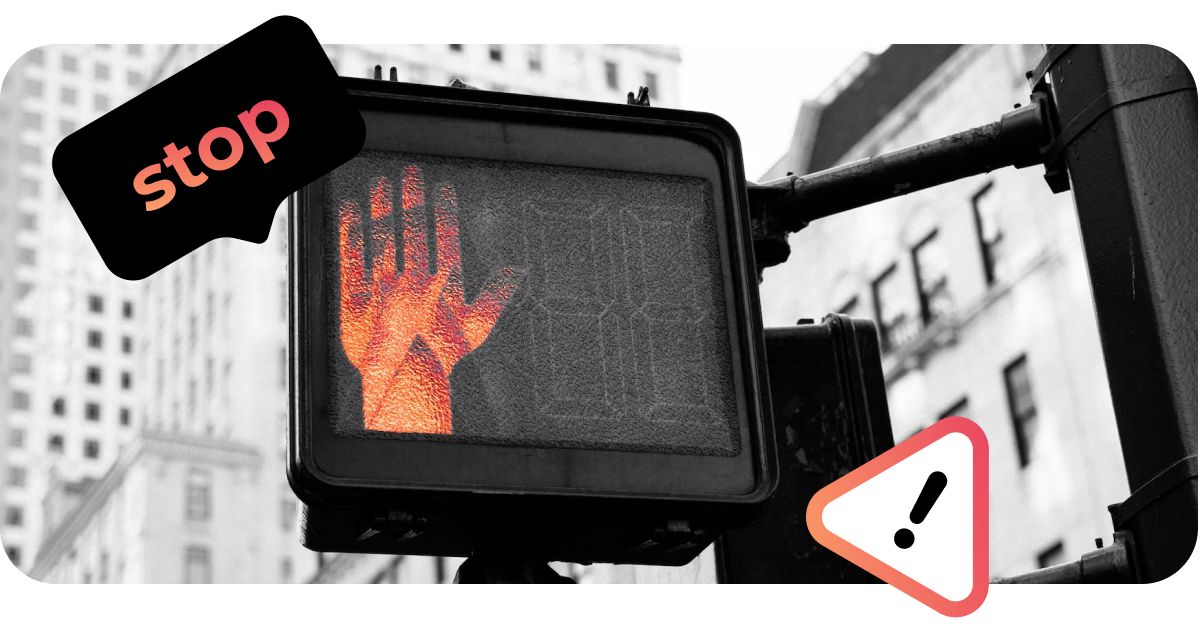 If you've discovered that you're unable to perform certain actions on Instagram, you're most probably temporarily banned. Usually, bans of this type occur unexpectedly, but don't worry: it's one of the mildest punishments you can get on Instagram.
Can Instagram Account Be Banned for No Reason?
Sometimes you can face a frustrating 'Instagram banned my account' situation even if you didn't violate the social media's policies. For instance, you can discover that some of the Instagram options are not available while in general the account is functioning normally. Although looking like a temporary ban, it's not that. Most probably, your account has been banned by a bot after it detected 'suspicious' actions.
How Long Does It Take for an Instagram Account to Get Banned?
If you do not comply with the Community Guidelines, Instagram can deactivate your account. Before that happens, you might get a prior warning or multiple warnings — up to three. However, if your actions are deemed to pose a risk to the community or create legal exposure for Instagram, your account will be deleted immediately.
In 2019, the platform introduced new user notification policies to better inform people that their accounts are at risk of being disabled. Such notifications also give an opportunity to appeal disabled accounts.
How to check if my Instagram account is banned?
When you try to log in, you'll see a message informing you that your account has been disabled. If your content is removed for violating Community Guidelines, you'll be notified in the Instagram app. This will also be mentioned in Account Status, which you can check at any time.
How to Check My Instagram Account Status?
Account Status lets you find out when the content that you posted (i.e. comments, posts, or stories) has been removed for going against Instagram's Community Guidelines and how it affects your account.
You only can check your account status on Android and iOS devices as this feature is not available on computers. To view your Account status on a smartphone:
Open the Instagram app
Tap your profile picture in the bottom right corner
Tap three horizontal bars in the top right, then tap Settings
Tap Account, then tap Account status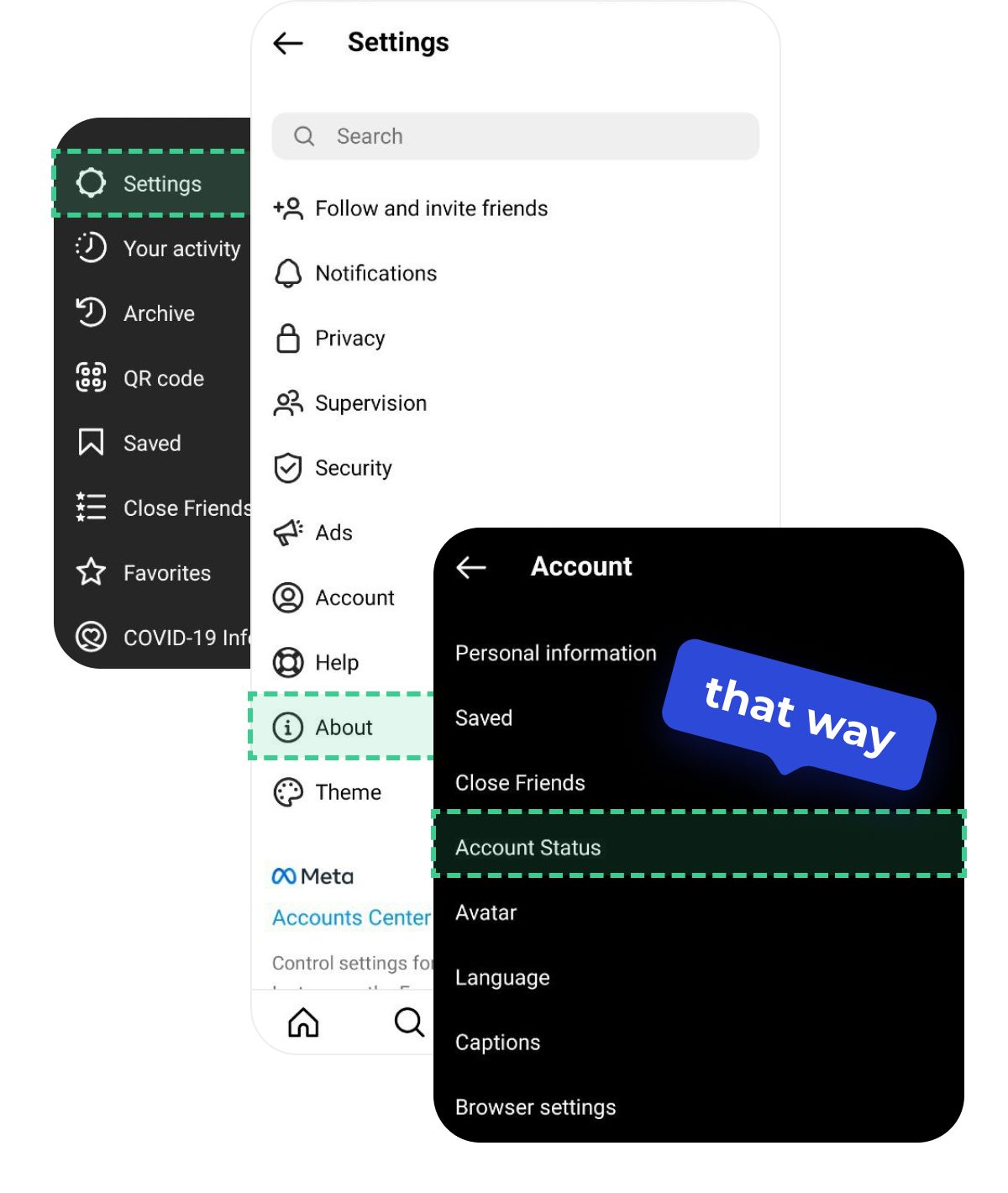 If nothing bad has happened to your account, you'll see the following message: 'You haven't posted anything that is affecting your account status'.
If you repeatedly post content that is removed for going against the Community Guidelines, you may lose access to your account.
What Does a Banned Instagram Account Look Like?
If your account is suspended, you'll see a message that tells you something like this: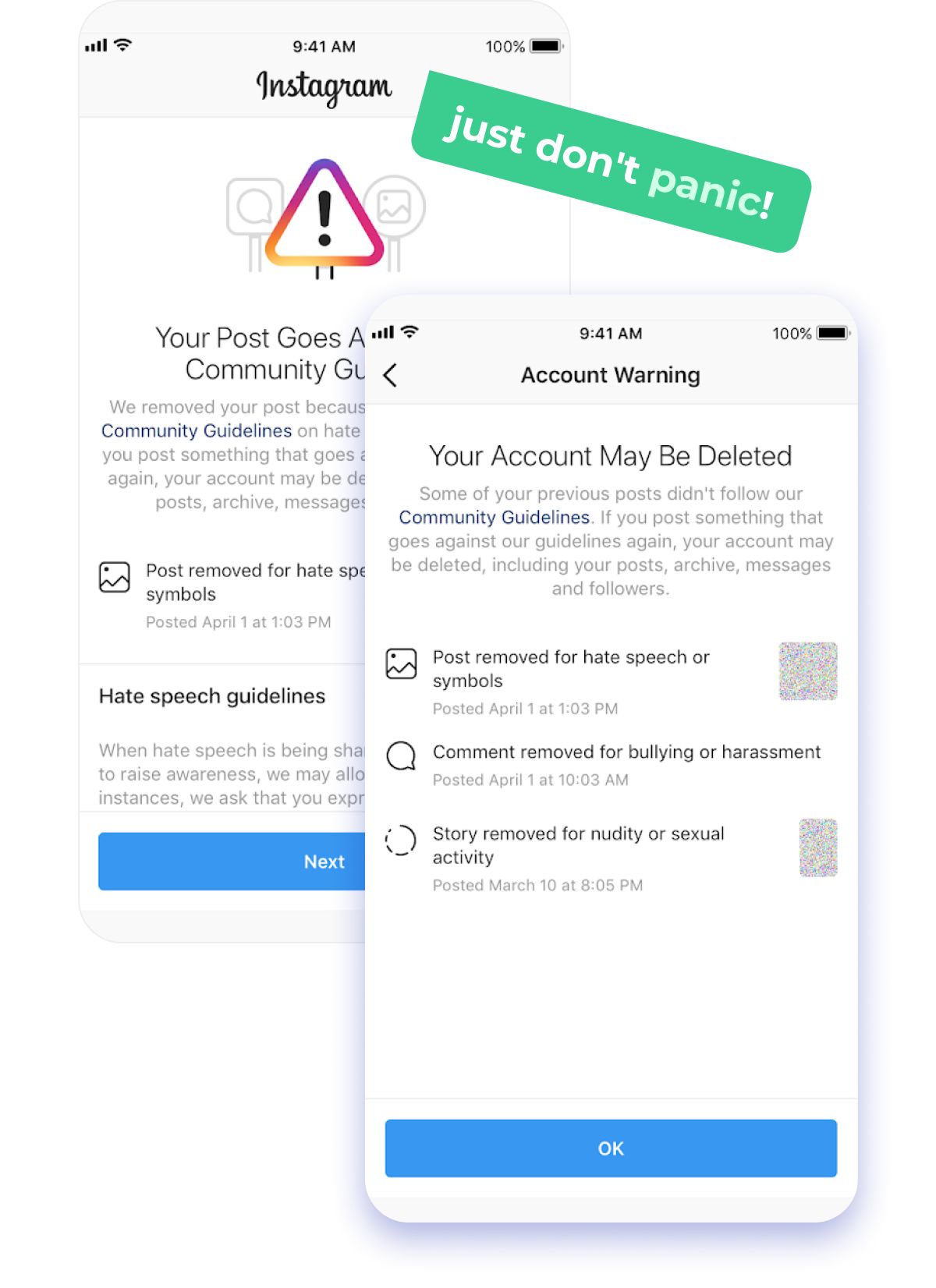 Can Someone Else Get My Instagram Account Banned?
Unfortunately, yes. One of the most effective methods to take down someone's Instagram account is to mass-report it for real or contrived violation. In the latter case, when the ban is not legitimate, the banned account can be usually reinstated.
How to Have a Banned Instagram Account Recovered?
Instagram promises to restore the post and remove the violation from the account's record if the user manages to prove that the content has been removed by mistake. Users can appeal through the platform's Help Center and directly on Instagram.
Let's see, how to get your Instagram account back after being banned. To have your banned Instagram account recovered, you need to contact the platform's support. If you violated the company's Terms of Use, offering an apology would be a good start for getting your account back. If your account was deactivated by mistake, fill out the contact form. To do that, go to the Instagram account support section from the platform's main page.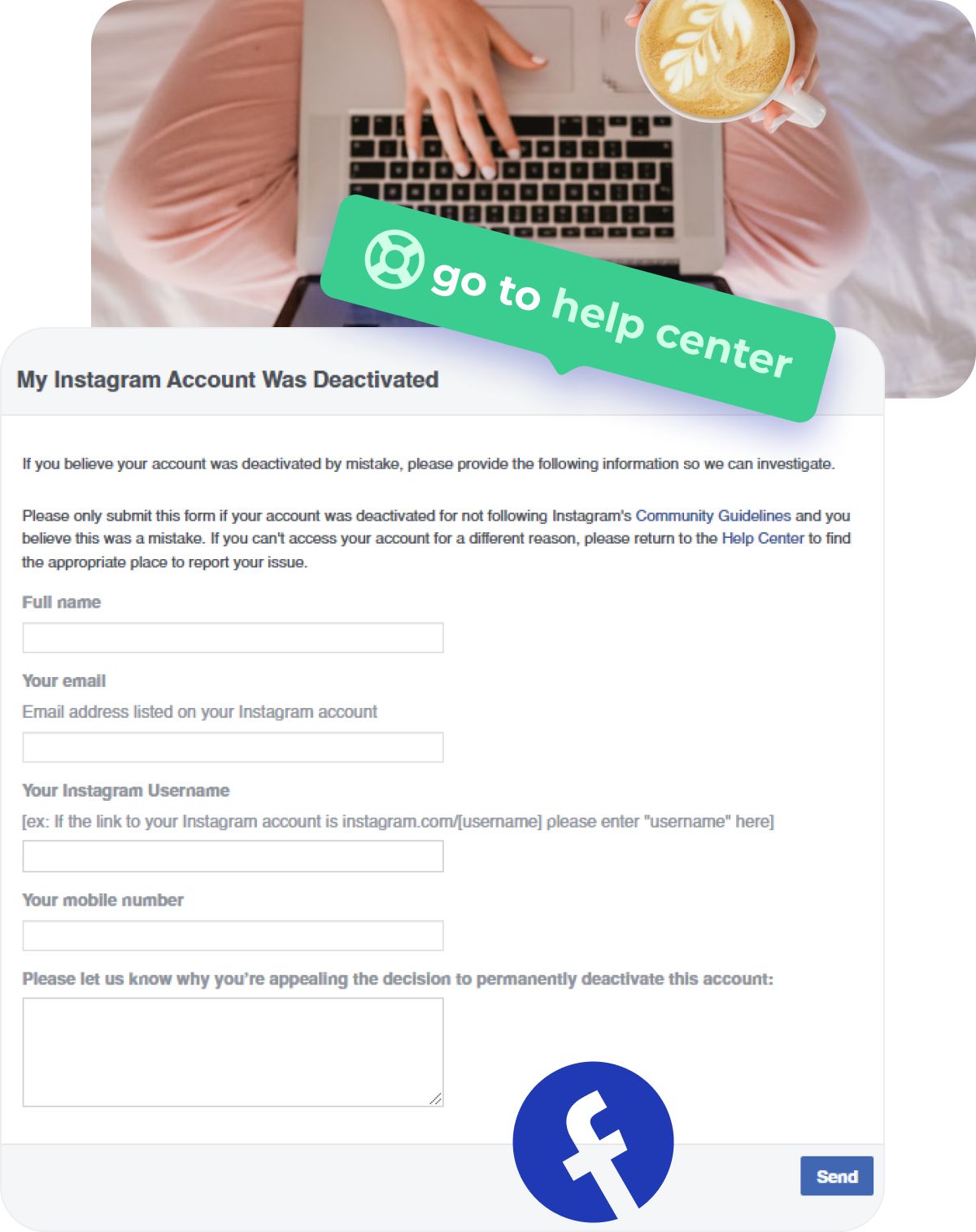 How to Get My Lost Followers Back on Instagram?

After you've spent years to build a strong following it's hurtful to lose it if your Instagram account gets banned. If you have a presence in other social media, you can switch to those to stay in touch with your followers and get back to your Instagram account once it's reinstated. If your account on Instagram has been deleted permanently, the bitter truth is you'll have to create a new one from scratch.
Conclusion: How to prevent my Instagram account from getting banned?
It's much easier to prevent a ban on Instagram than to recover a disabled account. Just follow the platform's rules, which are not that harsh by the way, so that you don't rip your hair out after losing a business you'd been nurturing for years.
---
FAQ
How do I know if my Instagram account is banned?
If your Instagram account is disabled, you'll see a message when trying to log in. If the platform restricts some of the options for you, you'll not be able to perform certain actions such as uploading photos or commenting.
How long will my Instagram account be banned?
It depends on the reason your account has been banned and on how many times you've already been banned. Usually, a temporary ban on Instagram can last from a couple of hours to a couple of days. If you keep on violating the platform's policies, the ban may be extended. The first ban for an account would normally last 3 to 24 hours. For repeated violations the ban may last 3 to 21 days.
How many reports are needed to block an Instagram account?
It depends on the situation and seriousness of the violation. Infringement of intellectual property rights is a red flag for the platform. If somebody posts your content under his/her username or uses your brand name without your permission, one complaint with proofs would be enough to get the offender's account blocked. There are no chances such an account can be reinstated.

Similarly, Instagram quickly responds to reports on harassment or violent content.

If an account doesn't overstep anything, it's not likely to get banned no matter how many times it's reported.
How do you get an Instagram account shut down?
A ban occurs when a user keeps violating Instagram's policy. A ban means that you cannot access your account, nor can you use the same username or email to create a new one.
Can Instagram account be banned permanently?
This may happen if you keep violating Instagram's Terms of Use after the removal of your temporary ban or if your account is repeatedly reported by other users. An account can be permanently banned for a single copyright infringement. Buying followers, likes, and comments also puts you in a risky position since Instagram sticks to strict policies for this kind of conduct. When you're punished with a permanent ban, you'll receive a message that the account has been deleted and cannot be recovered.