Instagram is a social media website that also functions as an online marketplace now. Now you can make a sale without a website, a physical shop, or a presence on a global marketplace like eBay, Amazon, Etsy. So, how do you sell here like a professional?

Focusing on the experience of the best IG shops, you'll learn how to sell like a pro with five simple Instagram marketing hacks. You'll learn how they post, how they use hashtags, and why their clients become return buyers. Without these hacks, it's not possible to have an Instagram shop with over 50K followers in 2021.
Looking for analysis of more than 10 successful IG shops in different niches that are in demand right now? I've discovered that all of them use the same life hacks to keep their selling at a high level.
So what do @ohpolly, @missyempire, @danielwellington, @drzenovia, and many other brilliant Instagram shop managers do?
#1 They automate posting and publish three to five times a day
Have you ever paid attention to the timings of an Instagram million-followers shop's posting schedule? If not, I'll tell you: they post up to 10 times a day! Just look through their latest posts and the time under them. You might ask why you hadn't noticed this when you're probably following some of these accounts. And the answer is the Instagram algorithm – it hides posts from you if you don't react to them often. So the Instagram shop sells much better with each post that gets in the visible zone of its followers.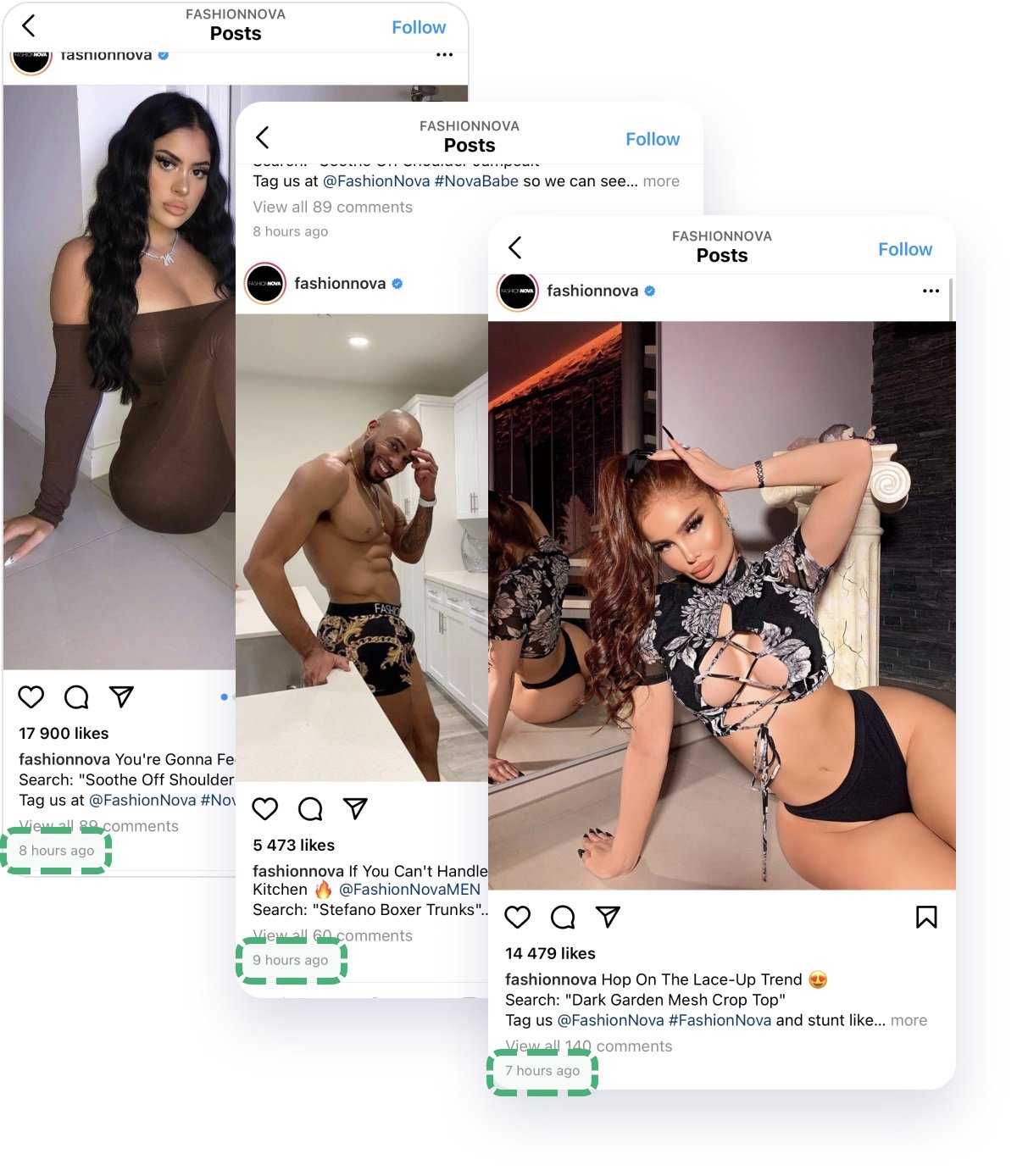 As a result – the more you post, the more you sell. It works brilliantly. That is why all huge shops post a lot – and do you think they do it manually? Nope, this is too stressful and there's a big chance of making a mistake. All shops use the opportunity to automate posting; that is absolutely a treasure for Instagram businesses in 2021.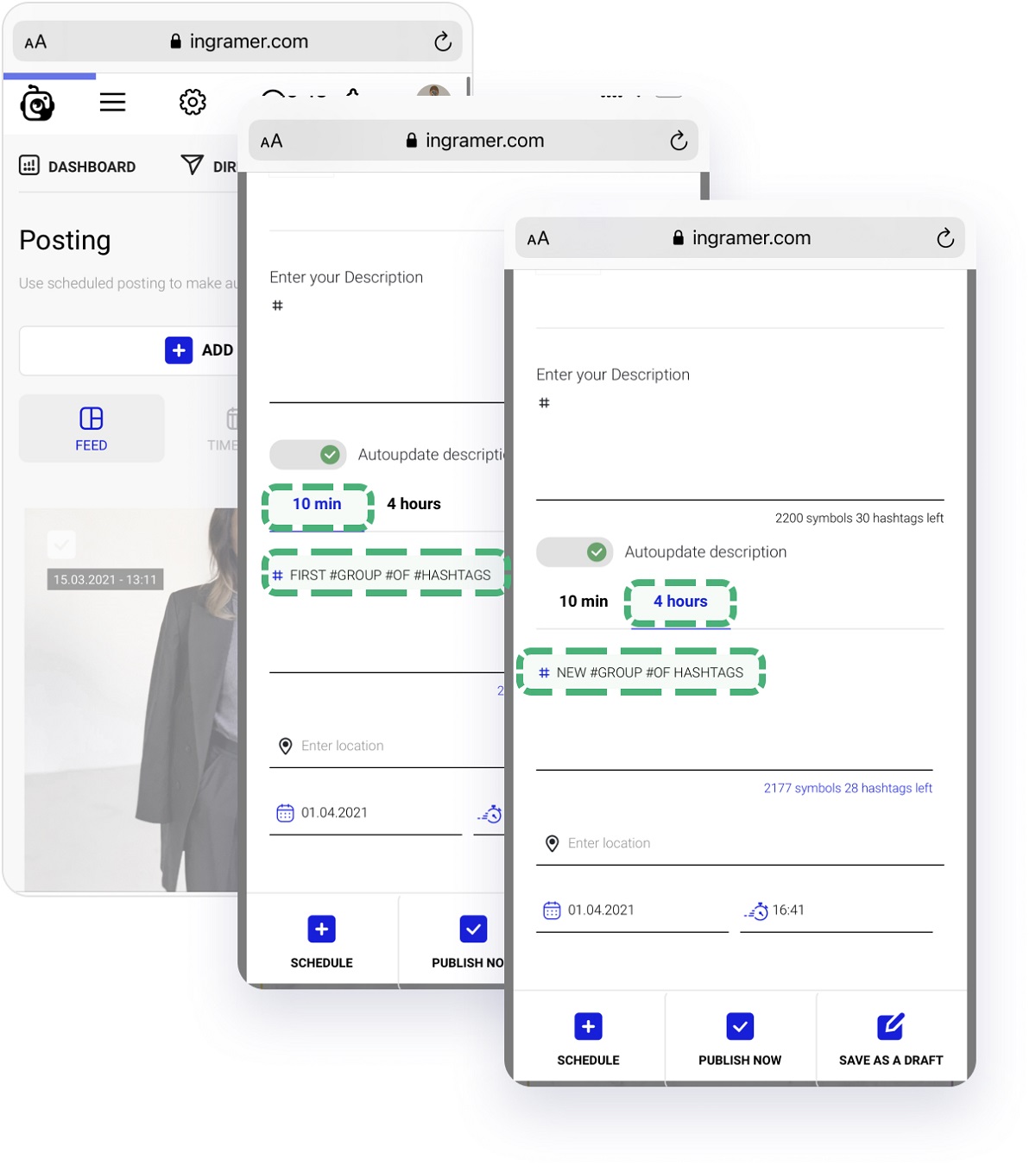 In this simple Inflact tool you have the ability to post up to 50 times a day and upload all materials in both desktop and mobile versions. Plan, schedule, and boost your sales with automated posting.
Hack: Use the excellent auto update feature for your description to get the biggest reach possible for the post. You can reach an audience with a first group hashtags in the post. Then it will automatically change to pre-prepared hashtags from another group that you set in the automated posting. With this you will reach a wider audience by getting at the top of more than 30 basic keywords in the Instagram search.
#2 They use Direct Messages professionally to lead every client to a purchase
Every knowledgeable Instagram user should know that notifications, alerts, newsletters and many other types of direct communication are some of the most important resources for generating sales. With this marketing activity you're directly contacting your target audience and starting a new thread in their inbox while introducing yourself, your product, and answering the most frequently asked questions. This is an amazing thing that all powerful Instagram shops do.
If you're interacting with clients via Instagram's built-in messenger, you're probably losing out on resources and wasting time. For those who use Instagram for business, the Direct module will serve as a sales booster and as a huge upgrade to a customer service system.
In this article, you'll get templates for automated bulk messages to your hot clients.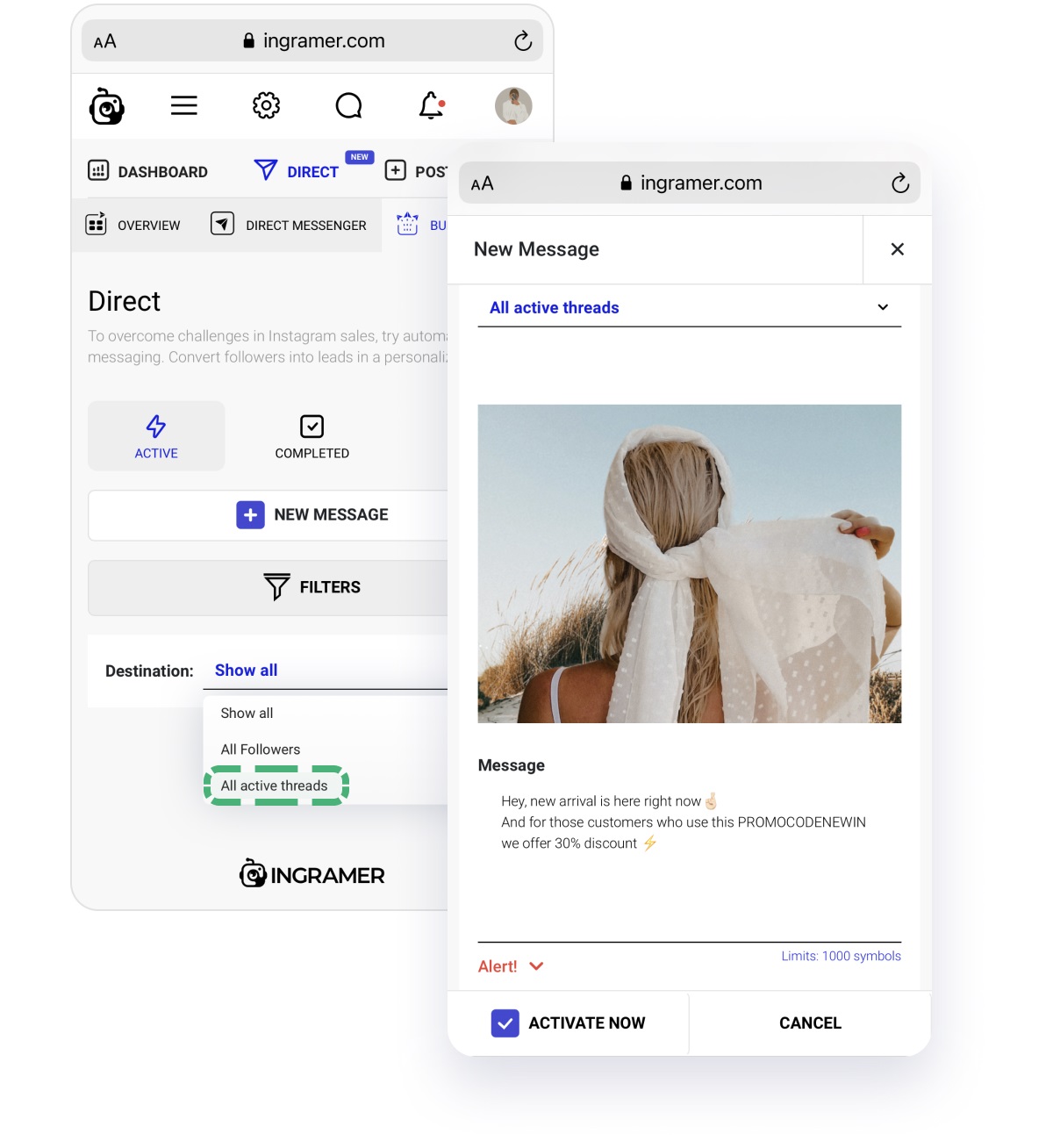 You can use the Direct module to:
Greet new followers with a personalized message and special offer
Save your most popular answers to frequently asked questions that include unique keywords
Automatically respond to reactions such as story mentions and responses to stories
Label your clients according to any property: to the status of the client, their wishes and even for delegating clients to different managers of your IG shop
Send bulk messages to your followers and all active threads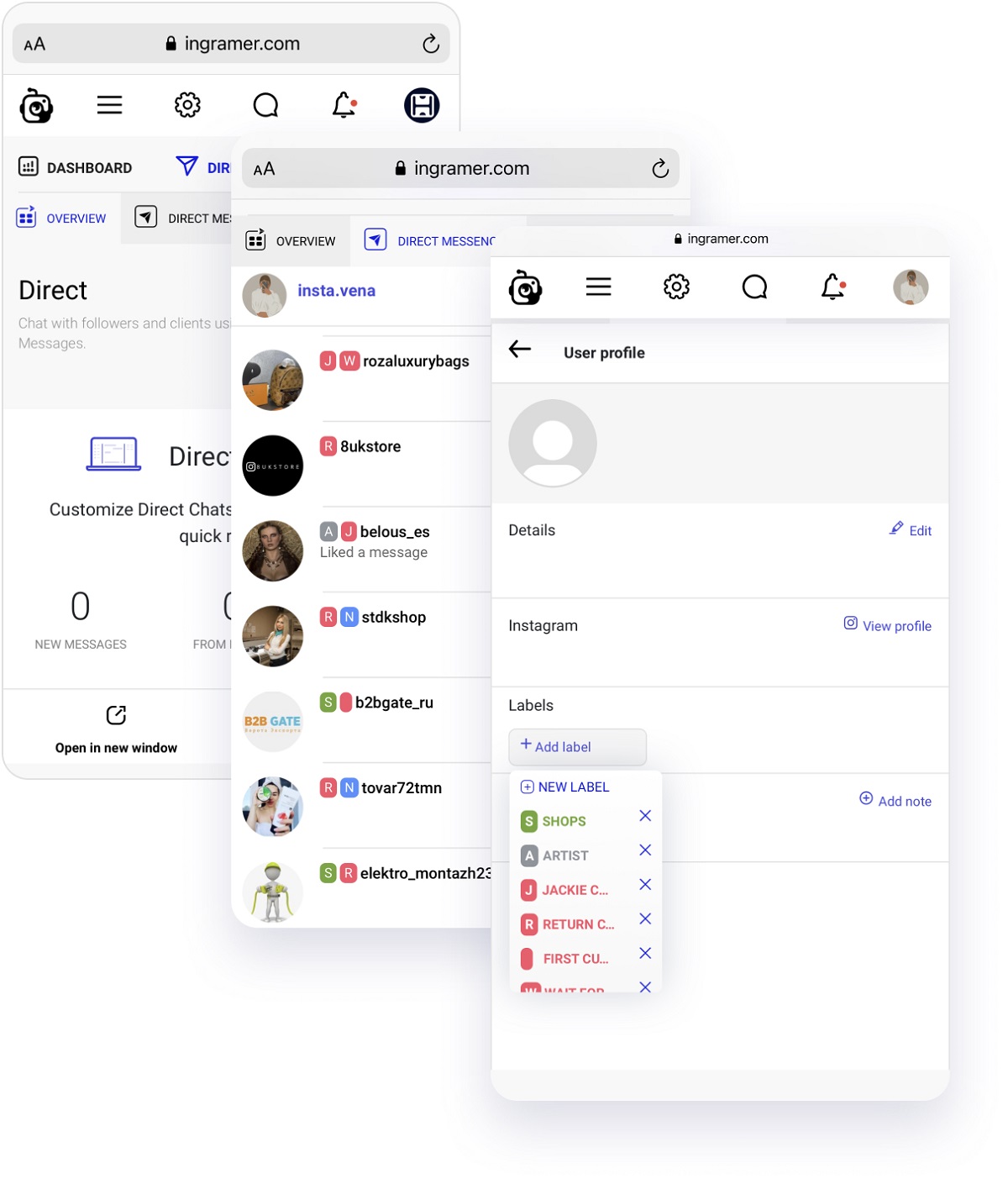 In this article, you will find detailed instructions for an updated Direct messages tool to regulate auto-reply limits and filter DMs in the Log section.
#3 They have a hashtags strategy that boosts their searchability and sales
Hashtags are the only form of searchable terms that can catapult your post to the top of the search results quickly. And Instagram shop owners should know one thing: users type the keywords about what they are searching for in Instagram.
If you are an Instagram shop owner, you can't miss an opportunity to be found by a hot client in the search results!
To identify and use hashtags that will 100% increase your sales or reach, you must first get to know your particular group and the needs of your future followers. In this stage, you'll need to build an audience portrait.
You must learn about your potential followers' desires, lifestyles, and hobbies. Only with this information will you be able to discover hashtags that your future followers will be interested in.
What keywords do they use to define their requirements?
There can be no good hashtag strategy without this move.
Once you've found out who your potential client is, how old they are, and what words will use to find you, then it's time to use a Hashtag generator.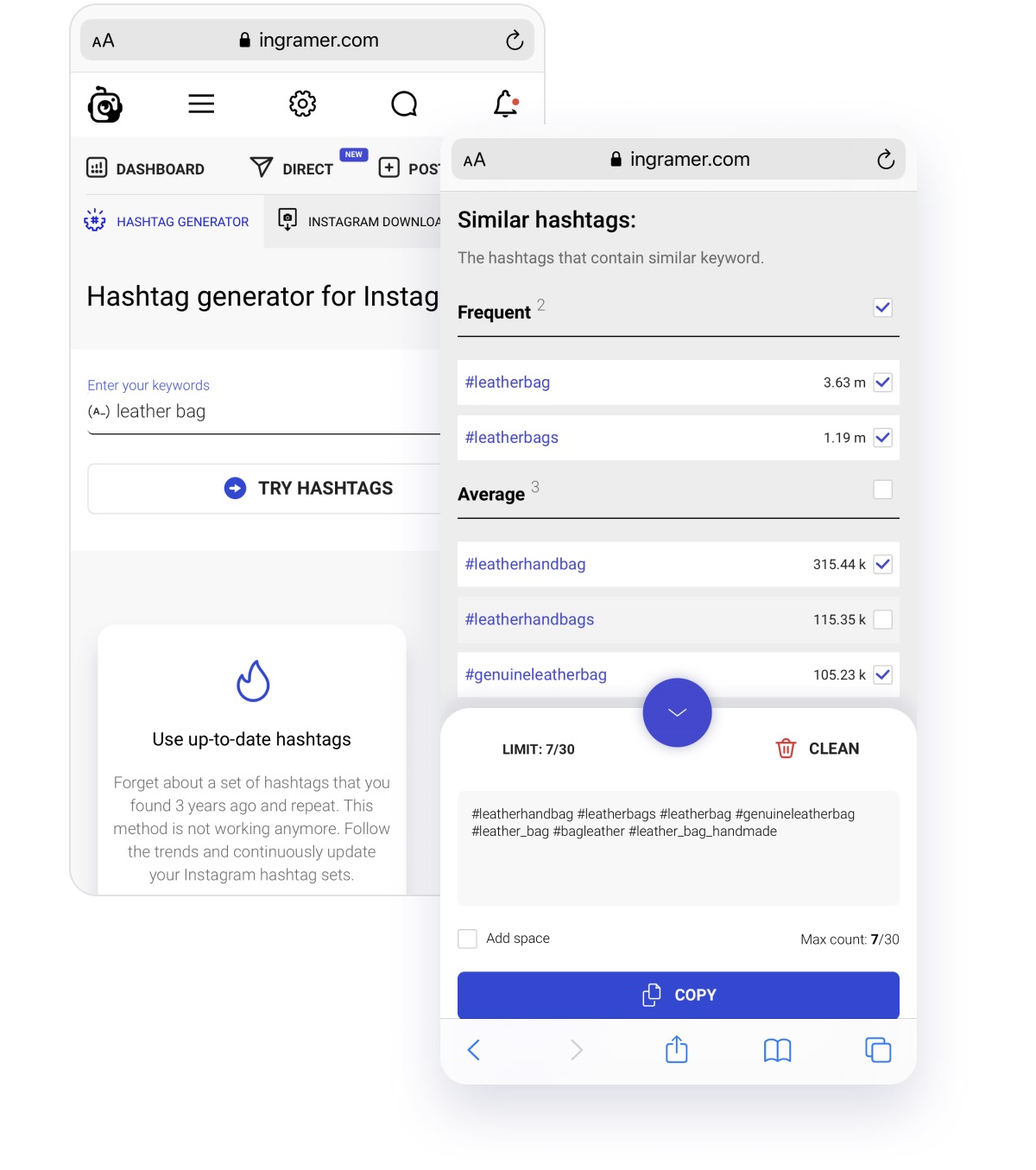 Here you can get the one and only ultimate strategy for using hashtags in 2021 + mythbuster.
#4 They write short and cohesive descriptions to catch the attention of users and turn them into clients
If you want to be a successful Instagram seller, you must consider all of the following factors:
what to post,
how to post,
when to post,
and even which symbols and emojis to use.
But what effect does an unusual Instagram font have? It has the potential to break through Instagram "feed blindness" and transform reach into interaction. Unfortunately, the choices are small, as the platform only provides emoji. And I discovered that 7 out of 10 popular Instagram shops use custom fonts made with a free font generator.
Worth trying in your Instagram shop. It can boost your read-through rate by 3 times!
#5 They use the power of influencers to promote their products to new audiences
Being trusted and credible is a new privilege in an era where anyone can buy Instagram followers, likes, and views. Especially when you sell products on Instagram. Your feedback and your recommendations are vital for your customers to trust you enough to buy from you.
If you need a recommendation that will not only bring trust, but also popularity, buy ads from an influencer. That's how top Instagram shops do it.
If you want to collaborate with influencers, you are ultimately responsible for the end result, which includes the number of potential clients and the return on investment. To produce the best results, you should perform influencer research to ensure that their audience is engaged and needs your product or service. You can search for them on Google, on special influencer platforms, or discover them right on Instagram. But professionals use a User search tool and Profile Analyzer.
Here you can find an ideal influencer to promote your shop and check their data:
Get their social statistics – engagement rate, popular posting times, and more
View key analytics – look through their most commented and most liked feed to decide how best to collaborate with them
In this blog article you can find even more influencer marketing secrets: how to find truly active influencers and contact them 2X faster via DM