While you are looking for an answer to the question on how to get most likes on an Instagram post, we are actively helping people to reach this goal. Hope, this real case study will inspire you as well.

In this article, I am not going to provide you just with some theoretical facts on how to achieve success, make your account popular or to create one of the most liked posts on Instagram ever.
This is a real story of our client who managed
to get 25,000 followers just in a couple of months
. Moreover, his client base has grown practically twice. But okay, let me tell you the whole story step-by-step.
Our client is the owner of
one of London's nail bars
. At the moment when he turned to us, he just started his Instagram story. The Instagram account was created approximately a year and a half ago but since that moment just a dozen of posts have been published. And it is obvious that there was a lack of followers and likes. So, our main task was to give a push to the promotion of this acc and to help this nail bar to make Instagram a new channel of communication with existing and possible clients.

Getting most likes on an Instagram post: the right strategy!
If you have ever studied the peculiarities of promotion on Instagram, I am sure that you remember that to make your acc popular, you need to
get likes and followers
. But the chances to get followers and most likes on an Instagram post are significantly higher when your account is already popular. It may seem quite controversial but we are here to help you get over all the difficulties.
That's why when our client contacted us and explained the situation, we developed the following strategy for him:
As our client has a nail bar it is clear that the final aim for us (and for him as well) was to
attract new clients
and, as a result, to
increase the revenue
. We needed to find his potential target audience and the easiest way to do it is to
take the followers of his competitors
(other popular accounts offering the same things that you have).
As it was a nail bar in London, we should have established interaction with the clients of other nail bars in this location. With
Inflact
it is really easy to do it.
How to get the most liked post on Instagram: just follow the instruction!
Open your Inflact account and add you Insta profile that you want to promote.
Then click to the Targeting section.
And choose the option that you prefer.
It is possible to promote your posts among the owners and followers of the hashtags that are popular among your target audience. Location promotion offers you to interact with Instagrammers who make publications in some particular locations. And finally, promotion via usernames allows you to interact with the followers of the accounts that you have chosen.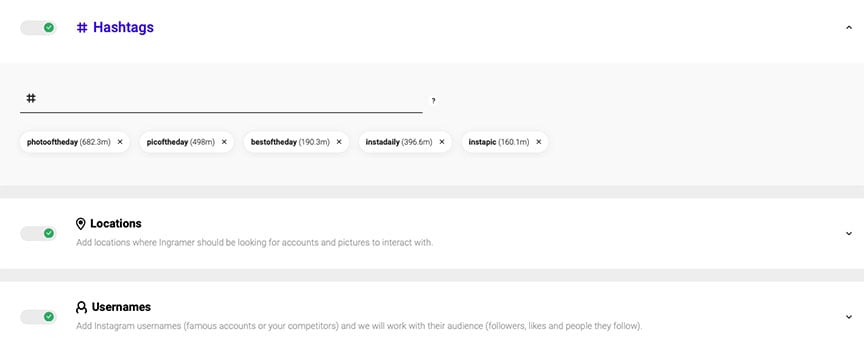 Now it's time to
enter the names of the accounts
the audience of which you want to interact with.
We had 15 accounts of the most popular nail bars in London but all the settings didn't take longer than 3 minutes.
We need just to
add the usernames
. That's it!
We preferred to interact only with followers of these accounts and those who leave likes and comments. It increases our chances to get most likes on Instagram posts.

Moreover, with a view to reaching our real target audience and omitting users who hardly ever will turn to our services (don't forget we were promoting a nail bar), we used a Gender filter. Yes, we limited our TA to female accounts only (and it took 10 seconds).

That's how we set the promotion.
Of course, it was only one, the so-called technical part of getting most liked posts on Instagram. There was also a creative part. Our client needed to make publications that could really inspire a potential client to follow the account and then to come to this nail bar.
That's why there was also the following list of tasks for him:
Share high-quality photos and short videos;
Write engaging captions;
Use Instagram Stories;
Organize contests;
Make an account look amazing (Yes, it's always a good idea to choose a special layout or style for your account. Our guide Instagram Design Trends: How To Make Your Account Look Stylish? could be very useful in such a case).
And all these efforts bear fruits! As a result, our client has received:
a constantly growing number of active followers who are engaged and interested;
a continuously expanding client base;
a possibility to establish a direct dialog with his real and potential users;
a possibility to earn much more.
If you want to get some other examples of how Instagram accounts can be promoted, just read the article
How to Promote Your Small Business on Instagram? 5 Real Examples of Success!
Do you want to have such results as well as the most liked posts on Instagram ever? You are welcome!
Contact our support team via
hello@inflact.com
for
FREE Instagram analysis
and
FREE set up of Inflact tool
!
We will be glad to help!