Need to save anything from Instagram in the original quality? Already tried to screenshot and record the screen – but these methods don't work for you because of the poor quality? In this article, you will get simple instructions for downloading from Instagram in a few moments, with just one tool for all types of content.

You're here because you've tried to Google an easy way to download Instagram content in the best quality. So, let's go through a list of the main reasons for Instagram downloading, in case you didn't know some of them, and maybe, with a new downloading tool, you'll get inspiration for something new (both for your Instagram marketing strategy and for your private use of the platform.)
Why do people download from Instagram?
Normal Instagram users download from Instagram to:
Save their own page content and keep all the memories on a hard disc of their devices
Keep all content from one event in their device memory, preventing its loss
Get valuable and useful content from Instagram creators, influencers, etc.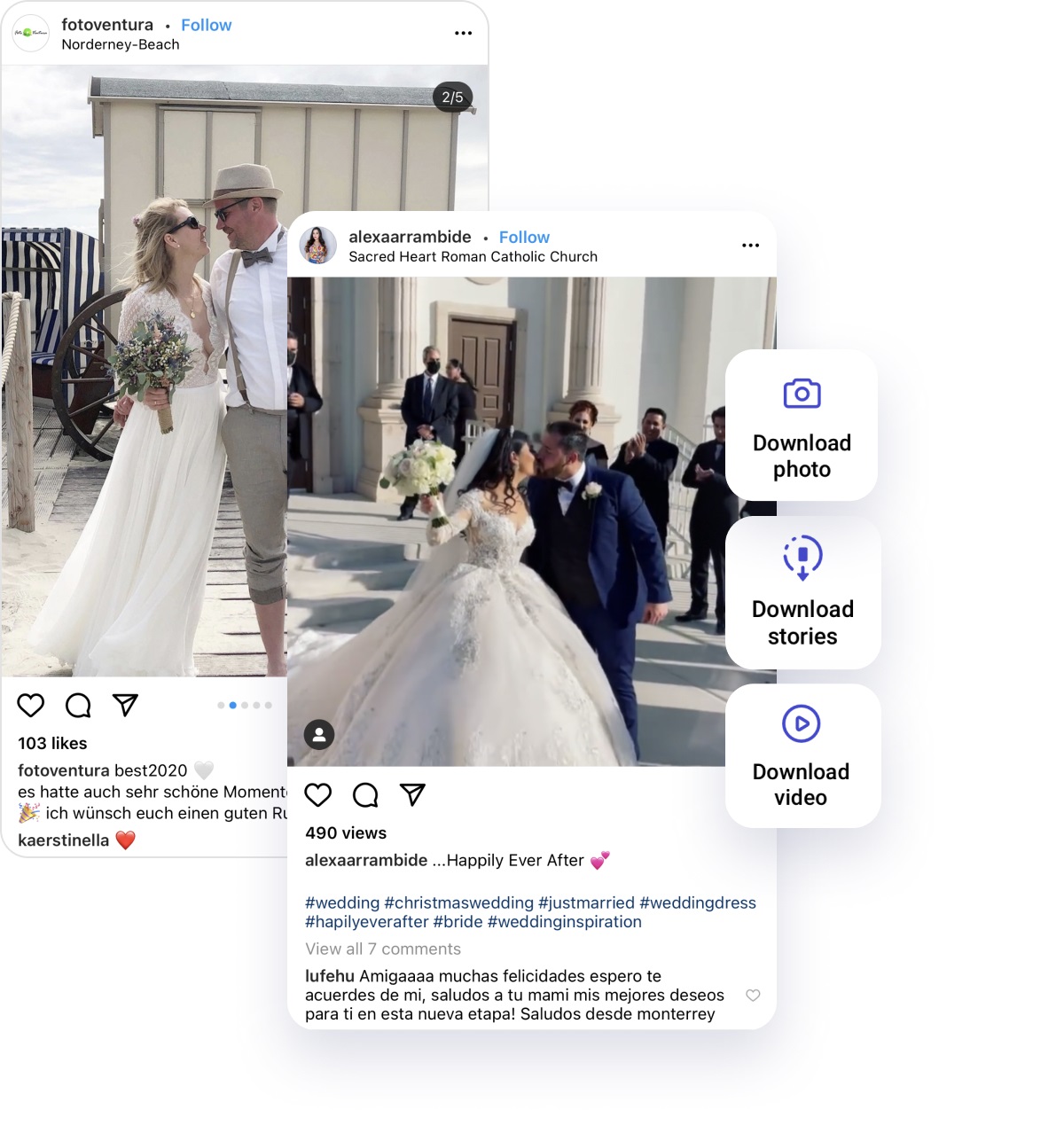 Professional Instagram users save content from Instagram to:
Collect the content in original quality
Get useful or most qualified IGTV videos on their device memory
Kings of Instagram content download IG to:
Have useful content in the original quality for future reuse on their own projects
Analyze rivals' profiles with a magnifying glass
Save some great promotional ideas to copy in the future
Have valuable photos, videos, and IGTVs for future content curation
Reuse Instagram content on other social media platforms
Why don't other methods work anymore?
The Instagram in-app download only works for your own profile
You can download and back up your data just within your own Instagram app, but this method works for all profile content in bulk, and only for your own profile.
IG has an option that lets you download every bit of content you've ever posted on the app, including photos, videos, comments, messages, profile information, etc.
Even Stories, that are now not just expiring and vanishing in 24 hours, but are saved in the archive forever.
Note: To download your own Instagram profile head to the Settings menu in your app, and then select "Download Data." Once there, fill out the form, and your data will be emailed to you within a few days.
With Inflact Profile Downloader you can save all profile data of any user in one click.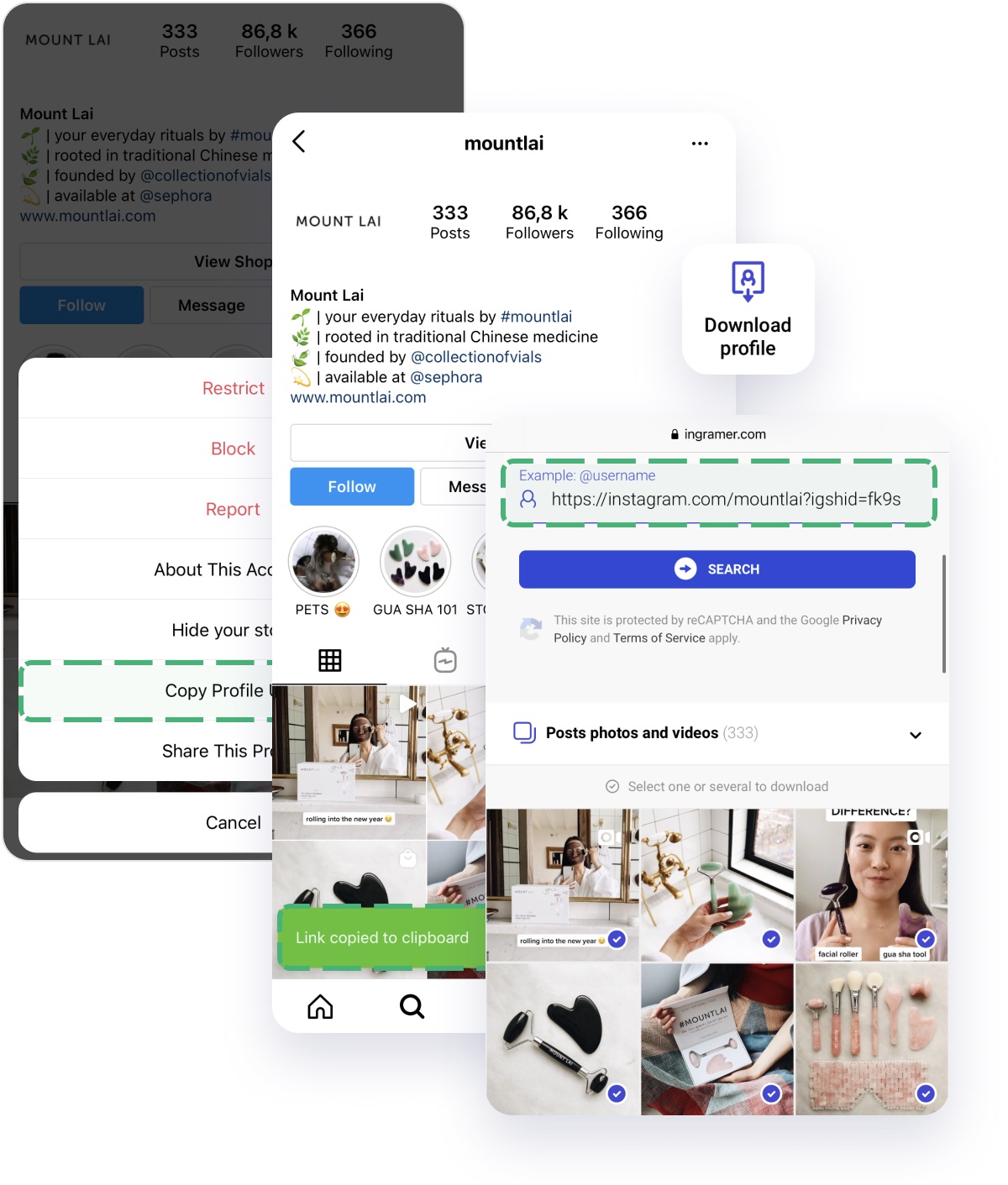 Screenshots are bad quality
Of course, you can screenshot any content within the Instagram app, but will this method work for you if you want to save memorable content forever or download something for future professional reuse?
The quality of your screenshot depends on the display resolution: the higher the display resolution, the better the screenshot. But there is no display that can screenshot a 4K quality photo – it is better to use a special downloader tool to make the most of the quality.
Note: But you can make your screenshots much better.
To get a screenshot with high resolution, go to your control panel and check your display settings. Increase the display resolution here.
Inflact Photo Downloader helps you to save photos in the original quality.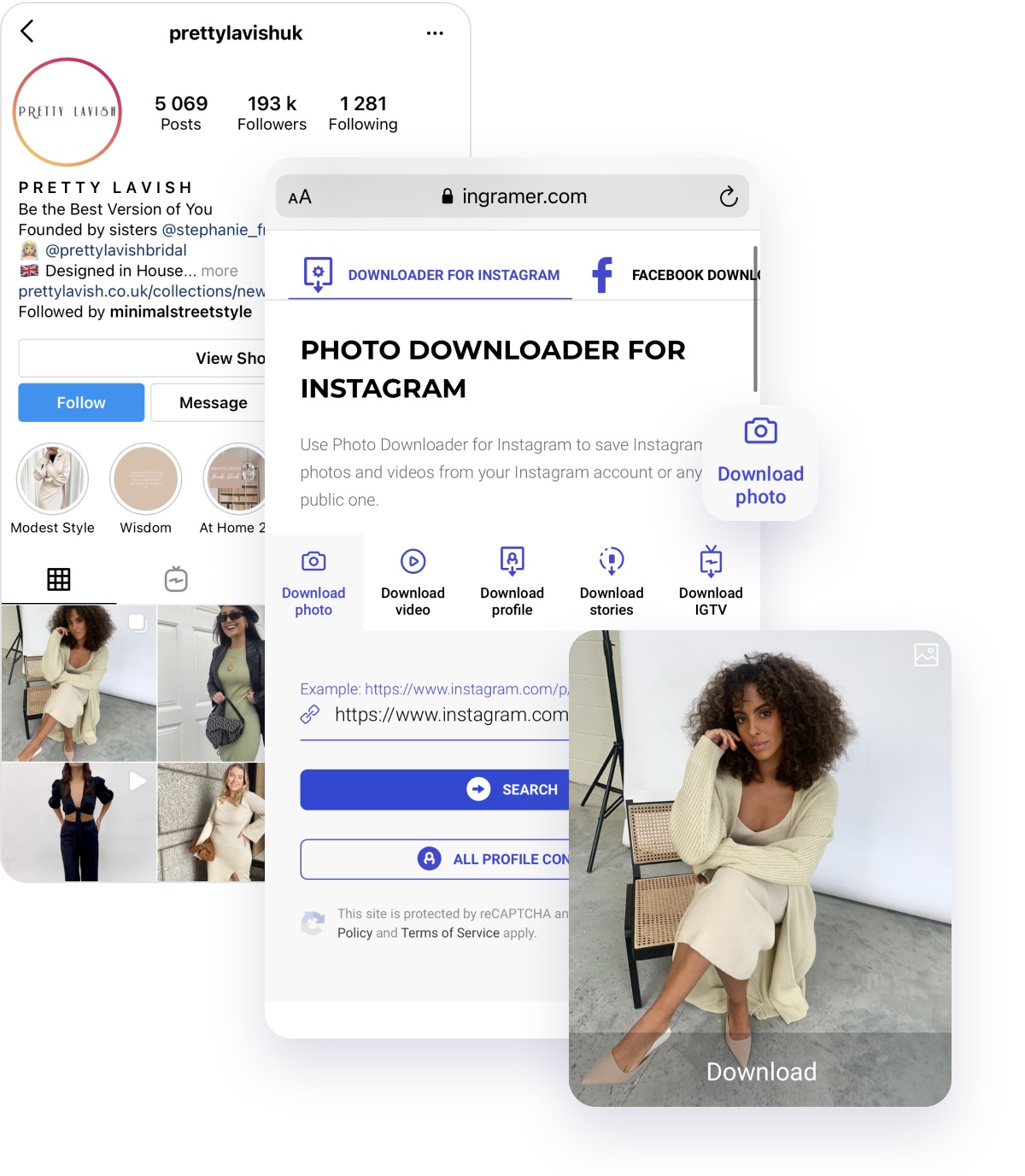 Screen videos are bad quality
If you see a really useful Instagram video that you want to get on your device memory immediately you can do it by recording your phone screen.
Those with an iPhone are in luck, as screen recording is built into the device. However, other users can install a special app for this purpose.
But neither the built-in screen recorder nor the apps, can help you to get the best quality from the screen recording. Only if you download the content with an IG downloader will you get the best original quality set by the user that uploaded the video.
How to download from Instagram
This one method works for all the content you want to download from Instagram with the Inflact tool. It works for downloading videos from Instagram, saving Stories on your device memory from any account on the platform, and other formats, including IGTV.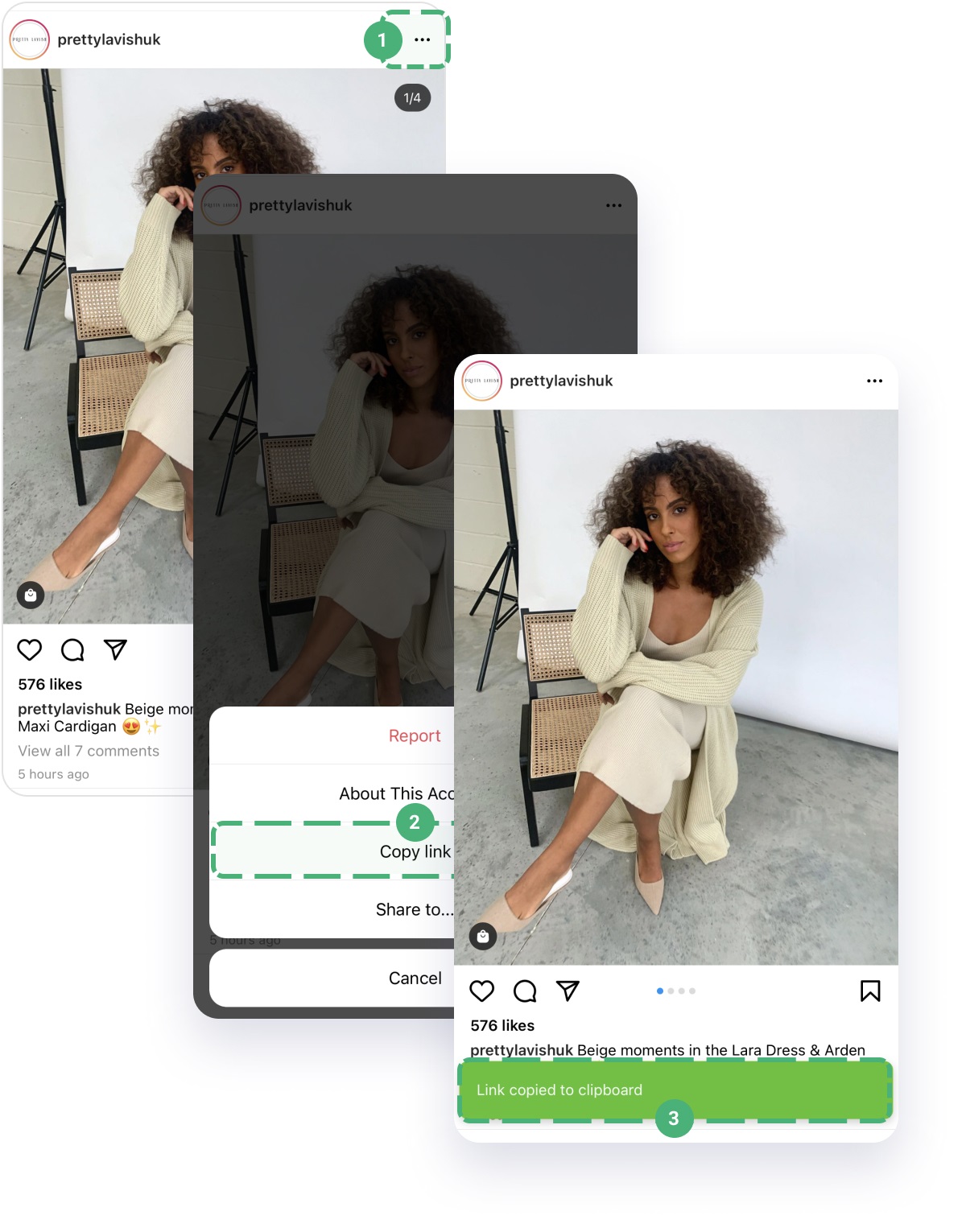 Copy the link to the content (by tapping three dots in the Instagram app? And tapping "copy the link"
Paste it into the box of the downloader tool
Click the download button
Choose a folder to save the content to
That's it. Moreover, you can download all profiles – any profile! – in bulk with this tool.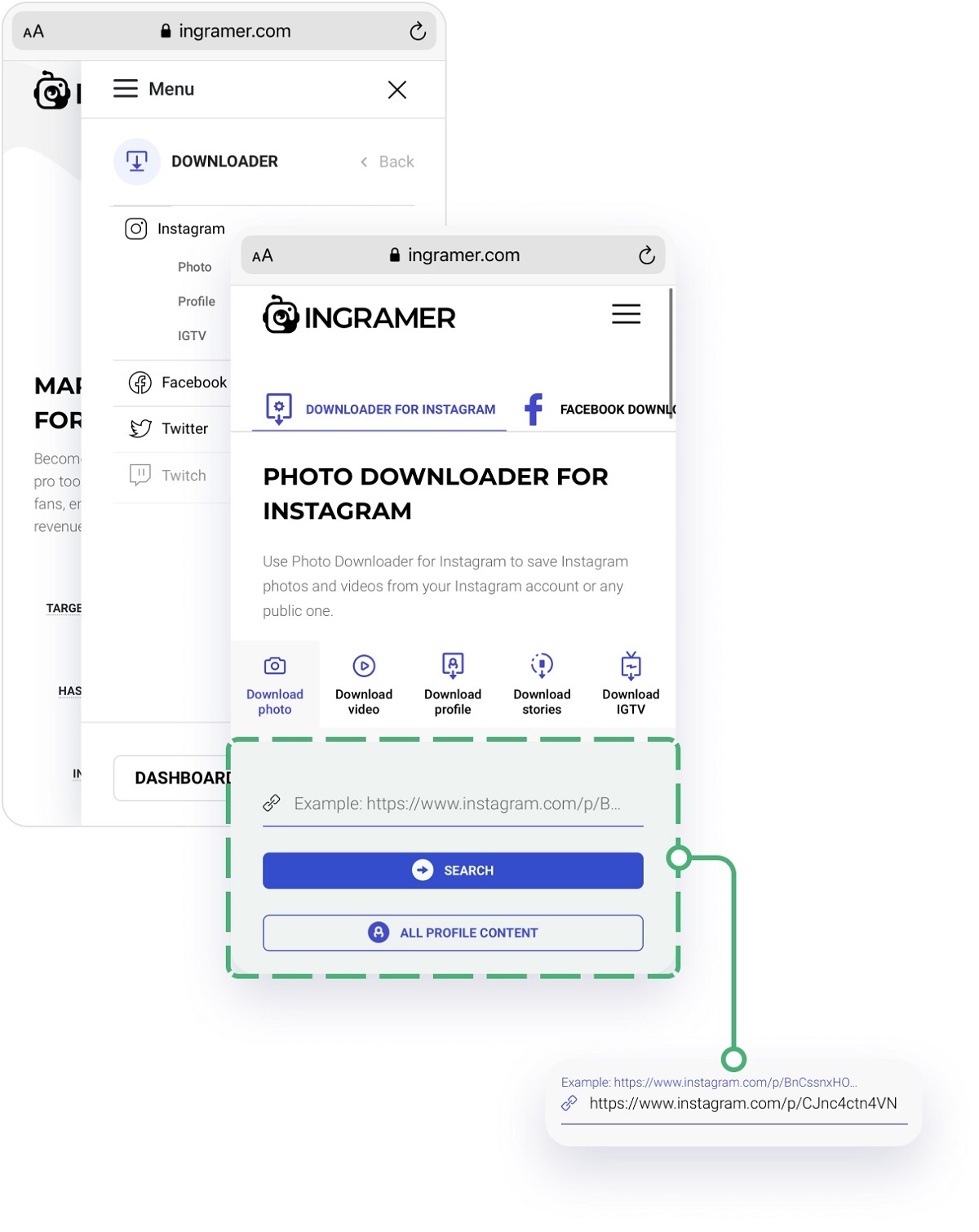 Just insert a username and download photos and videos? Including Stois and IGTV to your smartphone or computer without registration and installing add-ons.
It is the most convenient way of mass downloading Instagram profile with just a username or link to a profile. The most technological and secure in 2021.
Secret amazing feature to use right now
Mass Story downloading by username. Yes, now you can owe all Stories from one user day by day, without any move, just by entering his username.
You will just have all a user's Stories downloaded automatically from the day you started the process. Imagine – you just open your dashboard and look through all the Stories that have been uploaded from the day you started. This is your own archive.
And you can set up as many profiles as you want for the 24/7 Story download. Save to your device memory those Stories that you think are useful. Others can just stay in your web archive.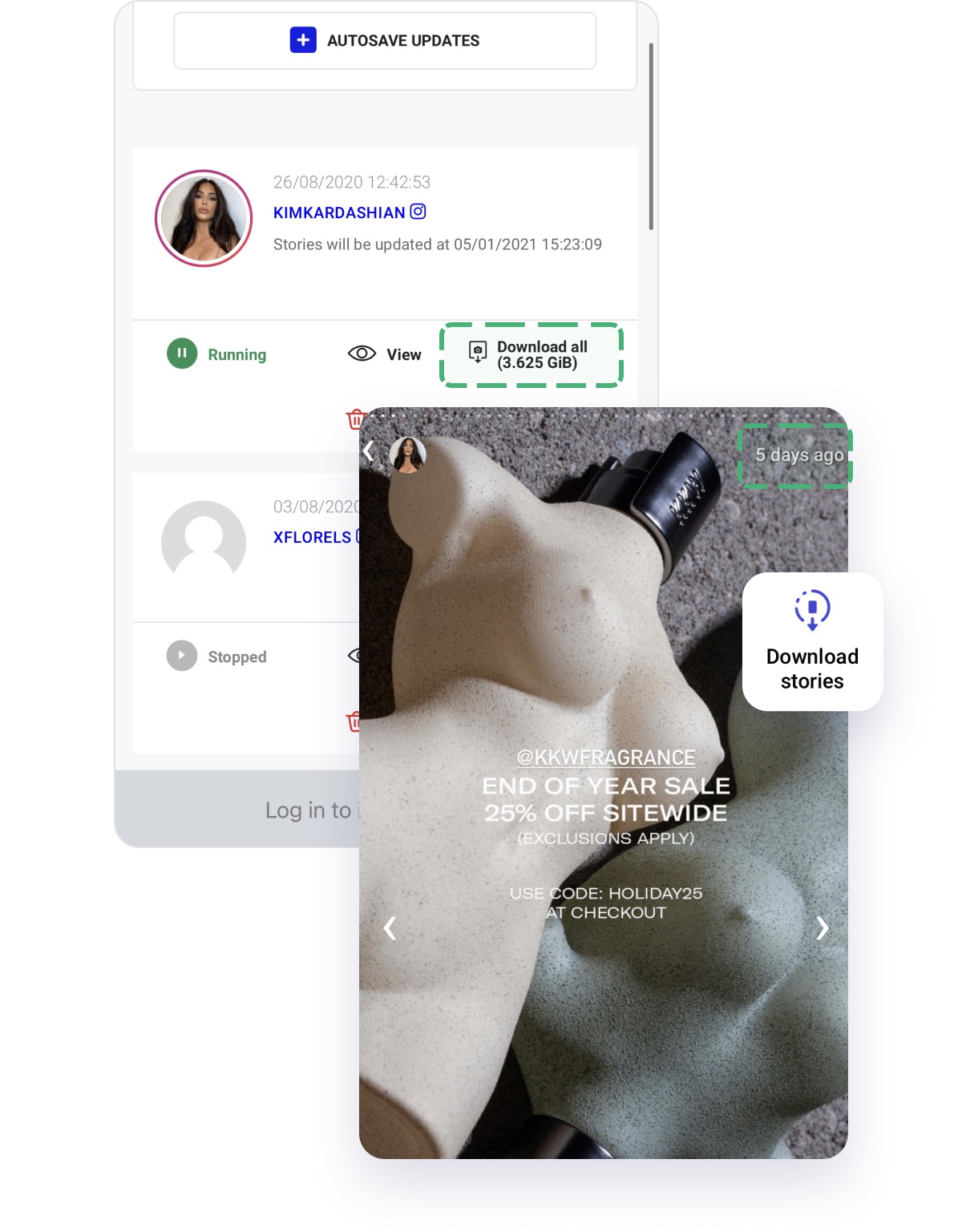 Note: Users won't know if you view and download their Stories with Inflact. Your identity is hidden and the process is 100% secure. You can use Inflact Story Downloader for free.
And don't worry. It's not forbidden to download Instagram content.
Why do you choose Inflact to download from Instagram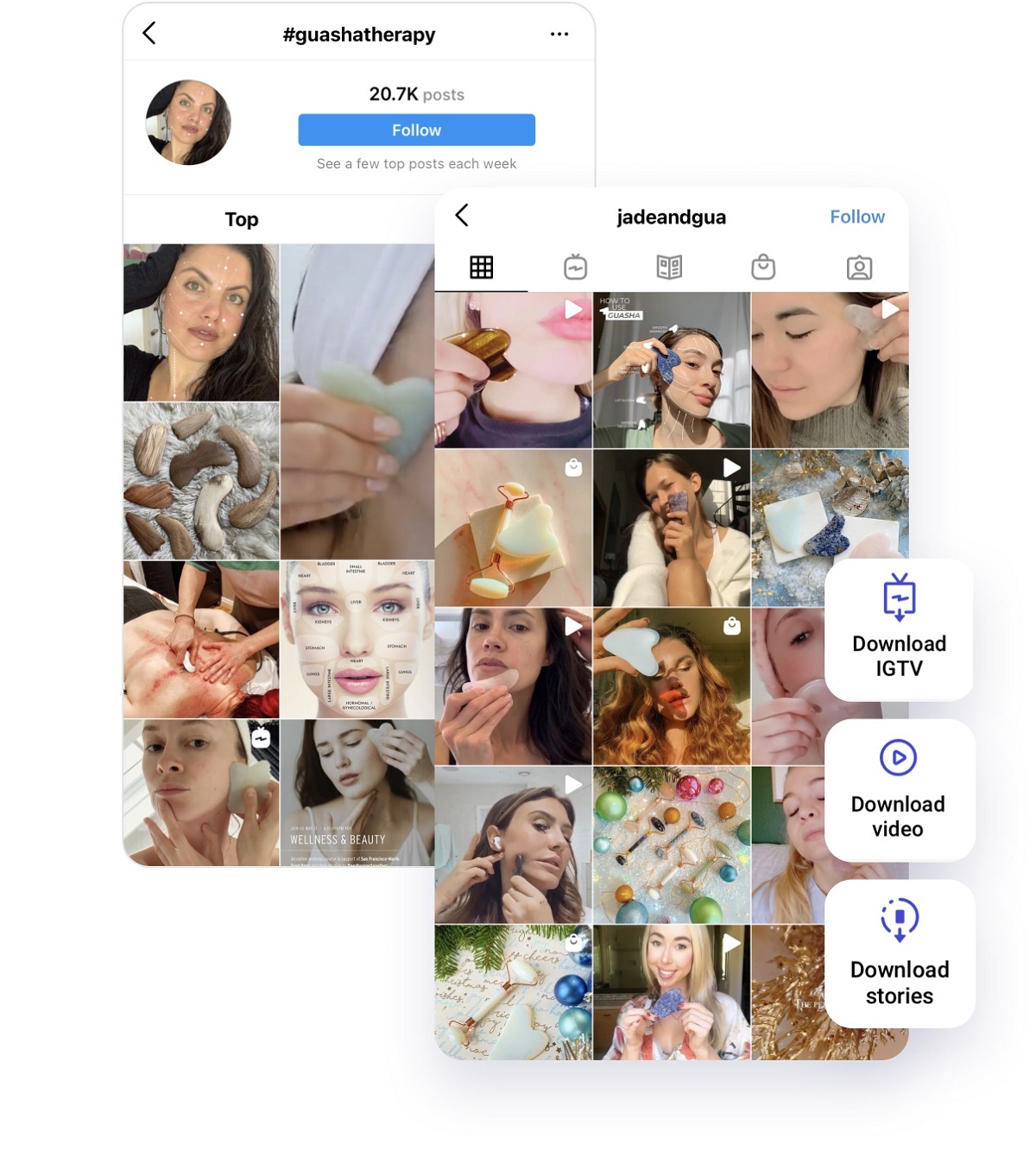 Downloader for Instagram is absolutely safe. It is anonymous and secure - no one will know that you've downloaded content from any profile. You can use the Downloader for Instagram with Windows, Linux, or Mac. Get any content from Instagram with any possible device or software. Mobile and PC support regardless of browsers (Chrome, Firefox, Safari) or operating system (Windows, Mac, Linux).
Note: All your downloads are automatically saved in the Downloads. We strongly recommend that you use the key combination (Ctrl+J for Windows and Shift+Command+J for Mac) to view the list of photos or videos that were downloaded.
Can I download a private video from Instagram?
No, and there is no allowed service to do this for either private videos or private photos.