Many Instagram trends like the dark aesthetic originate from TikTok. If you run Instagram accounts for business, you may find dark vibes useful, especially if your audience is Generation Z.

To build a visual brand diary and stick to it, you first need to study the trends that are relevant to your target audience. TikTok might be perfect for the research because visual trends born on this social platform and are then reflected in the Instagram aesthetics.
Talking about the dark aesthetic, you might get the idea that this style is for teenagers who hang out in a cemetery listening to goth rock. But in fact, even top influencers on Instagram, luxe shops, brands, and photographers have been using this trend for a very long time.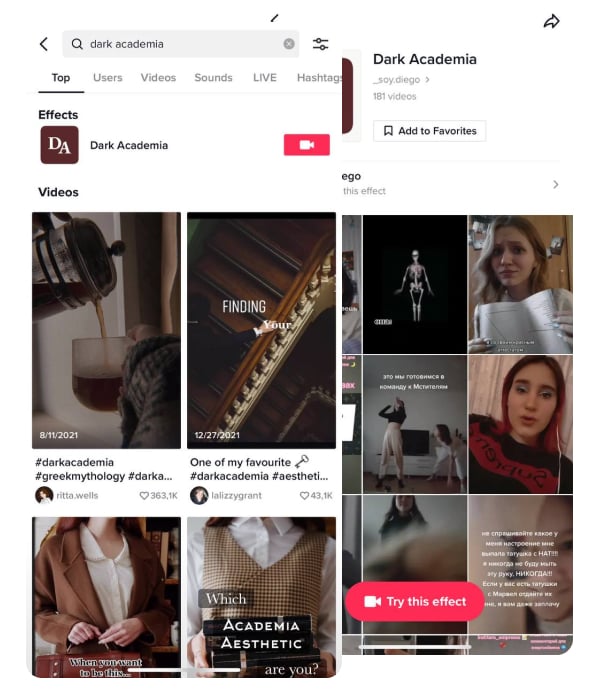 The most convenient thing is that you can download images from Instagram via the downloader. By saving visuals from Instagram you can:
Create a creative moodboard for a photo shoot.
Reuse someone's dark aesthetic images in your account.
Collect images and edit them for dark aesthetics.
Getting images is helpful to establish the style of a business page.
Despite the fact that this style of feed aesthetic is actively used in commercial accounts, it refers to the pre-technology times.
Dark academy style is inspired by classical literature, educational institutions, mysterious candles, books. An important distinguishing feature is muted dark, brown, or black tones with one bright accent. In commercial IG accounts dark aesthetic images emphase to the composition – these visuals most often have a minimalistic look.
By the way, TikTok videos based on dark academy count over 135 million views. These clips most often transmit a student atmosphere and nostalgia for the days when students studied from books, read the classics, and wore dark-rimmed glasses.
To better understand this visual code, you can watch The Dreamers, Dead Poets Society, or Kill Your Darlings.
And you should know that the hashtag #darkaesthetic on Instagram lists more than 2 million posts in the gallery. That is, this trend has quite grown on Instagram. Further in this article we have collected tags that you can easily copy for the first post in the dark aesthetic style. By using hashtags you can quickly get to the top or trending gallery and the Explore section on Instagram.
You can generate a set of hashtags by using our Generator. It loads even the most trendy and recently appeared hashtags, so it is handy to stay up to date with trends on Instagram.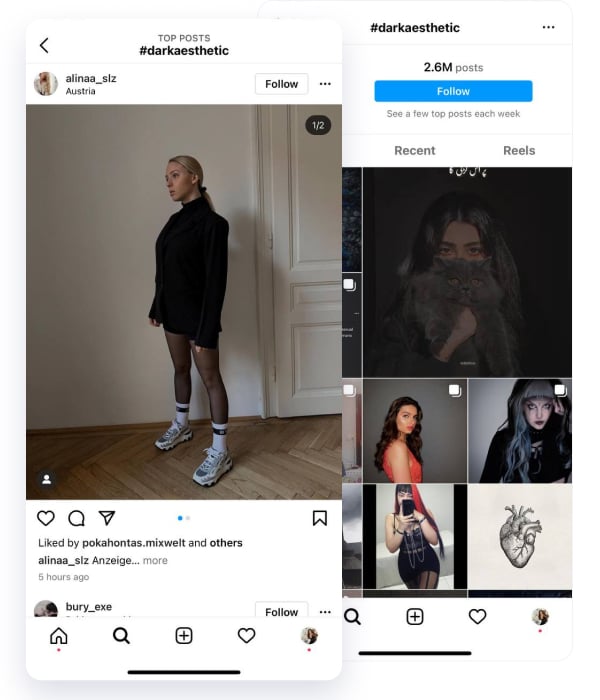 Dark aesthetic IG account examples
To dive deeper into this style, we suggest you look at commercial Instagram accounts managing their feed in dark tones. You can also download any image from these accounts by using the Inflact Downloader for Instagram. This is a free service that allows you to extract pictures individually or download the entire profile. To do this, you will not need to copy the link to each image – you can paste the username and extract all the pictures in one archive.
Instagram downloads are a handy way for a content manager to put together a suitable moodboard or save images for content recycling.
For which businesses are dark aesthetic pictures fitting?
This style works great with classic and vintage things, products, minimalistic images with shiny textures – metals and gemstones.
Bookshops
Vintage shops
Perfume shops
Homemade candle shops
Home decor stores
Jewelry stores
Cosmetics stores
Personal blogs
All of these businesses on Instagram can safely experiment with the expensive looking trend. It is especially suitable for shooting products because it favorably emphasizes small details and implies minimalism, which will be the best way to pay attention to the product.
The selection of examples by which you can be inspired and use for a mood board:
The account applies the dark aesthetic like a pro – the influencer is also the founder of the shop. If you click on the link in the profile description, an online shop with a shopping cart opens. Read How to sell on Instagram without a website in our article.
All the visuals in the feed are edited in dark tones and naturally suit the brand philosophy. You can also pay attention to the variety of content – not only personal photographs are posted, but also quotes, stock pictures, book pages, and tableware.
You can download any picture from free sources (a stock like Unsplash or public Instagram). After that, convert any image into the dark aesthetic palette.
Thus, your feed will look diverse yet tailored to one style – and you will not need to puzzle out how to shoot new content.
On this profile you will also find numerous examples of how to edit any simple photo in the dark academy style. In this case, it isn't necessary to shoot something eye-popping. You can take a picture of a cup of coffee or your hand, reduce the shadow and brightest and you will get a trendy Instagram photo in the dark style.
When you have a good looking profile, you can receive requests for maintaining and creating content for other users. Therefore, in the bio you can specify the contact method for commercial offers.
In this account you will find great examples of how stylish product photos look in the dark academy mood. For example, it can be a jar of cream, or some kind of jewelry. And due to such processing, all attention in the frame is given to the subject and the signature.
Explore this account and if you are looking for black aesthetic references.
One more example of how to successfully work with downloaded photos to give them a new style thanks to quick processing. To do this, you just need to reduce the contrast and brightness.
Any photo that seems relevant to your account can be downloaded. Even videos from Instagram or TikTok can help to boost your Instagram profile beauty.
In this account you will find great examples of how to design a jewelry store in the dark academy style.
Be sure that jewelry with shiny elements made of silver or gold or decorated with stones looks more precious in dimmed light with minimal contrast. In this case, the emphasis in the image is on the products.
How to download trippy dark aesthetic wallpaper from a public IG account
With the help of Inflact Downloader, you can scrape cool pics and clips from someone's IG profile and edit the picture as you like. How to do it:
Go to some public Instagram account with catchy images.
Copy & paste the link to the image you want to download.
If you want to download all the visuals that are stored in the account as an archive, you can copy the link to the user account and paste it into the Downloader's search bar.
You can get stories and any other content that the user shared – even without you having to view them every time in the application. To do this, use the Instagram Story Saver. It allows you to anonymously view the archive of stories that disappear from the application and also collect them all in one folder or one by one. By 'anonymously' we mean that you don't have to log in if you don't want to. However, note that you only can use the tool with public, open accounts.
Inflact Downloader is an incredibly handy tool for maintaining an Instagram profile, aggregating content, and reusing it.
In this case, the visual from Instagram, whether it is a story, video, or photo, will be saved on a mobile device or computer in the same quality in which the user uploaded it to Instagram. All these visuals can be recycled for content.
How to edit and shoot pictures in dark aesthetic style
Collect references that fit the style and purpose of your visuals. For example, you can use a Pinterest board. You can also create a folder in Saved on Instagram. Having references will make it easier for you to arrange a photo shoot or edit ready-made pictures.
When selecting references, try to gain visuals that depict objects related to your final product. For example, if you need to create a dark aesthetic portrait, select pics you like in the desired angle.
Make a list of props. Having listed props or those items that you want to photograph, it will be easier to organize a photo shoot from scratch. But you can also download a ready-made image from any IG profile.
The easiest way to achieve the dark image effect is to shoot having this concept in mind – it can be adjusted in the camera. To do this, when you open the phone camera, touch the screen and pull down to change the brightness and make the images in the camera become dim. When you feel that the blackout level is enough, take a picture. In this case, the photo can have the dark aesthetic style without extra edits.
If you need to edit an existing image from the gallery, use photo editing applications. It can be Lightroom, VCSO, or other basic editor – even the simplest tool is enough to change brightness, hue, and saturation.
Hack: On TikTok you can find tutorial videos with detailed settings. Here is an example of a dark aesthetic editing video from TikTok.
On Pinterest you can find pictures with written clear instructions on how you need to set each indicator for getting the desired effect.
However, such guidance cannot be a universal solution for any photograph. Your actual image may look different and have a different level of light and color scheme, so the instruction may not work. Therefore, be guided by your references to achieve the desired result.
Note: To highlight the details on photos after a decrease in the brightness and contrast to get darker tones, you can use the common function – sharpening. That way objects will have a clearer outline.
Dark aesthetic Instagram hashtags
Accompany each post in a trending style on Instagram with thematic tags. We made a selection for you – if you want to start entering the Instagram feed in dark aesthetics, you can copy and paste.
#darkaesthetic
#darkaesthetics
#darkacademiaaesthetic
#darkaesthetic
#darkaesthetictumblr
#darkaesthetictheme
#darkaestheticedits
#darkaestheticsedit
#darkaestheticfeed
#darkgrunge
#darkaestetic
#aestheticdark
#darkgrungeaesthetic
#darkcoreaesthetic
#darkfeedaesthetic
#darkacademicaesthetic
#darkacadamiaaesthetic
#darkacademiciaaesthetic
#darkaestheticgirl
#ᴅᴀʀᴋᴀᴇsᴛʜᴇᴛɪᴄ
#darkaestheticart
#darkaestheticstumblr
#darkaestheticedit
#darkaestheticvibes
All these hashtags were generated by the Inflact Hashtag Generator. As you can see , this tool allows you to copy the most trending and latest ideas – the library is constantly updated. Use this tool to ensure that your on-trend publications are seen by as many people as possible.