How to find users, products, services, influencers, clients, and places to go out with Instagram Search by Inflact? The answers are inside!

Instagram is SO huge! That's why people love it — you can find anything you want there: fluffy dogs pics, hot girls, educational stuff and so on. But can you really?

Instagram allows the search for accounts only by usernames. I do not think that it's an Instagram team omission — if you search for somebody longer, you stay on Instagram longer. So the inability of convenient search is a strategic move, guys.

Inflact's Instagram People Search is the first service that makes it possible for you to find a certain account by a number of info pieces: username, name, bio, phone number, email.

So, today, you will learn what IG Search by Inflact looks like and how to use this Instagram search engine for your own benefit.


IG Users Search by Inflact
You can explore IG inside out and find a 'needle in a haystack' if you have a handy search tool. Inflact is the single tool that allows you to look for IG accs by user names (not an innovation), real names, bios, emails, and phone numbers.

To make the output more accurate, Inflact offers several filters for you:

male vs female;
acc category (personal blog, photographer, art, artist, public figure, clothing);
# of followers (from...to).
You can sort the search results by Account Age (New first) and # of Followers (Popular first).


Fast IG Profile Search
Related article:
Instagram Messages Search For Your Ecommerce Activity Sake + Case Story
Now, let's consider how such an advanced search can be of use.


Find Instagram users (good for singles)
There are a number of situations when you vitally need to find somebody on Instagram, knowing almost nothing about them except a small piece of information like it's an aspiring tattoo artist whose name is Nick.

You enter this info in the Instagram search bar and click Search:





You get the list of relevant accs: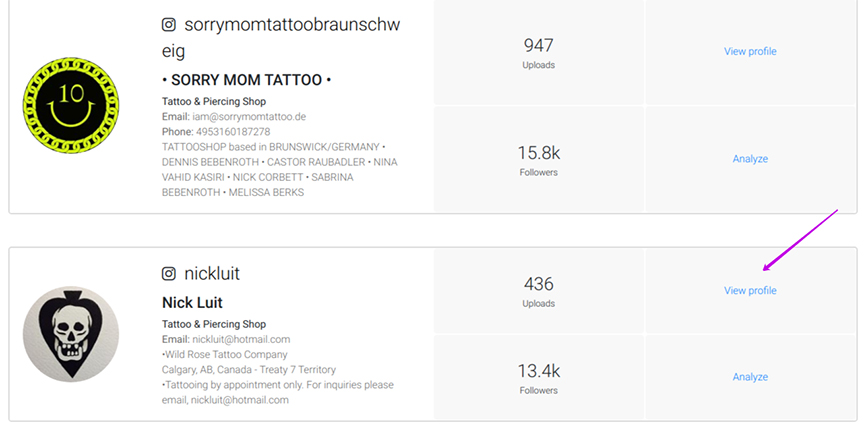 So, you click View Profile to be directed to his Instagram page! Who knows, maybe, it is a beginning of something great:)

A hint: If you are a Pickup Artist, use Gender Filter boldly!


Find services, products, and places to go out
Services/products
What if you need to find an exclusive hand-made dress for your Prom? You know, the one which won't be repeated on one girl in three. Point out your requirements and click Search:





You get the result: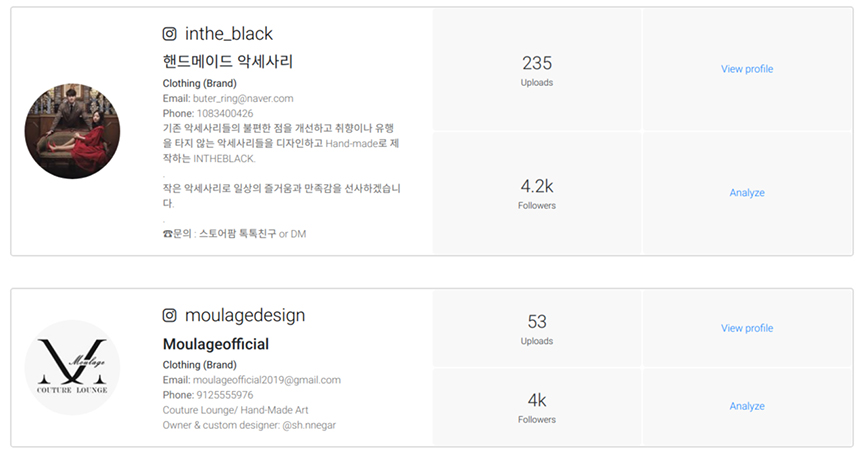 There, you do not need to find just one account, you need options to compare. The choice is crucial when you are searching for a product or service.

A hint: While searching for products/services, actively use the search by Bio words and relevant Account category. The search result will be more exact.

Places to go out

Similarly, you can find places to visit by the Bio and account Category. For example, let's find an Art Gallery.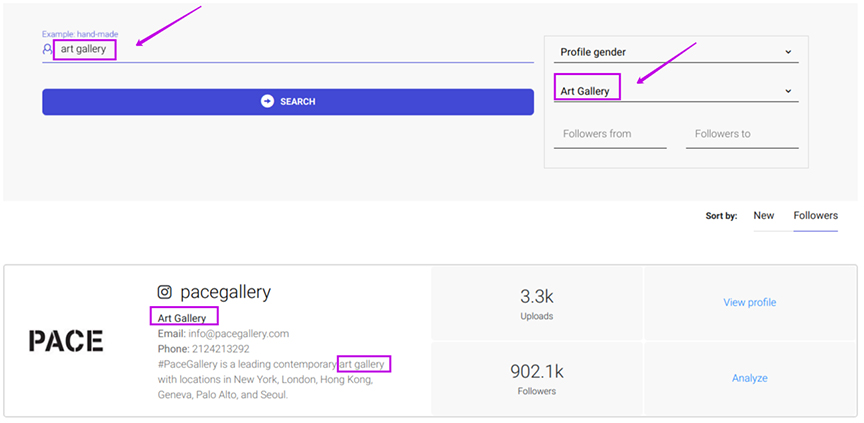 Find influencers
Today's brands know the value of Influencer Marketing. Instead of calling to agencies whose fees are quite high, spend a couple of minutes studying Instagram users with Instagram Search by Inflact.

There, your niche, business scale, and Target Audience are of importance. If you are a small business selling clothes for girls and women, you need to find a young micro-influencer (up to 5K followers).

You leave the input line blank and point out the Gender and a preferred # of followers:





You get the list of all relevant accs. Obviously, that's not enough to make a decision.

Your next step is to analyze accounts with the view on their audience activity and engagement. Click Analyze: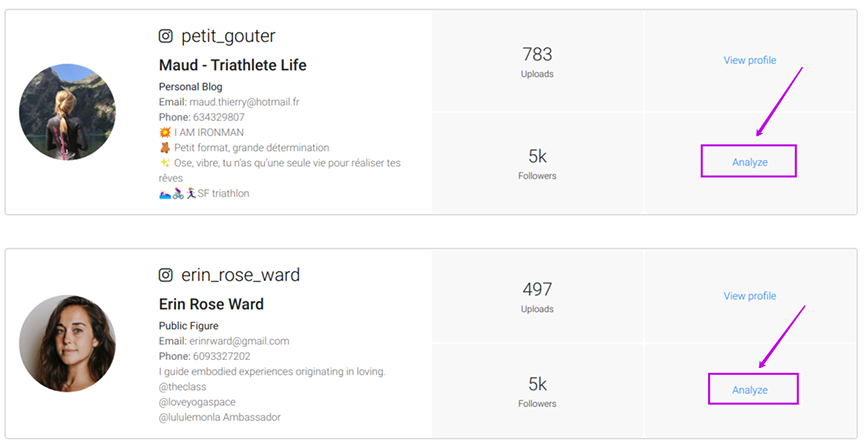 You will get a precise IG account analytics:






A hint: Compare several variants, choose the one with the best Engagement Rate scores.

Related article: 50% Engagement Growth for Free: Instagram Analytics for Your Account Evolution


You can analyze any account with Inflact Profile Analyzer!
Find clients
Let's take an SMM agency as an example. What clients do they look for? Probably, small unpromoted brands, which have recently created their IG accounts.

You point out Account Category and the max # of Followers. The search bar is empty if you aren't interested in a particular niche:





You get all the accounts that fit.

A hint: There, you need to sort the search results from the newest accounts to the oldest to find new brands that need promotion. Click New: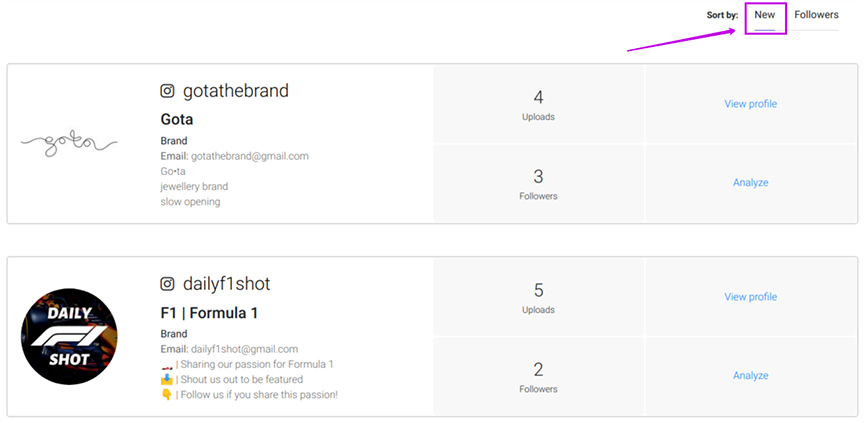 Bonus: Instagram search for forgetful or spying souls
Let's be honest, sometimes it happened that we find a number in our (or our boyfriend's/girlfriend's) Contacts, but have no idea to whom it belongs.

Do not deny, it happens with everyone! So how do we know who that person is? Right! We go to the Instagram user search and type the phone number in the search bar:





We get the immediate output. Usually, you get just one relevant acc:





A hint: you can find users by their email address in a similar manner.


Stop wasting time! Find any Instagram User is a couple of seconds!
I hope you will find this Instagram search account tool useful! If you need help, consultation, or a couple of pieces of advice on promotion on Instagram, do not hesitate to contact our Support Girls!

Love, Inflact