Stop generating toothless, not selling messages! Click to get 15 really working scripts for FREE.

Selling a message is your unique selling point under a beautiful cover. But you can't send it to all your followers. You need to electrify your audience, to warm it up. That's the whole science, and I'm going to share the key points of it.

You will learn what sales script is, why you need it and how to apply it in Inflact. On top of all, you will get 15 free scripts as a gift from all Inflact team. Get ready for a looong ride!

But before you plunge into this new information, take a look at some old related articles. They will teach you a lot: Direct Message Template: 30 Eye-Popping Tips For Pushing and DM Instagram: 30 Magnificent Templates For Your Promotion!


What is a sales script?
A sales script is an algorithm of a conversation with a client, where answers to any of his/her questions are prepared in advance. In fact, this is a set of speech templates that takes into account various options for the behavior of a potential customer and allows to navigate the situation quickly. Properly written scripts or sales scenarios increase the efficiency of 'negotiations' by 80% and lead to a deal.

Ideally, the sales script should lead to a change in the client's opinion about the product or service and, directly to the sale itself. First, a potential buyer with your help should simply admit the idea that this product is interesting to him, then agree to try, then buy and leave with a firm decision to become your regular customer.


The structure of a sales script
Opening - greeting. It's your first message to your followers. It's extremely important to set the right tone of further conversation. + Question block. You need to find out what are your potential customer needs by asking him/her.
Offer. You offer your goods or service, stressing out the benefits a potential customer will get.
Objections. 'I will think about it', 'too expensive', 'I don't need this' and so on. You should think up in advance how you will overcome them.
Closing. These are the messages with which you will close the purchase.
Please, note that for each business, there will be some peculiar modifications of sales script, so always think over the script carefully.


How to apply it in Inflact?
Inflact introduces the most advanced Auto DM service, which includes auto messenger for all the new followers, auto-responses and online chat. Thanks to that, you can apply your sales scripts effectively, precisely and fast. For that:

1.Sign in your Inflact account.
2. On your Dashboard, find the Direct section.
3. Choose New Message and see the Message popup.
4. Start from the very beginning by choosing Each new Follower and enter your welcoming message.
5. Switch on the Custom Filter and set the right targeting by choosing the target language, gender and other additional filters.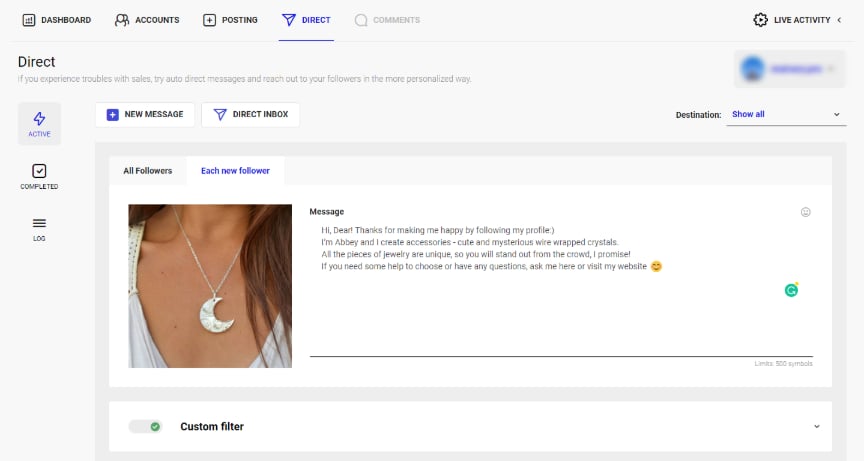 6. Once you enter your message, click Activate Now. That's it; your first step is completed. You can easily modify your message by clicking Edit.

7. Then click New Message once again to continue creating your sales script.

Now get the script example suitable for your business sphere!


15 Free scripts for fast sales
1. For a handmade jewelry shop
Opening: You: Hey there! Thanks for following me! I'm [Your name], on the owner of [Shop name]. My passion is making jewelry from beads. Question:You: Would you like me to recommend something or maybe you have some ideas?Customer: Yes, I'm interested in silver necklacesOffer:You: Great, I have several pieces that will be to your liking! Each for 25$ [Photos/links attachment]Objections:Customer: Oh, it expensive for meYou: I got you! Maybe you will be interested in this necklace from the previous collection, 45% off? [Photo attachment]Closing:Customer: It's quite nice!You: Yes, I also like it:) you know, taking into account that it's your first purchase, the shipping will be free! If you agree, fill in the order form![Link]Customer: thank you.
2. For a bakery
Opening:You: Hi there! It's [Your name], [Bakery name] 's owner. We bake the best cupcakes on a by-order base. Here is the list of masterpieces we bake. [File attachment] Choose and make an order! Question: You: Do you need my consultation?Customer: Yes, I want a cake for my birthday party, but I can't decide on the condiment. Offer: You: We can offer you a couple of options: chocolate, vanilla and berrylike. Which one do you prefer?Customer: ChocolateYou: Good choice! Standard chocolate cake ([X]kg) will cost you $[X]. Objections:Customer: Ok, I will think about it.You: What makes you hesitate? Price, weight or something else?Customer: I would say, taste.Closing:You: That's not a problem! We hold tasting events for our clients. Please, leave your phone number, our manager will contact you immediately!
3. For a bicycle shop
Opening:Hello! Thank you for following! I hope you will find the bicycle of your dreams at my shop! Shipping is always free!Question:Are you interested in something specific? We have mountain, road, hybrid, triathlon bicycles.Customer: Mountain bicycles Offer:Currently, there are 15 mountain bicycles in different colors at our store. What color would you like?Customer: Yellow or blackYou: I can offer you this cool black bicycle with both front and rear suspension [Link] The best choice for experienced riders! Price $[X]Objections:Customer: it's expensive for such a bicycle.You: The producer is one of the market leaders, which is time-proved. You pay for quality and reliability! Moreover, we provide a 5-year warranty. Would you like to contact our manager to get to know all the details about it?Customer: yes, please.Closing:You: Thank you! Please leave your email, our manager Alis will contact you as soon as possible!
4. For a showroom
Opening:You: Hello, gorgeous! I'm Amanda, [Showroom name] owner, and I'm so grateful you are following me! That's why, get your first [X]% discount for any brand you like!Question:You: What are you interested in?Customer: I like this Gucci T-shirt. I need M size.Offer:You: please, find all the Gucci T-shirts size M here [Link] All of them are original 100%. Objections:Customer: ok, thanks, I'll think about itYou: And don't worry if you can't find the one you liked. Our Collections are updated every week!Closing:You: don't forget about your [X]% discount:)
5. For a sports shoes e-store

Opening:You: How nice you're here! Thanks for following us! You are just in time as we've got a new arrival today. 50 new items! Question:Are you interested in men's or women's shoes? A certain Brand?Customer: Women's. I like Balenciaga moreOffer:You: You are really lucky! Balenciaga is on sale till the end of the month! Find our catalog here [Link] Objections:Customer: I'm not sure about the qualityYou: As for the quality, all the shoes are delivered right from the factory. You can read the reviews of our clients here [Link] Closing: You: We can comply with your wishes! If there is something that would make your decision easy, tell us!
6. For a tea shop
Opening:You: Welcome to the world of green, black, oolong and pu'erh teas! I'm [Your name]. We sell only the best tea from proved tea plantations. On our website [Link], you will find all the sorts we serve. Question:You: Would you like to get a consultation on the choice of a certain sort?Customer: yes, I'm choosing between L'CLATANTE ORGANIC and LA TAGA SAUVAGE.Offer:You: No need to choose! Order two and get the beautiful teapot as a gift! [Photo attachment]Objections:Customer: Cool! But the shipping is too long; I need my tea till the end of the week:(You: We offer several shipping methods, you can choose the fastest one. [Link] Customer: Yes, I like the priority mail expressClosing:You: That's awesome! Please fill in the order and point out the delivery address! [Link] Thanks for choosing us!
7. For a mobile application

Opening:You: Hello and welcome! I'm [Your name] - [Company name] representative. We've recently introduced our dating app to the public. It works on specific algorithms and counts even zodiac compatibility! The first week is free! Download here [Link]Question: You: Are you interested in additional information?Customer: noOffer: You: By downloading now, you will receive a free mailout with useful relationship tips and advice from best psychologists! Objections: Customer: but there are hundreds of other free apps You: There are several reasons for our app to be paid: we applied the advanced techniques and algorithms for partner search; and that's the policy which excludes the presence of users not serious about it. Customer: I got youClosing: You: Thanks! Let me know if you need help with downloading!
8. For a travel agency

Opening:You: Hey! Want to travel? I'm [Your name] and I will help you to make your dreams come true! We offer several destinations across Europe. Our current offers and dates are available on our website [Link]Question: You: Which country you would like to visit? Customer: Yes, I'm interested in Spain.Offer: You: The land of paella and sangria! Here is the link to Spain tours [Link] Objections:Customer: the dates do not fit me, unfortunatelyYou: Can you clarify what dates will be suitable?Customer: XXXXXXXYou: I have marvelous news for you, there is a tour Germany- Switzerland-Spain- Netherlands. 4 days in Spain! The price is lowered as there are only 3 places remained. What do you think? $[XXX]Closing:Customer: Yes, it's cool, but I doubt the price.You: What about a [X]% discount for this tour if you bring a friend with you?Customer: Wow, deal!
9. For a women clothes brand

Opening:You: Hello, queen! Thanks for joining me here! I'm [Your name], by the way. I create clothes that will warm you up this fall and winter. Question:You: Have you chosen something? Customer: Not, yetOffer:You: Pay attention to my new Winter Collection! [link] No synthetic materials are used. AND if you order 2 pieces, the third one will be with [X]% discount!Objections:Customer: Your prices are quite high btwYou: Price equals quality:) I use only natural materials for manufacturing. Besides, you pay for exclusiveness- there will be none in the same clothes around!Closing:Customer: Convinced:)You: Great! Please, fill in the table, point out your parameters and phone number, I will contact you to clarify some details! Thank you:)
10. For an underwear brand

Opening:You: Hello and thanks for following! I promise you won't regret it! I'm [Your name] and I create magical lace underwear. Question:You: What types of underwear you prefer: classic briefs, boy shorts, hipsters, thongs?Customer: I like classic onesOffer: You: Classics always in vogue! All of them are handmade, so you don't need to bother about the quality. Find all the range of classic briefs her [Link] Objections: Customer: Can't find suitable colors.You: Colors are not a problem! I work with all the colors my clients like. Closing:Customer: That's cool! I would like bordo colorYou: Please, find the exact color you want and send me as an attachment:) And let's discuss all the details of the order!
11. For a wellness center

Opening:You: Welcome to [Center name] - the place for work out and relax. We focus on the highest quality of services, your spiritual health, and overall well-being. Thank you for following, I'm [Your name]! The list of our services [Link]Question:You: Would you like to get my consultation on the procedures?Customer: Yes, not sure that Shiatsu massage is ok for meYou: That's in vain. Shiatsu massage is a relaxing massage - it suits everyone!Customer: okOffer: You: I have the marvelous offer for you: take 4 Shiatsu massage sessions and the fifth one will be for free! What do you think?Objections:Customer: I need time to compare offersClosing:You: Sure! If you find Shiatsu for a cheaper price, tell me and we'll cut the price!
12. For yoga classes

Opening:You: Hello, I'm [Your name] and I run private yoga classes and yoga mentoring (Vinyasa, Ashtanga, Bikram, Jivamukti). Question:You: Do you need help with the choice of the type of yoga? Customer: Tell more about Ashtanga, pleaseOffer: You: I've gathered all my knowledge about Ashtanga in this article [Link]. If you are interested in Ashtanga, I have good news for you - [X]% discount till XXXXXX! Objections:Customer: I will think about itYou: Can you tell me why are you hesitating?Customer: I'm not sure that it's for novices like me.You: Don't bother about that, I run only individual classes, that enables the individual approach. You will face no backbreaking difficulties!Customer: Awesome!Closing: You: Great! Let's discuss the timetable of our classes!
13. For a photographer

Opening:You: Hey, thank you for following me! My passion is photography! You can order a photoshoot here [Link]. If you want to estimate my portfolio, follow the link [Link] or just look through my profile!Question: You: Would you like to ask me something?Customer: not decided yetOffer:You: While you are thinking over, let me offer something great! Ordering a winter photoshoot, you get 20 Edited photos for free! Objections:Customer: I need to do this as fast as possible as I'm leaving in November:(You: Time is not an issue. I will fix my schedule for you!Closing:You: When is it comfortable for you to make a call and agree on details.
14. For a nail-designer

Opening:You: Hi, I'm [Your name], I'm so grateful that you're following me! I create art on nails. Find more of my works here [Link]Question: You: Do you like to book a certain date/time?Customer: YesOffer:You: There is a list of vacant dates [Link] and the pricing list [Link]. As it's your first time, the hand skin treatment will be for free! Let me know when you decide on the date and time! Objections: Customer: my current nail master's pricing is a little bit lower, sorryYou: Are you fully satisfied with the quality of the service she/he provides? If yes, why are you here talking with me?:)Customer: well, that's wiseClosing:You: So what date have you chosen?
15. For a purebreeder

Opening:You: Hello! Looking for a life friend? You are at the right place! I'm [Your name] and I breed dogs (Cavalier King Charles Spaniel, Bernese Mountain Dog and Alaskan Malamute)Question:You: Are you interested in a certain breed?Customer: No, I just want a breed that will be friends with a childOffer:You: All of my boys and girls are considered the best breeds for children! But if you have a little child, I would recommend Cavalier King Charles Spaniel; it's small and tender dog:)Customer: Can I have a price of it?You: Here is the full price list [Link] Objections: Customer: quite expensive I would sayYou: That's a standard price. But I want to focus your attention on the fact that all the dogs are pure breeds so you may earn on pairing, shows and contest!Customer: Wow, I haven't thought about it. Ok thenClosing:You: So, if you decide for sure, I book a Cavalier King Charles Spaniel for you. The estimated time - early April. Please, leave your contact for me to contact you and discuss some details!
Get More!
You've got your sales scripts! But that's not all that we offer!
Register on Inflact now, buy Auto DM and get 5 Sale Funnels and 100 DMs templates for FREE!