To become a real beauty is not the only reason for all to go crazy about AR effects. Let's understand together what is the new features and what masks are in trend now.

Instagram experienced everything: filters Valencia and Crema, white frames, collages, processing with VSCO hashtag (#vscocam, #vscobest,) curved in the "Pasture" walls, "blurry" face and absolute lack of filters.
In reality, it's the AR trend, or Augmented Reality, to blame for this seemingly fleeting insanity. Yeah, it "plants" in your selfie favorite characters, makes to turn from a woman into a man (and vice versa) or shoots at your friend "likes" from a painted gun.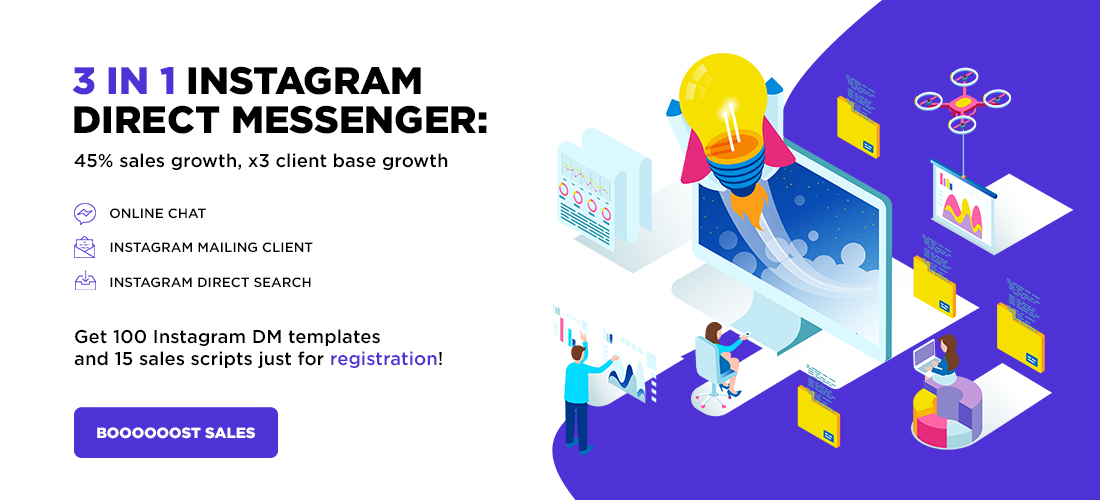 Are you ready to learn what effects are, what advantages they have, and where to find the most cooooolest one? Let it all hang out!
The truth about AR effects!
AR-masks is a stunning augmented reality application for your phone which allows creating fantastic worlds and embedding them in stories and then sharing with your fans:
Explore. Explore new worlds and make funny faces for photos.
Personalize. Add three-dimensional text and draw directly on the screen to make the unforgettable moments of your life even brighter.
Surprise. Share your creations with friends and family online.
Earn. Attract the IG users with your cool and interesting mask and it will go viral and glorify you and your brand, or IG! In some cases, not worse than a PR Manager.
Fun. Try cool masks from different developers and add funny components to IG stories, then share them with friends.
At first, filters and masks were published only by IG itself, and third-party artists were forbidden. And only in February 2019, it was announced the start of closed beta-limited access to the publication of AR maks by selected authors. However, only for non-commercial use, that is, with the prohibition of mentioning any brand.
After a while, the first effects of external artists began to appear on Instagram. Among them, for example, Johanna Jaskowska and Mark Wakefield. They published their art effects with all sorts of tints and animations, and have earned it a thousand followers as to try on the mask itself must follow its creator.
How to find effects?
On Instagram, there is a search in the catalog of effects. To select the desired effect from the catalog you need to scroll to the end of the carousel to the right until you see the button to go to the catalog.
The catalog currently has 14 categories, including Selfie, Love, Color, Light, Funny, etc.in each category only a few dozen effects, which, of course, is only a small fraction of their total number:
Very often these techniques are used in combination, and on top of them superimposed color correction and filters. In general, the functionality for the self-expression of the artist has quite extensive.
Now, cool brands create their insta effects. For example, a Gucci filter with wigs hailing from the Middle Ages. Or Neon Party Filter, which was invented by YSL. With his help, by the way, you can test new shades of lipsticks. Dior has allowed users to try on sunglasses from line DiorSoLight.
Celebrities also create your own masks (more precisely, the team working on them). Filter Kylie Jenner Lip Kit put makeup on you and nothing else, and all shades of frosted metallic lipstick Kylie Cosmetics. Rihanna has created her Diamond Ball for everybody who wants to bright like a diamond.
About all these examples I've written in my article
Instagram AR Filters: Bring Augmented Reality in Your Life.
Read it!
Top 10 fun AR effects for Instagram Stories from real creators!
If you want to surprise your followers with cool effects, here are the top 10 fun AR effects for Instagram Stories to become unforgettable!
#1: "Jackie" from @danmollervfx
If you want a beautiful, but at the same time a bold effect, then this is just what you need. Artist Dan Moller created his replica of Warhol's ideas "Jackie".
Besides, in the arsenal of the digital artist, there are such effects as" Lewks", inspired by the rules of perfectionism, as well as" Mariposas", which is a real expression of hyperrealistic butterflies. His works are worth to try them right now!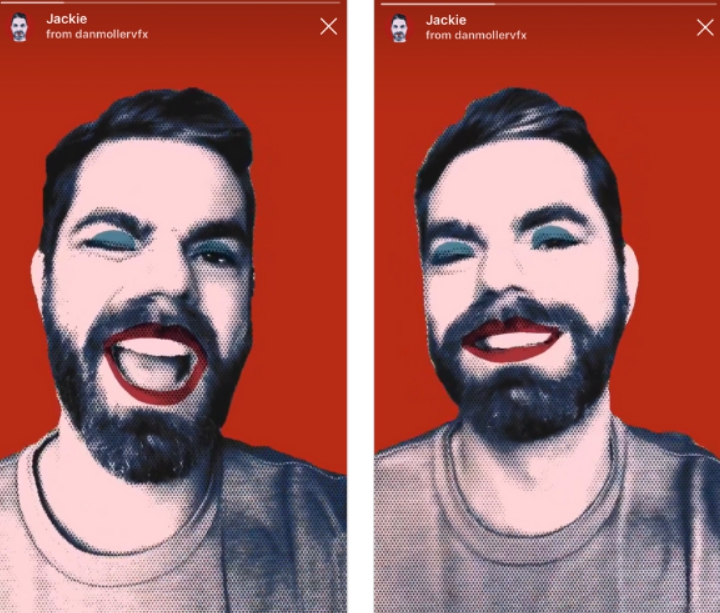 #2: "no.mango" by @basphi
Philip Basler, who is a cool specialist in the field of motion design, has decided to create an effect that combines all his favorite design techniques and effects - linear drawings and AR effects. His love for this method is shared by at least several million people. Basler likes to apply the technique of drawing in his filters, which makes them unusual and memorable.
The most famous filter created by Basler is " No.Mango". This work remind many art lovers of Kandinsky. What associations have you?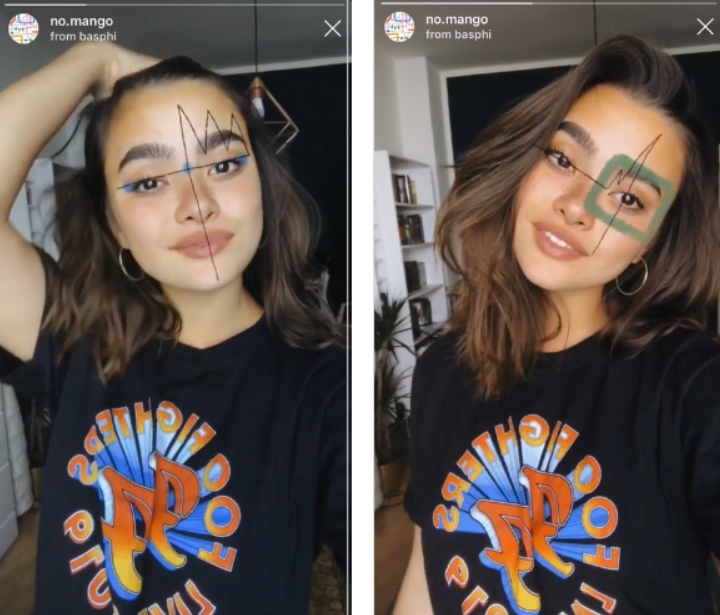 #3: "Full bloom" by @martinamartian
Are you a fan of flowers, cakes and all that is connected with it? I have good news for you. The artist from Sydney has prepared for you real masterpieces of masks with effects that you will appreciate! Martina, (that's the artist's name,) does not stop at the usual floral effects, she makes real masterpieces that look fun and charming!
Her effect "Full bloom" won the hearts of millions of people around the world! It was appreciated by both girls and men. This is not strange, because the filter is really divine.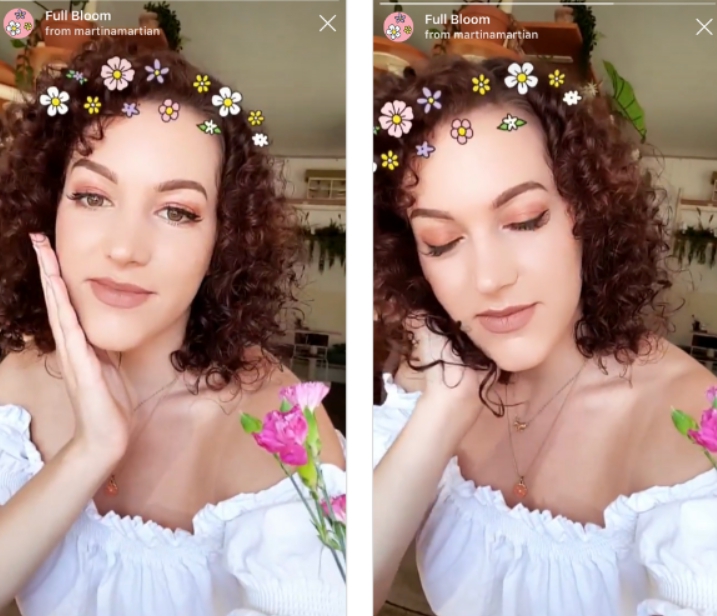 #4: "SELF_LOVE" by @fcvkrender
Swift learner artist Frederick Duquette exceeded all expectations and created a filter that rivals the best architectural methods! His favorite technique of creating masks is an architectural geometry that combines amazing landscapes, along with shiny crystal accents.
His effect "SELF-LOVE" clearly reminds us video games of the 90s. However, Duquette went on, and added an interesting color scheme - shades of purple that have captured the hearts of all people from the 90s!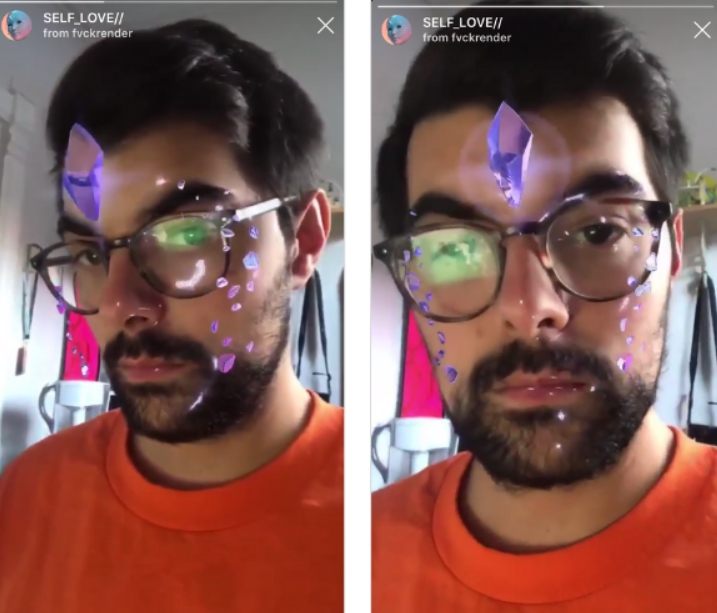 #5: "Internet Love" by @wrld.space
As you may have noticed, almost all of the artists on our chart are inspired by futuristic motifs when creating their effects. However, the American creative group Weishaar while creating their effects decided to turn to time-honoured Internet memes, donuts, pizza, cool stickers, and unicorns!
And the guys did not lose! Their effects have been at the top for a long time! The most famous of their work is the effect of "Internet Love", which can rightly be called a real masterpiece in the world of AR effects.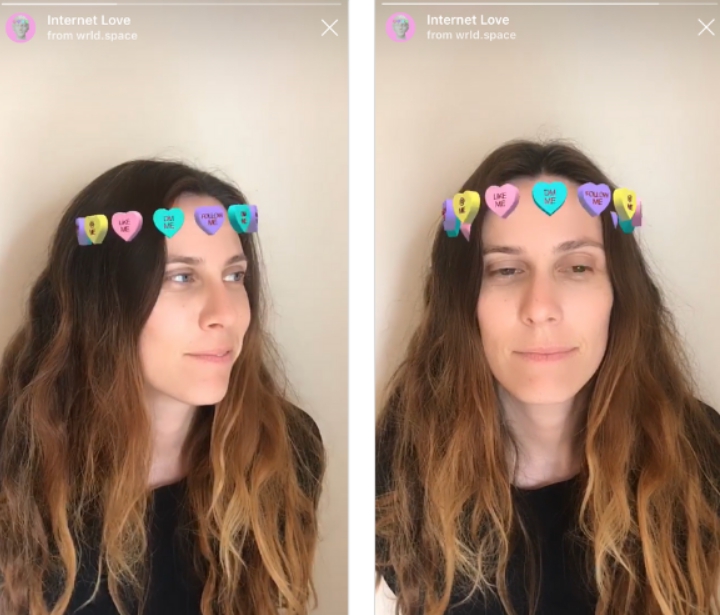 #6: "holo_ninja" by @liamo.studio
Speaking of other futuristic effects, we can recall the cool London designer Liam O'Neill, who among other things is a cool fashion designer.
To promote his Instagram works, Liam even created a special webpage where he publishes all the latest news of his works.
"Holo-ninja" mask works like an apparatus for melting tin. Don't believe? Try it yourself!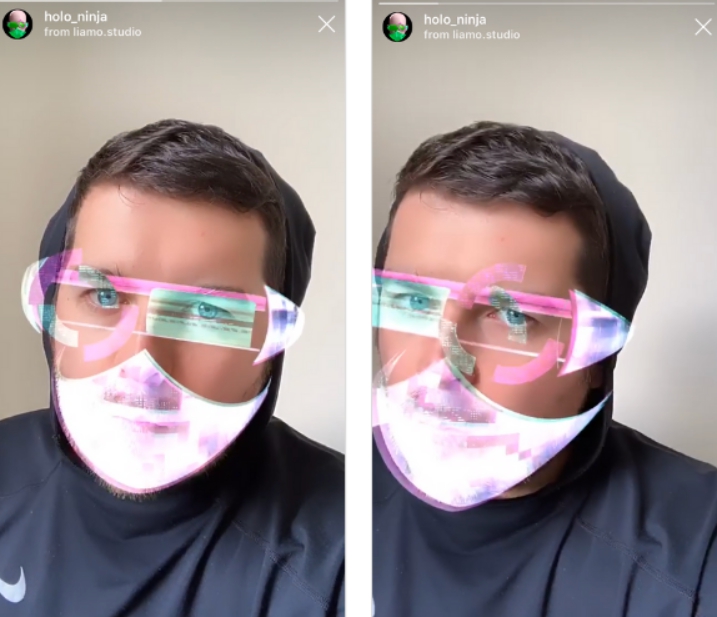 #7: "CHROMADYNAMICA" by @felipepantone
The famous Spanish artist Felipe Pantone is widely known outside his beloved Spain. After all, in the 90s, he skillfully decorated a lot of buildings with his frescoes.
Today, however, Felipe is better known for his effects, in which the artist combines techniques such as mural, neon gradients, geometric abstractions.
His masterpiece "CHROMADYNAMICA" can rightfully be called one of the best AR masks. Do you want to know why? Test the fashionable filter now.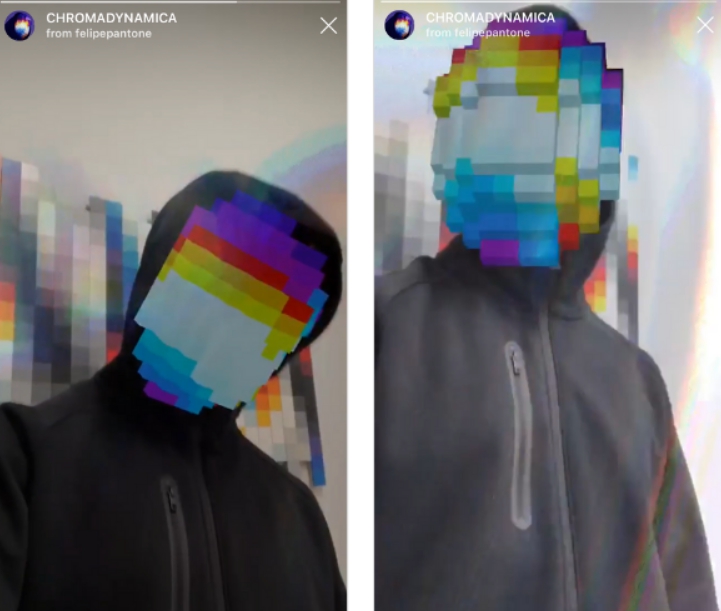 #8: "Save The Planet Mask" by @ineslongevial
Illustrator INES Longueil became widely known thanks to its geometric design works of the female body.
However, at the moment, the woman is concerned about the environment. To attract more attention to this problem, she came up with the mask "Save the Planet Mask". This effect allows Instagrammers to put a map of the earth on their faces, and then the user swears that he will protect and protect the earth from debris, etc.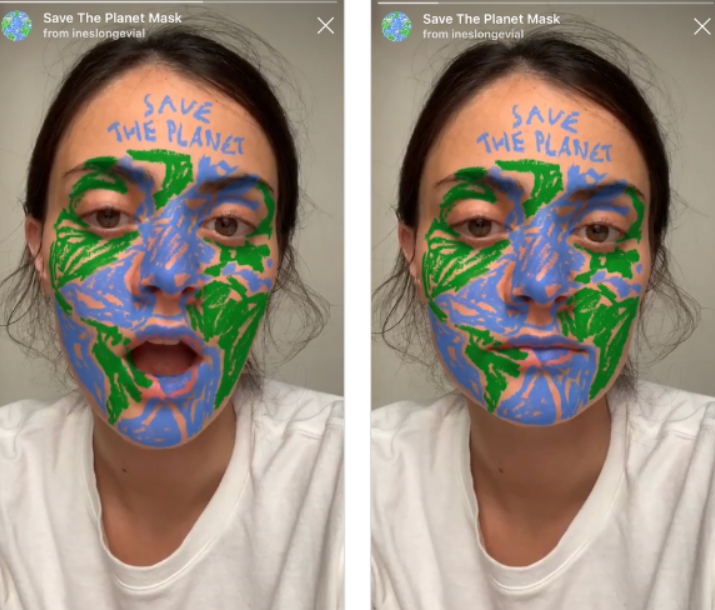 #9: "the Dragon Muse 4000" by @allanberger
Allan Berger is one of few happy men who have taken in the beta-testing of AR effects. Already there he learned to create cool effects, which then brought him considerable popularity. He is the creator of a lot of stuff from shaping filters, to super shiny face effects.
His work "Dragon Muse 4000" won the hearts of all indifferent to the historical theme of users who use the effect daily.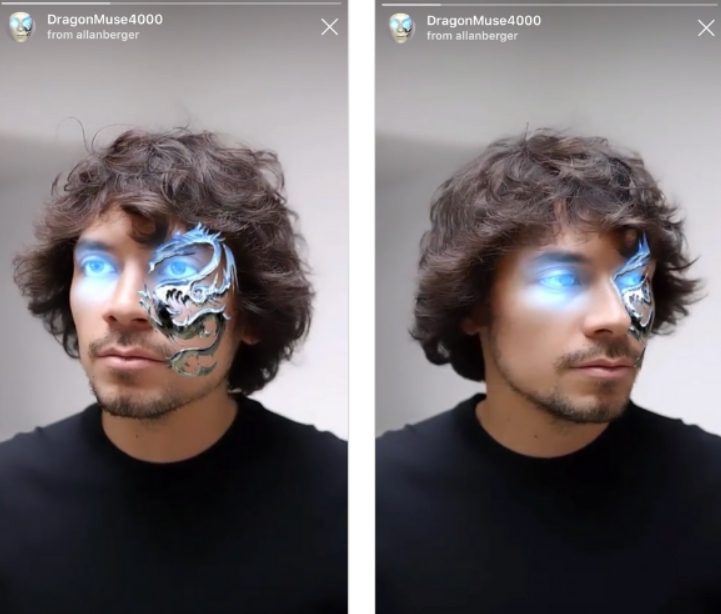 #10: "Space Face" by @filt.ar
Designer Tristan can create effects that will suit absolutely all types of faces.
Perhaps one of the most fun of his work is the effect of "Space Face", which will be appreciated by all fans of Star Wars cause the filter combines a basket of stars and planets that will add mystery to your image.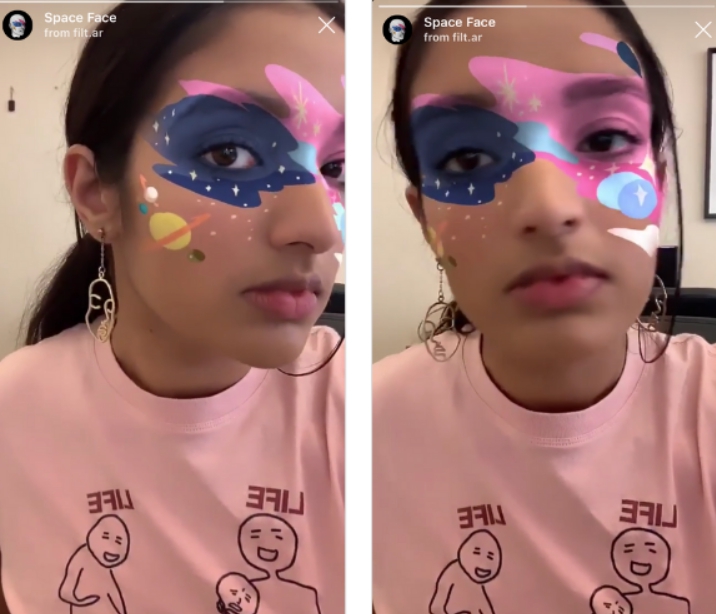 How to increase the efficiency of your Stories?
Of course, AR effects attract the attention of users a lot and can become this trigger that makes them view your profile and follow. To increase the efficiency of your Stories it's vital to publish them regularly and at certain time. If with time, it's easy to come up with just reading my article
Finding The Best Time To Post on Instagram To Become Freaking Popular
, to publish regularly will take some efforts from you. Or no? Sure! Just start using
Inflact Scheduled posting
service! With it, you can schedule all kind of posts and Stories. Do not miss the chance to become popular!
AR filters for Instagram stories by brands: 3 brilliant ideas for 2022
AR filters for Instagram are not just funny – they are widely used by business accounts to encourage sales. It's genius how augmented reality helps people to try new or upcoming products. In the era of online sales, AR masks and filters for stories can help you increase your brand awareness.
Look at the following examples by big brands and think of what AR effects might be appreciated by your audience.
#1 DIOR ROUGE LIPSTICK FILTER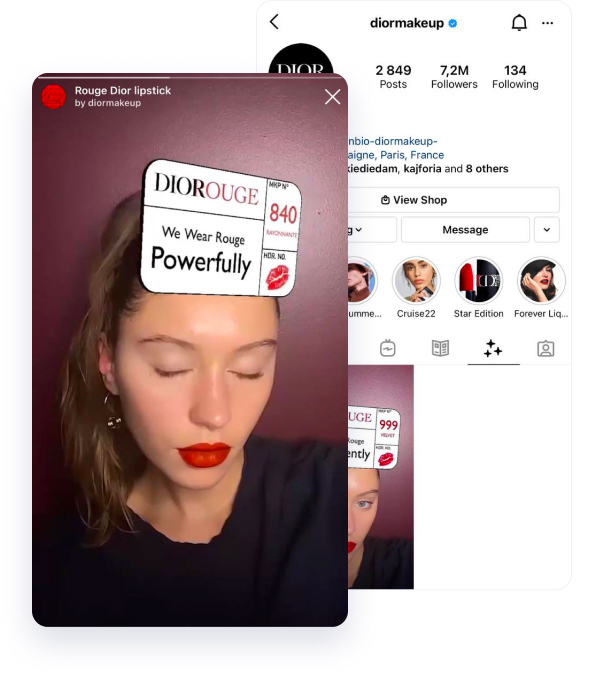 Dior launched a custom AR mask helping users try their new lipstick. It's a perfect example of a brand solving their customers' pain points through Instagram. It's always challenging to define the best tone, especially when buying online. Even in an offline boutique, it's impossible to try a tester on your face.
With this super helpful AR filter, people can figure out if they actually like the look of the product and which is a better fit for them.
#2 FIND YOUR DICKIES BY ASOS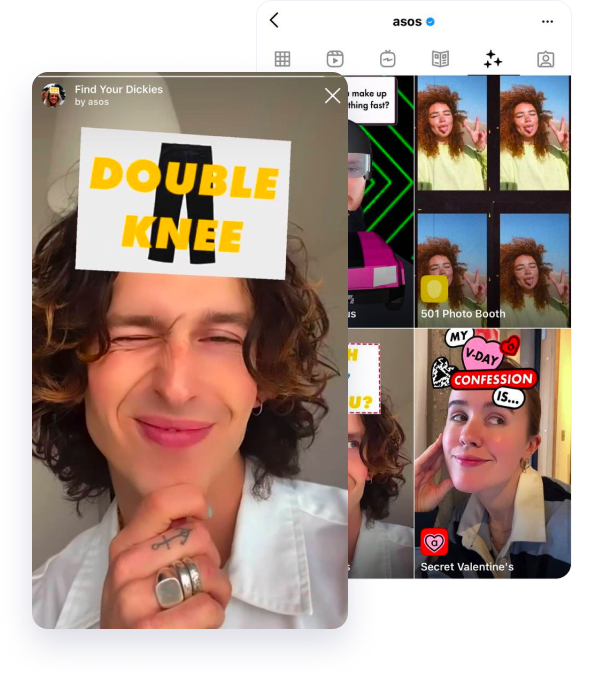 The filter by Asos is a great way to encourage people to buy Dickies and educate the audience about them in a playful manner. Thanks to the promotional mask, users might be more inclined to order the products.
Moreover, Instagrammers like this kind of filter, with a random roulette above their head. They are super sharable and engaging.
#3 FNGLOWN BY FASHIONNOVA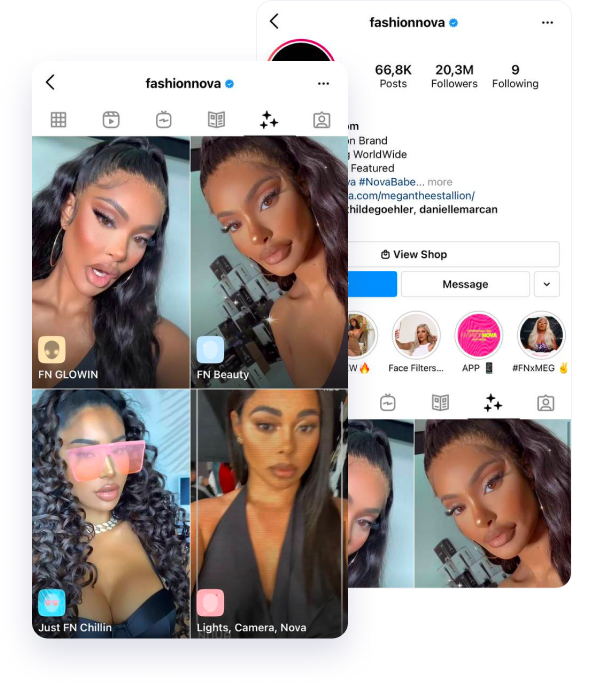 Fnglown by Fashionnova is less focused on sales and more on pleasing their target audience and showcasing Fashionnova style and aesthetics. Fnglown creates a look reminiscent of a typical Fashionnova model. While using it, brand fans become closer to this style they want to achieve. Also, the on-trend makeup is often shared and while more and more people tap on it, brand awareness is established.