In case you still haven't realized that the Twitter library may be used to amass content, read this article. On this social network, videos are posted in real-time and news appears faster than on other social media. With the help of the downloader, you can stay in the loop and get quality content for reposting.

By the way, with the latest Twitter updates, the developers have added the function of creating automatic captions in videos. It means that the number of distributed videos is going to grow and the editing functions will only improve. In this article, we will break down the ways you might not have guessed for extracting content from Twitter.
Many people know that most memes originate from Twitter, but content managers do not usually check on this social media when they need to generate videos. It's a shame. Especially if you run a business account on Instagram, you need to be aware of all the influencers' updates, and Twitter is an ideal platform to instantly be aware of what people in your environment talk about in real-time. Also, a lot of videos are posted on Twitter by categories, which you can search for by keywords, hashtags, and locations.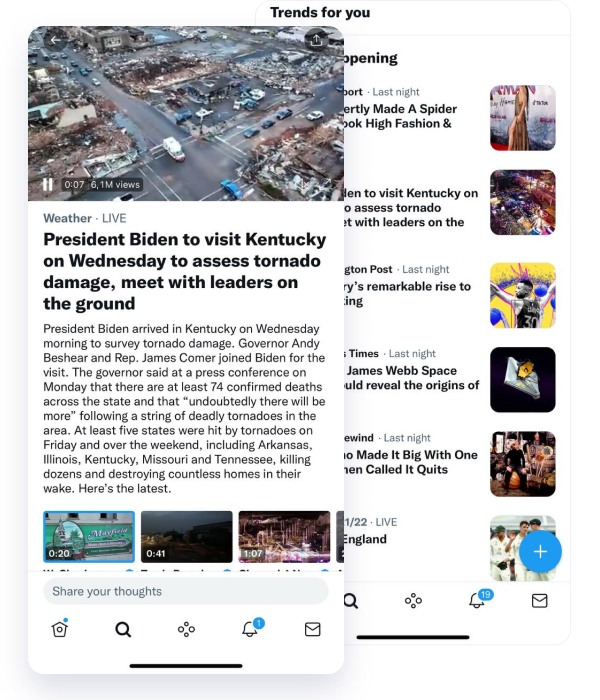 Yes, Twitter doesn't have a built-in button for downloading a video, but later in this article we will look at one tool that will allow you to easily download any video using one link. So how can you use Twitter videos?
How to reuse videos from Twitter:
Post on IG. The most obvious way you can reuse content is to post a short video from a tweet to your Instagram feed. When you share a post in the feed, remember to add a call to action to encourage people to add the post to the Saved gallery or send it to friends. This is the surest method to prove to the algorithm that you are producing interesting content that people want to share. As a result, it will be shown to more users.
IG Stories. Since short videos are most often shared on Twitter, one may adapt them to deliver as Stories. Follow the world's top content creators, and you will amass a lot of clips filmed on the go, which you can share with your Instagram followers. Users who don't use Twitter will be happy to see exclusive content in Instagram Stories, so you will have to monitor the most relevant news for them.
IG Reels. And you can download these videos and make a selection of clips overlaid with a music track and publish them as Reels. To make this publication viral, you will need to pick suitable hashtags. Find the detailed instructions in the blog post Instagram Reels hashtags will make Instagram Reels viral (+ bonus tool to download Instagram Reels for smart re-use).
Share on other channels. Once you've saved them, clips from Twitter can be shared across various channels – on a blog, in Facebook groups, in private chat rooms, or in chats with existing and interested clients. These visuals are up-to-date and will encourage a discussion.
Edit clips and apply them in creatives. You can download a selection of videos on a specific topic and apply them to various web products. For example, for online courses, advertising campaigns, and other activities.
Best tool to download Twitter videos in MP4
This is the simplest trick content creators need to introduce into their strategy. The process itself will take a few minutes and a tweet URL is all that's required.
Find a tweet that includes a video. (Next, we will look at ways to collect a selection of accounts so the media files you need will always be at your disposal).
Select the Copy Link menu item.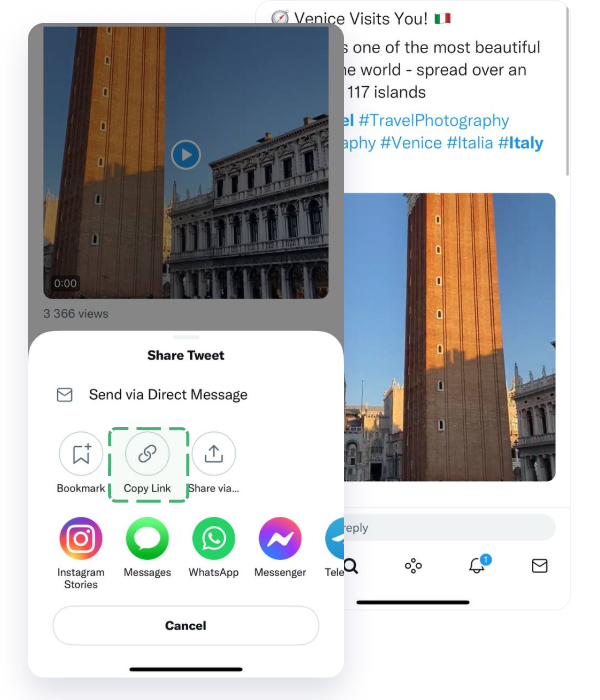 Embed the link into the Inflact Twitter Downloader.
Click on the search button.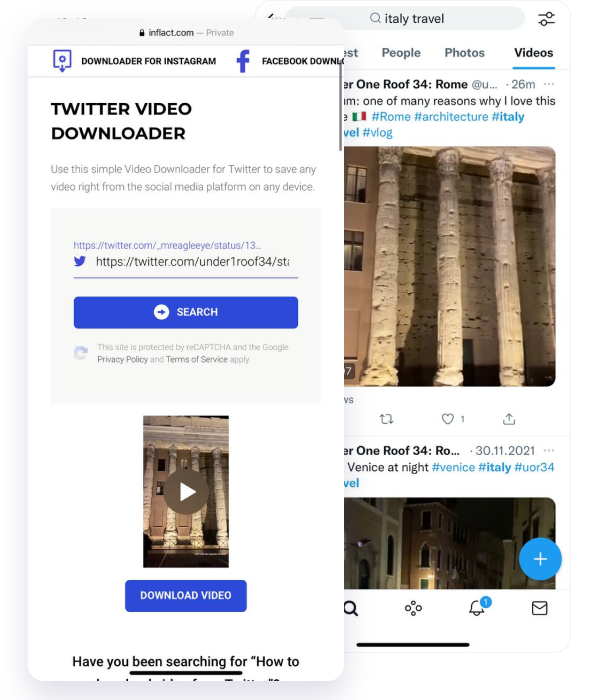 After a couple of minutes, the downloader will find the clip associated with this URL.
The download option will be displayed under the clip. Click on this button and you will be redirected to a page where you can save the media to the memory of your device.
After that, the MP4 video will be saved on your device in the same quality as it was uploaded to Twitter.
This convenient method has 3 main advantages:
The media extraction is instant and free.
You receive clips in their original quality, which means they will be suitable for processing.
The method is anonymous and doesn't require a Twitter login.
The most exciting thing is that this tool is suitable for Android, iOS, and desktop. Also, unlike other methods utilizing extensions, you won't need to install additional software. What is more, such extensions could slow down the page's loading. Therefore, using a standalone web service that simply finds a file available for download is the most convenient and secure way to receive content.
How to adapt Twitter for content-mining library – 6 methods
Subscribing to hashtags. On Twitter, you can track the most relevant and trending topics that the whole world is talking about and, accordingly, videos related to those topics. This is a necessary step for a content strategist or a content marketer to set Twitter tags. Therefore, conduct top tags research and follow influential bloggers who use these tags so that your feed will always have fresh publications related to this tag. As soon as you see the video, you can download and reuse it in other digital marketing channels. It will help you create an informative publication and engage your audience without much effort – and without producing content from scratch.
Setting up trends by location. You can track trends not only in the country where you are based but also by manually setting the location. For example, if you run a shop account and your customers are located mainly in the United States, while your shop is based in Germany, we advise you to set up a tweet selection by the U.S. location. Thus, you will be aware of everything that happens in the region where your potential clients live. When you are aware of their news, it will be easier for you to start a social dialogue online, including on Instagram.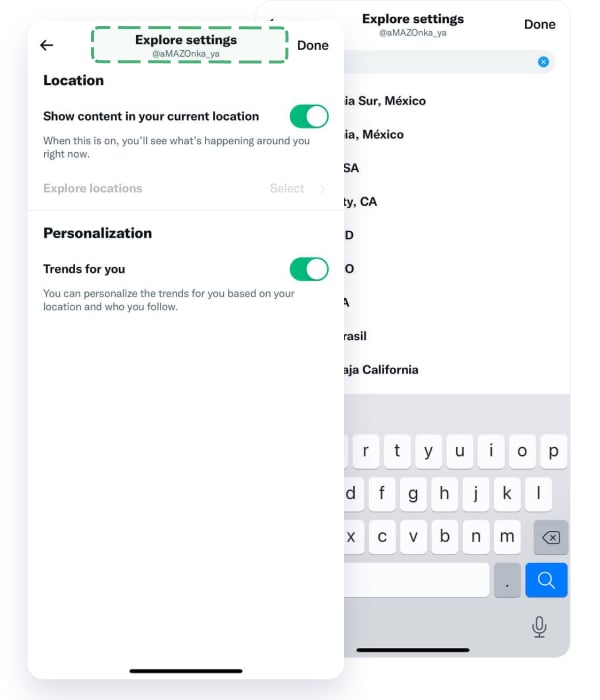 Subscribe to Twitter leaders. Twitter is a social media where influential personas post (even Elon Musk) and local influencers have a great impact on the audience. It may happen that your Instagram followers are also present on Twitter and follow these bloggers' updates. So select 10-15 influencers who are important to your audience. As soon as they share any clip, a content manager may use it as a post for Instagram or on other platforms.
Sort topics. By using the feed settings, you can choose a list of topics for which you want to read updates. I advise you to do it right now to get those videos that will be relevant for reuse. Digital strategies can cost you less money when you are aware of all the news in your industry.
Search videos by keywords. The easiest way to find a specific video on Twitter is to use the very handy search bar in the app, which allows you to find posts by keywords. For example, you can enter a keyword, and in the menu bar, select the Video tab and you will be presented with all the tweets that contain the keyword and contain a video. Thus, you can find exclusive unique content that users might not have seen yet, especially if they don't check on Twitter. Therefore, for them, it will be captivating material.
Pay attention to those videos that have received a lot of reactions – shares and likes – on Twitter.
Look for active Twitter leaders in the Spaces section. Discover what these people post, and which videos collect more reactions. Share this content on other social networks and it will be appreciated by your target followers.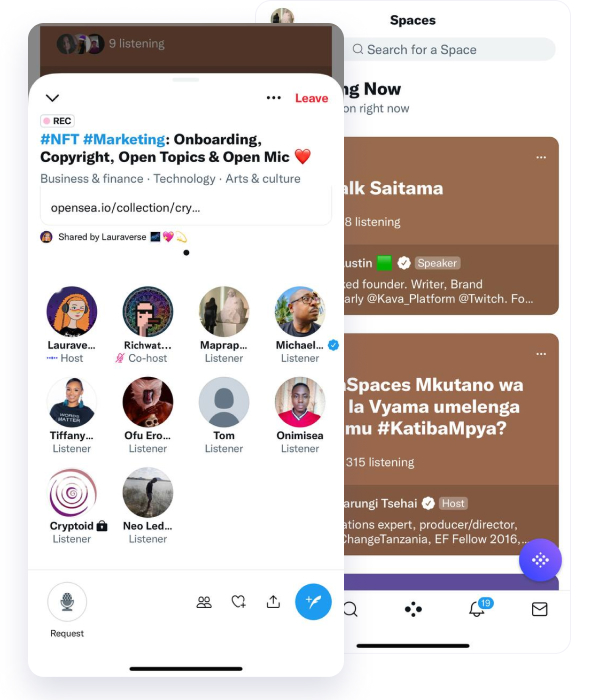 To sum up: How do you know what your audience likes in order to perfect your content strategy in 2022?
In order for media from Twitter or other sources to go over with a bang, research the tastes of your Instagram audience. A few tricks will help you with this:
Analysis of competitors' profiles. If you know for sure that competitors are doing better with audience engagement, find out why with profile analysis. This tool will help you calculate the most popular posts. It is easy to do by the number of likes and comments, which the service will show you. Go to these top posts and try to find content characteristics by which you will select material for further posting.
Profile Polls. The most honest and simple way to spice up your content with really interesting videos is to find out directly what subscribers love. People love to share their opinions, but on one condition: if you can show for sure that their opinions interest you. Therefore, feel free to use stickers for polls in Stories and leave open questions in the captions to posts in order to receive more comments. This way you will not only improve engagement in IG, but also get direction for future development and your search for content.
Go to the top subscribers' accounts. You can manually go to the profiles of your customers and active subscribers. Check the hashtags and accounts they follow. More often than not, many accounts will overlap. Try to hit the tastes of your audience in this way.