Can a $7 worth Hashtag finder bring you +$3995 in sales? Yes – explore real case and instructions in this article.

Discover how a WRSTBHVR — an Instagram-based shop has leveled up their business in 2 weeks. Real case story, step-by-step guide on Hashtag finder, screenshots — test the tool for your account!
Setting aside powerful hashtags sets is crucial for digital campaigns. Instead of boosting marketing budgets and ad expenses, use smart Hashtags generator — compare the before and after posts insights below.


In this article, you will investigate:


real IG statistics shifts before and after applying different hashtags combination;
ready-to-use strategy on hashtags utilizing fitting any business;
how to copy-paste likes-bringing hashtags for free;
secret bonuses and perks of Inflact's Hashtags generator.
Real hashtags bring authentic engagement and real money — let's start!





Real case: Can a Hashtag finder bring +70 purchases in 2 weeks?
Yes! Look through the precise numbers we gained after indicating the best-working set of hashtags in 2 weeks.


Benefits:


Impressions growth — X 2,5;
The number of unique accounts reached the post — X 2;
The value of hashtags-driven impressions — 65, 4%;
Boost in sales — 49,78%;
Total revenue — $3995;
The number of requests for PR has grown by — 78,44%.
Expenses:
Hashtags Generator — $7 / fortnightly.



Rule: the more organic reach your posts get, the more sales your Insta shop makes!
The outcomes mind-boggling. Dive into the details further.


About the company: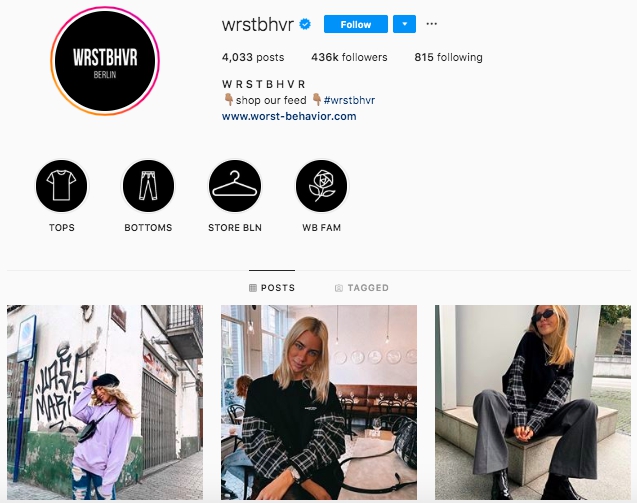 WRSTBHVR is a shop and fashion hub located in Berlin and selling clothes across 17 countries worldwide. It is originated from 2014 and was organized by designer Fabian Altmann. The WRSTBHVR:


sells streetwear tops and bottoms on IG and the website;
spreads user-generated content;
promotes influencers for commission.
The aesthetics of cozy, 90's inspired, and urban style brings encouraging likes and followers count.


The object of the campaign:


"WRSTBHVR struggles to convert the followers on IG into real customers. Also, we aim to benefit via commissions for the PR activities in our shop's profile and gain genuine UGC. And surely, we intend to boost sales by at least three times. I was surprised that the right hashtags could leverage business on social media. But they do!"


Fabian Altmann, founder and designer at WRSTBHVR



Solution:

The test of hashtags took 2 weeks and 3 rounds — not a long time to discover the combination that drives sales and organic engagement. But the experiment wouldn't be so time-saving we hadn't been utilizing the cutting-edge auto-correction feature built-in Inflact Post-planner module. Look at the screenshot — you can aside time range and hashtags sets renew automatically.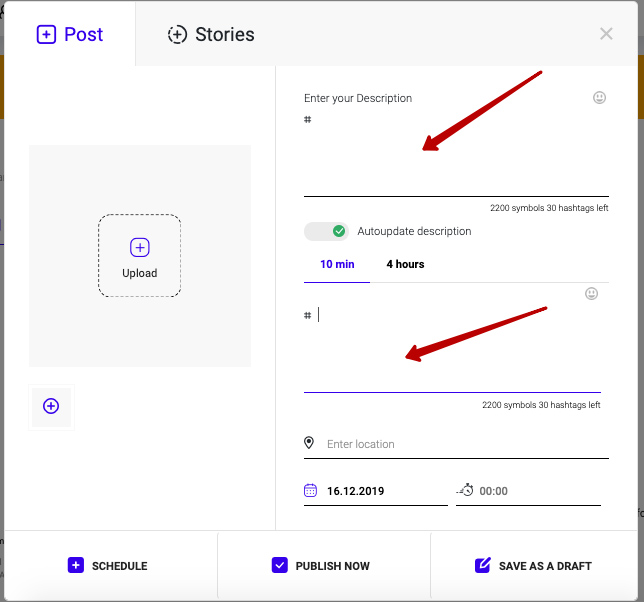 Try and test several combinations per one post and gain higher reach.




1st round — 3 days — good engagement/ no sales increase
We began using broad hashtags. As a result, we gained more instant likes, but the posts were not sales-driving. So that our main goal flopped, and we figured out that the set should include niche hashtags. The other reason for the failure was that we never appeared on the Top. When using too popular hashtags, mind that TOP is shifting every second and the competition is high. Look further, how we generated hashtags: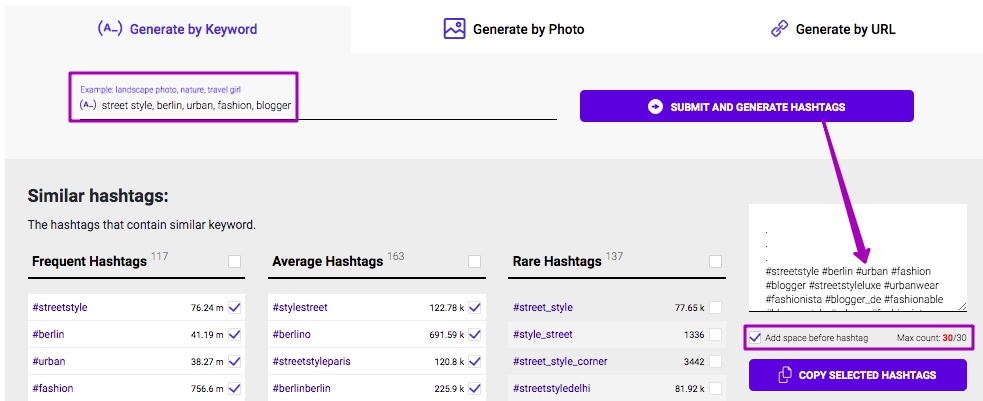 Compare the post insights before and after applying hashtags via Hashtag Generator: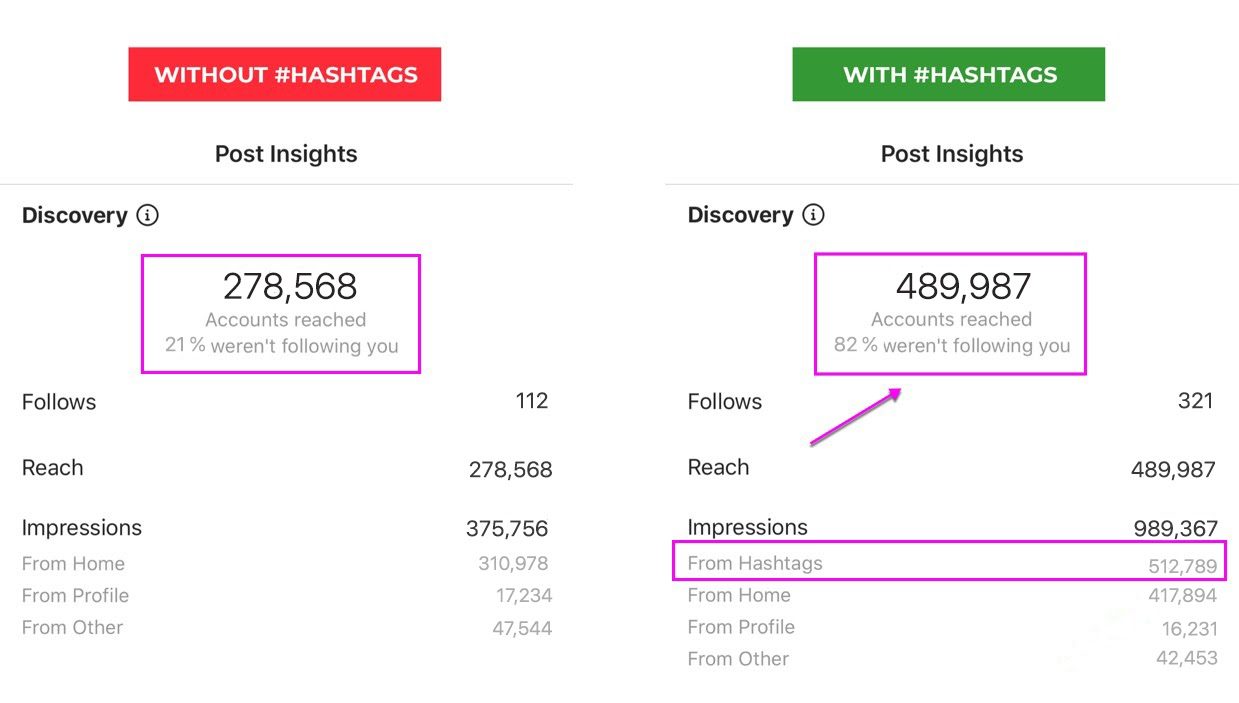 Results:


Followers boost — X 2,8;

Impressions growth — X 2,6;

The value of hashtags-driven impressions — 51,8 %;

The number of hashtags we reached the TOP — 0;

Average sales boost driven from Instagram / per day — + 5%.


BTW, you can add TOP hashtags for free considering your area or niche. Tags for followers, for like, fashion hashtags. Push the button!


2nd round — 5 days — poor engagement boost/ no sales improvements/ 17 hashtags on the TOP
We applied the niche hashtags that Generator suggested. This combination didn't bring significant movements in engagement.


The only perk of this strategy — we were on the TOP. When applying rare hashtags counting several thousand publications, your chances to reach the TOP are high. Nevertheless, the likes-count affects your presence on the IG Explore section.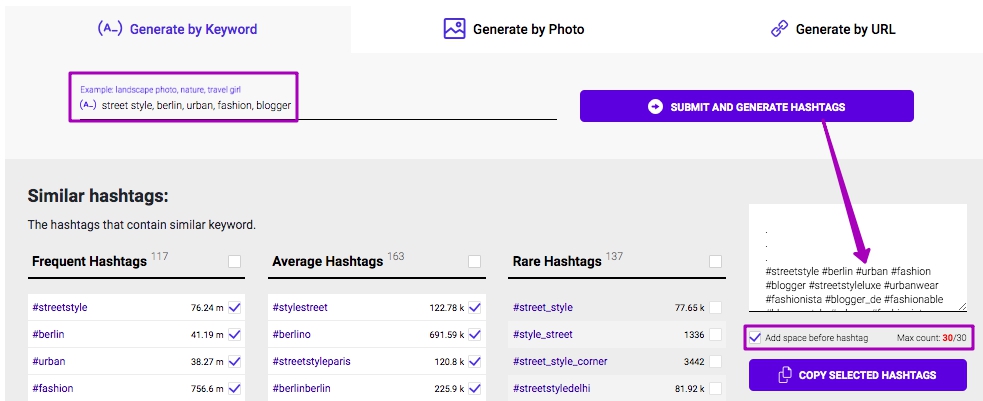 Compare the results we gained after applying only rare hashtags suggested by Generator: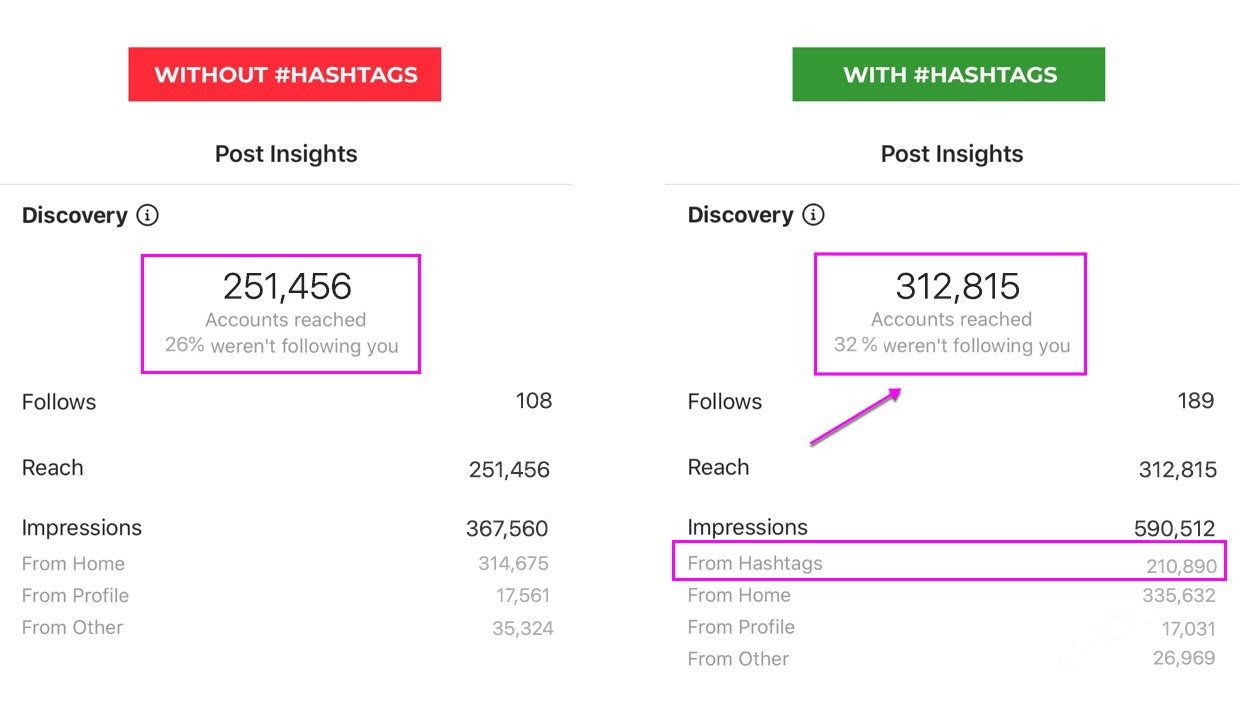 Results:

Followers boost — X 1,75;

Impressions growth — X 1,6;

The value of hashtags-driven impressions — 35,7 %;

Average sales boost driven from Instagram / per day = + 5%;

The number of hashtags we reached the TOP — 17.


When are rare hashtags effective? When you want to reach the TOP in a short time. BTW, you can view Hashtags analytics when using Inflact Hashtag generator and estimate your chances and competitors' content.


3rd round — 6 days — increased impressions/ sales boost/ 8 hashtags on the top


We decided to examine the golden middle and combine frequent, average, and niche tags in this proportion:


4 frequent;
9 average;
17 niche.
This combination has lead to drastic results, so now we use exactly this proportion of hashtags.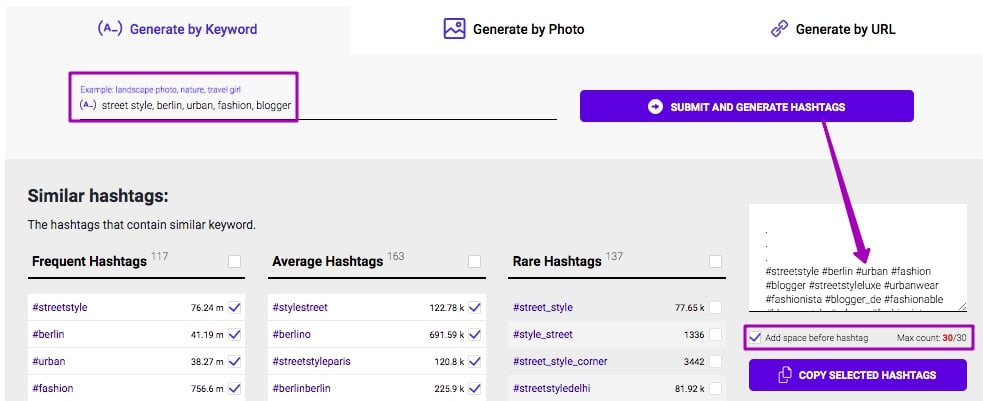 Explore the revenue insights the WRSTBHVR shop shared from their website's dashboard: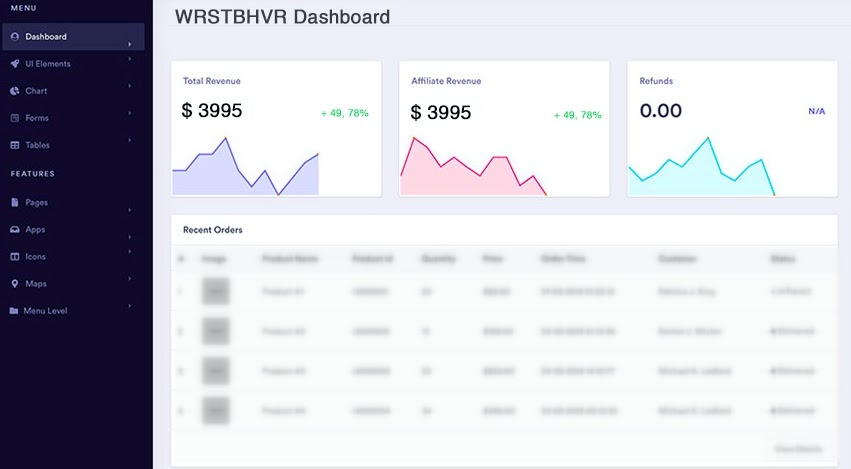 Followers boost — X 4;

Impressions growth — X 2,5;

The value of hashtags-driven impressions — 65,4%;

Average sales boost driven from Instagram / per day — + 49,78%;

The number of hashtags we reached the TOP — 8.


Perfect proportion of followers+impressions+sales = the most efficient set of hashtags.


Final touch

We launched the branded hashtag #wrstbhvr, which now counts 16,397 posts. It solved our goal to produce five-star UGC and promote the shop among bloggers by word-of-mouth.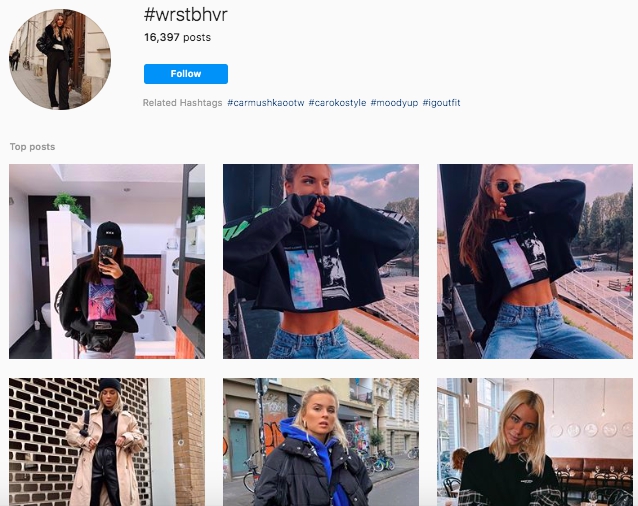 Advice
As you see, the best strategy is to combine hashtags, which is fast and handy thanks to the generator interface. Also, use automatic correction of hashtags to testing up to 3 sets per day — time and effort saving!

What are other tools must-have for digital marketing?





Bonus: Hashtags finder's pro-features
Analytics.
Hashtags analytics is a must if implementing a digital strategy. It works Key planner likewise but presenting the statistics on a particular IG hashtag. The analytics shows:


a tags complexity;
the relevant tags that users use in IG posts;
the posts count uploaded on a hashtag daily;
TOP and newest posts with a hashtag helping to estimate the likelihood you hop into the TOP.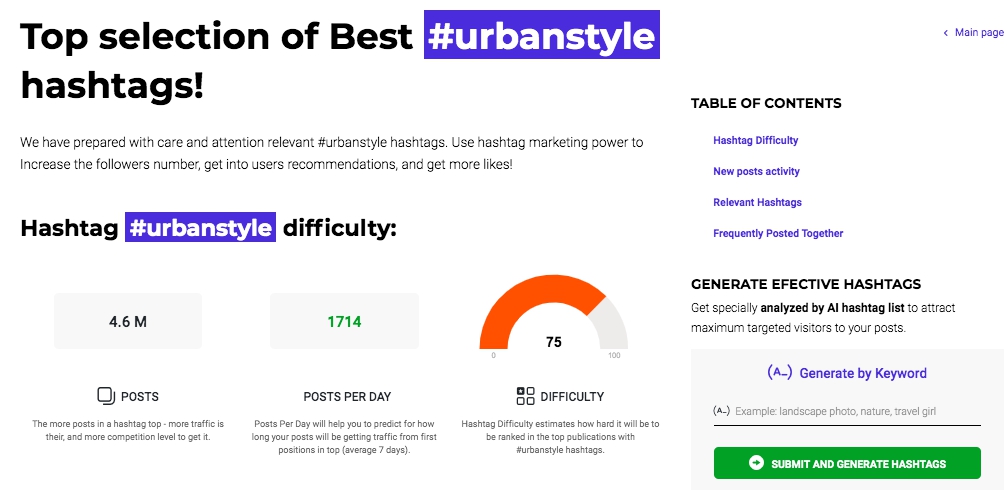 AI-powered search by a photo.
If starting Hashtags experience and can't figure out keywords, make use of the AI technology. The smart system generates the best hashtags according to an image you upload. If you don't save an image on your device or want to save time, take advantage of the search by a link.


Check by a URL. Copy a URL redirecting to an Instagram post and get the most suited tags sets — widely-used, frequent, and rare.


Multi-language Hashtags search. This feature is essential if you plan to gain followers in local markets. Type keywords using the local language and obtain proper results.