Trending hashtags helped Ofri Cohen to set aside her fashion community on Instagram and get a job in Vogue. Learn what did she do step by step!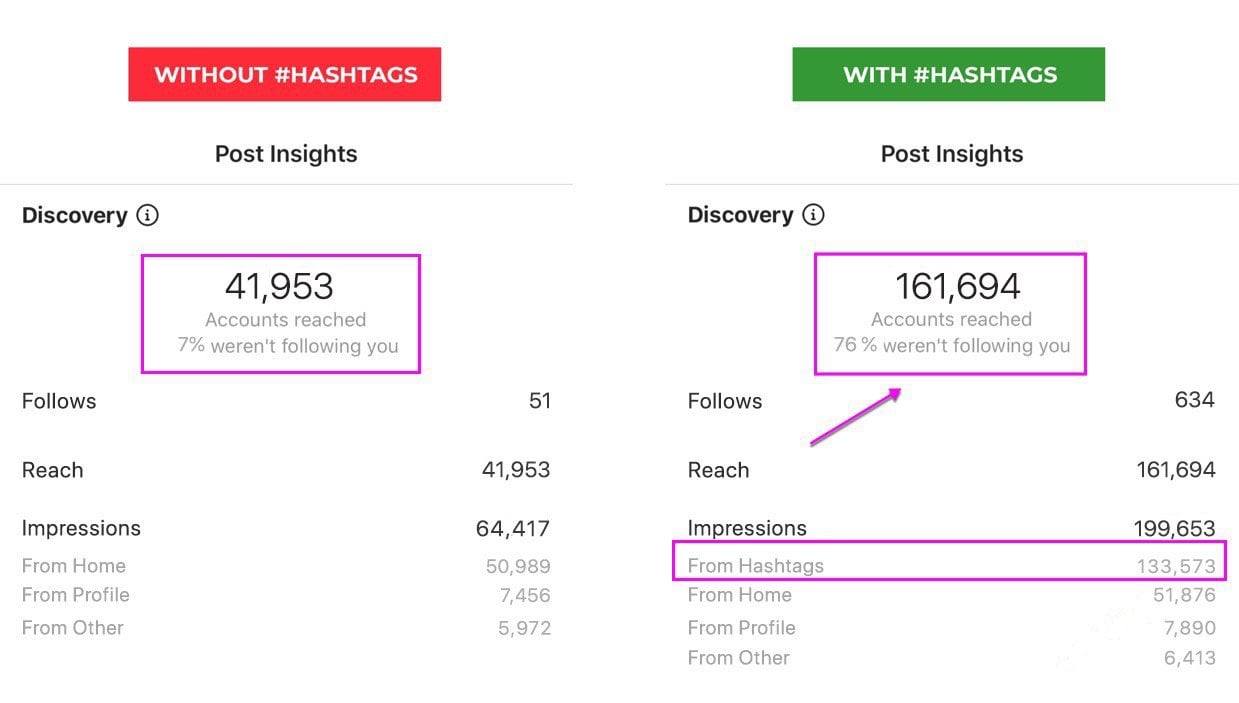 Let's begin with robust evidence that hashtags bring organic traffic to your posts.
Using the screenshots from our client Spotlight time community, we compared posts insights
before
and
after
we applied hashtags via the
Hashtags generator
. What we achieved soon:
X4 more authentic accounts discovered our post;
X12 more followers from the post;
X3 impressions boost driven from hashtags.
It took us 5-10 tests to indicate the best combinations of tags. The issue is Instagram is a fast-moving platform, so that you are to monitor the latest trends and update the hashtags sets persistently. Smart
Hashtag generator
is the only tool we used for the promotion of a Fashion community. After reading this case-story, you will learn:
tips and rules on using hashtags;
how to use the Hashtag generator to gain niche and trendy tags for different locations and followers segments;
secret bonuses of the Hashtag generator.
Stay tuned and read up to the end!
Company
Ofri Cohen is a fashion designer, stylist, and blogger who intended to build a fashion community on Instagram. She runs the IG by her own carefully selecting the content and designers fitting the overall IG aesthetics and philosophy. Ofri observes the latest trends in high fashion, promotes niche designers, illustrators, photographers, and other artists contributing to her online Instagram-based magazine. The blogger adores luxury and vintage items, chic, stylish, and creative.
Spotlite Time community now counts inspiring followers and post numbers:
154K followers;
5587 posts.
But things were not like this from the beginning. Ofri Cohen met a challenge as soon as she started blogging till she applied
Inflact
tools. What was the issue?

Challenge
In the beginning, any blogger has an empty account, zero followers, and a bunch of offers from scammy promotion agents on Direct. That was about Spotlite Time and Ofri Cohen, too.
After she won her 100K audience via Inflact auto-promotion, she understood, the account needs to be more specified and attract like-minded people who will make up a loyal fan base. She wasn't sure that 100K she got was those people who will likely buy those items she is posting. So, she couldn't find good arguments for the designers to pay her for the placement on the Spotlite Time account. Ofri was using the same and a very broad in the meaning set of hashtags; she had no idea what other hashtags will work for her image of a fashion blogger.
In brief, the challenge was transformed into these goals:
Determine the niche through hashtags;
Streamline potential buyers to the account;
How did we meet this challenge?
Solution
We started the fight with the pointy swords of hashtags – #. Follow what we did step by step and use the same techniques in your strategy – it's proven, working, and extremely harvesting! Prepare and make notes.
Step #1 – set aside niche hashtags
We highly recommend you staying away from too popular and broad in the meaning hashtags, as Ofri Cohen did. Yes, you will get some easy and swift likes, but they won't be authentic. We mean that there is a high chance you will get likes from bots, not interested people. Plus, popular hashtags used 1m times or more will work for a couple of minutes as soon as you upload an image. Bear in mind – it will be 1 million times harder to get to the top of the 1 million count hashtag. Also, too broad hashtags are spammy and get banned very soon.
Do you need likes or genuine engagement?
Rule: Apply hashtags connected to your niche and 1-3 popular and like-bringing hashtags. Observe what hashtags competitors, other bloggers in your niche are mentioning.
Tool: Inflact Hashtag search by keywords separated with commas. We copied 1-2 broad tags and the rest only niche. Crucial point – Inflact won't suggest you banned hashtags.

Tip: put a tick and add spacing! That is how you hide the hashtags in the caption or a comment. The text will look more aesthetic and easy-to-read.
Note! When you type a keyword on a search bar in-app, you see the hashtags containing this word only in the beginning! Inflact is built on the more advanced algorithm recommending hashtags, including the keys in the middle and the end, as well. You get reasonably more diverse and specific results!
Step #2 – divide hashtags by groups for different content types
It was essential to set aside hashtags groups for several reasons:
Spotlight Time audiences are diverse: designers, fashion buyers, stylists, photographers.
Spotlight Time strived to gain people from the leading fashion locations: Italy, France, Berlin.
The mentioned above goals lead us to the idea to generate particular hashtag semantic lists according to locations and audiences. Just imagine what a time-sink could the process appear if we hadn't been using the Hashtag generator. You can type words and phrases in any language, and the system recommends you the trending hashtags – pro-tip in hopping into a local market, duh!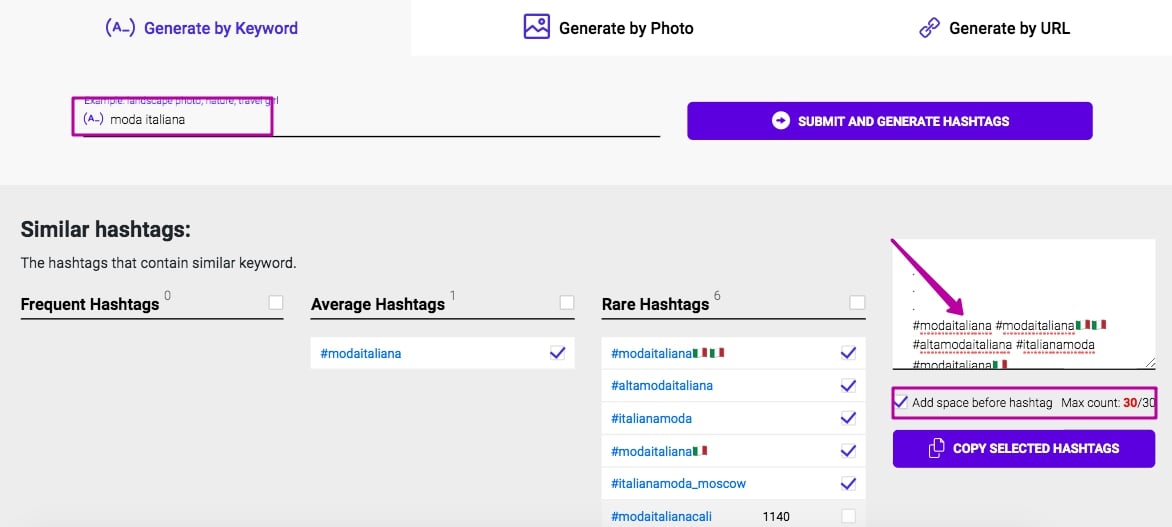 Rule: Remember that you can leave a set counting, not more than 30 hashtags per post. Set aside groups for every location and audience you concentrate on.
Tool:
we used the same
Inflact Hashtag Generator,
but more its multilingual part. We changed the language from English to Italian and French that our local audiences speak.
Tip: Keep in mind that if you add a hashtag to a photo after it was posted, the photo will still appear on the hashtag page according to the Time it was originally posted, not the Time the hashtag was added.
Step #3 – branded campaign hashtag
Setting aside a branded hashtag is the icing on the cake of the promotion via hashtags. Leave this step as final, as you need a strong community and true fans that will use the tag. Spotlight Time gets followers acquainted with their new branded hashtag:
#spotlighttime
Well, sounds beautiful, but how to apply this hashtag to practice? Create a takeover in your community among the followers. We used the following mechanics:
Upload a picture you want to see in our community to you IG acc that ;
Tag an author/ designer/ artist;
The image we like the most we add to our Instagram;
You get free ads inside our community+2 tickets to a Fashion show.
Set a time limit to create an urge!
This contest worked great, and we exploded the branded hashtag #spotlighttime with more than 500 publications in 1 day!
Rule: make sure a hashtag you intend to utilize is not used by someone else. Encourage this hashtag's proliferation via contests, regrams, and giveaways. The investment will pay off very soon.

Bonus: additional tricks on trending hashtags
We bet you've noticed the only tool for the Spotlight Time promotion was the Generator of Hashtags. There was no need to apply all its features in this case, but you might find some of them fitting your digital campaign. Look what you also can do via
Inflact
tool:
AI-based hashtags finder – use it when you don't know what to start with. The only thing you have to do is to upload any image and the smart algorithm based on machine learning to figure out the best hashtags. Remember to figure them out manually since the system is not perfect yet.
Search by a URL – insert a link to any IG post without the need to upload an image. This tool works similarly to the previous one, but it's handier if you don't save a picture on your device.
Analytics on a hashtag – view well-organized data to adjust your campaign. Tap on the hashtag, and you see the difficulty, the related, and posted along with this tag. Assume the latest and the popular posts on to understand your chances to reach the TOP.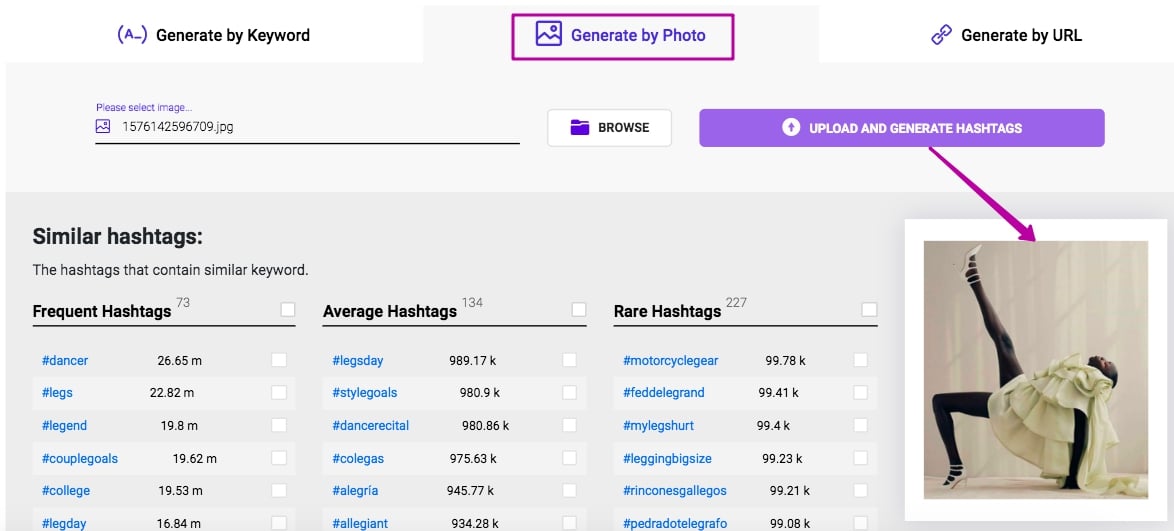 When you apply hashtags wisely, the community growth and engagement rates will be surprising. Discover the outcomes of the Spotlight Time campaign further.
Results
2 weeks of work with Generator smart search resulted in:
Boost in impressions – 3X;
New publications on the branded hashtag – +500;
General followers boost in 1 month – 19K;
The number of people started following #spotlighttime tag – 431.
Ofri Cohen dreamed of collaborating with Vogue, and settling down her community on Insta made it happen. Digital brand manager of Vogue Italia came across to her blog and suggested that Ofri should write for their website. So, starting with a niche community on Instagram, this influencer has grown into an author of the prominent fashion hub.

"I didn't expect that promotion on Instagram could change my life and result in a dream job. I started Spotlight Time as a hobby, but Inflact uplifted the community to a professional and commercial level. Embrace the power of hashtags and don't blindly rely on marketing agencies – you can promote on Instagram on your own and online. I've never regret a penny I spent for the Inflact toolkit."
Ofri Cohen, fashion influencer and author at Vogue.
Advice
Adjust powerful hashtags lists if you want your posts to be noticed. Niche and trending hashtags help businesses to win over clients on the same wavelength who empower the community. Use reliable and time-saving tools, and your account will explode with organic followers smoothly.