+340% Overall impressions per post? Hashtag tools make a revolution right now!

Social media dictates their rules everywhere. We use them not only for communication and entertainment but also for business and blogging.


How can you increase the profit of your blog or business in the social Internet space? It's simple — use marketing tools in 2023.

Hashtag generator is one of these tools. Do you use hashtags under your social media posts? Using them provides you with several goodies:



boost traffic to the page;
structure content;
simplify search;
increase the target audience;
You can find more about hashtags and real results of using them in the article
3X Posts Reach In 1 Hour: How to Use Hashtags To Succeed?
Here's the tricky bit! How to choose the best hashtag generator app?


Read the article! Look at the prepared variants:


Jump Links:


1. Inflact Hashtag Generator

2. Keyhole

3. Hashtagify

4. Socialert

5. Hootsuite

6. Rite Tag

7. Instavast

8. AutoHash

9. Webstagram

10. Hashtagsforlikes

11. Seekmetricks

12. Later

13. Photerloo

14. Hashtracking

15. Tagstagram

16. #HashMe

17. Influencer Marketing Hub Instagram Hashtag Generator

18. Talk Walker

19. Upsocial.com

20. Kicksta.co




Hashtag Tools: Start to use!
1. Inflact Hashtag Generator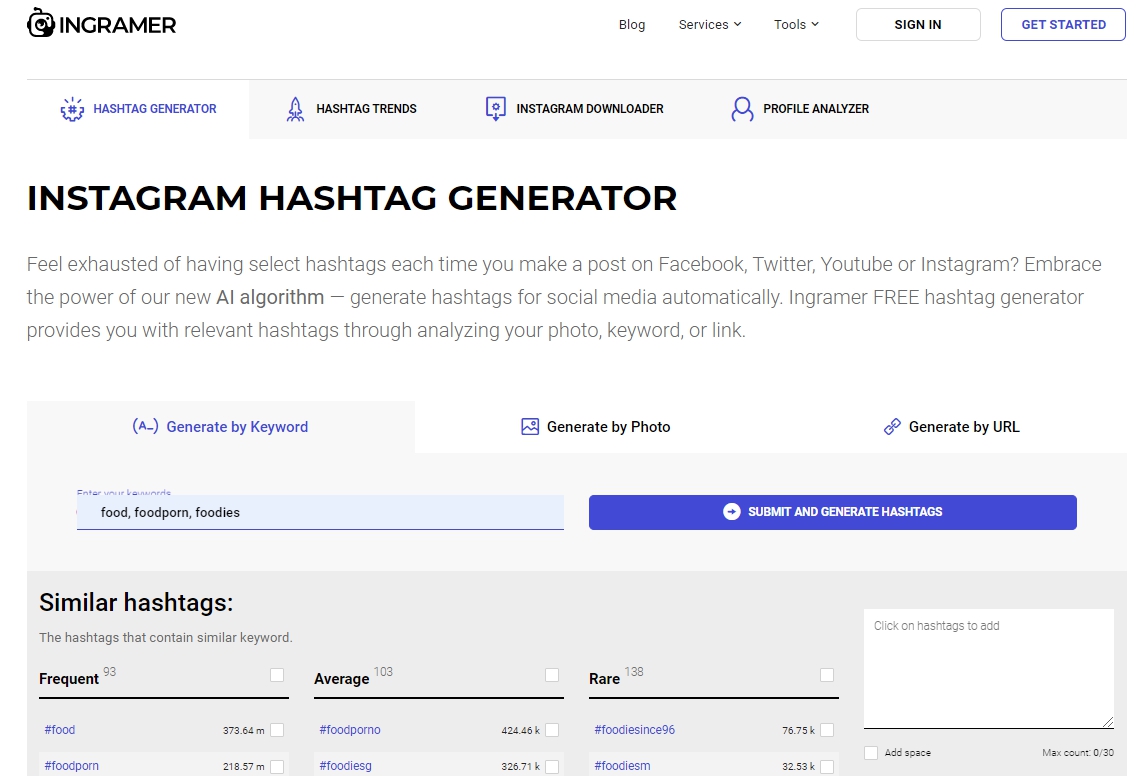 Inflact is a service that offers several tools for successful Instagram promotion. One of them is online hashtag generator.


Hashtags can be generated in three different ways by keywords, images, and links to an existing Instagram post.


Inflact uses AI-optimization technology for the selection of relevant hashtags. This method provides users with hashtags divided into three main categories by frequency of use:



Each category has about 100 variants of relevant hashtags.


The service allows making a comprehensive hashtag analysis. In real time, you can view metrics such as frequency, difficulty, related posts, popularity index, etc. Based on the data, you can select the most trending hashtags for each post.


Besides, Inflact prepares a package with 30 hashtags for each set metric. It simplifies the process of selecting hashtags since the package includes the allowed number of hashtags per post.


For beginners, the service accompanies each action with tips on the correct selection of hashtags.


Pricing: starts at $14/2 weeks



Boost traffic to the account!
Search multiple hashtags on Instagram!

Make a profit all the time!


2. Keyhole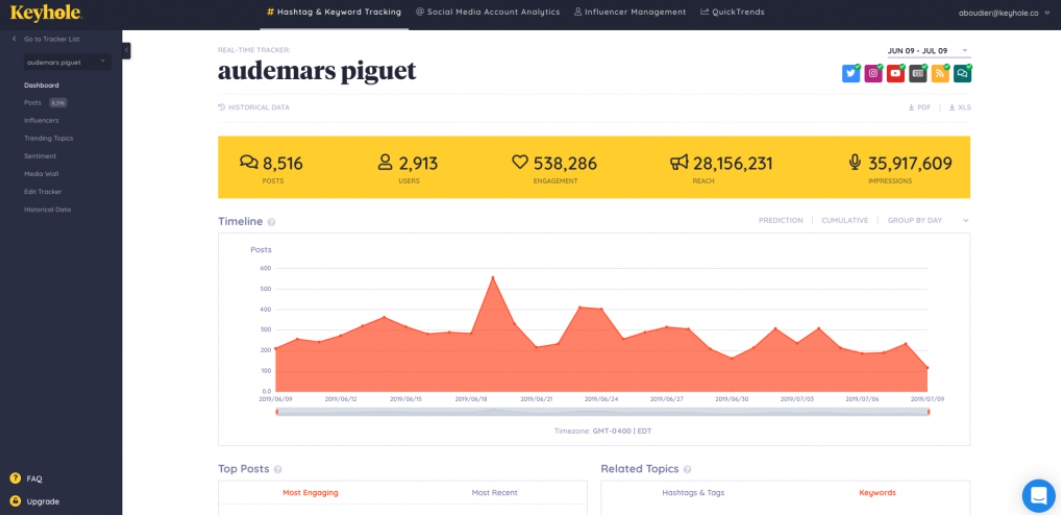 The main activity of Keyhole is the selection of hashtags. This is one of the market leaders among the best hashtag tracking tools.
It provides a comprehensive analysis of the selected hashtags. As the primary metrics, it analyzes:
Engagement and overall impressions rates;
Metrics of the main competitors;
Positive and negative feedback.
Besides, it equips the users with the special tools that are essential for an in-depth analysis of the chosen sphere and reach among the main needs of the target audience.
All data is provided in well-prepared and understandable reports that help even the novice user to understand the issues.
Pricing: starts at $179/month
3. Hashtagify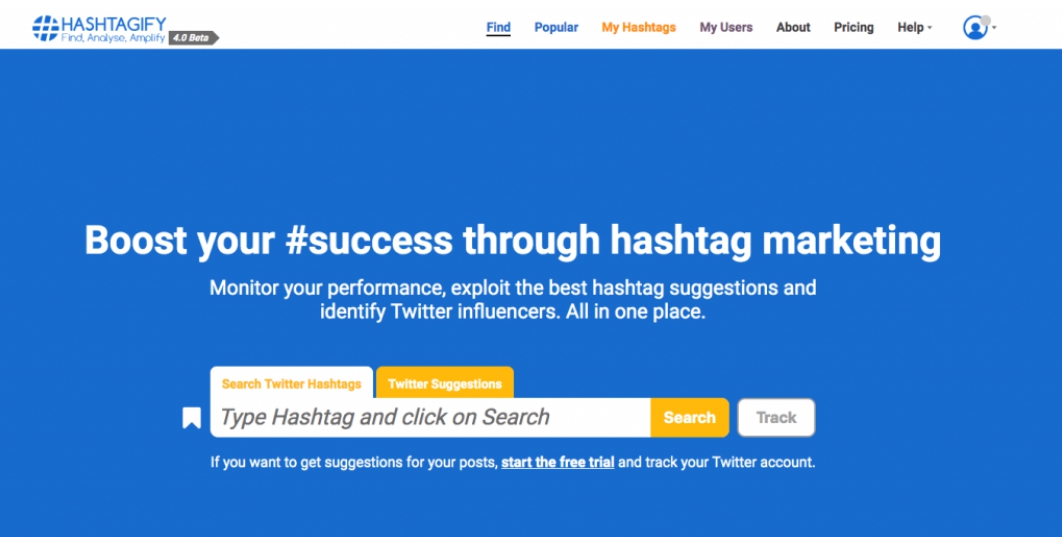 The popular Hashtagify service provides a quick search for relevant hashtags. For this, you should enter several keywords that describe the topic. Then, the system offers the most suitable options.
Special mini-reports allow tracking the popularity of the selected hashtag. The registering in the system opens the function of hashtag search history.
This hashtags generator has free and pro versions. The main hashtag search functions are perfectly implemented in the free version. However, if you need a deep analysis of hashtags and other additional features, you should pay attention to the improved pro version.
Pricing: starts at $29/month
4. Socialert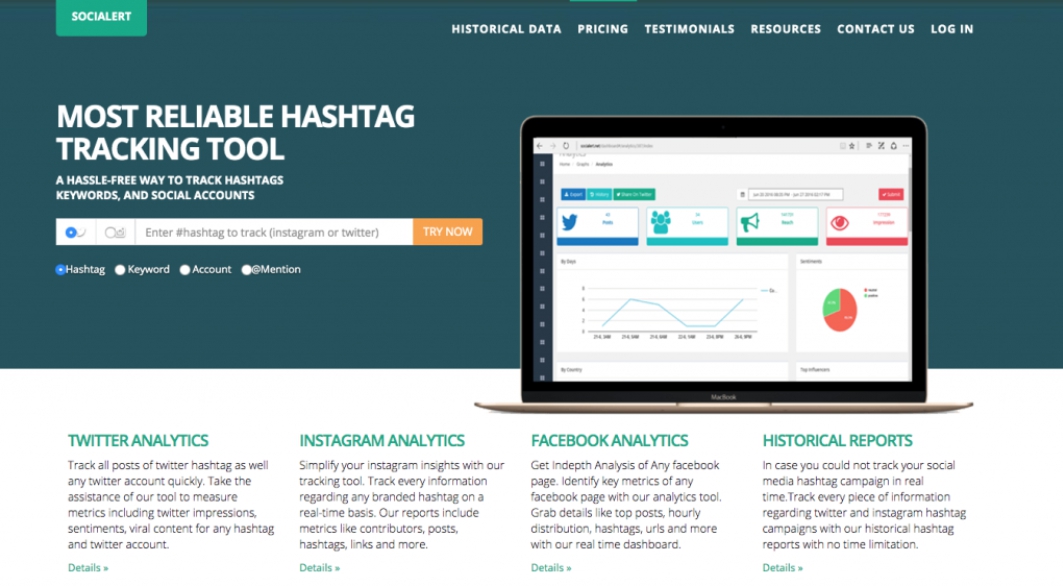 Socialert is a convenient tool for tracking relevant hashtags and their popularity in social networks. They provide an influx of the target audience.


The tag generator Instagram selects trending hashtags that spread a blog or brand among the social network.


Socialert provides all the information in a special report, which prepares not only the analysis of the selected hashtags but also the main trends in the development of campaigns using hashtags.


Pricing: starts at $9.95/month




5. Hootsuite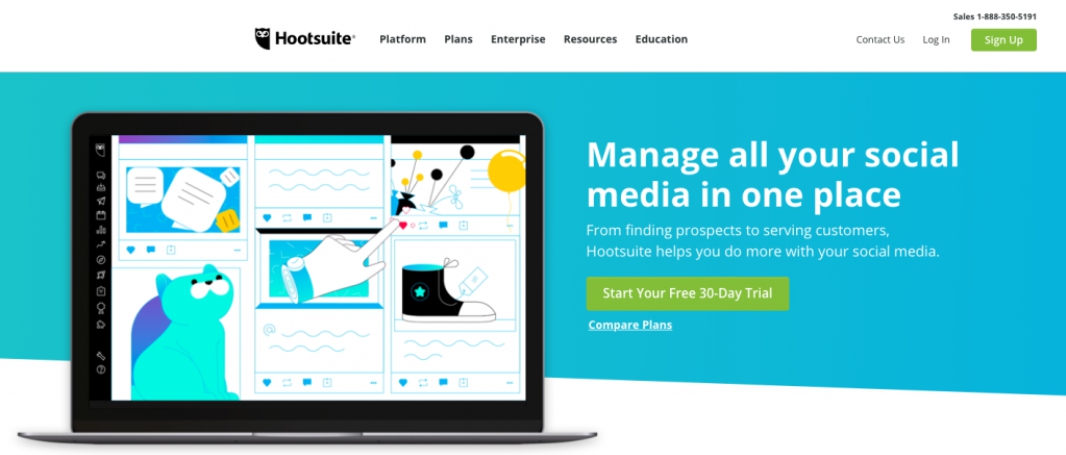 Hootsuite is a service that allows the monitoring of all social networks in one place. All updates and relevant hashtags for your blog or business account can be viewed on a special panel.
The service helps you set up special hashtag campaigns that attract the target audience and increase the relevance of your business.
Thanks to reports, you can track the success of selected hashtags by certain parameters. The analysis is performed independently of the social network that uses this hashtag.
Besides, each user can take an analysis of the hashtags of your competitors and any popular hashtags.
Pricing: starts at $29/month + custom pricing
6. Rite Tag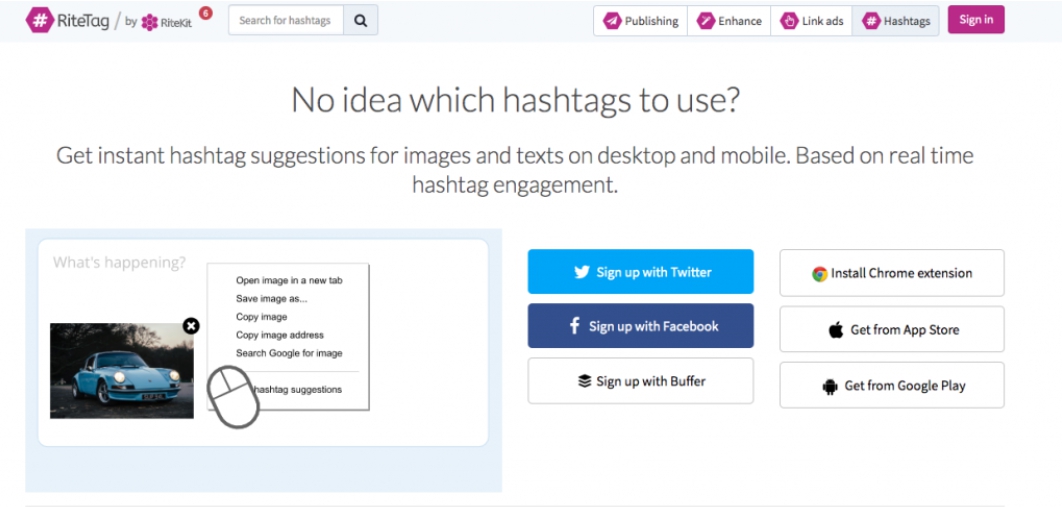 The Rite Tag service provided by RiteKit, helps you select, analyze, and manage hashtags.


It provides information about trending hashtags, generates relevant hashtags for a specific topic, and analyzes selected hashtags by specific parameters.


As the main analysis metrics, it uses hourly calculated statistics, average daily views, and data on popular posts that used the selected hashtag.


Besides, the service updates data on the popularity of hashtags on a daily basis. It ensures a stable growth of relevance indicators.


Pricing: started at $15/month




7. Instavast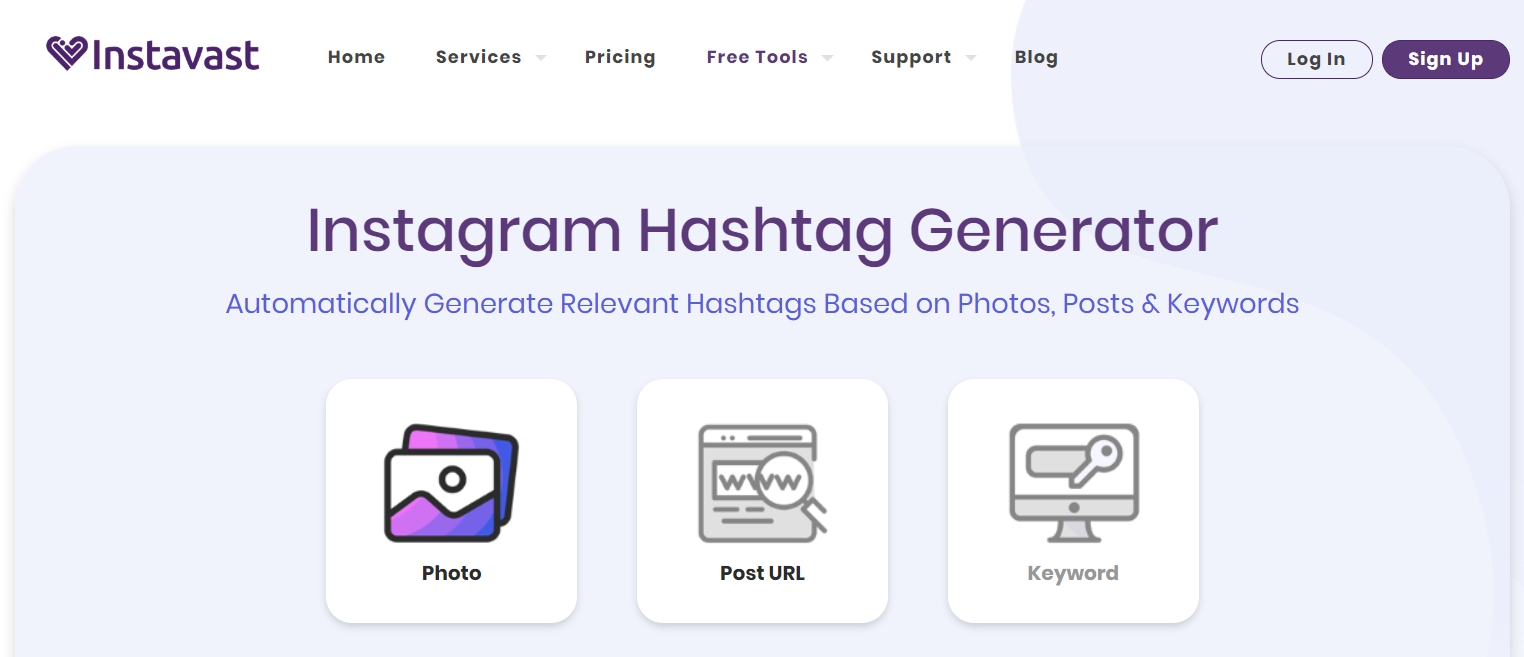 Instavast is a service that has a wide range of marketing tools that are necessary for promotion on Instagram. One of the most popular of them is the hashtag generator.


The Instagram hashtag finder works in beta-version now but provides real-time data on relevant hashtags. It generates hashtags by topic using keywords, photos, or URL links.


Also, the hashtag generator Instagram provides a list of banned Instagram hashtags, the use of which can cause a ban or block of your page. It breaks them down into several thematic groups: expletives, temporarily banned hashtags, and hashtags awaiting the moderator's decision.


Pricing: FREE




8. AutoHash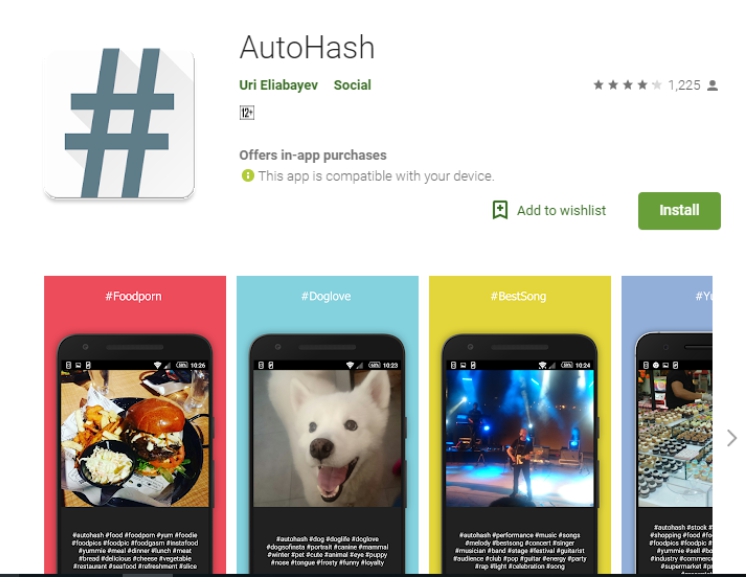 AutoHash is a popular hashtag generator app that provides a selection of relevant hashtags for both iOS and Android operating systems.
To get started, you need to upload the necessary photo to the service, and it generates a list of suitable hashtags for its subject.
To do this, the service uses a special computer vision algorithm that generates related and relevant keywords.
AutoHash hashtag base has more than 100,000 variants.
Pricing: FREE
9. Webstagram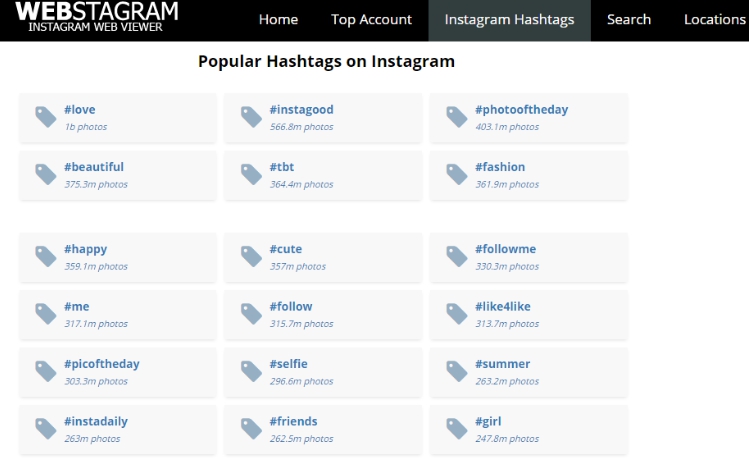 Webstagram service generates relevant hashtags for your chosen topic. It shows posts where the interested hashtag has been used.


The hashtag generator for Instagram prepares the data of the accounts that often contain the selected hashtag so that you can analyze the competitor and their uploaded content.


The hashtags base is updated daily.


Pricing: FREE




10. Hashtagsforlikes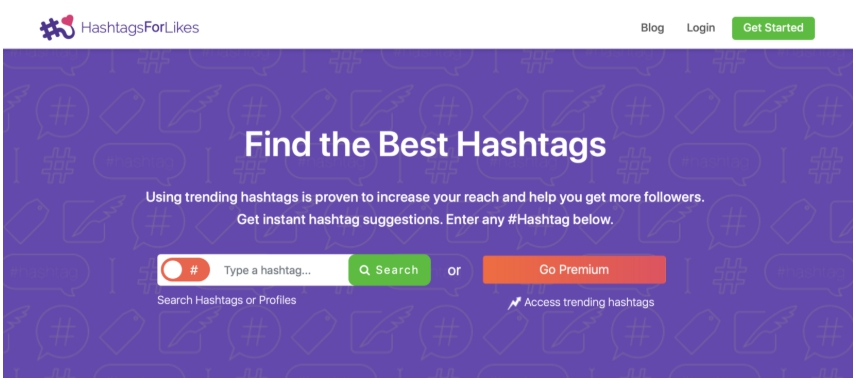 It works on the principle of detecting relevant hashtags by niche. Data on the niche and related hashtags is updated daily. It gives a tangible result for conducting a promotional campaign.


Instagram hashtag generator helps to drive the traffic to the page and increase the number of new users. It collects only the interested in your niche target audience.


Thanks to the multi-level hashtag matching technology, hashtag generator automatically determines the best hashtag options in real time.


Pricing: starts at $15/week




11. Seekmetricks

Seekmetricks is a set of tools for analytics of social networks. It offers a convenient hashtag research tool that evaluates hashtags based on past usage.


For selection, it uses special metrics that measure the success of previously implementing hashtags. This data allows you to decide whether to use this hashtag to boost traffic or not.


Seekmetricks uses hashtag generator multiple words that generates about 30 hashtags at a time. It is the allowed number of hashtags for use under one Instagram post.


Pricing: FREE



Do you want more followers and likes?
Try to use the updated hashtag generator!

Cool and working features are here!
12. Later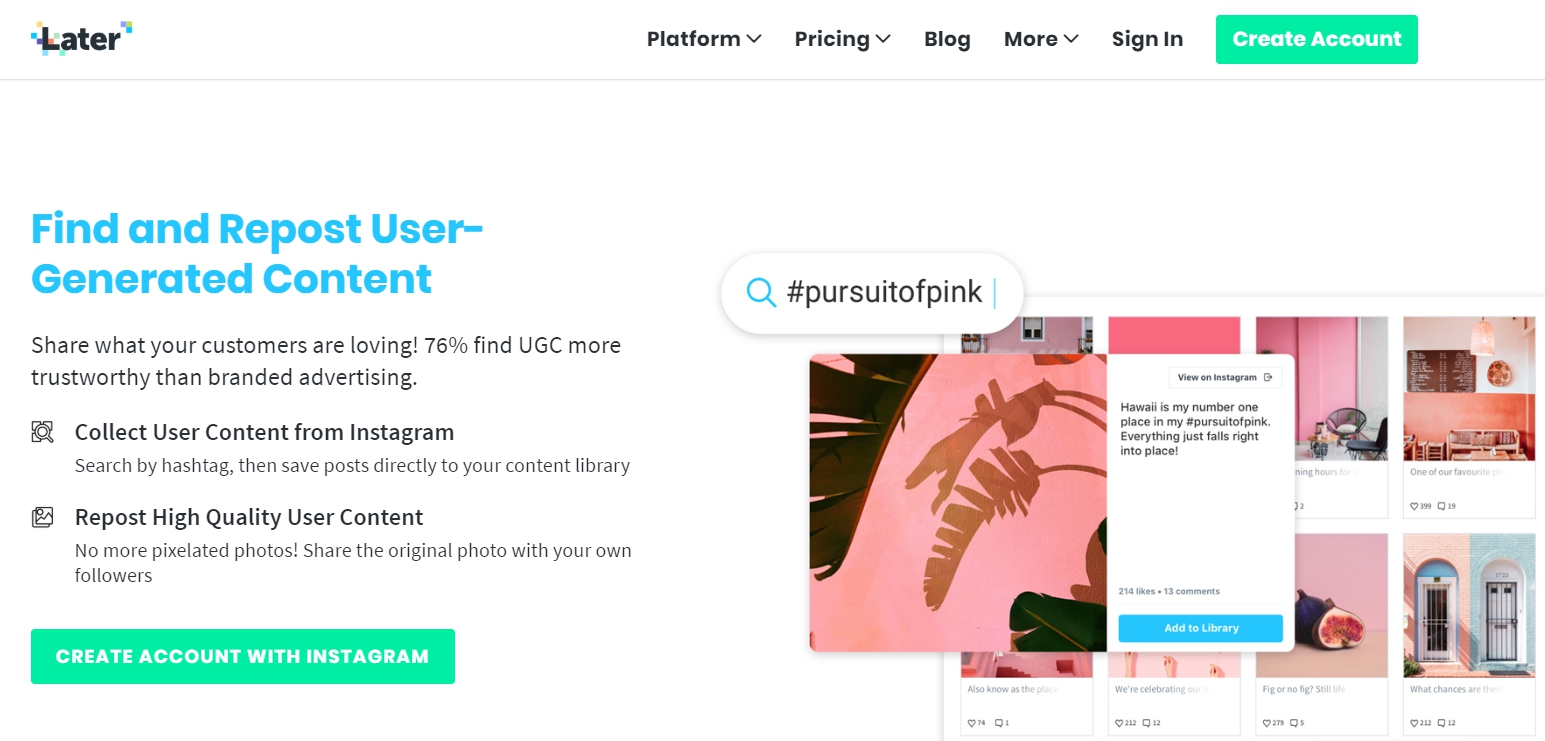 Later is a convenient service for maintaining the publications with a built-in hashtag generator function and hashtag analytics.
To select relevant hashtags, you need to upload a photo and the service offers you the most appropriate hashtags for the main topic of the image.
Also, you can use the function of selecting hashtags by keywords. To do this, enter several defining words in the search bar and the service generates related to your theme hashtags.
The service may offer several identical hashtags, so you need to control the generated process.
Pricing: starts at $7.5/month
13. Photerloo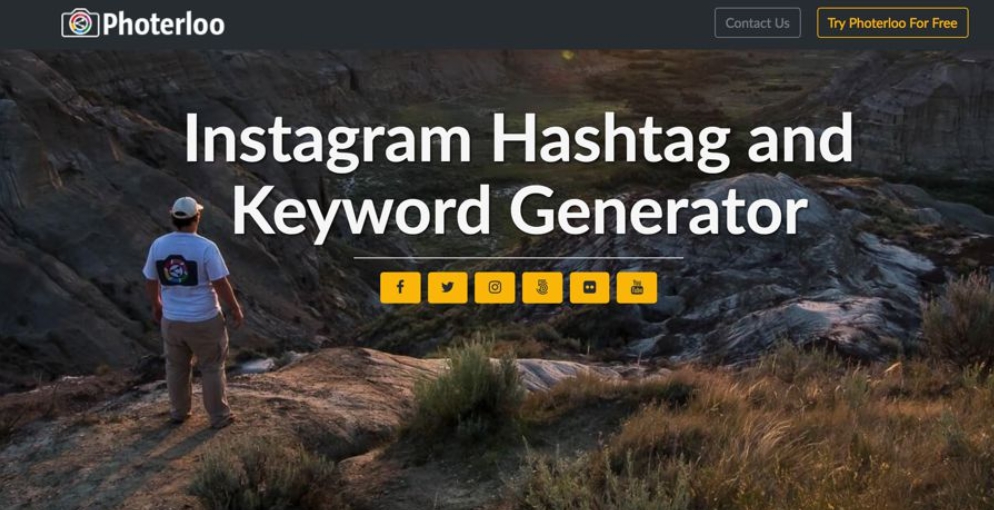 Photerloo uses AI-technology for picking the hashtags. It gives the opportunity to make a comprehensive analysis of the selected hashtag and track the results.


A special feature is a panel with the hashtag popularity. All hashtags are conveniently separated and arranged by popularity levels. It helps you see the real profit from the usage of the hashtags. Based on this data you can keep away unnecessary hashtags.


The service was developed with clear settings and user-friendly interface. The control panel is simple and you easily define where the upload button there. Also, it offers two lists of hashtags: recommended hashtags for the image topic and recommended hashtags for use on Instagram.


Pricing: FREE




14. Hashtracking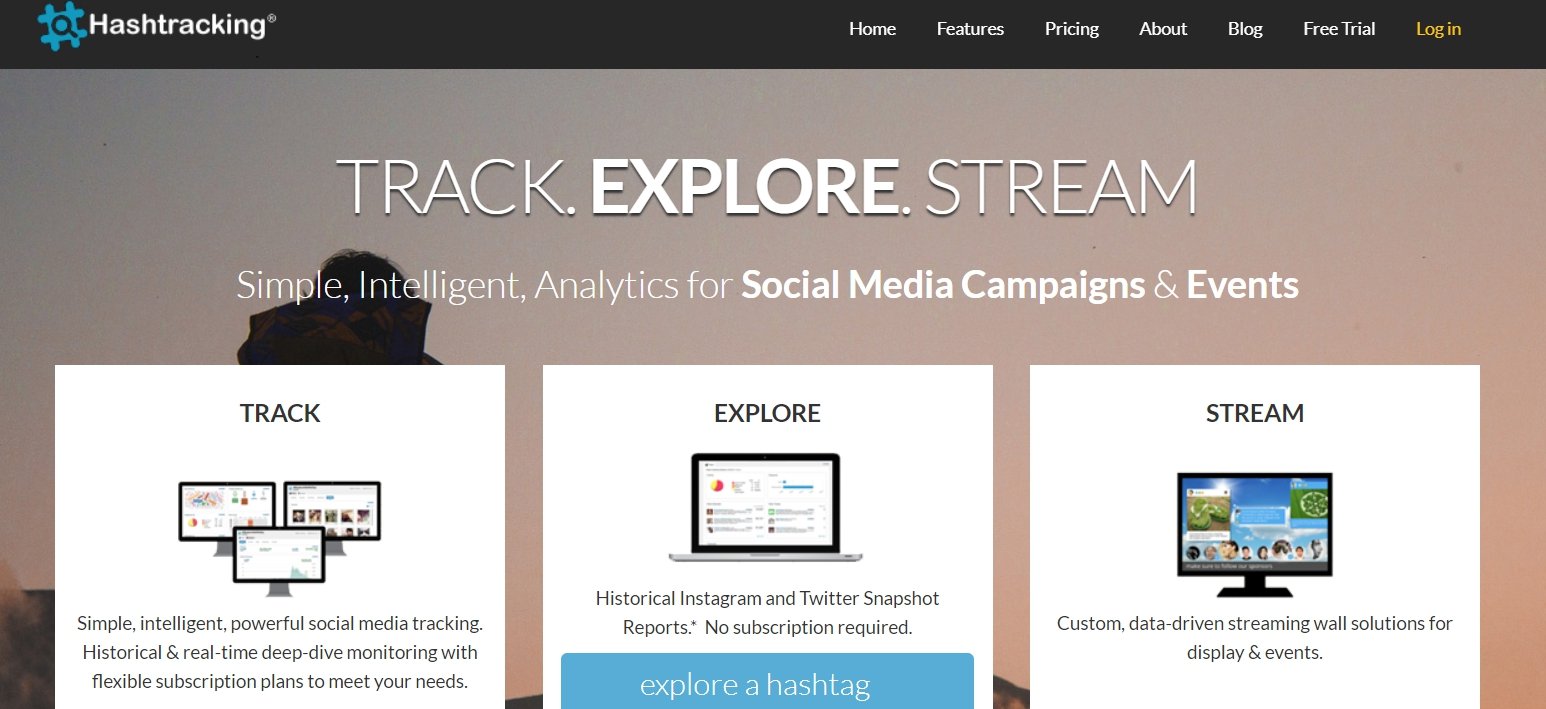 Hashtracking is not only a hashtag generator, but also a tool that allows you to track certain hashtags and make a comprehensive analysis of them.
Based on the obtained data, the user can develop a specific campaign to promote a brand or blog. For this, he should use high resulted hashtags.
The service has two available plans: paid and free.
Pricing: starts at $60/mont
15. Tagstagram

Tagstagram implements users with the best fit hashtags to their chosen topic. These include popular hashtags on Instagram.


All hashtags are divided into 27 categories. There are about 140 hashtags in each category. These include photo themes, words from brand logos, locations, and other significant generation metrics.


The app is available for both IOS and Android devices.


Pricing: FREE




16. #HashMe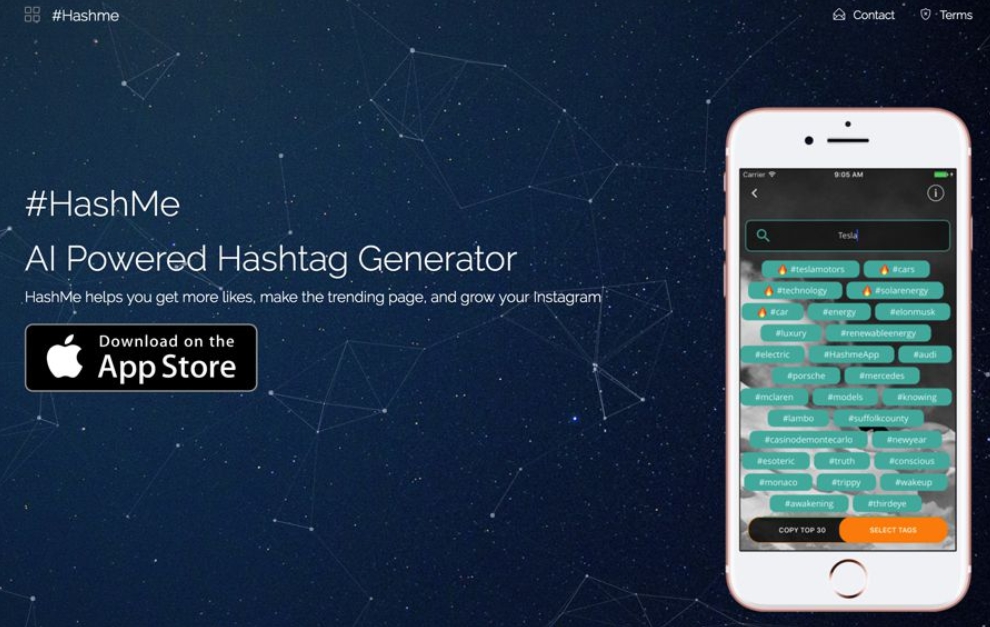 #HashMe is an application for the selection of trending hashtags available on IOS and Android.


The app searches for relevant hashtags using AI-optimization technology and uploading photos to the system. You can also search for hashtags manually by adding multiple keywords to the search bar.


There are two available modules for using the app: free and paid. The first one gives users the functions of a traditional hashtag generator. A paid subscription offers additional generator features, such as hashtag analysis.


Pricing: starts at $8.99/month




17. Influencer Marketing Hub Instagram Hashtag Generator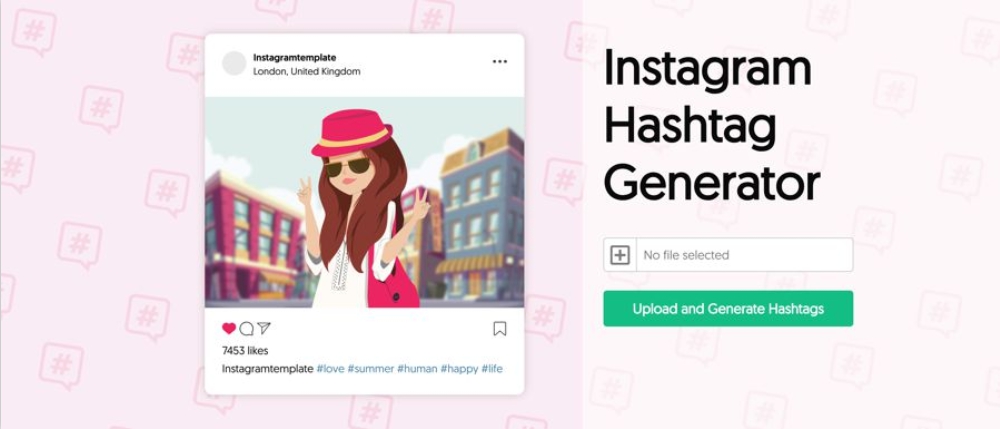 Influencer searches hashtags according to the main theme of the uploaded images. After downloading, you are offered a list of hashtags to use. Then you need to choose the relevant ones and confirm the selection.


Before publishing, the service shows you how your post will look with the selected hashtags. The service offers you the optimal number of hashtags under a single publication. it is ranged from 10 to 20.


In addition to trending hashtags, the service provides users with useful advice and guidance on how to use them.


Pricing: FREE



18. Talk Walker

The service offers a deep analysis of chosen hashtags. This data allows optimizing the set course of hashtag campaigns.


Here you can search for everything from celebrities using this hashtag to indicators for a given hashtag.


The service helps determine the choice of hashtags. It is done thanks to comprehensive analysis of each hashtag. It offers options with the maximum potential for use.


Pricing: FREE




19. Upsocial.com

Upsocial.com generates hashtags with one goal - to drive traffic to the Instagram page. For this, it provides about 100 perfect hashtags for the content theme.


To generate options, enter several keywords in the search bar and the service will generate options automatically.


The service generates all options independently and does not steal competitors' ideas.


Pricing: FREE





20. Kicksta.co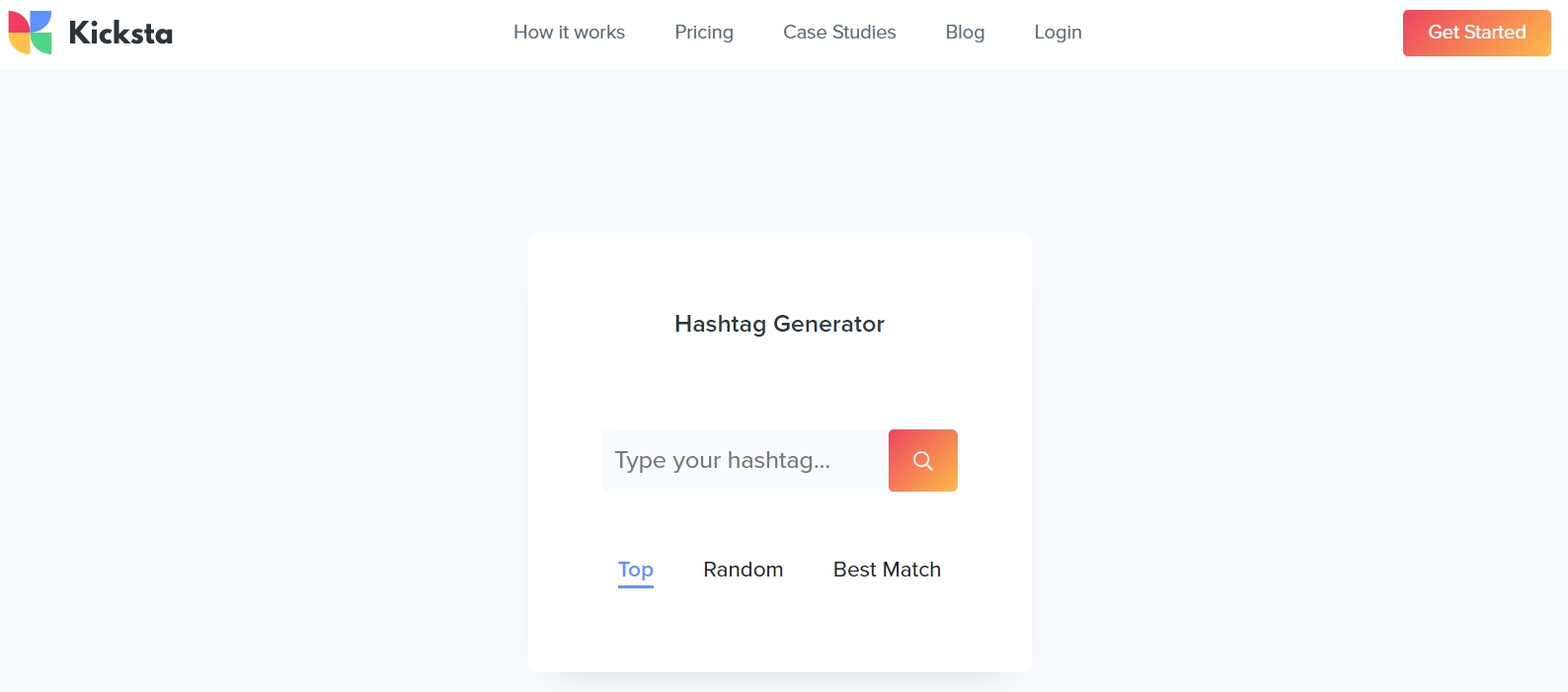 A simple hashtag generator that has the necessary functions for selecting hashtags.


More advanced features are available in the paid version. These include monitoring, customization, and tracking of selected hashtags.


Besides, the paid version offers smart settings filters, guarantees maximum growth of indicators, as well as comprehensive support and a special hashtag development plan.


Pricing: starts at $49/month



Final Thoughts
It's high time to draw the main conclusions about hashtag tools.


First and foremost, all the services offer similar functions. The primary difference is the price: there're both free and paid subscription.


There was a question: which service to choose? It depends on the account type: personal or business.


If you have a personal account, you don't need to perform a comprehensive analysis of the chosen hashtags — choose free hashtag generators.


If you have a business account, you are interested in increasing and attracting the target audience, so choose paid hashtag generators.


Take a cool idea! Create your brand hashtags on Instagram and popularize it! How to do this? Read How To Create A Hashtag For Brand in 2022!