Do you want to know how to raise your sales or find advertisers on Instagram? Or just become popular and get lots of likes and followers? Make targeted automated mailouts via Instagram Direct!

For bloggers, entrepreneurs, and other personalities involved in users engagement on the Internet, Instagram is a place of worship. One of the main ways of increasing brand awareness, raise Instagram engagement rate and your outreach is to send messages. Newcomers try to send messages for each follower manually, while more experienced Instagrammers use the best service that significantly saves time.
You can set up automatic mass mailings and no longer do it manually. Today we'll talk about how the Instagram mailout works. I will show how to configure auto-direct effectively.
What is an Instagram Direct automation?
Auto Direct is an automatic sending of messages to your followers on Instagram. With it, you can set up the automatic sending of welcoming and other notifying messages to your followers. Such mass mailing allows you to send an unlimited number of messages to all users who follows you. For instance, you can immediately send a message about a new publication to all followers or offer your goods at the best price so that they can resist.
There are two types of Direct messages:


Greeting new followers. Messages automatically come to users who have followed the account.
When you make up greeting messages, it's worth remembering that they should be unique and engaging. If you send messages like thank you for following me, most likely that users will ignore you. Here, it vital to be creative.
Information for existing followers. You can send DMs to all your followers or to a list of followers.
Of course, such notifying messages are used to solving various tasks. When you make up the offer, discount, or collaboration request messages, it is worth remembering that a sharp message with an offer to buy something in your account can scare away and the user unfollows you. It is better to send a friendly message with useful information.
For example, you can send a price list for services, or information about current promotions and discounts. It's better not to use expressions like, "What do you consider?" "Do you want to buy anything?" "What are you interested in?" "Are you interested in cooperation with us?" And so on. Your task is to make a good impression and simplify the life of individuals who have shown interest in your account.
You can send:


Messages with congratulations;
Messages offering discount;
Messages announcing contests;
Messages of invitations.
All this has a positive effect on the loyalty of existing followers and increases their activity. Below, I tell you how to automate Instagram Direct messages.


How to automate Instagram Direct Messages?
There are many services for sending Direct messages. But I recommend using the mailout as an addition to Instagram promotion. Therefore,
Inflact
is ideal for these purposes. With it, you can send messages to all or new followers.
1. To create a welcome message to newcomers, you need to go to the
Direct section
on your Dashboard and click on "New Message."
2. After that, you need to find the "Each new follower" button, write your message, beautify it with emojis, set up filter list and launch your first Direct mailout!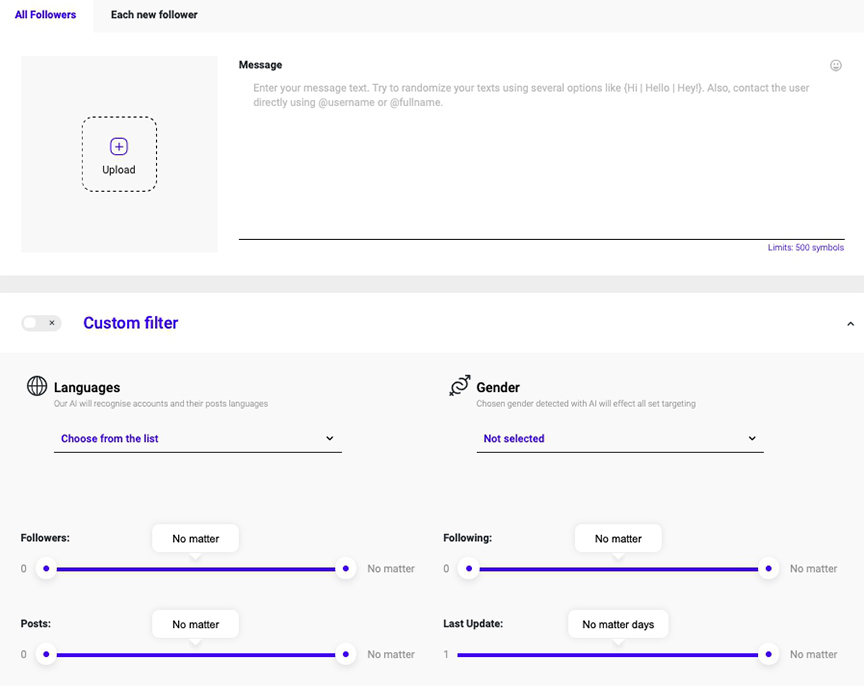 3. You can apply the following filters:
"Language." Inflact AL recognizes the language of the accounts.
"Gender." If your company sells exceptional baby food and is focused on nursing mothers, it makes sense to narrow down your targeted audience by gender.
"Followers." If the page has too many followers, its Direct is more than likely overwhelmed with identical messages. There is a high probability that your message will be lost among them.
"Followings." A ton of followings can mean that the page belongs to the bot.
"Posts." The more active the user, the more chances you have to stimulate his interest. Note that this rule does not always work.
"Late update." Fresh updates are evidence that the account is alive.
Are you ready to try it right now?
Get a special offer for Inflact clients, who have already registered!

Do you want to try Instagram Direct Messenger?
Come on, become our client right now!
Real case: Sportswear shop boosted its revenue 37,5%
Our client: a sportswear shop. The account was created 5 weeks before becoming an Inflact client.
Objectives set: the owner of the X shop bought Inflact auto direct messenger a month ago. The aim was to establish contact with potential customers, increase sales, and start to build up customers loyalty.
Process:
The first step was to create the templates for auto mailing. It included a special set of messages for each new follower which say "thank you" and offering a 30% discount for the first purchase. The second set of mail outs were themed "a random present to a follower" with a 25% discount for next purchase and free shipping.
The second step was to activate the process. It took a couple of minutes.
The result was immediate. The rate of messages opening was about 95%.
90% of which willingly got in contact.
The next step was to adjust constant notification about new arrivals and sales with the link to the website attached.
Thus, the traffic increased, and the percentage of people who came from Instagram became twice higher.
It worth mentioning that simultaneously, the process of auto liking and following of target audience was set. That brought a new public to the profile. So, it possible to create and promote a new brand on Instagram with Inflact.
The result after a month of auto DM usage
+25000 potential clients in the Followers list;
37,5% sales growth;
increased followers loyalty.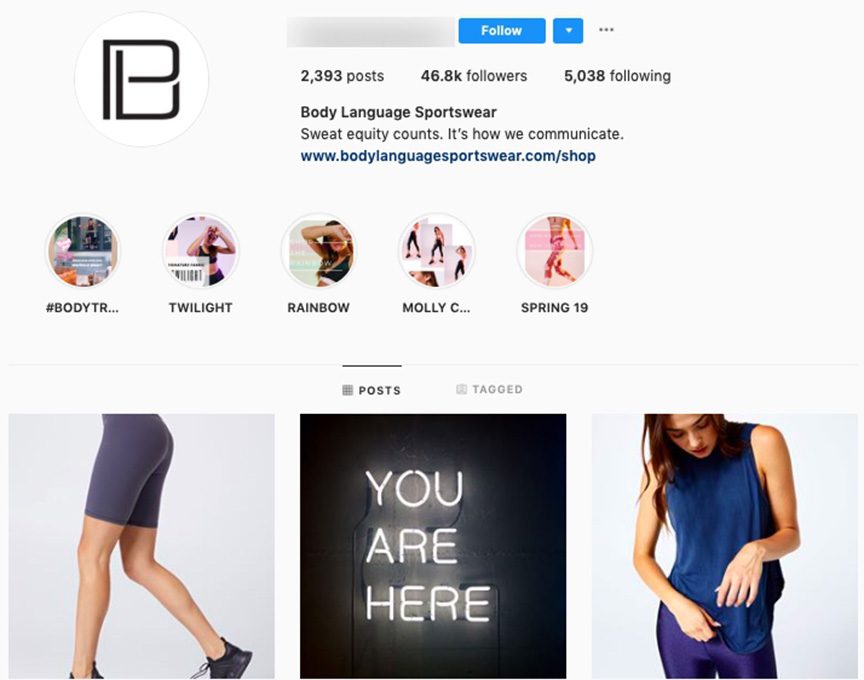 In this article, I have shown all the aspects and ways to mass messaging on Instagram. Use all these tips, and you will increase your sales, and this, in turn, will increase the flow of money. Do you want to increase YOUR sales?